This is a fast and easy recipe inspired by a Vietnamese favorite with quick homemade pickled veggies – perfect for picnics and fun lunches!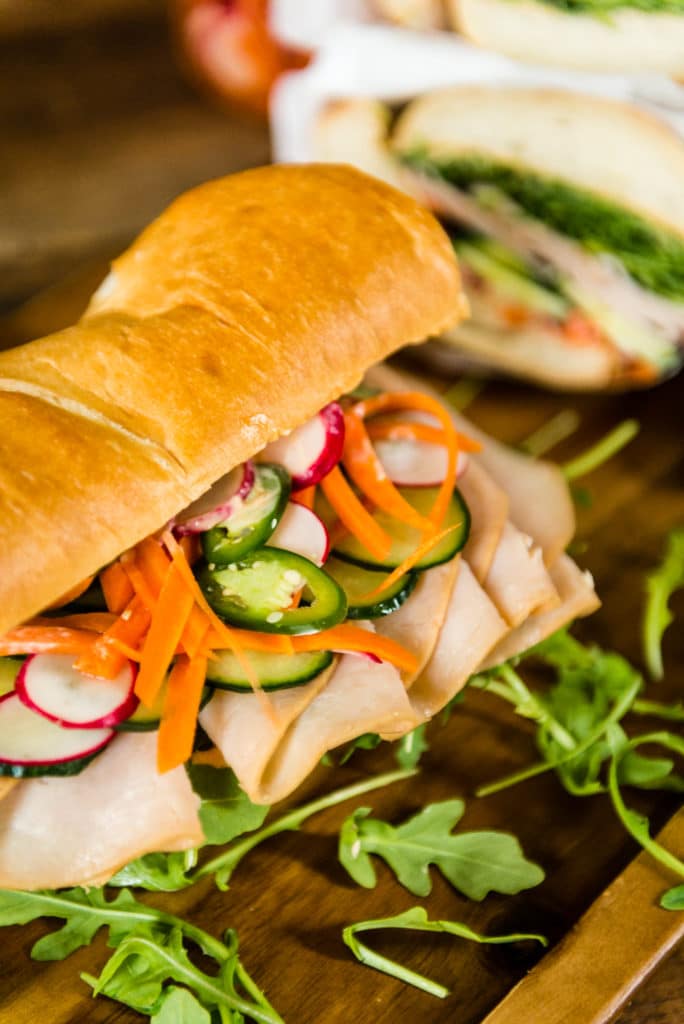 This post was sponsored by Smithfield Prime Fresh Lunch Meat. All thoughts and opinions are my own.
It's picnic season. And by picnic season, I mean pretty much any reason to get outside and soak up some sunshine – lunch included. But lunches on the go for me don't mean weak sandwiches, y'all know better. Whether I am hiking out to camp for the weekend or just climbing a local trail for a meal with a view, picnic lunches are some of my favorites to craft.
With things warming up, and me itching to play outside more, I have been stocking up on my sandwich recipe collection, like these banh mi sandwiches. They are loaded with veggies and protein from Smithfield Prime Fresh Lunch Meat and are a huge hit with my friends. Goodbye boring lunches – hello adventure!
Did you know that you can find Prime Fresh Lunch Meat in the refrigerated packaged lunch meat section in the market? You know, the section near the bacon! It's a grab and go lunch meat any time solution. I love the resealable bags that deliver deli-quality lunch meat as I use it, keeping things fresh. Check them out on their site at Smithfield.com.
Here's how I level up my picnic games with a little pre-planning and savory ideas.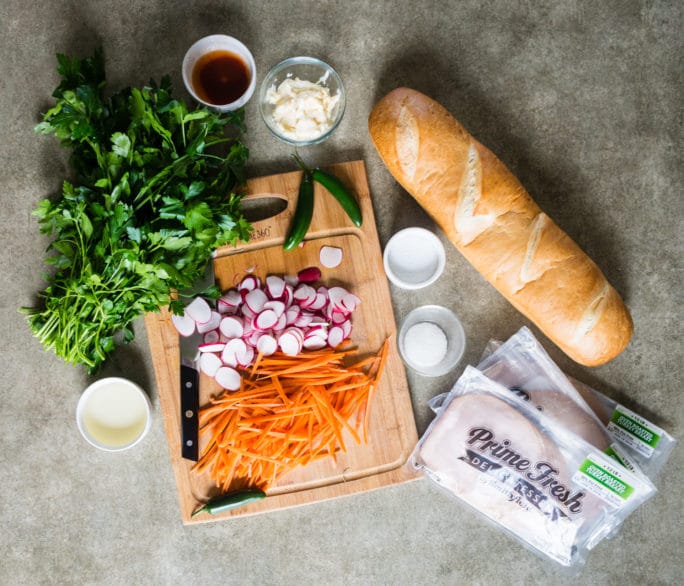 What to pack for a picnic?
Sandwiches, premade, wrapped and ready to go
Pre-bagged chips, crackers, and veggie sticks.
Peelable fruit, like apples, oranges, or bananas
Water
Napkins
Everything here can be wrapped in reusable containers and the napkins can be linen. The good news is, the hike out is guaranteed to be a little lighter than the hike in.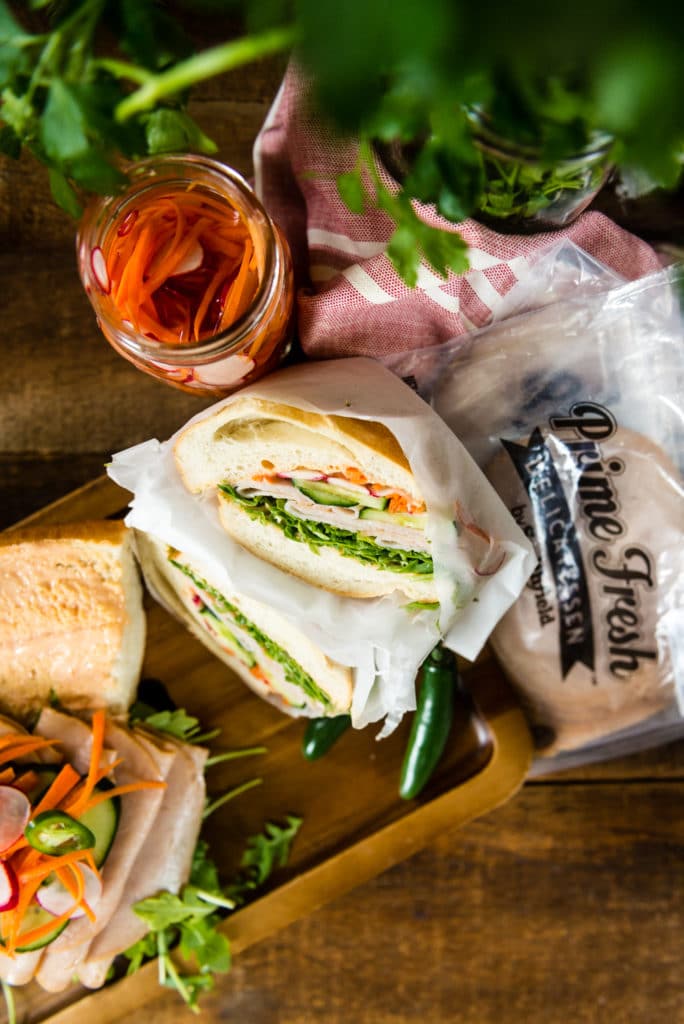 How to pack for a picnic?
Make your sandwiches ahead of time and wrap them in parchment paper or place them in reusable airtight containers for transport.
Place water and other heavy things, like apples, at the bottom of the bag. Then the napkins and any needed utensils.
Layer the wrapped sandwiches and bagged snacks on top to prevent squishing.
If you're feeling really adventurous, you can store all of the ingredients, like the sriracha mayo into glass jars with the lids on tight and even craft a build your own sandwich bar in the wild for your picnic. Repeat the same ideas as above, stacking the heaviest items at the bottom of your bag to prevent anything from getting squished.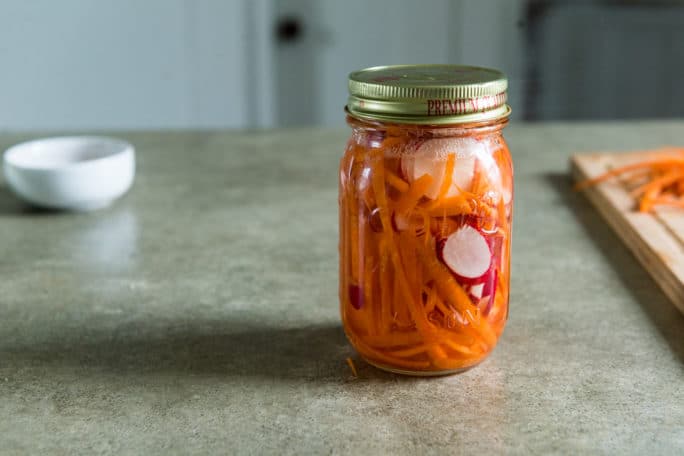 How to Make Quick Pickled Veggies
Pickling veggies on the quick is a favorite trick of mine. In just an hour, thinly sliced veggies can soak up that delicious pickle flavor!
Mix salt and sugar with vinegar.
Add sliced veggies, adding more vinegar if needed to cover.
Seal tightly and give a shake.
Store in a cool place for at least 1 hour before use.
Add extra spice by adding sliced jalapenos and peppercorns.
Or add subtle flavors by adding herbs like thyme.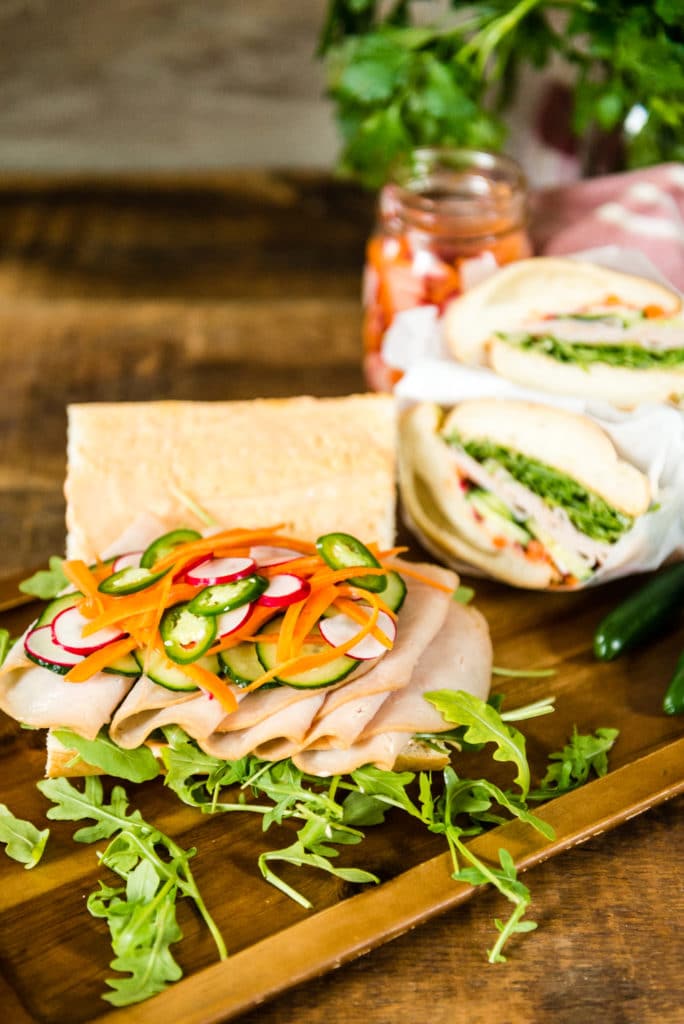 Want more lunch meat recipes inspiration? Try some of my favorite recipes
If you've tried my Quick and Easy Banh Mi Recipe with Quick Pickled Veggies Recipe or any other recipe on GirlCarnivore.com please don't forget to rate the recipe and let me know where you found it in the comments below. I get inspired by your feedback and comments! You can also FOLLOW ME on Instagram @girlcarnivore as well as on Twitter and Facebook.
Quick and Easy Banh Mi Recipe with Quick Pickled Veggies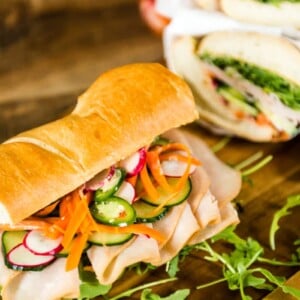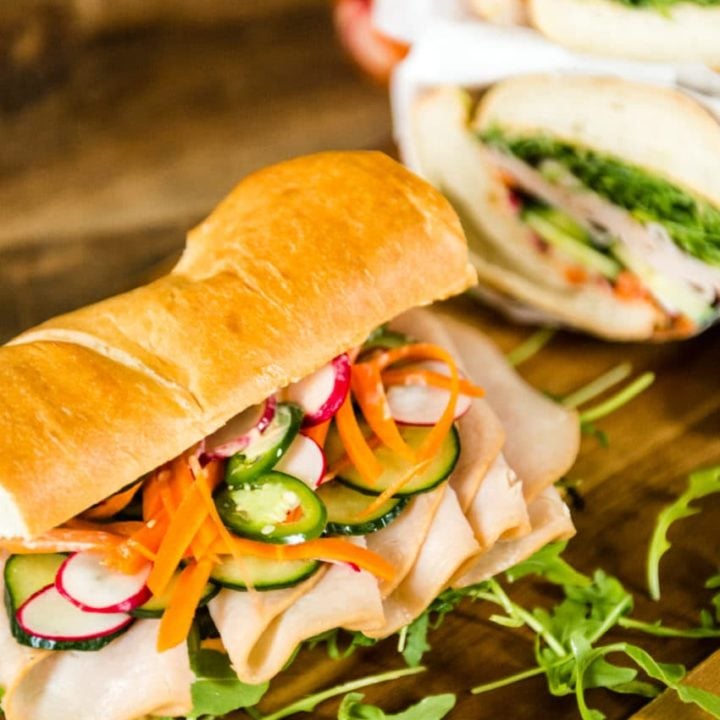 This is a fast and easy recipe inspired by a Vietnamese favorite with quick homemade pickled veggies – perfect for picnics and fun lunches!
Ingredients
For the Quick Pickled Veggies
radishes

Carrot

½

cup

Rice wine vinegar

½

cup

water

1

tsp

Salt

¼

tsp

fresh ground black pepper

1

tsp

Sugar
For the Spicy Mayo
½

cup

Mayo

1

tbsp

Sriracha

½

tsp

Fish sauce
For the Sandwiches
1

loaf French Bread

½

cup

Spicy mayo

2

cups

Arugula

¼

Cucumber

sliced

¼

cup

Pickled veggies

1

Jalapeno

seeded, stemmed and sliced into rings

1

tbsp

Cilantro
Instructions
Make the Quick Pickled Veggies:
Combine the rice wine vinegar, water, salt, black pepper, and sugar in a mason jar. Seal and shake well.

Add the sliced veggies and top off with more rice wine vinegar if needed.

Allow to sit for 1 hour before using.
Make the Spicy Mayo:
Combine the mayo, sriracha, and fish sauce in a small bowl together until well combined. Store in a resealable container in the refrigerator until ready to use.
Make the Banh Me Sandwiches:
Slice the French bread in half longways.

Spread the mayo over the bread halves.

Pile on the arugula.

Fold and layer on the Prime Fresh Roasted Turkey.

Add the cucumbers.

Sprinkle the pickled veggies over the cucumber.

Add a few jalapeno slices and snips of fresh cilantro.

Fold the bread closed.

Wrap the sandwiches tightly in parchment paper and pack for your picnic.
Nutrition