Nothing screams grill season like a hot dog. Take things up a notch with this island influenced pineapple salsa and guacamole char-grilled hot dog recipe!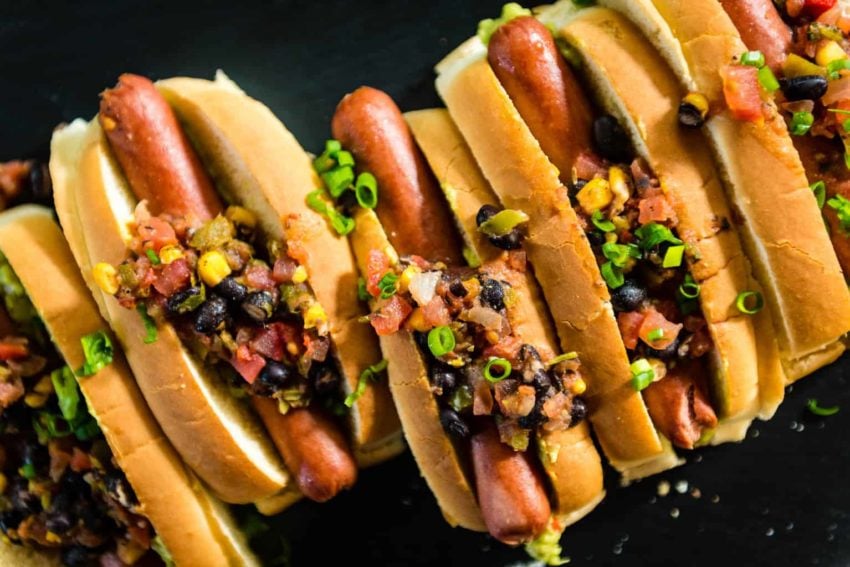 Pineapple Salsa and guacamole? On a hot dog? Yep. That's what this is all about.
There are those who enjoy hot dogs (those who secretly love them) and those who would never touch them.
If you are here, you probably fall in the first category and are looking for a few ideas on mixing up the menu. Now, some believe a hot dog should only be steamed. Some say griddle is the only way. And then there are people like me, who every once in a while just want a char-grilled hot dog. A little burnt is just perfect. But, I am an equal opportunist eater and just tried my first New York System Weiner in Rhode Island. Whether you stuff them, top them with chilly, wrap them in pastrami, pile on a cheesy beer sauce, or just need motivation to create kick-butt dogs all summer long, there is no wrong way to eat a hot dog.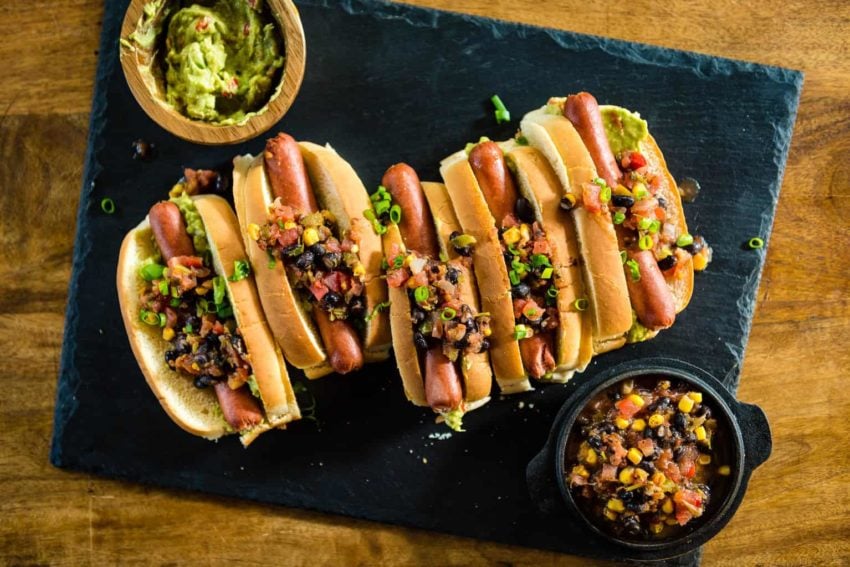 I was out at a taco shop chowing down on a killer house-made pineapple salsa and it struck me how killer it would be to kick it over to Hawaii for a little Pacific style. I traded spam for hot dogs and went wild with this grilled pineapple salsa and guacamole over char-grilled dogs! It was an easy pairing that works and is fun to create, and nibble on as you go.
The salsa and guac are perfect make-ahead sides and go with tacos and tortilla chips as well as they do for the base and topping on char-grilled dogs. Grill these up, nosh a bit and then when the gang is ready to eat, toss the hot dogs on the grill and show them how it's done.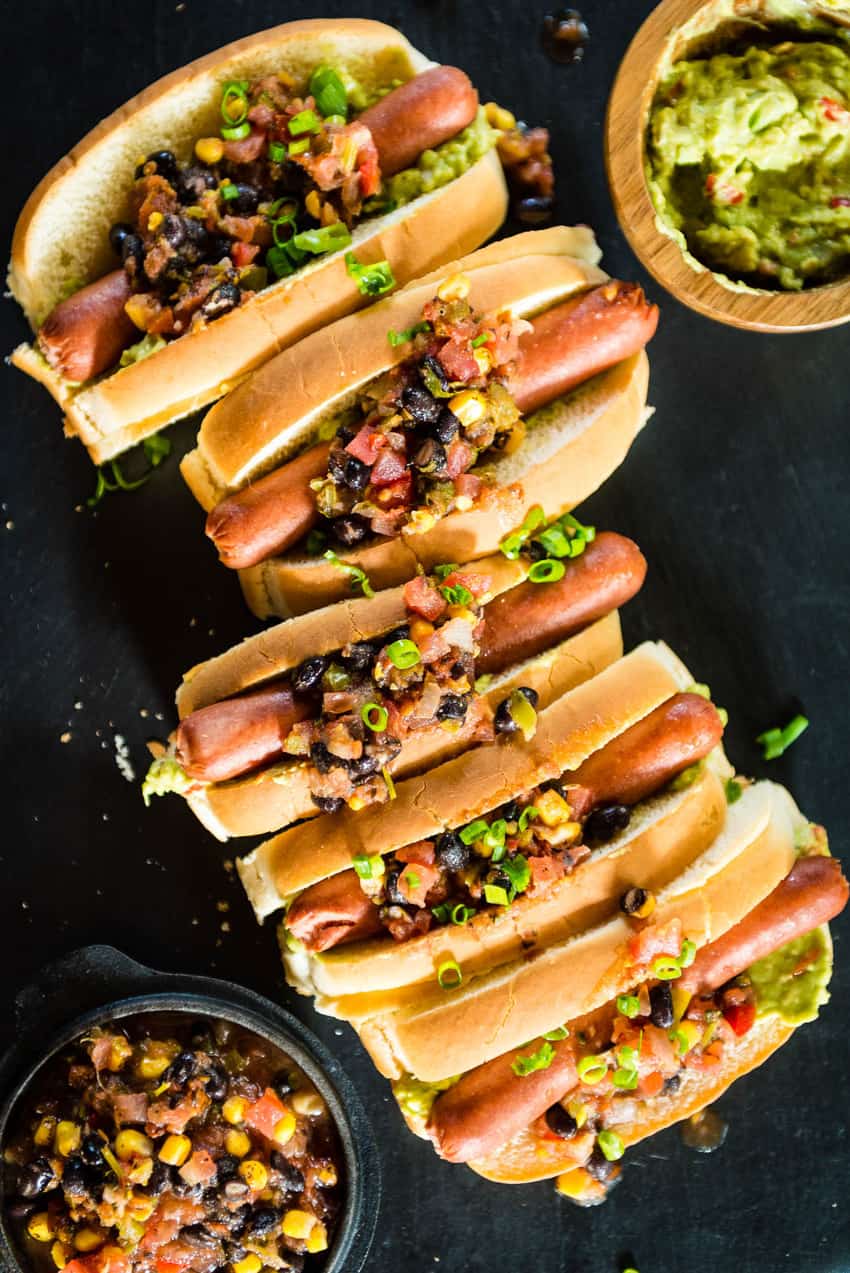 Want more hot dog inspiration? Try some of my favorite recipes
If you've tried my Pineapple Salsa and Guacamole Hot Dogs Recipe or any other recipe on GirlCarnivore.com please don't forget to rate the recipe and let me know where you found it in the comments below. I get inspired by your feedback and comments! You can also FOLLOW ME on Instagram @girlcarnivore as well as on Twitter and Facebook.
Pineapple Salsa and Guacamole Hot Dogs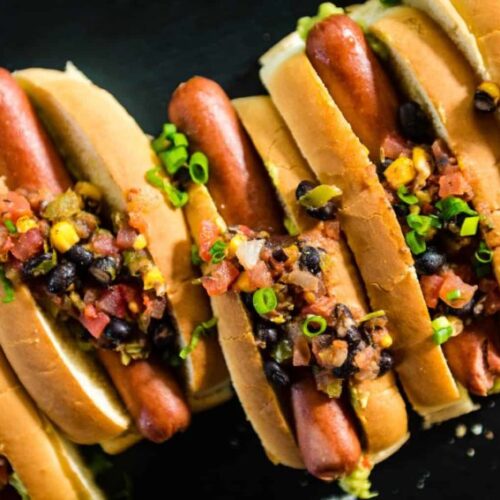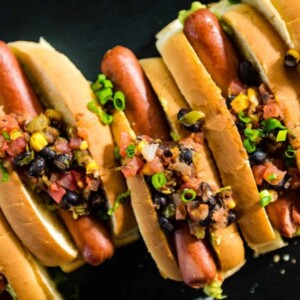 Nothing screams grill season like a hot dog. Take things up a notch with this island influenced pineapple salsa and guacamole char-grilled hot dog recipe!
Ingredients
For the Pineapple Salsa
1/2

Pineapple

cored and sliced into wedges

1

stalk Corn

husk and silks removed, charred and kernels removed from cobb

1/4

cup

Black Beans

rinsed and drained

4

plum Tomatoes

minced

1/4

Red Onion

minced

1

jalapeno

stemmed, seeded and minced

4

Scallions

minced

2

tbsp

fresh Cilantro

2

Limes
For the Grilled Guacamole
3

avocados

1/4

red pepper

minced

1/4

red onion

minced

1

teas cumin

salt and pepper

1/4

teas cayenne

1

tbsp

sour cream

2

limes
For the hot dogs
1

pack natural casing hot dogs

Buns
Instructions
Build a charcoal fire for indirect heat in your kettle grill. Clean and oil your grill grate. Cover, once the coals are arranged and let pre-heat.

Grill pineapple slices until grill marks appear on both sides. Remove from grill and set aside.

Grill the avocado, flesh side down a few minutes for grill marks and then flip and cook another 3 to 4 minutes until soft. Set aside to cool.

Meanwhile, combine the corn, black beans, tomatoes, red onion, jalapeno, scallions, cilantro, juice from 2 limes in a bowl. Add the chopped pineapple and toss to combine. Set aside.

Scoop out the avocado into a bowl and add the minced red pepper, onion, cumin, salt, pepper, cayenne, sour cream, and the juice from 2 limes. Mash together with a fork, folding and mixing to your linking. Set aside.

Salsa and guac can be stored, covered in air tight containers in fridge for up to 6 hours. For guacamole, make sure plastic wrap is touching the surface to avoid discoloration due to oxidization.

When ready to serve, cook the hot dogs until desired char on the grill.

Scoop guacamole into the buns and spread evenly. Place a cooked hot dog in each and top with a healthy scoop of the pineapple salsa. Serve fresh.
Nutrition
Calories:
204
kcal
|
Carbohydrates:
24
g
|
Protein:
4
g
|
Fat:
12
g
|
Saturated Fat:
2
g
|
Cholesterol:
3
mg
|
Sodium:
51
mg
|
Potassium:
626
mg
|
Fiber:
8
g
|
Sugar:
8
g
|
Vitamin A:
665
IU
|
Vitamin C:
57.8
mg
|
Calcium:
39
mg
|
Iron:
1.3
mg