This classic comfort dish uses a dash of global flavors and leftover beef and mashed potatoes to stretch your dollar and fill you up! If you are a fan of shepherd's pie then you can also check out my southwest version too.
Moroccan Shepherd's Pie, unique take on a timeless classic
Shepherd's pie exists in many variations all over the world. Known by many names, it still is recognizable regardless. A baked pie crust, or no crust, the ingredients are cooked in a skillet filled with minced meat in its jus, perhaps a few veggies, and topped with a layer of mashed potatoes.
Simple, but worthy of spinning in a new direction. Time to hop aboard a magic carpet and steer your typical shepherd's pie into a more exotic place. Fill it with exotic spices, and enchantingly embrace spinach along the way, then you arrive at a Moroccan style take on it.
Although classic shepherd's pie uses mutton, this version works wonderfully with beef. You could still use mutton of course, but most domestic markets don't carry it. Lamb maybe, but mutton is not very popular unfortunately and it is hard to find. (You just have to know how to cook it)
You won't have that problem with beef.
In any event, shepherd's pie is a great way to repurpose that leftover roast beef you need to do something with asap. You never know when the health department might show up and ask what you are doing with a leftover roast beef hanging out in the back of your fridge.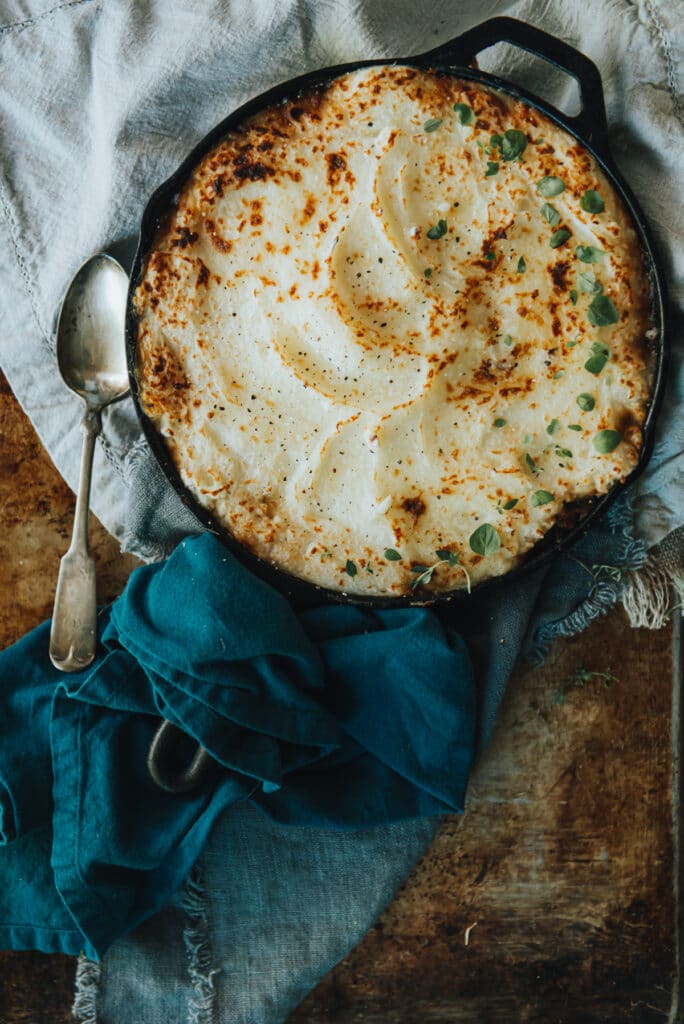 What Is Moroccan Seasoning?
To put the Moroccan spin on this version of shepherd's pie, seek out Moroccan seasoning. This is a six spice blend consisting of dried and powdered ginger, ground white pepper, ground allspice, cinnamon, coriander, and turmeric.
You could of course blend your own if you have each of those handy on the spice rack, but it is nice to get the blend. Then you know the proportions will be correct and balanced.
Moroccan spice is kind of the culinary expression of Morocco. It blends a bit of North and South, East and West like a crossroads of flavors which met at the intersection of their cultures and decided to travel together as one. Much like the ancient spice routes of Morocco herself….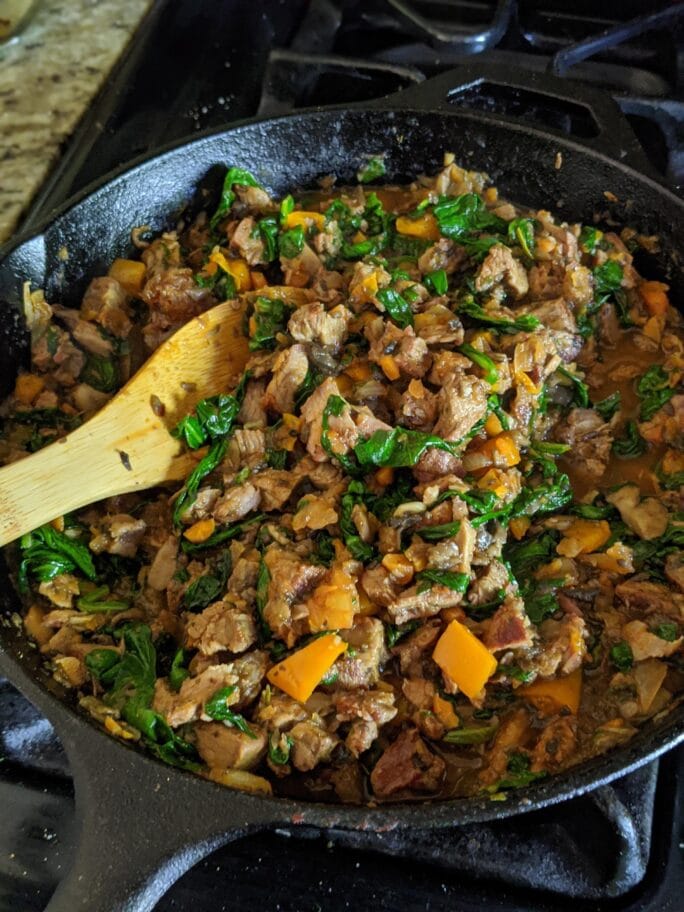 Important Tips For Moroccan Shepherd's Pie
There are a few things to keep in mind…
This recipe has more water in it than a typical shepherd's pie. The mushrooms and spinach definitely need to be reduced to dehydrate them a bit.
If you use ground beef then be sure to brown it and drain it. You don't need the extra water or fat. The chicken broth should provide all the water you need in the recipe. I guess you could keep the liquids from the 'shrooms and spinach of course, but if you do then reduce the chicken broth accordingly. Also, they get better after the liquid has cooked out – so just trust me on this one.
When the edges of the potato topping are slightly browned and caramelized, then it is ready to eat. All the ingredients have already been cooked so you are just heating enough to get everything blending in terms of flavor and looking delicious.
A Variation To Consider
Some folks always want a layer of baked cheese on top of the mashed potato layer. If that is the case, then the typical go-to of cheddar would seem sort of out of place. Why not go with a true shepherd's style goat or sheep cheese?
You could crumble some feta on there or get authentic Moroccan Jben style cheese. Some markets these days have amazing cheese selections so it never hurts to ask.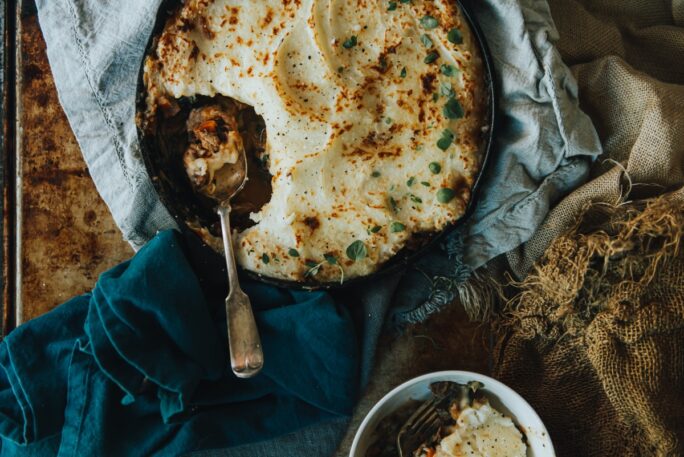 Some Sides To Serve With Moroccan Shepherd's Pie
With any shepherd's pie, it kind of contains everything you need for a complete meal. You have your meat and potatoes and veggies all bundled into one easy dish. But, there is still plenty of opportunity for sides like salads or even soups. Here are a few suggestions I think would work out nicely.

Moroccan Shepard's Pie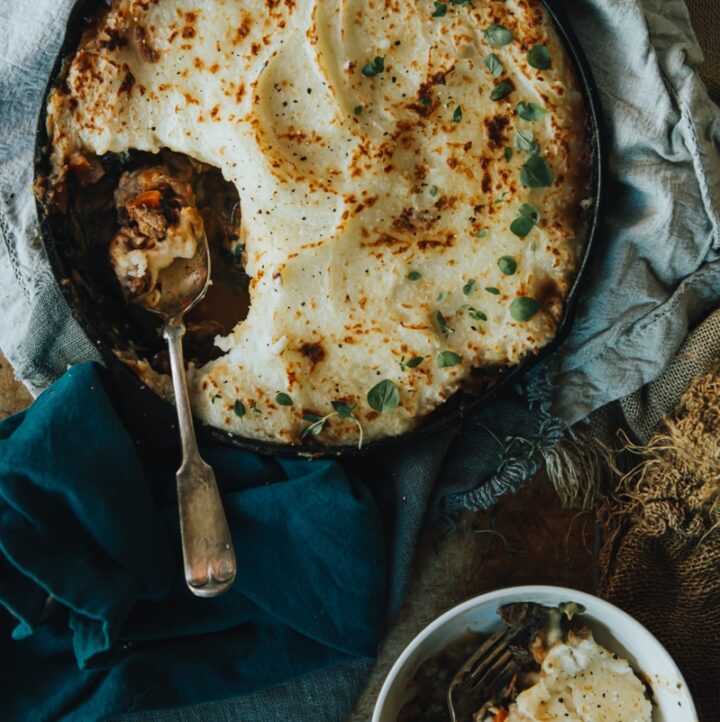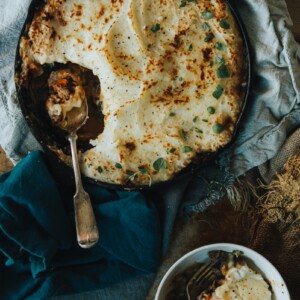 This classic comfort dish uses a dash of global flavors and leftover beef and mashed potatoes to stretch your dollar and fill you up!
Ingredients
1

tbsp

cooking oil

1

cup

leftover steak

finely minced

2

cups

mushrooms

minced

½

onion

chopped

½

pepper

seeded, stemmed and chopped

2

carrots

chopped

2

cloves

garlic

minced

1

tbsp

Moroccan seasoning

1

tsp

paprika

½

tsp

cumin

Salt and pepper to taste

½

cup

chicken broth

4

cups

spinach
Instructions
Heat the oil in a large oven-safe skillet over medium heat. Add the mushrooms and cook out the liquid, about 7 minutes. The mushrooms will get moist and then dry as the liquid evaporates.

Add onion, pepper, and carrot and sautee until soft, 5-7 minutes.

Mix in the garlic and cook 30 seconds longer.

In the skillet, mix in the Moroccan seasonings, paprika, cumin and salt and pepper to taste. Toss to coat the veggies.

Add the chicken broth and the beef. Stir to combine.

Place the spinach on top and cover the skillet. The spinach will wilt down from the heat of the skillet.

Once wilted, fold the filling together to mix evenly.

Reheat the potatoes in the microwave.

Using a spatula, drop the potatoes over the filling in large dollops.

Gently spread the potatoes into an even layer, covering the top.

Preheat the broiler to high.

Place the skillet under the broiler with a watchful eye, until the potatoes are just browning on top.

Carefully remove the skillet from the oven and allow to cool 5 minutes before serving.
Notes
You can use more beef in this recipe if desired, or more mushrooms. If you increase the beef, decrease the mushrooms, and likewise if you increase the mushrooms.
Ground beef also works great for this recipe. Be sure to brown the beef before using it.
Nutrition
Serving:
1
g
|
Calories:
292
kcal
|
Carbohydrates:
39
g
|
Protein:
12
g
|
Fat:
10
g
|
Saturated Fat:
3
g
|
Cholesterol:
27
mg
|
Sodium:
172
mg
|
Potassium:
888
mg
|
Fiber:
5
g
|
Sugar:
4
g
|
Vitamin A:
5503
IU
|
Vitamin C:
42
mg
|
Calcium:
87
mg
|
Iron:
3
mg
See the Web Store for Moroccan Shepherd's Pie