A skillet frittata is my favorite way to use up leftovers and create a hearty breakfast all in one skillet and without baking – but totally on the cooktop or camp stove while camping! Oh, and did I mention it's for the carnivores, this Meat Lovers Frittata!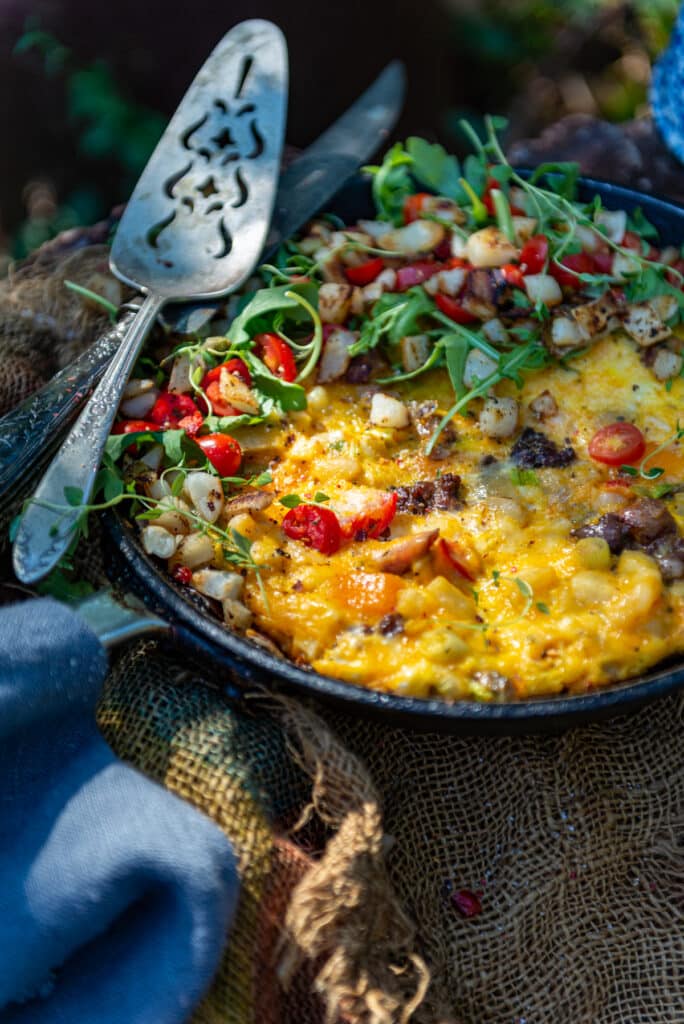 This post was sponsored by the Idaho Potato Commission. All thoughts and opinions are my own.
Clearly, I am a sucker for breakfast. While camping, I think it is the most important meal of the day. If I am going to spend all day hiking at elevations, fishing, and exploring – all before building fires and roasting smores (I mean, right?) I need a hearty filling breakfast.
And, I love that camping recipes are so thoughtful, using up leftovers and making good on what remains from the night before.
This recipe is one of those recipes, one I make often on my last day of camping to use up all. the. things.
All in one skillet frittata gives those things a chance to stand tall again. Not forgotten as leftovers you find the next time you decide to camp.
I can toss any leftover meats and veggies in with a mix of eggs and cheese and cook it all in a skillet for a quick and easy breakfast. Oh, and I am all about that one skillet clean up too.
What do you need for this no-bake skillet frittata?
Gathering all of your ingredients for the frittata is part of making this one go by quickly and without fail. You need your leftover meats, chopped up into bite-sized pieces, potatoes diced into even cubes, leftover vegetables chopped up, eggs, and cheese.
And a skillet. Cuz, it all needs to cook in something. Toss it all in and work your cooking magic.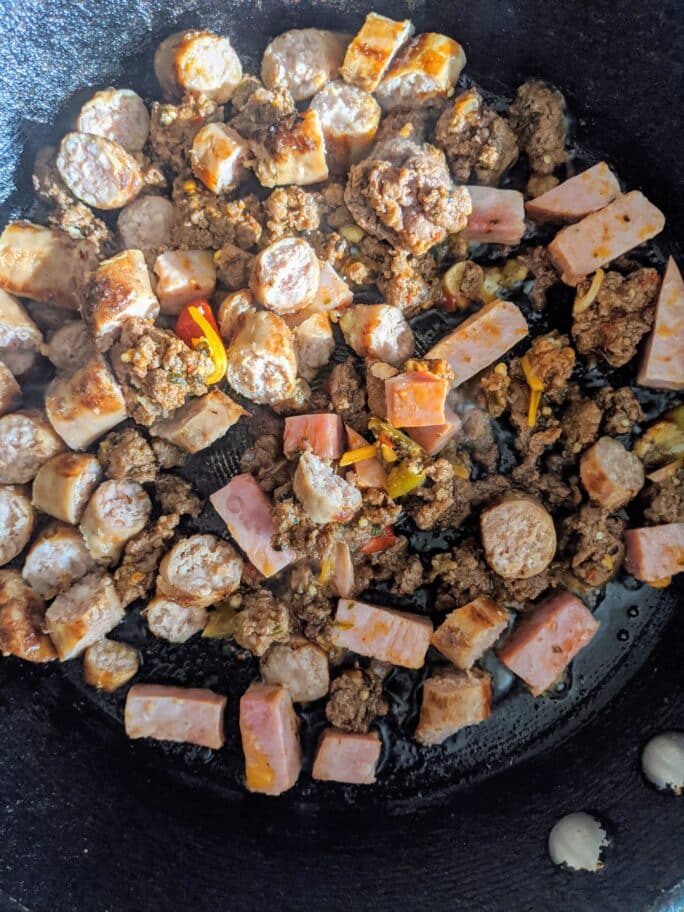 What meats can you use in a frittata?
What I love about this egg dish is that you can toss pretty much anything in and it will work. I used a variety of leftover ground beef we had cooked for tacos, chopped ham, and already cooked maple breakfast sausages.
But I have used steak, salmon, crab meat, deli meat, and even leftover chicken before. Frittatas are incredibly versatile and can be altered in a million ways to suite your needs.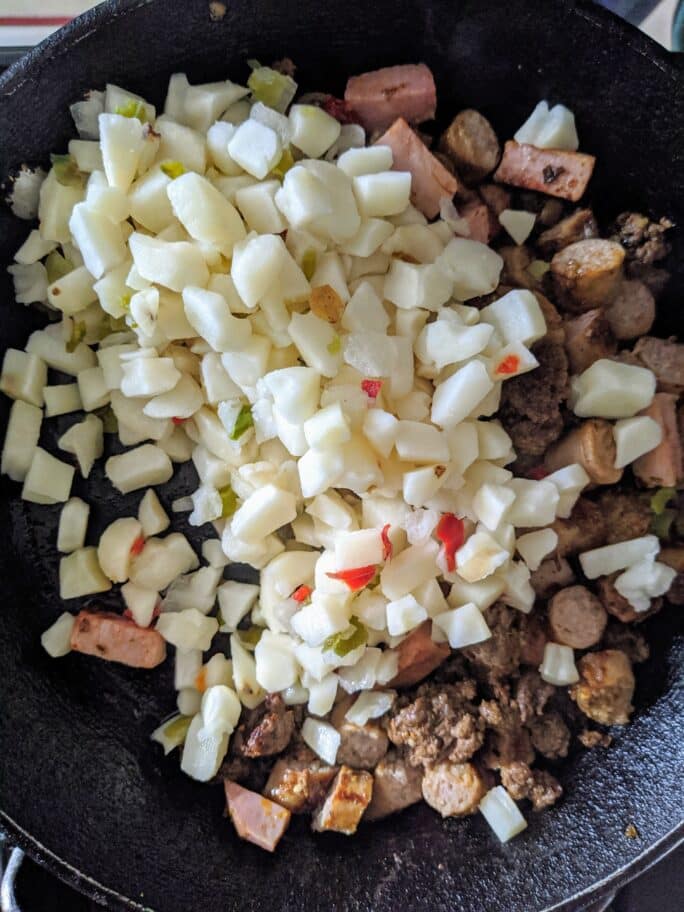 Is there a formula for filling to eggs?
There is a balance to a good frittata. A fluffy egg + hearty meat and delicious filling + creamy cheese = magic. (I don't even care if magic is not a mathematical formula, that's how this works).
But, it's all balance. I try to keep it 6 eggs to 1 1/2 cup meat to 2 cups vegetables to 1 cup cheese for an 8-inch skillet. This ratio works for a 10 inch skillet but it gets a little thin. At a 12 inch skillet, I increase it by another quarter.
You can thank your math teacher later for fractions. We always knew they would be important.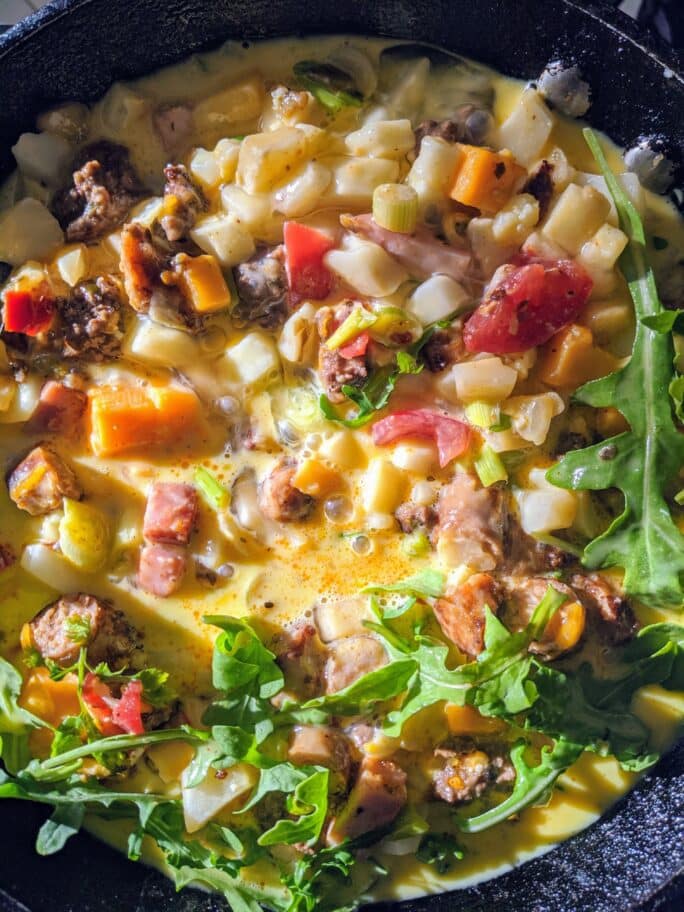 What veggies can I use?
I tossed in a ton of potatoes, tomatoes, and scallions for this down and dirty campfire meal. But you can mix in a variety of vegetables for a frittata.
Try artichoke hearts, roasted autumn squash, chard, leeks, asparagus, sauteed mushrooms, or beans.
Another wonderful pairing with frittata, fresh pesto or chimichurri.
Oh and Cheese
Pretty much all and any cheese will work in a frittata. But if you want the cheese to melt throughout the frittata, a good melting cheese will go a long way.
Cheddar is hands down my favorite or even American or Colby. Sharp hard cheeses will add a ton of flavor in pops as they will retain their shape. Mozzarella is a favorite sprinkled over top is a creamy topping as well.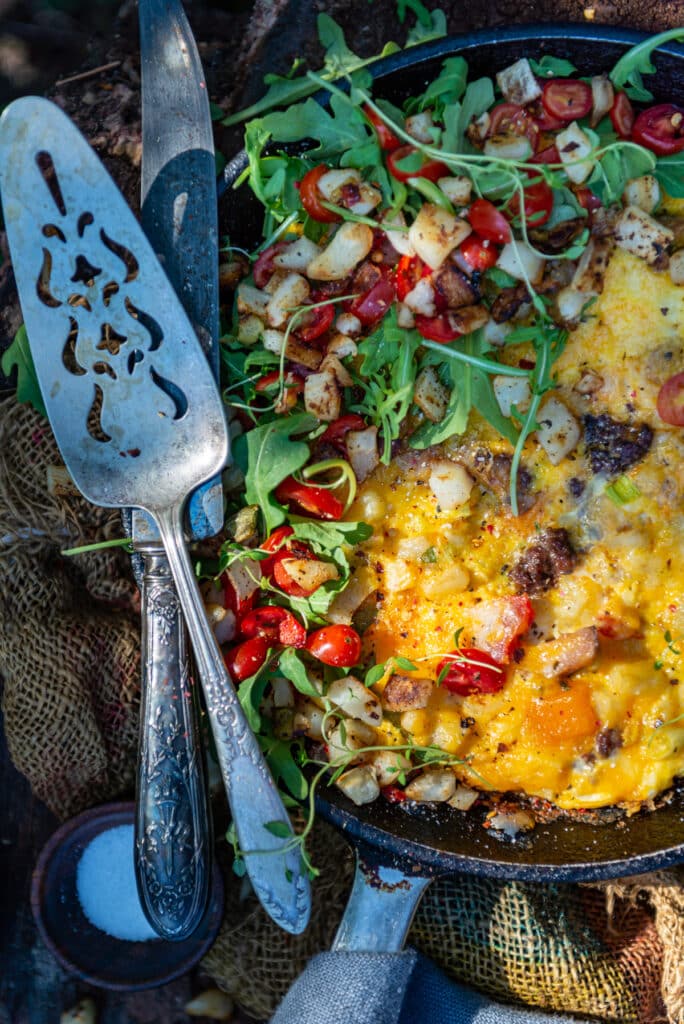 Whats the difference between skillet frittata and strata?
In one word, bread.
Yep, that's the long and short of it. A frittata is whisked eggs in a skillet baked with meat, cheese, and veggies. A strata just has leftover bread tossed in. So, if you have some bread, add a few extra eggs to your ratio and the stale bread too for an even heartier breakfast.
Or skip the carbs and keep it as is.
Want more camping inspiration? Try some of my favorite recipes
If you've tried this meaty skillet frittata or any other recipe on GirlCarnivore.com please don't forget to rate the recipe and let me know where you found it in the comments below. I get inspired by your feedback and comments! You can also FOLLOW ME on Instagram @girlcarnivore as well as on Twitter and Facebook.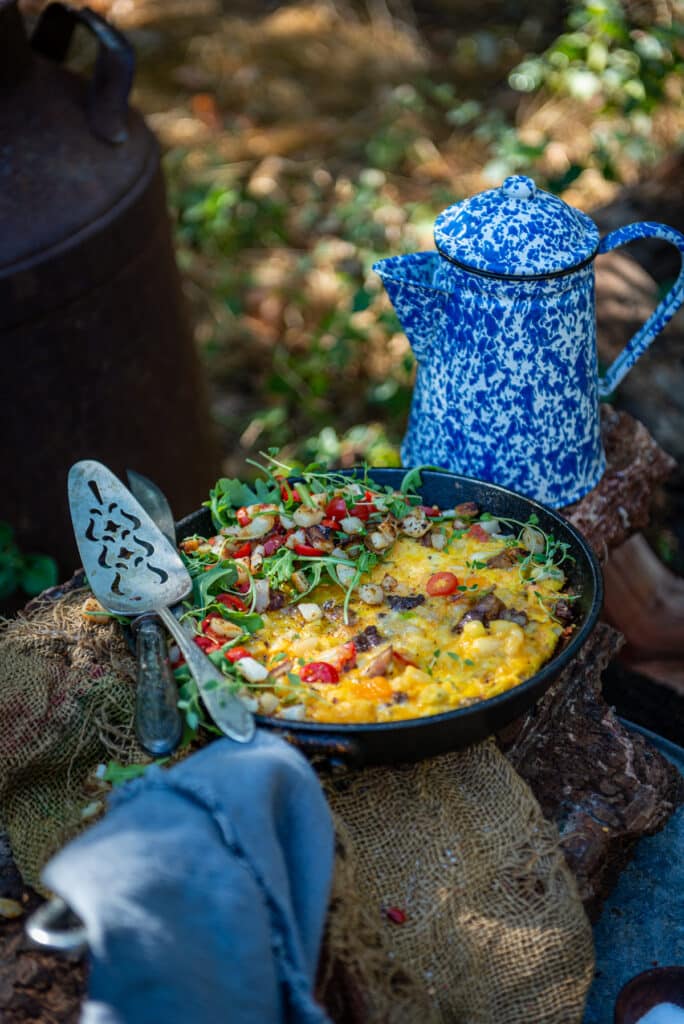 Meat Lovers Frittata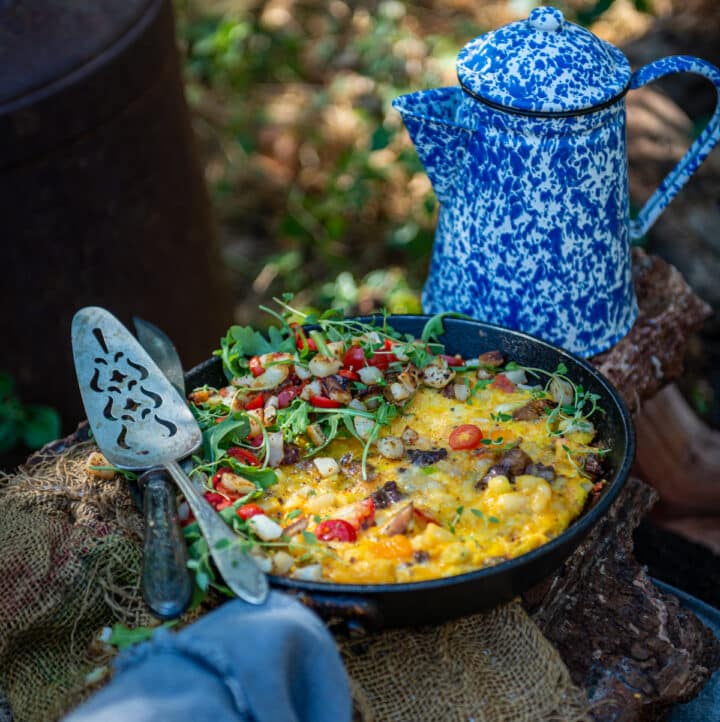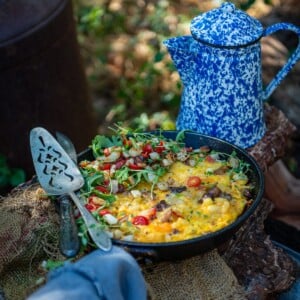 This skillet frittata is made with whatever leftover meats you have on hand and made entirly on the cooktop or camp stove for a seriously delicious breakfast.
Recommended Equipment
Cast Iron Skillet

Camp Stove
Ingredients
1

tbsp

Cooking Oil

6

eggs

2

tbsp

heavy cream

1 ½

cup

leftover meat

sliced into bite-sized pieces

¼

cup

grape tomatoes

sliced

2

Scallions

chopped

¼

cup

Roasted peppers

chopped

1 ½

cup

Idaho russet potatoes

washed, peeled and cut into ½" cubes

6

oz

Cheese

Salt and Pepper

Fresh arugula and sliced tomatoes for garnish
Instructions
Preheat the skillet:
Preheat your cast-iron skillet over a camp stove to medium-heat, when you can feel the heat evenly radiating from the skillet while safely holding your hand above the surface.

Add the oil and swirl to coat the pan.
Combine the Ingredients:
In a large bowl, whisk the eggs with the heavy cream.

Add the leftover meat, tomatoes, scallions, peppers, and potatoes to the bowl and stir.
Cook the frittata:
Cooking the frittata slowly is important over the camp stove.

Top with the cheese.

Allow the eggs to set a few moments before carefully with a rubber spatula, scraping the eggs from the center of the pan and stirring a bit, and then pushing the eggs in towards the center.

Repeat this step a few times around the edges to prevent sticking to the bottom and cooking quickly in one spot.

Cover the frittata with foil and allow to cook through, about 10-15 minutes longer, shimmying the pan occasionally and rotating it so that the heat is evenly distributed.

The frittata is done when the eggs have set. Wiggle the skillet to test if the eggs have set, or use an instant read thermometer and temp at 185 to 190.
Serve:
Serve the frittata hot with fresh arugula and sliced tomatoes over top and on plates to really boost the healthy feeling of this campsite breakfast.
Notes
A well-seasoned cast-iron pan will go a long way for this recipe. The better used and seasoned it is, the more naturally non-stick it is, making your frittata slide out and free with ease.
This recipe calls for leftover meat – I used a variety of taco meat, ham, and cooked sausages from recipes throughout the week camping trip. As long as the meat equals 1 ½ cup portion, any variety of leftovers will do.
Nutrition
Serving:
1
g
|
Calories:
314
kcal
|
Carbohydrates:
8
g
|
Protein:
24
g
|
Fat:
20
g
|
Saturated Fat:
9
g
|
Cholesterol:
238
mg
|
Sodium:
359
mg
|
Potassium:
363
mg
|
Fiber:
1
g
|
Sugar:
1
g
|
Vitamin A:
731
IU
|
Vitamin C:
6
mg
|
Calcium:
247
mg
|
Iron:
2
mg