This Meatball Stroganoff is the perfect camping recipe. It's incredibly easy, can be assembled using just one pan, and is just as hearty as traditional beef stroganoff. Packed with chewy egg noodles, meaty portabella mushrooms, tender meatballs, and a delicious creamy sauce!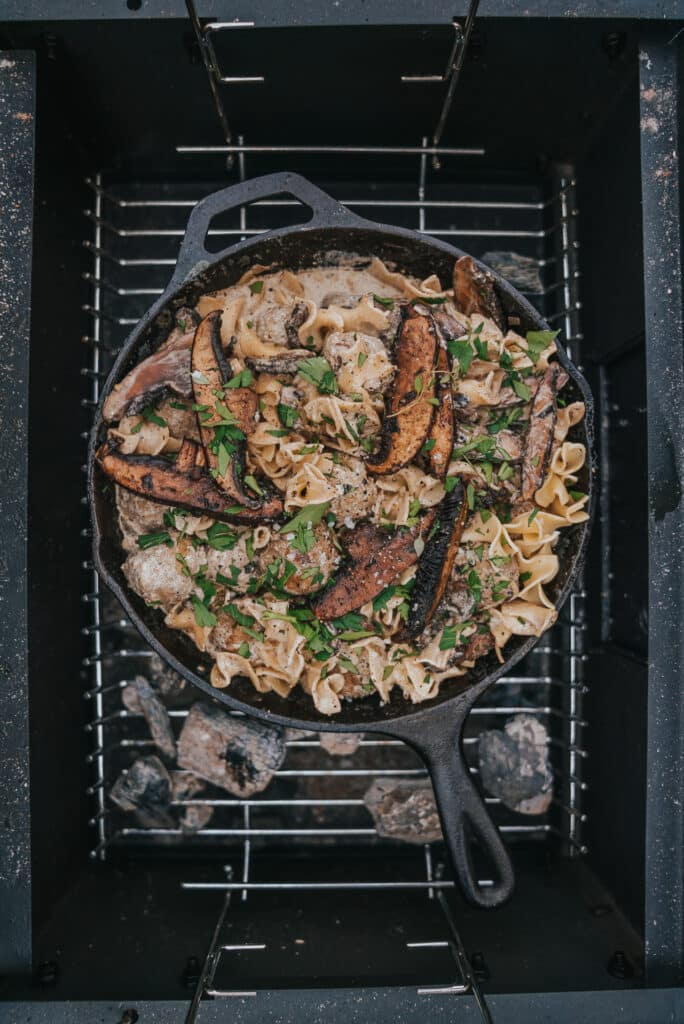 This post was created in partnership with GoRving. All thoughts and opinions are my own. But seriously, get outside.
There's something about classic creamy beef stroganoff. It's the ultimate winter meal. It's rich, indulgent, filling, and there are never any leftovers.
For this easy meatball stroganoff recipe, I wanted that classic comfort food meal, like my classic beef stroganoff recipe, but designed to be made while out on the road and with minimal cooking supplies! Or just because you have meatballs and want a great weeknight dinner the whole family will love.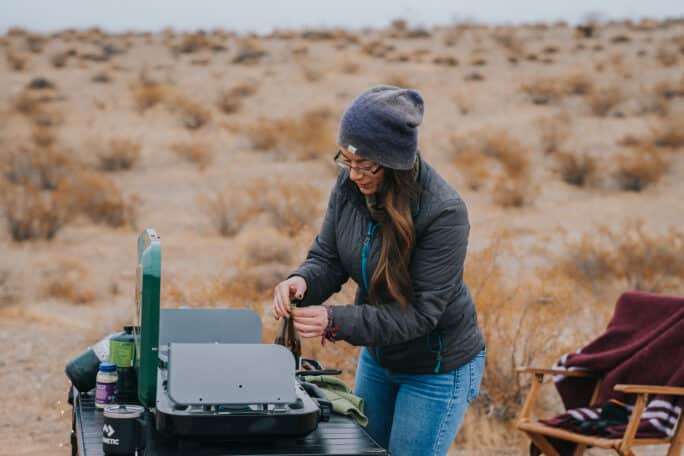 Is it possible to turn this traditional recipe into a cast iron camping hit?
Indeed it is. And with hearty portabella mushrooms, frozen meatballs, and pre-boiled pasta, it was actually a really easy quick dinner. And maybe even better than the classic that's become one of our favorite dinners around the campfire!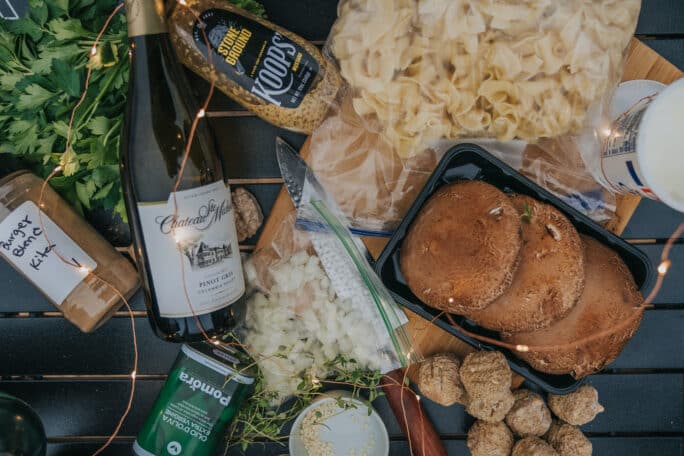 What you need to make this recipe
What makes this meatball stroganoff perfect for camping is that it doesn't require a lot of fussy ingredients. While we love making this around the campfire, is a family favorite on the stovetop any night of the week!
Par-Boiled Egg Noodles – I prefer to cook the noodles ahead of time so this can be a one-pot camping recipe with minimal prep and easy cleanup. However, if you want to boil and drain the egg noodles as you're prepping the sauce, feel free.
Olive Oil 
Salt – we always use kosher salt
Portabella Mushrooms
Girl Carnivore Oomami Powder – or any ground umami powder
Meatballs – I use beef meatballs but you can also use pork. Pork will have a more mild flavor and may need a little extra help from Oomami powder or mushrooms. We love using meatballs as one of our favorite ways to sneak protein into lots of quick meals.
Onion – minced
Garlic – fresh, freeze-dried or even garlic powder work for this recipe
White Wine
Dijon Mustard
Chicken Broth – we don't use beef broth or stock in this recipe because we feel it has too deep a flavor and wanted something milder.
Sour Cream
Fresh Thyme
Parsley
How to make quick meatball stroganoff
Sauté the mushrooms
You'll start this quick dinner recipe by heating a large skillet over medium-high heat.
Once it's hot, add in 1 tablespoon of oil and the sliced mushrooms. Season with salt, then sauté for about 7 minutes or until the liquid sweats out of the mushrooms.
Sprinkle on Oomami seasoning, stir, then remove from the pan and set aside, covering with foil.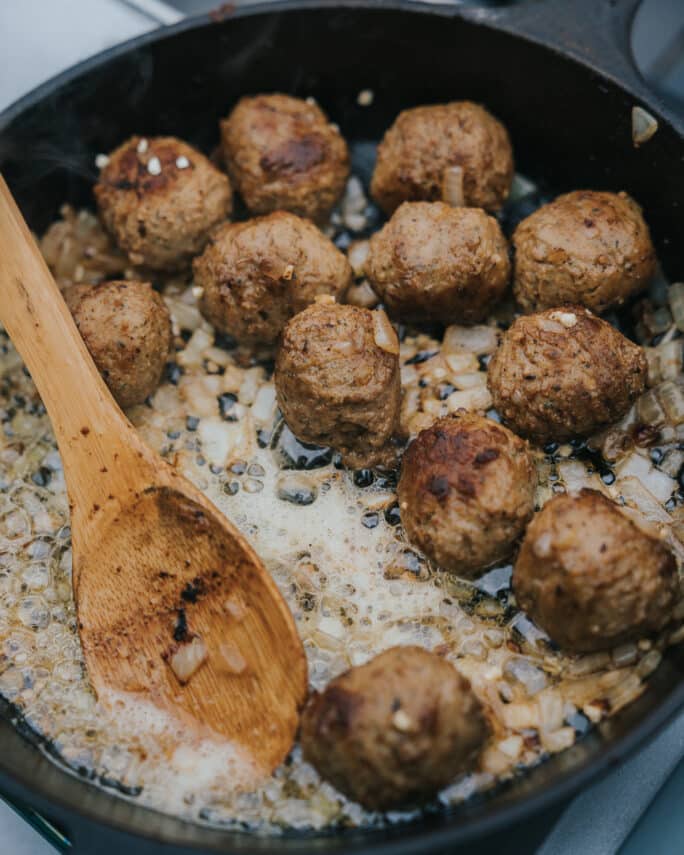 Cook the meatballs
You'll cook the meatballs by adding the frozen meatballs to the pan and sautéing until heated through.
Add in remaining olive oil and onion, then season with another pinch of salt. Cook until softened.
Add in garlic and cook for 30 seconds more.
Whisk in the liquids
Carefully add white wine to the pan, scraping up any browned bits (aka, deglazing the pan).
Slowly, pour in chicken broth and spoon in sour cream, then stir to combine. 
Add pasta
Carefully pour the pasta into the rich sour cream sauce in the pan and fold to combine. 
Add the mushrooms back to the pan, season with fresh thyme, and toss once again in the rich sauce to coat. 
Serve
Garnish with fresh parsley, if desired, then serve and enjoy!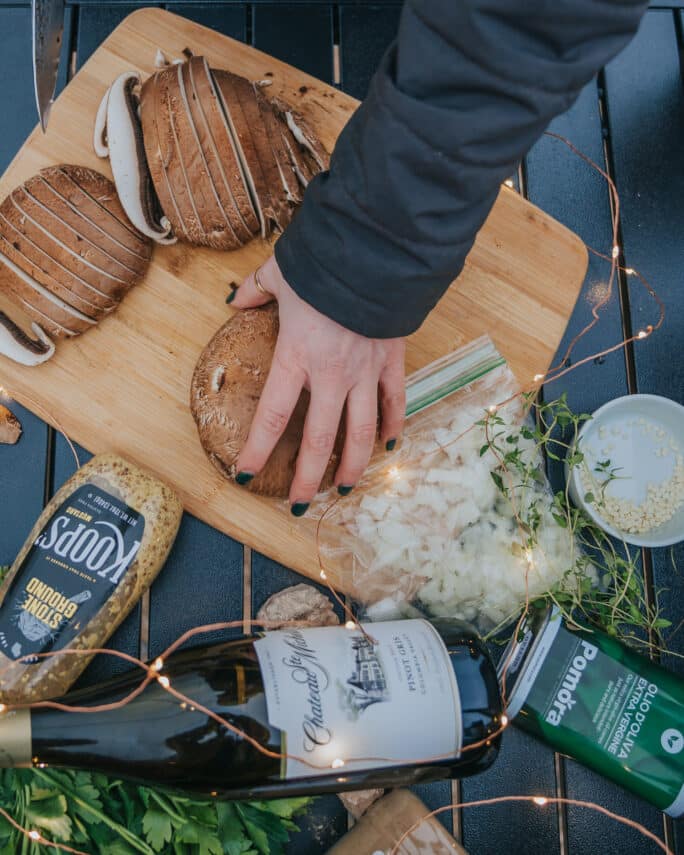 What mushrooms to use
This stroganoff recipe calls for portabella mushrooms. These are thick, hearty, and make a great substitute for a lot of beef as they offer the same rich, umami sensation we carnivores love. 
Really though, you can use anything! Here are some other options:
White mushrooms – these white button mushrooms are common at most markets and far less expensive than portabellas. 
Baby bellas – these are found at most markets as well and are at a price point between whole portabellas and white mushrooms. 
I don't recommend using shiitakes, oysters, canned, or dried mushrooms for this stroganoff.
What meatballs to use
I use beef meatballs so that the deep, hearty beef flavor we are familiar with in traditional stroganoff shines through in this recipe. You can substitute pork meatballs, or mixed meat Italian style meatballs if that's what you have on hand. 
Whatever you use, be sure the meatballs have not already been heavily seasoned with spicy sausage or Italian seasonings, like my ground pork meatballs. You don't want them to alter the desired flavor of this dish.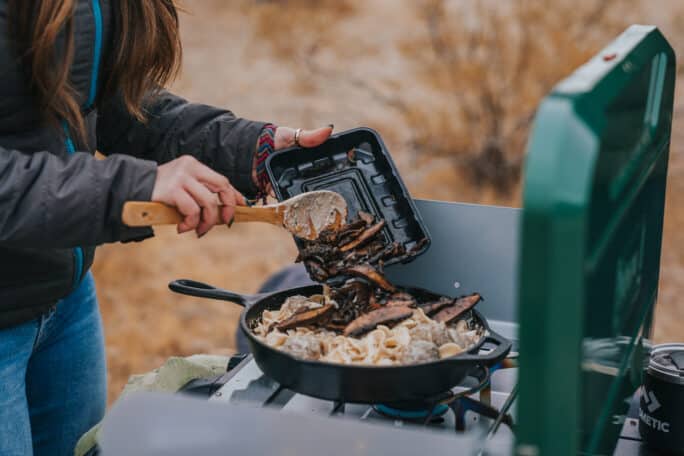 Do you have to pre-cook your pasta?
Not necessarily. I prefer to pre-cook the pasta so it's ready to just be mixed into the sauce for this easy dinner recipe. This makes for fewer dishes and an easier clean-up which is key while camping. 
However, if you prefer to boil and drain the uncooked egg noodles while you're making the sauce, feel free to do that. 
Expert Tips for this recipe:
Pre-boil your pasta. I boil my pasta ahead of time, then store it in a resealable bag for up to 4 days before making the stroganoff recipe. Then all you have to do is toss it with the sauce to heat it when you're ready.
Pre-wash/chop your veggies. The less prep you have to do when you're camping, the better!
Measure out your spices beforehand. You can make a spice blend ahead of time so you're just taking what you need. 
Pack what you need in reusable containers. This makes assembling your meal super easy and then you have containers available to store leftovers.
Pre-cook ground meats. If you're using ground meat and not meatballs for ground beef stroganoff, cook it ahead of time and store it in an airtight container for up to 3 days. If you don't want meatballs, use air fryer steak bites as a great option in this recipe!
How to store
If you do end up having leftover meatball stroganoff, it will last for up to 3 days in the fridge in a resealable air-tight container.
To reheat, simply microwave in batches on medium powder in 30-second bursts, stirring as needed. Or, if camping, reheat portions in a small saucepan or skillet over low heat. Add a little additional water if needed to thin out the sauce.
Other easy recipes to try: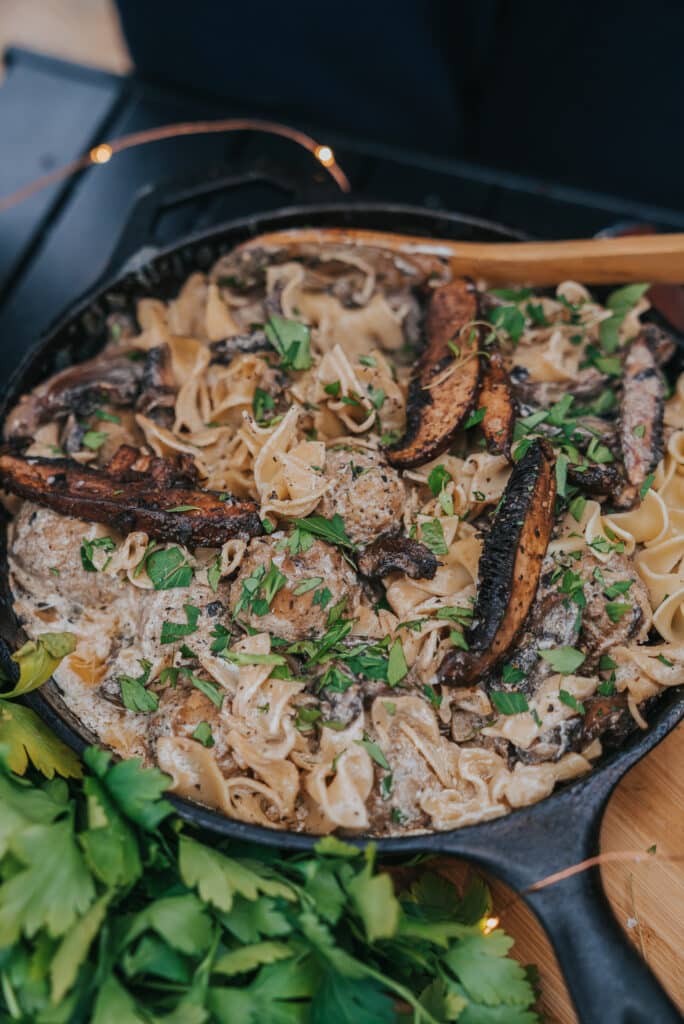 If you've tried my easy meatball strogranoff or any other delicious recipes on GirlCarnivore.com please don't forget to rate the recipe and let me know where you found it in the comments below.
I get inspired by your feedback and comments! You can also join in on the adventures on Instagram @girlcarnivore, Twitter & Facebook.
Easy Meatball Stroganoff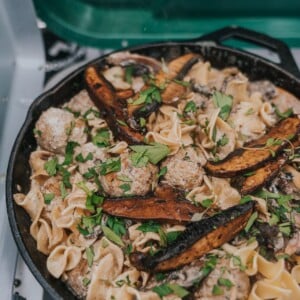 Cozy comforting and perfect for a cast iron skillet at the campfire, this easy meatball stroganoff recipe is an easy recipe perfect for camping or busy nights.
Ingredients
8

oz

par-boiled egg noodles

2

tbsp

Olive oil

divided

1/2

tsp

Salt

8

oz

portabella mushrooms

sliced

1

tbsp

Ooomami powder

1

lbs

meatballs

½

onion minced

2

cloves

garlic

minced

¼

cup

white wine

1

tbsp

Dijon mustard

2

cups

chicken broth

1

cup

sour cream

Fresh thyme

Parsley
Instructions
Sautee the Mushrooms
Heat a skillet over medium heat.

Add 1 tablespoon oil and the sliced portobello mushrooms.

Season with a pinch of salt.

Saute, until the liquid, sweats out, about 7 minutes.

Once the liquid cooks out of the mushrooms, they will behind to brown.

Sprinkle with the Ooomami seasoning and stir as needed until cooked through.

Remove from pan and set aside, covering with foil.
Cook the Meatballs
Add the frozen meatballs to the pan and saute until heated through about 10 minutes.

Add the remaining olive oil and onion. Season with the reamining pinch of satl.

Cook for another 5 minutes, stirring occasionally, unitl softened.

Add the garlic and cook 30 seconds longer.

Whisk in the mustard and stir to coat.
Deglaze the Pan
Carefully add the white wine to the pan, scraping up any browned bits.
Whisk in the Liquids
Carefully pour in the chicken broth.

Spoon in the sour cream and stir to combine.
Fold in the Pasta
Carefully pour the pasta into the pan and fold to combine.

Add the mushrooms back to the pan, and the fresh thyme and toss once again to coat.
Serve
Garnish with freshly chopped parsley and serve.
Notes
Packing in par-boiled noodles makes this recipe come together quickly. If you want, you can boil egg noodles, drain and fold them into the stroganoff fresh. We just like the minimal prep and limited clean up of cooking them ahead of time. 
Pork or beef meatballs work great in this recipe! Use whatever you have on hand. 
If you don't have portabella mushrooms, substitute baby bellas washed and sliced thin. Classic white mushrooms work well in this recipe too. 
This recipe is shown on a camp stove but can be made directly over the fire, on any grill, or in a large nonstick skillet / large saucepan on a traditional range top.
Nutrition
Serving:
1
g
|
Calories:
487
kcal
|
Carbohydrates:
31
g
|
Protein:
20
g
|
Fat:
30
g
|
Saturated Fat:
12
g
|
Cholesterol:
106
mg
|
Sodium:
594
mg
|
Potassium:
584
mg
|
Fiber:
2
g
|
Sugar:
3
g
|
Vitamin A:
262
IU
|
Vitamin C:
8
mg
|
Calcium:
75
mg
|
Iron:
2
mg
Photo & Video Credit: The Wilderness Collective