This post may contain affiliate links. Please read my disclosure policy
Braised red cabbage, stout simmered onions, thick bacon and a Dijon sauce are just the bonus to the brat and beef patty that make up the Irish Brat Burger. Get the recipe!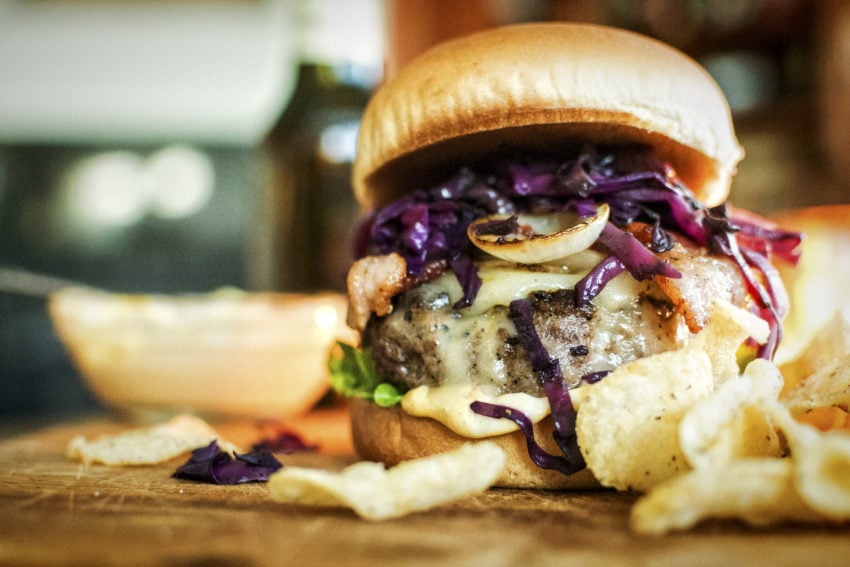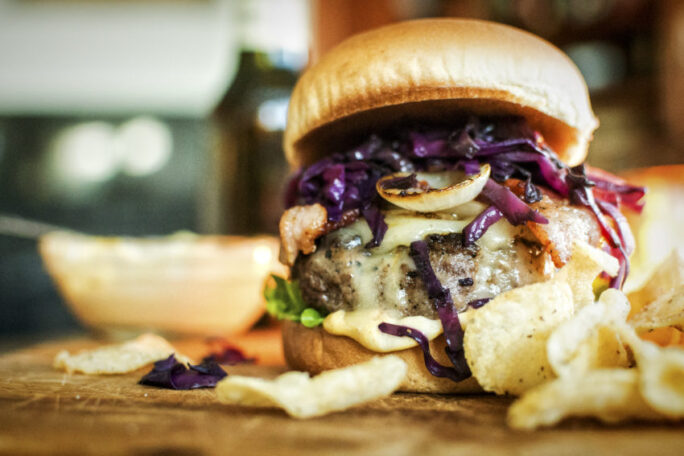 This post was sponsored by Char-Broil Grills who also very very much love themselves some cheeseburgers. The burger epicness, #burgermonth, and sarcasm are still all my own.
Do you know what May is? Besides the month where every kid across the country gets antsy for summer break, people get grumpy from too much yard work, and thousands of people start prepping the pool.
It's National Burger Month, and if you can't tell, I kind of take that pretty seriously. To celebrate, I am in my 3rd or 4th annual burger challenge where I invite people from all over the country to create whatever they feel is a Girl Carnivore approved burger. (And guess what? There are prizes! Yaaaay!

Now, what would a burger month burger party be, if Girl Carnivore herself wasn't also anteing up for some roll up your selves and take a big bite outta something amazing? So, I started on my first creation for the challenge. After some quick thinking, I fired up my Char-Broil Commercial 4-Burner Gas Grill and set out to work. I mixed a fun blend of traditional Irish garlic infused pork brats with my standard 80/20% grind and kept the Dropkick Murphy's on full blast as I braised cabbage and simmered onions in a strong stout.
When grilling pork patties, I am careful to temp the burgers for safety, the standard recommends a temp of 160F, using an instant read thermometer. Once those patties are done, wrap them in foil to rest while you toast the buns and assemble the burger conga line.
If you're feeling brave, consider making burgers around the world bar, with toppings for my Char Grilled Fajita Burgers, Argentinian Butter Burgers, Salmon Sliders, and Pork Pineapple Teriyaki Burgers.
I've been using my new Commercial 4-Burner Gas Grill non-stop since opening it, last month (and making these dry rubbed pork ribs). It's beautiful outside as we gear up for summer and I know it's going to see a lot more use as the Memorial Day weekend approaches. (insert a reason why she likes the grill so much – fewer flare-ups or gets hot, cooks evenly so the burgers are all 160 at the same time – she needs to give SOME detail about the grill)
Hungry yet? Be sure to check out all the amazing burger recipes created for the 2017 #BURGERMONTH challenge!
What are you waiting for? Enter to win the ULTIMATE BURGER GRILLING KIT and let's get to cooking!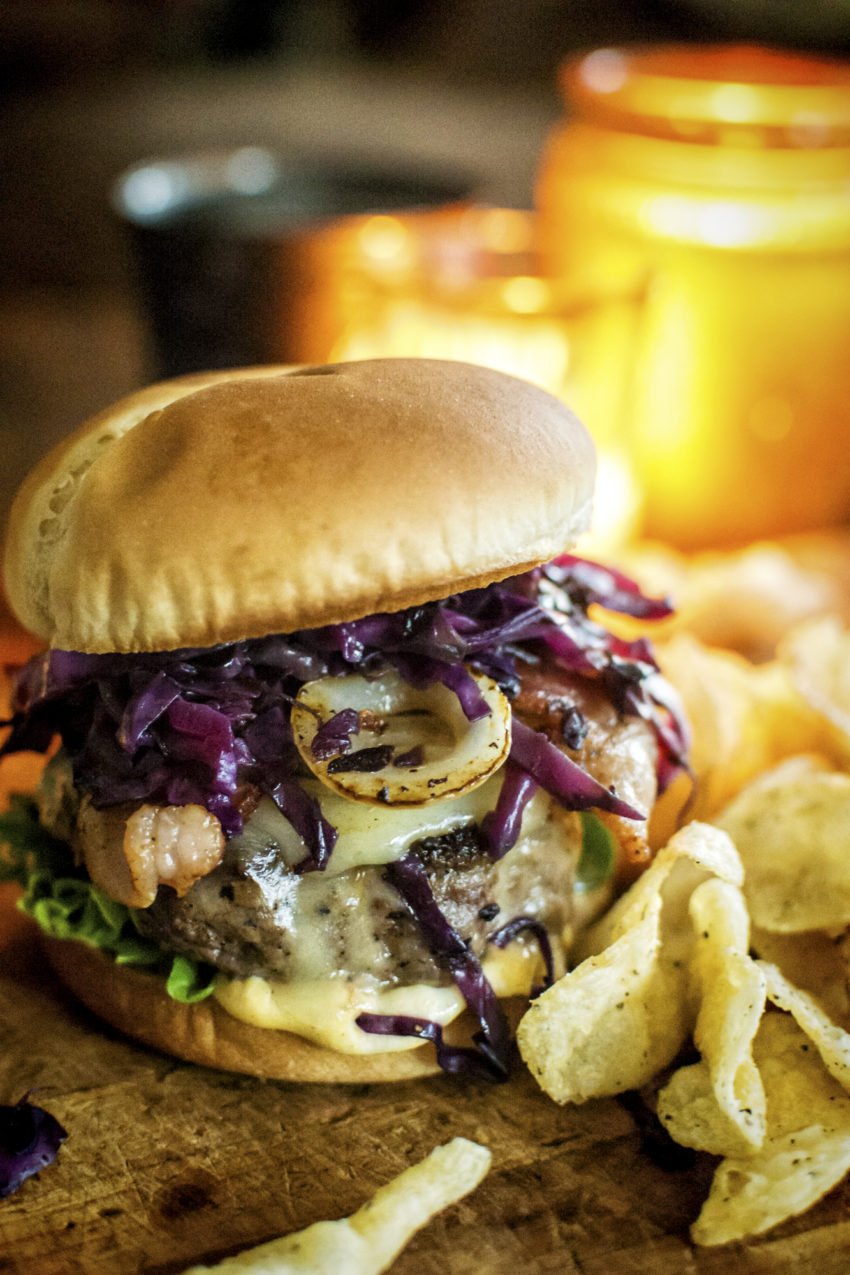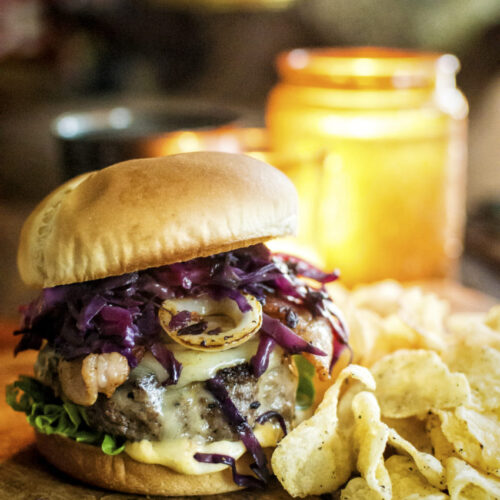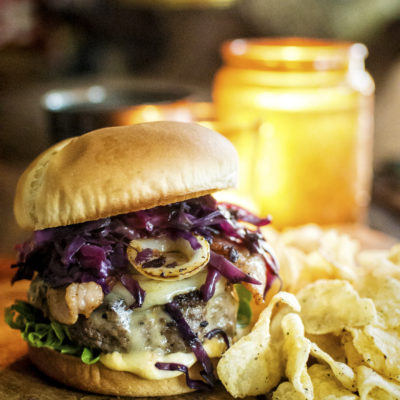 Ingredients
1

lbs

Brat Sausages

casing removed

1

lbs

ground beef

Salt and pepper

Thick cut smoked bacon

cooked until crispy and kept warm

1 ½

cup

shredded red cabbage

1/3

cup

chicken broth

1

tbs

red wine vinegar

1

onion

sliced into rounds

1

cup

dark stout beer

1

tbs

Honey Dijon mustard

¼

cup

mayo

Whole Wheat Buns

Greens
Instructions
Prep the grates of your Commercial 4 Burner Gas Grill by cleaning and oiling and preheat for indirect heat by turning up 2 of the 4 burners (2 of 3 if you have a 3 burner grill).

Mix the brads and beef in a large bowl and season with salt and pepper. I found some delicious Irish garlic brats at my local market and used those for this mix. If you can't find those, mix in some minced garlic and parsley. Form into large patties, just under ½" thick, with a dimple in the center, and allow to rest in the fridge for 20 minutes before grilling.

Braise the onions with the stout in a small iron skillet, stirring occasionally, about 20 minutes. Braise the cabbage in a larger skillet (it will wilt substantially), with the broth and red wine vinegar, covered, about 20 minutes as well. Increase heat and remove lid to cook off any excess liquid if needed. This can be done on the grill, using the side burner, or over the grate if desired.

Meanwhile, When ready to grill, place the patties on the cooler side of the grill and cook until an instant read thermometer reads 160, flipping once, halfway through cook time. Top with cheese and allow to rest on a covered platter.

Combine the Honey Dijon Mustard and mayo in a bowl, add some freshly ground black pepper, if desired.

Arrange the toasted buns out for assembly. Slather with the honey dijon mayo, layer with fresh greens, a juicy grilled patty, cheese, crispy bacon, braised cabbage and onions, and topped for devouring.