Braised red cabbage, stout simmered onions, thick bacon and a Dijon sauce are just the bonus to the brat and beef patty that make up the Irish Brat Burger. Get the recipe!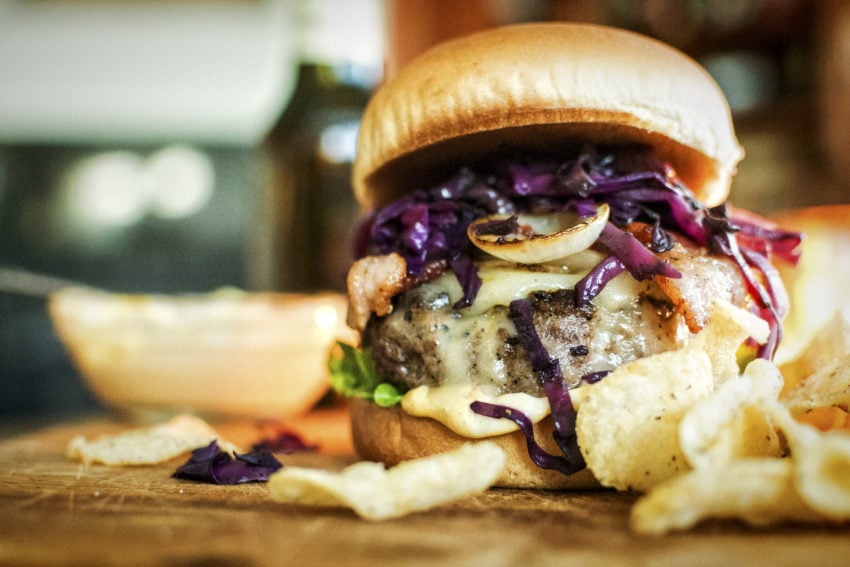 Nothing make's me more happy than a good juicy burger, but Why an Irish Brat Burger? Because it's a dang delicious combo with flavors that blend together for that got rave reviews from friends when I served this the other day.
I mixed a fun blend of traditional Irish garlic-infused pork brats with my standard 80/20% grind when I make my own fresh ground beef and kept the Dropkick Murphy's on full blast as I braised cabbage and simmered onions in a strong stout.
Find Irish Brats At The End Of The Rainbow
Of course close to St Patty's Day you will start seeing traditional Irish style garlic brats everywhere like they had been there the entire time. Any other time of the year and you will find the Leprechaun's pot of gold in a field full of four leaf clovers faster than Irish brats.
Funny how that works. Better stock up while they are available if you plan to eat this burger any other time of year.
Or learn how to pack your own brats like a true carnivore. You will no longer be prey and sucker for the marketing whims of others.
Is That a Brat Or A Banger?
So is it a brat or a banger? You might as well ask if it is a hot dog or a weiner. By any other name, they are all a sausage. But if we must get technical about it, brats are typically done with pork and bangers might be made from beef or lamb… But they can be pork too.
Secret Solution If You Can't Find Those Brats
Let's just face that dilemma together shall we…
You went looking for those Irish garlic sausages and you couldn't find them anywhere in the meat aisle. You asked the butcher and the butcher just stared like you told him you just kissed a leprechaun.
Let's just face the facts. St Patrick's Day is only one day a year and the rollout of cheap corned beef and Irish brats is only going to go for a couple weeks around that day.
Don't sweat it because there are some workarounds. If you used andouille sausage then you would not be far off the mark. Good Louisiana cajun style andouille typically has a decent amount of garlic in it. Just going to spice things up a bit, so be ready for that.
If you then feel compelled to call it Cajun brat burgers then that is your call. At the end of the day all that matters is sitting back and rubbing your stomach and thinking "That was a dang good burger".
Can't find andouille? Then the fallback position is just getting some ground pork and adding some minced garlic and finely chopped parsley to it. Since you are mixing it into the beef, no one will know the difference if you didn't start with Irish sausages.
Let's just not make it a habit though…
Guinness Is The Stout To Use
For the dark stout, I recommend Guinness. One, it of course comes from Ireland so it adds a bit of Irish to the burger's condiments. There are plenty of good dark stouts out there but Guinness is special. Did you know that contrary to popular belief it is actually a fairly light beer?
That's right, Guinness is closer to a Coor's Light than that heavy IPA you've been slogging back. Not only that but good old Guinness has some protein in it! No wonder it was served to the Irish soldiers as a ration.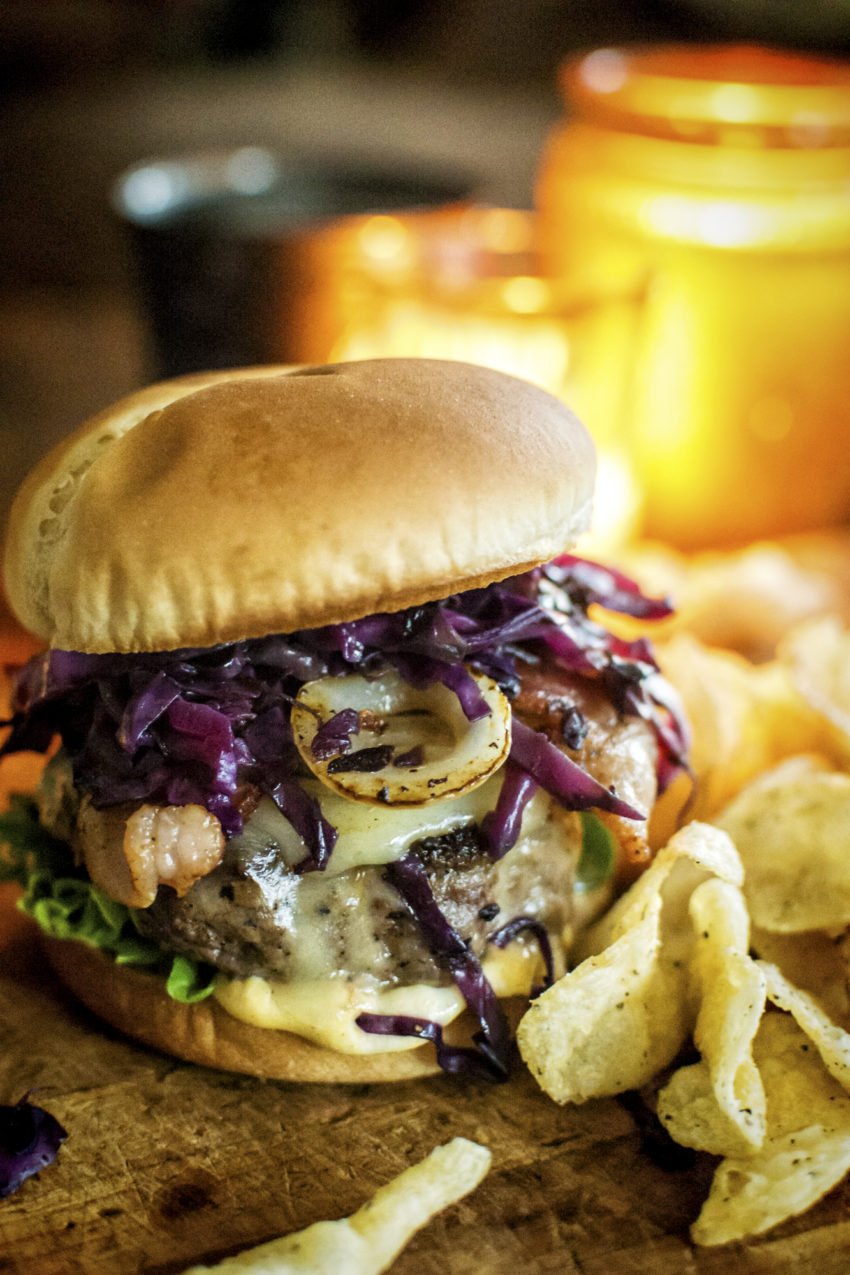 So now you can feel good about keeping the calories down and adding some protein on top. Not sure that makes the burger more delicious than it already is but I do know that makes me feel better about it regardless.
Red Cabbage vs White Cabbage
If you only have white cabbage handy then you can of course use it instead. In terms of flavor, the difference between red and white cabbage is pretty minimal. Red cabbage is just plain better looking though when you cook it down in the stout.

White cabbage will not offer that same pretty picturesque quality. It will look sort of brown and tired. Still delicious but how foods look can have a big impact on how we think they will taste. Make the extra effort for red cabbage.

When grilling pork patties, I am careful to temp the burgers for safety, the standard recommends a temp of 160F, using an instant-read thermometer. Once those patties are done, wrap them in foil to rest while you toast the buns and assemble the burger conga line.
If you're feeling brave, consider making burgers around the world bar, with toppings for my Char Grilled Fajita Burgers, Argentinian Butter Burgers, and Salmon Sliders.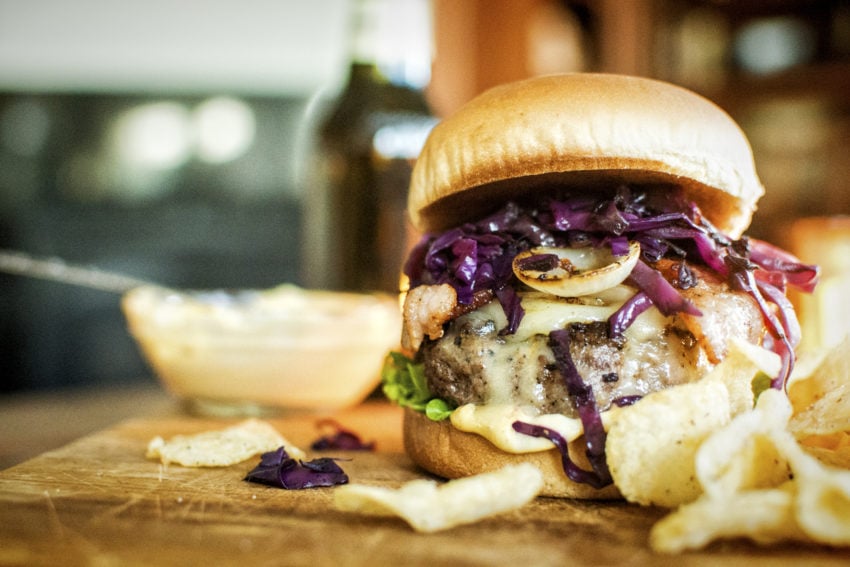 If you've tried my Irish Brat Burger, or any other burger recipe on GirlCarnivore.com please don't forget to rate the recipe and let me know where you found it in the comments below. I get inspired by your feedback and comments! You can also FOLLOW ME on Instagram @girlcarnivore as well as on Twitter and Facebook.
Irish Brat Burger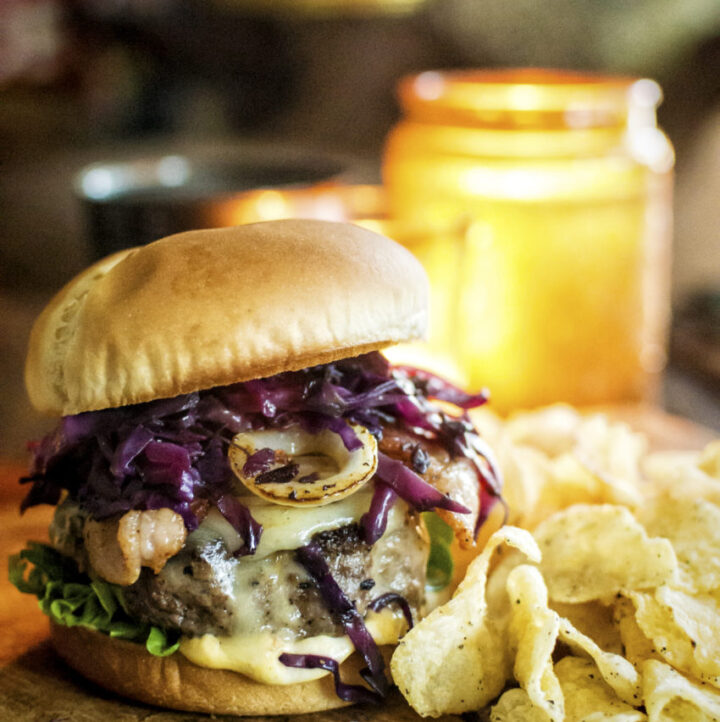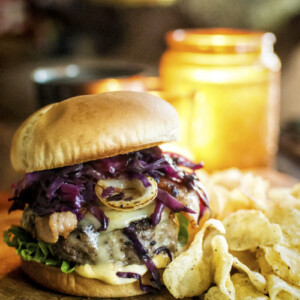 These juicy burgers lock in the garlicy flavor of brats with a creamy sauce over wilted cabbage and onions for a seriously good bite.
Ingredients
1

lbs

Brat Sausages

casing removed

1

lbs

ground beef

Salt and pepper

Thick cut smoked bacon

cooked until crispy and kept warm

1 ½

cup

shredded red cabbage

1/3

cup

chicken broth

1

tbs

red wine vinegar

1

onion

sliced into rounds

1

cup

dark stout beer

1

tbs

Honey Dijon mustard

¼

cup

mayo

Whole Wheat Buns

Greens
Instructions
Prep & Mix the Meat
Prep the grates of your grill by cleaning and oiling and preheat for indirect heat by turning up 2 of the 4 burners (2 of 3 if you have a 3 burner grill).

Remove the brats from their casing and mix with the beef in a large bowl and season with salt and pepper.

Form into large patties, just under ½" thick, with a dimple in the center, and allow to rest in the fridge for 20 minutes before grilling.
Braise the Onions and Cabbage
Braise the onions with the stout in a small iron skillet, stirring occasionally, about 20 minutes.

Braise the cabbage in a larger skillet (it will wilt substantially), with the broth and red wine vinegar, covered, about 20 minutes as well. Increase heat and remove lid to cook off any excess liquid if needed. This can be done on the grill, using the side burner, or over the grate if desired.
Grill the Burgers
Meanwhile, When ready to grill, place the patties on the cooler side of the grill and cook until an instant read thermometer reads 160, flipping once, halfway through cook time.

Top with cheese and allow to rest on a covered platter.

Combine the Honey Dijon Mustard and mayo in a bowl, add some freshly ground black pepper, if desired.
Assemble the Burgers
Arrange the toasted buns out for assembly. Slather with the honey dijon mayo, layer with fresh greens, a juicy grilled patty, cheese, crispy bacon, braised cabbage and onions, and topped for devouring.
Notes
I found some delicious Irish garlic brats at my local market and used those for this mix. If you can't find those, mix in some minced garlic and parsley.
Nutrition
Serving:
1
g
|
Calories:
812
kcal
|
Carbohydrates:
12
g
|
Protein:
36
g
|
Fat:
66
g
|
Saturated Fat:
22
g
|
Cholesterol:
170
mg
|
Sodium:
1225
mg
|
Potassium:
838
mg
|
Fiber:
1
g
|
Sugar:
3
g
|
Vitamin A:
372
IU
|
Vitamin C:
22
mg
|
Calcium:
74
mg
|
Iron:
3
mg