Steak and eggs level up with this killer espresso rubbed t-bone with a poached egg and quick pan hollandaise sauce.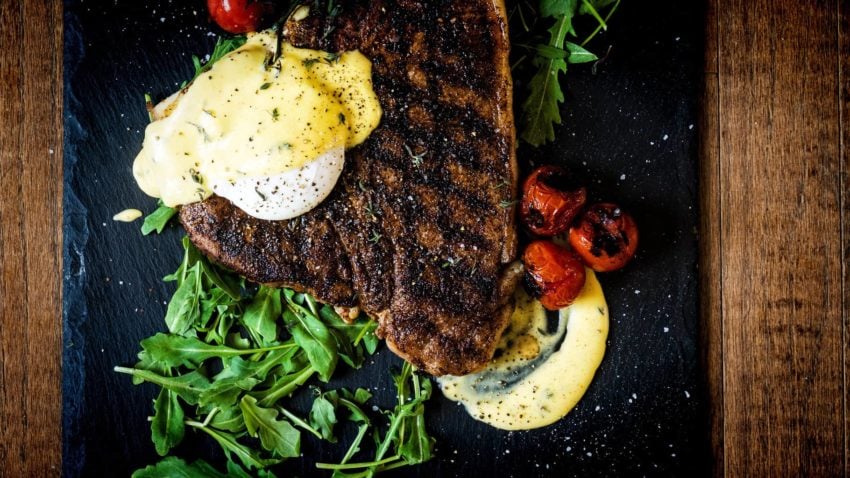 How to pick a cut of beef:
What are you looking for when you are picking out a cut of beef?
Sure, the cut comes first, always dependant on what recipe you are cooking. But, after that, there are so many choices on the label that it can be hard to know which is the perfect choice for your needs.
This can quickly become a heated debate across many kitchens, as we live in a region where we can pick from conventionally raised beef to organic hormone free grass fed no-antibiotic beef if we desire. The overall answer though is that our options aren't one size fits all and its great that we live in a time of choices. Check out my post on beef labels, for a quick recap of what common market labels mean when you are feeling overwhelmed by the choices at the counter.
Personally, I feel that there isn't one way to raise cattle and that region, economics, and privilege come into play when choosing. At the end of the day, I want to spend my money on a piece of beef that tastes amazing, was cared for as best as its farmer could, and was processed as humanely as possible.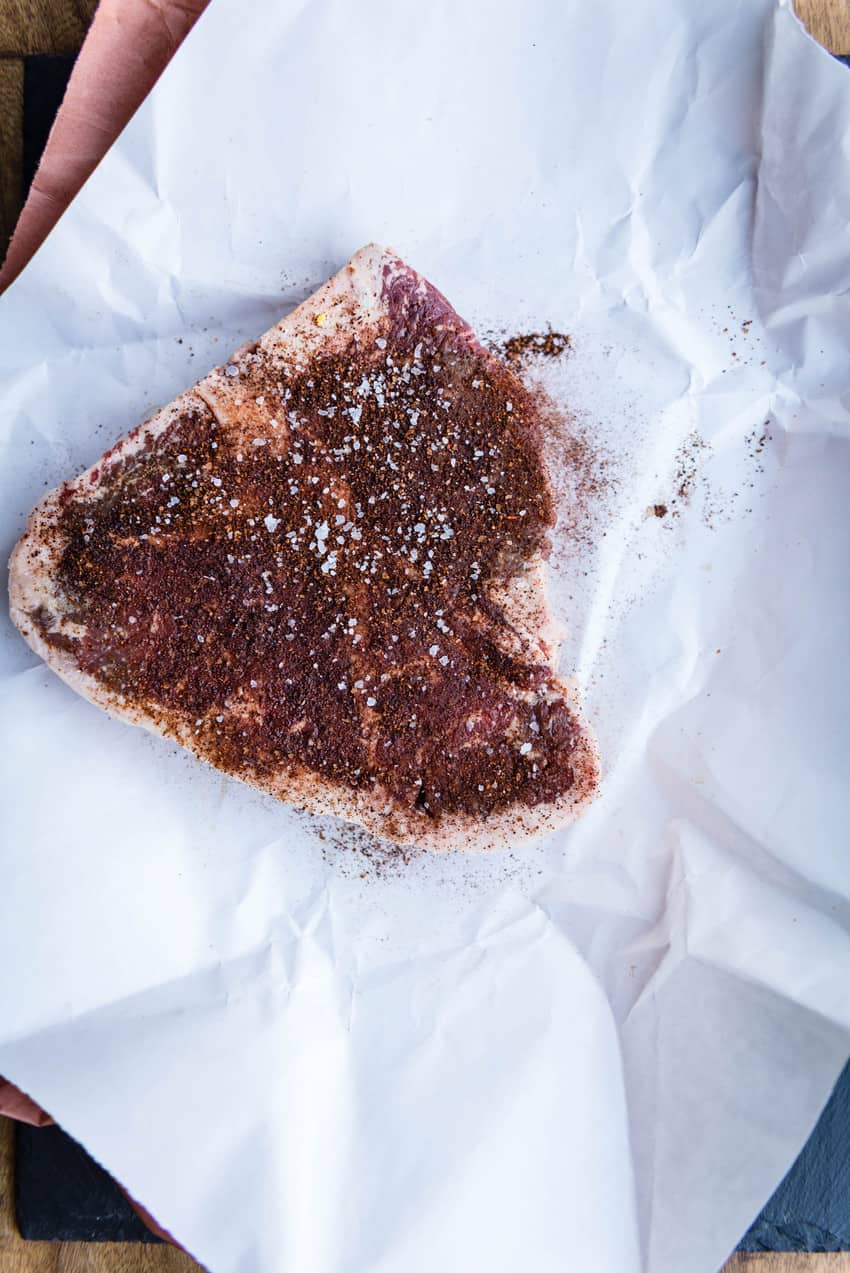 How to pick a steak:
At the market, when I am choosing a steak for myself, I look at the marbling and colour. The region I grew up in, didn't allow me to form relationships with local farmers, so I rely on the USDA standards when I am at the meat counter to guide my needs as far as knowing that the animal was treated well and cared for. From there, I love to look over the grades, and if I can afford it, and am grilling a simple steak, like this one here, I will spring for a Prime cut. Enough fat to add the right amount of flavor as the steak quickly cooks over the grill.
I wish it was more complicated than that, and yes, my choices to change depending on the paycheck or offered sales that week. I am also, when I have the means, likely to purchase directly from a processor or farmer when I have had a conversation with them, but for the most part, after meeting so many farmers in the country, I know that everyone is doing the best they can for the animals they care for and us. And that helps me feel confident when I'm purchasing.
For the Espresso Grilled T-Bone with Poached Egg and Hollandaise Sauce
Now, onto this brunch menu. Seriously, as much as I am a fan of a runny-yolked fried egg, this steak and eggs brunch took things to a whole new level. If you have the time, the few minutes it took to poach the egg and whip up the hollandaise turn a campfire brunch into a gourmet experience. The best part is, it looks complicated, but really isn't. Just makes sure you have a backup egg in case this is your first time poaching to perfection.
Bring on the beef.
Tools Used for this Recipe: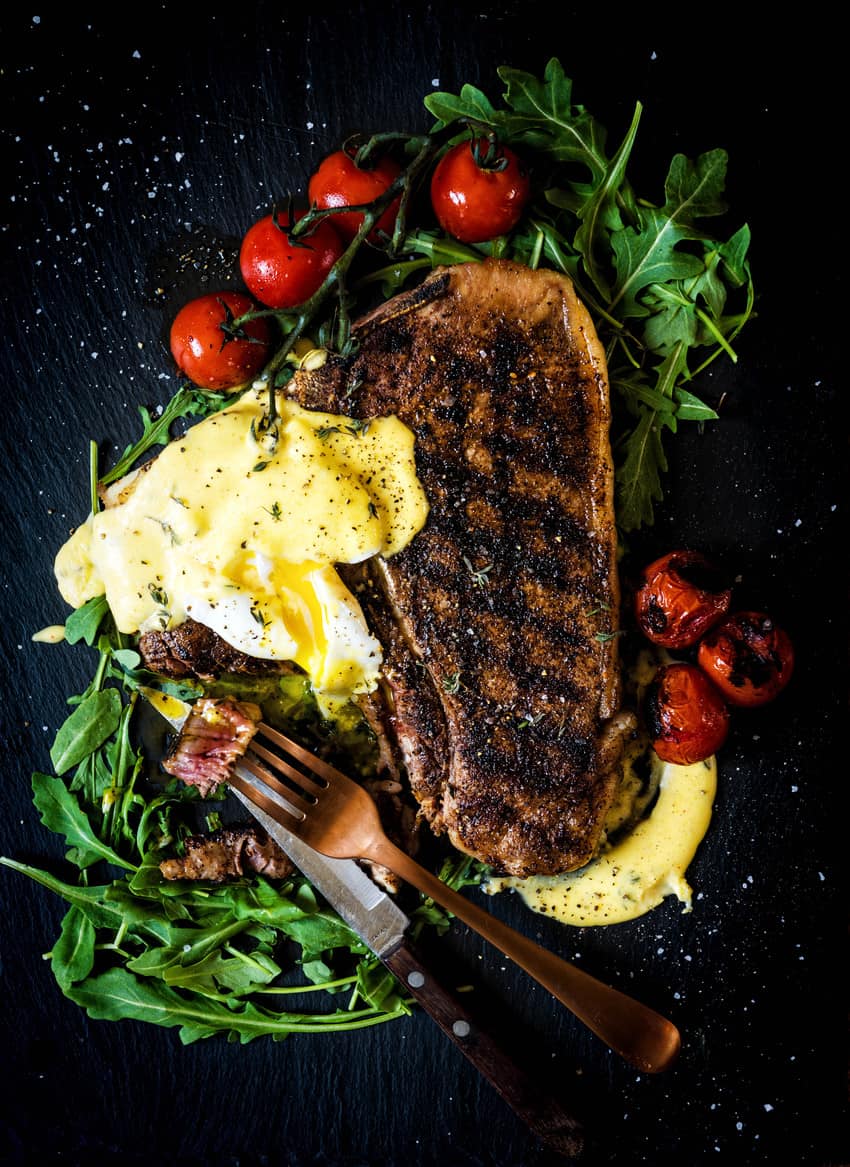 Need more steak inspiration? Check out these recipes:
If you've tried my Espresso Grilled T-Bone Steak recipe, or any other recipe on GirlCarnivore.com please don't forget to rate the recipe and let me know where you found it in the comments below. I get inspired by your feedback and comments! You can also FOLLOW ME on Instagram @girlcarnivore as well as on  Twitter and Facebook.
Espresso Grilled T-bone Steak with Poached Egg and Hollandaise Sauce
Wake up to the perfect breakfast. This espresso rubbed grilled t-bone steak is next lever with a perfect egg and creamy hollandaise sauce atop.
Ingredients
For the Steak
1

tbsp

espresso rub

1

teas

coarse sea salt

1

t-bone steak, over 1.5 lbs

tomatoes on the vine

arugula
For the Poached Egg
1

teas

white vinegar

1

egg
For the Hollandaise Sauce
4 to 5

fresh thyme sprigs

4 to 5

tbsp

butter

2

egg yolks

1

teas

water

¼

tsp

cayenne pepper

½

lemon

juiced

¼

tsp

salt
Instructions
For the Steak
Rub the steak with the espresso seasoning and sprinkle with salt while the grill is heating.

Grill the steak over medium-high heat, until cooked to the desired temperature for doneness.

Allow to rest before slicing and serving.
For the Poached Egg
Crack egg into a small, easy to handle, dish to make adding to the water easier.

Bring a 2 quart pot of water to a rolling boil. Reduce heat to keep the boil steady, but not as violent.

Stir the water a bit to create a vortex and gently slide the egg into the center.

Allow the egg to poach for 3 to 4 minutes, until the white is set.

Remove with a slotted spoon to drain.
For the Hollandaise Sauce
Remove the fresh thyme from the sprigs and set aside.

In a heavy-bottomed saucepan, whisk the egg yolks, water, and lemon juice.

Whisk the egg yolks over medium-low heat until they have doubled in size and are thickening.

Off heat, add the butter, whisking in a tablespoon at a time until completely incorporated into a creamy sauce.

Add the cayenne and thyme leaves. Season with salt and serve immediately.
Nutrition
Nutrition Facts
Espresso Grilled T-bone Steak with Poached Egg and Hollandaise Sauce
Amount Per Serving
Calories 484
Calories from Fat 288
% Daily Value*
Fat 32g49%
Cholesterol 372mg124%
Sodium 1586mg69%
Potassium 700mg20%
Carbohydrates 5g2%
Protein 41g82%
Vitamin A 470IU9%
Vitamin C 14.3mg17%
Calcium 53mg5%
Iron 4.6mg26%
* Percent Daily Values are based on a 2000 calorie diet.