We've put together our best gifts for the grill master in your life. From beginners to old pros, must-have accessories, tech, spices, and more; here are our 50 best grilling gifts.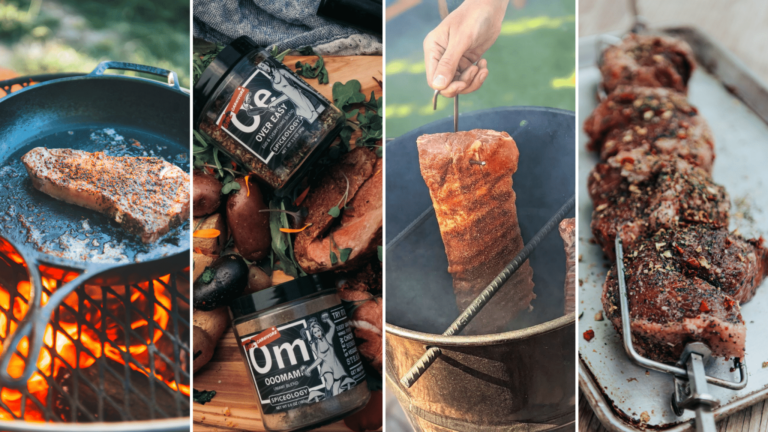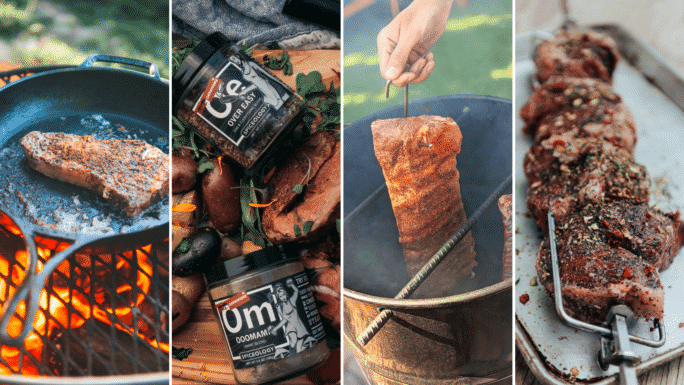 When it comes to gift-giving, shopping for BBQ enthusiasts can be hard (mainly cuz, it usually seems they have gone ahead and bought whatever it was they may have needed). So, we've put together our most loved and used grills, tools, accessories, and even some fun bonuses to fill the stocking for all levels of grill lovers.
Best Grills for Gifting
There's a grill for every style of pitmaster these days. From camping and overlanding junkies to pizza making, and the indispensable tried and true for the grill collector. Not included in the list are staples like a classic kettle or 4 burner gas grill, but those are quintessential before expanding into the list below.
Pit Barrel Cooker. This barrel style cooker doesn't come pack with frills. There's no built in wifi or fancy tech. It's a barrel cooker. And my most used grill for smoking ribs. For anyone who appreciates a simple clean grill, this is it. It's also established by a veteran and family owned.
Ooni Portable Pizza Oven. For anyone who wants a fun pizza to take to every back yard bbq from now until forever, and loves to cook for friends, the Ooni portable pizza oven is just plane fun. If you have someone who already has one of every kind of grill, this is a great addition to the collection.
Masterbuilt Gravity Series Grill. This offset smoker takes the ease of pellet smoker plug and program and merges it with the flavor you can only get from charcoal. It's a programmable charcoal grill that lights easily and burns for hours with both a smoke and sear option. Dreamy. It comes in 3 sizes, so make sure you do a little research before choosing.
Ikamper Disco Series. Have an overlander in your life (aka: someone who loves to trick out their vehicle for serious car camping)? Then they know the iKamper, the rooftop tent. While that's a pretty specific gift, (and they would've needed to cement their name on Santas nice list) their Disco cooking system that they just debuted this year is a fun, more approachable gift to help kit out their adventures.
Breeo smokeless fire pit. Whether you want a statement peice for the backyard or actually want to throw down with some serious live fire grilling, the Breeo is a great addition to the collection. Also, made in America. If you don't have little kids running around, splurge for the sear plate. It's a rim of flat steel on sitting on the edge of the fire pit where you can sear (and I mean sear) meats or throw down on some super quick naan breads. Already have the Breeo? Their adjustable grill grate is a must to maximuze your use.
GirlCarnivore Pro Tip: Grilling products have been hard to find this year (along with pretty much everything), so give yourself some time to source, order, and receive your gifts.
Gifts for the Novice Griller
When it comes to bbq 101, these are my essential tools for anyone who's just starting out. They are essential and will be used for years to come.
Cast Iron Pan. Whether your an expert camp chef or just starting, a cast iron pan is as essential as fire. The classic Lodge cast iron pan is a perfect first and lifetime pan for any level of cook.
Charcoal Chimney. My favorite way to light my coals, the charcoal chimney. Never use lighter fluid again as the chimney works to light the coals evenly in about 20 minutes. Sadly, I have yet to find one that doesn't have to be replaced every year. Bonus, you know you can pick one of these up for your grill fanatic every year and it will be appreciated.
Charcoal Pellets. Pellets don't produce the same flavor as grilling over charcaol. Until you discover charcoal pellets. And not just any charcoal pellets. Jack Daniel's charcoal pellets. Who wouldn't want to get coal for Christmas?
Boning Knife & Pairing Knife. When I first started, I was given two knives as essentials. A boning knife, with a flexible tip and a pairing knife. When you work t trim meat these two knives are indepsencilbe in the arsenal and are worth a little splurge. Pro tip, if you gift them to someone, please don't ever let them see you opening boxes with them. Just sayin.
Smoker Box or Pellet tube. These two tools are super useful when adding smoke flavor onto traditional gas grills but are mostly interchangeable (you don't need both). You can blend a variety of wood chips or pellets and let the smoke roll. Bonus, you can also add these to pellet smokers for an added layer of smoke flavor.
Grilling Gifts for Men
These are outlandish gifts that are absolutely not needed but incredibly fun for guys and dads who are avid grillers.
Whiskey Glasses. Possibly the only thing on my list that's not directly related to grilling. But, a set of quality whisky glasses pair with barbeuce as well as home made sauce. And since every chef I know would love to add these to the collection, they made my list. From scientific etched glasses for your Alton or ones that map famous peaks for the adventurer, you can't go wrong.
Looflighter. This one is just fun. Looflighter is a tool that blows air into your coals. Scientifically, it helps kick start your coals so they catch faster with superheated air. From a purely playful side, it's just fun to watch these in action.
Overland Eats Messermeister Knife. This ones will have a very narrow audience, but for those who know an overlanding enthusiast and loves to cook, they should follow Overland Eats, who came out with his own knife this year and its just a rad item to add to the collection along with some maxtraxs.
Wing Rack, Super Skewers, or Trompo Skewer Pan. When it comes to epic grilling, OvertheFireCooking owns it, and any fan will notice the tools he frequently uses and want to play with them too.
6 Pack Beer Infused Spice Rubs. OvertheFireCooking is at it again with his beer infused spice rubs. This set stands out, not just for it's hoppy flavor pairings, but it comes in a fun 6 pack of beer cans (with resealable lids).
Grilling Gifts for Women
Memo: the ladies are taking over the grilling scene. These gifts highlight and celebrate a few of the female-led grilling brands.
It should be noted that all the things on the guys list also work for the ladies, and vise versa. Personally, I'd be thrilled to unwrap any of them!
Best Grilling Cookbooks
When it comes to books on grilling, 2021 was a great year. We saw the first books from many famous grilling chefs as well as some new chapters from the masters, each one a cornerstone in their own niche and a must-have for those who still love the feel of a real cookbook.
Must-Have Grilling Tools
When it comes to great gifts, sometimes it's the essentials that really go a long way. These tools will be used daily and for everything on this list, I own multiples for those busy days.
Thermapen instant read digital thermometer. This is the be-all-end-all instant digital thermometer for chefs (if you're a fan of the Great British Baking show, you'll see them use it constantly. Just felt like tossing that little fun fact for you). With a variety of choices from instant read to Thermapen One (a one second instant read thermometer) theres a thermometer for whatever level of pit master you're shoping for. Not sure which one to pick, the classic Thermapen MK4 is a great starting point, and you can choose their favorite color too. Pro tip: Thermapen does NOT sell on Amazon. Order this one directly through there site.
Grilling Tongs. If you didn't double click your tongs, did you even grill? Meat nerds on social media get this joke. But, as far as a utensil you can't have too many of, great grilling tongs in a variety of sizes are a must.
Grilling Gloves. I know a guy who every time he grills burns his hand. He's getting two pairs of these for Christmas. I like having heavy duty leather gloves (look for welding gloves) and a pair of fabric heat resistant gloves that I can throw in the washing machine near my grill set up for safety at all times.
Ambient Temp Probe. If the foodie your shopping for already has a great instant read thermometer and really wants to take their smoking to the next level, then an ambient temperature thermometer is a must. This one keeps an internal temp of the meat and an ambient temp of the grill to make sure youre set up for success.
Grill Brush. Not the most exciting gift, but clean grilling grates are a must for making sure the food doesnt stick when you flip it. So, a solid grill brush is essential in any pitmaster tool kit. Bonus points, you get to figure out how to creatively wrap this one.
Unique Grilling Gifts
When they literally have everything you could possibly think of and don't need another spatula or grill, these unique gifts show thoughtfulness and sincerity and promise tasty returns.
Grill Grates. If perfecting those grill marks has ever been a goal, check out these grill grates. Used in the Steak Championships, they are the tool to get that signature diamond look on meat.
Online BBQ School. Aaron Franklin, famous pitmaster of Franklin BBQ in Austin Texas known for the line wrapped around the building before opening, and published cookbook author hosts an online masterclass dedicated to Texas style BBQ. No matter what region of barbecue you enjoy, you can learn something great from this online course.
Jack Daniel's grilling products (briquets, smoking chunks, and spices). That's right, Jack Daniel's Tennessee whiskey barrels that are broken down and converted to charcoal briquets, wood chunks for smoking, and wood chips. The subtle sweet flavor is perfect for barbecue and is a great way to infuse another American tradition into your food. Oh, and their steak rub is pretty legit too.
Rotisserie Attachment. The rotisserie attachment takes roasts and chickens to a whole new level. I'm currently testing the OneGrill Heavy Duty Stainless Steel version. It comes in a variety of sizes to fit a variety of grills. Make sure to measure before ordering.
Customized Apron – Start with a high quality apron, these were introduced to me by a chef and I am currently crushing on them. Then, have it embrodered with your receiveres name, slogan or instagram account for a personalized grilling gift.
Fun Grilling Stocking Stuffers
Ok, now the fun part! These quirky useful and incredibly thoughtful stocking stuffers are perfect for whatever level of grill enthusiast you're shopping for.
As you shop for your pitmaster and home chef, any or all of these make great gifts. Make sure you pay attention to the type of grill they use the most, or what they already own to confirm attachments will work properly.