We've put together our best bbq gifts for the grill master in your life. From the best grills and outdoor grilling tools to handy gadgets, and our must-have essentials. For beginners to old pros, must-have accessories, tech, spices, and more; here are our 50 best grilling gifts of 2022.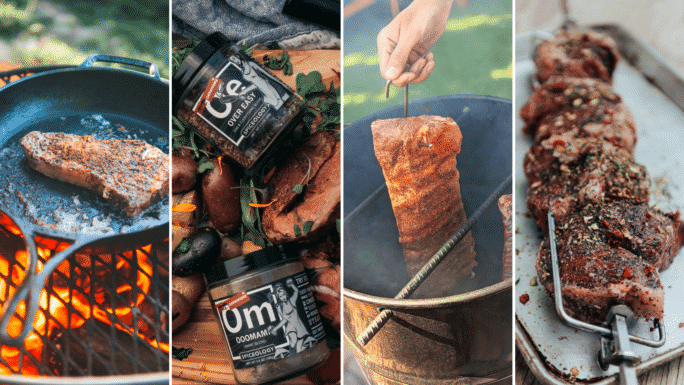 When it comes to tried and tested products that support in big ways, or are just fun to have in the kitchen or near the grill, we love testing new toys, er, tools. When it comes to gift-giving, shopping for BBQ enthusiasts can be hard (mainly because, it usually seems they have gone ahead and bought whatever it was they may have needed). Finding the best grilling gifts can be tricky.
We've rounded up our most loved and used grills, tools, accessories, and even some fun bonuses to fill the stocking to gift the perfect bbq gifts for all levels of grill lovers. Or if they seem to have it all, and you want to really wow them, consider ordering gourmet meat as a great Christmas Gift! We list all of our favorites and most used in our guide for online meat ordering here.
Best Grills for Gifting
There's a grill for every style of pitmaster these days. From camping and hard-core Overlanding junkies to at-home pizza making, and the indispensable tried and true for the grill collector. Not included in the list are staples like a classic kettle grill, popular pellet grill, or 4 burner gas grill, but those are quintessential before expanding into the list below, and if they don't have those, we suggest starting there for the best gift for grillers.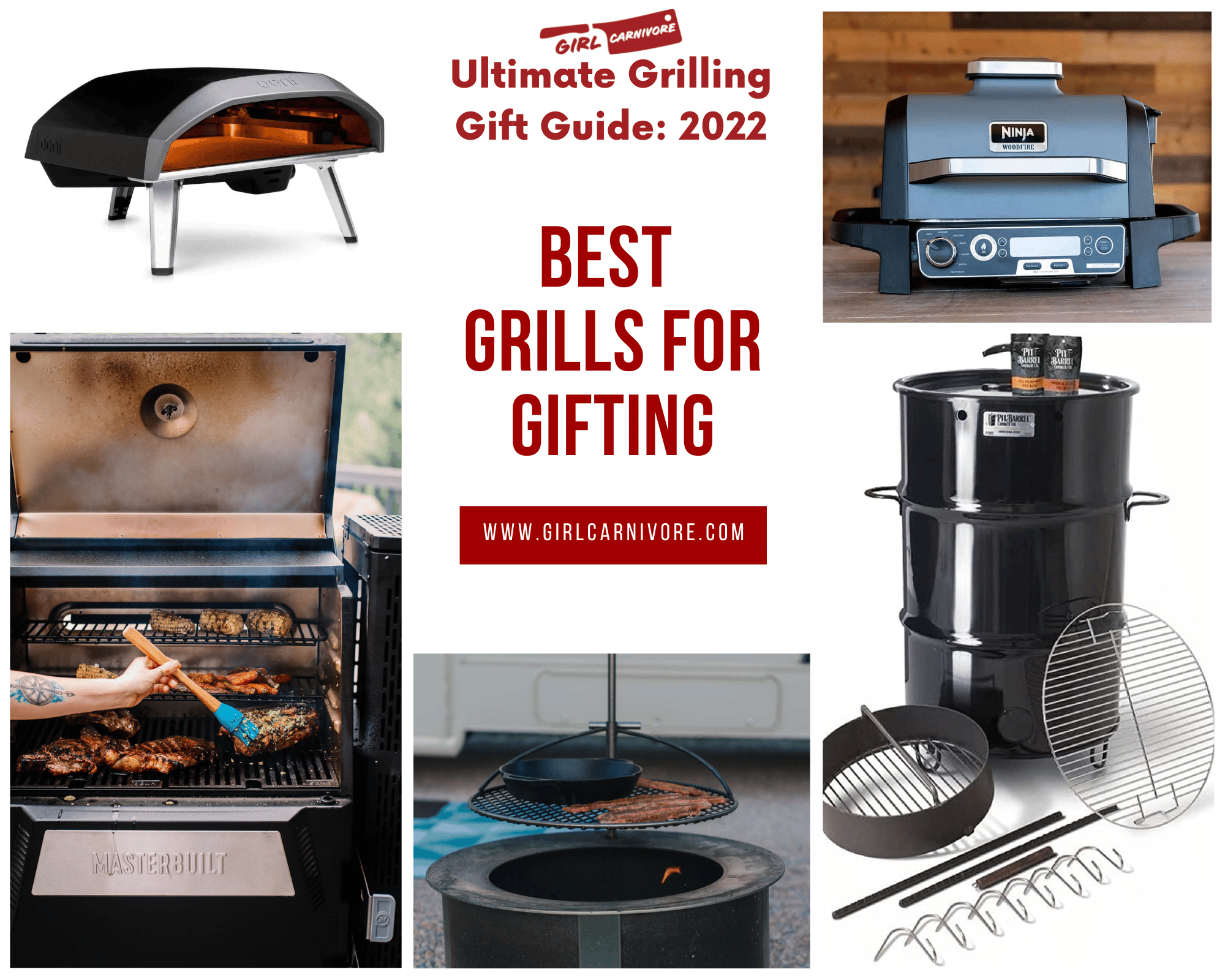 Pit Barrel Cooker. This barrel-style cooker doesn't come packed with frills and is still at the top of our list for fun grilling. There's no built-in wifi or fancy tech. It's a barrel cooker. And our most used grill for smoking ribs. For anyone who appreciates a simple clean grill, this is it. It's also established by a veteran and family owned.
Ooni Portable Pizza Oven. For anyone who wants a fun pizza to take to every backyard bbq from now until forever, and loves to cook for friends, the Ooni portable pizza oven is just plain fun. If you have someone who already has one of every kind of grill, this is an excellent addition to the collection.
Masterbuilt Gravity Series Grill. This offset smoker takes the ease of a pellet smoker and merges it with the flavor you can only get from charcoal. It's a programmable charcoal grill that lights easily and burns for hours with both a smoke and sear option. Dreamy. It comes in 3 sizes, so make sure you do a little research before choosing.
Ninja Woodfire Portable Grill. Probably the most fun we've had with a new grill this year is the mighty little Ninja Woodfire pellet grill. It's portable and perfect for the person who loves to car camp, RV, or lives in an apartment and has limited space for grills. Check out a comprehensive review of the Ninja Woodfire Grill on GirlsCanGrill for more details.
Breeo smokeless fire pit. Whether you want a statement piece for the backyard or really want to throw down with some serious live-fire grilling, the Breeo is a great addition to the collection. Also, made in America. If you don't have little kids running around, splurge for the sear plate. It's a rim of flat steel on sitting on the edge of the fire pit where you can sear (and we mean sear) meats or throw down on some super quick naan bread. Already have the Breeo? Their adjustable grill grate and outpost setup is a must to maximize your use.
GirlCarnivore Pro Tip:
Grilling products have been hard to find this year (along with lots or random things everything), so give yourself some time to source, order, and receive your gifts.
Gifts for Grill Masters
For the guy or girl that has it all, these are things that never get old, and can always be updated, or upgraded.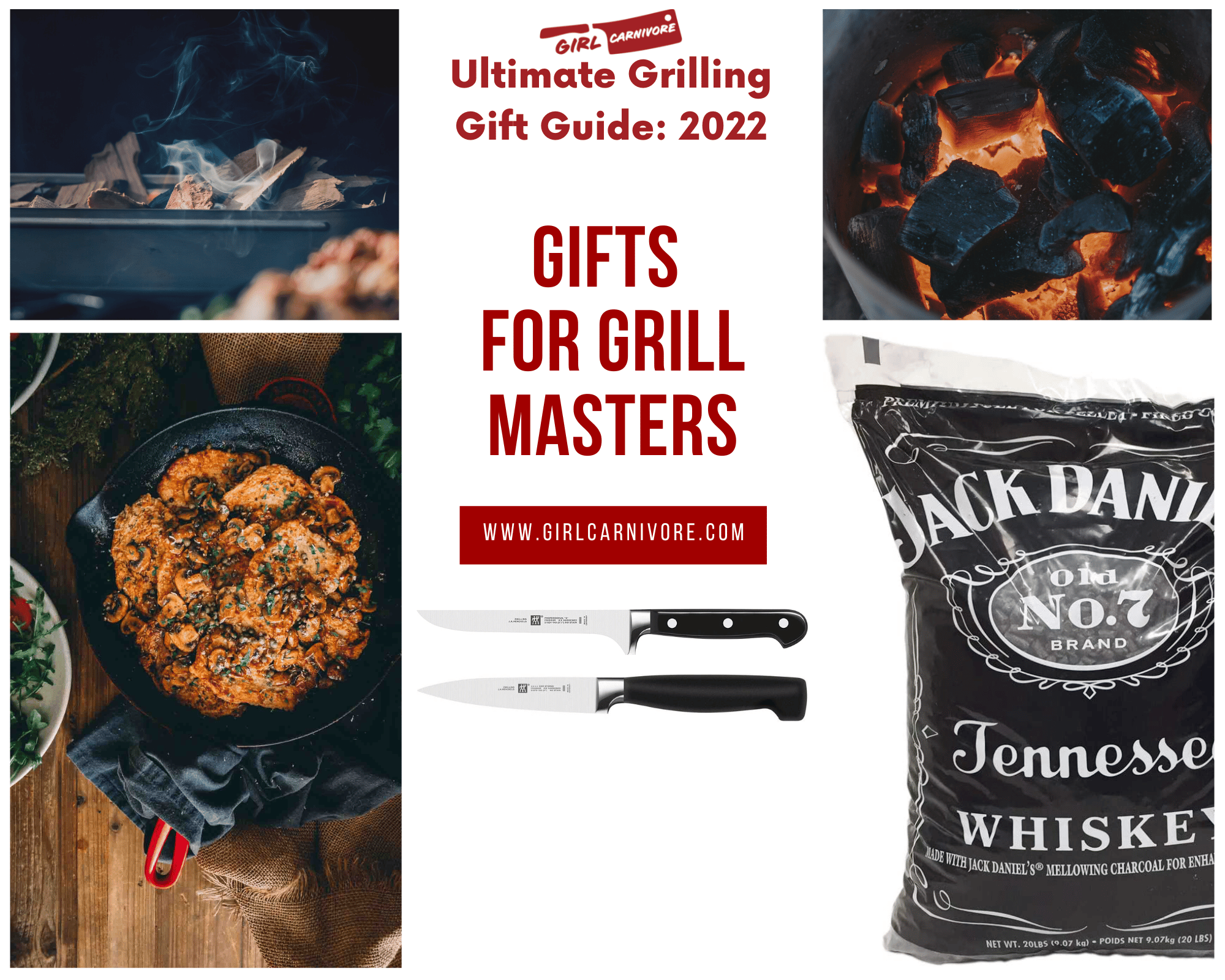 BBQ Gifts for Men
These are outlandish grilling gifts that are absolutely not needed but incredibly fun for guys and dads who are avid grilling enthusiasts.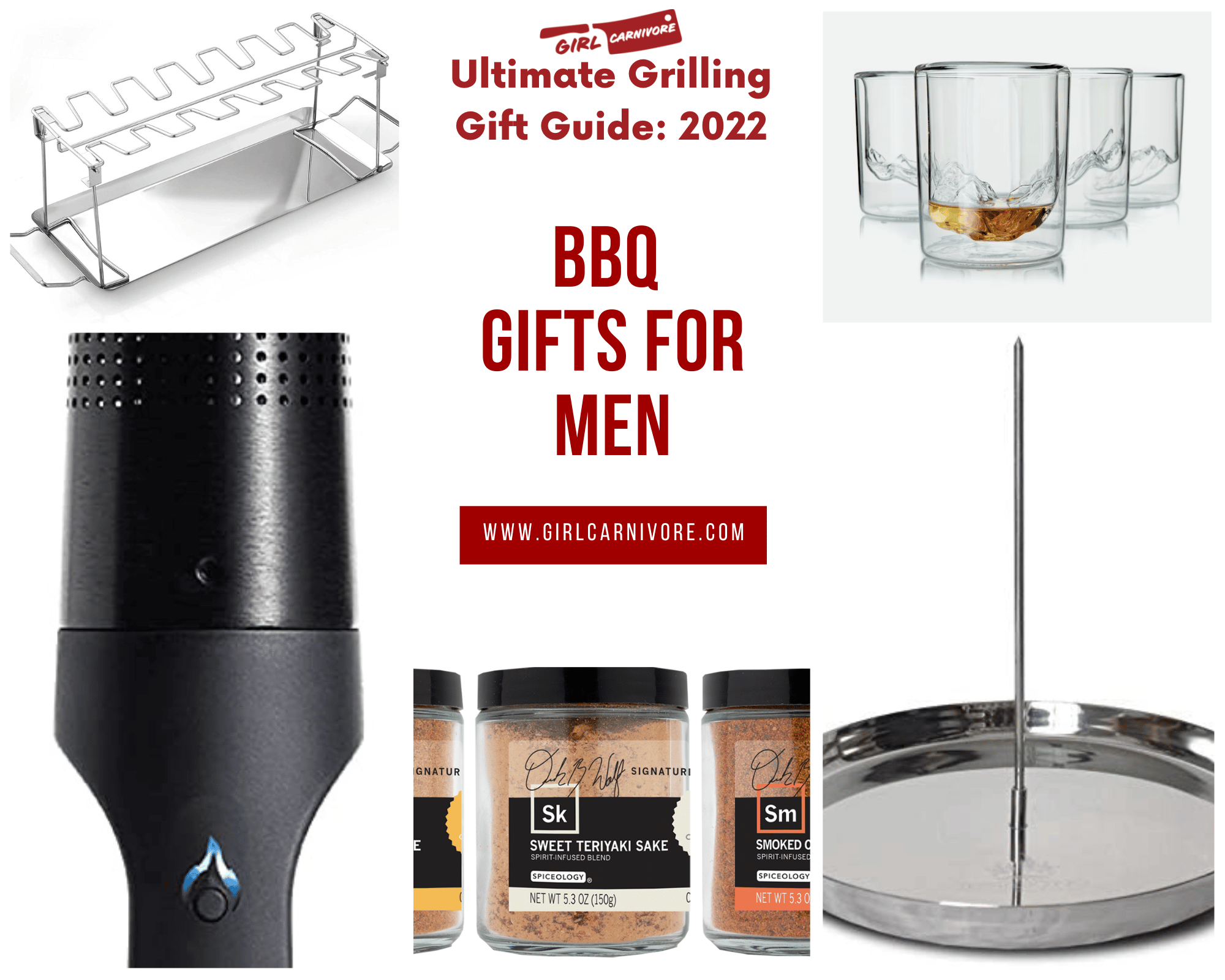 Grilling Gifts for Women from women
Memo: the ladies are taking over the grilling scene. These gifts highlight and celebrate a few of the female-led grilling brands.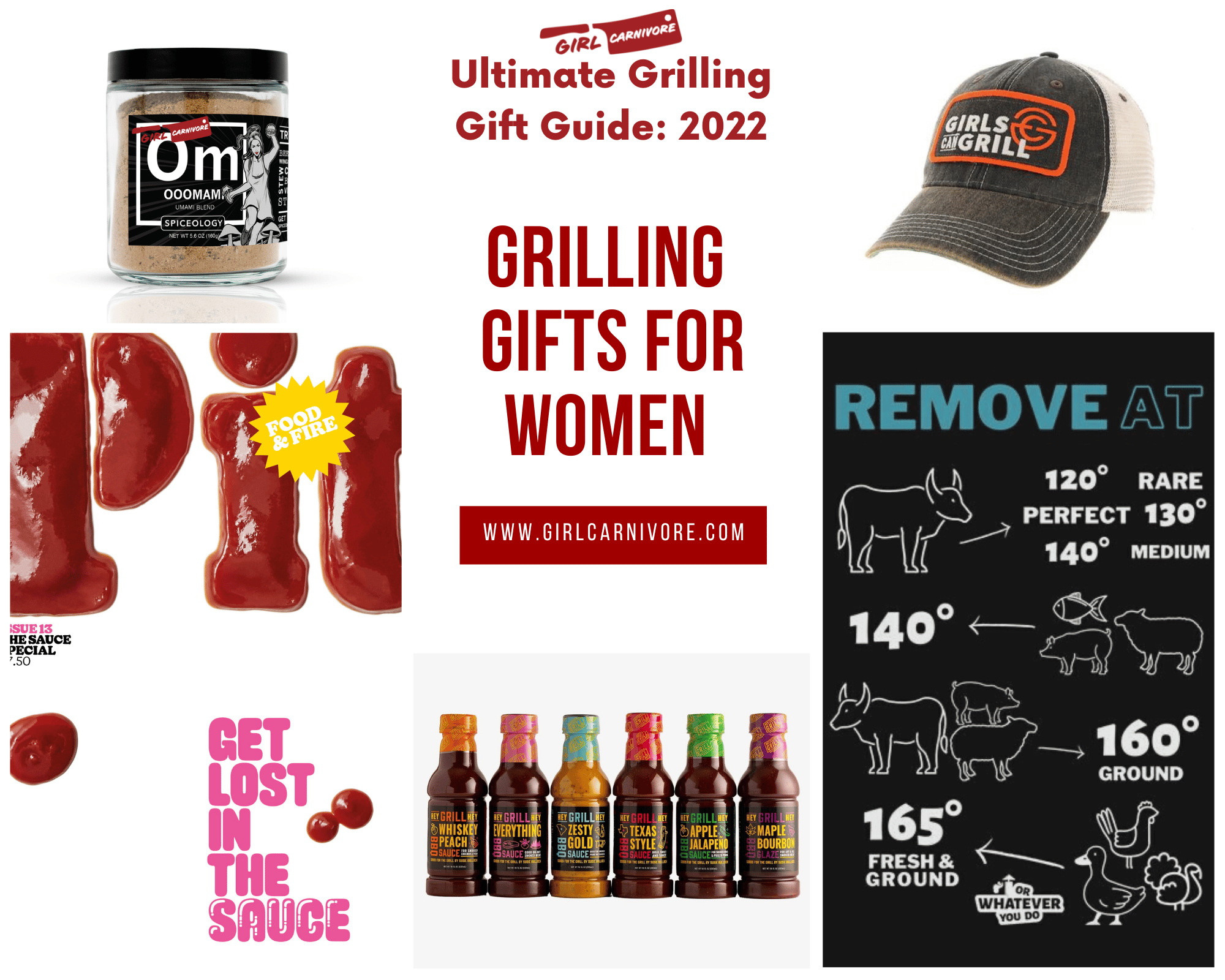 It should be noted that all the things on the guy list also work for the ladies, and vice versa. Personally, we'd be thrilled to unwrap any of them!
Best Grilling Cookbooks of 2022
When it comes to books on grilling, 2022 was a great year. We saw the first books from many famous grilling chefs as well as some new chapters from the masters, each one a cornerstone in their own niche and a must-have for those who still love the feel of a real cookbook.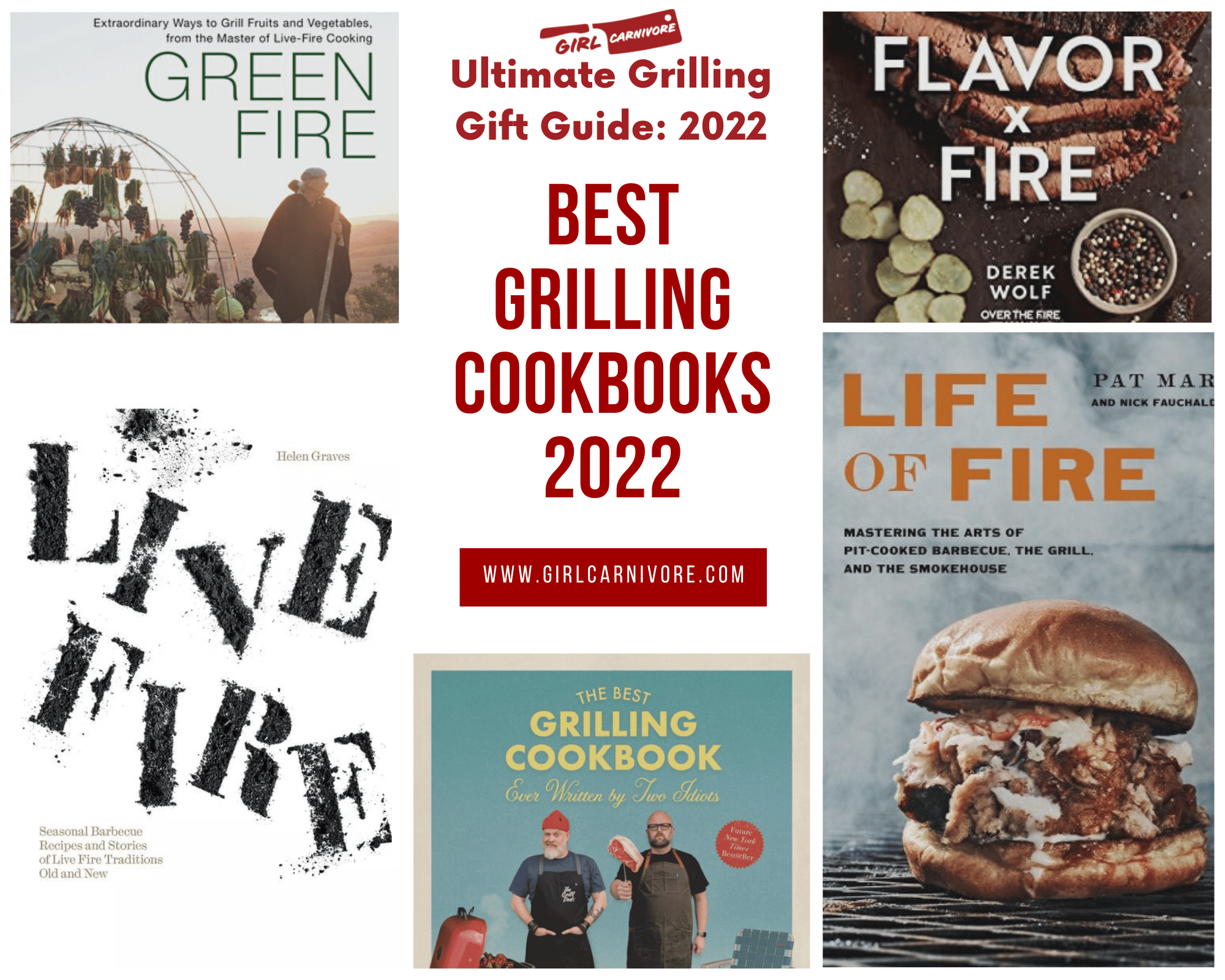 Must-Have Grilling Tools
When it comes to bbq 101, these are our essential tools for anyone who's just starting out or even seasoned vets. They are essential and will be used for years to come. These tools will be used daily, and for everything on this list, we own multiples for those busy days.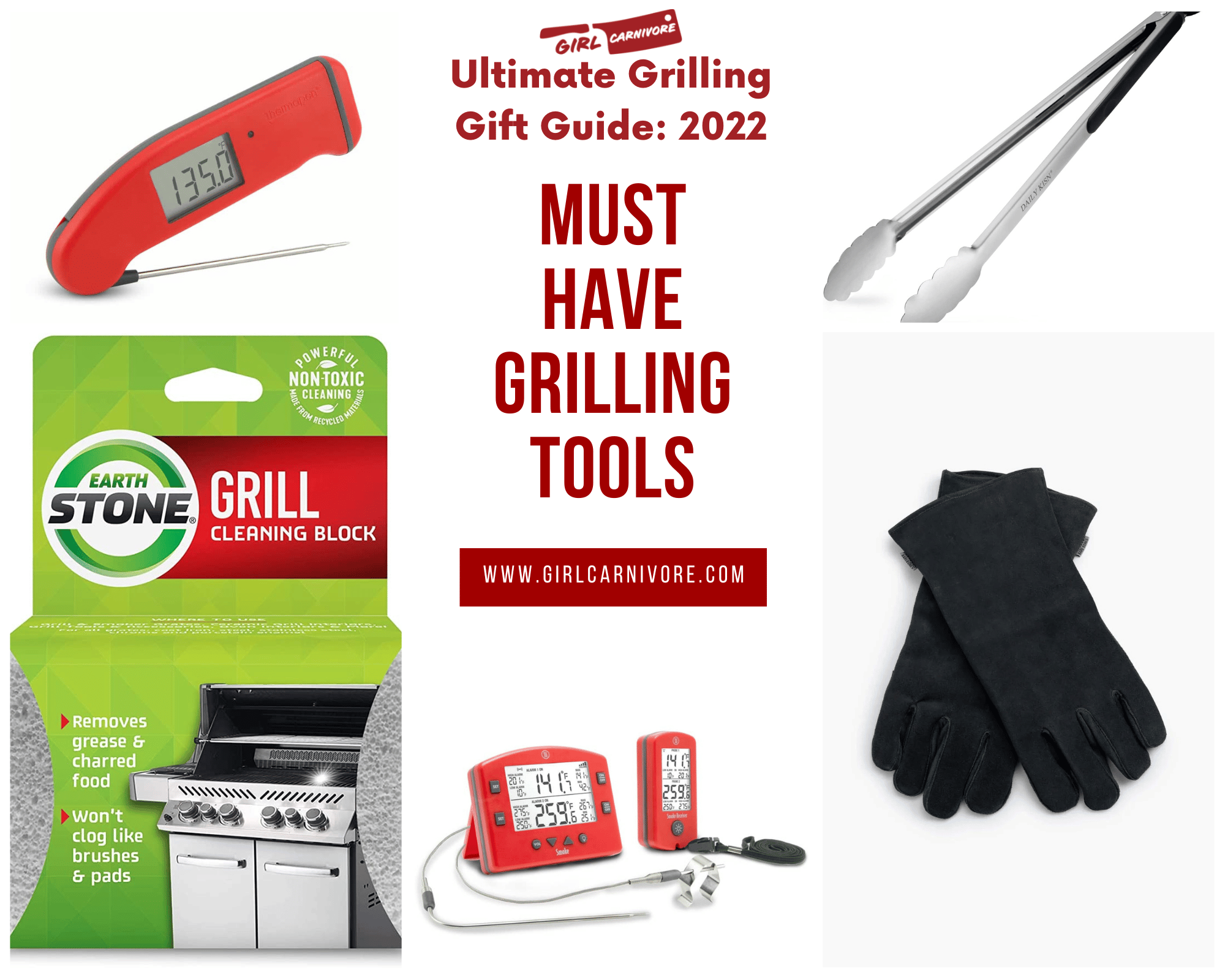 Thermapen instant read digital thermometer. This is the be-all-end-all instant digital thermometer for chefs. With a variety of choices from instant read to Thermapen One (a one-second instant-read thermometer), there's a thermometer for whatever level of pit master you're shopping for. Not sure which one to pick? The classic Thermapen MK4 is a great starting point, and you can choose their favorite color too. (Psst: if you're a fan of the Great British Baking show, you'll see them use it constantly. Just felt like tossing that little fun fact for you)

Pro tip: Thermapen does NOT sell on Amazon. Order this one directly through their site.

Grilling Tongs. If you didn't double-click your grill tongs, did you even grill? Meat nerds on social media get this joke. But, as far as a utensil, you can't have too many stainless steel tongs in a variety of sizes are a must. It's great to have at least 2 pairs for every cook, one for raw and one for cooked food, to avoid cross-contamination.
Grilling Gloves. We know a guy who every time he grills burns his hand. He's getting two pairs of these for Christmas because they're the perfect grilling gift! We like having heavy-duty leather gloves (look for welding gloves) and a pair of fabric heat-resistant gloves that we can throw in the washing machine near our grill set up for safety at all times.
Ambient Temp Probe. If the foodie you're shopping for already has a great instant read thermometer and really wants to take their smoking to the next level, then an ambient temperature thermometer is a must. This one keeps an internal temp of the meat and an ambient temp of the grill to make sure you're set up for success. We have tested a few wifi versions, and still prefer this over those.
Grill Brush. Not the most exciting gift, but clean grilling grates are a must for making sure the food doesn't stick when you flip it. So, a solid grill brush is essential in any pitmaster tool kit. Bonus points, you get to figure out how to wrap this one creatively. We tested this cleaning stone this year, and it only lasts for one to two cleans, but it was our favorite grilling tool of the year.
Unique Grilling Gifts
When they literally have everything you could possibly think of and don't need another spatula or grill, these unique gifts show thoughtfulness and sincerity and promise tasty returns.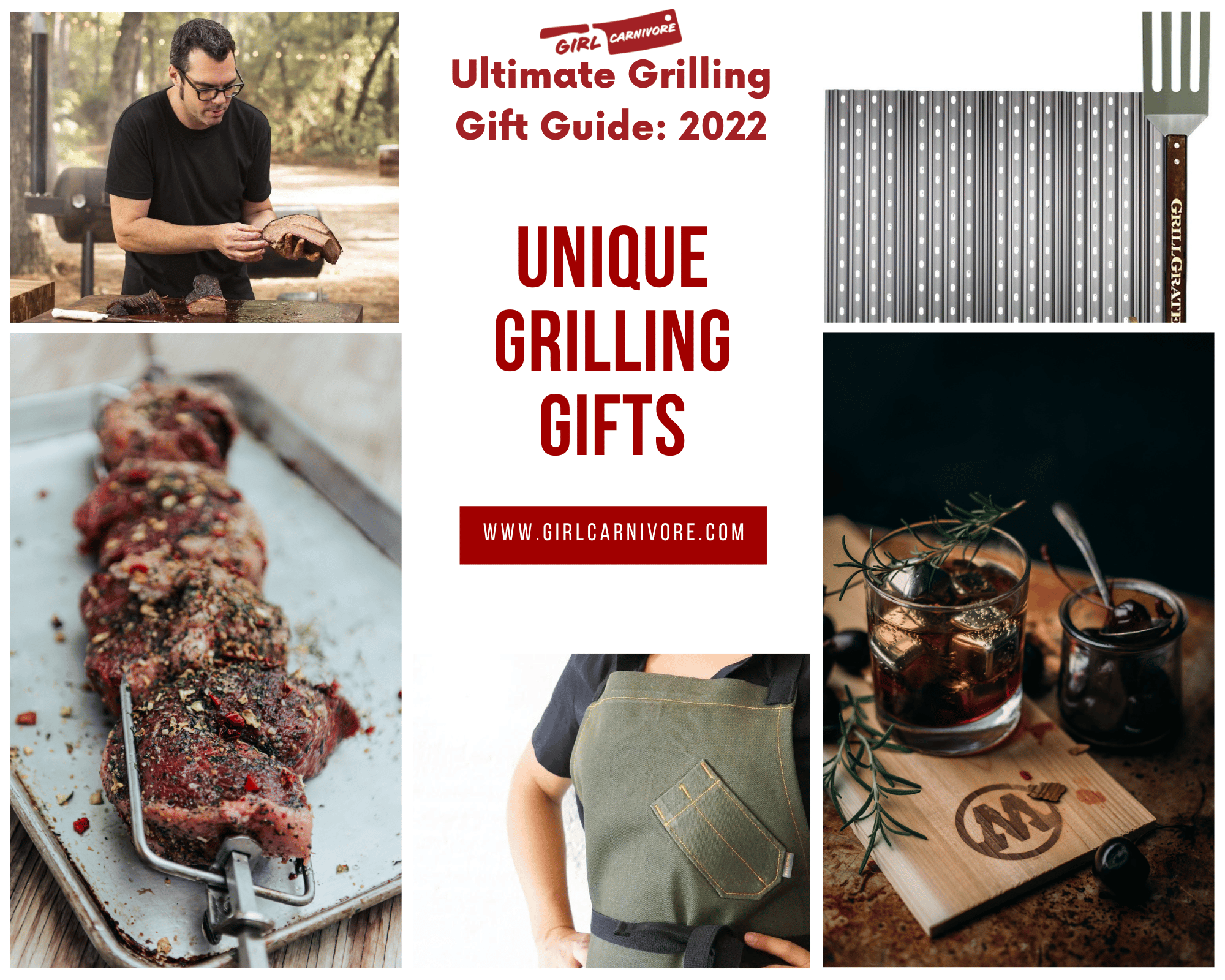 Grill Grates. If perfecting those grill marks has ever been a goal, check out these grill grates. Used in the Steak Championships, they are the tool to get that signature diamond look on meat.
Online BBQ School. Aaron Franklin, famous pitmaster of Franklin BBQ in Austin, Texas, known for the line wrapped around the building before opening, and published cookbook author, hosts an online masterclass dedicated to Texas-style BBQ. No matter what region of barbecue you enjoy, you can learn something great from this online course.
Jack Daniel's grilling products (briquets, smoking chunks, and spices). That's right, Jack Daniel's Tennessee whiskey barrels, once retired, are broken down and converted to charcoal briquets, wood chunks for smoking, and wood chips. The subtly sweet flavor is perfect for barbecue and is a great way to infuse another American tradition into your food. Oh, and their steak rub is pretty legit too. Psst: It was these Jack Daniel's grilling fuels that infused our award-winning cocktail for team GirlsCanGrill at the Jack Daniels World Championship this year.
Rotisserie Attachment. The rotisserie attachment takes roasts and chickens to a whole new level. I'm currently testing the OneGrill Heavy Duty Stainless Steel version. It comes in a variety of sizes to fit a variety of grills. Make sure to measure before ordering.
Customized Apron – Start with a high-quality apron, these were introduced to me by a chef, and we am currently crushing on them. Then, have it embroidered with your receiver's name, slogan, or Instagram account for a personalized touch.
Gift Giving Tip
As you shop for your pitmaster and home chef, any or all of these make great gifts. Make sure you pay attention to the type of grill they use the most, or what they already own to confirm attachments will work properly.
Fun BBQ Stocking Stuffers
Ok, now the fun part! These quirky useful, and incredibly thoughtful stocking stuffers are perfect for whatever level of grill enthusiast you're shopping for.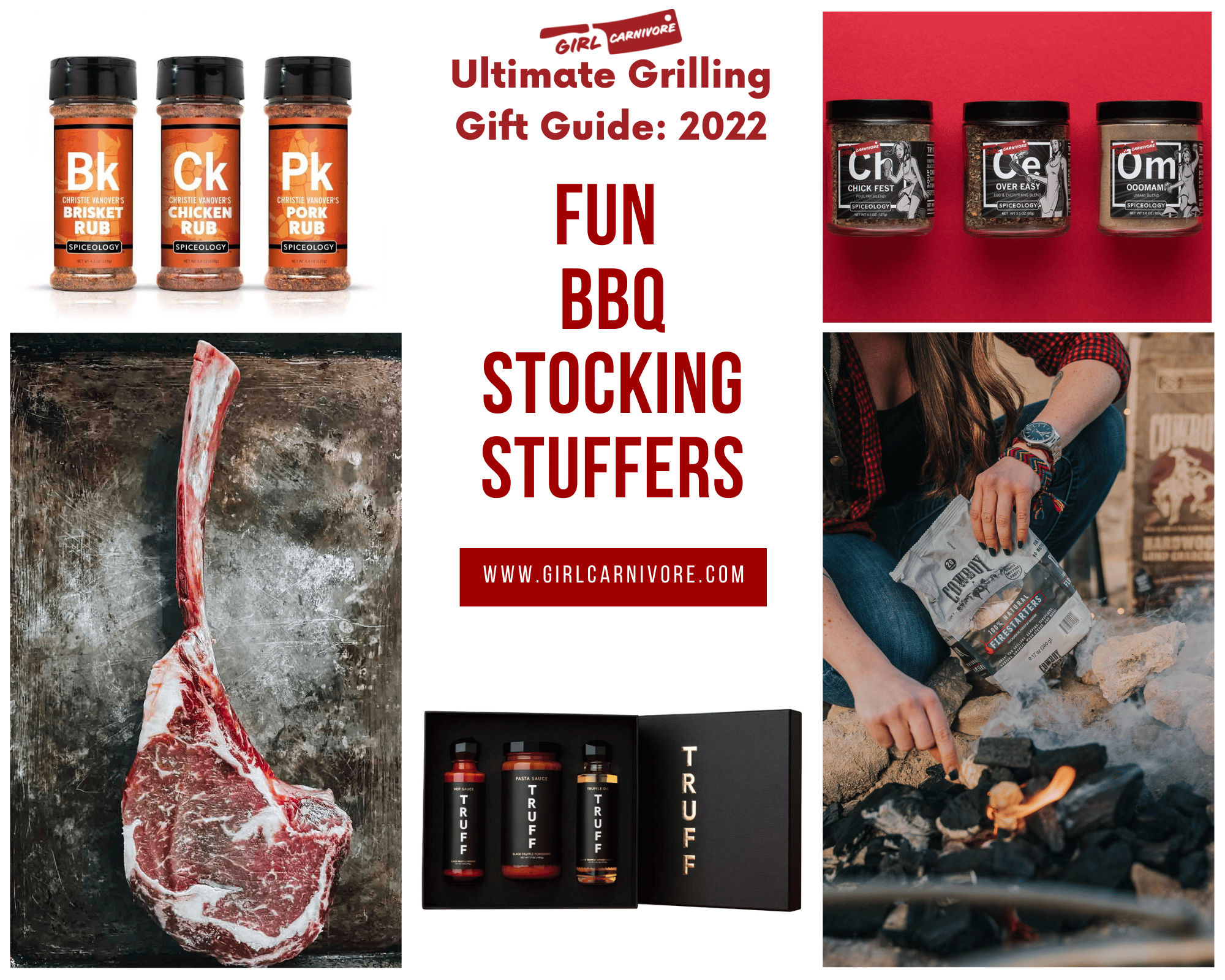 Award-Winning Spices. Spice profiles have come a long way, and Spiceology is the name of the game when it comes to the quality that chefs choose for their restaurants. Try GirlsCanGrill championship BBQ collection, including her Chicken, Pork, and Brisket rub. GirlCarnivore HookUp Collection with Over Easy, an herb-based everything blend, Ooomami, our umami powder to beef up flavors, (get more info on what is umami and how to use it here). And, Chick Fest, an all-purpose whole30 conscious chicken blend. Or explore the entire Spiceology catalog for some seriously amazing options for any pallet. We have an entire pantry of these. It's like a Pokemon collection for chefs. If you need help picking one, go ahead and ask in the comments; we can help narrow down the choices. (PS, check out these guides and recipes for how to use all of the Spiceology spices.)
Knife Aid Gift Card. We're not fans of 'gift cards,' but this is an amazing gift for any level of cook. Knife Aid is a mail-order knife sharpening service. A dull knife is the most dangerous thing in the kitchen, and many people aren't having their knives sharpened often enough. With Knife Aid, you mail in your knives, and they are expertly sharpened and returned to you quickly. We'd suggest making this an annual gift.
Truff Holiday Gift Pack. When it comes to hot sauce, Truff takes it up a notch with their gourmet truffle-infused hot sauce. Pretty much as swanky as hot sauce can get with Original, White Truffle Edition, and Black Truffle Oil. And when it comes to flavors, these are all to die for! Taste-test them on oysters for NYE, you won't be disappointed.
Bees Knees Spicy Honey. Another infused condiment, this spicy honey is perfect on fried chicken and waffles, drizzled over potato galettes, or just fun to have on hand whenever you need to add a little bonus of sweet heat to a dish.
Firestarters. It's getting harder to find a newspaper to wad up to start your fire, so these all-natural fire starters are our go-to now for under our charcoal chimney or while we're out camping to light our goals and wood without any chemicals.
Meat Shredders

. There are tons of meat claws on the market, and, trust us, after you've shredded a few pork shoulders with forks, you come to admire the ease that meat shredders help with. We love the shape of these Oxo claws with long handles that are different from most.

We found them easier on the wrist if you are shredding a lot of meat.
Christmas Ornaments. This one's a gimmie, but we all love personalized gifts, and no matter what type of grill your special someone has, there's an ornament out there for them. From cheeseburgers or tacos (not that we're biased) to simple Season's Grillings, these are cute simple gifts that are sure to earn a chuckle.
Wifi Boosters. The odd thing on a cooking gift list, we know. But a lot of grills now have apps or Bluetooth connectivity. Having strong wifi when you're out at the grill is a must, and a couple of wifi boosters around the house will help make sure the backyard is also connected.
Light up Gloves. Cheesy, you bet. But we had these on a family camp trip this year, and they ended up being a lot of fun. From traversing the backyard at night to building a fire at camp, these gloves are perfect for that quirky person who doesn't 'need' anything.
Top Quality Meat. This one would be hard to wrap and keep under the tree, but we review our top 20 places for ordering top-quality meat online, from everyday essentials to luxurious cuts. From wild game to unique gift boxes from all over the country. All of these offer direct shipping and have a variety of options to pick from that are updated daily. Be sure to check frequently as offers change, and give yourself at least a week before the expected delivery. Due to the holiday season, we'd suggest ordering sooner rather than later to guarantee the products arrive on time.
That's it for our curated list of the top 50 great gift ideas for anyone who loves to cook. It can be really hard to find unique and useful gifts, but whether you have someone who loves to smoke or is just getting into it, this list is a great starting point.