Beer and brats and bacon – what more could you ask for? Nothing beats these mouth-watering Bacon-Wrapped Beer Brats, and they're crazy easy to make, too! Braising them in beer makes them oh-so-flavorful, and the bacon puts them over the top!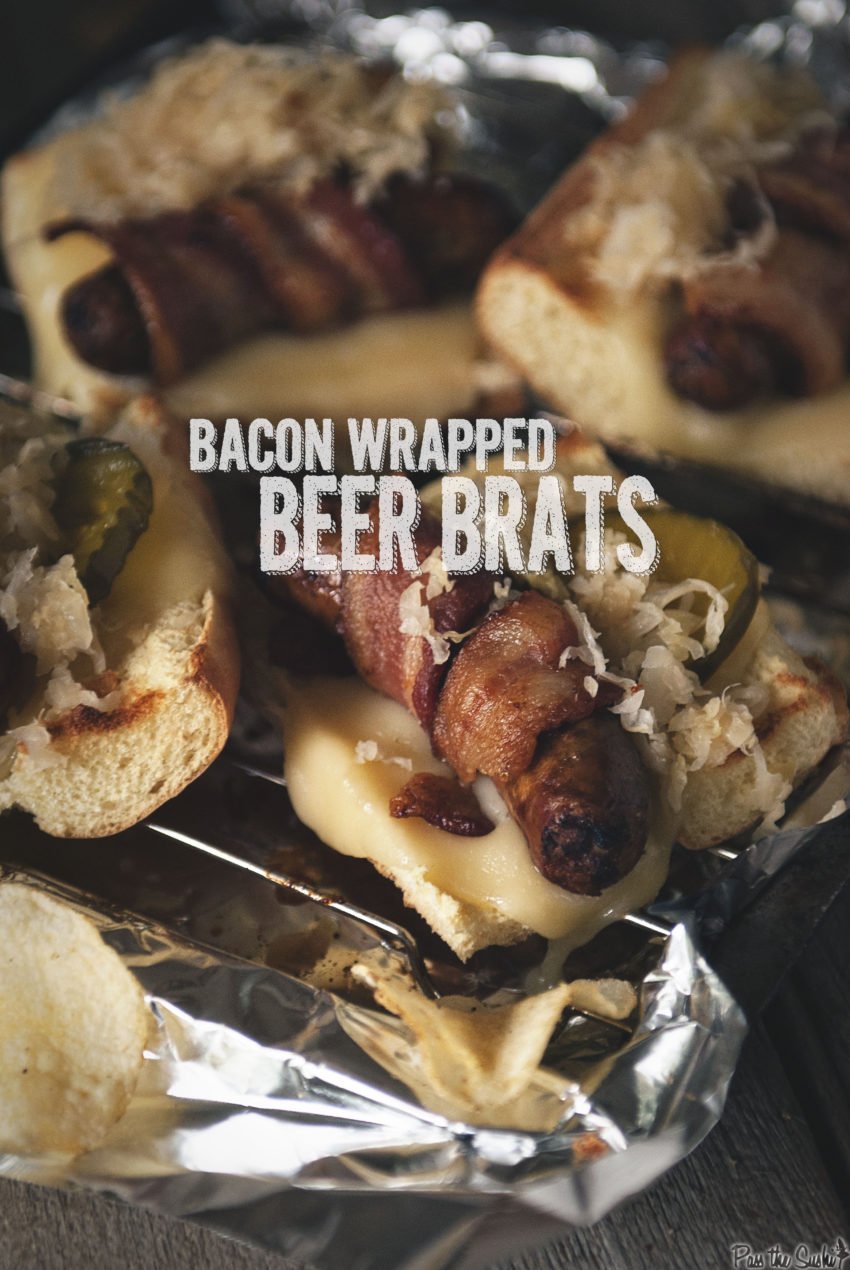 Everything is better with bacon, and these Bacon-Wrapped Beer Brats are no exception. Imagine big, meaty sausage and the salty-smoky flavor of bacon all wrapped together into one tasty package – that's what these are all about!
It doesn't take much to satisfy a bunch of meat lovers, and with this easy beer bratwurst recipe, you can feed a few or a crowd in no time. Plus, they're in-your-face delicious, and everyone can pile them with toppings just how they like them.
With all that bacon love going on, serving beer-soaked brats wrapped in strips of thick-cut bacon and topped with all the fixings brings a rapid hush to a room of hungry carnivores and a simple nod of glowing satisfaction from the chef. I've tested this one on hungry mountain bikers, and it works.
Harness the power of bacon.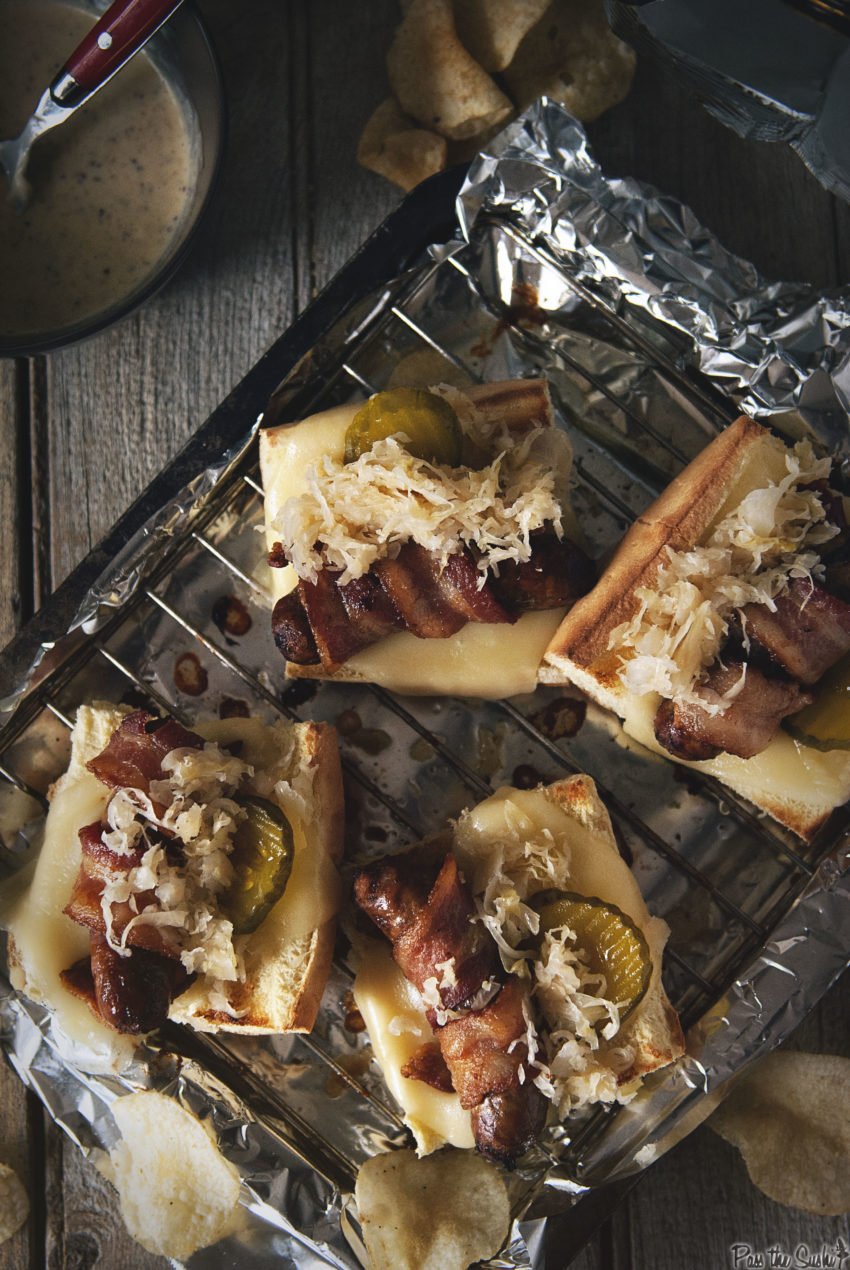 What Are Bratwurst Sausages?
Bratwurst is a specific kind of sausage. They're German sausages, typically made from pork, although you can find some made with beef or veal. The sausage filling is finely chopped and seasoned with caraway, garlic, and other spices. Every brand of bratwurst is different – use your favorites when cooking brats in beer.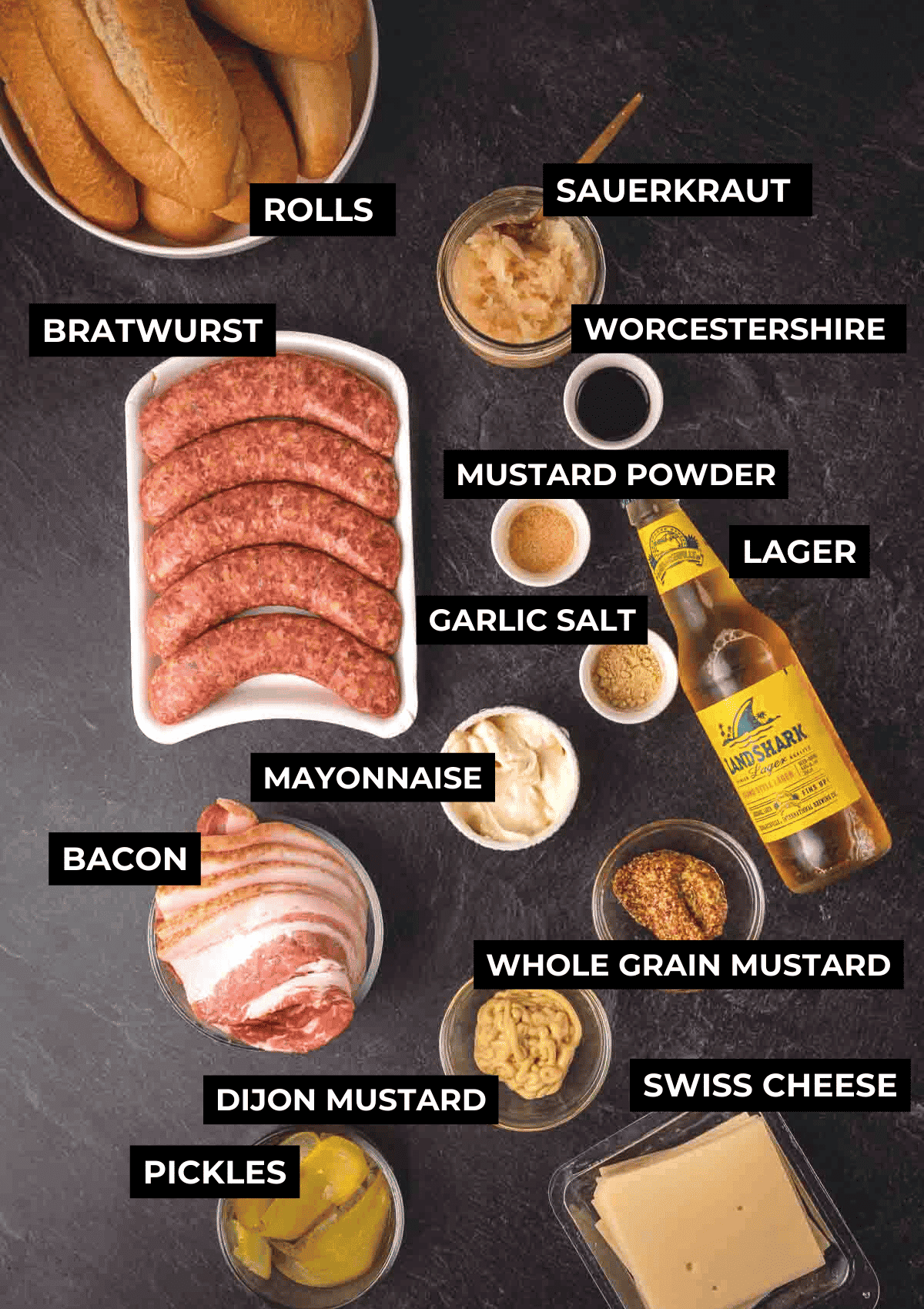 Ingredients
Bacon – Good quality thick-cut bacon.
Lager – Just one bottle.
Worcestershire sauce
Dry mustard powder – A little goes a long way!
Garlic Salt – Salt, not powder.
Bratwurst – Use your favorites!
Mayonnaise
Whole grain mustard
Dijon mustard
Rolls – Sausage size, split and toasted.
Toppings:
Sauerkraut – Brats and sauerkraut go hand-in-hand!
Swiss cheese
Pickles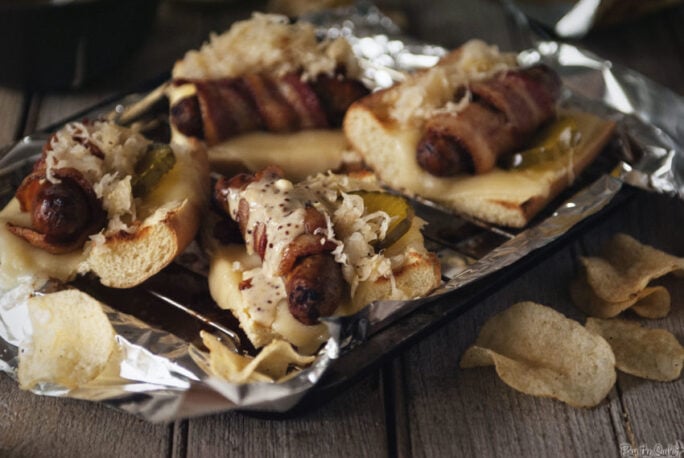 How To Make Easy Bacon-Wrapped Braised Beer Brats
Making the best bratwurst is easy; here's how:
Preheat your oven to 450 degrees F and line a baking sheet with aluminum foil or parchment paper.
Cook the bacon on an oven-safe rack over the baking sheet for about 15 minutes. You want them cooked but not too crispy – they have to wrap around the sausage.
Remove the bacon from the oven and set it aside. Drain the fat from the baking sheet and replace the foil or parchment paper. Reduce the heat to 350ᴼF.
Whisk the beer, Worcestershire sauce, dry mustard, and garlic salt in a large pot.
Poke the brats a few times with a fork, add them to the pot, and bring them to a boil. Reduce and simmer for 15 minutes.
Remove the beer-boiled brats from the liquid and let them cool.
Wrap a strip of bacon around each bratwurst sausage once they're cool enough to handle, securing it with a toothpick.
Place the bacon-wrapped bratwurst on the baking sheet and pop them back in the oven, flipping once halfway through until the bacon is fully cooked.
Make a delicious mayo-mustard mixture that will pair great with these bacon beer brats by combining the mayo with the whole grain mustard and Dijon in a small bowl. Refrigerate until you are ready to serve.
Toast some buns and serve your brats with plenty of cheese, pickles, sauerkraut, and a big dollop of the mayo-mustard sauce. Enjoy!
Bacon-Wrapped Beer Braised Bratwurst Recipe Tips
Fry your bacon in a nonstick pan (instead of the oven) for 2 or 3 minutes but not until fully cooked.
Use light beer or your favorite beer. There are no rules in this brats recipe.
Finishing the bratwurst in the oven ensures the bacon crisps up, adding loads of texture to these bacon-wrapped sausages.
Make it hot! Use sriracha or any hot sauce in the mayo sauce to light these babies on fire!
Use vegetable or chicken broth instead of beer. The results will be quite similar but NOT the same.
What To Serve With Beer Brats Wrapped in Bacon
Anything goes with these tasty sausages, but some of my favorite sides include:
Storage
Leftovers – if you have any – can be kept in the fridge. Package the bratwurst separately from the buns so that the buns don't get soggy. You can also freeze any leftover buns or cooked bratwurst.
Frequently Asked Questions
How long does it take to cook beer brats?
Your brats should cook in the beer in about 15 minutes. Or to an internal temperature of 160F.
Do beer brats have alcohol in them?
No. Most of the alcohol in the beer will cook out, and the flavorful liquid is left behind, which keeps the bratwurst juicy and delicious. These are safe for kids to eat.
When the sausage has finished cooking, what do you do with the beer brat liquid?
I'd discard the cooking liquid. If you keep it for another purpose (soup, perhaps?), make sure to refrigerate it.
More Bacon Recipes
Want more bacon inspiration? Yeah, I thought so. Try some of my favorites!!!

---
If you've tried my Bacon Wrapped Beer Brats Recipe or any other recipe on GirlCarnivore.com please don't forget to rate the recipe and let me know where you found it in the comments below. I get inspired by your feedback and comments! You can also FOLLOW ME on Instagram @girlcarnivore as well as on Twitter and Facebook.
Bacon Wrapped Beer Brats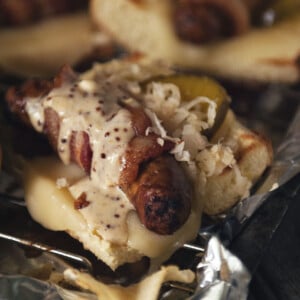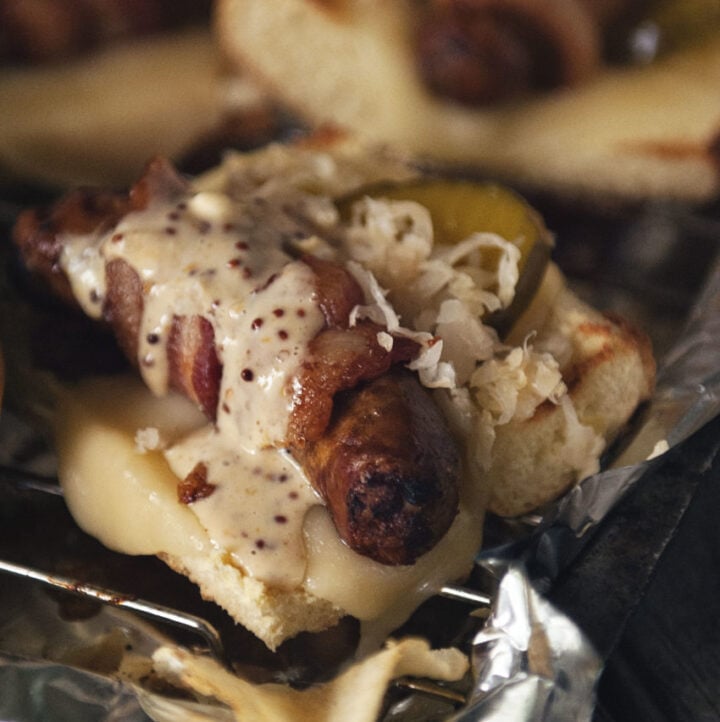 Wrap a beer soaked brat in bacon and even you can bring a room of testosterone filled football fans to silence. Harness the power.
Ingredients
6

strips thick cut bacon

1

bottled lager

1

tbs

Worcestershire sauce

1/2

teas dry mustard

1/4

teas garlic salt

6

brats

1/2

cup

mayo

2

tbs

whole grain mustard

2

tbs

Dijon mustard

rolls

slit and toasted

sauerkraut

pickles, Swiss cheese for topping
Instructions
Preheat the oven to 450 degrees F.

Line a baking sheet with aluminium foil and set an oven safe wire rack on top.

Lay strips of bacon on the rack and bake for 15 minutes, until starting to cook but not crispy or fully done.

Remove from oven and reduce heat to 350 degrees. Carefully drain bacon fat and replace aluminum foil when cool enough to handle.

Meanwhile, whisk the lager, Worcestershire, dry mustard, and garlic salt in a large pot.

Poke the brats a few time with the tines of a fork and add to the pot.

Bring to a boil. Reduce heat and simmer for 15 minutes, flipping the brats once halfway through.

Remove brats from liquid and let cool until safe to handle.

Spiral a slice of bacon around each brat and use toothpicks to secure.

Place back on the wire rack and bake for 15-20 minutes, until bacon is fully cooked, flipping once halfway through.

Combine the mayo, whole grain mustard, and Dijon mustard in a small bowl.

Cover and place in fridge until ready to serve.

Serve brats on toasted buns with Swiss cheese, sauerkraut, pickles and a spoonful of mayo mustard mixture.
Notes
adapted from BHG Special Interest Fall
Nutrition
Serving:
1
g
|
Calories:
506
kcal
|
Carbohydrates:
4
g
|
Protein:
14
g
|
Fat:
48
g
|
Saturated Fat:
14
g
|
Polyunsaturated Fat:
13
g
|
Monounsaturated Fat:
19
g
|
Trans Fat:
0.1
g
|
Cholesterol:
80
mg
|
Sodium:
1062
mg
|
Potassium:
343
mg
|
Fiber:
0.4
g
|
Sugar:
1
g
|
Vitamin A:
39
IU
|
Vitamin C:
0.4
mg
|
Calcium:
31
mg
|
Iron:
1
mg