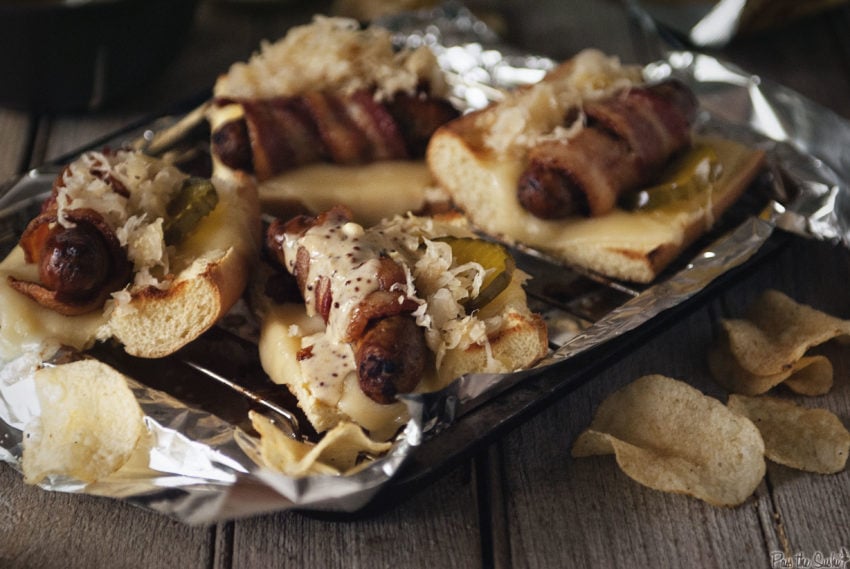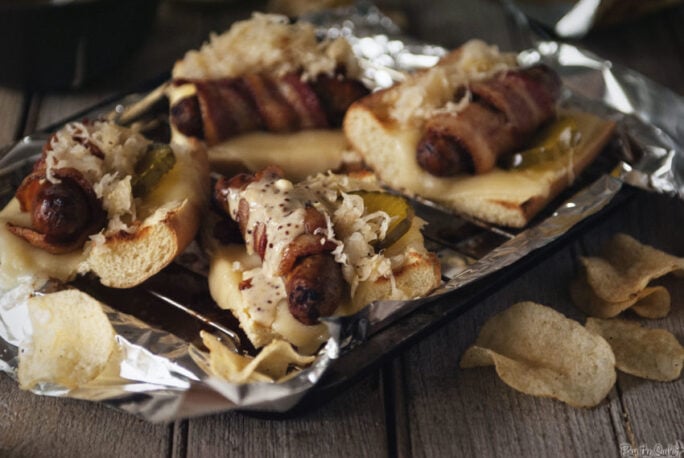 Simple rule of life: Everything's better with bacon. It's a breakfast treat, a staple in savory dishes, takes a cookie one step further, and I've even been known to top a aperitif or two off with a slice of the smokey wonder food. Bacon. It can be argued that bacon belongs with every meal. I knew a man once that needed bread on the table at all times, he was wrong. He should replace that boring white bread and bloat with a basket of bacon and he would be twice as happy. Not sure which one his arteries hate him more for though, cause it can't be that healthy to pound back bread either, so we can save the health argument for a blog lacking the name carnivore in the URL.
With all that bacon love going on, serving beer soaked brats wrapped in strips of thick cut bacon and topped with all the fixings, brings a rapid hush to a room of hungry carnivores and a simple nod of glowing satisfaction from the chef. I've tested this one on hungry mountain bikers and it works.
Harness the power of bacon.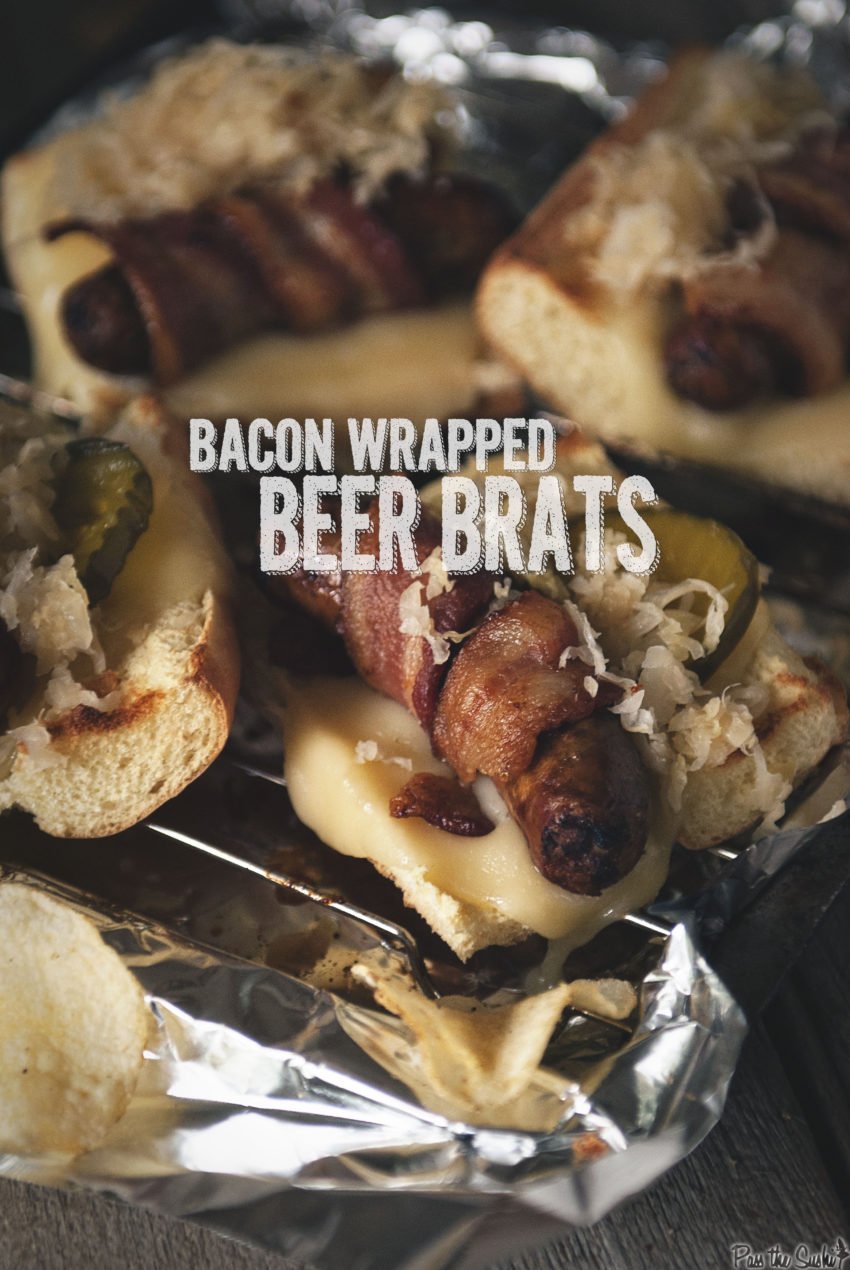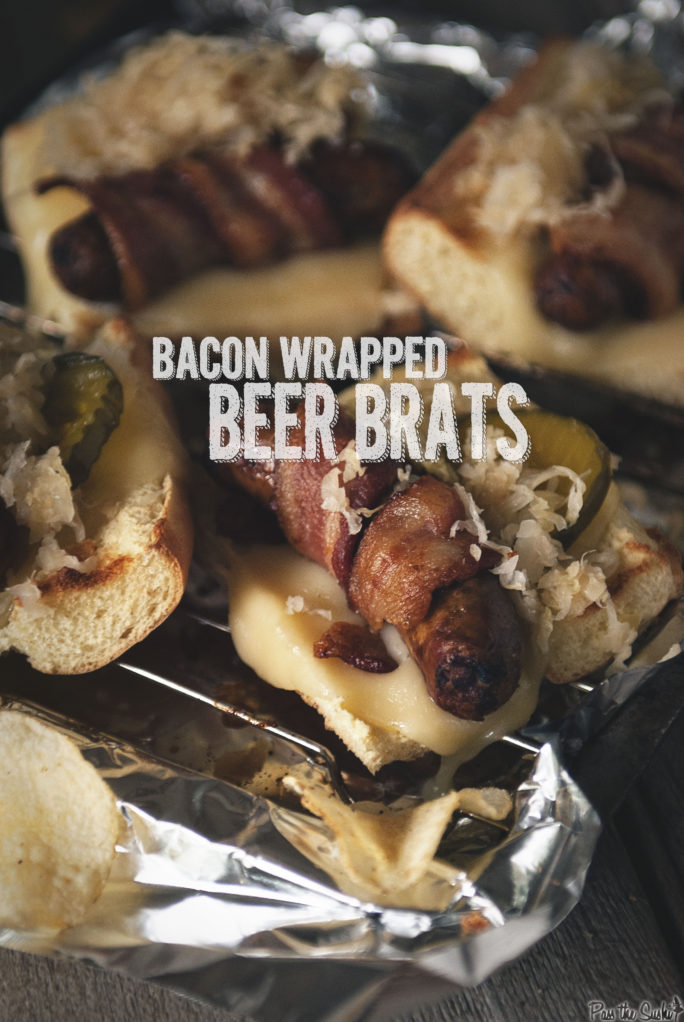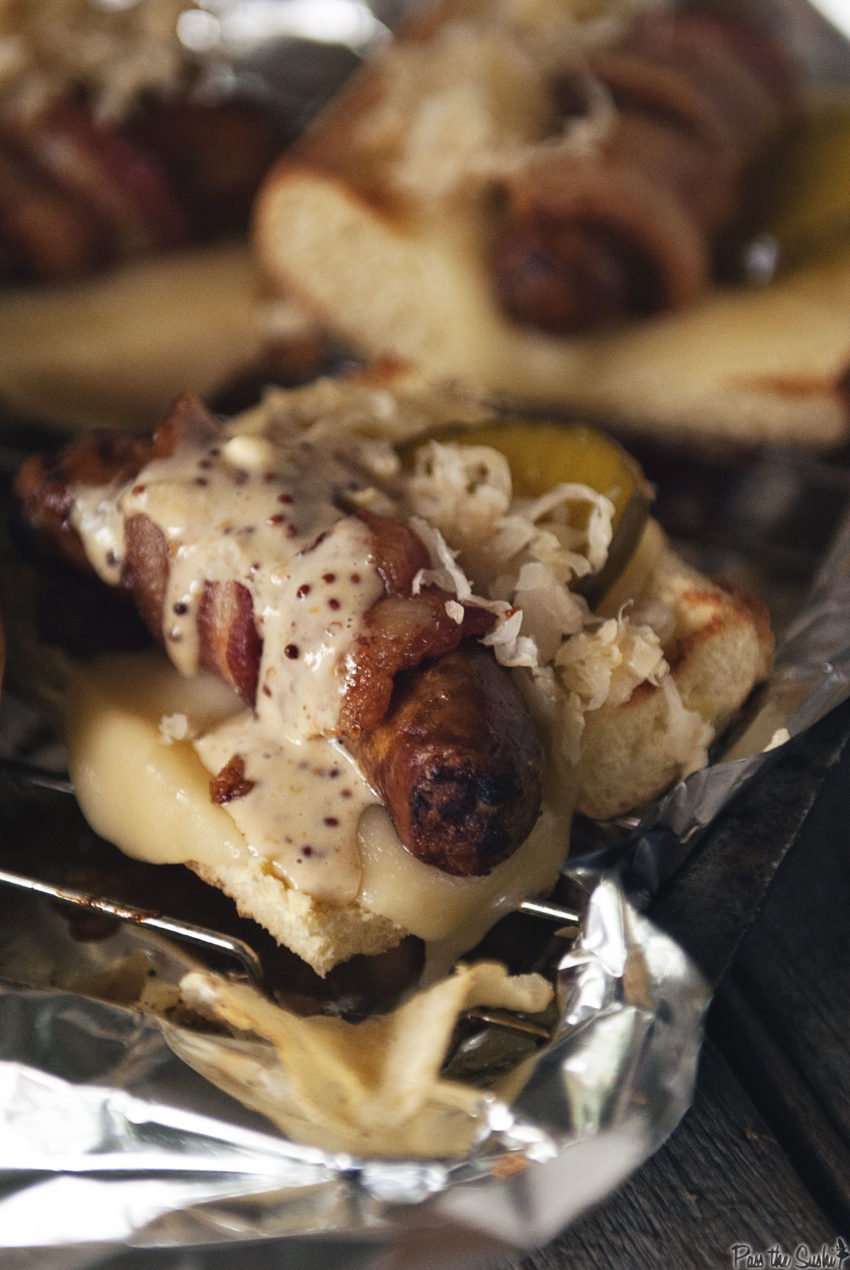 Ingredients
6

strips thick cut bacon

1

bottled lager

1

tbs

Worcestershire sauce

1/2

teas dry mustard

1/4

teas garlic salt

6

brats

1/2

cup

mayo

2

tbs

whole grain mustard

2

tbs

Dijon mustard

rolls

slit and toasted

sauerkraut

pickles, Swiss cheese for topping
Instructions
Preheat the oven to 450 degrees F.

Line a baking sheet with aluminium foil and set an oven safe wire rack on top. Lay strips of bacon on the rack and bake for 15 minutes, until starting to cook but not crispy or fully done. Remove from oven and reduce heat to 350 degrees. Carefully drain bacon fat and replace aluminum foil when cool enough to handle.

Meanwhile, whisk the lager, Worcestershire, dry mustard, and garlic salt in a large pot. Poke the brats a few time with the tines of a fork and add to the pot. Bring to a boil. Reduce heat and simmer for 15 minutes, flipping the brats once halfway through.

Remove brats from liquid and let cool until safe to handle.

Spiral a slice of bacon around each brat and use toothpicks to secure. Place back on the wire rack and bake for 15-20 minutes, until bacon is fully cooked, flipping once halfway through.

Combine the mayo, whole grain mustard, and Dijon mustard in a small bowl. Cover and place in fridge until ready to serve.

Serve brats on toasted buns with Swiss cheese, sauerkraut, pickles and a spoonful of mayo mustard mixture.
Notes
adapted from BHG Special Interest Fall