Walnut-crusted grilled beef tenderloin is a masterpiece on its own. And those grill charred Brussels sprouts on the side up the healthy ante and make you feel good.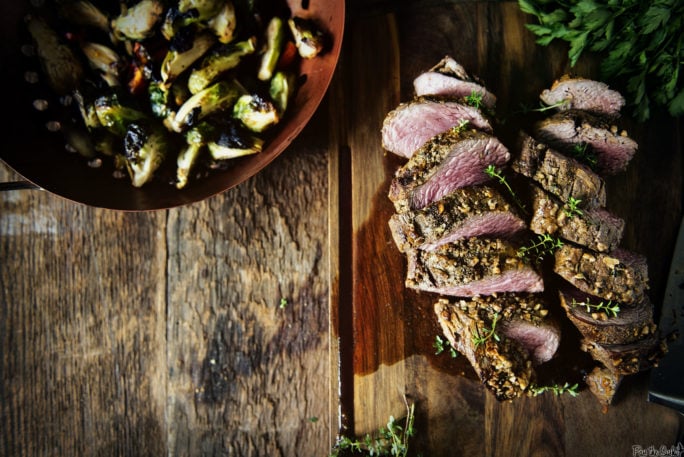 Old fashioned walnut crusted beef tenderloin
Some days you just crave old fashioned simple red meat. In my case, that's like every day. We'll blame it on a some weird iron deficiency when in public settings, but in reality it's probably just my version of candy.
In any case, this walnut crusted grilled beef tenderloin was the masterpiece my meaty Willy Wonka and odd little orange Oompa Loompas used to lure me in. Those grill charred brussels sprouts on the side upped the healthy ante and made me feel like I was cheating on cheating my diet. (Get your head around that)
Fancy beef dishes don't have to be fanciful, as in difficult to make
All in all, this quick and easy fancy pants meal is one you should knock off the bucket list this summer. Simple and packed with flavor, your better half won't believe they aren't schnozzberries.
Seriously, I have no idea where this analogy was going. Perhaps up to the sky in a glass oven, set at the perfect temperature. Perhaps…
Why is beef tenderloin so tender?
Just because you call it tenderloin doesn't make it necessarily tender. I mean, have you ever been to the Tenderloin district of San Francisco? There may be some tender moments, but that place is pretty tough. So why is beef tenderloin so tender, not to mention pricy?
Beef tenderloin is the muscle that runs under the rib cage. It is not terribly fatty, so it isn't actually the most flavorful cut. However, since it is not "load bearing" it isn't as tough as other cuts. In fact, it is quite tender, hence the name fits.
But tenderloin is very unforgiving if you cook it too long. Overcook it and we are changing the name to beef stringyloin.
So why is tenderloin beef so expensive?
First of all, in ratio to the other muscle groups, there is just not a lot of it to go around. Next, it does require a bit more work on the butcher's part to reach the cut. More work, less product… and high demand for "the tenderest" cut of beef, we are talking higher dollar.
The good news is that it cooks quickly, works really well on the grill, and of course offers a nice tender bite. Provided you don't destroy it by overcooking it of course.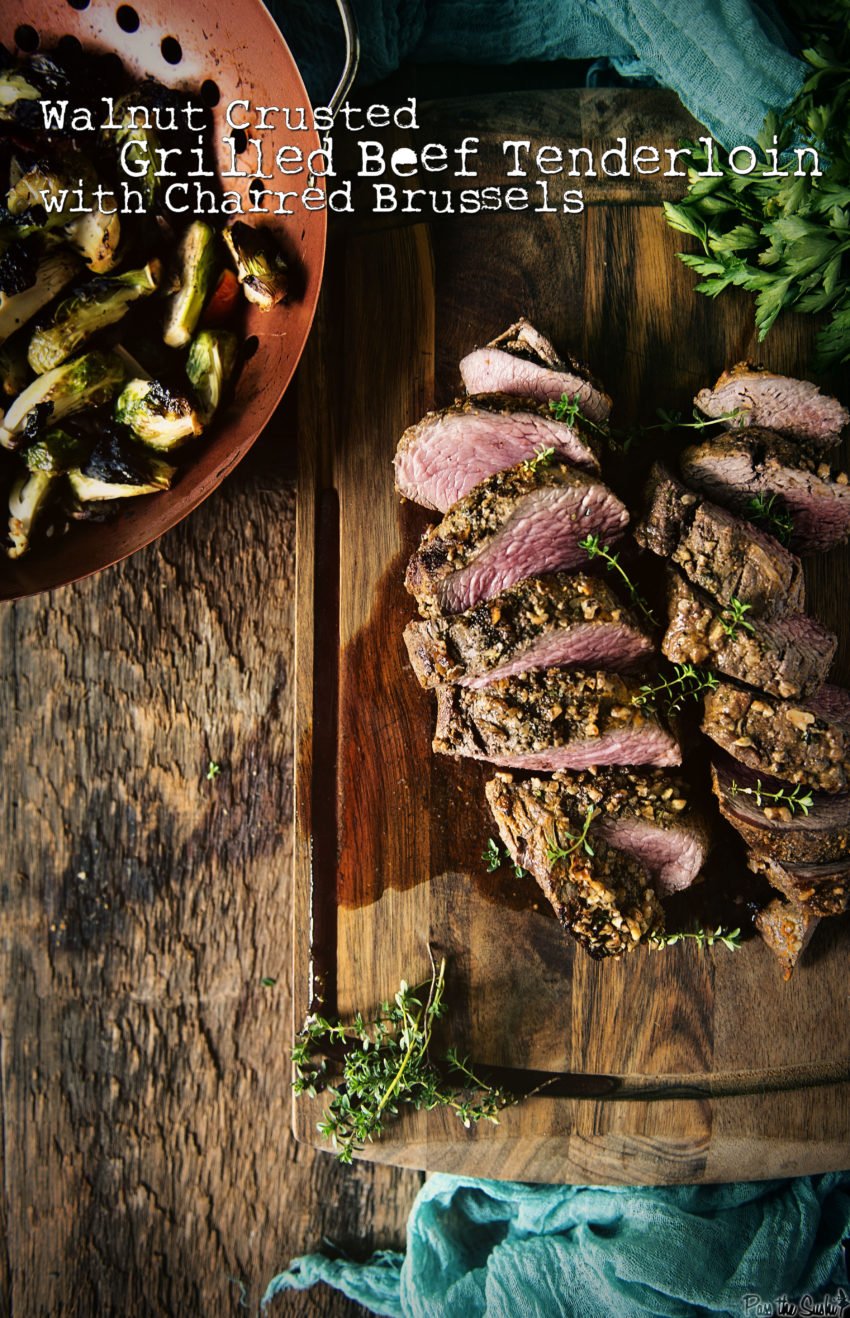 Beef tenderloin just might be the king of cuts. So versatile, crowd awing and popular in high-end restaurants, but so underused in most home kitchens. Don't be afraid of it. Try these recipes out.
If you've tried my Walnut Crusted Grilled Beef Tenderloin with Charred Brussels Recipe or any other recipe on GirlCarnivore.com please don't forget to rate the recipe and let me know where you found it in the comments below. I get inspired by your feedback and comments! You can also FOLLOW ME on Instagram @girlcarnivore as well as on Twitter and Facebook.
Walnut Crusted Grilled Beef Tenderloins with Charred Brussels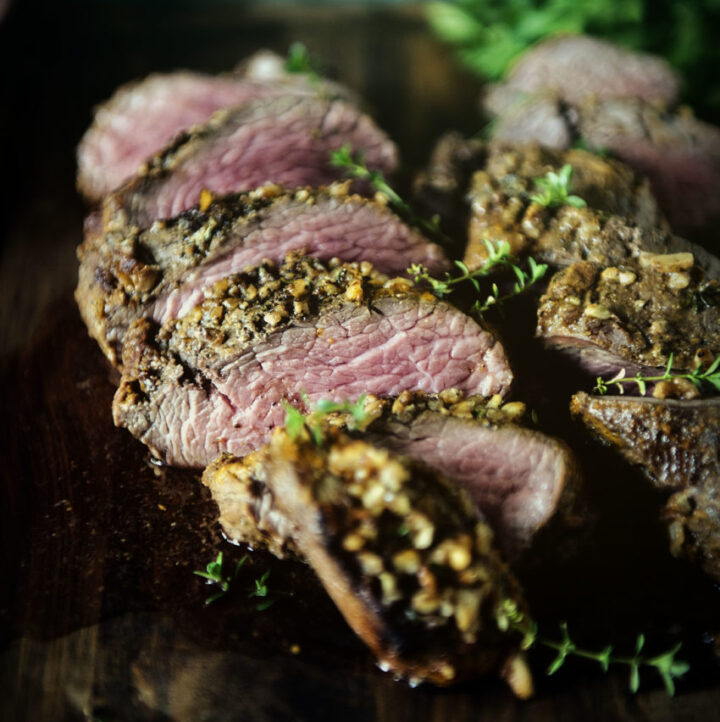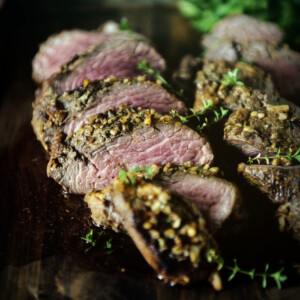 Crushed walnuts crust a choice cut of tenderloin beef, served with charred Brussels sprouts on the side
Recommended Equipment
smoker grill

Cast Iron Skillet
Ingredients
20

oz

beef tenderloin

I used unportioned filets

1

tsp

salt and pepper

to taste

2

tbs

Dijon mustard

I used El Diablo Steakhouse

1/2

cup

walnuts

chopped

thyme

fresh sprigs are best

1

lbs

Brussels sprouts

trimmed and sliced in half

2

shallots

sliced and chopped to mince

1 1/2

cup

cherry tomatoes

sliced in half

4

tsp

olive oil
Instructions
Preheat the grill to medium high.

Pat the beef dry and season with salt and pepper. Rub with mustard and sprinkle the walnuts on top (don't worry about being pretty some will fall off while grilling).

Remove the leaves from the thyme sprigs and sprinkle over top of the beef as well. Press gently with fingers to 'seal' the toppings in place.

Reduce the heat on your grill now that everything is nice and hot.

Place the brussels sprouts, shallots, and tomatoes in a grill plate or on a preheated skillet and season with salt and pepper.

Toss with the olive oil and cook until tender on the grill, about 20 – 25 minutes. (If using a slotted grill pan, watch that oil).

Meanwhile, cook the beef, turning as needed for about 20 minutes (depending on thickness) until desired doneness.

Remove everything from the grill and cover with foil. Let the beef rest at least 5 minutes before slicing to serve.
Notes
BGH Specialty Interest Magazine, Eat Well Lose Weight 2014
Nutrition
Serving:
1
g
|
Calories:
594
kcal
|
Carbohydrates:
17
g
|
Protein:
33
g
|
Fat:
45
g
|
Saturated Fat:
14
g
|
Polyunsaturated Fat:
9
g
|
Monounsaturated Fat:
18
g
|
Cholesterol:
99
mg
|
Sodium:
770
mg
|
Potassium:
1122
mg
|
Fiber:
7
g
|
Sugar:
5
g
|
Vitamin A:
1220
IU
|
Vitamin C:
113
mg
|
Calcium:
95
mg
|
Iron:
6
mg