Introducing Beefshi – a fun spin on sushi with using deli meats like roast beef, for protein-packed rolls you can devour on the go or share with friends.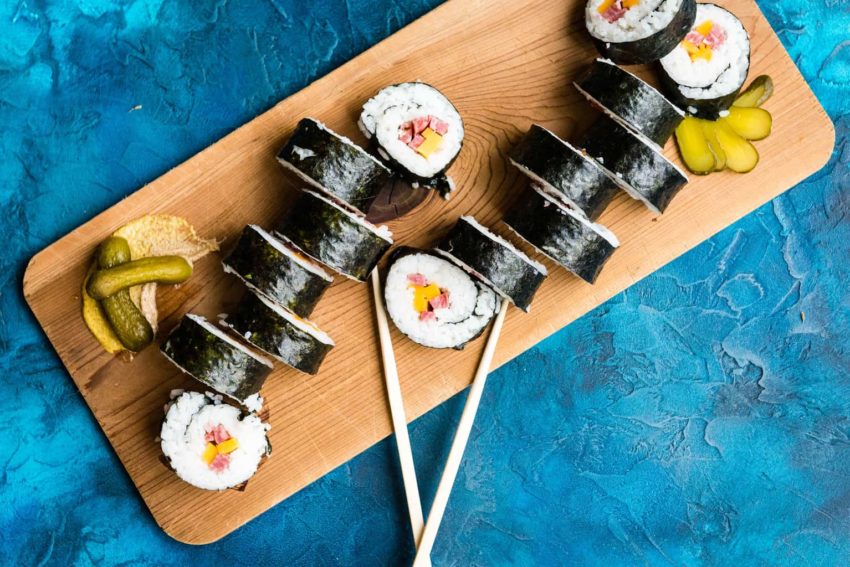 This post was sponsored by NAMI on behalf  of the Beef Checkoff for their exciting Beefshi! However, the thoughts, opinions and other ramblings are as always, my own.
True story, some almost 10 years ago, I sat down and started writing for the W.W.W. (which makes me archaic in internet terms). It all started with a little site called PasstheSushi, where I was posting my attempts at cooking just 2 days a week to learn some new skills. Fast forward a few years and I have a confession to make.

…Ready?
I have never
Ever.
Made Sushi.
Hard stop. I know.
The girl who runs the site called Pass the Sushi has never made sushi… Yep. Shame emoji and what not.
So, when 'Beefshi' appeared in my inbox, I knew it was time to finally bust out a sushi mat.
Beefshi? Yeah. You read that right. I know what you are thinking… What cowboy decided sushi and roast beef needed to ever meet, let along mingle. But who ever it was, they were on to something. Beefshi is a spin on traditional sushi-style rolls using thinly sliced deli meats, like pastrami and roast beef. Or even beef jerky. That's right, we are trying to get you to rethink beef at the deli counter and get hands on. Turns out, we love high protein healthy options and beef can be a great source for that. Add some rice, make it a portable snack or a fun meal and we have ourselves a new concept.
Since it's National Deli Meat Month, I swung by my local market and checked out the options. There was a high-quality Black Angus roast beef that immediately caught my eye, a pastrami that had a stunning colour, and luckily some summer sausages nearby with the cheese. What's great about these Beefshi recipes is that most of the ingredients to make these are close to the deli counter. You just need to pop over to produce to finish it off. And, let's not forget garnish. We all know sushi platters are made for Instagram (oh, how the internets has changed since I started this eons ago).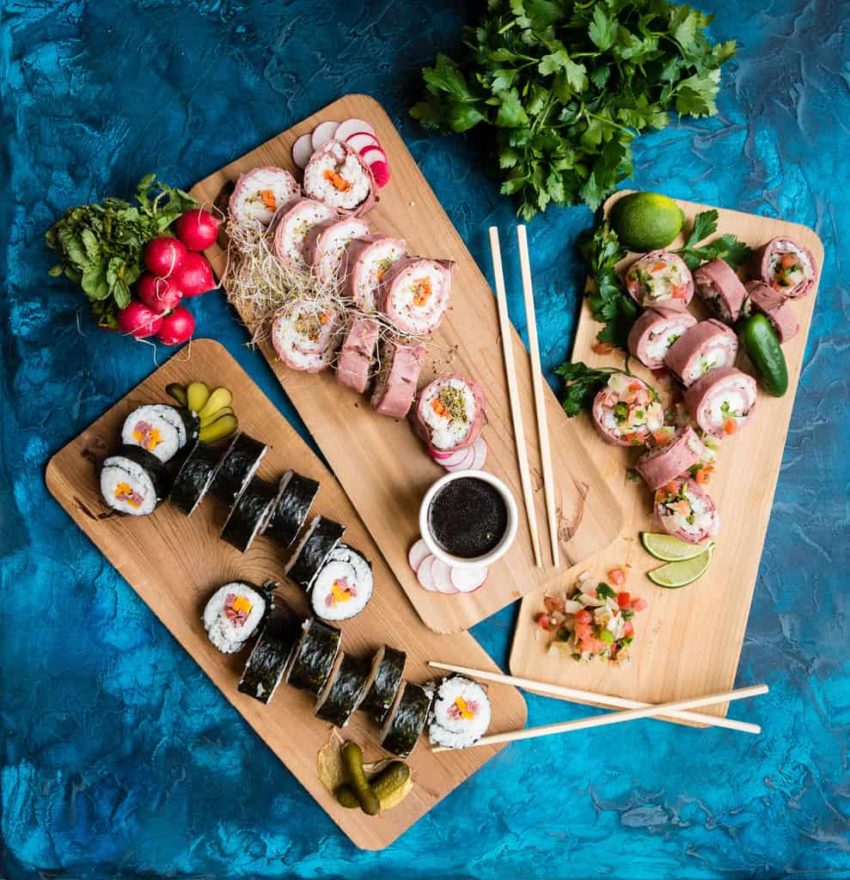 I decided to dive in and made 4 recipes for Beefshi last night (watch out, they all make 2 rolls…. Needless to say, there were leftovers). Check out Beefshi.com for the full list of rolls they are coming out with, recipes, and even videos to show ya how they are made.
I chose the Inside-Out Wisconsin Maki, Texas Asade, Sunday Supper, and Reuben Roll. And dinner was a blast. I served them all with chopsticks and made it look like a traditional sushi meal. I had some friends over and everyone chowed down. Beefshi was a hit in the GirlCarnivore Meat Labs.
What Beefshi roll would you try or would you step up to the challenge and make your own?
This recipe, along with all the rolls I created last night for supper, can be found on Beefshi.com – go get inspired make some Beefshi for the next game or add it to the summer entertainment plans. I know it would be a hit on my Memorial Day Menu! Snap a pic and be sure to tag #GirlCarnivore in it so I can see how it turned out!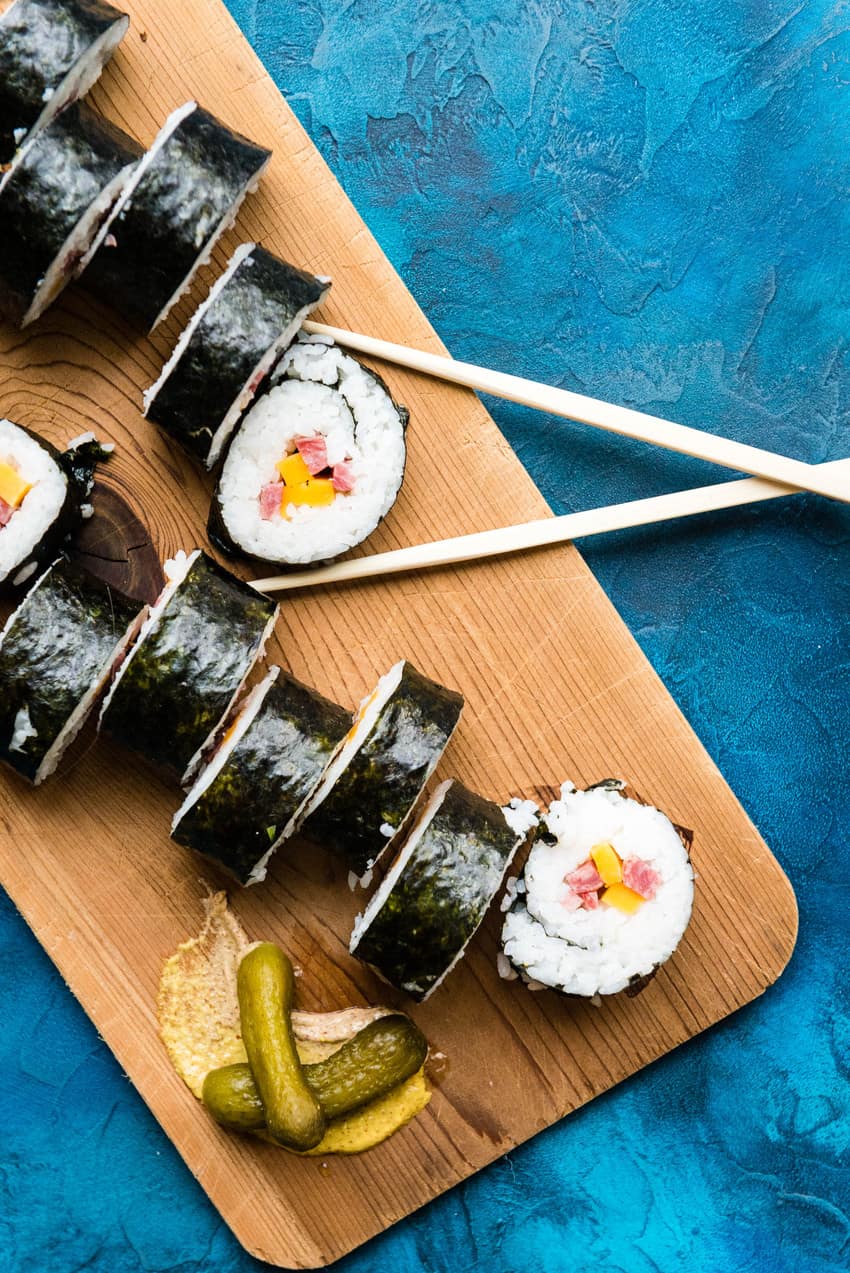 Inside Out Wisconsin Noori Maki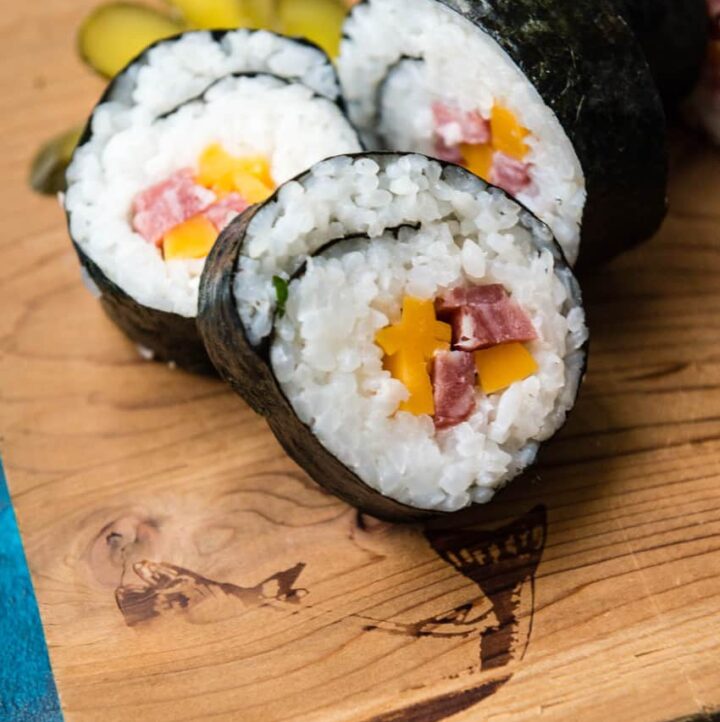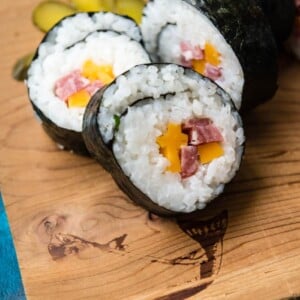 Take sushi to a whole new level with this inside out noori maki, using beef and cheddar as the filling!
Ingredients
Hand vinegar
1

cup

water

¼

cup

rice vinegar
Maki
2

sheets nori

4

cups

prepared sushi rice

4

ounces

summer sausage

cut lengthwise into thin sticks

4

ounces

sharp Cheddar

cut into thin sticks

1

large dill pickle

sliced paper-thin, for serving

Spicy brown mustard

for serving
Instructions
In a small bowl, stir together the hand vinegar.

Lay a bamboo sushi mat on a clean surface. Moisten hands with hand vinegar and shake off excess. Place a sheet of nori on the mat, shiny side down. Spread half the rice across the nori, leaving 1 inch empty at the end farthest from you.

Lay half the summer sausage and half the cheese crosswise along the rice, creating rows of sausage and cheese and covering half the surface closest to you.

Securing the meat and cheese with your fingers, use your thumbs to push the end of the mat up and over the filling, until the edge of the nori meets the rice on the other side. Press firmly on the roll.

Lift up the top of the mat and roll firmly until tight and round. Squeeze gently to shape the roll. Press the ends in carefully to secure any loose rice. Remove the bamboo mat and set the roll aside.

Make the second roll in the same manner.

Use a very thin, sharp knife to cut each roll into 8 slices. Arrange on a sushi platter with a pretty, loose pile of pickle slivers and a dish of spicy brown mustard.
Nutrition
Calories:
3560
kcal
|
Carbohydrates:
607
g
|
Protein:
96
g
|
Fat:
71
g
|
Saturated Fat:
34
g
|
Cholesterol:
200
mg
|
Sodium:
2062
mg
|
Potassium:
1021
mg
|
Fiber:
21
g
|
Sugar:
1
g
|
Vitamin A:
1600
IU
|
Vitamin C:
2
mg
|
Calcium:
937
mg
|
Iron:
14.1
mg