Kick up the flavor of the classic kabob with these fast and easy smoked sausage kabobs. Peppers, onions, and a whole lot of honey barbecue flavor!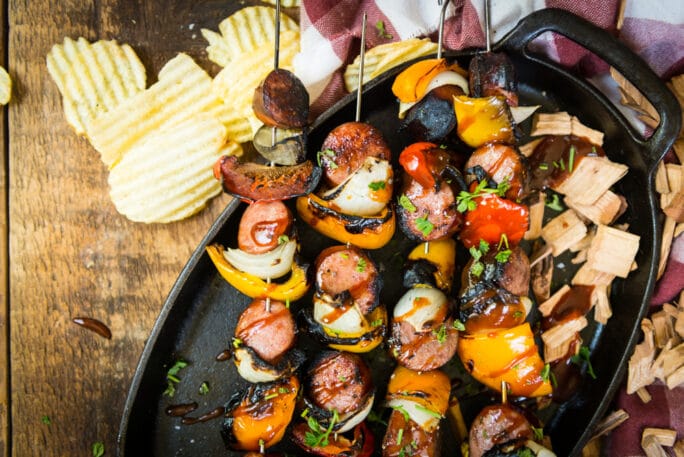 This post was sponsored by Western Wood Products. Thoughts and opinions are my own. But really, add some wood chips to your next rodeo.

Kabobs are one of those things that are so easy to make, I often don't think to make them. But they are a fun fast food that everyone loves and they have that bonus of sneaking in those needed veggies. So really, they are a delicious win win.
But, I find that a lot of time kabobs can be a little… boring. And no one likes that. So I wanted to see if I could take a classic kabob combination – sausage, peppers and onion – and make something mouth watering!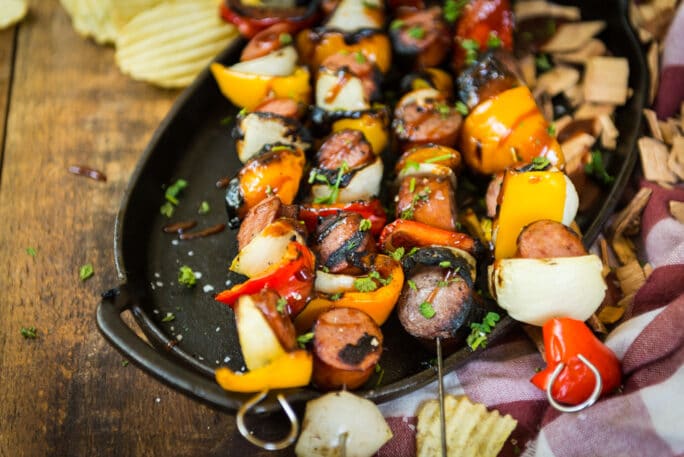 Turns out, a little smoke goes a long way to leveling these up, and with wood chips, you don't have to smoke for hours to get that hint of heat.
20 minutes to smoked hand held deliciousness, sold.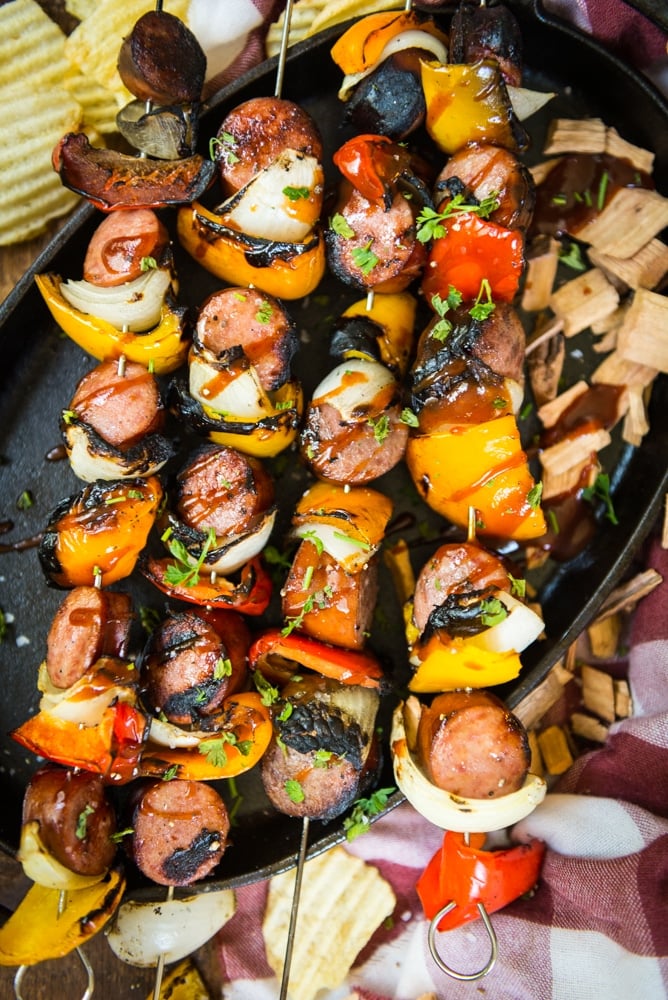 How to grill sausage kabobs
Kabobs are one of my go-to teachable recipes, because they are crasy easy! They make you practice rotating foods and watching for quick and even cooking.
For great kabobs, pick a few simple ingredients and make a pattern while skewering.
Cook them over indirect heat, rotating as needed to cook evenly. I use long tongs so I mitigate the risk of me burning my fingers by accidentally touching the skewers.
If you are using different proteins, make sure you are cooking to the safest temp. As pretty as it is, I don't mix chicken with shrimp or beef with scallops. They have different internal temps for proper doneness and mixing them on one skewer means one may be over cooked while the other remains raw. Organize your skewers by protein.
Make sure the skewers are cool enough to touch before serving. Use the old fork trick, holding the skewer firmly in place, and sliding the tines of the fork along the skewer to remove the meat and veggies from the skewer to eat.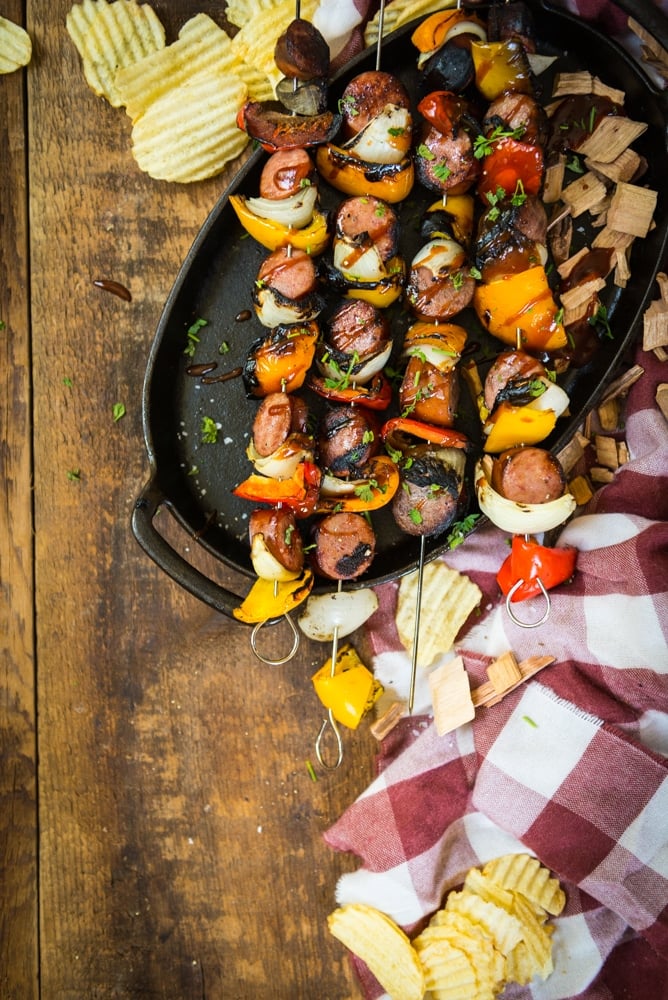 Tips for perfect kabobs
If you are using bamboo skewers, make sure to soak them for 20 minutes before using
Make sure you aren't scorching your meat over direct flames. Luckily, the little sticks make it all easily moveable.
When grilling kabobs, rotate often to expose all sides to the heat. This cooks everything evenly and helps to prevent the one-sided-torched veggie problem.
Cut all of your meat to equal portions. Tiny pieces mixed with bigger ones created uneven cook times, and that's hard. If you end up with smaller pieces, or larger ones, make sure they are grouped together on their own skewer for even cooking time.
Bonus tip, adding wood chips to the coals (or even in a smoking box over gas grills) really adds a nice layer of flavor to the kabobs. The veggies, with their quick cook time, pick up just that hint of smoke without things becoming too overpowering.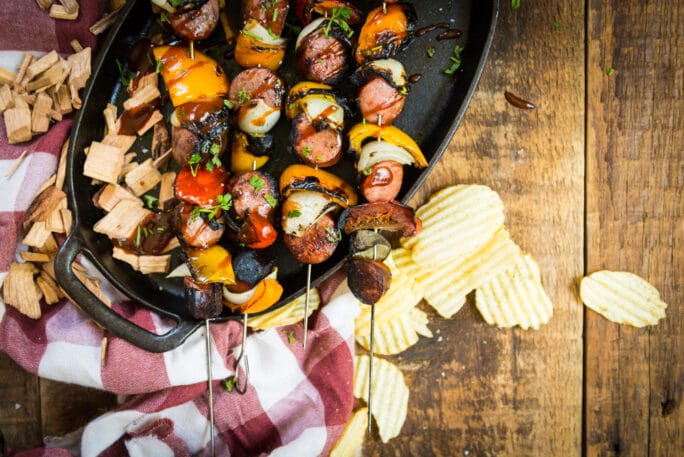 What is the best sausage to use for kabobs
This is a hard question because, in the girl carnivore meat labs, we love sausage. But I love pre-cooked sausages for kabobs. Pre-cooked makes sure the casings dont shrivle, causing the akward bulge we've all seen a time or two on sliced sausages. And helps control how long you need to cook without burning the veggies into an early grave.
If you want to used an uncured or not pre-cooked sausage, I would grill the sausage whole, while making veggie kabobs to smoke along side to make sure everything has cooked through.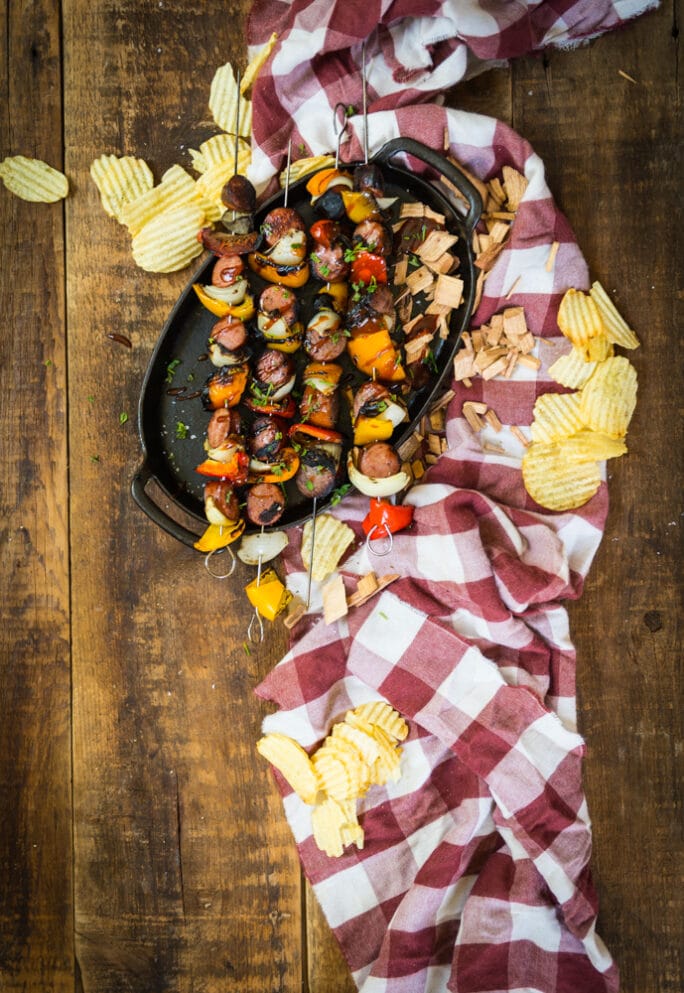 Want more easy grilling inspiration? Try some of my favorite recipes
If you've tried my Smoked Sausage Kabob Recipe or any other recipe on GirlCarnivore.com please don't forget to rate the recipe and let me know where you found it in the comments below. I get inspired by your feedback and comments! You can also FOLLOW ME on Instagram @girlcarnivore as well as on Twitter and Facebook.
Smoked Sausage Kabob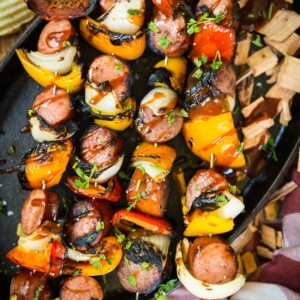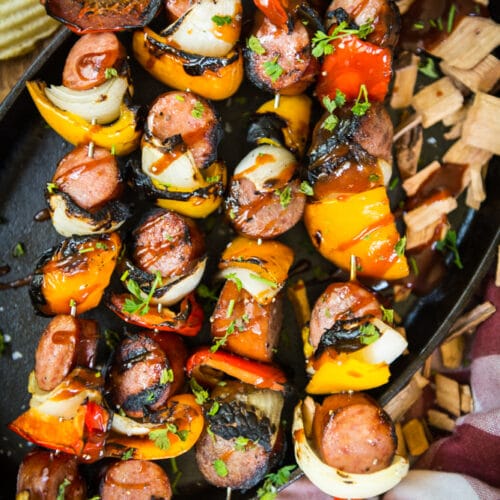 Kick up the flavor of the classic kabob with these fast and easy smoked sausage kabobs. Peppers, onions, and a whole lot of honey barbecue flavor!
Ingredients
2

lbs

kielbasa or sausage

sliced into ½ – 1" portions

2

red peppers

stemmed seeded and cut into ½" pieces

2

yellow peppers

stemmed seeded and cut into ½" pieces

1

onion

quartered and divided into pieces

½

cup

honey

½

cup

thick barbecue sauce

1

tbsp

bourbon

¼

tsp

cayenne
Instructions
Prep your grill for indirect heat. Clean and oil the grates.

Meanwhile, using heat safe skewers, build the kabobs, alternating between peppers, onions, and sausage slices.

When ready to grill, add dry woodchips to your coals and place the skewers over the cooler side of the grill.

Close the lid and allow the smoke to work it's magic.

Cook, flipping as needed, without opening the lid too much, until the veggies are tender and the sausage is 160 degrees with a digital thermometer and has grill marks.

Meanwhile, in a cast iron or heat proof sauce pan, whisk the honey, barbecue sauce, bourbon and cayenne together. Allow to simmer over the heat, stirring as needed until thickened.

Carefully remove the kabobs from the heat and arrange on a serving platter.

Either drizzle the honey barbecue sauce over top or serve individually.

Garnish with parsley if desired.
Nutrition
Serving:
1
g
|
Calories:
488
kcal
|
Carbohydrates:
32
g
|
Protein:
17
g
|
Fat:
33
g
|
Saturated Fat:
12
g
|
Polyunsaturated Fat:
4
g
|
Monounsaturated Fat:
15
g
|
Cholesterol:
79
mg
|
Sodium:
1180
mg
|
Potassium:
469
mg
|
Fiber:
1
g
|
Sugar:
25
g
|
Vitamin A:
1057
IU
|
Vitamin C:
95
mg
|
Calcium:
29
mg
|
Iron:
2
mg