Grilled pizza and dessert just met and it was spectacular. The flavor combo in this Savory Grilled Pizza with Fig and Pears Recipe is one you will be making over and over!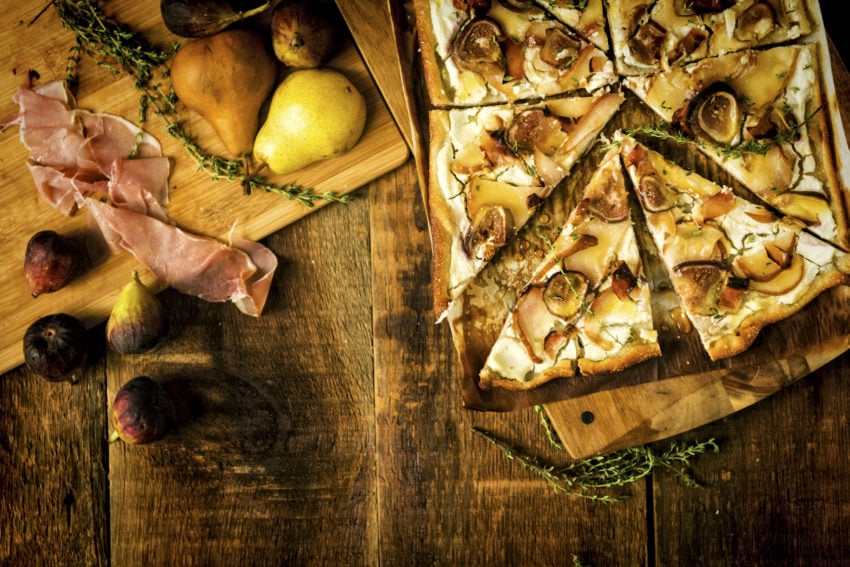 Grilled pizza ideas to keep things interesting
We all know grilled pizza is just about the best pizza ever. There's something about the high heat and subtle smoke that brings out the best in the flavors and produced the crispy perfect crust we all crave.
So why not use the abundance of fall flavors to create an amazing dessert style pizza with some traditional GirlCarnivore flair?
Grilling pizza in your own backyard
What's great about grilling pizza is that its fun, and comes together quickly in your own back-yard. Hell, it's faster than waiting for the delivery driver and you know it's going to arrive on your plate just how you want it.
What is a dessert pizza?
By using fresh figs and pears, we turn pizza into a dessert. Adding bits of prosciutto, thyme, and smoked sea salt keep it from settling too hard on your sweet tooth.
This bourbon whipped cream on top makes this an adults only party. And that's ok because the flavors are for a pretty mature appetite anyway.
Round one can be killer classic grilled pizzas (or get creative with some others), but make sure you finish your next pizza party strong with this over the top savory grilled pizza with figs and pears.
What kind of fruits work for dessert pizza?
Pears and figs go so well together, but let's face it, pizza is one of the most open to interpretation dishes imaginable. So, it naturally stands to reason other fruits might work too.
Shooting from the hip here, since some of these I haven't personally tried. But that doesn't mean I wouldn't welcome the opportunity to test their merits.
I could see also using pitted prunes, aka dried plums, and sour apples like Granny Smiths. Or what about some papaya and raisins? I mean, it's pizza right?
Fruit works well on pizza. I mean, it wasn't so bad as a slice of pineapple on the classic Hawaiian style pizza was it?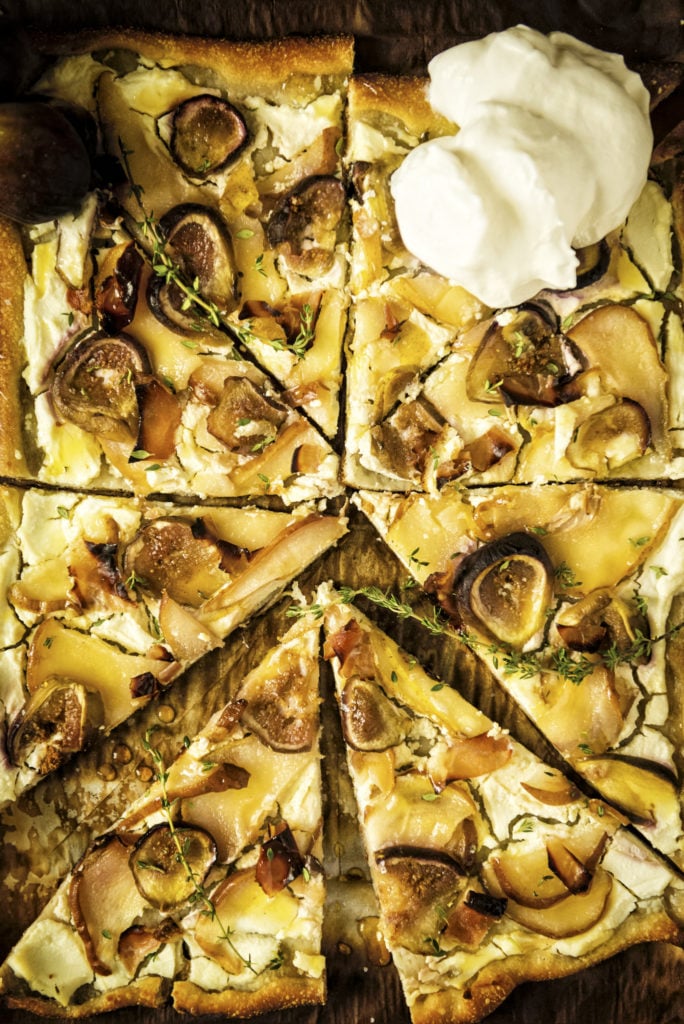 Making your own pizza dough
If you are going to get serious about your 'za, then making your own pizza dough is where the journey begins. In this case, it offers an opportunity for adding a touch more sweetness to the dessert pizza.
It might add a spot of time waiting for the dough to rise. But the wait only adds to the anticipation. And that is not a bad thing by any means.
Pro Tips for grilled pizza:
Get your grill really hot. Crisp pizza crust comes from a hot grill, so turn up the heat!
Have all of your toppings ready to go. When making grilled pizzas, things move quick, so having all of your toppings ready to go ahead of time is the perfect strategy for success.
Have tools to help. Invest in an inexpensive pizza wheel or use a cookie sheet and tongs for quick and safe transfers of hot pizzas. Handling the uncooked dough can be cumbersome. And getting the finished pizza away from the hot grill can be tricky. So make sure to arm yourself with tools to help prevent injuries.
Have fun with it. Embrace that your dough may not look perfectly round or that your grill may have a hot spot and you scorched a corner. It's pizza. It's fun. And you should be having some while making these!
Besides, those scorch marks are the true secret ingredient of what makes pizza great.
More pizza ideas to toss around
If you need some ideas for the main course pizzas, or even the appetizer pizza, I have a few ideas to get on top of.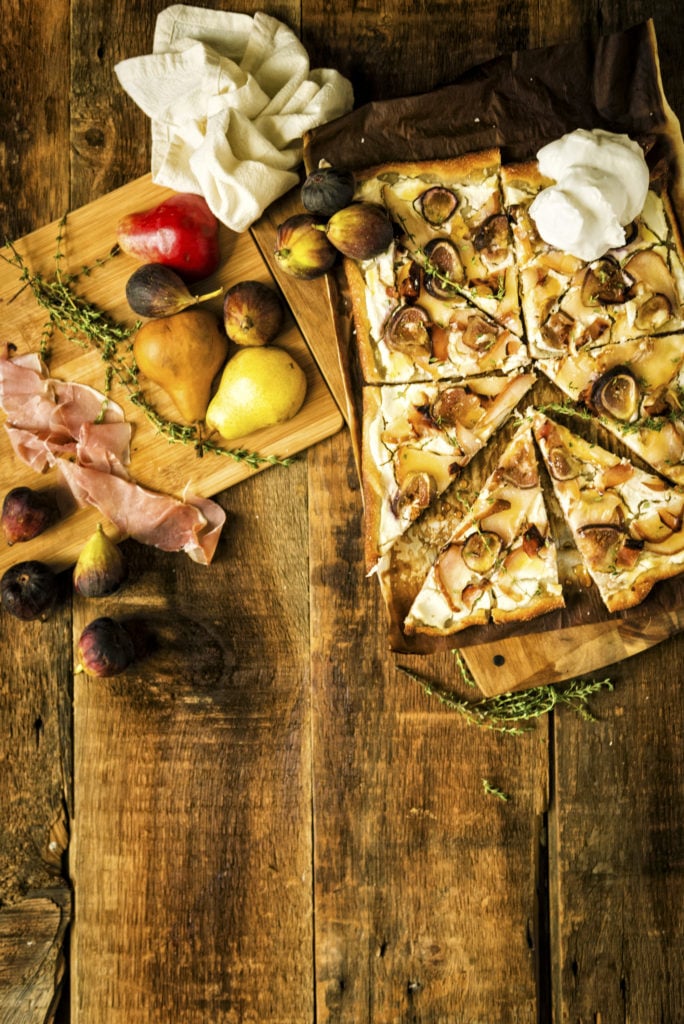 If you've tried my Savory Grilled Pizza with Figs and Pears recipe or any other recipe on GirlCarnivore.com please don't forget to rate the recipe and let me know where you found it in the comments below. I get inspired by your feedback and comments! You can also FOLLOW ME on Instagram @girlcarnivore as well as on Twitter and Facebook.
Savory Grilled Pizza with Fig and Pears Recipe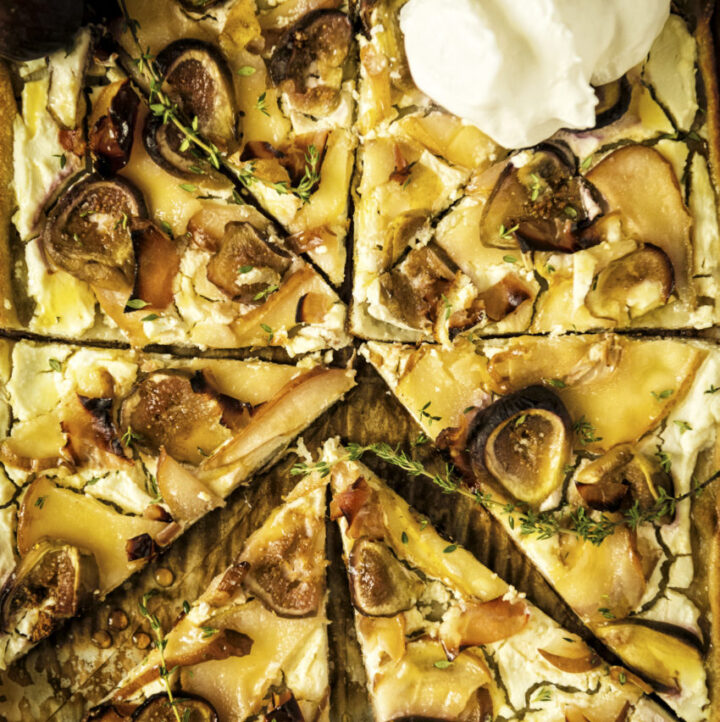 Pizza and dessert just met and it was spectacular. The flavor combo in this Savory Grilled Pizza with Fig and Pears Recipe is one you will be making over and over!
Ingredients
For the Grilled Fig and Pear Pizza:
2

large pears

sliced

2

tbs

butter

1

tbs

brown sugar

2

lbs

refrigerated pizza dough

16

oz

ricotta

1

tsp

sea salt

coarse smoked

1

tsp

black pepper

freshly cracked

1

tsp

heavy cream

6

figs

sliced

2

prosciutto

sliced thin strips

1

oz

Thyme

Fresh sprigs

2

tbsp

honey
For the bourbon whipped cream
1

cup

heavy cream

1/3

cup

sugar

1

tbs

bourbon

pinch

smoked sea salt
Instructions
Preheat grill, so that it's nice and hot. Crisp pizza dough happens over high heat. If your grill can get to 500 degrees F, this is perfect.

Sautee the pears in the butter and brown sugar until just softened, about 5 minutes. Set aside to cool.

On a clean work, surface sprinkled with cornmeal, roll out the pizza dough, working one at a time.

In a large bowl, whip the ricotta with a dash of salt and pepper, and the heavy cream until light and fluffy.

Spread half evenly over the dough.

Top the whipped ricotta with the sauteed pears, sliced figs, and strips of prosciutto.

Using your fingers, scrape the leaves from the sprigs of thyme and sprinkle over the pizza.

Grill until the crust is cooked through and is crispy, rotating with a pizza wheel if needed for even cooking throughout.

Allow to cool 3 to 5 minutes before slicing to serve.

To serve, drizzle with fresh honey and a dollop of the bourbon whipped cream.

Repeat with the second pizza crust.
For the Bourbon Whipped Cream
In a the bowl of your stand mixer, fitted with the paddle attachment, whip the heavy cream on high 2 minutes until just doubled in size.

Gently, add in the sugar and bourbon, increasing the speed to form moist but solid peaks. Place in the refrigerator to keep cold until ready to use.

If serving Bourbon whipped cream with the pizza, be sure to allow the pizza to cool a full 5 to 7 minutes before topping as the heat of the pizza will quickly melt the whipped cream.

Dollop over the pizza and sprinkle with smoked sea salt for added flavor.
Notes
Feel free to change things up and try different fruits. You can also use different booze for the cream too. Brandy for example works too. 
Nutrition
Calories:
315
kcal
|
Carbohydrates:
43
g
|
Protein:
8
g
|
Fat:
13
g
|
Saturated Fat:
7
g
|
Polyunsaturated Fat:
1
g
|
Monounsaturated Fat:
3
g
|
Trans Fat:
0.1
g
|
Cholesterol:
36
mg
|
Sodium:
602
mg
|
Potassium:
131
mg
|
Fiber:
2
g
|
Sugar:
16
g
|
Vitamin A:
511
IU
|
Vitamin C:
4
mg
|
Calcium:
86
mg
|
Iron:
2
mg