High fives if you love pizza! How bout grilled pizza? Grilled Bacon Pesto Pizza with fresh Burrata recipe is just the start of loving your grilled pies! Bonus! With my recipe easy dough, it comes together quick!

The best grilled bacon pesto pizza
Nothing hits home quite like pizza night. It's everyone's favorite go-to meal – the perfect blend of crunch and deliciousness. Not to mention it's quick and easy when you are on the move.
But seriously, have you ever tried making pizza at home? It's not hard at all – and it's 10 times better than the local take out (disclosure, unless your local takeout is on par with Austin's Via 313 – then I would happily eat that every freakin day).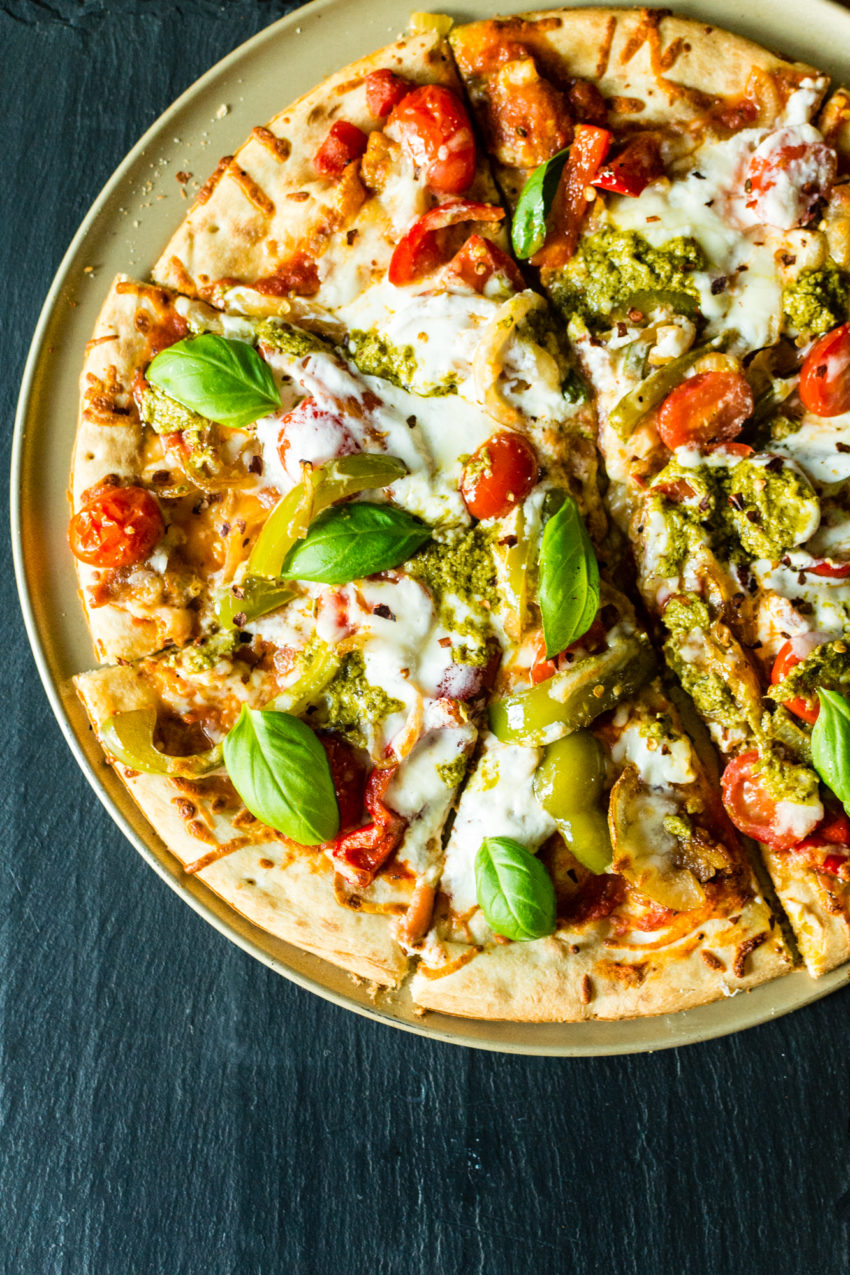 OK, so now that we're in the make your own damned food mode, forget your oven. Seriously. Walk away. No oven tonight.
Tonight… We're gonna grill this pizza.
Grilled pizza produces an ultimate crispy crust and killer flavor. And it looks pretty dang good to the company too. Over hot charcoal, grilled pizza has a flavor that is absolutely mouth watering.
Now, I have to ask, what's your favorite pizza topping?
Excellent topping for grilled pizza
Ok, there are the classics like pepperoni. Or mushrooms. And let's face it. Those toppings earned their classic status. But modern grilled pizza opens up a world of possibility.
Like bacon. Everything goes better with bacon as the saying goes. But everything bacon tastes even better if some herbaceous and fresh pesto is involved.
But truth be told, once you master grilling pizza, then a world of opportunity opens up in terms of toppings. Go nuts. Get creative.
Actually, if you use pesto, then chances are it already includes nuts, as in pine nuts. However those are not really nuts. They are seeds, but we can run with calling them nuts if you prefer.
Pesto with pine nuts and bacon on a grilled pizza pie dough. Pretty close to Heaven on Earth.
But feel free to get wild. Try fruit like dried figs. Or go with something from the sea like shrimp or crab. Open you mind and a great pizza topping will follow.
And you know what goes great with pizza? Ice cream. Especially dulce de leche ice cream. Talk about a match made in heaven!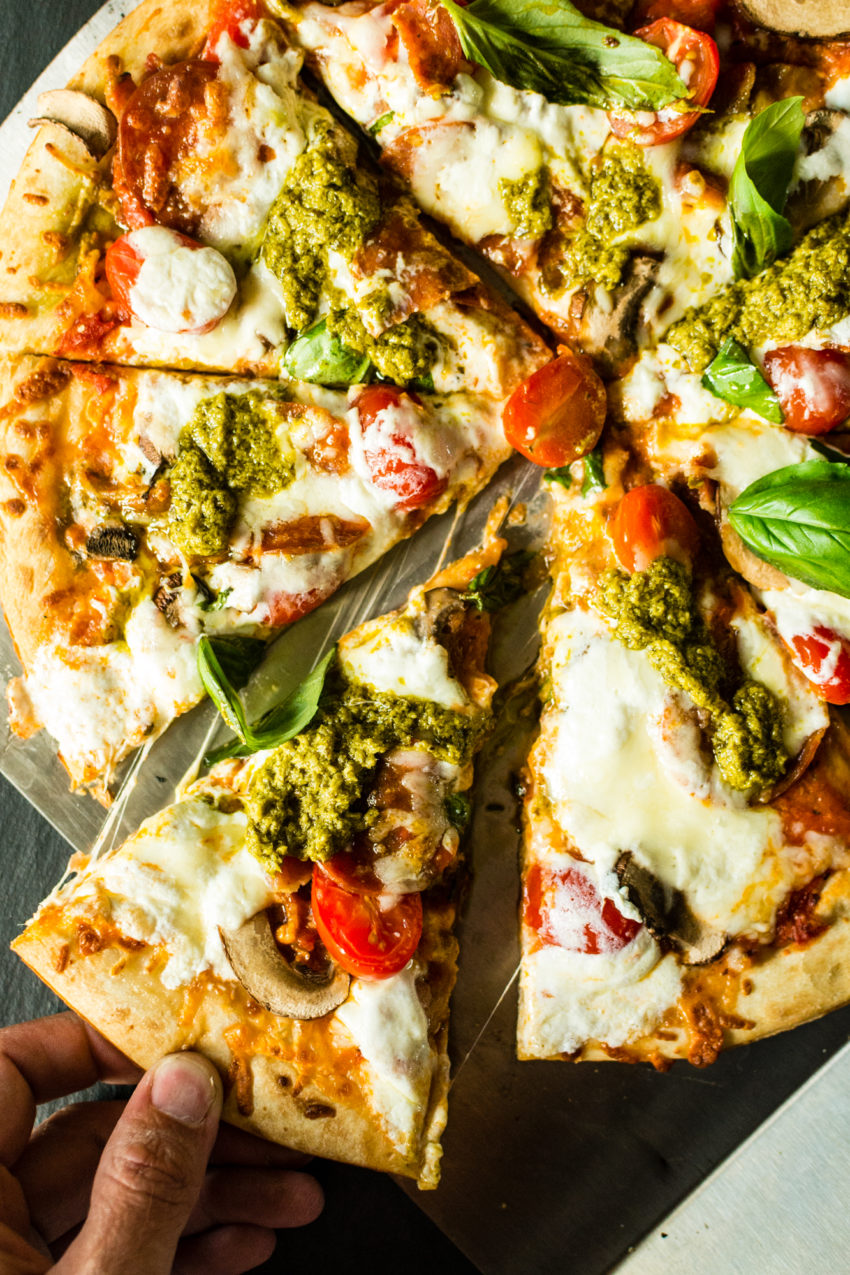 Some more grilled pizza ideas
Who doesn't love pizza? And grilled pizza is even better. Try it next time you fire up the grill. The smoke. The fire. You take pizza to another whole level.
Grilled Bacon Pesto Pizza with fresh Burrata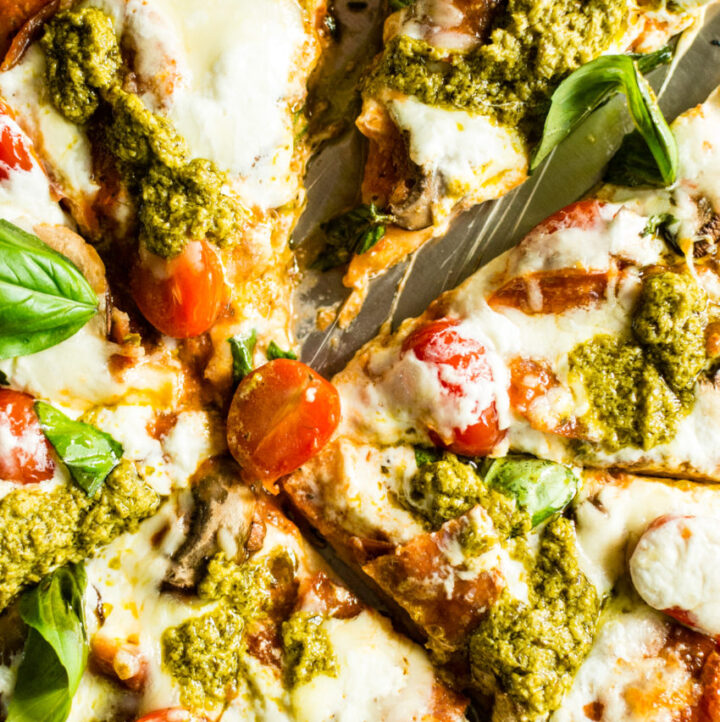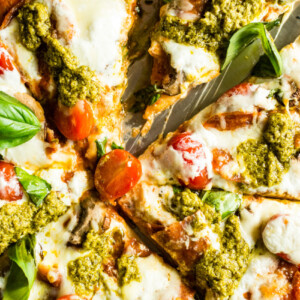 Don't have time to make your own pizza dough tonight? Try this recipe with store made pizza dough – just watch the sugar content. Too much sugar in your pizza dough causes it to burn quickly over the open flames of a grill.
Ingredients
1

recipe pizza dough <– I love this one

4

strips bacon

1/3

onion

chopped

1/2

red pepper

seeded and sliced

1/2

green pepper

seeded and sliced

3

cloves

garlic

minced

1

tbs

olive oil

3/4

cup

pizza sauce

Pepperoni

sliced

1/2

cup

mushrooms

sliced

pesto <– make your own – so easy – so delicious!

1/2

cup

fresh cherry tomatoes

4

oz

mozarella

shredded

6

oz

fresh burrata

fresh basil for garnish
Instructions
Prep your grill for cooking. If using charcoal, get the coals going or preheat your gas grill.

In a skillet over medium high heat, fry the bacon until crispy. Drain and allow to cool on a towel lined plate.

In the same pan, toss the peppers and onions until tender. Add the garlic and cook 30 seconds longer. Remover from heat and set aside.

Roll out the dough, one at a time, and allow to rest for a few minutes to hold it's shape without pulling pack.

Brush oil over the dough and grill, oil side down

Toss the dough onto the grill and grill for 2-4 minutes. Flip and quickly spoon a few tablespoons of pizza sauce over the dough.

Top the pizza with half of the sauteed veggies, fresh pepperoni slices, 2 pieces of bacon, crumbled, fresh burrata dollops and a sprinkle of mozzarella.

With the lid closed, cook 5 to 6 minutes longer, allowing the cheese to melt.

Carefully remove from heat. Sprinkle the pesto and fresh basil over the pizzas immediately.

Allow the pizza to sit for a few minutes before slicing to serve.
Nutrition
Calories:
944
kcal
|
Carbohydrates:
28
g
|
Protein:
42
g
|
Fat:
75
g
|
Saturated Fat:
29
g
|
Trans Fat:
1
g
|
Cholesterol:
148
mg
|
Sodium:
2266
mg
|
Potassium:
1341
mg
|
Fiber:
6
g
|
Sugar:
15
g
|
Vitamin A:
3679
IU
|
Vitamin C:
143
mg
|
Calcium:
637
mg
|
Iron:
4
mg