High fives if you love pizza! How bout grilled pizza? Grilled Bacon Pesto Pizza with fresh Burrata recipe is just the start of loving your grilled pies! Bonus! With my recipe easy dough, it comes together quick! 
This post is sponsored by Cowboy Charcoal for their Fire and Ice Competition – however my love of grilled pizza, thoughts and opinions represented in this post are 100% my own. 
Nothing hits home quite like pizza night. It's everyone's favorite go-to meal – the perfect blend of crunch and deliciousness. Not to mention it's quick and easy when you are on the move. But seriously, have you ever tried making pizza at home? It's not hard at all – and it's 10 times better than the local take out (disclosure, unless your local take out is on par with Austin's Via 313 – then I would happily eat that every freakin day).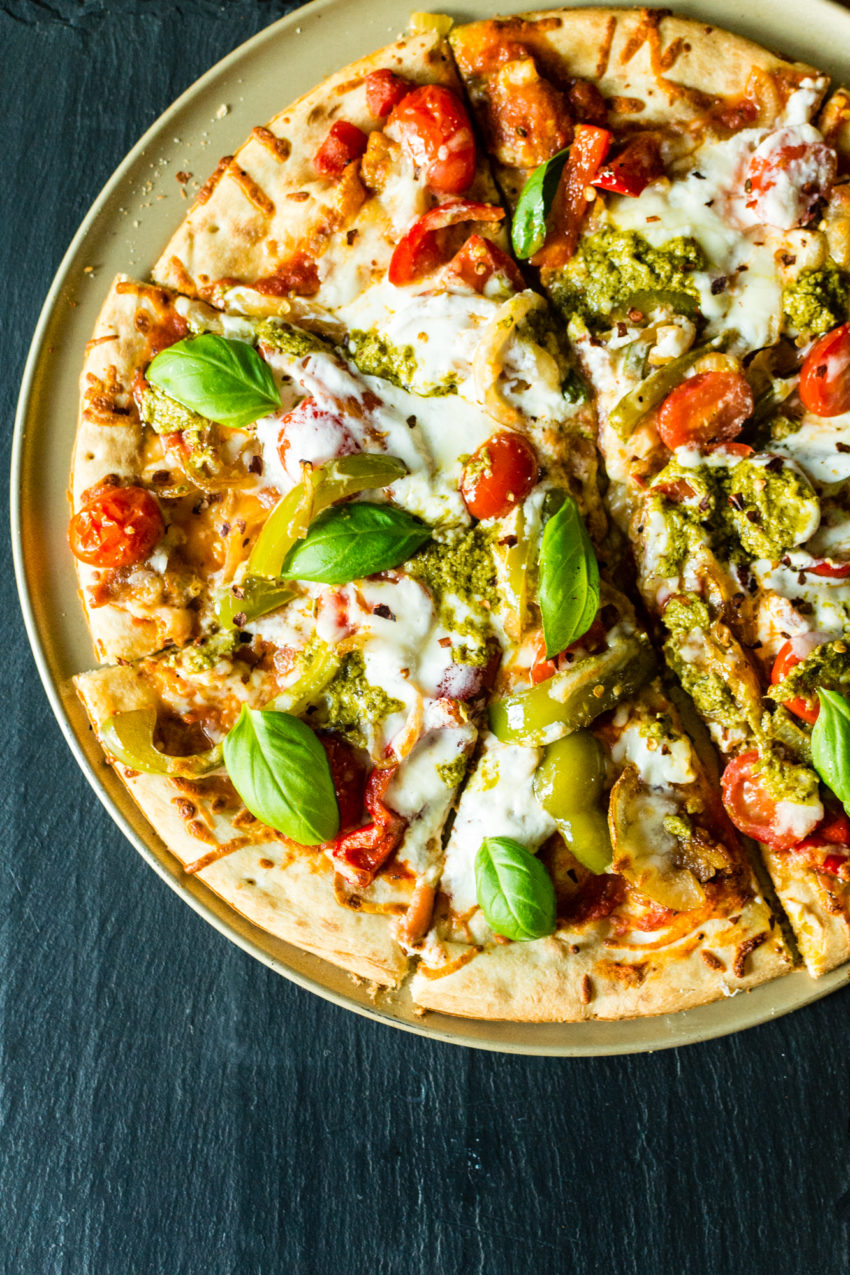 OK, so now that we're in the make your own damned food mode, forget your oven. We're gonna grill this pizza. Grilled pizza produced an ultimate  crispy crust and killer flavor. And it looks pretty dang good to the company too. Over hot charcoal, grilled pizza has a flavor that is absolutely mouth watering.  Now, I have to ask, what's your favorite pizza topping?
Bonus, Cowboy Charcoal kicked things up this year n the barbecue circuit, looking to highlight the ladies of Q in a friendly challenge. The Fire and Ice Cooking competition is coming full swing as we near the Wold Food Championship in Alabama and the top 10 female led teams are going to duke it out. Find out who is making the cut on October 3oth and place your (completely legal) bets on who is going to claim the Cowboy Charcoal Fire and Ice Championship.
As a female grill master, all I can say is kudos to the serious women of this competition and major bonus points for stepping up to participate in this challenge!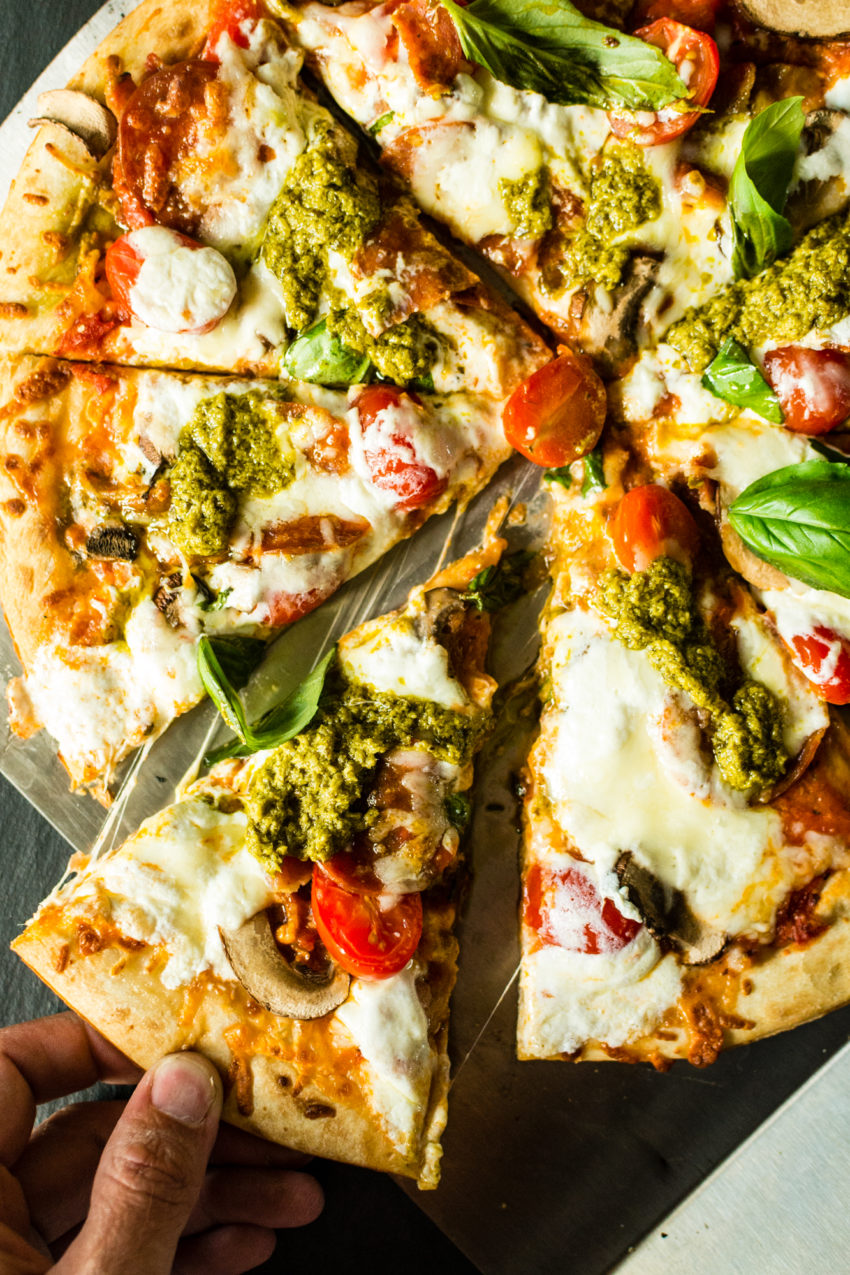 Grilled Bacon Pesto Pizza with fresh Burrata
Don't have time to make your own pizza dough tonight? Try this recipe with store made pizza dough - just watch the sugar content. Too much sugar in your pizza dough causes it to burn quickly over the open flames of a grill.
Ingredients
1

recipe pizza dough <-- I love this one

4

strips bacon

1/3

onion

chopped

1/2

red pepper

seeded and sliced

1/2

green pepper

seeded and sliced

3

cloves

garlic

minced

1

tbs

olive oil

3/4

cup

pizza sauce

Pepperoni

sliced

1/2

cup

mushrooms

sliced

pesto <-- make your own - so easy - so delicious!

1/2

cup

fresh cherry tomatoes

4

oz

mozarella

shredded

6

oz

fresh burrata

fresh basil for garnish
Instructions
Prep your grill for cooking. If using charcoal, get the coals going or preheat your gas grill.

In a skillet over medium high heat, fry the bacon until crispy. Drain and allow to cool on a towel lined plate. In the same pan, toss the peppers and onions until tender. Add the garlic and cook 30 seconds longer. Remover from heat and set aside.

Roll out the dough, one at a time, and allow to rest for a few minutes to hold it's shape without pulling pack.

Brush oil over the dough and grill, oil side down Toss the dough onto the grill and grill for 2-4 minutes. Flip and quickly spoon a few tablespoons of pizza sauce over the dough. Top the pizza with half of the sauteed veggies, fresh pepperoni slices, 2 pieces of bacon, crumbled, fresh burrata dollops and a sprinkle of mozzarella.

With the lid closed, cook 5 to 6 minutes longer, allowing the cheese to melt.

Carefully remove from heat. Sprinkle the pesto and fresh basil over the pizzas immediately.

Allow the pizza to sit for a few minutes before slicing to serve.