Grilled pizza is one of those life-changing foodie moments. And this 72 hour dough is well worth the wait. You'll thank me later.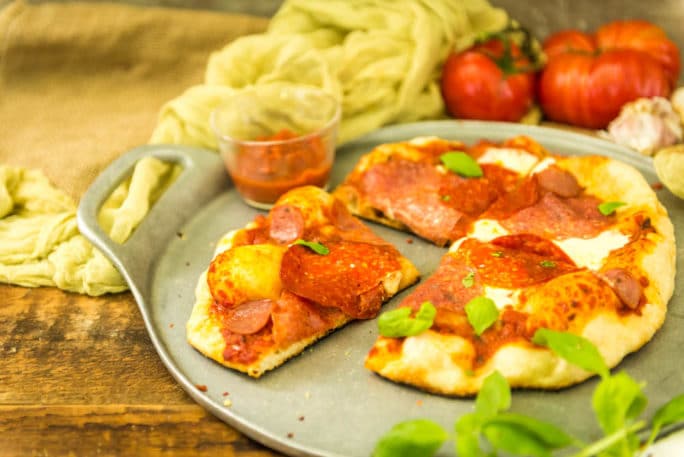 This post was sponsored by Mirum. All thoughts and opinions are my own.
Grilled pizza is one of those life-changing moments in your culinary adventure. Once you do it, you will never make pizza another way. It's not that I don't like my baking stone or enjoy the idea of baking the pizza in the oven for the ease of it, it's just that grilled pizza is that much better. Like, really. That much better.
Why is grilled pizza so good? Well for one, it's the way the heat works. The heat gets hot; hot enough to make the dough crisp up in minutes. And then, with the lid closed much like in a brick oven, the radiant heat circulates around the pizza melting the cheese and cooking everything through.
Whether you are grilling the pizza over coals or griddle grilling it, like this recipe, the high heat and quick turnaround of grilled pizza makes for perfection every single time.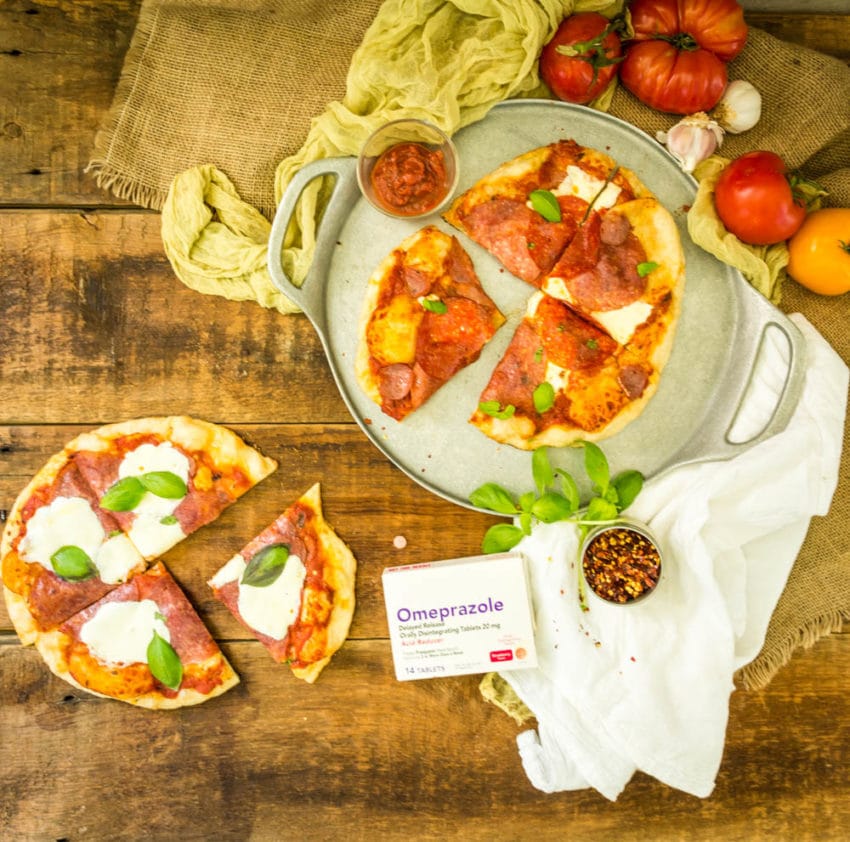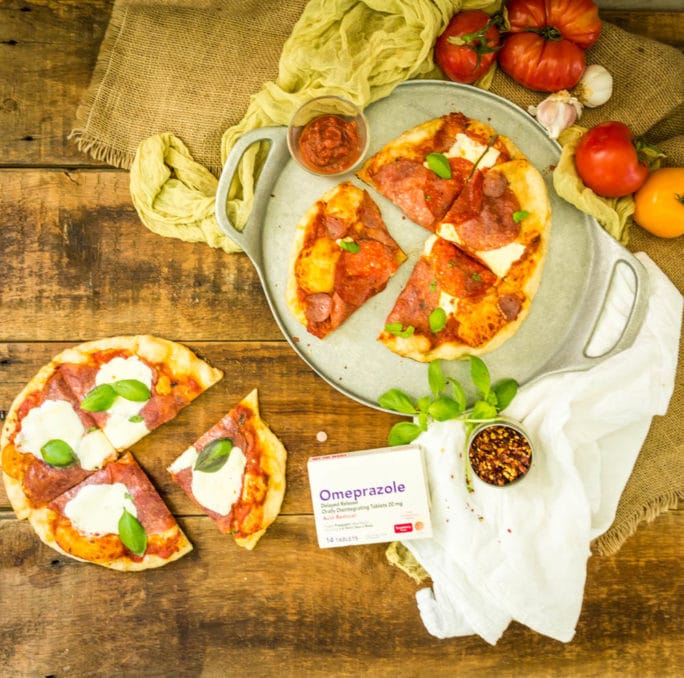 For me, pizza is one of those things that I easily eat too much of, every single time (no matter what promise I make ahead of time to myself to not over indulge!) and that can lead to serious heartburn. But, I am not giving up pizza. You can't make me. That's why I like the option of a fast-dissolving Omeprazole Orally Disintegrating Tablet for making sure I can be ready ahead of time for the days when I know I will be eating what triggers heartburn. I especially love that it can be taken without water, dissolving in your mouth, so it can be taken anywhere on the go.  (Use this store locator to find it in your area). 
Psst. You shouldn't take Omeprazole Orally Disintegrating Tablet for more than 14 days unless directed by your doctor. Omeprazole ODT may take 1-4 days to feel the full effect and is not intended for immediate relief.
Why make homemade dough:
Pizza dough is incredibly easy to make and a great practice dough for getting a feel for cooking with yeast. To top it off, it is also very inexpensive to make and doesn't require a lot of fussy ingredients.
All you need for a basic pizza dough is yeast, sugar, water, oil and flour. From there it's all time and patience. The best part about homemade pizza dough is that once you have gotten it down to an art, you can really work your own spin on it, by mixing in herbs or, as I like to do, oiling the crust and sprinkling with heavy sea salt. The possibilities are endless.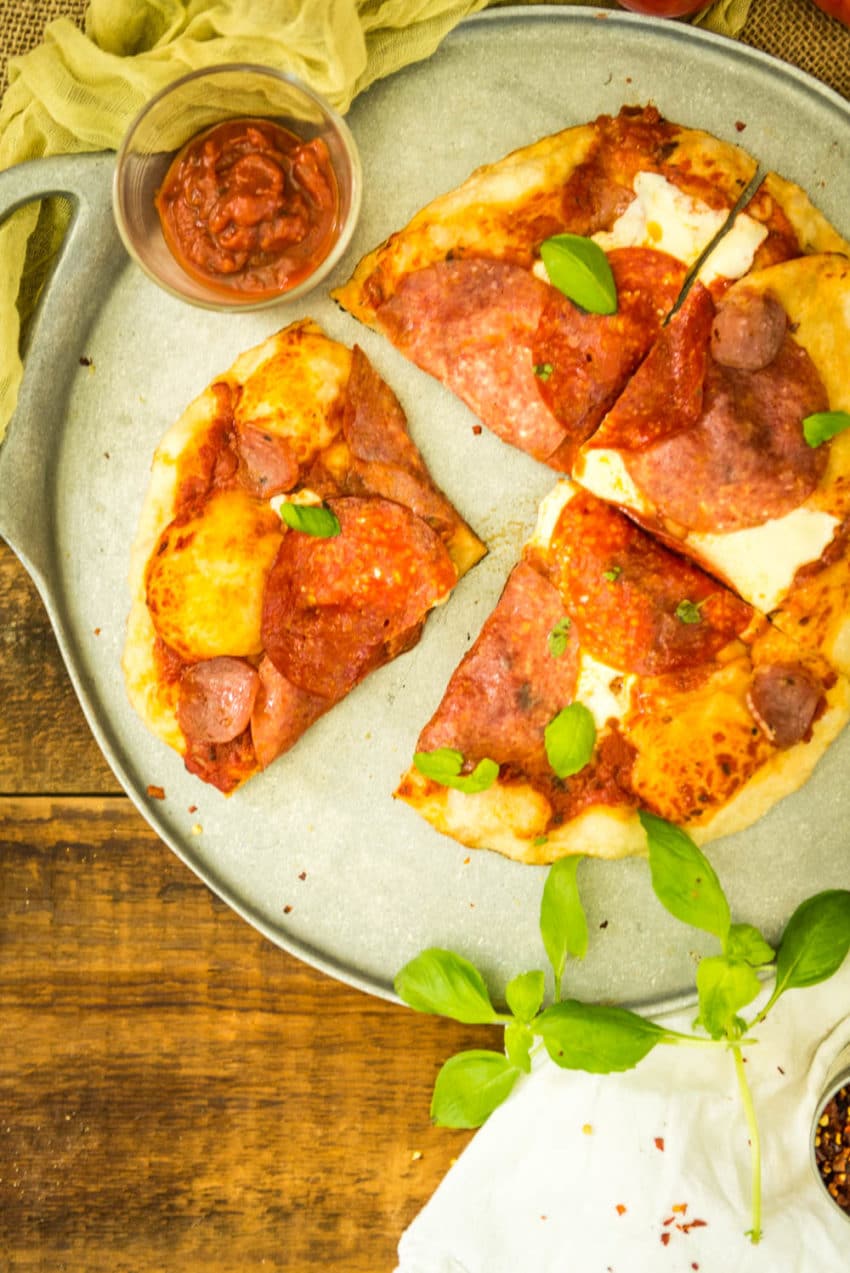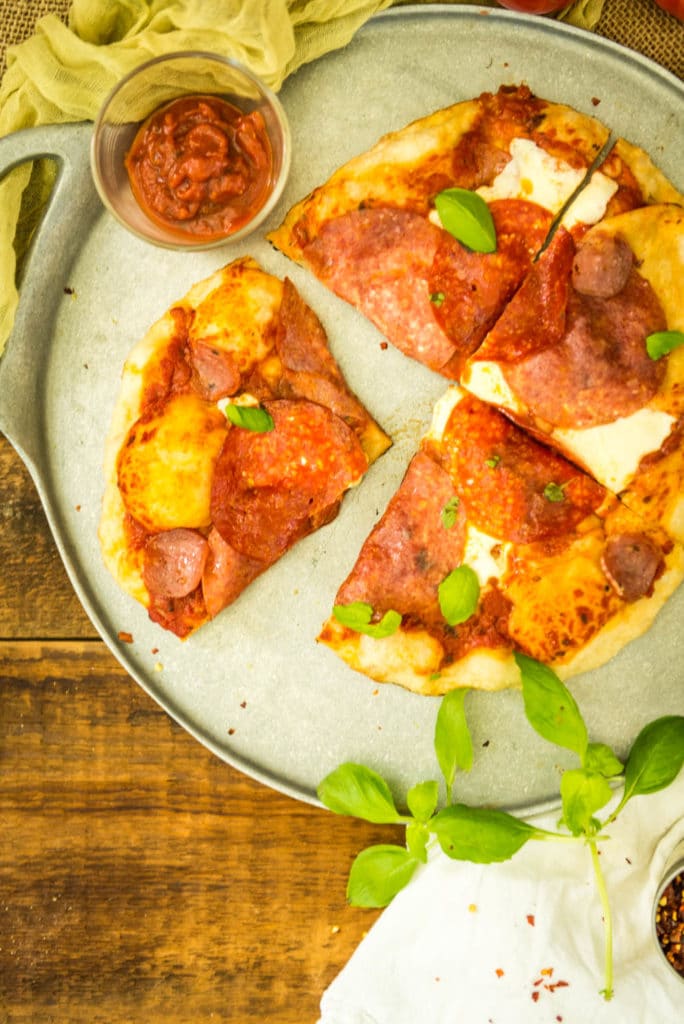 Dough is versatile too and can be cooked over the fire, in cast iron, or on baking stones or baking steels in the oven. No matter what your method is, having a go-to pizza recipe is the way to any worthwhile girl's heart (I made that statement up and yet, I bet if you polled a random room, they'd agree).
The only thing to really consider when grilling pizza dough is the sugar content. Yeast needs its food, but sugar burns when exposed to open fire, so a pizza dough with a lot of sugar is more likely to burn quickly. Stick to low-sugar dough recipes while grilling.
How to Make Grilled Pizza:
Creating your mise en place is the most important part of perfecting your pizza skills. Once you get that in place, everything else gets easier. Pizza is quick! Making sure everything is ready to roll when it's go time, sets you up for success
Make your dough and allow it to rest per your recipe (I love the dough in the cookbook Baking Steel)
Roll your dough
Preheat and prep your grill – you want it to get HOT for pizza
Have all your toppings arranged and ready to go on a tray near your work station
Toss dough onto the grill and arrange toppings atop (unless you did this and slide the pizza on)
Cover and cook until dough has crisped and is golden and cheese is melted.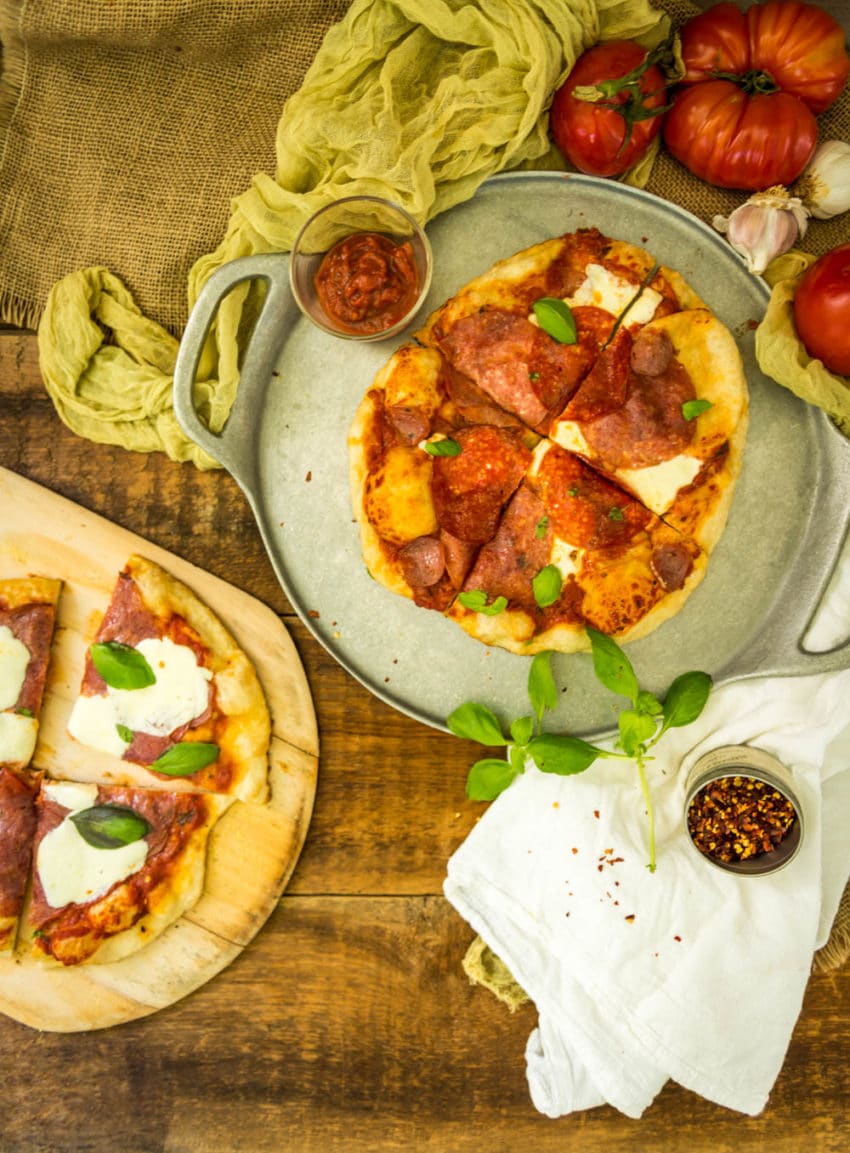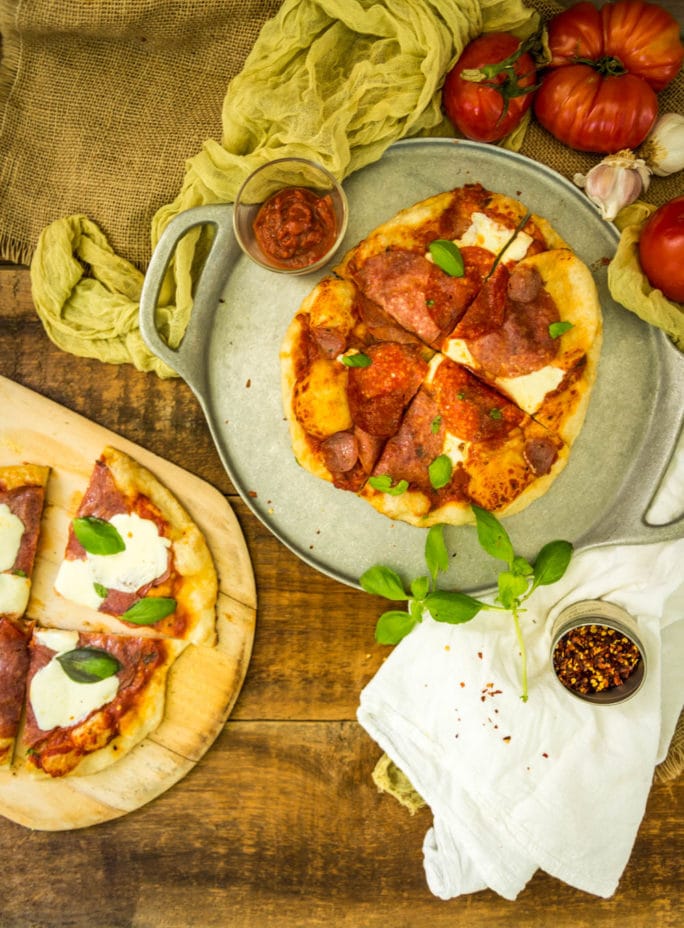 Trick to transfer pizza dough to grill:
Moving pizza dough from one surface to the next is the hardest thing to do – especially once you have rolled a perfectly round pizza (cuz, let's be honest, most of mine are quite oblong).
Topping pizza before grilling:
Starting with a clean dry pizza peel, coat in cornmeal.
Lay the pizza dough on top and quickly add your toppings.
In a quick motion, slide the pizza dough onto the grill.
Practice a few times, because slowing down will only cause the pizza to fold or distort.
Use a pair of tongs to lift and slide the peel under when finished cooking.
Slide the peel under and let the pizza rest for 5 minutes before slicing.

Topping pizza on the grill:
(Aka, the not round but great way to get a crispy crust method)
Have the mise en place ready near the grill (aka, all your toppings on a platter ready to GO)
Carefully, toss the pizza dough over the hot cook surface and cook for a minute or 2 to crisp up.
Using tongs, flip the dough.
Working quickly, top the pizza as desired and cover to finish the cook.
Using tongs, lift the finished pizza up and slide a wide spatula, pizza peel, or baking sheet under to transfer from heat.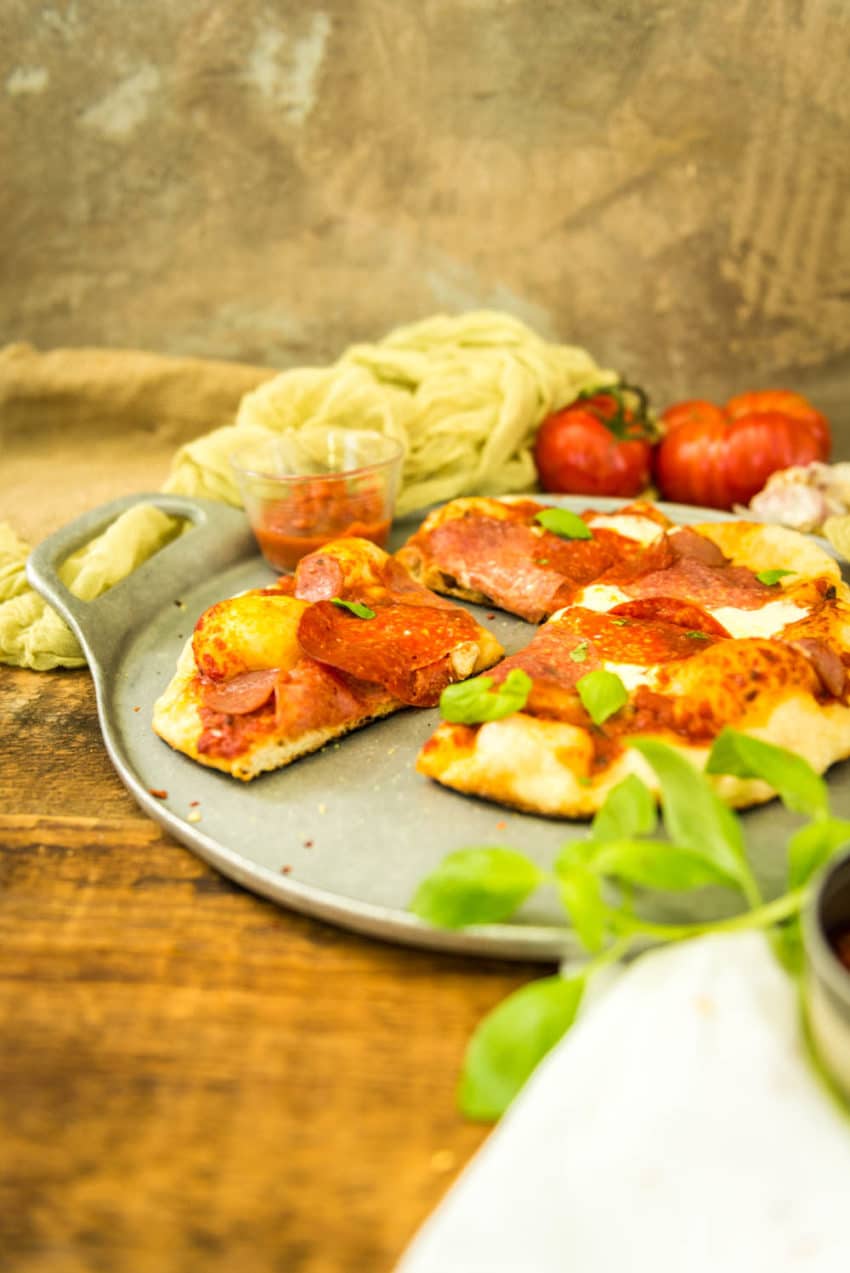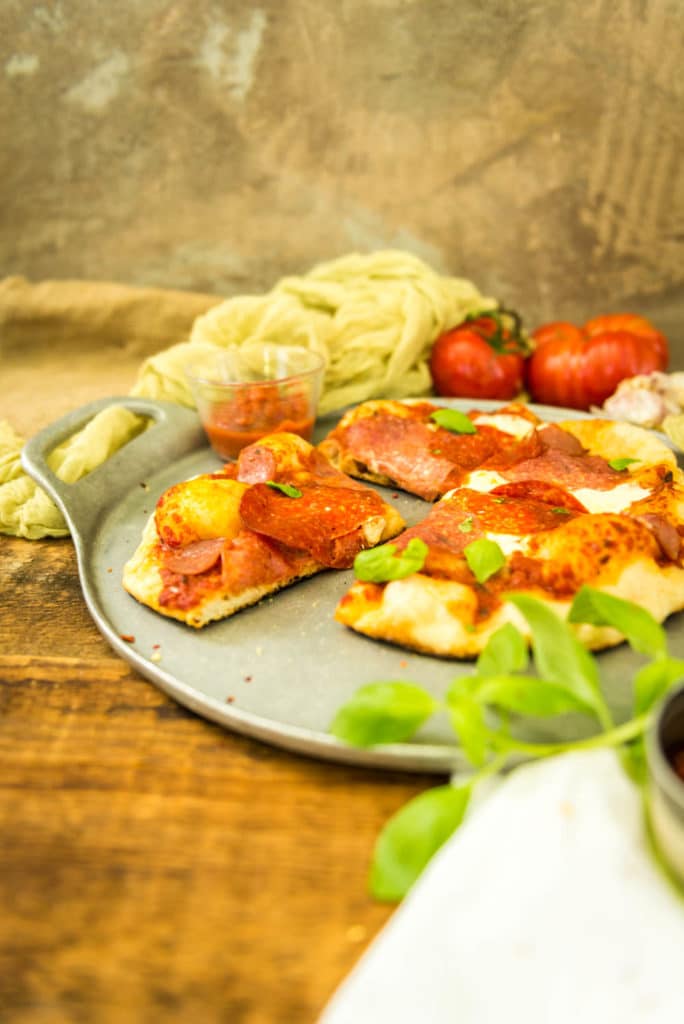 Want more PIZZA inspiration? Try some of my favorite recipes
If you've tried my Triple Meat Perfect Grilled Pizza or any other recipe on GirlCarnivore.com please don't forget to rate the recipe and let me know where you found it in the comments below. I get inspired by your feedback and comments! You can also FOLLOW me on Instagram @girlcarnivore as well as on Twitter and Facebook.
Yield: 3 Small Pizzas
Triple Meat Perfect Grilled Pizza Recipe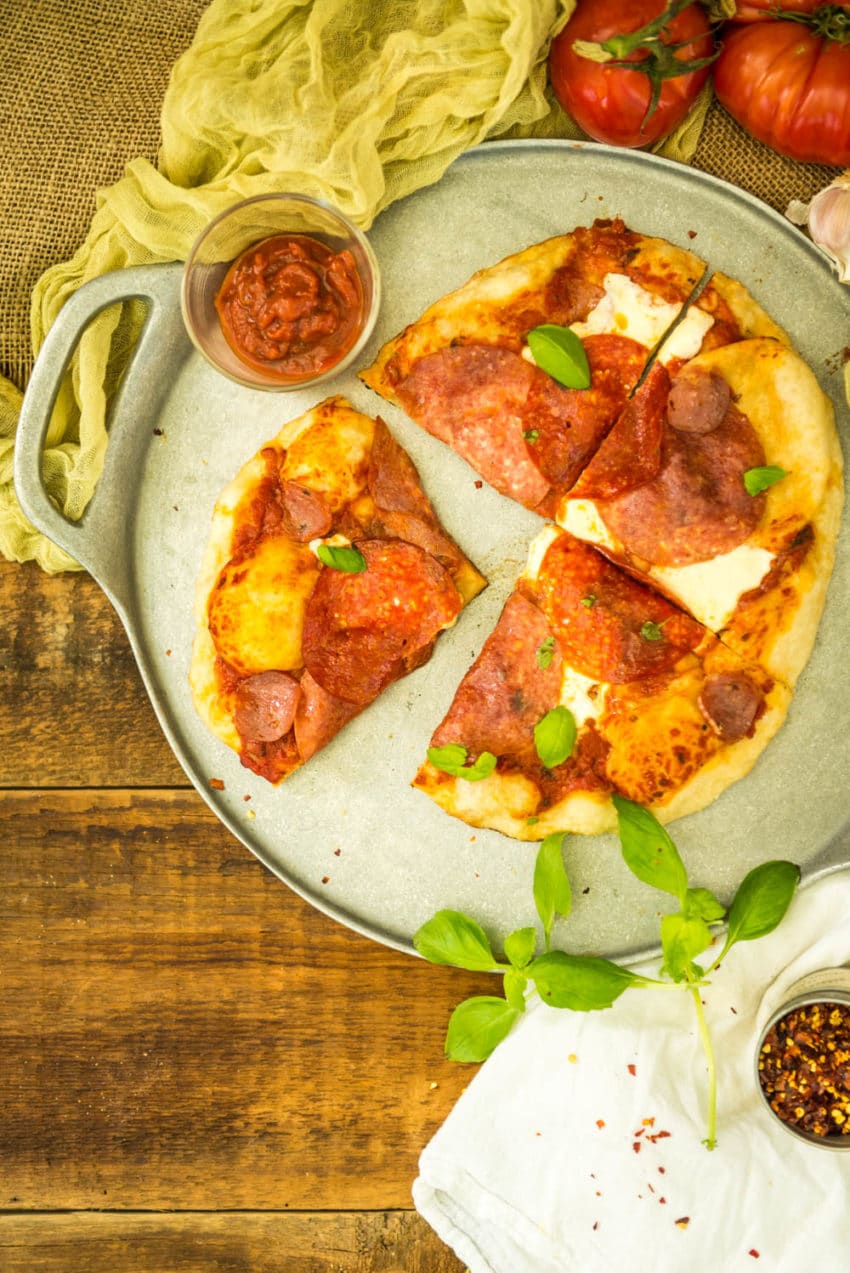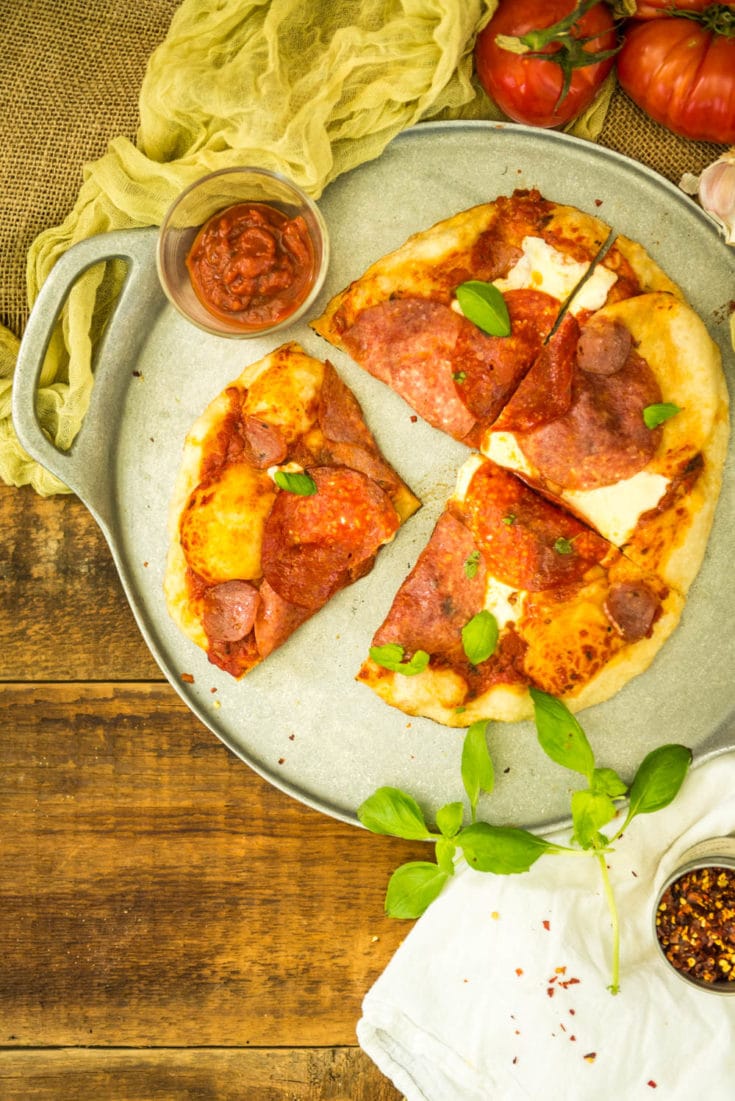 Grilled pizza is one of those life-changing moments in your culinary adventure. Once you do it, you will never make pizza another way.
Total Time
1 hour
12 minutes
Ingredients
For The Dough
7 ½ Cups Bread Flour
4 teaspoon fine sea salt
½ teaspoon active dry yeast
3 ¼ Cups water
For the Sauce
2 tablespoon Olive Oil
3 Cloves Garlic, minced
⅛ teaspoon Crushed Red Pepper
28 oz Crushed Tomatoes
6 oz Tomato Paste
Toppings
Olive Oil
Crushed Red Pepper
½ lb Hard Salami, sliced thin
½ lb Pepperoni
½ lb Genoa Salami
1 lb fresh mozzarella, sliced
Fresh Basil for garnish
Cornmeal
Instructions
For the Dough (Adapted From Baking Steel)
In a large mixing bowl, whisk the flour, salt, and yeast together.
Add the water to the flour mix ½ cup at a time, mixing with a wooden spoon until just combined.
Lightly flour a large working surface and turn the dough out from the bowl with lightly oiled or wet hands.
Knead for 2-3 minutes until it easily forms a loose ball.
Transfer the dough to a lightly oiled bowl and cover with a damp towel or plastic wrap to prevent it from drying out (Or use a lidded mixing bowl).
Place on counter away from drafts and let sit 24 hours at room temperature. During this time the dough should double in size.
Lightly flour a large cutting board and place the dough on it. Wet or lightly oil your hands again to prevent sticking.
Divide dough into five equal portions and form them into balls.
Transfer the dough balls into oiled airtight containers and place in the fridge for 48 hours.
Remove from refrigerator at least 1 hour before use to allow the dough to come to room temperature.
For the Sauce
Begin Sauce at least 1 hour before you plan on assembling your pizzas.
Heat a Dutch Oven or other heavy pot on medium heat
Add Olive Oil, Garlic and Red Pepper
When Garlic just begins to brown, add Crushed Tomatoes (careful of splatter)
Once Simmering, add Tomato Paste, stirring until it is evenly distributed
Let Simmer over low heat for 30 - 90 minutes, stirring regularly
Remove from heat at least 15 minutes before use.
Make The Pizza
Pre-heat your grill to 500 degrees
On a floured surface, shape one of your dough balls into a rough circle and roll out until ⅛" thick.
Transfer dough to a pizza peel or cutting board dusted with cornmeal
Brush entire surface with olive oil
spread the Marinara over the pizza, leaving a ½" boarder around the edges
Layer your meats evenly onto the pizza, adding cheese last
grill 10-12 minutes, until the bottom is crisp and the cheese is melted
Remove from heat and let cool 5 minutes
Garnish with Basil and slice.
Repeat for the rest of the dough and toppings (you will have extra sauce left over. This is for dipping, and to me, of utmost importance)
Notes
Go Crazy with your toppings, the sky is the limit!
Recommended Products
As an Amazon Associate and member of other affiliate programs, I earn from qualifying purchases.
Nutrition Information:
Yield:
10
Serving Size:
½ Pizza
Amount Per Serving:
Calories:

900
Total Fat:

41g
Saturated Fat:

15g
Trans Fat:

0g
Unsaturated Fat:

23g
Cholesterol:

94mg
Sodium:

2514mg
Carbohydrates:

95g
Fiber:

6g
Sugar:

7g
Protein:

38g