The GirlCarnivore meat lab pretty much exists to fire up the grill – so when I got my hands on the Char-Broil's Commercial Series TRU-Infrared 4-Burner Gas Grill I was stoked to break it in with friends.
See, I'm was lucky enough to be a hard-working, grill-loving Char-Broil AllStar – I create recipes and play with their products as they come out. It's an awesome way for me to explore what's great on the market for you guys – and their TRU-Infrared is one of the best things out there.
It makes grilling easy, and no one seems to know about it! What's up with that?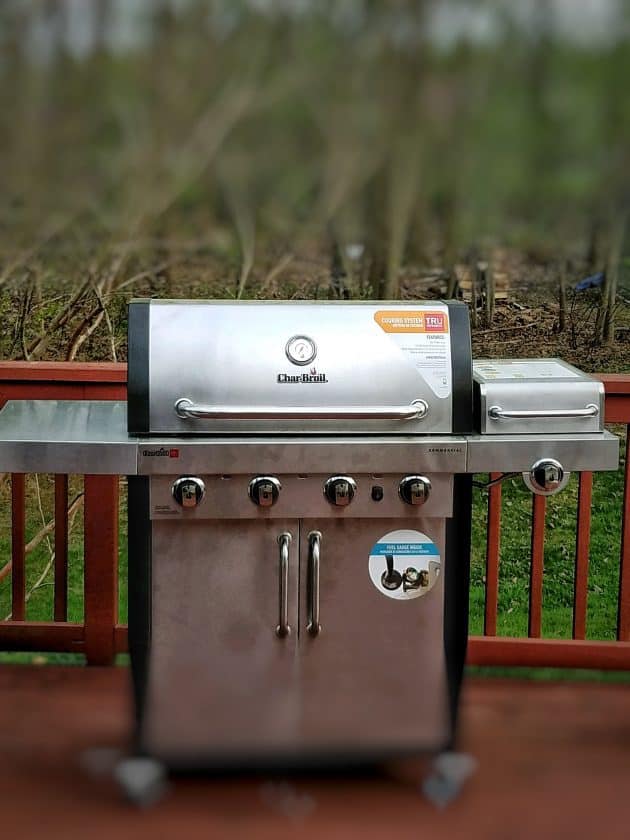 Photo Credit Andy Capone
What is TRU-Infrared?
Let's break it down – simply put, you get 50% juicier food, no flare-ups, and even heat every time you grill.
Well, that's spiffy. But how?
Char-Broil got all wild and crazy in their test labs (and I've been, they are pretty cool), and designed a heating system that evenly distributes the heat throughout the grate, instead of just blazing hot up from the burner. TRU-Infrared distributes even heat that targets the grill grates, allowing the grates to become very hot, not just the air around the grill, making for faster more even cooking.
With the individually adjustable burners, it is easy to create the direct or indirect heat source you need for whatever you're grilling, and yes, this means grilled vegetables too.
Their stainless steel grate design pushes any dripping away from the direct flame, minimizing huge flare-ups from overtaking your grill. Because we've all been there when Uncle Ed turns to grab a beer and the greasy burgers suddenly become the viewing spectacle of the night, sadly leaving nothing but charred hockey pucks behind.
Less risk, more reward? Now that's what I am talking about. That's what makes Char-Broil a great grill for the weekend warrior, the summer griller, the person who wants to host the parties and do all the entertaining. You can enjoy the fun of outdoor cooking, and not have to be a pro-grill master.
Take the stress and fear out of grilling, and follow along with me this season as we smoke, grill, and sear everything you can possibly want to taste test.

More reviews? See my Char-Griller Super Pro Review.