This is a gentleman's burger. Smooth, sweet, with just a bit of bite. The flavors of bourbon onions, blue cheese, bacon and the perfect all beef patty with the perfect touch of bourbon blended hot and spicy barbecue sauce make this Bourbon and Blue Burger a black-tie affair.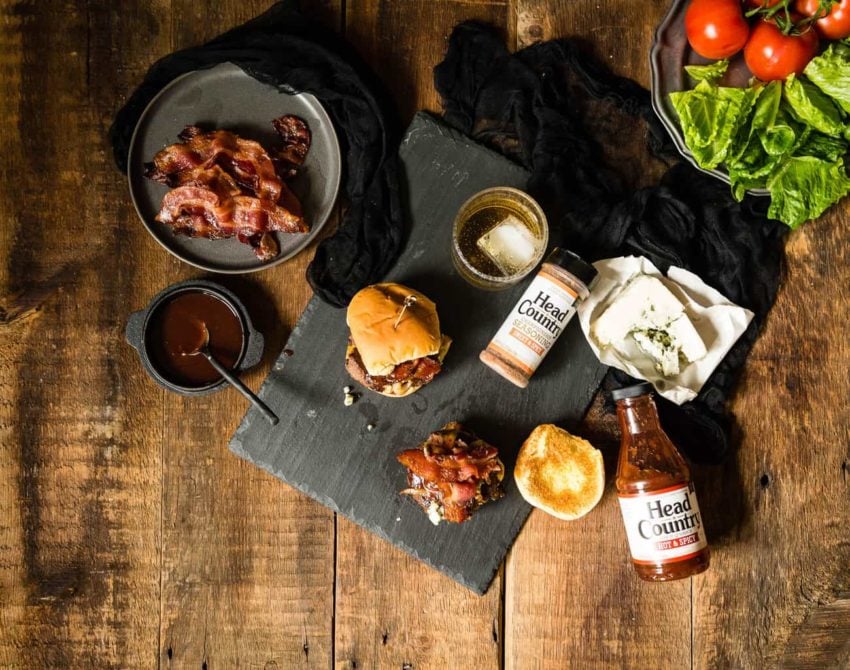 This post was sponsored by Head Country to highlight their kick-butt line of Barbecue sauces and spice blends. All thoughts and opinions expressed are my own. But, no lies, this burger is tasty.
I firmly believe there are three food groups that can be amazing 99% of the time and heartbreaking 1%.
Tacos. That's right. No one ever bites into a taco wanting it to be underwhelming. But (and I hate text talk) OMG when it's good. It's good.
Pizza. No excuse, It's the 21st century. Lousy pizza should have been eradicated with the takeover of WiFi. And yet, sometimes, it happens.
Burges. There may be a slight personal bias here, but a burger – ever the basic, lettuce, tomato, pickle, bun, should be an experience. The patty should stand alone with all the other flavors and textures cheering it on like a personal flavor hypesquad. But, we can all think of that one time we polite took yet another bite out of a flavorless, dry hockey puck and died a little.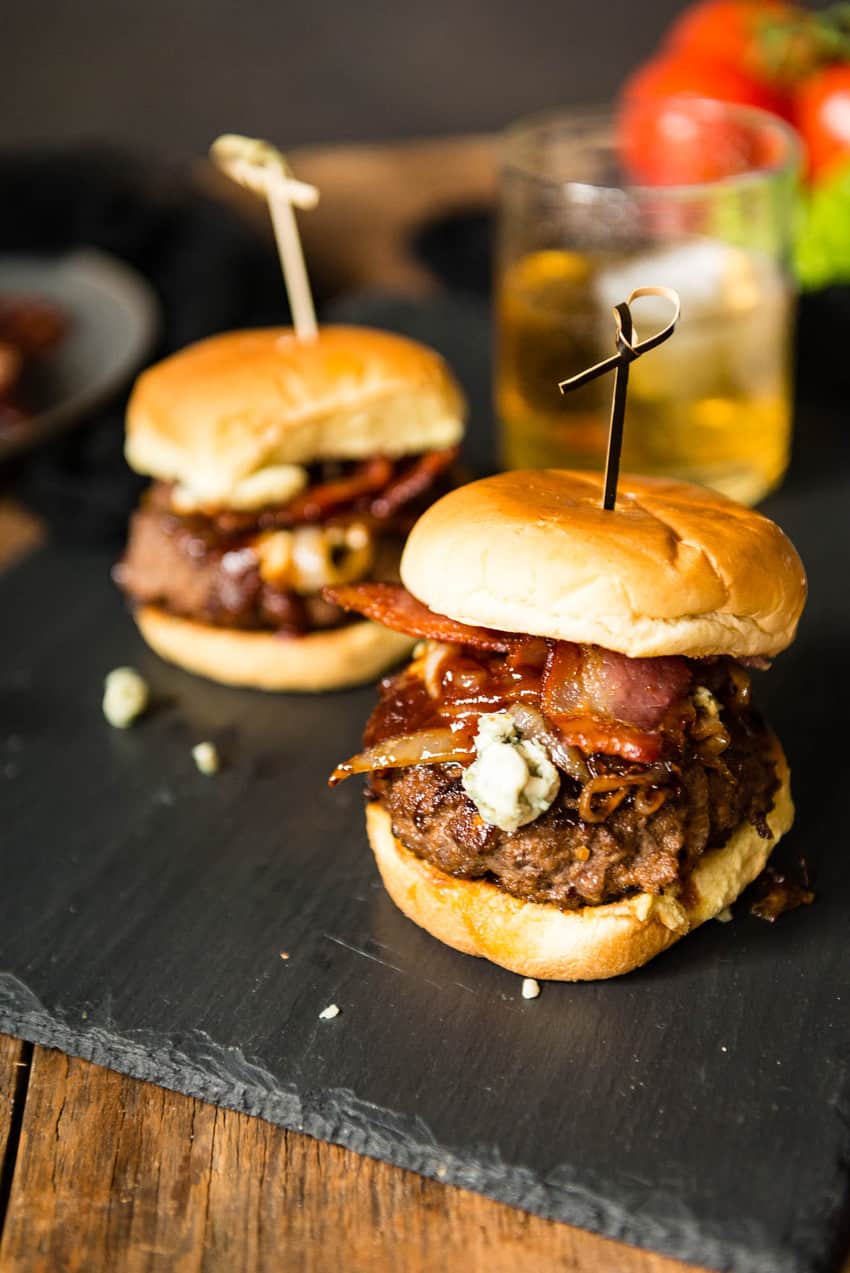 For all of those burgers gone bad. Let me introduce you to one that makes it right. The Land Rover of its field. No, not a smooth Porsche or an Aston to cruise in. This is a high-class combination for your palate with all the rugged necessities to make it the perfect burger for your desires. Manly enough to dominate the table, luxurious enough not to have to.
Imagine bourbon sauteed onions, melting high-quality blue cheese crumbles, the best thick sliced smoked bacon, and a touch of bourbon infused Hot and Spicy Barbecue sauce atop it all.
Forget the garnish. This burger doesn't need a hype squad. It brings it all in every bite. Just like the Land Rover, it comes in perfect with no explanation required.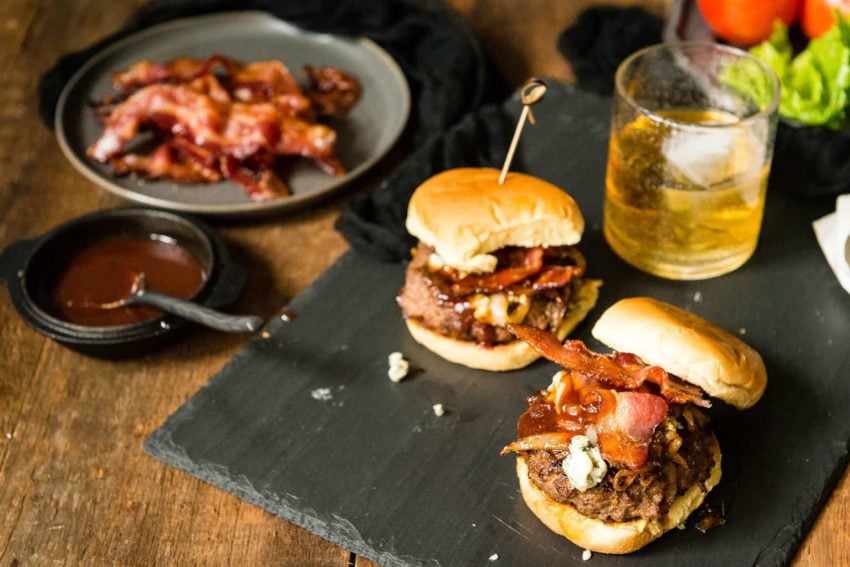 Guys get in on all the #BurgerMonth action and enter to win fancy grilling swag at BurgerMonth.com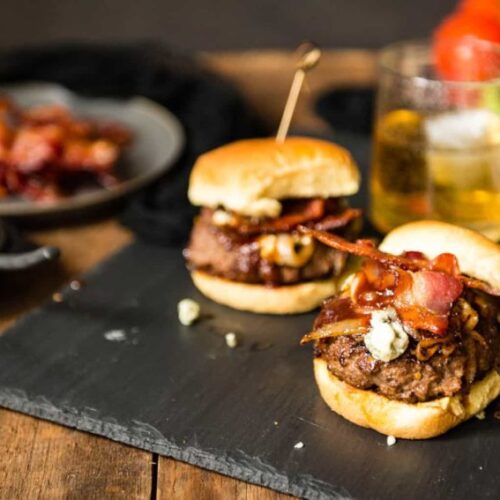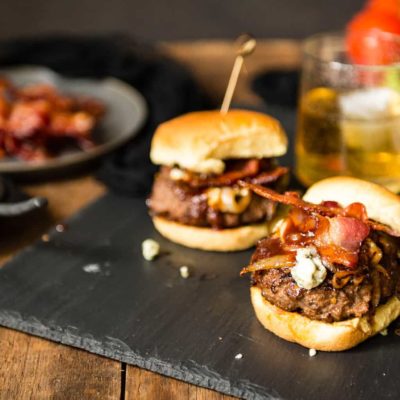 Ingredients
1

lbs

ground beef

70/30%

1

teas

salt

1/2

teas

freshly ground black pepper

1

teas

Head Country Championship Seasoning, Sweet & Spicy

½

cup

Head Country Bar-B-Q Sauce, Hot & Spicy

divided

½

good bourbon or whiskey

divided

1

Onion

sliced into ¼" wedges

4

oz

Blue cheese crumbles

4

slices

Bacon

cooked until crispy

4

fresh Hamburger Rolls
Instructions
Mix the ground beef with salt, pepper, Head Country Championship Seasoning, Sweet & Spicy Blend and 1 TBSP Head Country Bar-B-Q Sauce, Hot & Spicy. Divide equally into 4 portions and shape into patties. Cover and refrigerate until ready to cook.

Preheat your grill.

In a small heavy-duty pan, whisk together the remaining Head Country Bar-B-Q Sauce, Hot & Spicy sauce and 2 TBSP of the bourbon.

In a heavy duty pan, melt the butter and add the onion slices. Saute for 2 to three minutes. Pour in the remaining bourbon and allow the liquor to cook down, stirring occasionally until the onions are golden and soft.

Grill the burgers, cooking to medium temp or 160F for ground beef.

Slide onto toasted buns, working quickly while everything is hot. Arrange the blue cheese atop the burgers to allow it to melt over the hot patties. Pile the onions and bacon on top and drizzle with the bourbon-infused Bar-B-Q sauce. Place the remaining bun half on top and serve.
Nutrition
Calories:
673
kcal
|
Carbohydrates:
39
g
|
Protein:
33
g
|
Fat:
41
g
|
Saturated Fat:
17
g
|
Cholesterol:
116
mg
|
Sodium:
1781
mg
|
Potassium:
600
mg
|
Fiber:
1
g
|
Sugar:
15
g
|
Vitamin A:
295
IU
|
Vitamin C:
2.8
mg
|
Calcium:
267
mg
|
Iron:
4.2
mg