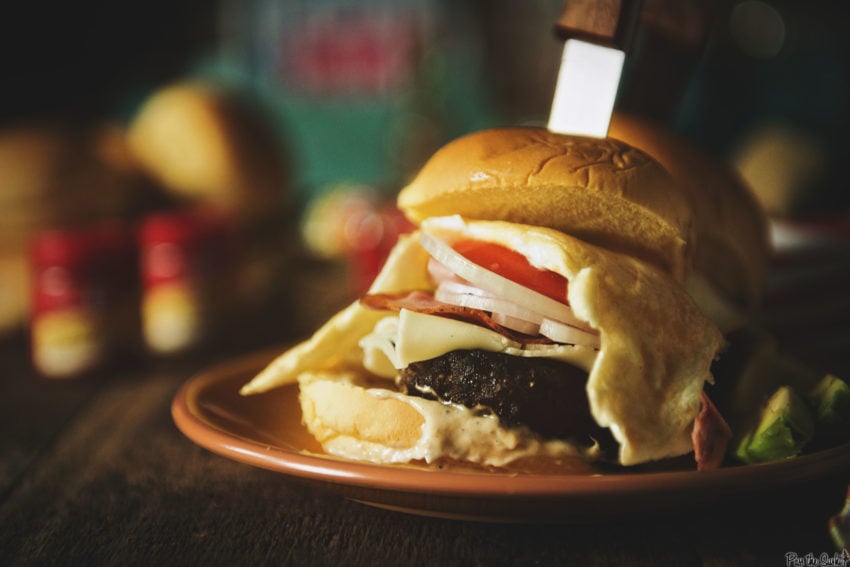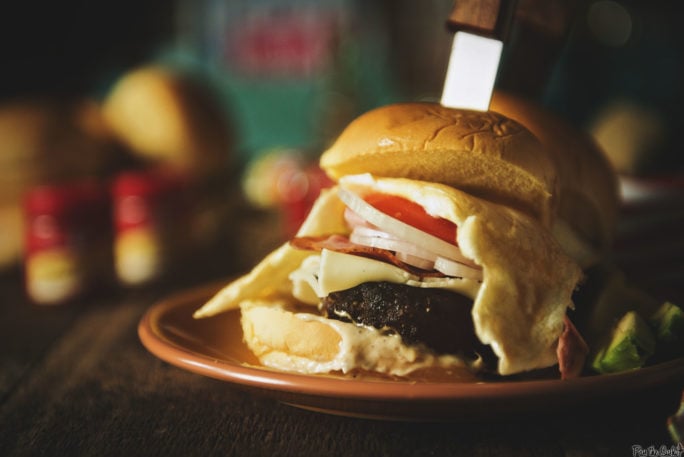 I'm not above a friendly gathering to sit and watch the World Cup. I'm certainly not above cooking for those friends while everyone screams and hoots over the recent 7 – 1 score and just how crazy things get in the heat of the game. Seriously, the biter? That was a bit much.
When inspired to come up with something to munch on during World Cup fever, and my knowledge of Brazilian food being pretty thin ( think restaurants where meat is served on giant skewers) I wanted to create something to the Girl Carnivore standard, as well as play on the little I did know. Something fun, a little over the top, and a bit out of control. Something that would be easy to let your passion get caught up in.
X-Tudo burgers, after a wee bit of research and google fact checking, are loaded burger bombs of awesome. Just what I needed. So this X-Tudo Brazilian Everything Burger has it all – Bahian spiced beef patty, fried egg, ham, and lots of cheese. Perfect for this #flavorstory for the games. Oh, and I got to serve it on a 'skewer' of my own just to keep the tower from toppling over.
McCormick would love to hear your #flavorstory
Enter to win a McCormick Anniversary Pack!
Share your own #FlavorStory with me in the comments and you will be entered to win a McCormick Anniversary pack – including the exclusive a McCormick Anniversary Edition Black Pepper and Vanilla Extract (not available in stores), a McCormick recipe book, and a canvas tote!
One prize pack winner will be chosen randomly and emailed directly, but remember all the #FlavorStory shares are for a good cause! Giveaway ends 7/24/14.
Open wide. We're going extreme.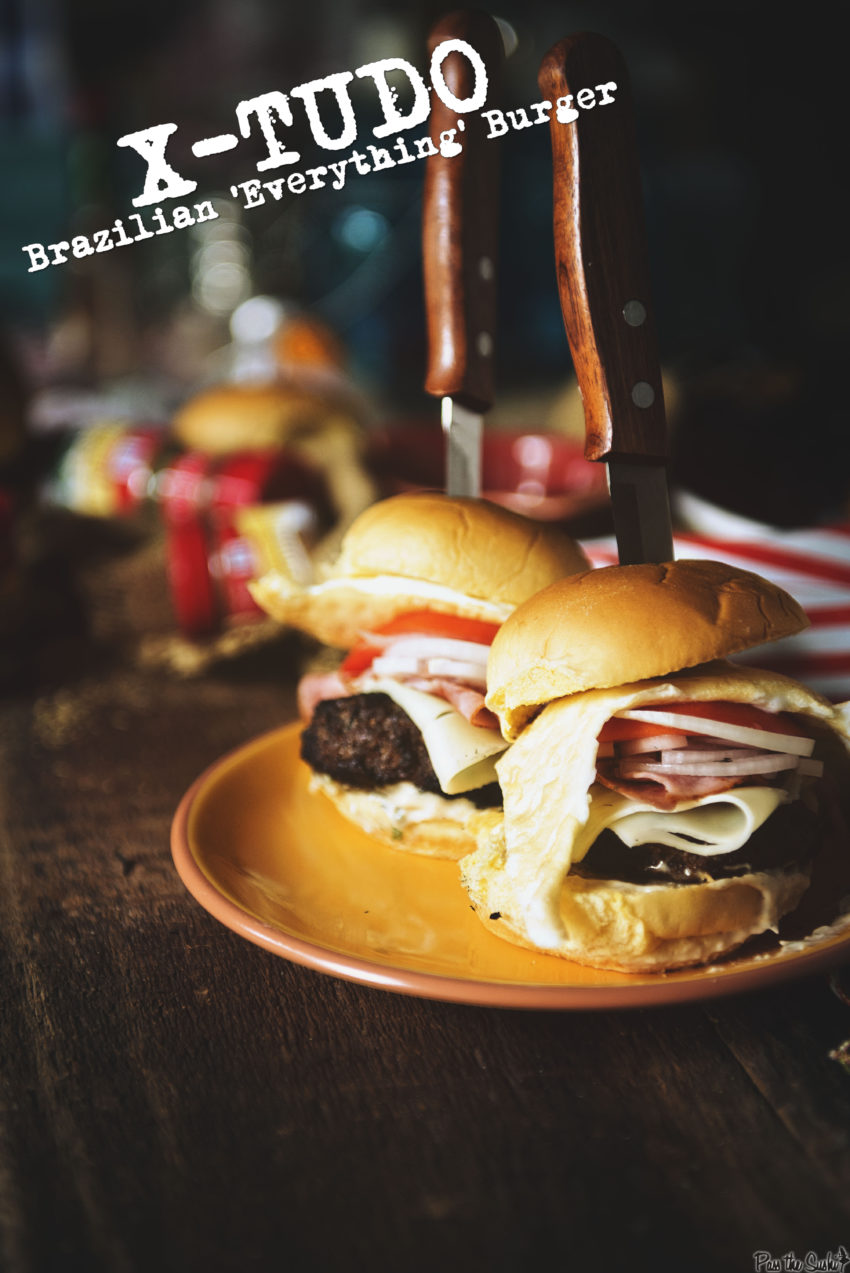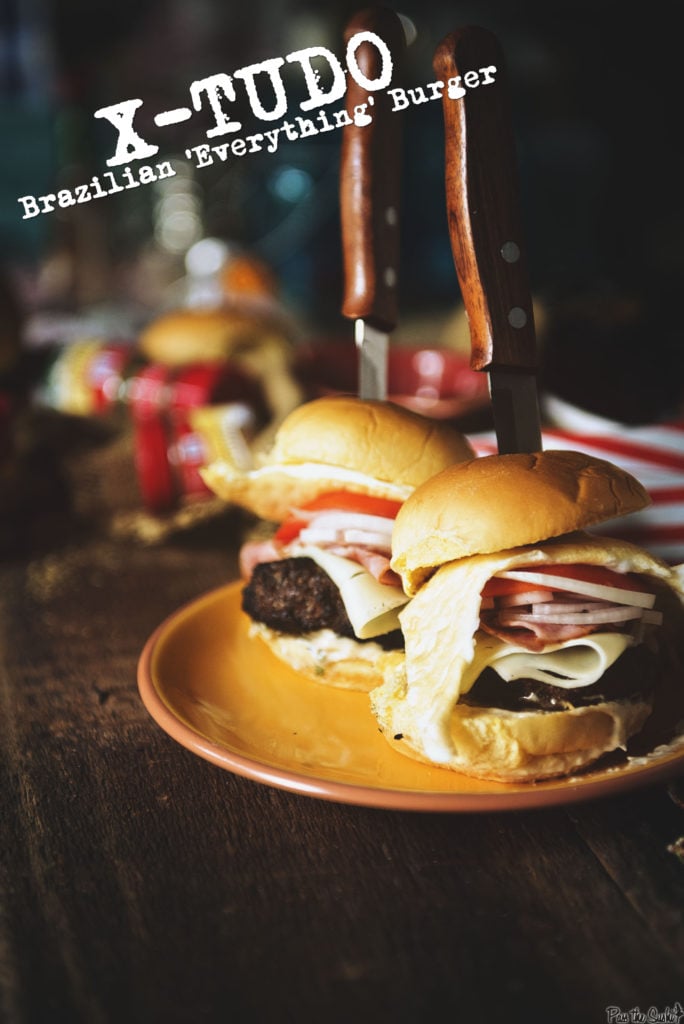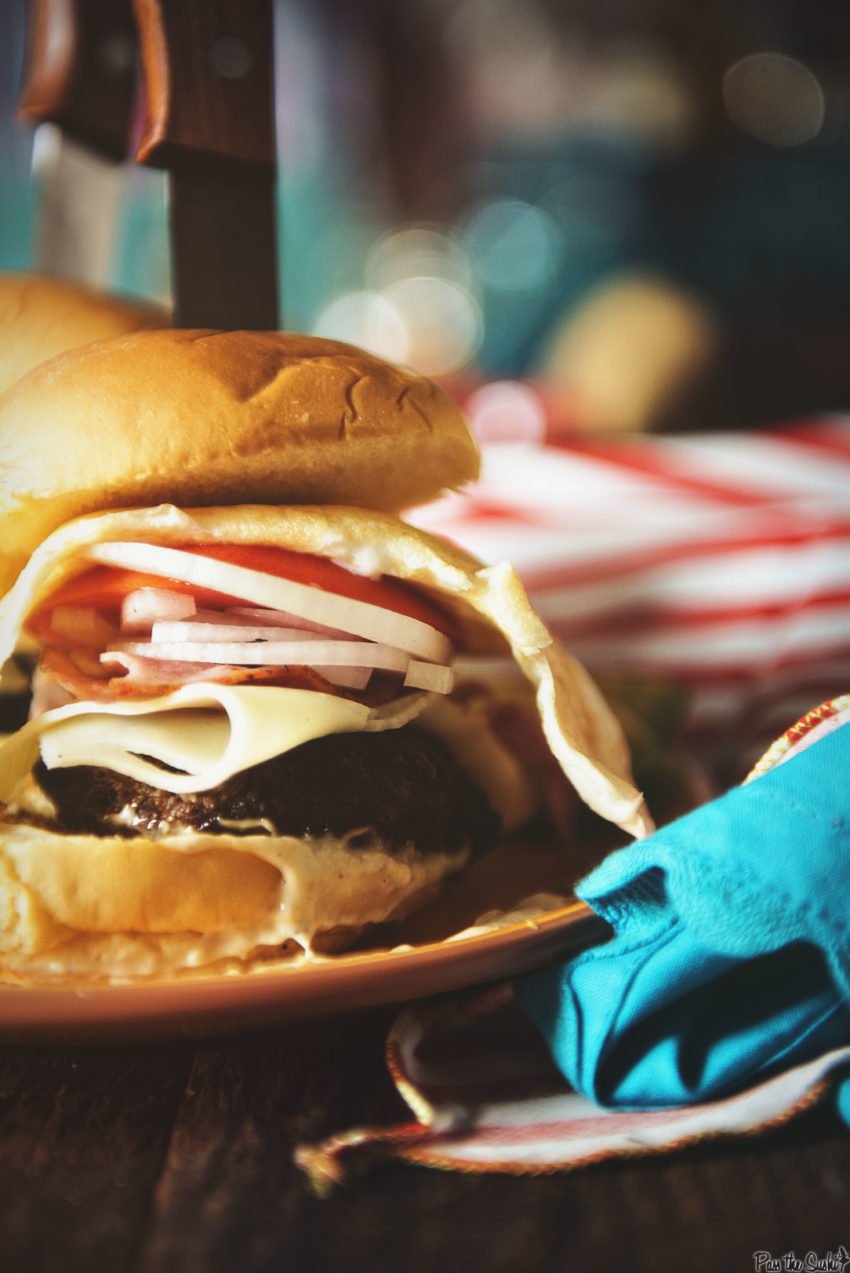 Ingredients
1

batch Bahian Seasoning blend

2

tbs

Worcestershire sauce

1

lbs

lean ground beef

salt and pepper

4

eggs

8

slices

deli ham

sliced thin

Sliced cheese of choice

Sliced tomato

1/2

onion

sliced paper thin

Garlic Mayo

4

burger buns
Instructions
Prep grill for medium heat.

Combine the Bahian blend, Worcestershire sauce, and ground beef in a bowl. Form into 4 patties. Sprinkle with salt and pepper.

Place the patties on the grill and cook 5 to 7 minutes, flipping once halfway through cook time.

Meanwhile, in a skillet over medium heat, fry the eggs. Season with salt and pepper and set aside.

In the same skillet, fry the ham until browning and warmed through.

Spread mayo over the bottom of the buns and top with burgers, cheese, ham, egg, tomato and onion. Press the top of the roll on top and secure with a long toothpick to serve.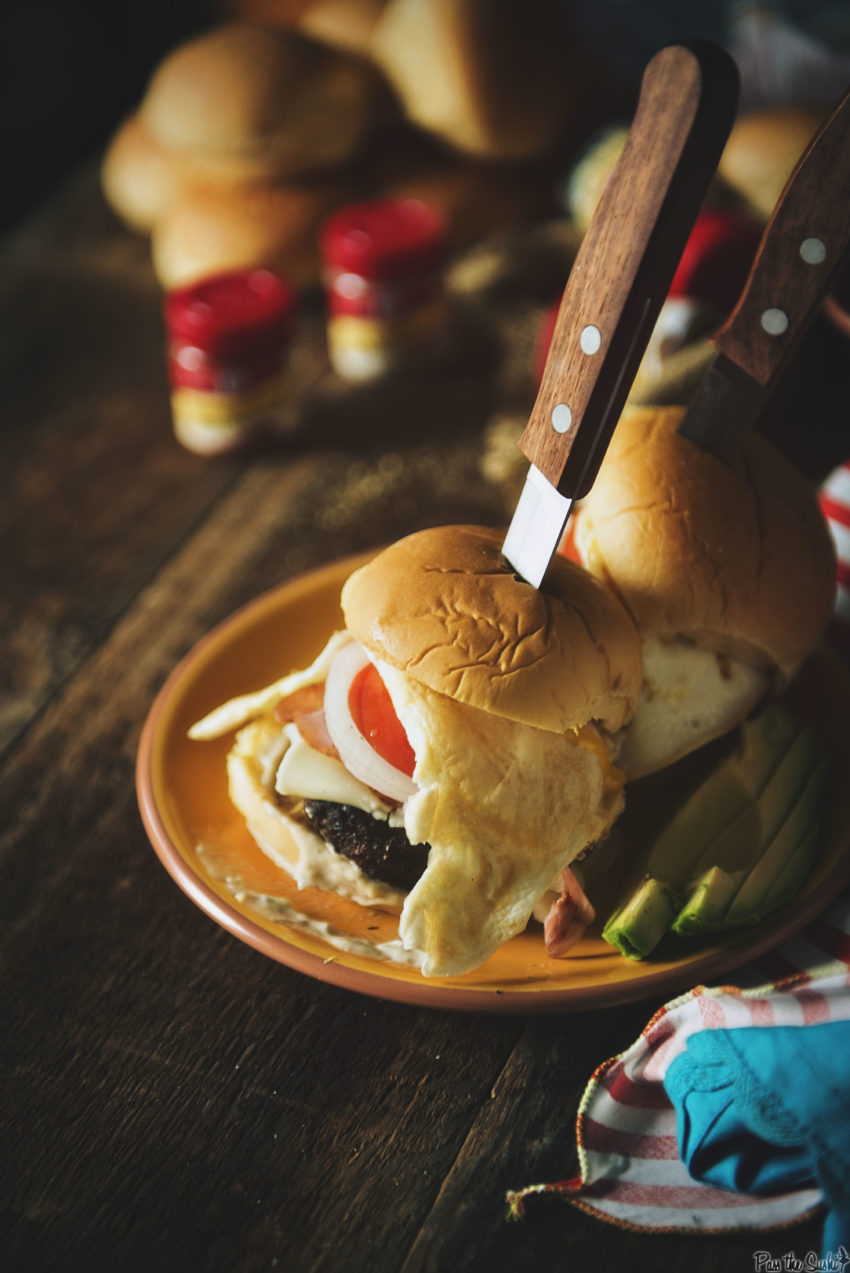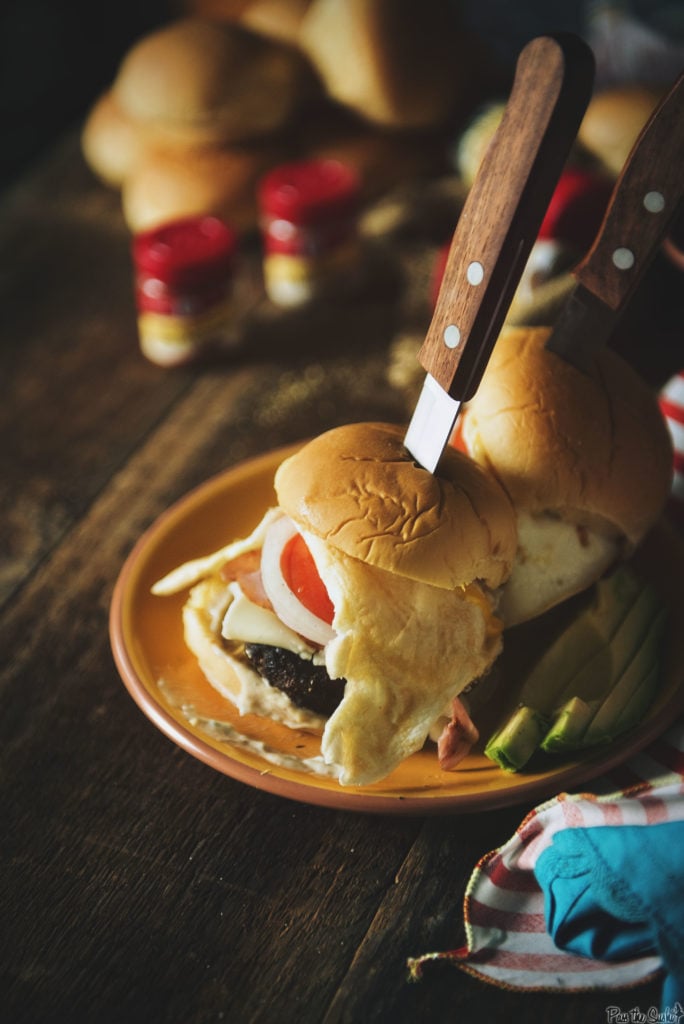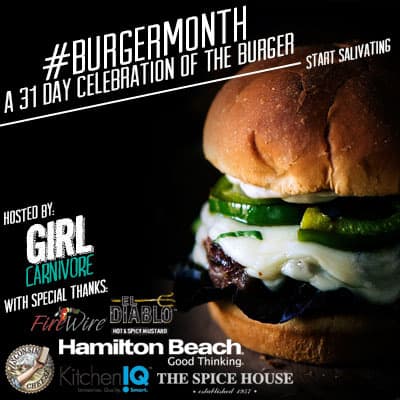 This post is part of the #burgermonth celebration happening all month long here at GirlCarnivore and accross the interwebs with 30 other talented bloggers!! Be sure to check them all out!
This is a sponsored posts by the folks celebrating their big 125 over at McCormick. However, the thoughts, recipe and opinions expressed are my own.