Ricotta and veal stuffed manicotti shells over a bed of sauteed greens and smothered in a homemade blush sauce. Veal Manicotti Florentine is classic comfort food and this recipe is the perfect introduction.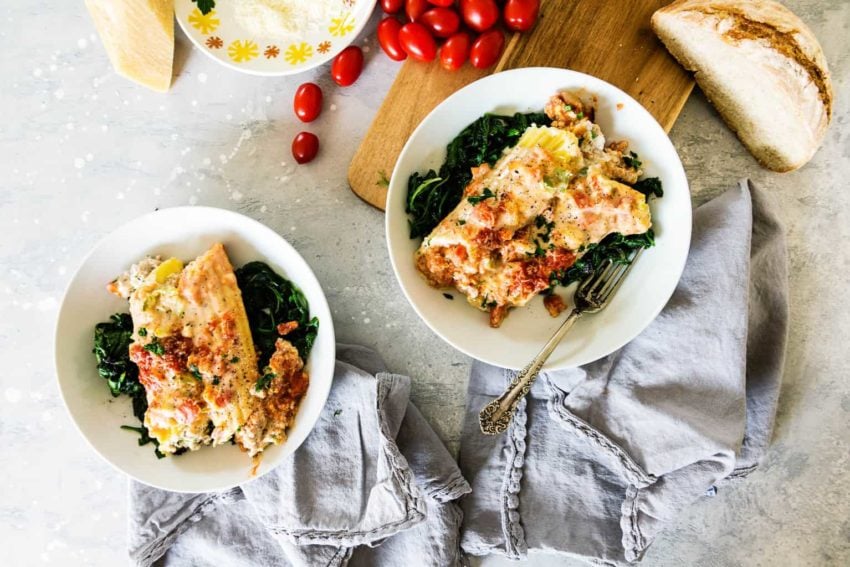 Do you have a food memory that you have been chasing down? Sure, not everyone is on the food quest that I am, but we all have memories associated with food that we crave from time to time, and for me, this is a big one.
There's a small old school Italian restaurant in the middle of Wilmington Delaware. It's a kind of small place with old paneling for walls, dark wooden tables, and paper placemats. But it's the perfect place for a family style meal.  Mrs. Robino's menu is loaded with exactly what you think should be on the menu, lasagnas and gnocchi, rabe and meatballs. But the item on the menu I always came back to was the veal cannelloni. A simple stuffed cannelloni shell loaded with ricotta and veal in a blush sauce. Something about it was just comforting.
That's where this Veal Manicotti Florentine Recipe got its inspiration. I did some hunting and pecking online and almost phoned in a call to a true Italian-American for the 4-1-1, but figured I'd give it a go on my own, with just the memory of the flavors to guide me for the time being.
I'm not sure if I'd go as far as to call this recipe traditional, but in the GirlCarnivore Meat Labs, this was a hit.  (And trust me, it's not that complicated).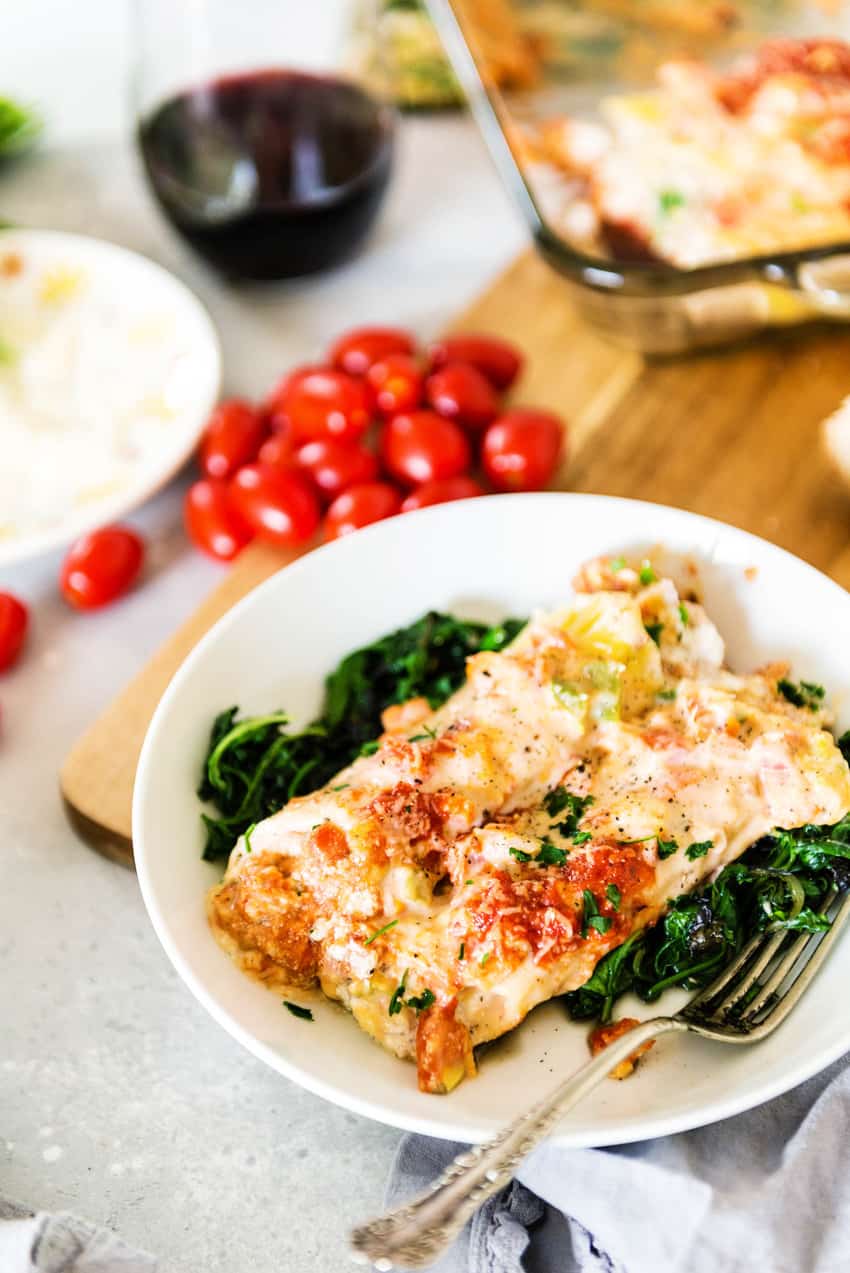 Tools Used for Veal Manicotti Florentine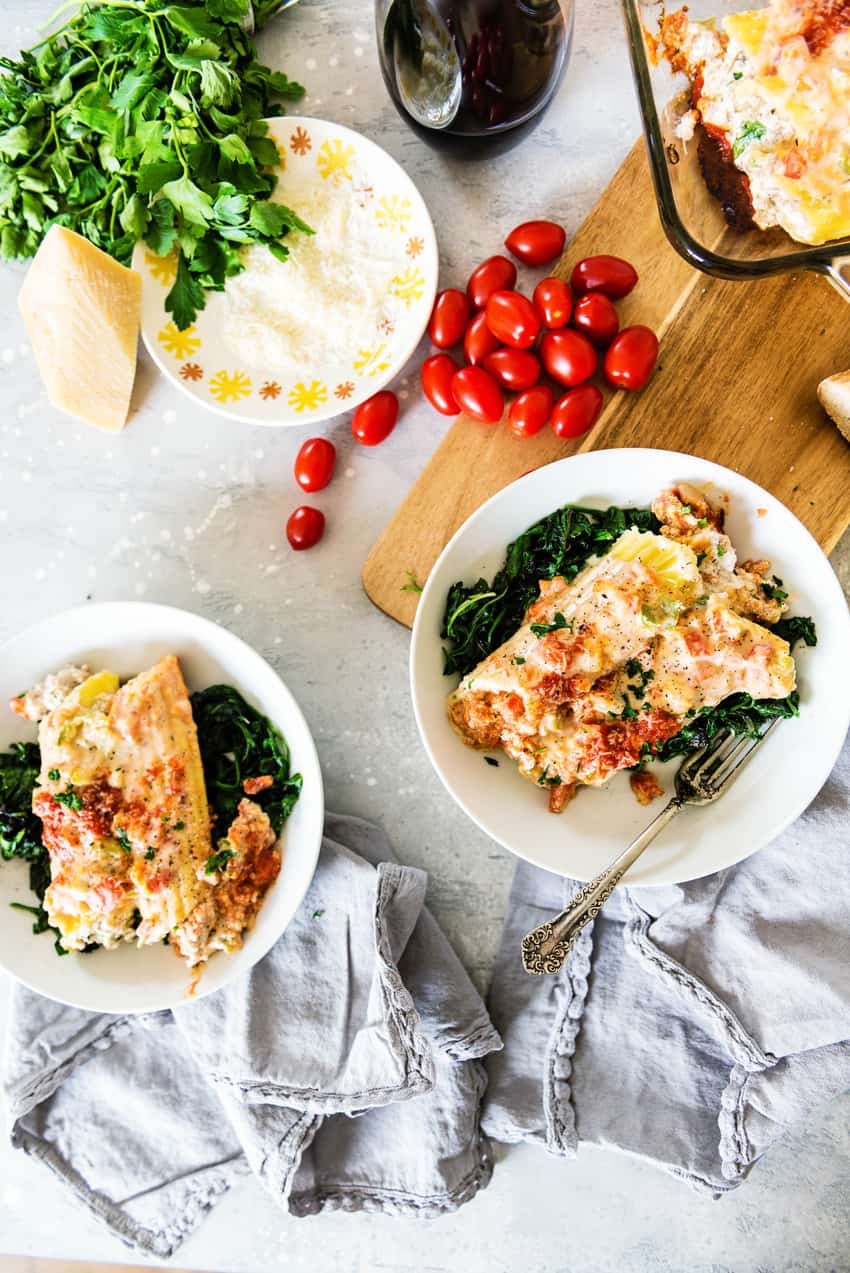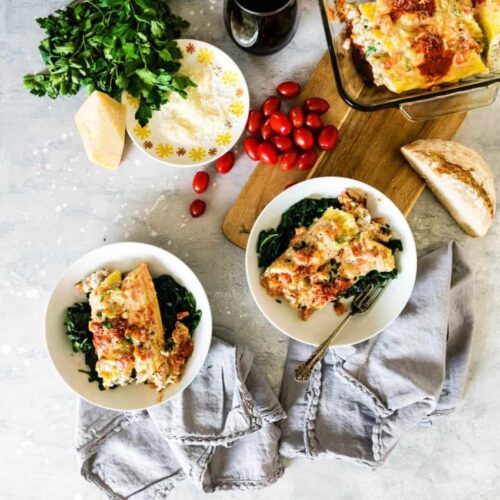 Total Time:
1
hour
15
minutes
Ingredients
1 8

oz

box manicotti shells

1

lbs

ground veal

salt and ground black pepper

3

tbsp

olive oil

divided

1/2

onion

chopped

1

carrot

chopped

1/4

red pepper

seeded and chopped

1/4

green pepper

seeded and chopped

2

cloves

garlic

minced

2

tbsp

flour

2

tbsp

butter

1/4

cup

white wine

1

teas lemon juice

1

cup

heavy cream

1

cup

marinara sauce

divided

15

oz

ricotta cheese

2

tbsp

freshly chopped parsley

Parmesan cheese for topping

6

cups

spinach
Instructions
Preheat the oven to 350 degrees F.

Cook the pasta to al dente according to package directions. Drain and line on a baking sheet in a single layer until ready to use.

Cook the ground veal in a preheated skillet over medium-high heat until browned on all sides. Season with salt and pepper. Spoon into a bowl and set aside to cool.

In the now clean skillet, add 1 tbsp olive oil and swirl to cover the pan. Add in the onion, carrot, and peppers and saute until softened 7 to 10 minutes.

Add in the garlic and cook 30 seconds until aromatic. Season with salt and pepper if needed.

Melt the butter into the pan and whisk in the flour to coat everything evenly.

Whisk in the wine and lemon juice and deglaze the pan as needed.

Slowly whisk in the heavy cream, being sure no heavy clumps remain. Reduce heat to low and simmer for 10 minutes, whisking often. Remove from heat. Stir in 1/2 cup of marinara sauce.

Meanwhile, whisk together the ricotta and parsley. Stir in the cooked ground veal.

Spoon the remaining 1/2 cup

marinara

sauce over the bottom of a baking dish.

Fill the manicotti evenly with the ricotta mixture and arrange each manicotti in the pan. Spoon 2 cups of the blush sauce over the manicotti and sprinkle parmesan on top.

Bake for 30 to 35 minutes until the sauce is bubbling. Remove from oven and allow to cool for 5 minutes before serving.

While the veal stuffed manicotti cools, pre-heat a skillet over medium heat.

Add the olive oil and swirl to coat the pan.

Add the spinach one cup at a time, tossing to coat the spinach and season with salt.

Reduce the heat to low, cover and let the spinach wilt a few minutes.

Arrange the wilted spinach onto serving plates and spoon manicotti's onto each dish.

Garnish with more chopped parsley if desired.
Nutrition
Calories:
1005
kcal
|
Carbohydrates:
65
g
|
Protein:
46
g
|
Fat:
61
g
|
Saturated Fat:
31
g
|
Cholesterol:
243
mg
|
Sodium:
629
mg
|
Potassium:
1228
mg
|
Fiber:
4
g
|
Sugar:
7
g
|
Vitamin A:
179.6
%
|
Vitamin C:
49.2
%
|
Calcium:
35.5
%
|
Iron:
24.5
%