When the mood strikes for a fast meal with a ton of flavor try these Spiced Curry Chicken Kabobs with Coconut Turmeric Rice. It's an on the table in under 30 minutes meal loaded with exotic seasonings for weeknight fun!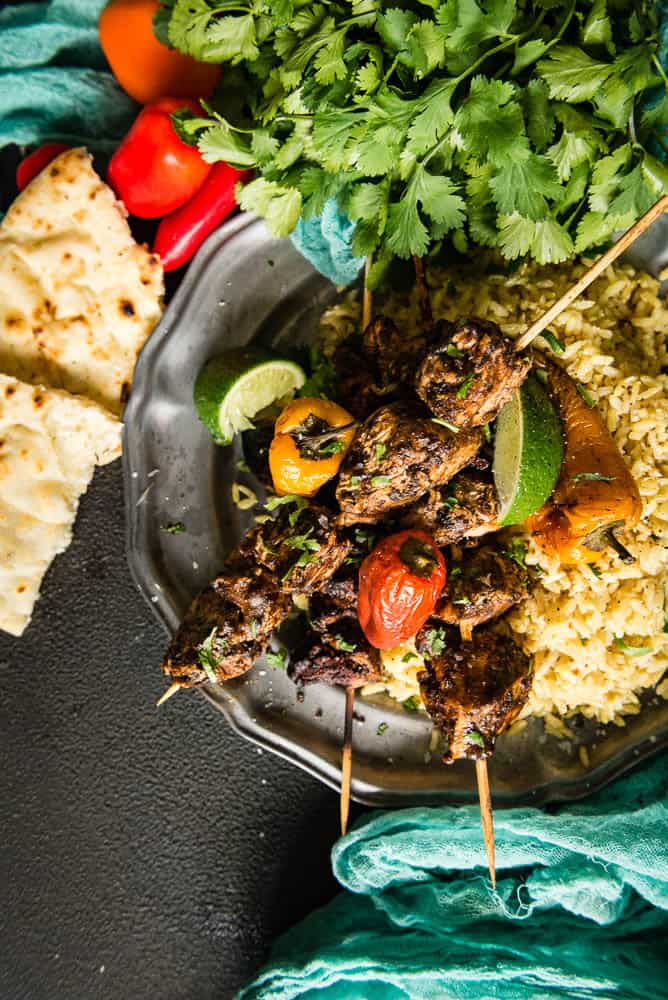 True story, it's not all burgers and fries around here. When I am not on the road, I am often cooking for myself. It's cathartic for me. Music on, wine in hand, and time spent in the kitchen… Because, by the time I am done from weeks of travel, I want to get home and fire up my own grills to create healthy meals to refuel me (and no lie, help with the needed junk-food detox).
I love the on the road life, jumping around, seeing places and meeting people. But it leads to some on-the-go choices that I wouldn't eat at home. When I get home, I hit the market and fill it with veggies, fruits, and globally inspired flavors.

A lot of my home recipes are inspired by my travels around the globe, pulling heavily on the spices and aromas from memories of crowded markets and street carts. There is such an abundant flavor profile for every region of the world, and being a bit of a food junkie (shock, I know), I take careful memories of the meals I experience, and the people I share them with.
Having traveled to South East Asia, I found the cuisines to be amazing, refreshing, and each flavor built and crafted one meticulous layer at a time. There is an understanding of balance and a clean distinct taste in every bite. Curry is one of my favorite memories from the area. So many options to pair with fresh veggies and meat.
These kabobs bring together the flavors of meats grilled on street carts with the bold spice blends that I adore over easy coconut turmeric-infused rice – and all in under 30 minutes. Pretty much making them my favorite kabob recipe out there.
What you need for quick kabobs: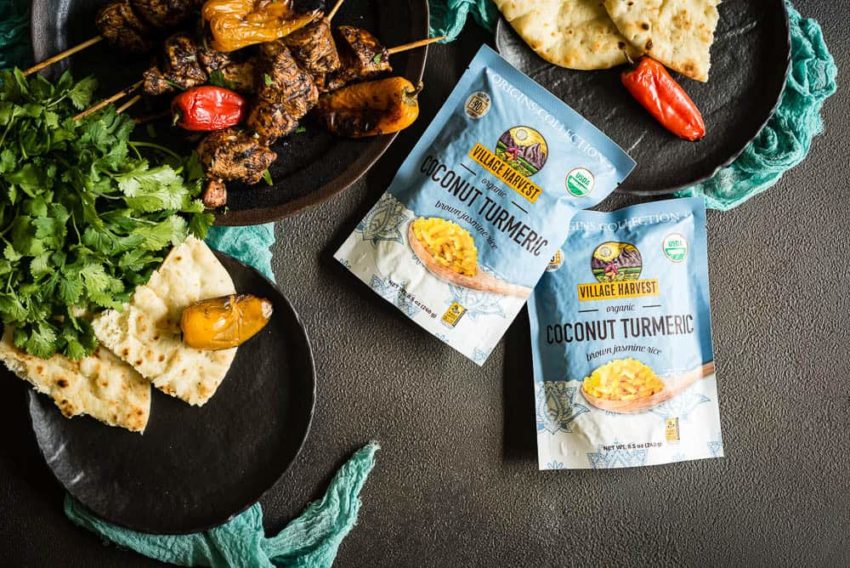 These kabobs were epic. Char-grilled chicken marinated in coconut milk with zesty spices ready in under 30 minutes. I piled the kabobs atop the coconut turmeric rice, tossed with freshly snipped cilantro, charred peppers, and grilled naan bread.
Can I make chicken kabobs without a grill?
Don't have a grill, no worries! You could do this all in the oven be preheating the oven to 350 degrees and cooking the chicken 15-20 minutes. You don't even need to use kabob skewers then, just toss the chicken onto a baking sheet.
Or you could pan sear the chicken in a skillet. Preheat a skillet over medium heat and pop the chicken in. Brown on all sides and cover and cook until heated through – about 15-20 minutes.
And if you are REALLY feeling brave, Another great thing about this whole kabob rice shindig? It's an easy campfire meal! These rice packets can be cooked in a skillet and are toasted through in only a few minutes.
Marinate your chicken in a resealable bag and pop them onto skewers. Build a fire. Grill the kabobs over the campfire by rotating them over indirect heat and toss the rice in a camping skillet to warm through. BAM. Campfire dinner UPGRADE. Now we're talking.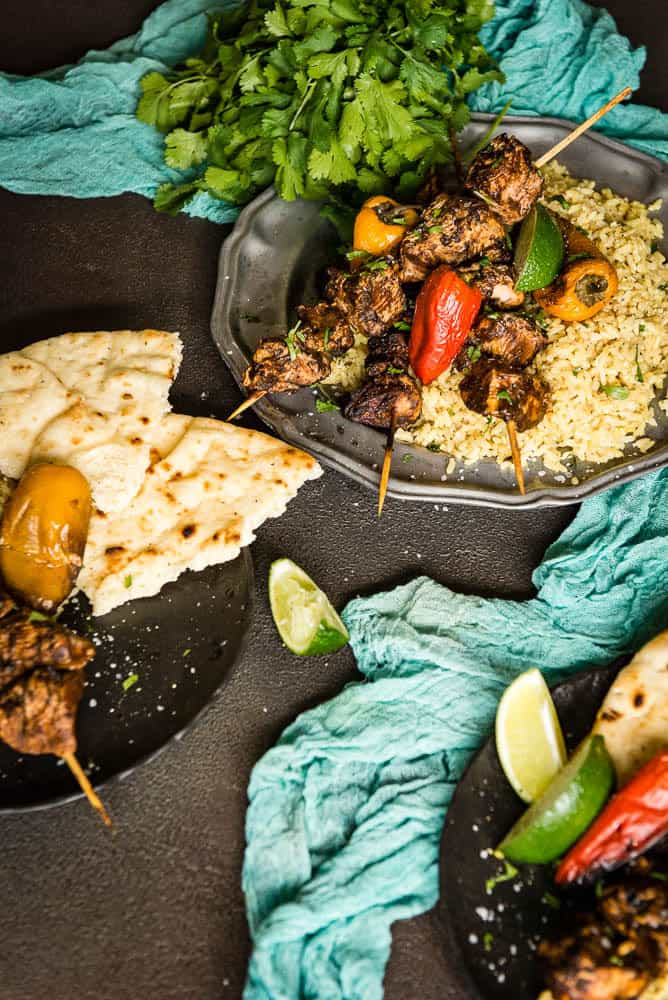 Some Notes on the Coconut Turmeric Rice:
Can you cook microwave rice packets in without a microwave?
I love those grab and go rice packets, one they are perfect for portion control when you aren't cooking for a ton of people and they are quick. I found some influenced by global flavors and keep them on hand whenever I want a short cut night in my kitchen. However, I don't own a microwave.
I have discovered that you can open those microwave rice packets (I use Village Harvest brand when I can find them) and cook them in a skillet. I add a little fat (oil or butter) to the pan and sautee the rice in a skillet until heated through – usually 10 minutes!
Add additional coconut milk or chicken broth, cover and let simmer for 5 to 10 minutes to really make it easy.
How to make Coconut Rice from Scratch?
Don't fret if you can't find the rice packets at the market or would simply rather make the turmeric rice from scratch. The mild turmeric flavors go so well with the subtle coconut!
To make, boil my rice in a 1/2 coconut milk 1/2 chicken broth mixture – replace the instructed 'water' amount with the coconut milk and broth and sprinkle in a teaspoon of turmeric per cup of rice to the liquid as the rice cooks. Cook the rice as instructed, simmering covered over low heat. When the liquid is absorbed it will be a bit more sticky then rice boiled in water.
Will the coconut milk make my rice sweet?
Nope, coconut milk – as long as you buy unsweetened coconut milk – doesn't have any added sugars. Unless you add something sweet to the mix, this doesn't make sweet rice at all. Instead, it adds a very mild flavor to the rice. I also mix in freshly minced cilantro when I make my rice from scratch.
I love pairing this rice with salmon, chicken kathi rolls, and dumplings too!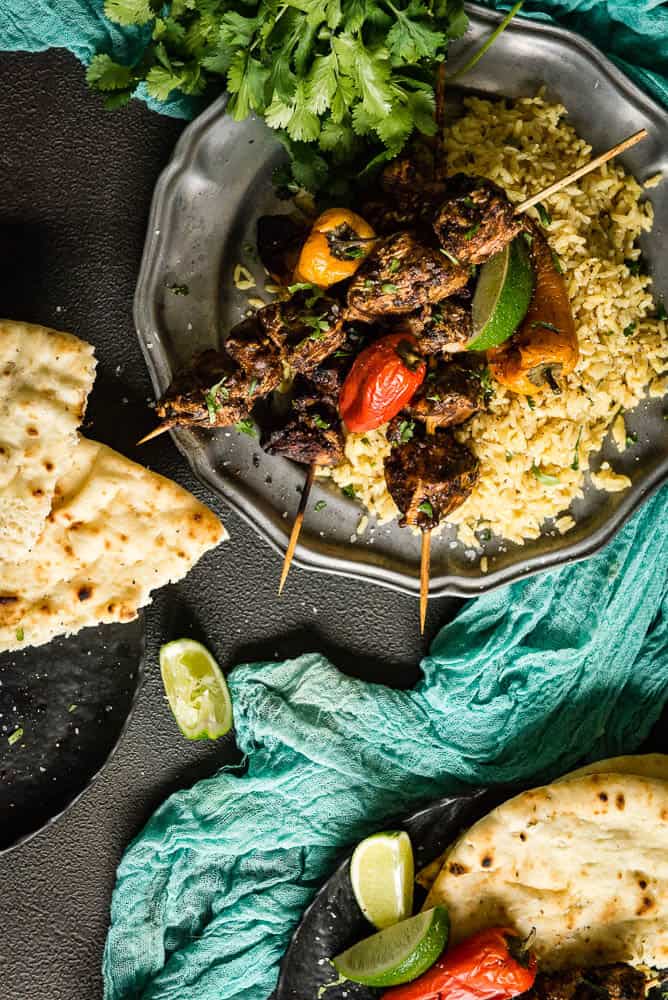 Want more globally-inspired recipes? Check these out!
If you've tried these curry chicken kabobs please rate the recipe and let me know where you found it in the comments below.
I get inspired by your feedback and comments! You can also join in on the adventures on Instagram @girlcarnivore, Twitter & Facebook.
Spiced Curry Kabobs with Coconut Turmeric Rice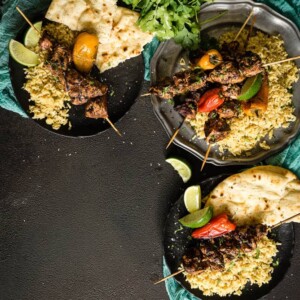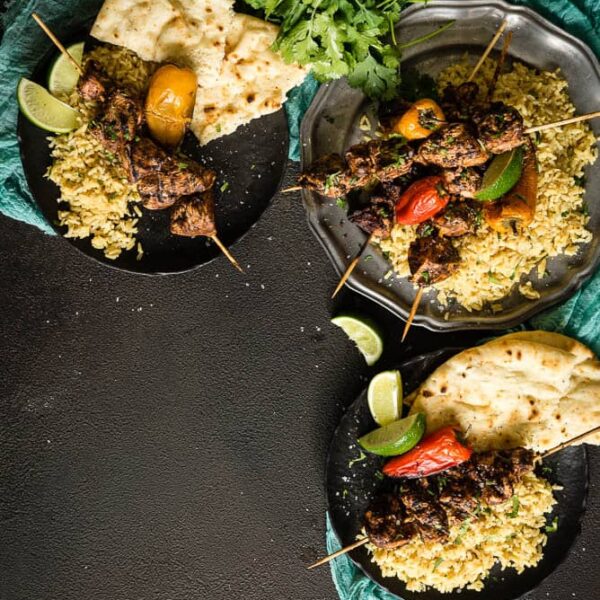 Coconut milk marinated chicken grilled over charcoal is a 30-minute magic trick and one of the most deliciously spiced kabob recipes ever!
Ingredients
1/2

cup

coconut milk

plus 4 tbsp divided

Salt and Pepper

1

tbsp

Red Curry Powder

1/2

tsp

Turmeric

1

lbs

boneless skinless chicken breast

cut into 1″ chunks

1

lbs

Small Sweet Peppers

2

packages Village Harvest Coconut Turmeric Rice

fresh cilantro

naan for serving
Instructions
Whisk the salt, pepper, turmeric, and red curry powder into 1/2 cup coconut milk. Pour into a resealable container.

Add the already cut chicken and allow to marinate in the refrigerator until ready to cook, up t0 8 hours.

When ready to cook, clean and oil your grill grates and preheat the grill for indirect heat.

Remove the chicken from the marinade and slide onto grilling skewers. Leave a bit of space between each piece of chicken to allow the hot air to circulate. Discard the remaining marinade.

Cook the chicken over the cooler side of the grill, 15-20 minutes, rotating as needed.

Meanwhile, toss the peppers on the grill and char to your liking, rotating as needed.

In an oven safe pan, toast the rice with the remaining 4 tbsp coconut milk until heated through. Toss with fresh cilantro and set aside until ready to serve.

Toast fresh naan over the grill, if desired

Garnish the kabobs with fresh snipped cilantro, salt and pepper as desired.

Serve the kabobs, peppers, and rice family style, letting people fill their plates as needed.
Notes
I prefer red curry paste over powder. You can find it in the international section at most markets. If you are lucky enough to have an international market near by, my favorite brand is in a small aluminum tin and has a red label.
You can store leftover curry paste in an airtight containter for up to 3 weeks. To avoid any contaminatin, place cling wrap directly against the surface of the paste before sealing. 
Nutrition
Calories:
226
kcal
|
Carbohydrates:
8
g
|
Protein:
25
g
|
Fat:
9
g
|
Saturated Fat:
6
g
|
Cholesterol:
72
mg
|
Sodium:
139
mg
|
Potassium:
720
mg
|
Fiber:
2
g
|
Sugar:
5
g
|
Vitamin A:
4175
IU
|
Vitamin C:
146.8
mg
|
Calcium:
24
mg
|
Iron:
2
mg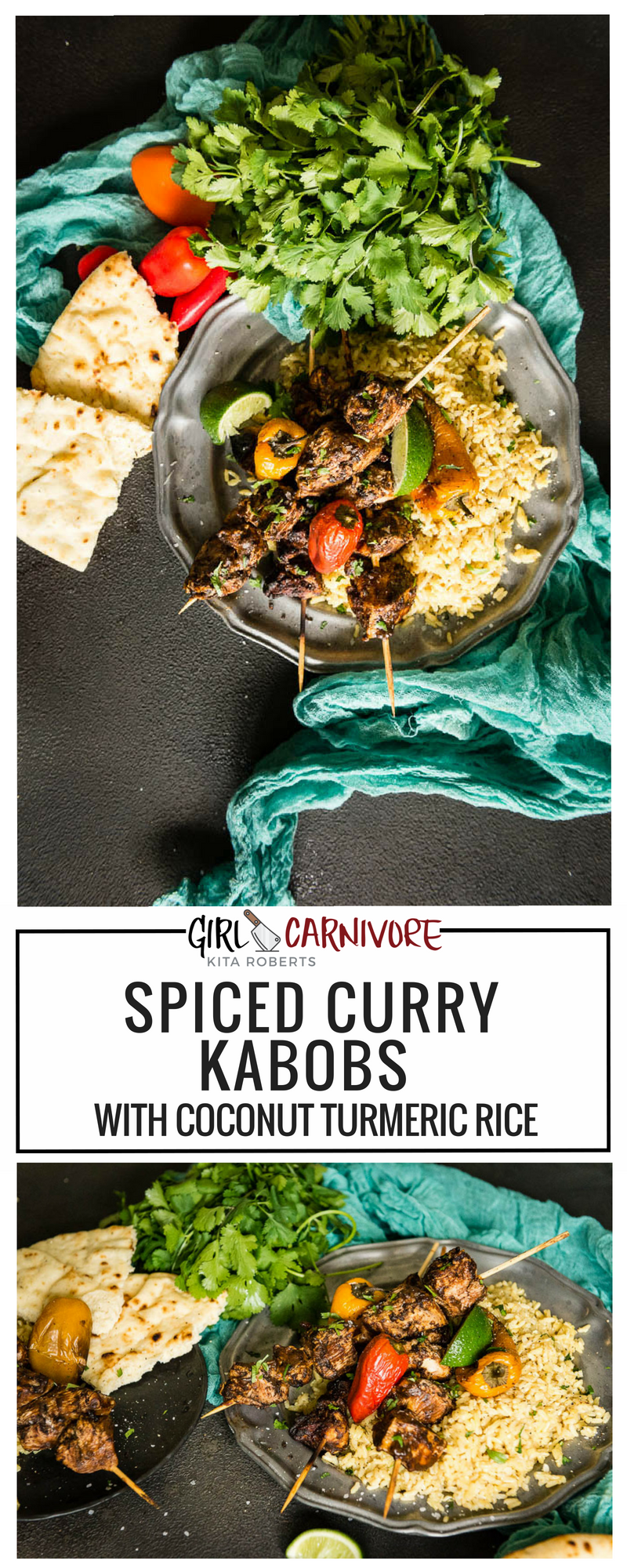 I was selected for this opportunity as a member of CLEVER and the content and opinions expressed here are all my own.