Perfect tender medium-rare. Sous Vide Steak, cooked with herb butter to perfection with pan-fried fried eggs atop and a simple sprinkle of salt and pepper, is the classic hearty breakfast. And it's not even hard to master.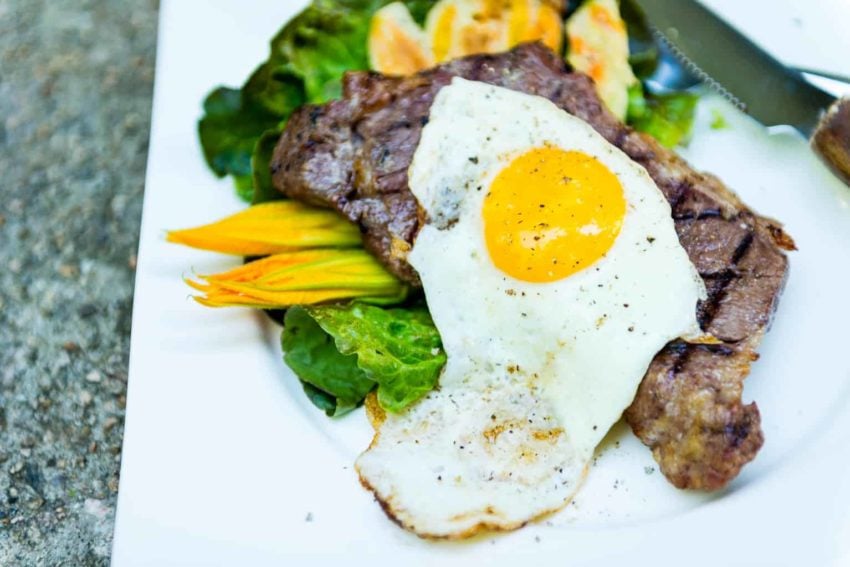 Ok, so Sous-Vide cooking is the new thing. Either you know what it is, or you have no clue what this new method of cooking is and why it should matter. It's a method we use for our Sous Vide Filet Mignon and Sous Vide Flat Iron Steak. For this recipe, we're using that same sous vide cooking method with strip steak. Strip steak, aka New York Strip, comes from the short loin of the cow and is a fairly tender cut of steak, especially when using the sous vide method.
What Is Sous Vide Steak?
Sous-vide cooking is a technique that is not new. Chefs have been using the method to perfect restaurant-quality meals for years.
Sous-vide cooking means cooking in a controlled-temperature water bath. Yeah, you read that right. Essentially, the food chills in a bath. Literal translation, "Under Vacuum."
But really, this is brilliant. The water flows around the food at a controlled temp, and the food, sealed in a little bag, cooks evenly over time. This guarantees a precise temperature.
Now, that seems like a readily achievable thing. Sure, we can get a perfect steak every time on the grill. But now, imagine a bright pink center through and through every single time. And not based on knowing what the hot spot on the grill is. But because the temp is perfect. Then, a quick toss onto the grill adds those insta-worthy grill marks. And you are the medium-rare hero not just for your steak but for everyone else.
Strip the science of the whole fancy cooking technique, and it's just perfect steak, seasoned with your choice of herbs (or our favorite, compound butter) cooked to perfection. Every. Single. Time. 
Steak Sous Vide Ingredients
Strip steaks
Fresh rosemary
Fresh thyme
Garlic clove
Butter
Salt and pepper
Eggs
How to Make The Most Tender Steak
First, take the steaks out of their packaging and gently pat them dry with paper towels. In a small bowl, mix the rosemary, thyme, and garlic, and generously rub the steaks with the fresh herbs.
Then, carefully place each steak into a sous-vide bag and add a dollop of butter on top. Use your vacuum sealer to seal the bags tightly, ensuring no air gets in. You can store these airtight bags in the fridge for up to a day before cooking or freeze them for a future feast.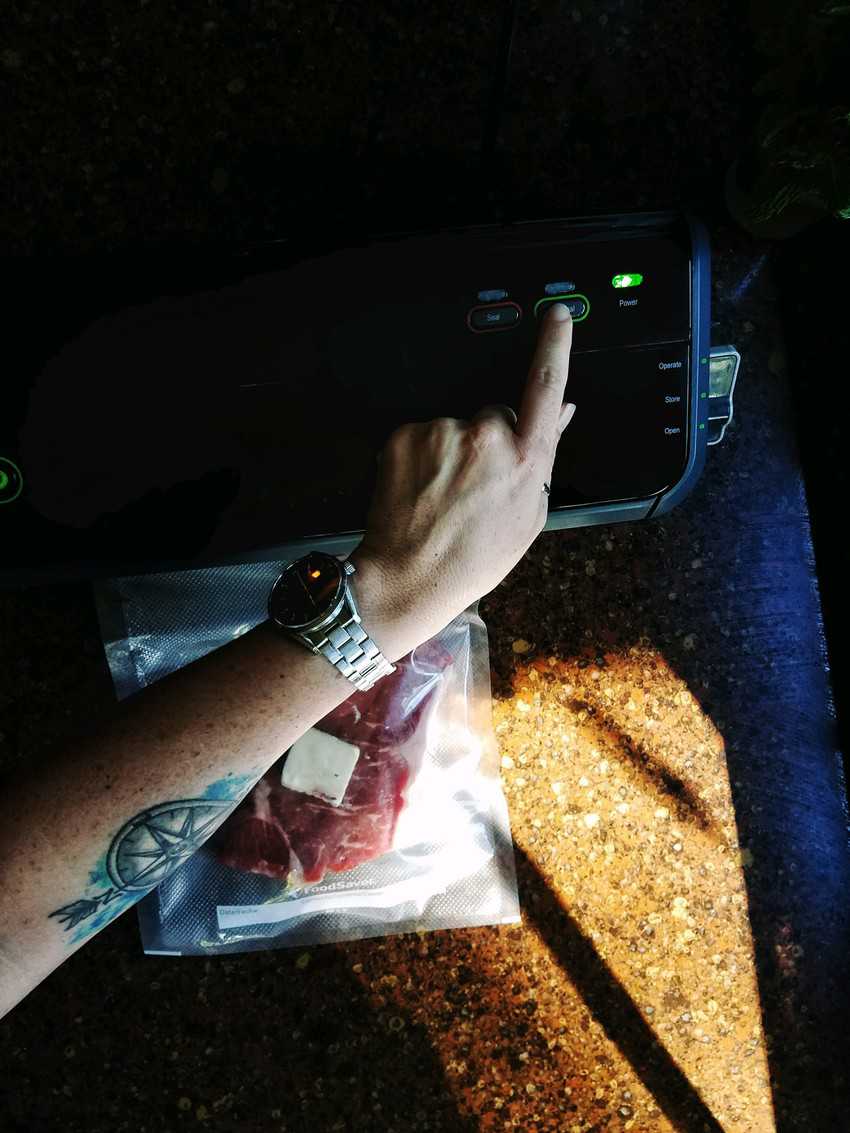 Next, get your sous vide water bath ready at 130F. Pop the sealed steaks in and let them cook for 2 hours, soaking up all that flavor. When they're done, take the steaks out and let the bags cool down.
When you're ready to serve, fire up the grill to high heat. Your goal here is to get those beautiful grill marks on the steaks for that perfect presentation. Sprinkle some salt and pepper on the steaks before giving them a quick sear. Let the steaks rest for at least 5 minutes to let all the juices settle.
While the steaks rest, cook your eggs just the way you like them. Once done, delicately place them on top of each steak for that gourmet touch. Finally, season everything with a dash of fresh salt and pepper and serve alongside some crisp seasonal greens for a complete and satisfying meal. Enjoy!
Girl Carnivore Expert Recipe Tips
After sous vide, pat your steak dry with paper towels before the searing process. Moisture on the surface can inhibit that perfect sear.
Use a sturdy sous vide bag to prevent any leaks during the cooking process. You can also use a vacuum-sealed bag or ziplock bag.
Make sure to keep an eye on the water level in your sous vide cooker, especially during those longer cooking times. Be ready to top up the water as needed to prevent any evaporation mishaps!
Use a meat thermometer to ensure the internal temperature of the steak reaches at least 130-135F for medium-rare, 140-145F for medium, 150-155F for medium-well.
What to Serve With This Sous Vide Steak Recipe
We served up this juicy steak with eggs, but you can also serve it with side dishes like this Roasted Green Beans Recipe, Air Fryer Garlic Parmesan Fries, or an Easy Smoked Baked Potato!
Leftovers & Reheating
Store leftover steak in an airtight container in the fridge for 3-5 days. Freeze for up to 6 months. However, steak can dry out over time, so it's best not to leave it in the freezer for too long. Before reheating, let your steak come to room temperature to ensure even cooking.
To reheat, you have a couple of options:
Preheat the oven to 250F and grab a baking sheet. Line it with a wire rack and place your leftover steak on top.
Bake for around 20 minutes until your steak is reheated to your preferred level of doneness.
If you want to reignite that sear, place your steak on a hot cast iron skillet and quickly sear until a nice crust forms.
Delicious Sous vide Recipes to try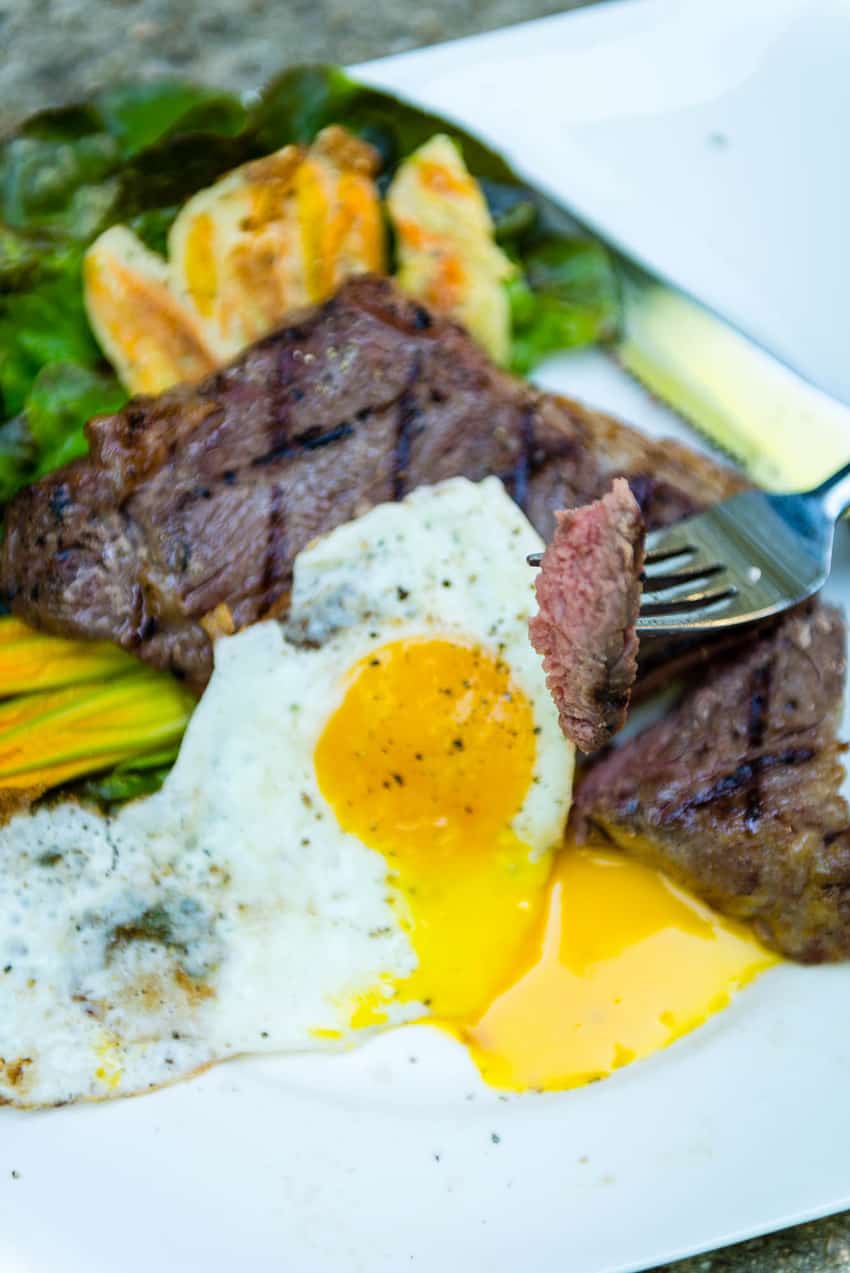 Sous Vide Steak is the ultimate way to achieve a perfectly cooked, tender, and flavorful piece of meat. With precise temperature control and some patience, you can create restaurant-quality steak right at home.
Save this recipe for later by clicking the ❤️ button on the recipe card. Did you know you can save all of your favorite recipes right to your own recipe index on GirlCarnivore to find them easier later on?
Have you tried this recipe? Do us a favor and rate the recipe card with the  ⭐ ⭐ ⭐ ⭐ ⭐ and drop a comment to help out the next reader.
Sous Vide Steak and Eggs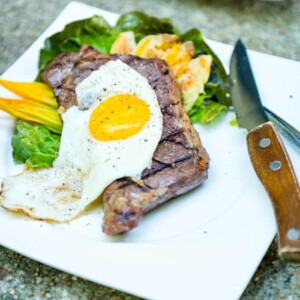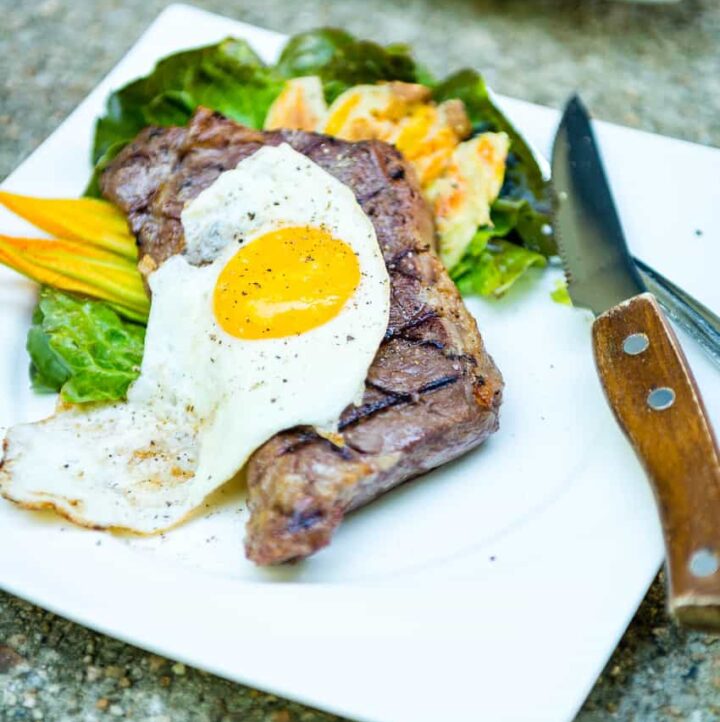 One of our all-time favorite meals with tons of flavor and deliciousness!
Ingredients
2

lbs

Strip Steaks

2 steaks, about 1" thick

1

tsp

fresh rosemary

minced

1

tsp

fresh thyme

minced

1

garlic clove

minced

2

tbsp

butter

Salt and pepper

2

eggs
Instructions
Remove the steaks from the packaging and pat them dry.

Combine the rosemary, thyme, and garlic in a small bowl and rub the steaks well with the seasoning.

Carefully arrange each steak into a sous-vide bags bag and top with 1 tbsp of butter.

Following the directions for sealing with a bag, vacuum seal the steaks with the Food Saver.

At this point, with the airtight seal, you can place the steaks in the fridge for a day until ready to prepare or sous-vide and save until ready to grill all in the Food Saver bag!

Prep the sous-vide water bath for 130 degrees.

Add the steaks and cook for 2 hours at 130.

Carefully remove the steaks and allow the bags to cool before either grilling or storing until ready to serve.

When ready to serve, set the grill to high. The idea is to just add the look of grill marks across the steaks for presentation, as the have already cooked in the sous-vide.

Season the steak with salt and pepper and sear the steaks with quick grill marks on both sides. Remove from heat and allow to rest 5 minutes.

Meanwhile, fry the eggs to your liking and set atop each steak.

Season with fresh salt and pepper and serve with fresh seasonal greens.
Nutrition
Serving:
1
g
|
Calories:
167
kcal
|
Carbohydrates:
1
g
|
Protein:
6
g
|
Fat:
16
g
|
Saturated Fat:
9
g
|
Polyunsaturated Fat:
1
g
|
Monounsaturated Fat:
5
g
|
Trans Fat:
0.5
g
|
Cholesterol:
194
mg
|
Sodium:
153
mg
|
Potassium:
77
mg
|
Fiber:
0.2
g
|
Sugar:
0.2
g
|
Vitamin A:
637
IU
|
Vitamin C:
2
mg
|
Calcium:
35
mg
|
Iron:
1
mg
Recipe FAQs
DO I NEED A SOUS VIDE MACHINE TO MAKE SOUS VIDE STEAK?
​Yes, a sous vide machine, also known as an immersion circulator, is essential for precise temperature control. While you can attempt sous vide cooking without one, investing in a sous vide machine will give you consistent and professional results.
WHAT TYPES OF STEAK ARE BEST FOR THIS COOKING METHOD?
You can use the sous vide method for a variety of steaks, including Sous Vide Prime Rib, Sous Vide Beef Tenderloin, Sous Vide Flat Iron Steak, and Sous Vide Filet Mignon. Most beef recipes can be made using the sous vide method, so it really depends on your personal preference.