Dust off your sous vide cooker and get ready for some serious flavor with this Pork Osso Buco sous vide recipe. Instead of traditional beef shanks or veal shanks, we're going with more affordable pork, and with unbelievable flavors, you can create a restaurant-quality dish in your kitchen. Don't be intimidated – this classic Italian dish is easier to make than you think!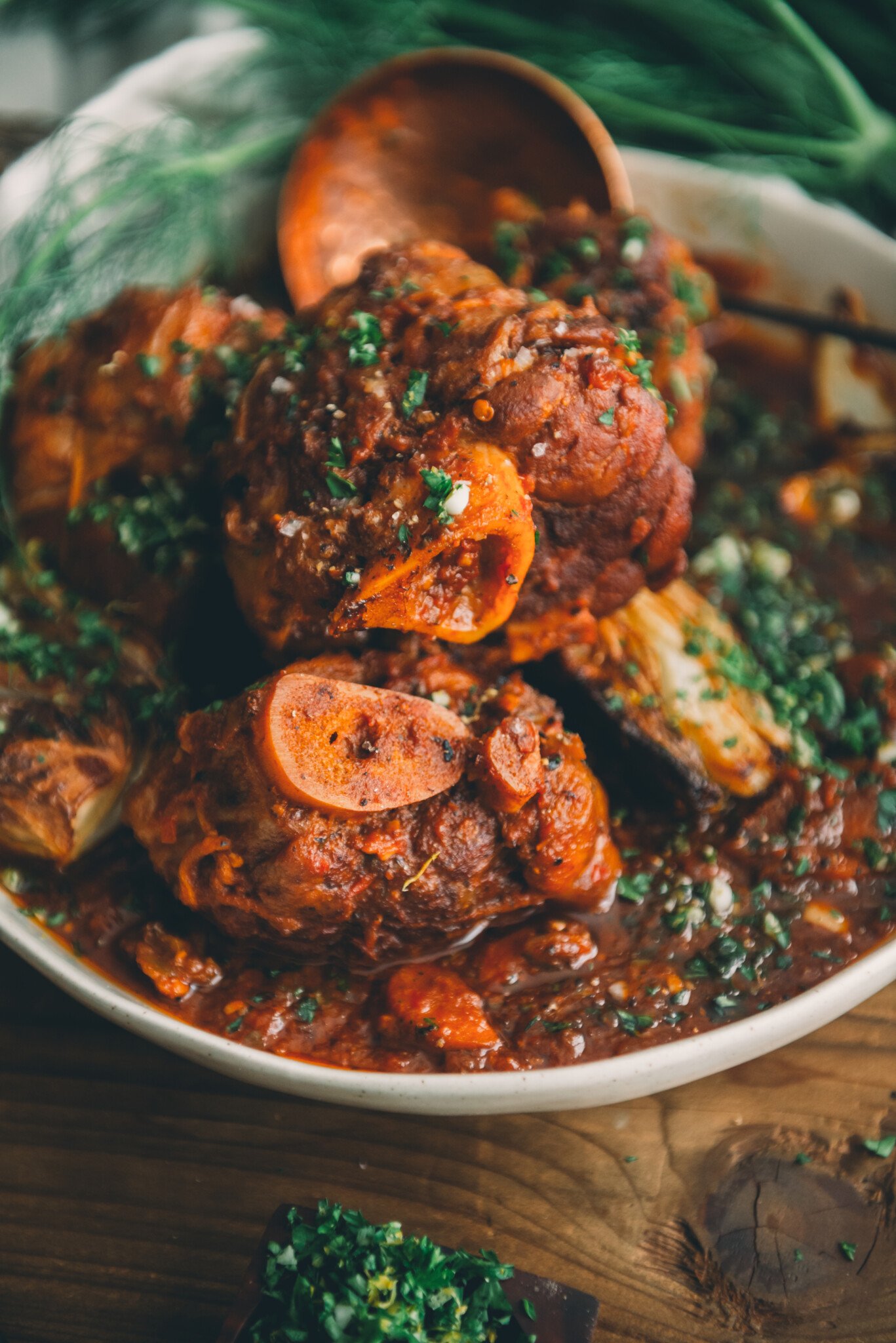 Grab your knife and fork – well, really just your fork because this dish is so tender you don't need a knife – and dig into this fantastic pork recipe. The sous vide cooker will work its magic, both tenderizing and cooking to perfection, a cut of meat that is often prepared in a Dutch oven or on the stovetop.
By preparing this recipe sous vide style, you lock in all the flavors, allowing the meat to cook low and gentle in a juice that transforms into an amazing sauce. Plus, it's practically a set-it-and-forget-it recipe, so what's not to love?
Perfect for dinner parties or just a meal with the family on a Tuesday night, dust off your sous vide equipment, and let's get started!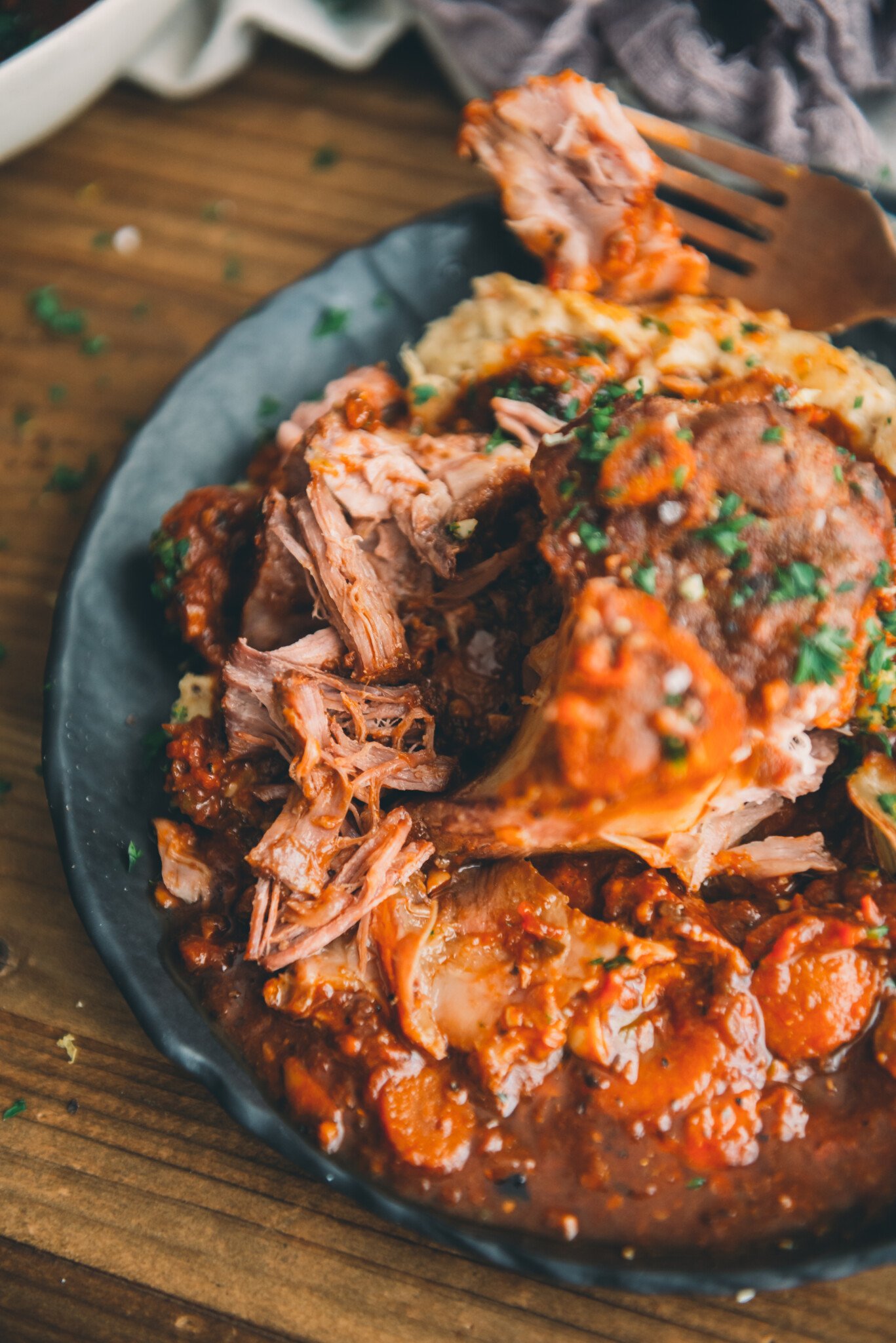 New To Sous Vide Cooking And What The Heck Is It?
Sous vide is a French cooking technique used for years in restaurant kitchens. It means under vacuum, and whatever's being cooked is vacuum-sealed in plastic and cooked underwater at a precise temperature.
The idea is that if you maintain the water temperature, the food being cooked will never cook past that temperature. So, if you want a steak perfectly cooked to 125-F degrees, you'd set your sous vide to 125-F, and a while later, your steak is finished and cooked to that temperature and not a degree more.
What Are The Benefits Of Sous Vide Cooking?
Besides never overcooking another piece of meat, sous vide cooking usually yields fork-tender proteins. Plus, there's no loss of flavor – everything is cooked together in plastic.
Cooking in plastic? Yes, you can cook in food-grade plastic. The heat from sous vide cooking never gets hot enough to melt the plastic or cause the chemicals in the plastic to leech out, so it's perfectly safe.
The only thing you want to note is because the food is cooked in a water bath it needs to be seared ahead or after for a more appealing look. Trust us.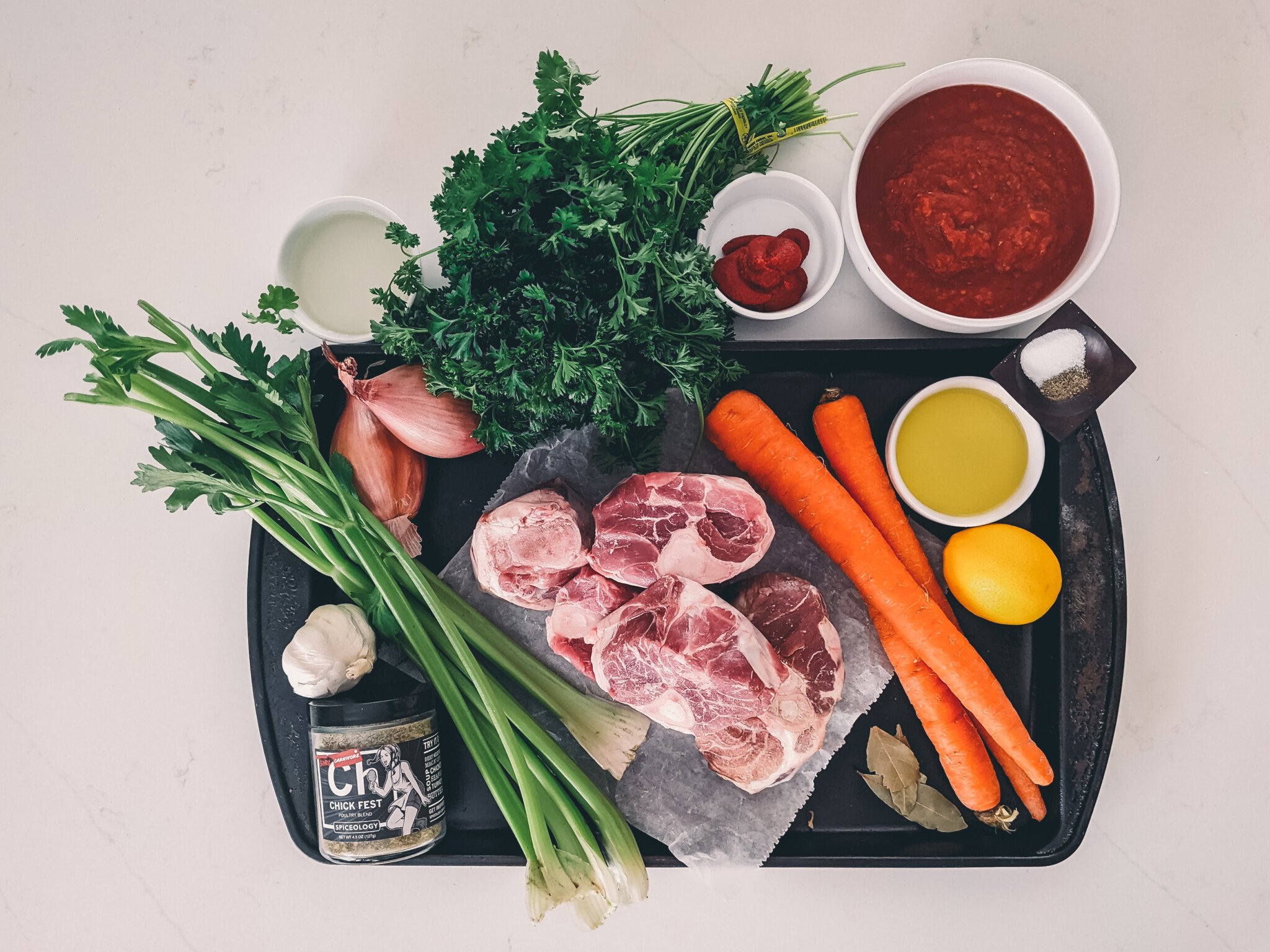 What You Need to Make Pork Osso Buco in the Sous Vide
Also often called pork osso bucco, you'll need to gather a few ingredients to make this incredibly delicious pork recipe.
Sous Vide precision cooker – Any brand will do.
Large container – Filled with water. Having a fitted lid is helpful. Many sous vide appliances also sell water bath containers specially designed to fit the sous vide and any ingredients.
Pork osso buco – Look for meaty pork shanks.
Vegetable oil – Or olive oil.
Carrots – Diced.
Celery – Diced.
Shallots – Diced. Shallots have a milder flavor than onions, perfect for this sous vide osso buco recipe.
Garlic – Fresh is best!
GirlCarnivore Chick Fest Spice blend – a go to blend of herbs and a hint of citrus to brighten dishes
Tomato paste
White wine – If you can drink it, you can cook with it! We go with a dry pinot grigio.
Crushed tomatoes – a 14-ounce can.
Bay leaf
Salt and pepper
For the gremolata (herby topping):
Parsley – Fresh and chopped fine.
Garlic – Yes, more garlic – bring on the garlic!
Lemon zest – From a whole lemon.
Salt
To serve: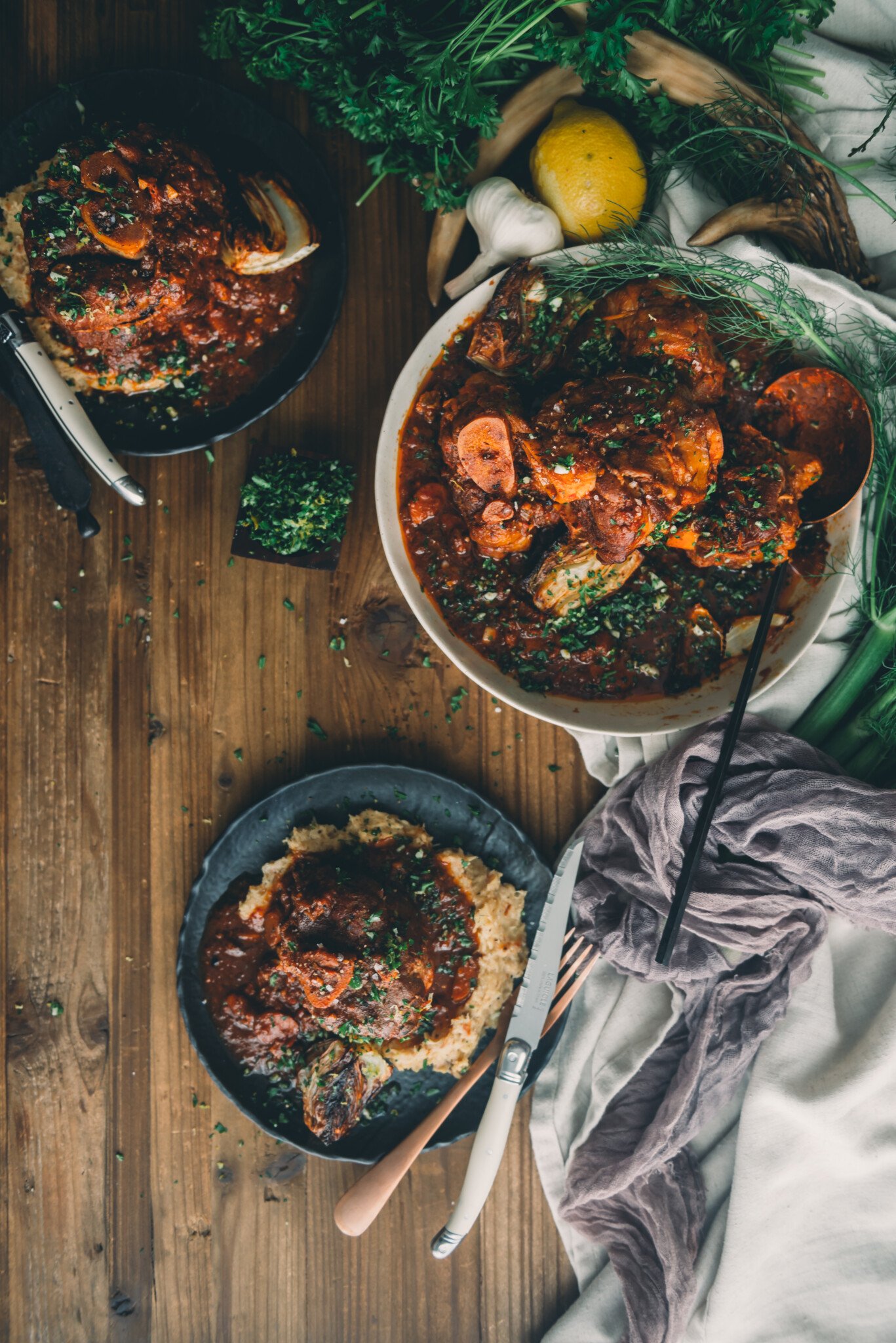 How to Make Pork Shank Osso Buco Sous Vide
Traditionally made with veal shanks, we're using more affordable pork shanks in this recipe. You should find pork shanks at most grocery stores or ask your butcher.
This is a two-step cooking process. The first step is done on the stove-top and the second in the sous vide.
First, heat the vegetable oil in a large skillet over medium-high heat and sear the seasoned pork shanks until brown and caramelized. Set them aside when they're done.
Then, in the same pan, and with a bit more oil, saute the vegetables until they are tender.
Mix in the tomato paste and stir to coat, and add in the seasonings.
Deglaze the pan with the white wine, add the diced tomatoes, and bay leaves. Mix well and allow to thicken a moment.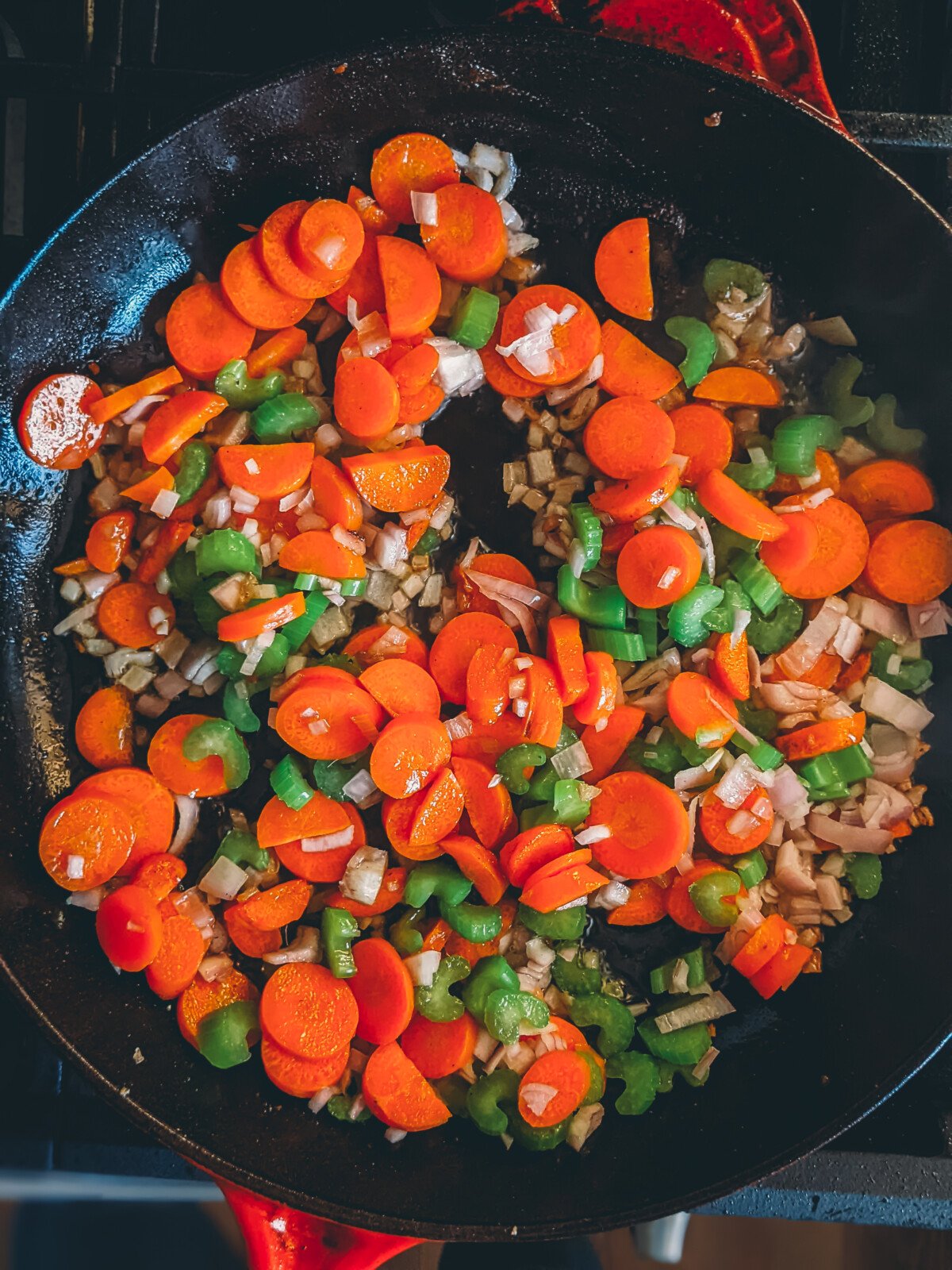 Add the tomato-vegetable mixture to your sous vide bags and add the pork shanks. Massage the contents so that the shanks are well coated.
Seal the bags.
Set your sous vide cooker to 175-F and submerge the bags. Set the timer for 24-hours.
When the time is nearly up, make the gremolata by mixing the parsley, garlic, lemon zest, and salt and roast the fennel.
Finally, carefully remove the bags from the water and extract the pork and sauce. Plate with roasted fennel and top with the gremolata. Dig in!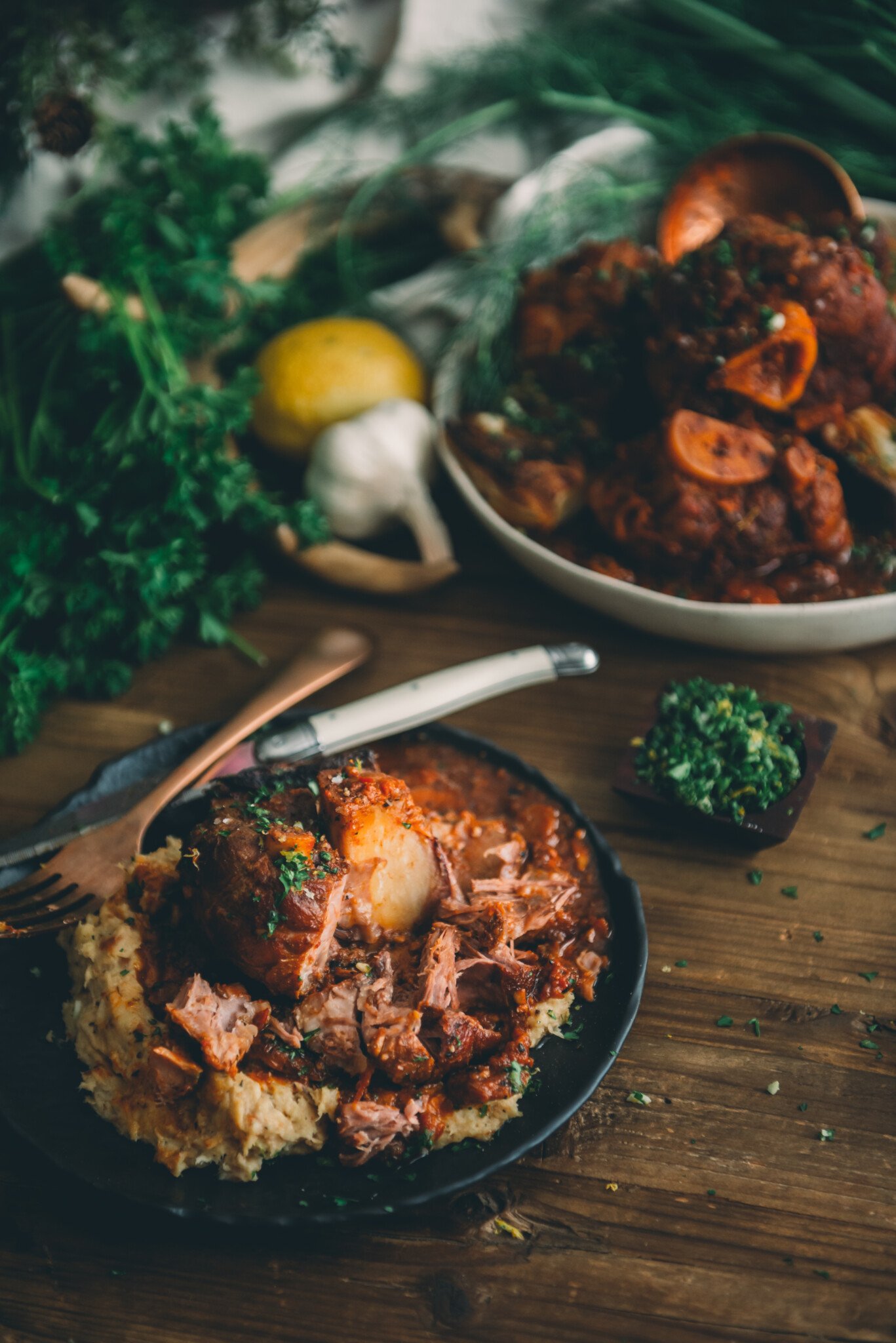 GirlCarnviore Expert Recipe Tips
This braised pork osso buco is not a quick recipe, but you don't have to babysit it, either. You can set the sous vide, then go to work, sleep, and carry on as usual until the time is up.
Check the water level periodically. You may lose water to evaporation depending on your sous vide setup and water bath configuration. Top up the water as necessary.
The gremolata can be made ahead of time so that it's ready to go when the pork osso buco recipe is finished making this the perfect dish for entertaining! Everything can be made ahead of time and plated hot when ready to serve.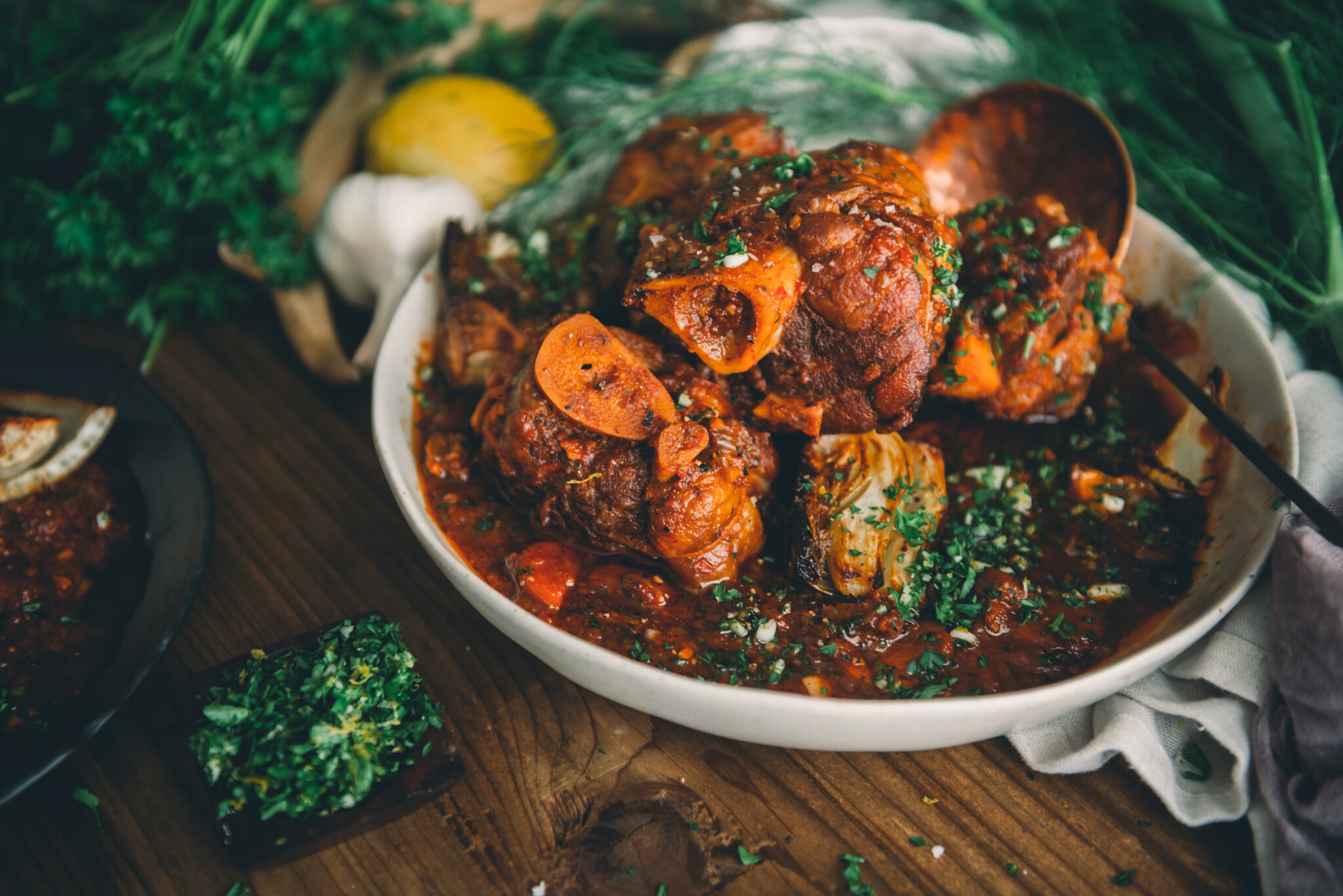 Can I Freeze Osso Buco with Pork?
Yes, you can! Take the meat off the bones, and freeze any leftover osso buco in an airtight container or freezer-safe plastic bag for up to 3 months.

When ready to use leftovers, thaw completely. Reheat in a saucepan over low heat, or in individual dishes in the microwave to serve leftovers.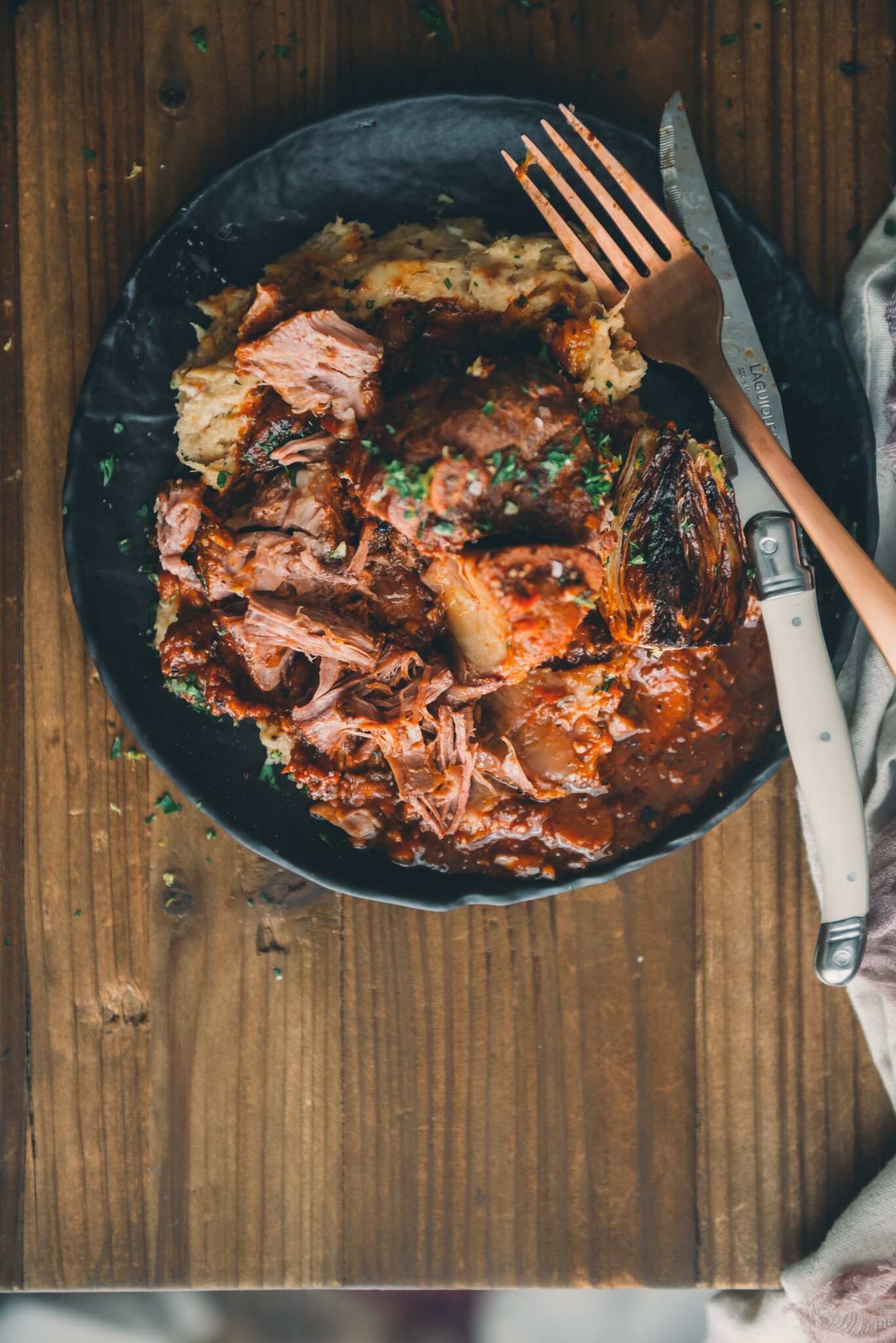 Is Osso Buco with Gremolata Easy?
Yes, this is an easy recipe. There is prep work and a long list of ingredients but review the steps and notice none of them are complex.
The hardest part is waiting for the sous vide to finish working its magic. Share if you dare – this pork recipe is that good! And will make you feel like a top chef when you serve it!
What to Serve With Osso Buco
If you were to order this delicious osso buco in a restaurant, chances are it'd be served with saffron risotto (risotto alla Milanese), but creamy polenta or even mashed potatoes are a great option, too. You want something to soak up all that fabulous sauce.
To keep it keto, we paired it with mashed roasted parsnips.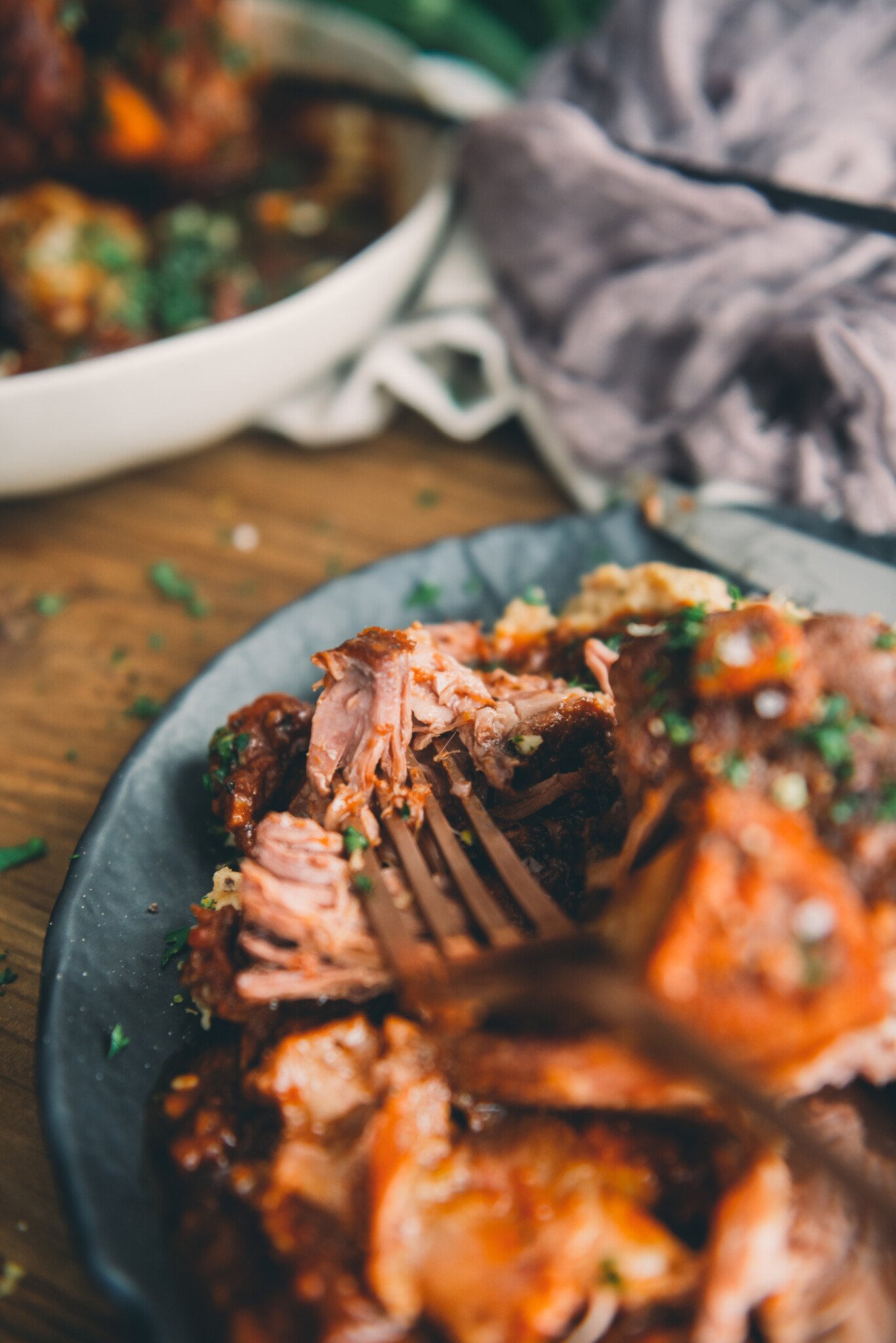 Pork Osso buco – Sous Vide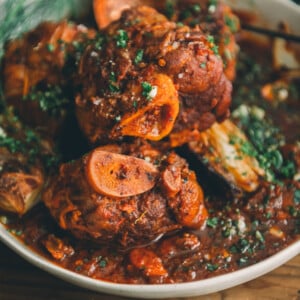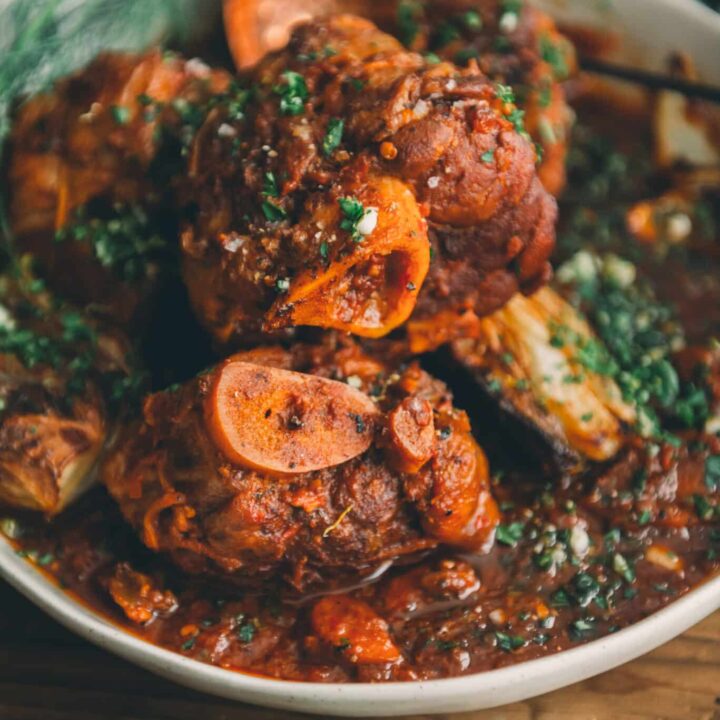 Decadent tender sous vide pork shanks are the base for this timeless recipe. Served with a rich veggie sauce, roasted fennel, and herbacious gremolata for 5 star restaurant experiance at home!
Ingredients
For the Osso buco
3 to 4

lbs

pork shanks

cut 2 – 3" long

4

cooking oil

2

Carrots

2

Celery stalks

1-2

Shallots

4-6

Garlic cloves

2

tbsp

Tomato paste

1

cup

White wine

14

oz

Crushed tomatoes

2

Bay leaves

Salt
To Serve
1

Fennel bulb

top removed
For the Gremolata
1/4

cup

Parsley

4

garlic cloves Garlic

1

tbsp

Lemon zest

1/4

tsp

Salt
Instructions
Prep the pork
Tie each pork shank with kitchen twine. This helps the meat tay on the bone for serving.

3 to 4 lbs pork shanks,

Salt

Season all sides with salt.
Sear the pork shanks
In a large skillet preheated over medium-high heat, add 2 tbsp oil.

Brown the pork on all sides, 5 to 7 minutes. Set aside.
Saute the veggies
In the same pan, and the remaining oil.

Add the diced vegetables, season with a pinch of salt, and saute 5 to 7 minutes, until tender.

2 Carrots,

2 Celery stalks,

1-2 Shallots,

Salt

Add the garlic and cook 30 seconds.

Add in the tomatoe paste and stir to coat the veggies.

Add in the GirlCarnivore Chick Fest and mix in.

2 tbsp GirlCarnivore Chick Fest Spice Blend
Deglaze the pan
Carefully, pour in the white wine and deglaze the pan being sure to scrape up any browned bits from the bottom.

When the wine has reduced by half, add in the crushed tomatoes and bay leaves.

14 oz Crushed tomatoes,

2 Bay leaves

Reduce heat to medium-low and allow to thicken 3 to 5 minutes.
Prep the Sous Vide
Prep the sous vide to 175 degrees and allow the water to heat.

When the pork and veggies have cooled, divide evenly into two bags.

Make sure the sauce is coating the pork well and seal the bags.

Remove the air from the bags and seal to ensure no water will get into the bags.
Sous vide the pork shanks
Submurge the bags in the preheated water bath and cook for 24 hours.
Roast the Fennel
Prep the oven to 425.

Divide the fennel into 4 wedges and coat in oil. Season with salt.

4 cooking oil,

1 Fennel bulb,

Salt

Roast the fennel on a baking sheet for 20 – 25 minutes, until softened and caramelized.
Make the gremolata
In a small bowl, whisk the ingredients for the gremolata together.

1/4 cup Parsley,

4 garlic cloves Garlic,

1 tbsp Lemon zest,

1/4 tsp Salt
Serve the osso buco
Carefully remove the bags from the water bath. Allow the bags to cool 10 minutes before handling.

When ready to plate, pour the contents of the bags into a serving dish. Remove the bay leaves.

Serve the pork osso buco on platters with sauce, roasted fennel bulb and garnish heavily with the gremolata.
Notes
This recipe is adapted from Cooks Illustrated: Meat Illustrated
To prevent leaking, we double seal the bags when prepping for the sous vide. Divide the sauce and pork into two bags, and remove air. Then place the bags into an additional bag and remove the air before submerging into the water bath.
We use the Anova Sous Vide with Bluetooth in our kitchen.
Serve with roasted mashed veggies, mashed potatoes, polenta, or risotto depending on diet.
Nutrition
Serving:
1
g
|
Calories:
378
kcal
|
Carbohydrates:
17
g
|
Protein:
52
g
|
Fat:
8
g
|
Saturated Fat:
2
g
|
Polyunsaturated Fat:
2
g
|
Monounsaturated Fat:
3
g
|
Trans Fat:
1
g
|
Cholesterol:
150
mg
|
Sodium:
472
mg
|
Potassium:
1360
mg
|
Fiber:
6
g
|
Sugar:
6
g
|
Vitamin A:
3997
IU
|
Vitamin C:
19
mg
|
Calcium:
174
mg
|
Iron:
5
mg