Make the best Smoked Turkey Breast recipe this year! Perfect for smaller holiday gatherings, slathered in a flavorful spice rub, basted in melted butter, bourbon, and honey, and smoked until melt-in-your-mouth tender for the perfect holiday turkey.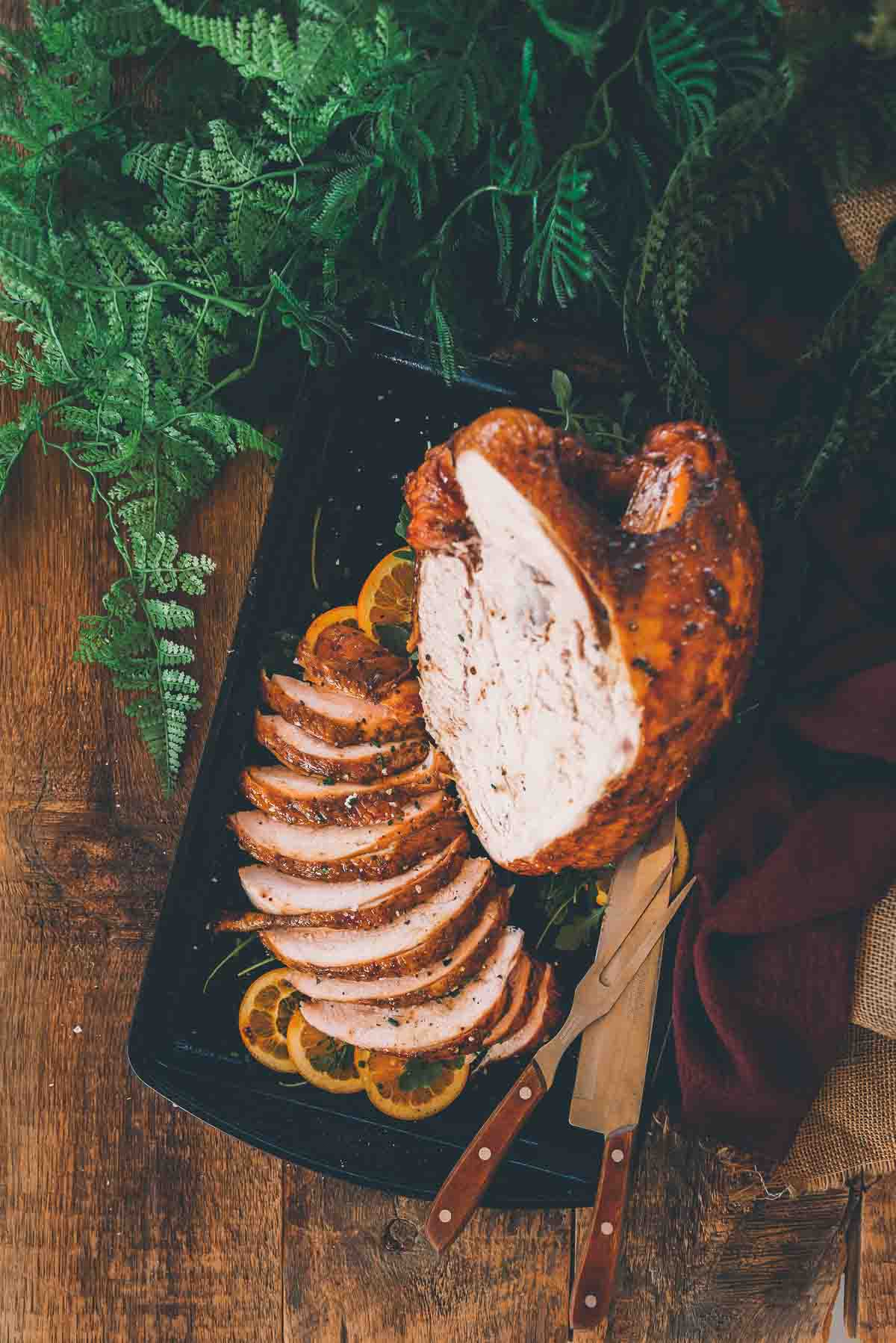 We love smoking meat, if you couldn't tell, anything from Smoked Chicken Thighs to Traeger Smoked Turkey. This Smoked Turkey Breast recipe is a great alternative to Smoked Thanksgiving Turkey when you have a smaller amount of people to serve.
No smoker? Check out my quick pressure cooker turkey breast recipe instead! Or, check out this How to Smoke on a Gas Grill guide!
What Is Smoked Turkey Breast?
This Smoked Turkey Breast uses a wet rub all over the turkey consisting of mustard and olive oil, brown sugar and seasoning, butter, bourbon, and honey. This sweet, tangy rub imparts a glorious flavor to the turkey as it sits overnight in the fridge. Combined with the smoke flavor from the smoker, this small yet mighty bird will become your new best friend. It's the perfect way to jazz up your basic turkey recipes without overcomplicating things.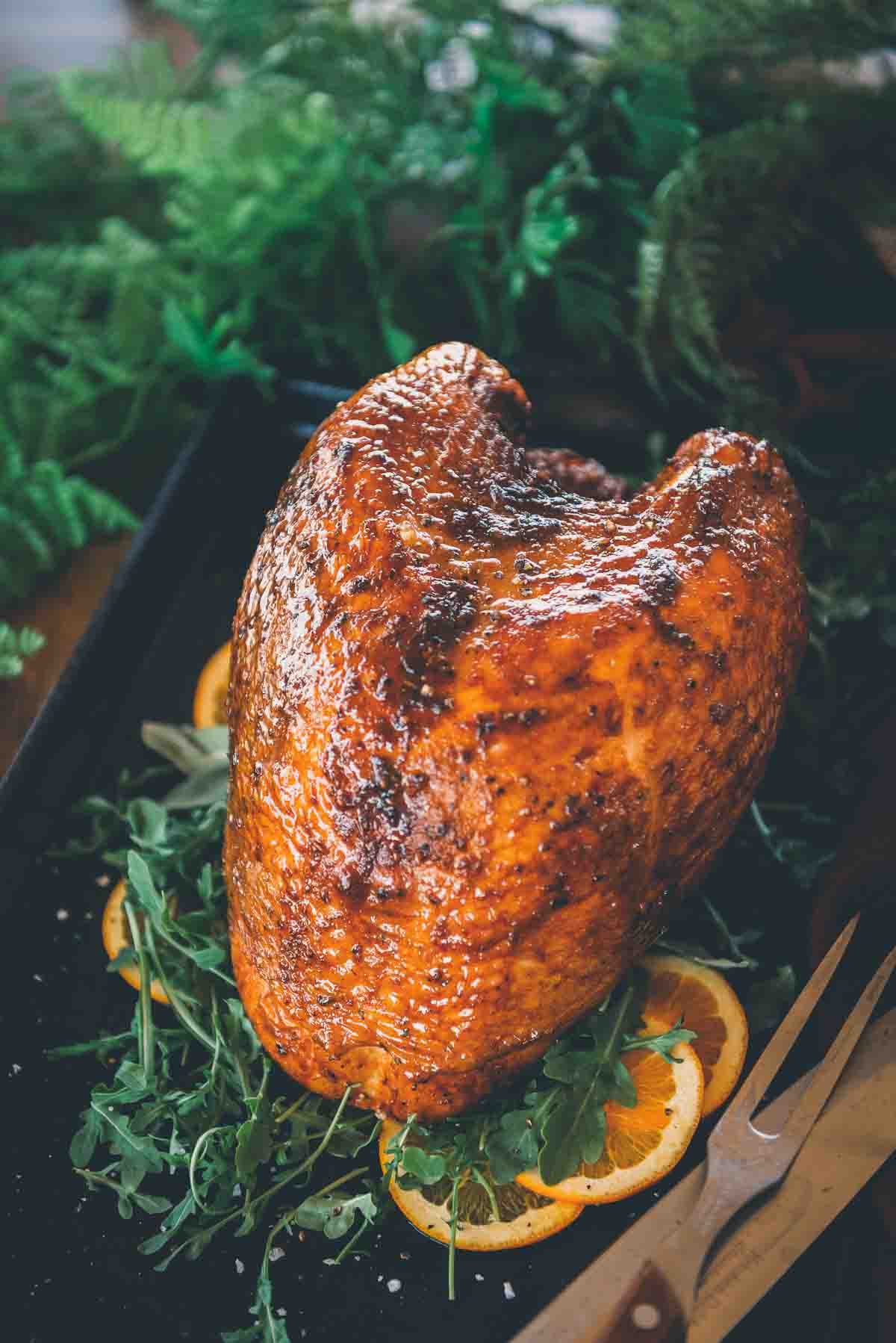 Why you'll love this recipe
This easy recipe is perfect for a smaller Thanksgiving dinner, whether it's just friends or a small family! Where you don't have to wait hours for a whole bird to cook.
The tender breast meat is loaded with flavorful meat! Even if you aren't making this for Thanksgiving, it's a perfect recipe just cuz you want leftovers.
Because of the simple ingredients, it's the best turkey breast you have ever tasted, perfect for slicing and serving immediately or for thick slices for amazing leftover turkey sandwiches!.
This recipe is perfect for a Traeger grill/pellet smoker, ceramic big green egg, or traditional charcoal / offset smoker! See our notes in the recipe card for each!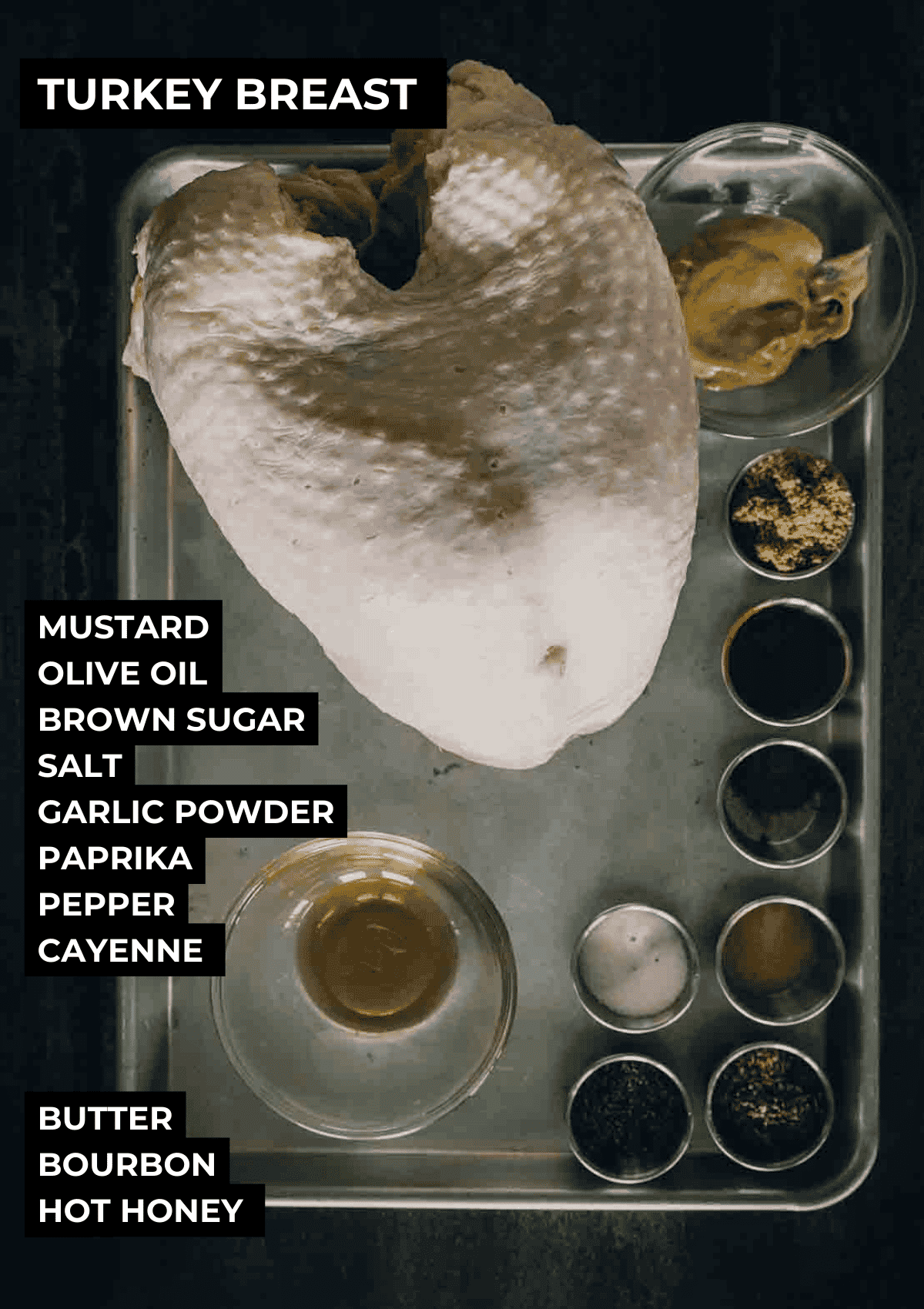 Smoked Turkey Ingredients
Make sure to check out our tips for The Best Wood for Smoking Turkey before you get started to set yourself up for success.
Turkey Breast – We use four to five-pound bone-in whole breast for this recipe which will most likely serve anywhere from 4-5 people tender, juicy white meat depending on the size of the breast (overall weight). We use bone-in for this recipe and do not recommend a boneless turkey breast, only because it will cook quicker, usually is just half the whole turkey breast (one) in size and would only feed half the people. Be sure to save the leftover bones for homemade turkey stock.
Mustard and Olive Oil – The acidity in mustard helps break down the meat for a more tender texture. We love using garlic dijon mustard/aioli for this as a bonus flavor!
Brown Sugar and Seasoning – You'll use a simple blend of brown sugar mixed with kosher salt, garlic powder, paprika, ground black pepper, and cayenne pepper. It's the perfect blend of sweet, smoky, and spicy.
Butter, Bourbon, and Honey – This makes up a deliciously sweet basting liquid to give the turkey more flavor and keep it moist during the smoking process.
How to Make This Smoked Turkey Recipe
THE DAY BEFORE SMOKING:
Make sure to thoroughly pat dry your turkey breast with paper towels and check the cavity to remove gizzards, turkey neck, or any remaining ice. It's important to dry the cavity too.
Combine mustard and olive oil and rub the mixture all over the turkey breast. In another small bowl, combine all of the spices, then rub them all over the turkey. Wrap in plastic wrap and store in the fridge overnight.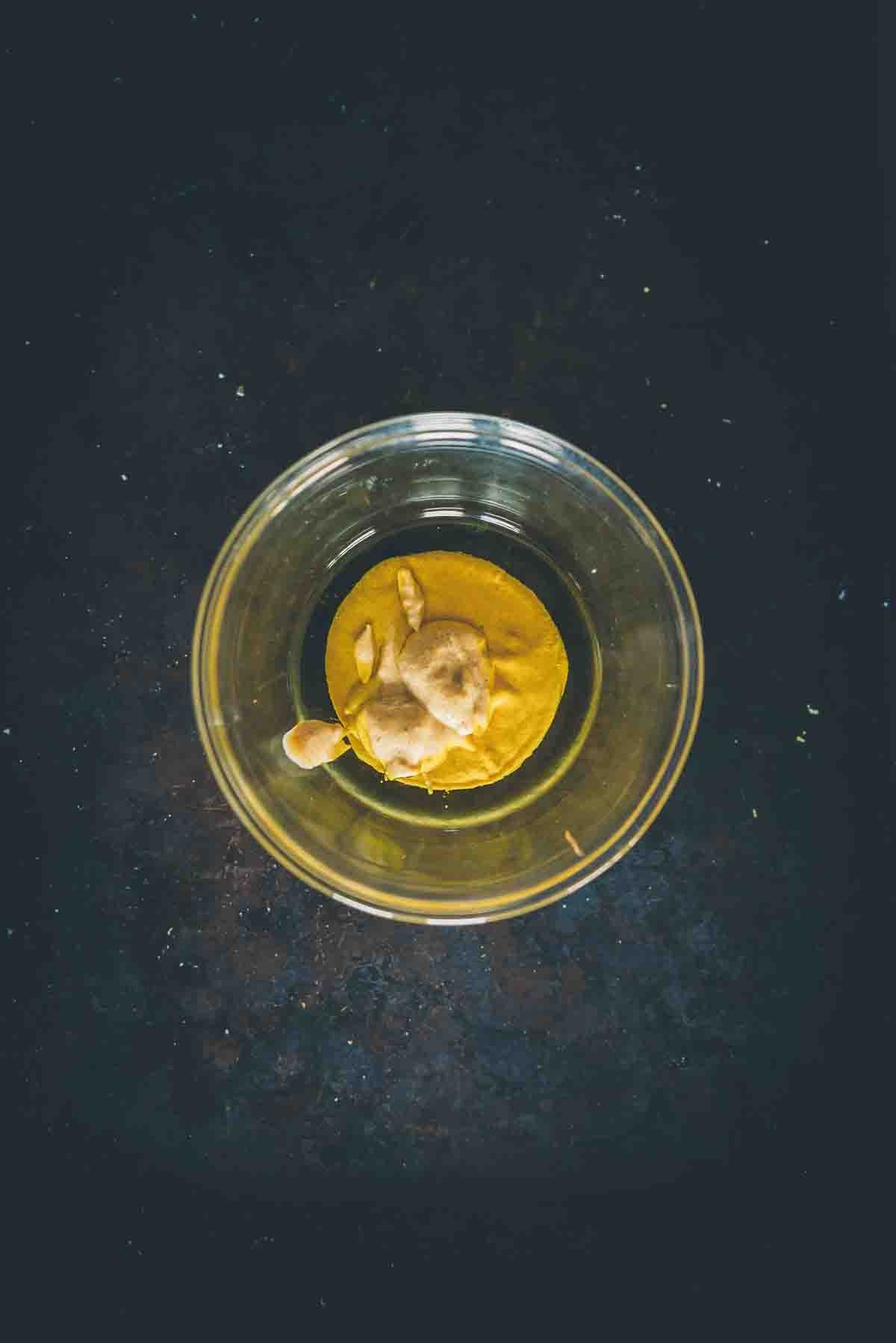 THE DAY OF SMOKING:
Prep the smoker for 225ºF. Prep a drip pan and water tray if needed, then place the turkey in the smoker and add wood chips. Smoke for 1½ hours, refresh chips if needed, then smoke for another hour. Or if you are using a Traeger pellet grill, set the grill to smoke and then prep it for 225 degrees F according to the manufacturer's directions.
If you have a Traeger smoker or any pellet grill, Follow the exact steps, and use a smoker box filled with wood chips for added smoke flavor. Simply place the box right on the grill grates in the hottest corner. We love hickory, maple, and pecan chips for this turkey breast.
In a saucepan, combine butter, bourbon, and honey until the butter is melted. Use that mixture to baste the turkey, then continue to cook. After 15 minutes, baste again and cook until the internal temperature of the turkey breast is 165 to 170 degrees F with an instant-read thermometer.
Remove from the smoker, cover with foil, and let the turkey breast rest for 15 minutes before slicing and serving.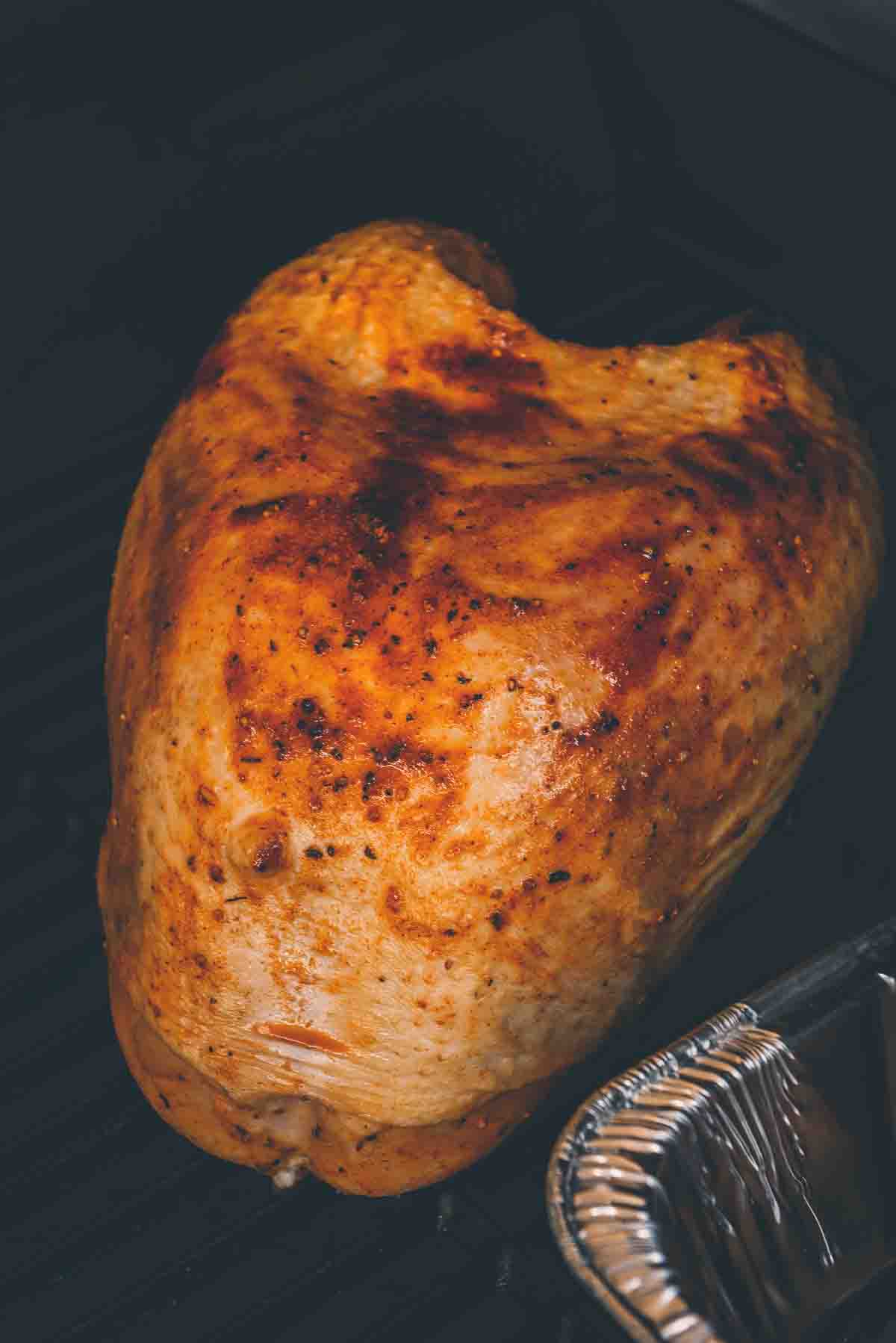 Girl Carnivore Expert Recipe Tips
It's important to check your bird 2 to 3 days before to make sure it's thawing properly.
Top with some turkey gravy for the ultimate flavor combo!
What to Serve With Smoked Turkey Breast
Serve up this turkey breast for Thanksgiving with a spread consisting of Keto Cranberry Sauce, BBQ Glazed Smoked Brussels Sprouts, or Mashed Potatoes and Roasted Green Beans. For dessert, finish your dinner off with a generous slice of pumpkin pie!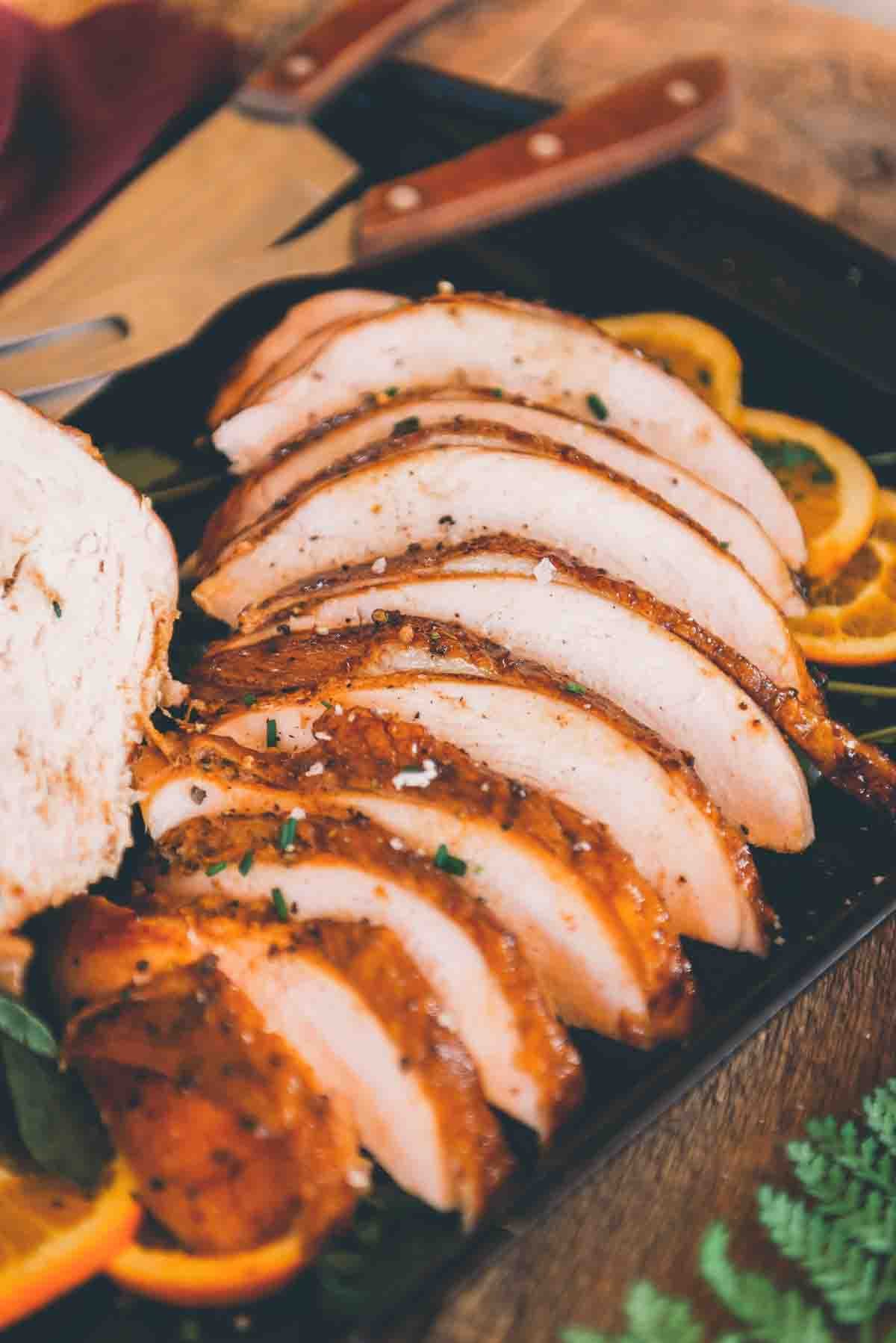 Leftovers & Reheating
Leftover turkey breast will last in an airtight container in the fridge for 3-4 days or in the freezer for 2-3 months.
To reheat, thaw in the fridge if frozen, then microwave in small portions or warm in the oven at 300ºF with a splash of broth to moisten.
Looking for ways to use up your leftovers? Check out my classic hot brown or my leftover smoked turkey sandwich recipe.
Recipe FAQs
How long does it take to smoke turkey breast?
This depends on the size of the breasts, but I usually plan on about 30 minutes per pound to smoke the turkey. The five-pound turkey breast I used in this recipe took about 2½ hours to cook all the way through.
As always, the best way to tell if meat is done cooking is to use a meat thermometer. The minimum internal temperature of the turkey should be 165-170ºF, according to the USDA.
Do you have to brine turkey breast before smoking?
Yes, but not in the traditional way. For this recipe, we're skipping the wet brine and using a dry brine of mustard, oil, sugar, and seasonings.
Just pat the turkey dry, coat the turkey breast in that mixture the night before, let it sit in the fridge, and soak in all that flavor! The key is to make sure to get under the skin to really coat the meat!
Do you need to baste turkey breast?
We recommend it. Basting the turkey in honey, bourbon, and butter not only adds flavor but also ensures that the meat remains moist as it cooks. Since turkey is a lean meat, it's more prone to drying out. Basting reduces the risk of that happening!
It also gives a beautiful golden brown color to the juicy turkey breast and helps to make crispy skin with tons of flavor.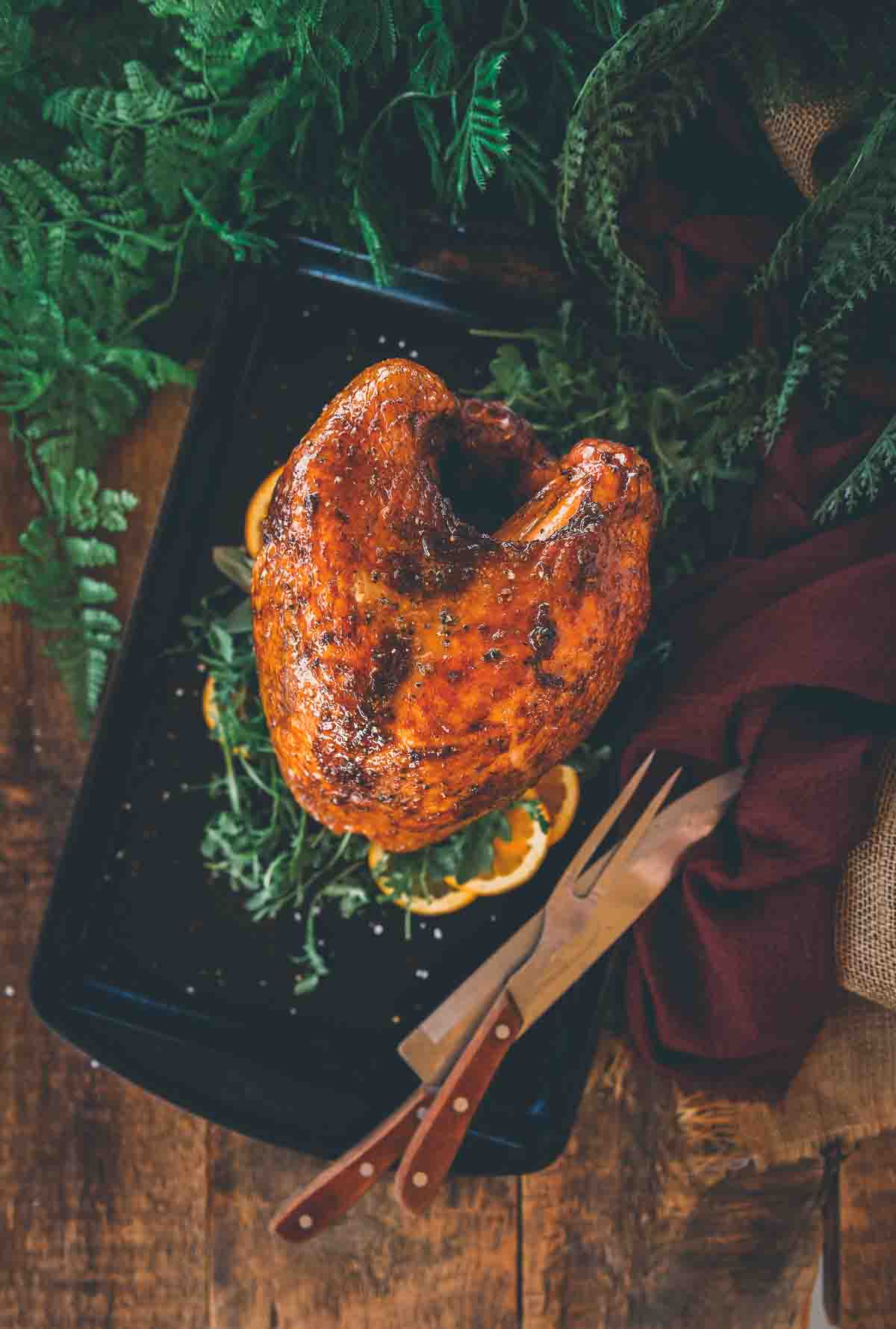 If you're trying to impress a smaller crowd, this simple Smoked Turkey Breast recipe is the way to go! The slow cooking process from the smoker produces a delightfully juicy bird loaded with flavor in every bite. If you try this recipe, please rate the recipe card and leave a comment below to help out the next reader!
Smoked Turkey Breast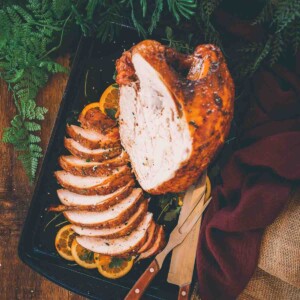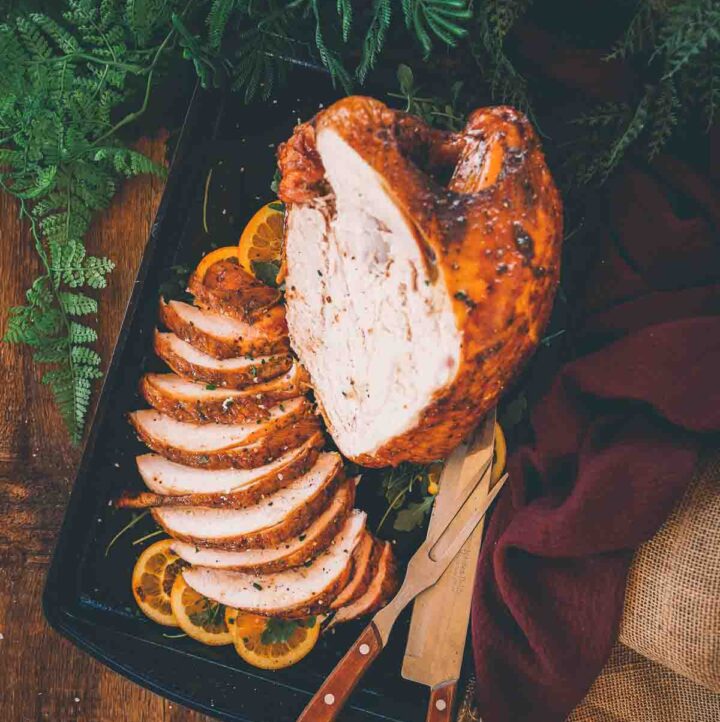 Make the best smoked turkey breast with this easy recipe. A simple wet rub and then a buttery bourbon glaze make every bite moist, tender, and delicous!
Ingredients
For the Smoked Turkey Breast
4-5

lb

turkey breast

2

tsp

mustard

2

tsp

olive oil

1

tbsp

dark brown sugar

1

tsp

salt

1

tsp

garlic powder

1

tsp

paprika

1/2

tsp

ground black pepper

1/4

tsp

cayenne or dark chili powder
For the Bourbon Glaze
4

tbsp

butter

1

tbsp

Bourbon

1

tbsp

hot honey
Instructions
The day before smoking, combine the mustard and olive oil in a small bowl. Rub the turkey breast all over with the mixture.

In another small bowl combine the spices. Rub the turkey breast heavily with rub. Wrap in plastic wrap and let the flavors mingle in the fridge over night.

Prep smoker according to manufacturers directions for a heat of 225 degrees F.

Prep your drip pan and water tray if needed. Place turkey in smoker and add wood chips.

Smoke for 1 1/2 hours and refresh chips as needed. Smoke for another hour.
Make the glaze
Make the basting liquid. In a small saucepan, combine the butter, bourbon, and honey over low heat until butter is just melted. Stir to combine.

Baste the turkey with the maple mixture. Close smoker and in 15 minutes baste again.

Once the turkey temps at 165F, remove from smoker, cover with foil, and rest for 15 minutes before slicing.

Slice and serve.
Notes
Always make sure to start with a completely thawed turkey breast. Once thawed, remove the gizzard and any other packages from inside the cavity and pat dry.
Store leftovers in an airtight container for up to four days.
We used Mike's Hot Honey for this recipe, and it adds a touch of sweet heat. If you are worried about heat, use a traditional honey instead.
Nutrition
Calories:
217
kcal
|
Carbohydrates:
6
g
|
Protein:
32
g
|
Fat:
7
g
|
Saturated Fat:
2
g
|
Cholesterol:
91
mg
|
Sodium:
743
mg
|
Potassium:
381
mg
|
Sugar:
5
g
|
Vitamin A:
260
IU
|
Calcium:
28
mg
|
Iron:
0.9
mg