This Sausage, Egg, and Cheese Bagel will become the best part of getting out of bed in the morning. Perfectly toasted bagels are layered with savory breakfast sausage, egg and veggie scramble, and melty cheese.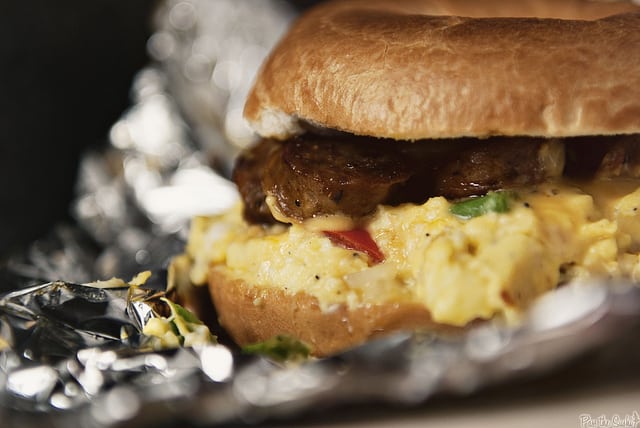 Hey there, breakfast lovers! Need some homemade breakfast recipes that taste just as good, if not better, than your fast food favorites? This delicious sausage, egg, and cheese bagel sandwich recipe is a great breakfast option to start your day. This classic breakfast sandwich uses simple ingredients to produce a filling, flavorful dish that will surely keep you full for hours! And, just like our make-ahead breakfast burrito, it's the perfect easy meal for busy mornings or camping adventures!
What Is A Sausage, Egg, and Cheese Bagel?
This Sausage, Egg, and Cheese Bagel is the breakfast sandwich of champions. This tried-and-true classic has been satisfying morning cravings for years. This bad boy is composed of a fluffy egg patty or fried egg, savory sausage, and a slice of gooey cheese, all nestled between a warm, toasty bagel. It's a perfect balance of flavors and textures that will make you want to skip the snooze button. If you love pork recipes, you're going to want to give this delicious recipe a try!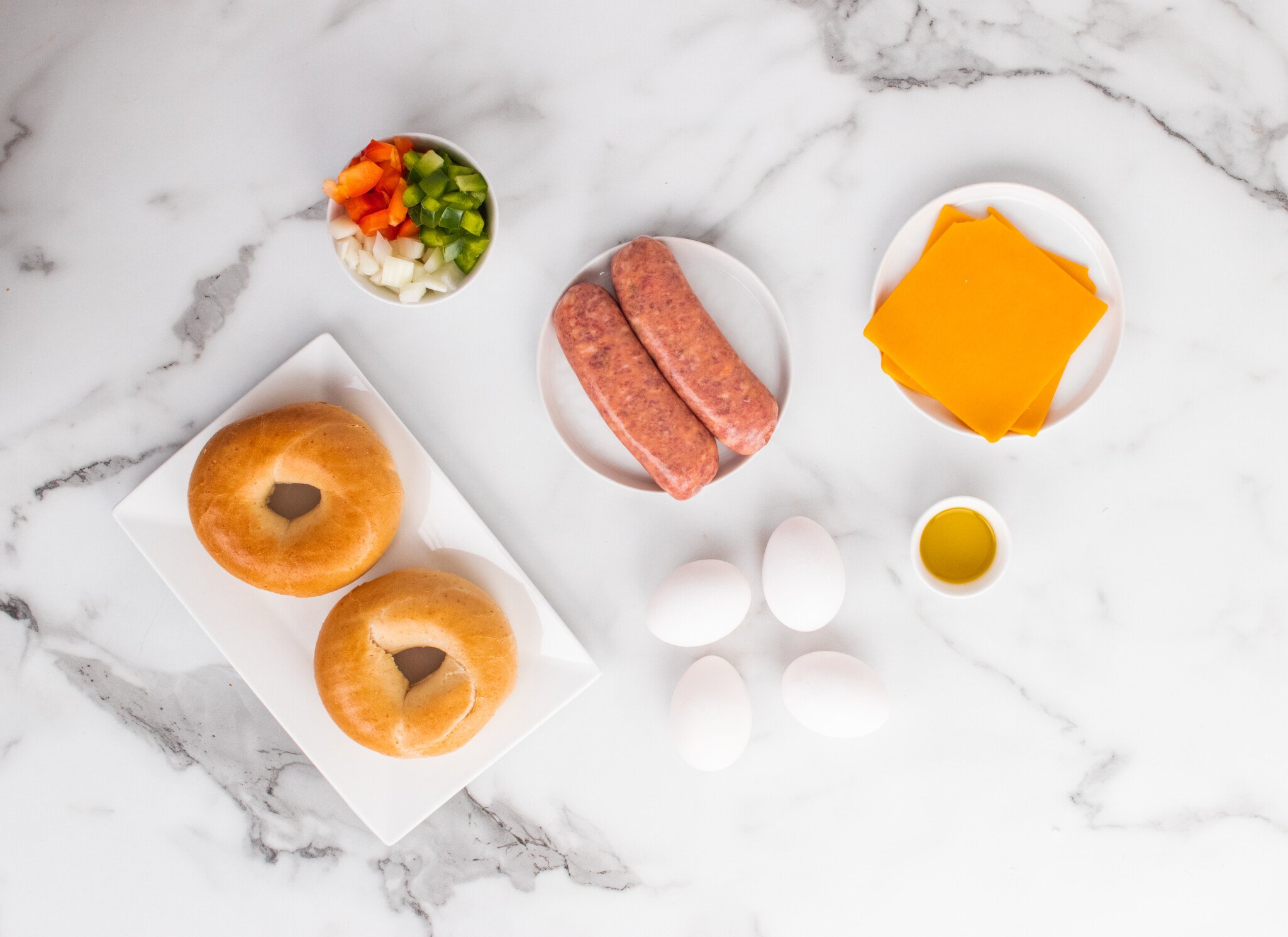 Sausage, Egg, and Cheese Bagel Sandwich Ingredients
Sausages – Use whatever favorite breakfast sausage you like!
Olive Oil – You'll need a little bit of oil to brown the sausages and sauté the veggies.
Veggies –A simple combination of red pepper, green pepper, and onion is a great option. Feel free to add other veggies, too if you like!
Eggs –You can scramble the egg with the veggies to create an all-in-one scramble or cook the egg separately.
Cheese – Use your favorite melty cheese! Try cheddar, Swiss, pepper jack, Havarti, provolone, American, gouda, you name it.
Bagels – You can use whatever bagel you like best!
How to Make A Sausage, Egg, and Cheese Bagel Sandwich
Heat a cast-iron skillet, slice the sausage into ¼"-thick pieces, and cook until brown on both sides. Set aside and wipe out the skillet with a paper towel.
Add oil to the same skillet, then add in the veggies and cook until tender.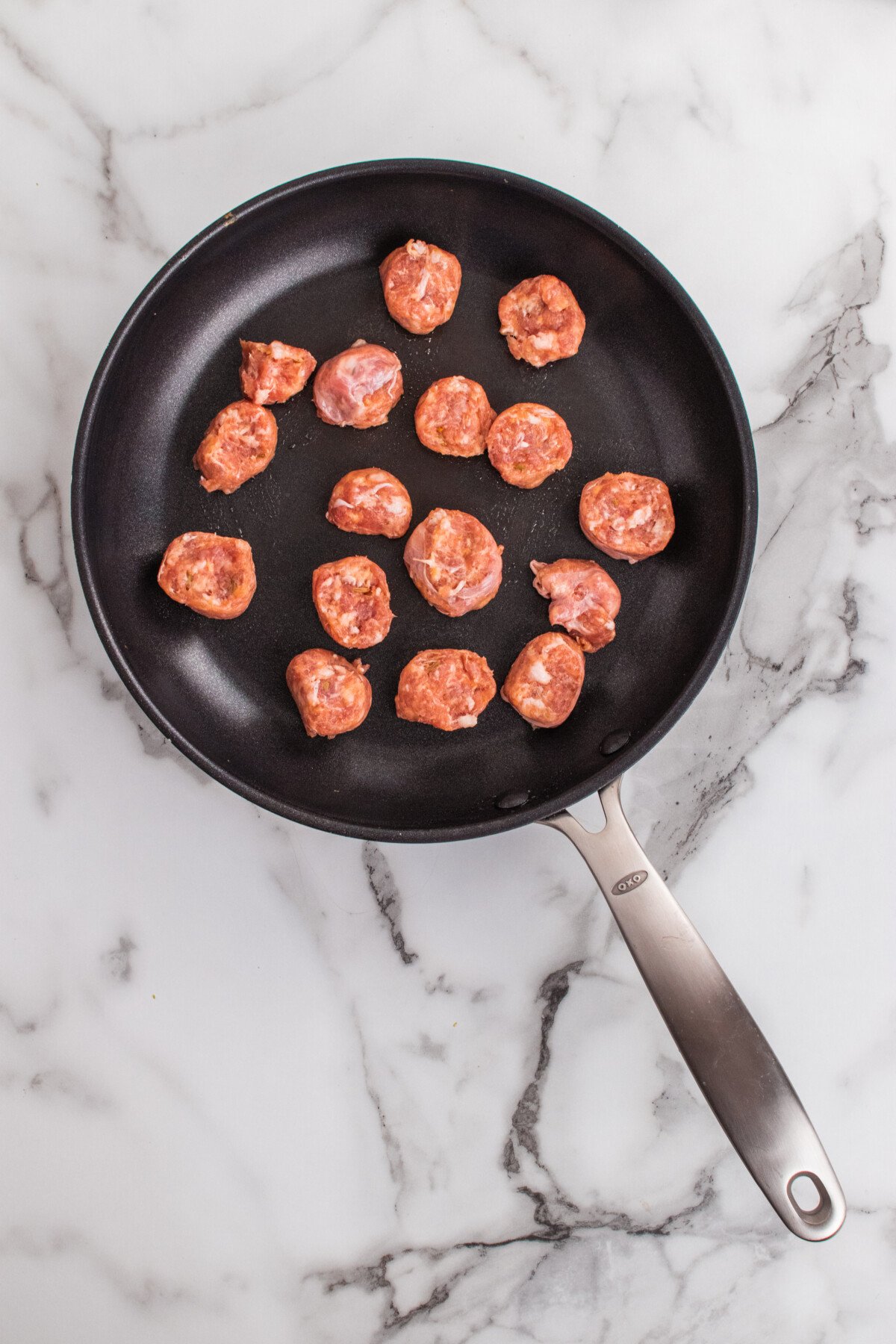 In a bowl, whisk the eggs until frothy. Add to the skillet and scramble. Remove from heat.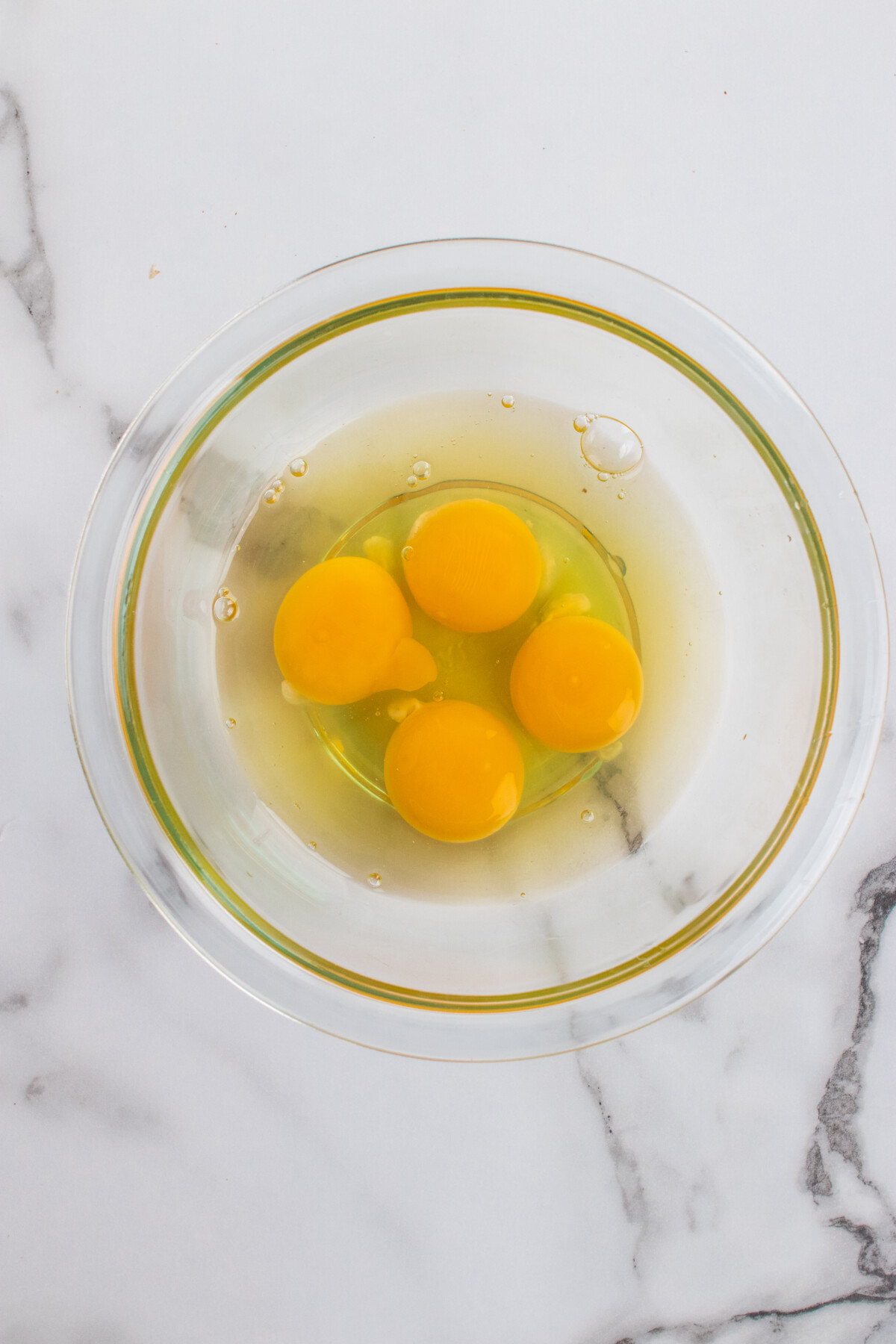 Place the bagel bottoms on sheets of aluminum foil. Top with scrambled eggs and veggies, then sausage and cheese.
Top with the other half of the bagel, wrap in foil, then place in the toaster oven and toast until the bagel is softened and the cheese melts.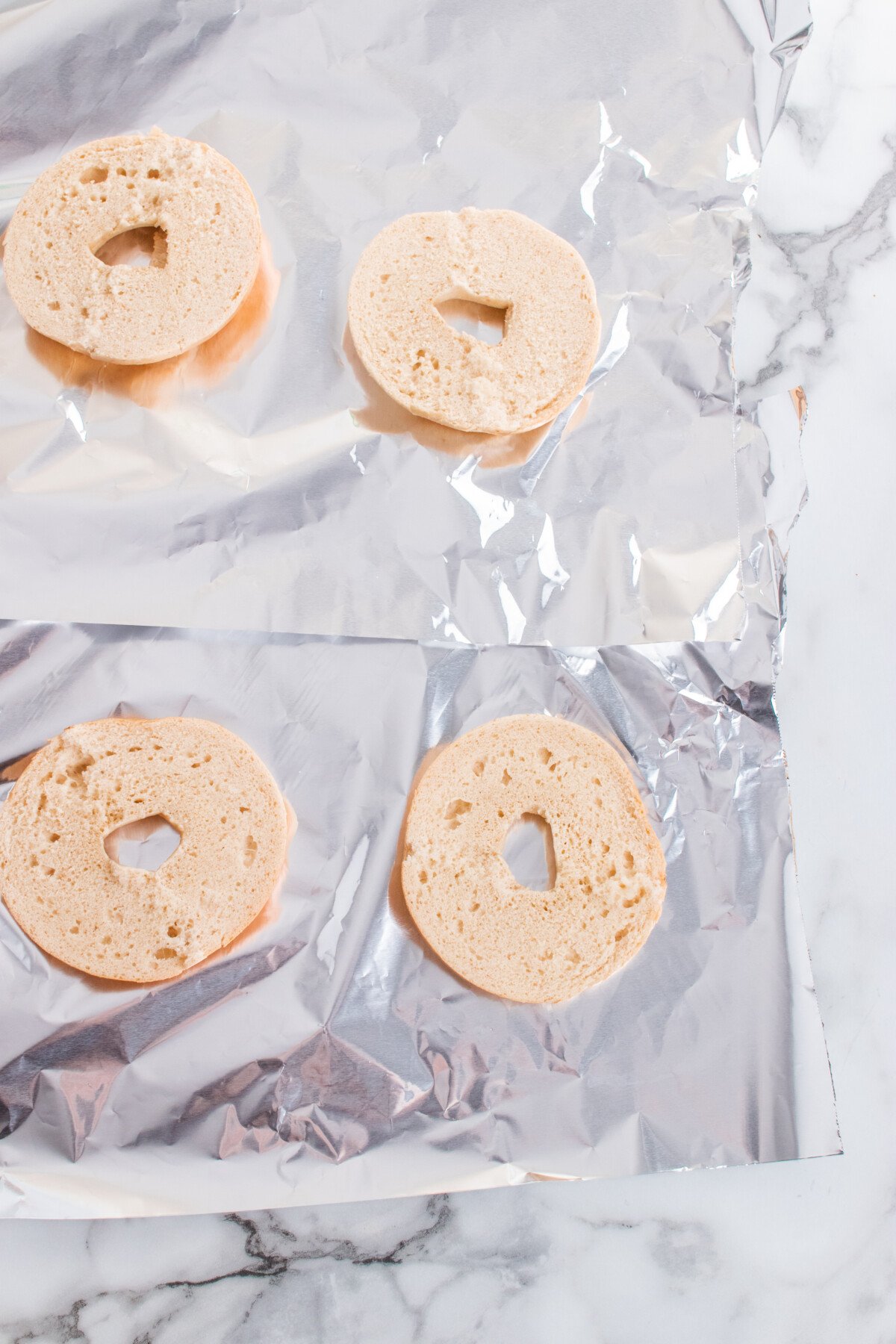 Breakfast is served.
Girl Carnivore EXPERT RECIPE TIPS
Use medium heat when cooking the sausage patty to ensure it is evenly cooked and doesn't burn.
For a cheese-lovers dream, use a slice of cheese in your egg mixture and a slice on top of the sausage patty.
Mix your egg mixture in a small bowl to ensure it's well-blended before cooking if you're making scrambled eggs.
If you're using leftover cooked egg, heat it up in the microwave for a few seconds before assembling your sandwich.
Pre-toast the bagel until golden brown for a crunchier sausage, egg, and cheese sandwich!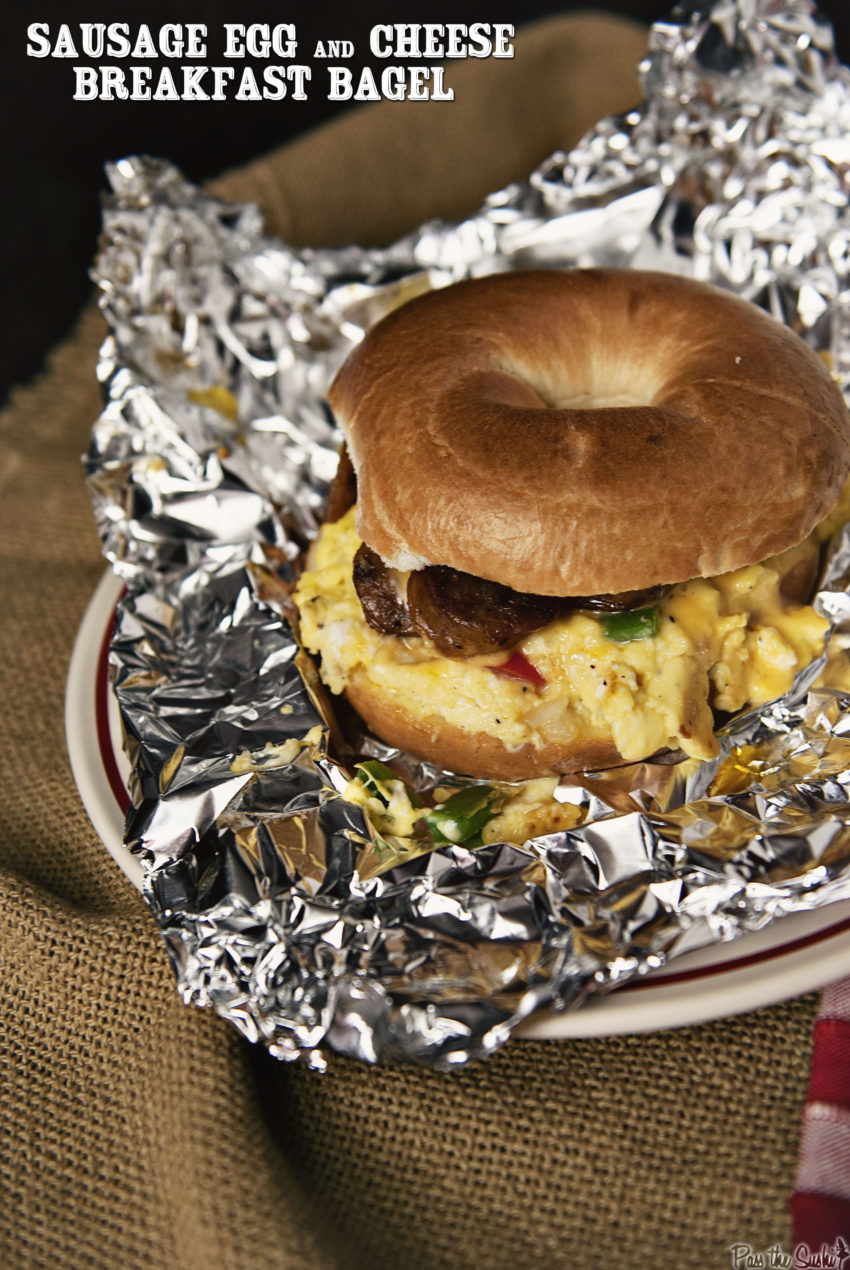 Leftovers & Reheating
Store your leftover egg mixture in an airtight container or plastic wrap in the fridge for up to 3 days. To reheat:
​Turn the oven on low and heat the sandwich, tightly wrapped in foil, until warm.
Place sandwich in a toaster oven and turn on the "toast" option.
Reheat sandwich in the microwave until warm. (Our least favorite option as the bread can get tough and chewy in the micro).
What to Serve With A Sausage, Egg, and Cheese Bagel Sandwich
Use bacon. Looking for a little extra crunch? Try adding crispy bacon! Who doesn't love extra meat for breakfast?
Sausage patties also work (go full on Jimmie Dean)
Add avocado. Sliced avocado is a delicious addition to this breakfast sandwich.
Use other veggies. You can easily cook more veggies with the onion and pepper to bulk it up even more. I love adding mushrooms, scallions, or spinach.
Spice it up. Love a kick of heat? Drizzle the bagels with hot sauce or Sriracha, or add some black pepper!
Skip the bagel and dive into this amazing Cheesy Baked Egg Toast instead! You can also use toasted English muffins or serve on a Kaiser roll or a buttermilk biscuit if you prefer!
Recipe FAQs
Should I use a fried egg or make scrambled eggs for this recipe?
You can make whatever kind of eggs you like! You can also use egg whites depending on your calorie needs! Just be warned, with a great fried egg, you have the runny yolk, so pack extra napkins.
What type of cheese works best for this recipe?
You can use cheddar cheese, American cheese, provolone cheese, etc.! Make sure it's a good melting cheese for the best results.
CAN THESE BREAKFAST BAGELS BE PREPPED AHEAD OF TIME?
Honestly, I don't recommend it. Once the sandwiches are assembled, they are best right away! However, if you want to get ahead a little bit, you cook the veggie and egg scramble, fry up the sausage, and store them separately in the fridge or freezer. They will last for up to 5 days.
Then, when you're ready to enjoy, simply assemble the sandwiches and toast wrapped in foil in a preheated oven, air fryer, or toaster oven. Keep in mind, they will take a little bit longer to cook through since the scramble and sausage will be cold.
---
This cheese breakfast sandwich will surely brighten up your morning and keep you satisfied throughout the day. With fluffy eggs, cheese, and savory sausage, this delicious breakfast will hit the spot! Be sure to rate the recipe card and leave a comment below to help out the next reader.
Sausage Egg and Cheese Breakfast Bagel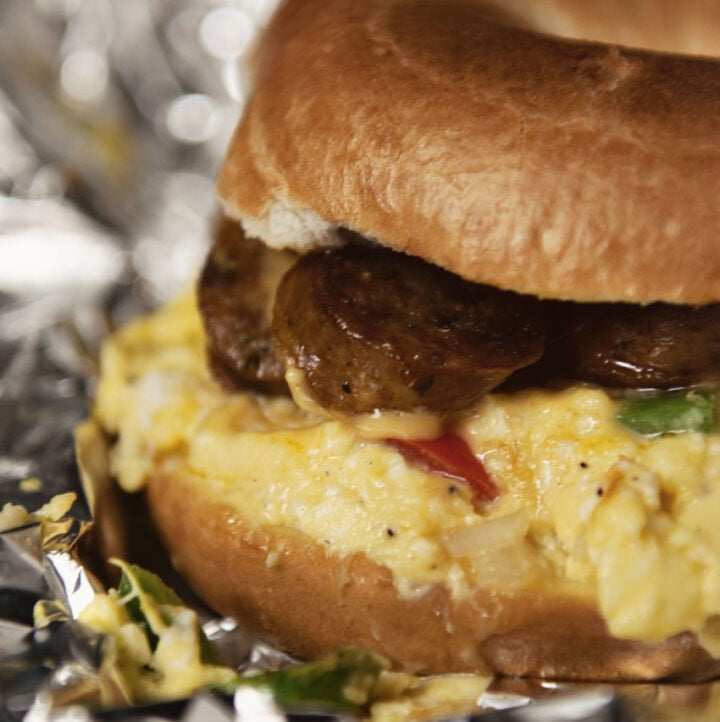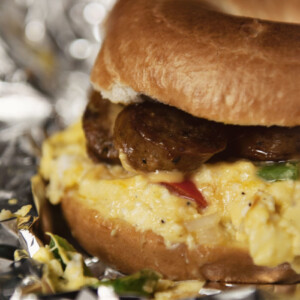 Start your day on a delicious note with our satisfying Sausage, Egg, and Cheese Bagel recipe, perfect for busy mornings or leisurely brunches. Savor the mouthwatering combination of juicy sausage, fluffy eggs, and melted cheese, all nestled in a warm, toasty bagel.
Ingredients
2 – 3

tomato basil sausages

or zesty flavor of your choice

1

tsp

extra virgin olive oil

1/8

cup

red pepper

diced

1/8

cup

green pepper

diced

1/4

cup

onion

diced

4

large eggs

or extra large if you are feeling up to it

2

slices

favorite cheese

2

bagels
Instructions
Heat skillet over medium heat. Slice the sausage into 1/4″ thick pieces and cook until brown on both sides. Set aside.

Wipe out skillet with paper towel. Keep oven on.

Add olive oil to skillet, swirl about. Add peppers and onions and cook for 5 minutes, until tender.

In a small bowl whisk the eggs until slightly frothy. Add to hot skillet and scramble. When set, remove from heat.

Arrange bagels bottoms over sheets of aluminum foil. Place scrambled eggs with vegetables, on bottom, followed by sausage and cheese.

Top with the other half and wrap in aluminum foil. Place in toaster oven and toast until bagel has softened and everything is good and melty. (really, that last part makes it epic).
Nutrition
Calories:
560
kcal
|
Carbohydrates:
59
g
|
Protein:
29
g
|
Fat:
21
g
|
Saturated Fat:
9
g
|
Cholesterol:
356
mg
|
Sodium:
861
mg
|
Potassium:
303
mg
|
Fiber:
3
g
|
Sugar:
1
g
|
Vitamin A:
1080
IU
|
Vitamin C:
20.9
mg
|
Calcium:
270
mg
|
Iron:
3.2
mg