These Quick and Easy Steak Tacos are the perfect hearty and filling street-style tacos. Made with a simple marinade, tender yet crispy bite-sized pieces of beef, toasted corn tortillas, and your favorite taco toppings.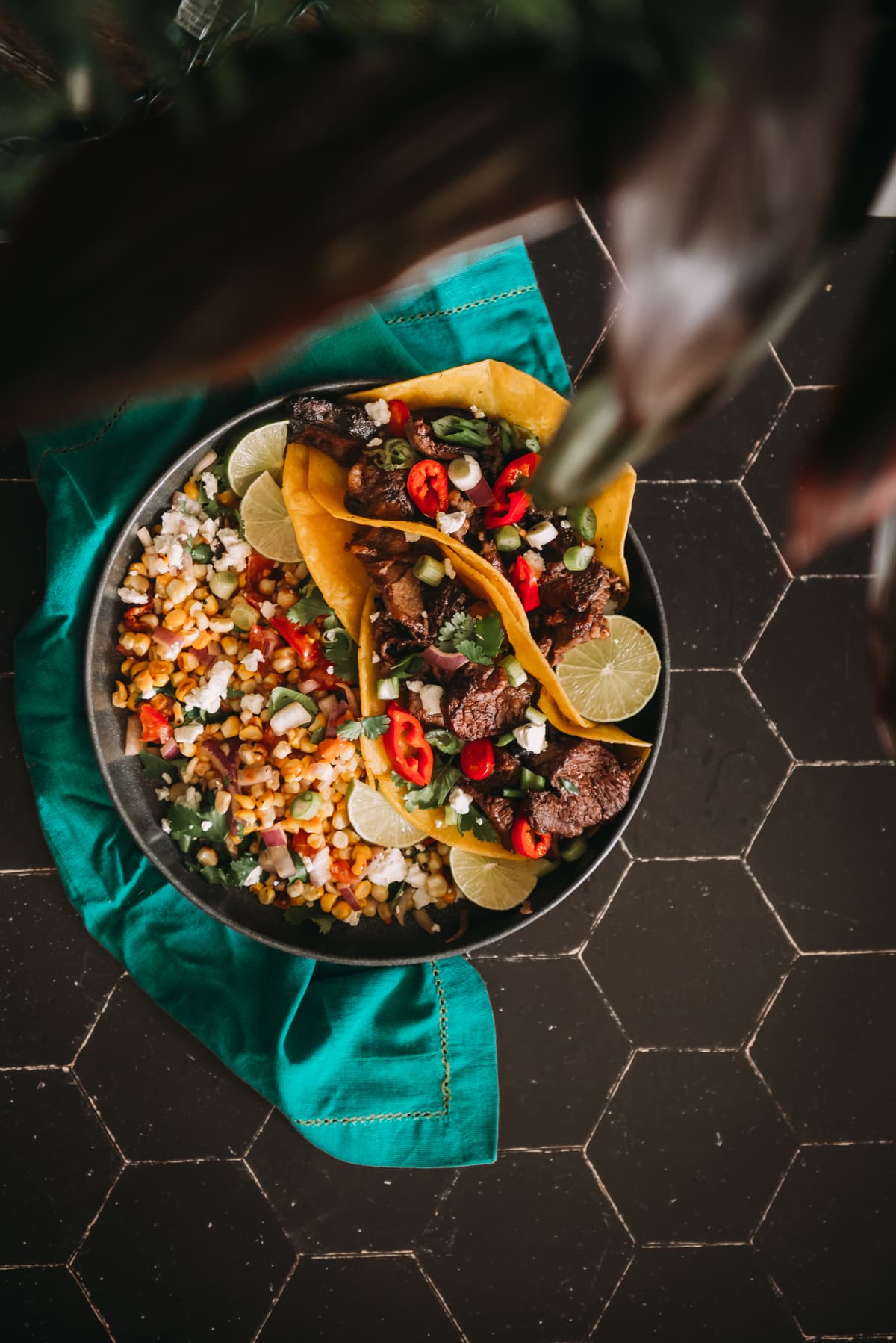 This steak taco recipe is simple and made with an affordable cut of steak that's transformed into tender, juicy, perfectly crisped bites. Load those up onto a toasted tortilla with your favorite toppings, and the best steak tacos just became an easy at-home dinner!
Talk about a quick and easy recipe! These steak tacos will not disappoint!
What is Steak Tacos
Steak tacos, or carne asada tacos, are commonly made with sirloin steak but can also be made with skirt steak, flank steak, ribeye steak, or flap steak. Wrap your tacos in warm tortillas and top with classics such as sweet peppers, onions, queso fresco, lime juice, cilantro, and anything else you can think of. You may also hear of delicious bavette steak tacos, which are tacos made with beef cut from the bottom sirloin section.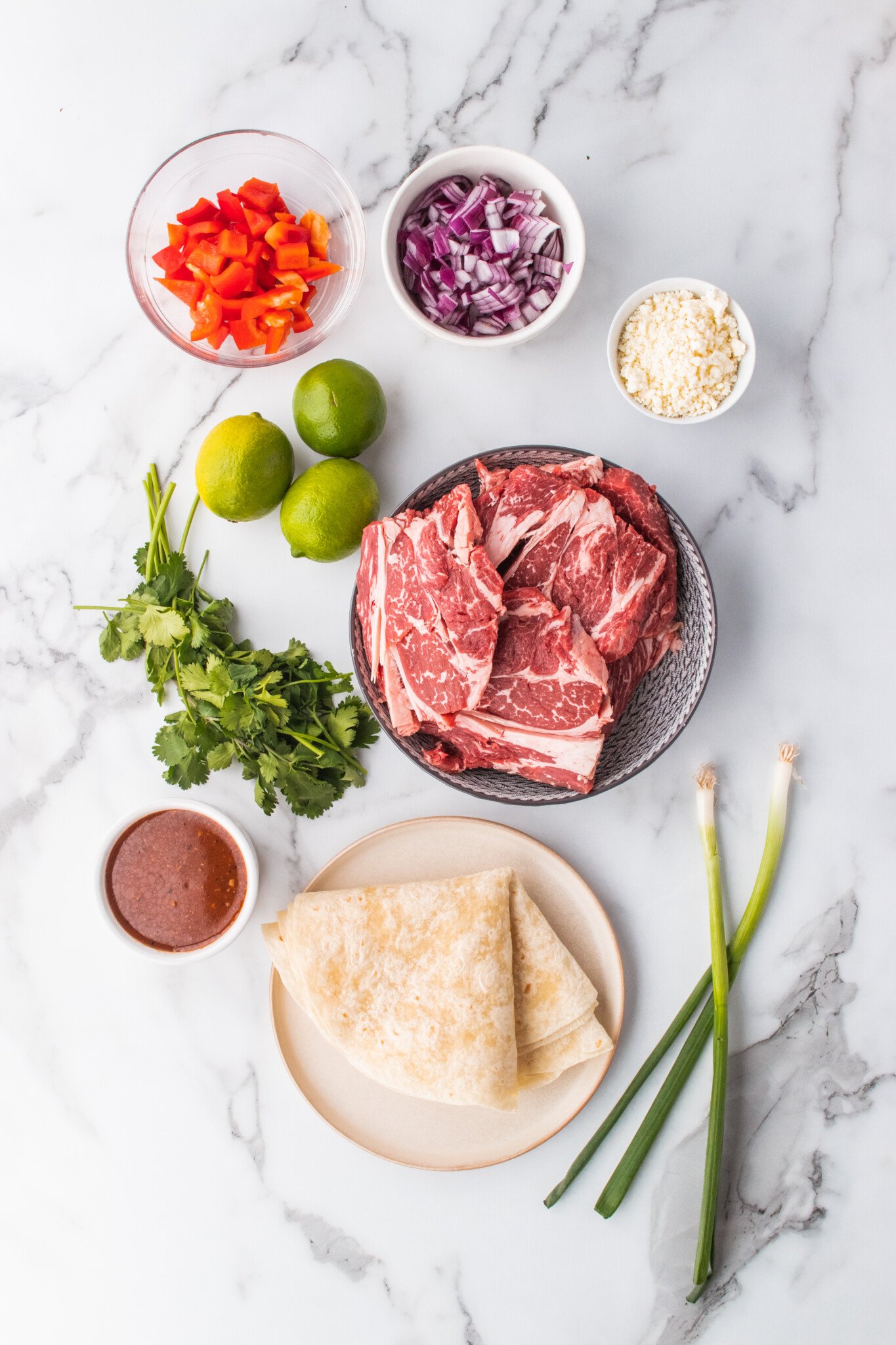 Ingredients Needed for Steak Tacos
For the grilled Chuck Steaks
Chuck Steaks – use thin-cut chuck steaks to get that slightly crispy yet tender texture and rich flavor.
Steak Taco Marinade – we're whipping up a simple marinade made with Head Country All-Purpose marinade, fresh lime juice, and fresh cilantro.
For the Tacos
Tortillas – both corn tortillas and flour tortillas work perfectly.
Cheese – cotija cheese crumbles perfectly over these tacos and is a fan favorite, but you can use whatever cheese you like best. Queso fresco or just shredded jack are great options too.
Toppings – classic toppings include diced red onion, sweet peppers, queso fresco, a squeeze of lime juice, chopped green onion, hot sauce, and a sprinkle of cilantro.
Other toppings people enjoy include sour cream, lettuce, and tomato.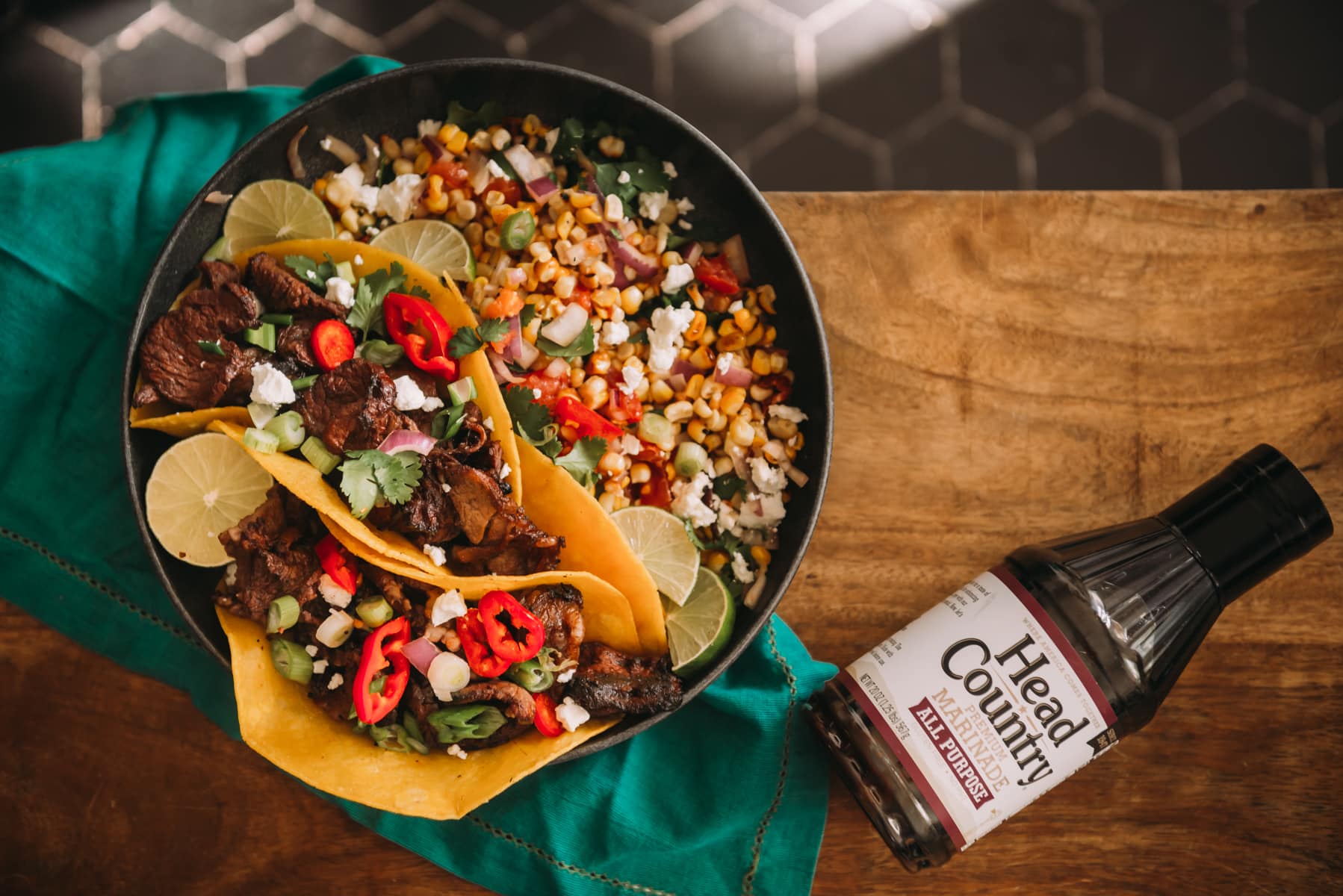 How to Make Steak Tacos
This steak taco recipe couldn't be easier! Simply prep and marinate the steak, grill it up, and assemble your tacos. Just 25 minutes of hands-on time is required!
Make the Steak Taco Marinade
In a large ziplock bag, mix the marinade with lime juice. Add the steak and cilantro, then seal the bag.
Use your hands to move everything around to coat the chuck steaks. Place the bag into the fridge and marinate for 6 hours.
Grill Steak
Preheat the grill for direct heat at 400-450ºF. Remove the steak from the marinade and place it directly on the grill.
Grill, rotating as needed until your desired doneness is reached. Watch out. There will be flare-ups. Keep in mind that there is a lot of fat connecting chuck steaks. It is recommended to cook these steaks a little longer (past the oh-so-desirable rare) to allow the fat to render.
Remove the steaks from the grill and allow them to rest for 5 minutes.
Assemble the Tacos
Thinly slice the steaks into small pieces and spritz them with fresh lime juice.
Serve on toasted corn tortillas with your favorite toppings! Use the small street taco-size tortillas if you can find them, and bonus points for warm tortillas heated right on the grill when serving.
Garnish with scallions, peppers, onions, and queso fresco cheese.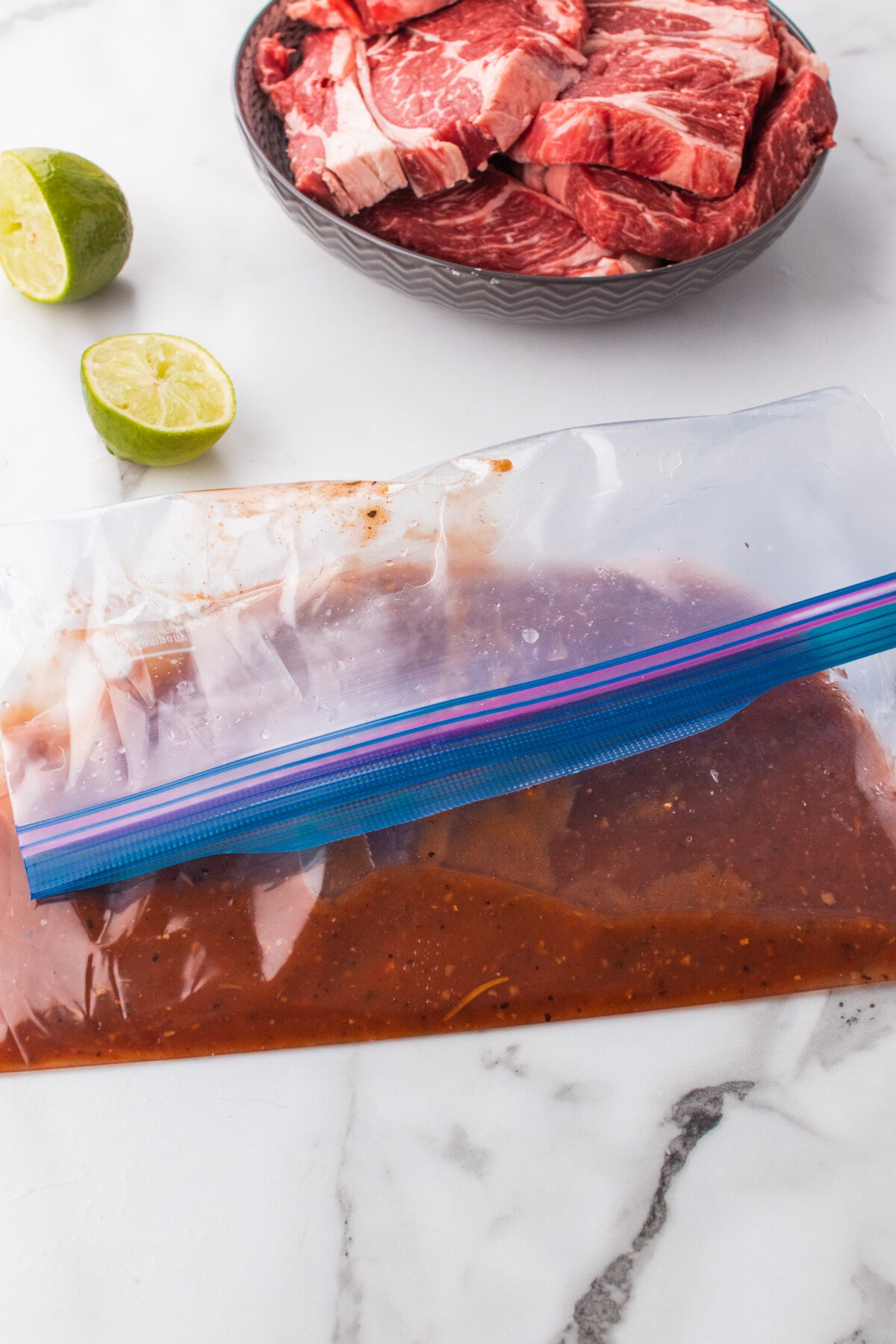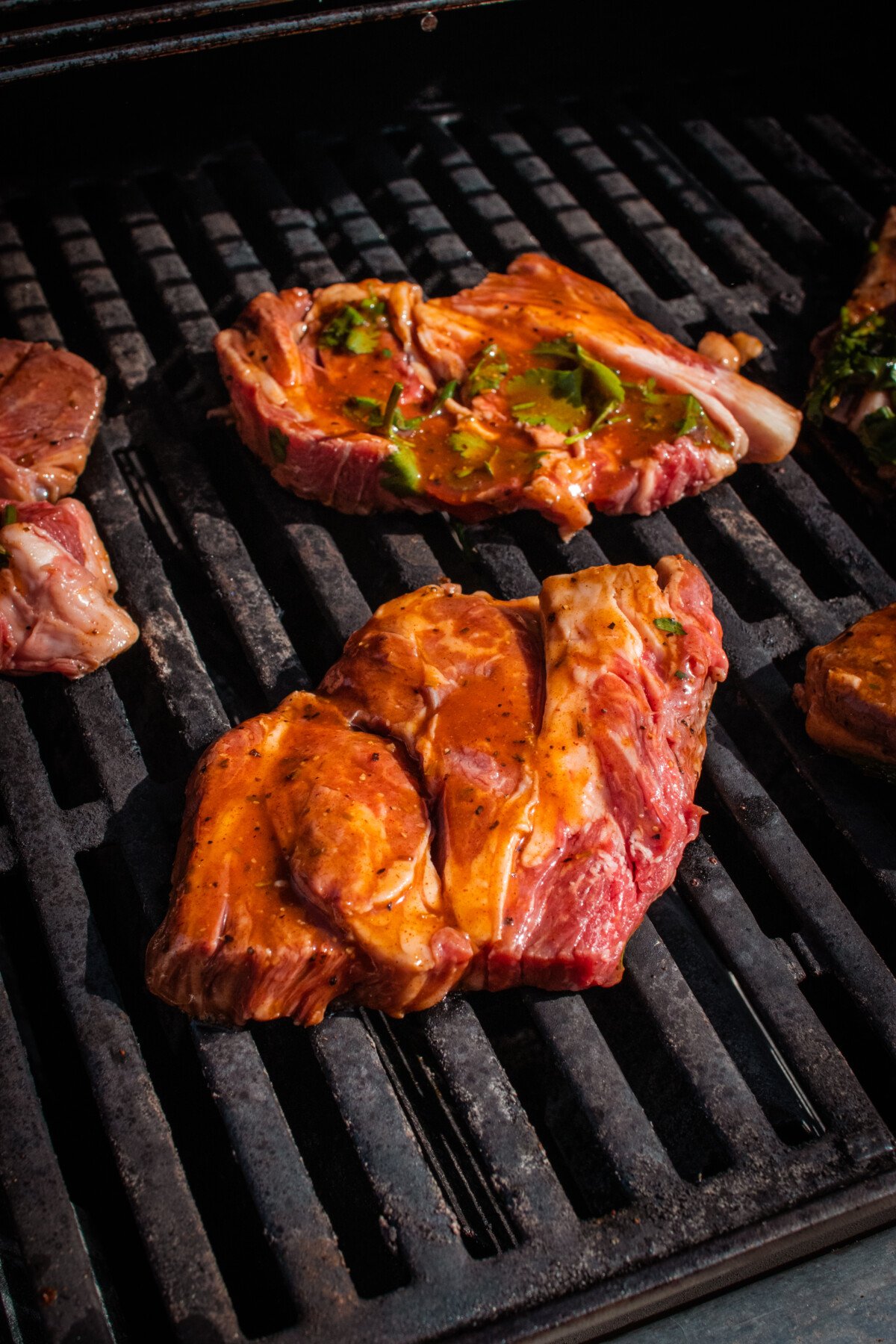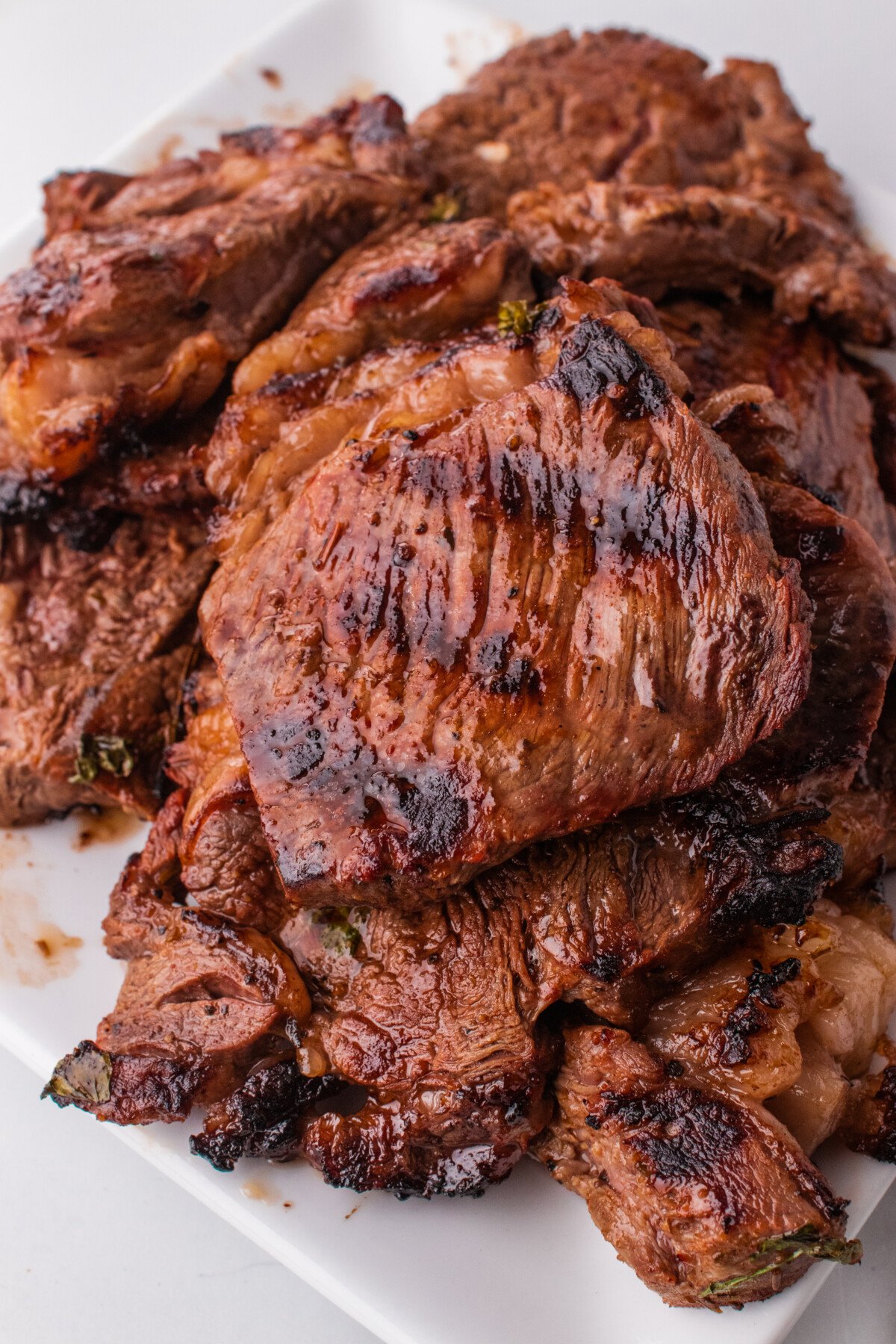 Girl Carnivore EXPERT RECIPE TIPS
If the steaks are too long, cut them into manageable portions for grilling before placing them in the marinade.
Marinate for at least 6 hours. The beef absorbs tons of flavor, so marinate for at least 6 hours. Don't short yourself on all that goodness!
Grill past rare. There is a lot of fat connecting chuck steaks, so cook these steaks a little longer to allow that fat to render. These mark for charred delicious bites.
Let the steak rest. After the beef is done cooking, let it rest for 5 minutes before slicing into it to allow the flavor and juices time to redistribute.
Cut against the grain. When you slice the steak, cut it against the grain. This shortens the muscle fibers creating a more tender bite.
This beef is great for a taco salad or power bowl as well.
What to Serve with Steak Tacos
Go the extra mile and serve with grilled corn (elotes) or corn salsa. Refried beans or fried street potatoes are also great options.
Keep it keto and skip the grilled corn and serve with crisp slaw.
Whip up some fresh pico de gallo and guacamole too, or just serve fresh avocado slices. Creamy avocado salsa also tastes amazing served with this lean steak recipe.
Leftovers and Reheating
The steak tacos are best enjoyed immediately after the steak comes off the grill, but leftover steak can be stored in an airtight container in the fridge for up to 3 days. To reheat, warm on low on the stove with a drizzle of oil until heated through.
Be sure to store all of the taco components separately to avoid any sogginess.
If you don't want to have tacos for leftovers, try turning your leftover steak into easy dinners such as Sous Vide Flat Iron Steak, or a Steak Potato Power Bowl. The marinated steak will taste delicious in any dish!
Recipe FAQs
What kind of steak do you use for tacos?
You can use pretty much any cut of steak for steak tacos, but thin-cut chuck steak is where it's at. These quality steaks cook quickly and absorb a ton of great flavor from the marinade, and are FAR cheaper than other cuts. The sheer thinness of the cut also allows the meat to crisp up ever so slightly, allowing that seared texture we crave!
If you can't find thin-cut chuck steak, hanger steak, skirt steak, sirloin steak, or flank steak tacos work as well. Keep in mind different cuts of beef will cook at different speeds.
Can I cook the steak on a cast-iron skillet?
Yes, a cast-iron skillet works just as well as an outdoor grill! Fire up the cast iron skillet, blackstone grill or griddle on taco night and enjoy the same delicious flavors.
No need to head to the taco truck to get a taste of your favorite tacos; just whip them up in your own kitchen. These will quickly become some of the best tacos on your Taco Tuesday menu. Enjoy with the whole family! Tried this recipe? Be sure to drop a comment and rate the recipe card to help out the next guy!
Quick and Easy Steak Tacos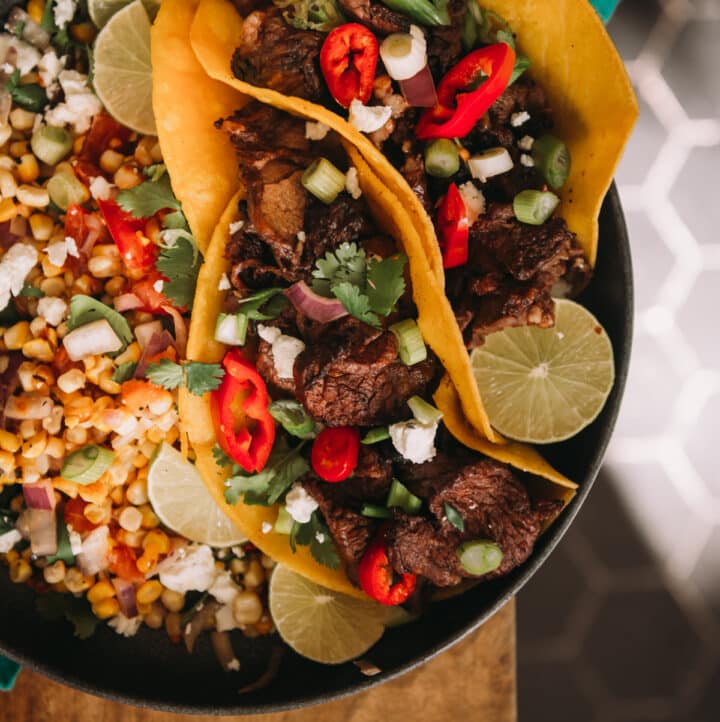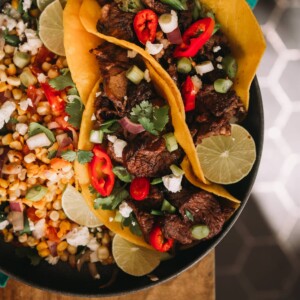 Delight your taste buds with our Grilled Steak Tacos recipe, featuring tender, juicy steak and a medley of fresh, vibrant toppings. Perfect for any occasion, enjoy these mouthwatering tacos for a delicious and satisfying meal that's sure to impress.
Ingredients
For the chuck steaks
2

lbs

thin cut chuck steaks

3

Limes

juiced

¼

cup

Cilantro

chopped
For the tacos
Corn tortillas

Cotija

Red onion

Sweet peppers

Lime

Scallions

Queso Fresco

Cilantro
Instructions
Make the Marinade
In a large resealable bag, mix the Head Country All-Purpose Marinade with the lime juice.

Add the beef and cilantro.

Seal the bag and using your hands, move everything around to evenly coat the chuck steaks.

Place in the fridge for 6 hours to marinate.
Grill the beef
When ready to grill, preheat your grill for direct heat around 400-450F degrees.

Remove the beef from the marinade, discard the marinade, and place the beef directly on the grill. The liquid from the marinade will cause flareups that should quickly subside; use long grilling tongs and caution.

Grill the chuck steaks, rotating and maneuvering as needed to evenly cook all of the portions.

Grill to desired doneness.

Remove the steaks from the grill and allow to rest for 5 minutes.
Assemble the tacos
Chop the steaks into thin strips and spritz with fresh lime juice.

Set up a taco bar with toasted corn tortillas and all of your desired toppings. Invite everyone to build their own tacos.
Notes
Beef is safe at 135 per USDA, however, the chuck steaks have a lot of fat in them and I find that for these steak tacos the beef is better when the fat renders and they are cooked past medium-rare. If the steaks are too long, cut them into manageable portions for grilling before placing them in the marinade. No grill? This recipe works on a griddle or in cast iron as well. This beef makes for a great taco salad or power bowl if you aren't feeling the corn tortillas (or a great use for leftovers)
Nutrition
Serving:
2
g
|
Calories:
151
kcal
|
Carbohydrates:
6
g
|
Protein:
12
g
|
Fat:
9
g
|
Saturated Fat:
4
g
|
Polyunsaturated Fat:
1
g
|
Monounsaturated Fat:
4
g
|
Trans Fat:
1
g
|
Cholesterol:
39
mg
|
Sodium:
318
mg
|
Potassium:
216
mg
|
Fiber:
1
g
|
Sugar:
4
g
|
Vitamin A:
32
IU
|
Vitamin C:
4
mg
|
Calcium:
12
mg
|
Iron:
1
mg