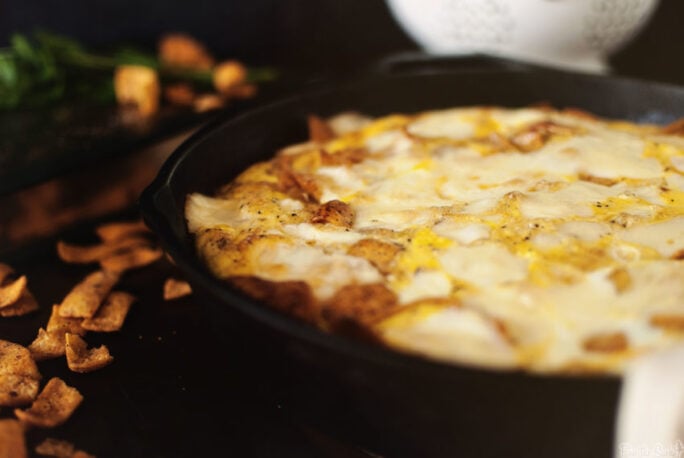 I know what you're thinking. Gross. A Frito Frittata? What in the world?
Well, you're wrong.
Because Frito Frittata is simply delicious
Even though the frito frittata sounds nothing like it's classic savory egg big brother, I'm here to tell you it's freaking awesome. Even I was skeptical about the Frito baked, tabasco loaded meaty breakfast. And then I took my first bite. And after the searing burns on my tongue calmed down, I took another. I was in love. Impressed. And shocked by how well this all came together.
I get that the ingredients sound weird, but it works.
Trust me.
Making a frito frittata
If you are not familiar with what a frittata is, then you may be familiar with a crustless quiche. Pretty similar, but frittata is the fancy Italian way to say it.
Some people think frittata is Mexican food, but only by way of Italy. Although you could make the case that using corn tortilla chips like fritos does tip it to the Mexico side of the equation.
However, regardless of the origin, the dish is super easy to make. You whip some eggs. Throw in some ingredients, then set it in the oven to bake together.
Not unlike scrambled eggs, but way easier to serve and manage.
Can you make frittata ahead of time?
Yes and no. You can get the ingredients together. Go ahead and crack the eggs and whip them together. However, you don't want to pour the eggs over the Fritos until you are ready to toss it all in the oven. Otherwise your corn chips lose their crunch.
Putting the whipped eggs over the ingredients then going right into the oven is the best way to keep a bit of crunch.
What kind of Fritos work best with Frito Frittata?
With this dish, I went with chili cheese Fritos. They just have that extra something something. But these days you can find so many different kinds of Fritos. Any of them are going to work. Even the sour cream and onion flavored ones.
That is just a guess on my part, but an educated one.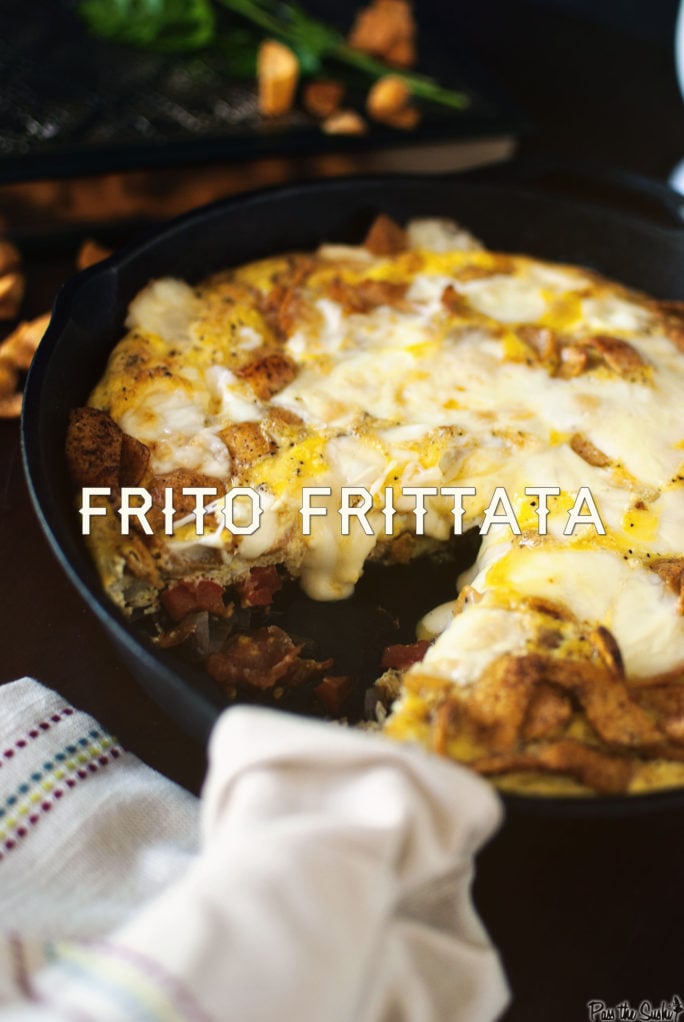 More great brunch dishes
Brunch, the great meal that is neither breakfast or lunch, yet somehow is the best of both. Never serves too early, or runs too late, it is the most philosophically bohemian of all meals.
Want a few more brunch ideas?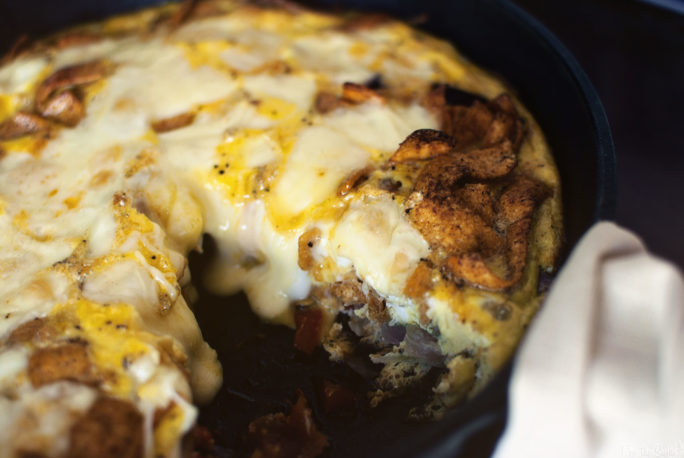 Frito Frittata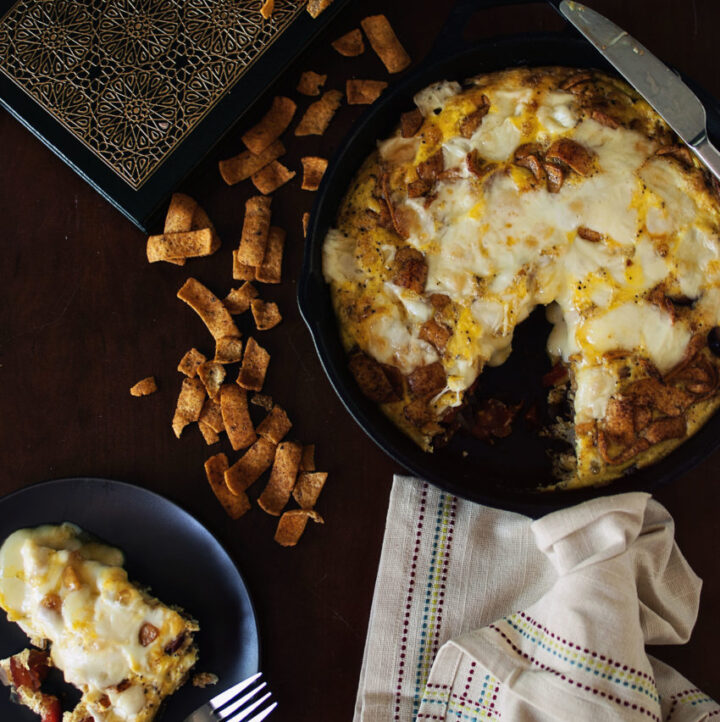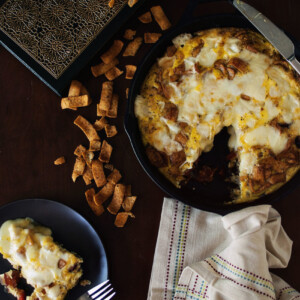 This is my take on a frito frittata and it was inspired by a recipe I saw in Rachael Ray Magazine April 2013
Recommended Equipment
cast iron skillet (between 8" and 12"
Ingredients
3

tbs

butter

1

onion

diced, small to medium sized

1/2

red pepper

diced, small to medium sized

2

cloves

garlic

finely chopped

1

cup

sausage

cooked and drained

Salt and pepper

1

tomato

seeded and chopped, preferably vine ripened

2

tbs

cilantro

chopped

1 1/2

cups

Fritos

I went bold with chili cheese flavor

10

eggs

lightly beaten

1

tbs

Tabasco

4

oz

monteray jack cheese

diced
Instructions
Preheat the oven to 400 degrees F

In a large ovenproof skillet, heat the butter over medium heat until melted.

Add the onion, pepper, and garlic and cook for 3-4 minutes.

Add the sausage and cook, stirring often, until heated through.

Add the tomato and cilantro.

Right before adding the eggs, sprinkle in the fritos.

Meanwhile, whisk the eggs with the tabasco and pour into the skillet.

Cook until the bottom of the eggs is just starting to set. Sprinkle with cheese.,

Carefully, place the skillet in the oven. Bake until fluffy and set, 15 to 20 minutes. Let cool a few
Notes
Make sure to pour the eggs on right before going to the oven. You can make a vegetarian version by substituting eggplant or potatoes for the sausage. 
Nutrition
Calories:
436
kcal
|
Carbohydrates:
6
g
|
Protein:
25
g
|
Fat:
34
g
|
Saturated Fat:
16
g
|
Cholesterol:
477
mg
|
Sodium:
632
mg
|
Potassium:
376
mg
|
Fiber:
1
g
|
Sugar:
3
g
|
Vitamin A:
1895
IU
|
Vitamin C:
28.1
mg
|
Calcium:
281
mg
|
Iron:
2.6
mg