When it comes to classic sides, it's hard to beat a smoked baked potato. Baked potatoes on the Traeger smoker are the perfect steakhouse side dish for any grilled steak. To amp up the flavor, these spuds are rolled through a garlic spice blend and grilled to get crispy skin and tender potato. The hardest part will be whether or not to add toppings.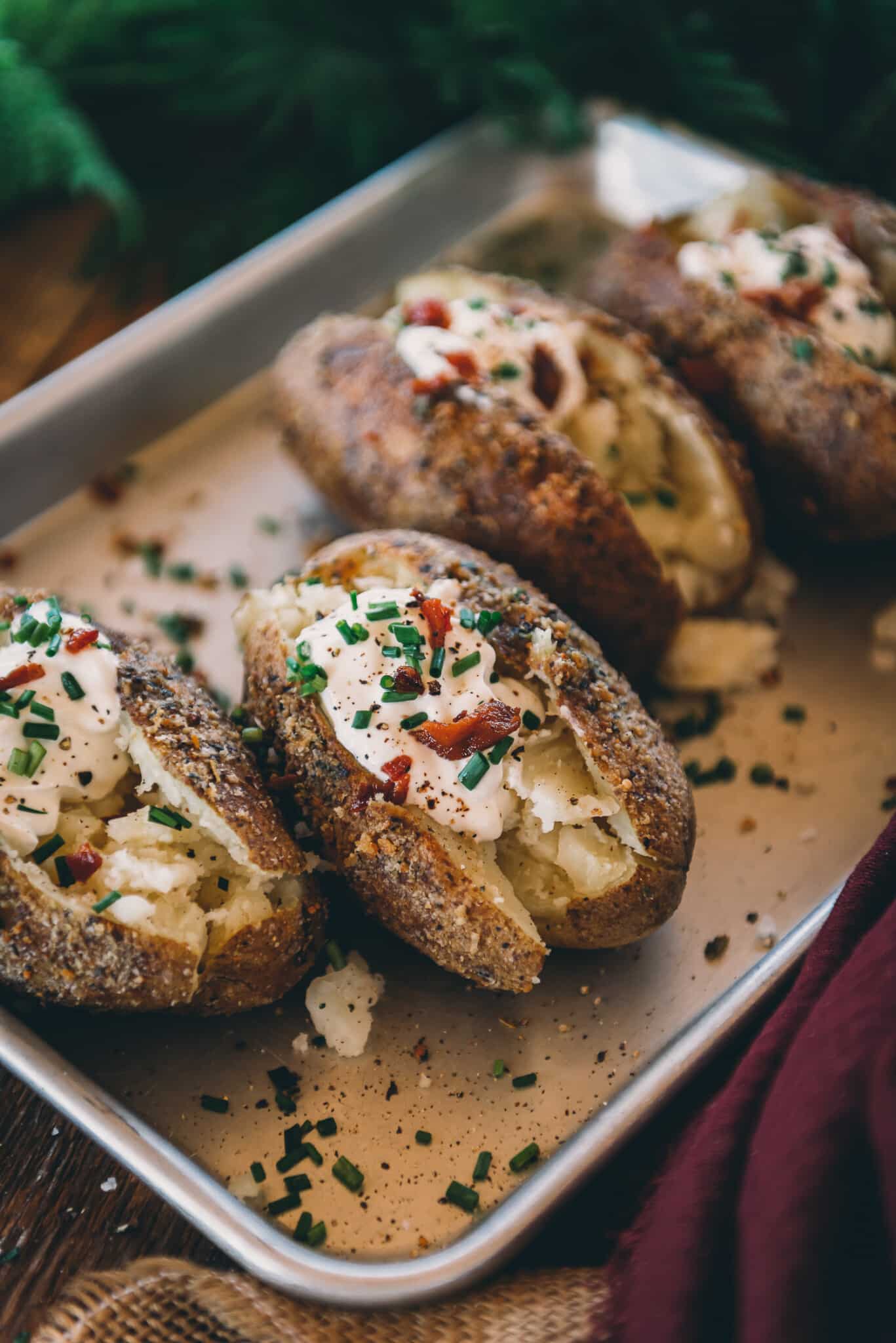 Baked potatoes are an essential delicious side dish of restaurants across the country. They are perfect as an entire meal, like when you pile on the toppings on a Philly cheesesteak baked potato or can be comforting all by themselves when cooked to perfection.
But does adding them to a smoker do anything to improve this already easy side dish? Or is it just an excuse to justify backyard investments?
Smoking the potato not only imparts a great subtle grilled flavor but – the best part is it makes an incredibly crispy skin. Because we season the potato liberally, the end results are salty garlicky buttery bites so good you'll want skin in every bite.
Altho it's a smoker, the flavor you get from a pellet smoker in this hot quick cook is a mild smoky flavor, but the controlled temperature allows for the baked potatoes to cook to fork tender evenly without risking burns or without wrapping the potatoes in aluminum foil. Foolproof.
Besides, this Traeger baked potatoes recipe, along with my smoked chicken thighs, may be about the easiest smoker recipes you can master. Perfect potatoes you can toss on the grill for holidays or busy weeknights. While you have them smoking, make these easy smoked cabbage wedges too!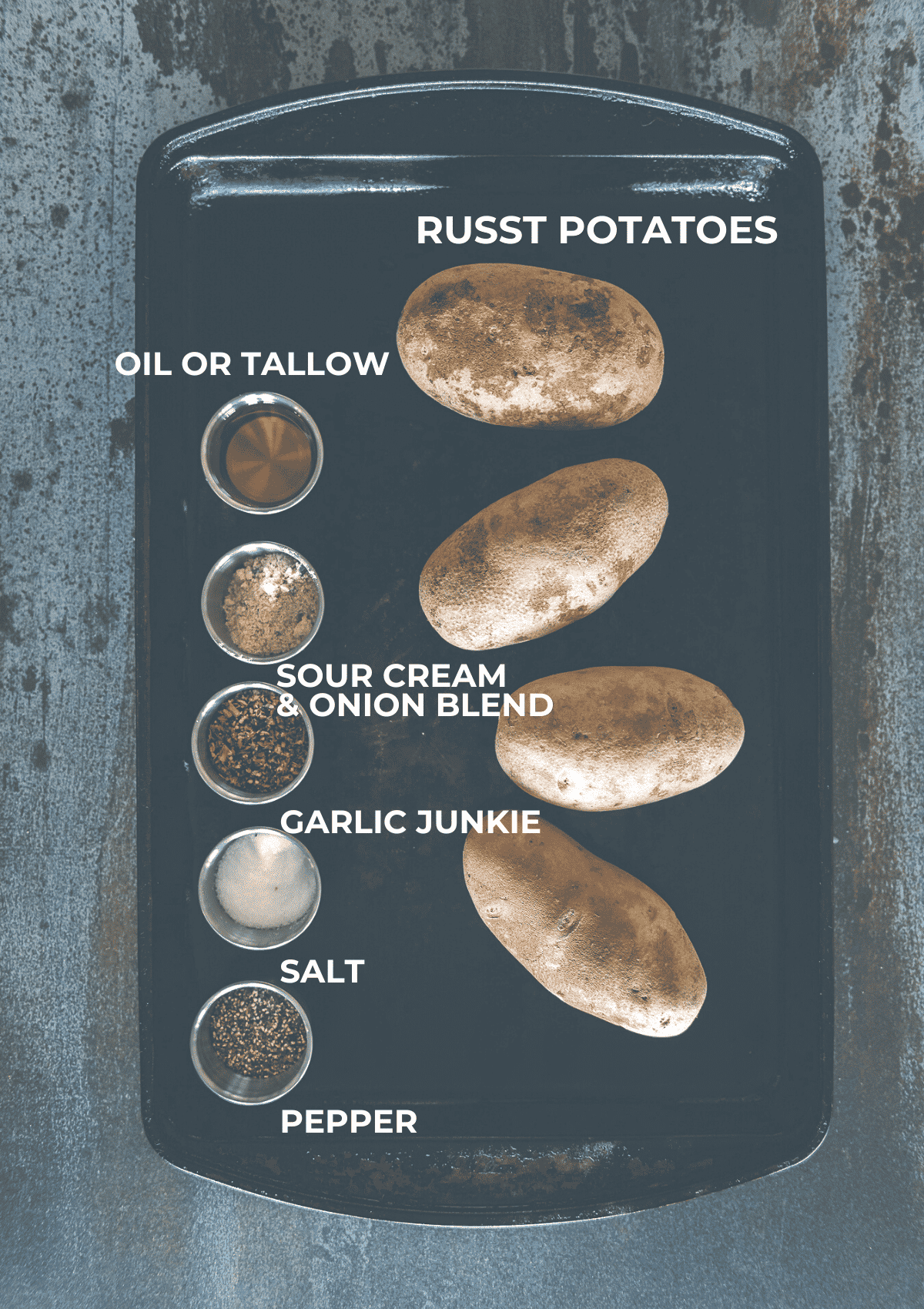 Ingredients
Russet potatoes – look for potatoes that are similar in size and are free of any eyes or blemishes
Olive oil or beef tallow – cooking with a neutral oil to crisp the skin and help the spice and seasonings stick. Homemade instant pot beef tallow is a favorite of ours for adding a great crisp to potatoes!
Kosher Salt
Garlic junkie or steakhouse seasoning & garlic granules
Sour cream and onion spice blend – we LOVE this mix from the GrillDads!
Butter – unsalted
Black pepper
Smoked baked potato toppings
When it comes to what goes on these, the answer is whatever you want! But some of our favorite toppings are:
Sour cream
Chives or sliced green onions
Cheddar cheese
Bacon crumbles
Go all in and make it a Loaded baked potato on the grill topped with macaroni and cheese, pulled pork, brisket, and more!
How to make
Start by preheating your pellet smoker to 375 F.
Wash the potatoes and dry them well; you can do this ahead of time.
Once the heat is holding steady, use a fork to poke holes all over the potato, 7 to 10 times on the entire potato surface.
Mix the spices together in a small shallow dish or bowl, wide enough for the potato to lay in.
Rub the potato skin all over with the olive oil or beef tallow.
Roll the potato through the seasonings and then sprinkle liberally with the salt on all sides to form a great crust.
Then place the potatoes on the grill grates and close the lid.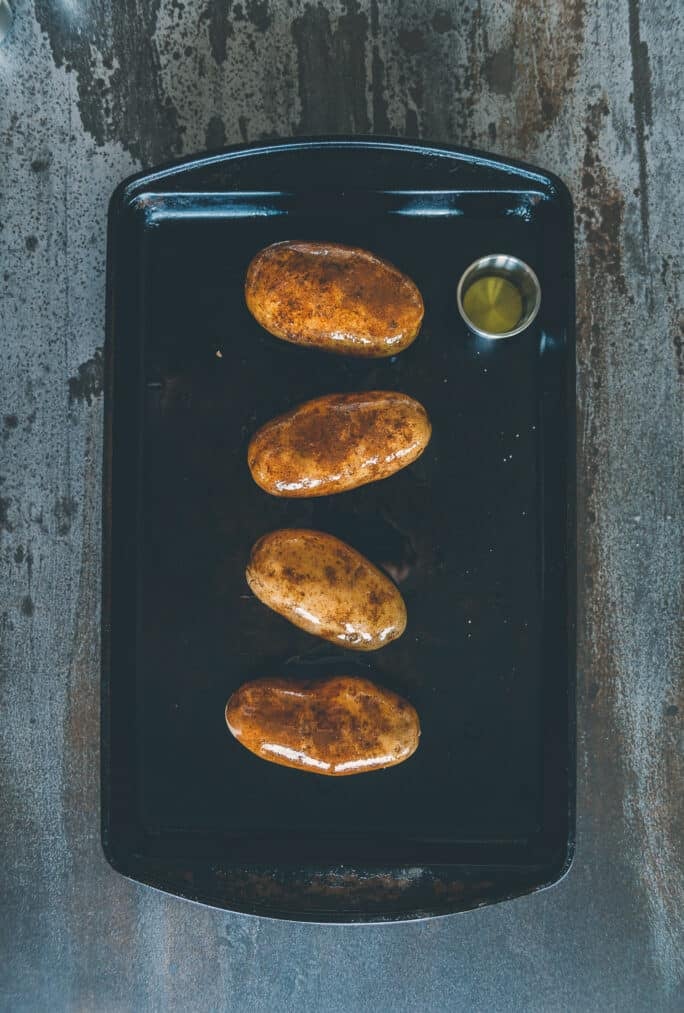 Allow the potatoes to cook for about 1 hour, checking after 45 minutes for doneness.
The potatoes are cooked when the tines of a fork or the probe of a digital thermometer pokes into the flesh with ease, or the internal temperature reaches around 205 degrees F.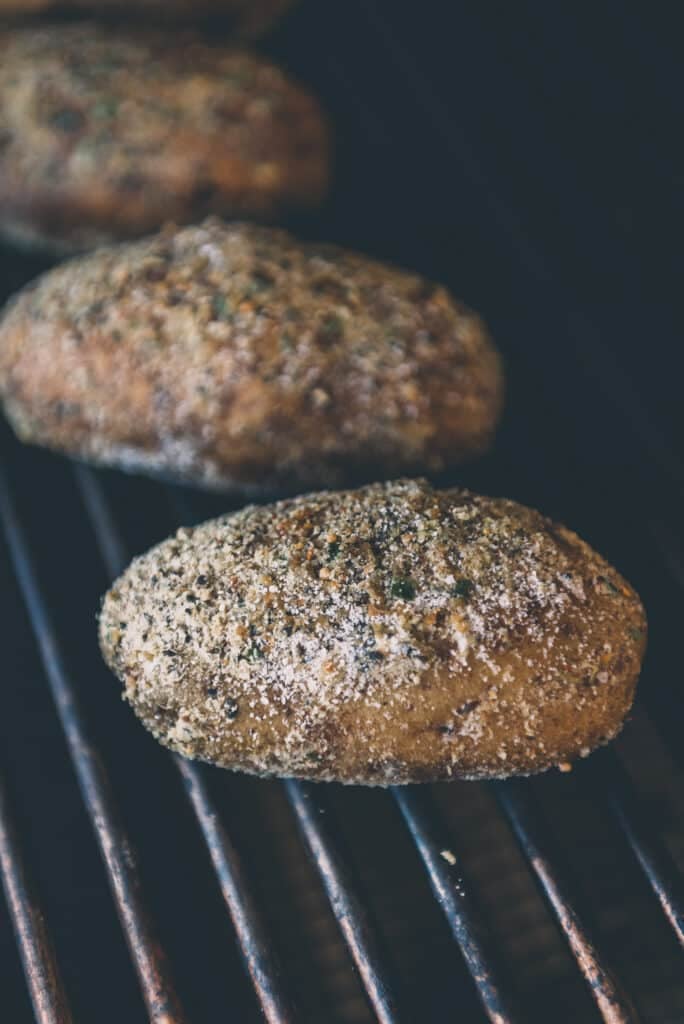 The smoked potatoes will continue to hold heat and cook while they rest. Give them a few minutes to cool.
When you split the seasoned potatoes, pop in a slice of butter and fluff with a fork before serving them with all your favorite toppings.
Pro tip: for extra smokey flavor, I use charcoal pellets in my smoker with wood chips in a smoker box set on the grill.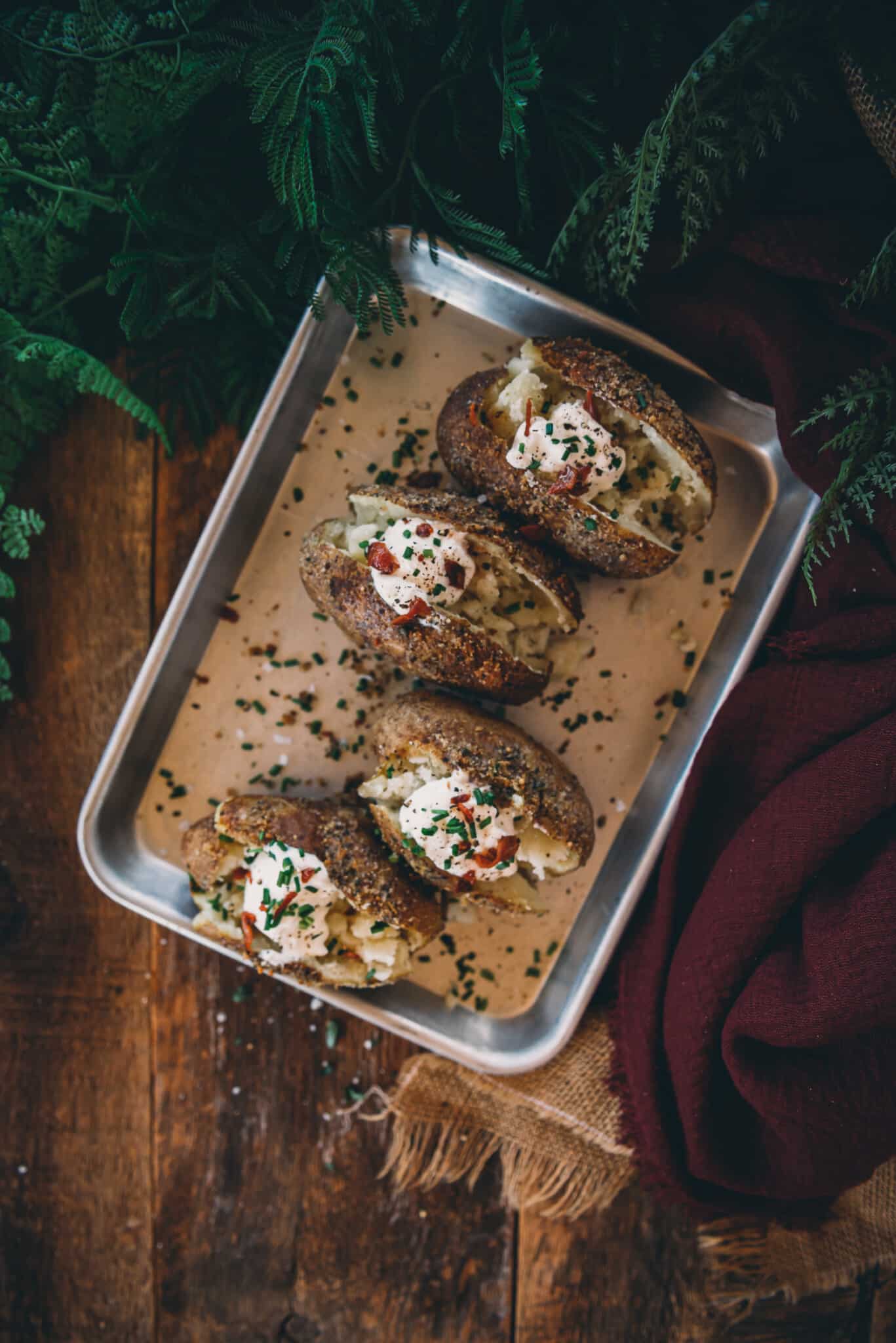 What to serve with these smoked potatoes
These delicious potatoes are the best side dish with smoked prime rib, smoked pork chops, grilled top sirloin steaks, or any grilled steak or smoked meat really…. They make a great base to top with keto sloppy joes, smoked pork butt, or even broccoli and cheese. Turn them into smoked mashed potatoes. The sky's the limit and you know what your whole family will love.
How to store leftovers and reheat
Store leftovers in an airtight container in the refrigerator for up to 3 days.
To reheat, microwave in 30 seconds batches until the potatoes are heated through, or in a preheated oven set to 325 F if you want to re-crisp the skin. However, they are best fresh right from the grill.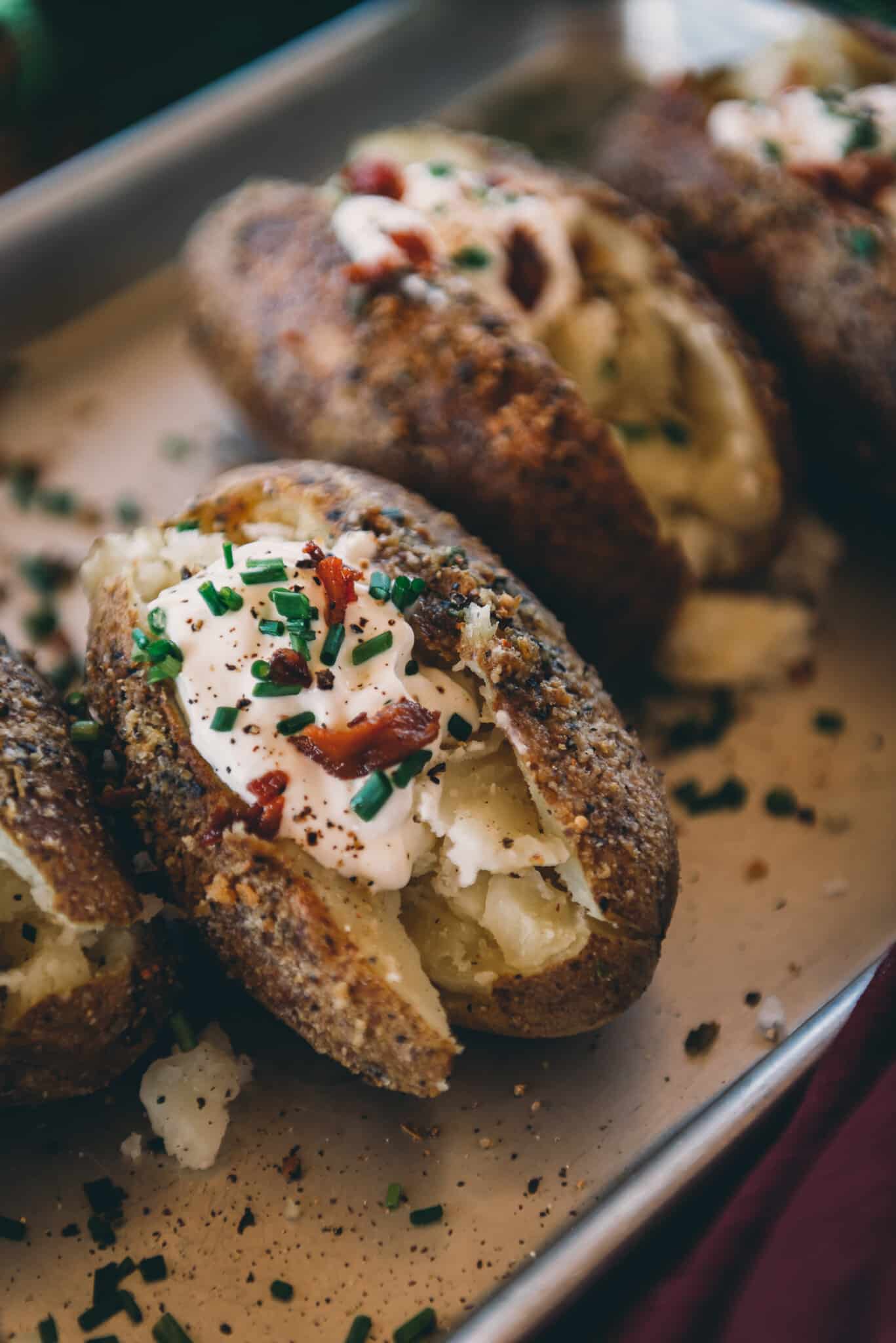 Recipe FAQs
Can I use other potatoes for these smoked potatoes? 
No, the russets are the only type of potato that I use for smoked baked potatoes. Where I love using up whatever is in the pantry, red or Yukon gold potatoes have a different internal texture and are better for smashing or making into fried potatoes than for baking. 

However, if you love sweet potatoes, they do work as a viable substitute for the russet potato in this recipe. 
How long does it take to smoke potatoes? 
At 375, a standard baking potato will take about 1 hour to cook properly. We aren't doing a low and slow smoke on these, but rather hot and fast to get a piping hot crispy salty baked potato. 
Do I need to wrap the potatoes in foil? 
Nope. Leave the potatoes naked on the grill. This will help crisp up the skin and let them absorb the mild smoke flavor from the Traeger. If you wrap them, they won't get the flavor or texture! 
We wrap our potatoes in foil when we cook them right over the campfire, and that's about it.
Can you smoke potatoes on a gas grill?
Sure! If you have a gas grill, you can smoke bake potatoes on that as well at the same temp and time. But, add a metal smoker box of foil packet filled with wood chips to impart flavor.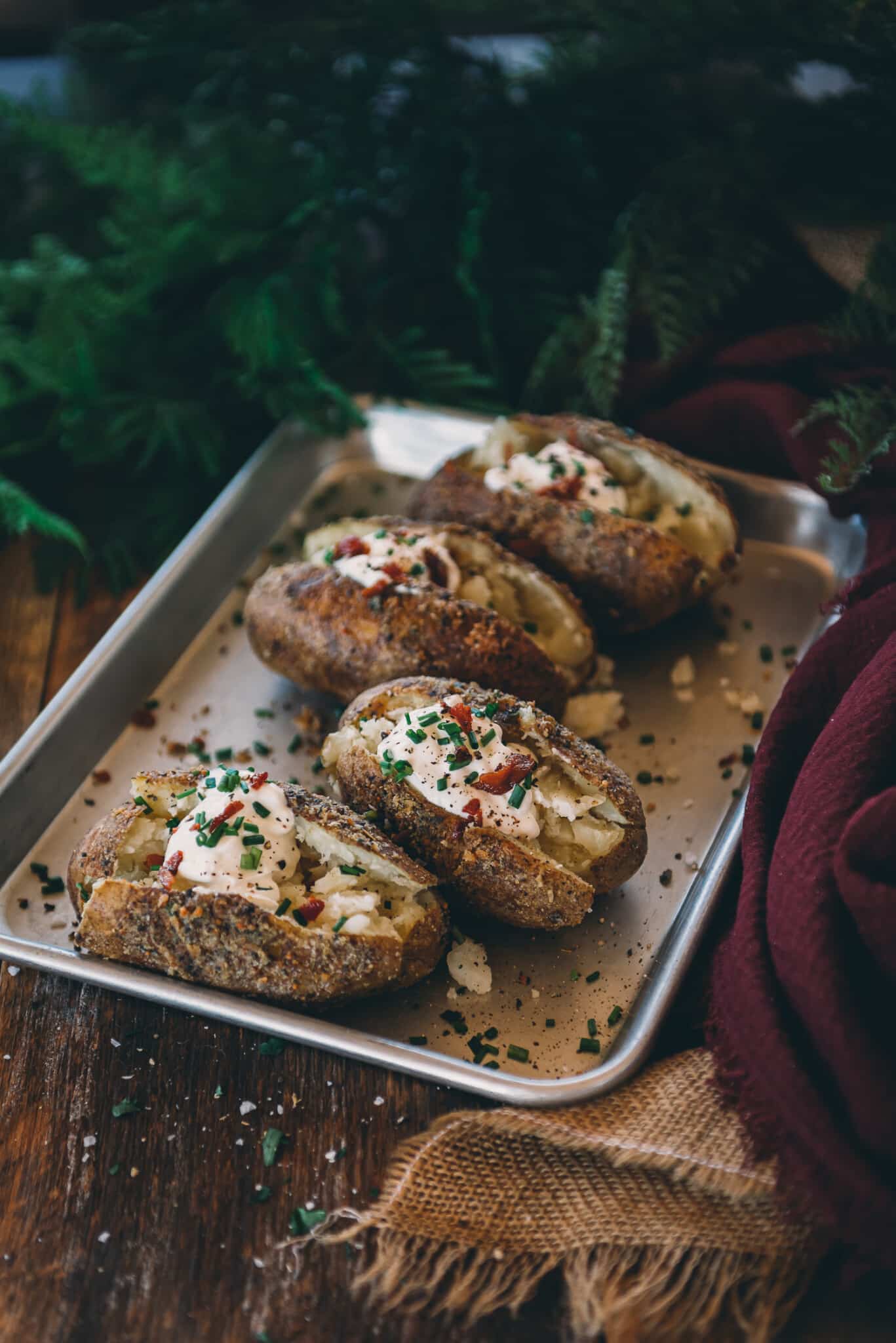 More easy side dish recipes 
Easy Smoked Baked Potato Recipe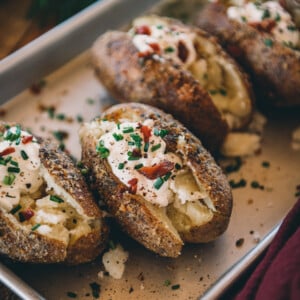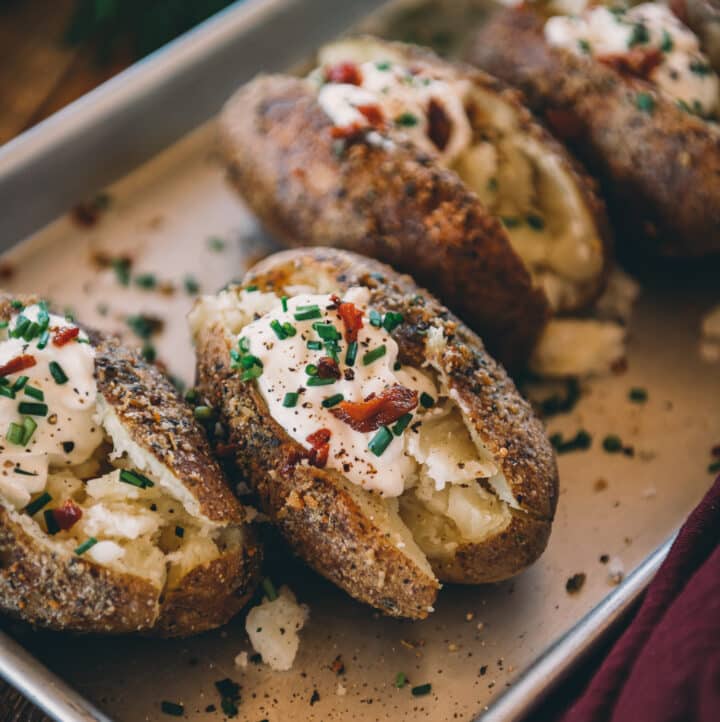 These Smoked baked potatoes are simple to make and SO delicious with tender flakey potato and salty crispy skin!
Ingredients
For the smoked potatoes
4

russet potatoes

1

tbsp

Olive oil

or beef tallow

1

tbsp

Garlic junkie spice blend

or steakhouse seasoning and garlic granules

1

tbsp

sour cream and onion spice blend

1

tsp

Salt

1

butter
Potato Toppings
1/2

cup

Sour cream

1

tbsp

chives

minced

1

tsp

black pepper

2

tbsp

bacon

cooked and crumbled
Instructions
Prep the Smoker
Preheated the smoker to 375 degrees F.
Prep the potatoes
While the smoker preheats, wash and dry the potatoes.

Poke each a few times with the tines of a fork.

Rub the potatoes with the olive oil, covering entirely.

Sprinkle the spice mixtures in a wide bowl or shallow dish and mix to combine

1 tbsp Garlic junkie spice blend,

1 tbsp sour cream and onion spice blend

Roll the potato on the seasoning to create a thick later.

Sprinkle all over with salt.
Smoke the Potatoes
Once the grill is preheated, place the potatoes on the Traeger and close the lid.

Allow the potatoes to smoke for 1 hour until they are fork tender, register an internal temperature of 205 F with an instant read thermometer. If the probe slides in without any resistance, the potatoes are done.
Rest
Carefully remove the potatoes from the smoker and allow to rest for 5 minutes to cool. The internal temp will increase to around 210 F and they will be perfect!

Serve the smoked baked potatoes hot by cutting a slit down the center.

Open the potato, add the butter and fluff the flesh with a fork before topping as desired!

1 butter,

1/2 cup Sour cream,

1 tbsp chives,

1 tsp black pepper,

2 tbsp bacon
Nutrition
Serving:
1
g
|
Calories:
305
kcal
|
Carbohydrates:
44
g
|
Protein:
7
g
|
Fat:
13
g
|
Saturated Fat:
5
g
|
Polyunsaturated Fat:
1
g
|
Monounsaturated Fat:
5
g
|
Trans Fat:
0.02
g
|
Cholesterol:
22
mg
|
Sodium:
653
mg
|
Potassium:
1004
mg
|
Fiber:
5
g
|
Sugar:
3
g
|
Vitamin A:
292
IU
|
Vitamin C:
13
mg
|
Calcium:
130
mg
|
Iron:
4
mg