There is nothing as comforting as a homemade meaty red sauce – just give me a spoon! This is one of those deliciously easy recipes that only has a few inexpensive ingredients and can be dressed up if needed. And an all-time favorite of mine.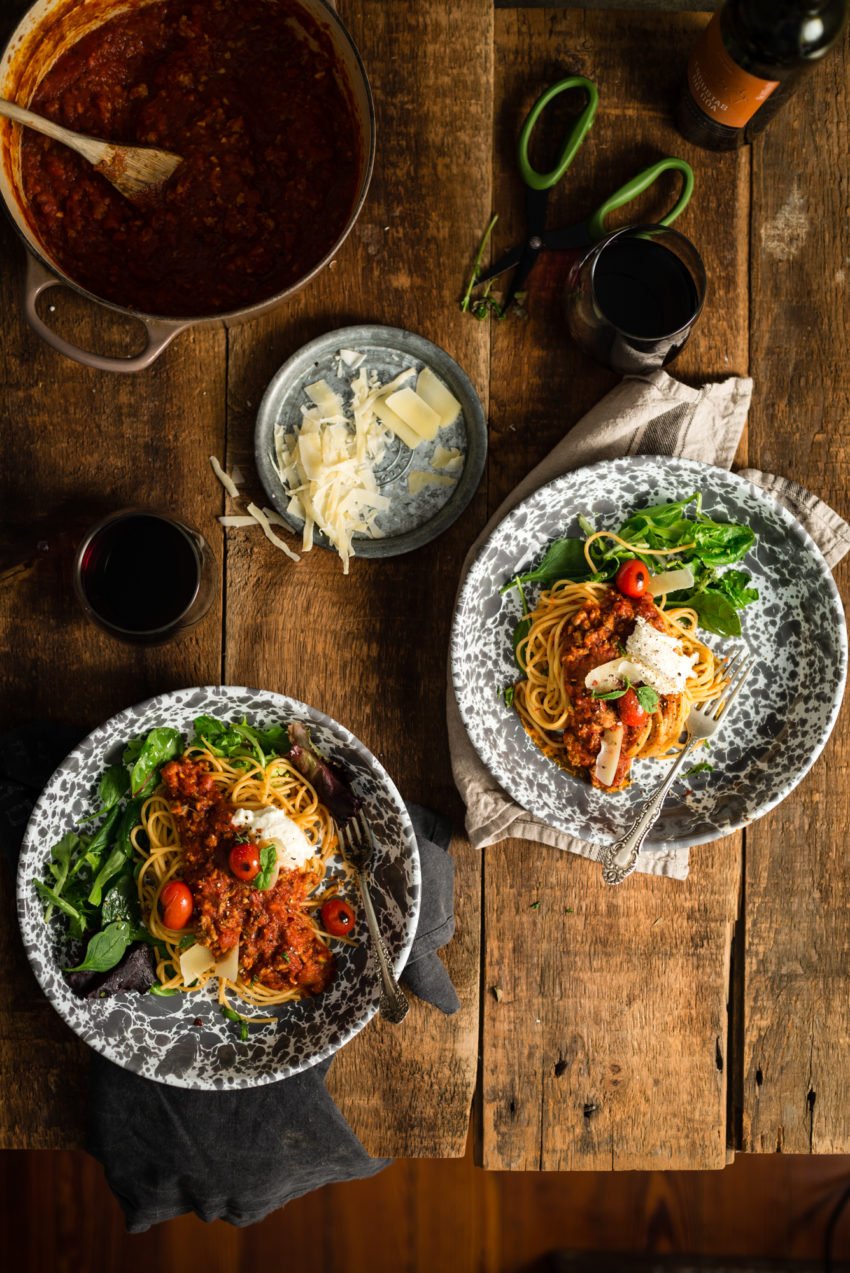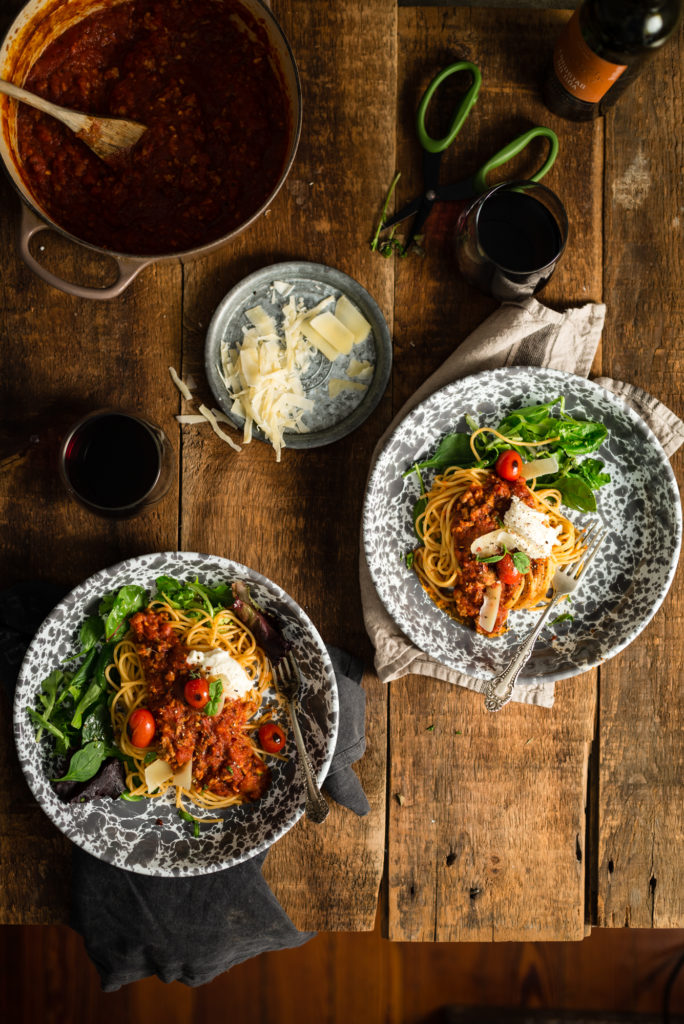 There are 2 things that I am a sucker for in this world. Tacos. and Red meat sauce.
Yes, I love sushi and pizza and a great burger too. But those are my absolute two favorites. If offered, I am going to cave for them, no matter what. Every single time.
Classic Bolognese red meat sauce
This is one of my favorite down and dirty little black book recipes. The kind everyone should master and have on lock for whenever they need to 1) impress a date or 2) eat on a dime. It makes a ton and perfect over pasta for a candlelit dinner.
The aroma, simmering tomatoes filling the home, makes everything seem like a very special occasion (No lie, if you made this for me, would totally impress).
Affordable Meat Sauce
It's also one of those scrappy little meals that doesn't require a huge investment. Some days, those things equal a big deal. I love seeing how far I can stretch my dollars when cooking at home. Especially, when I see how luxurious I can make a meal.
Now, I know what you're thinking, sauce is not luxurious. But, if you love a good red sauce as much as I do, loaded with beef, this is pretty amazing and does the job really well. Over a slice of toast or fancy bread from the baker, with a few greens under and a glass of red, it's pretty darned luxurious to me.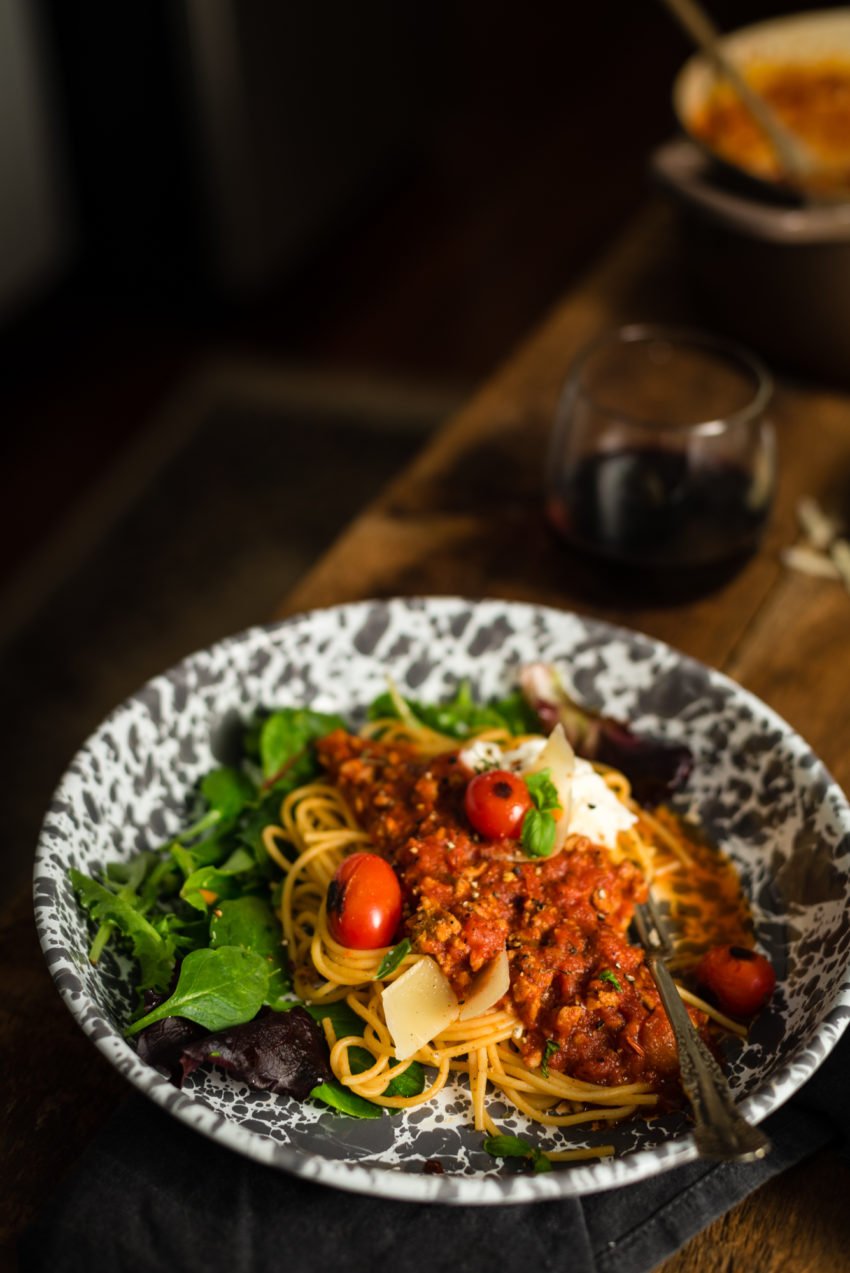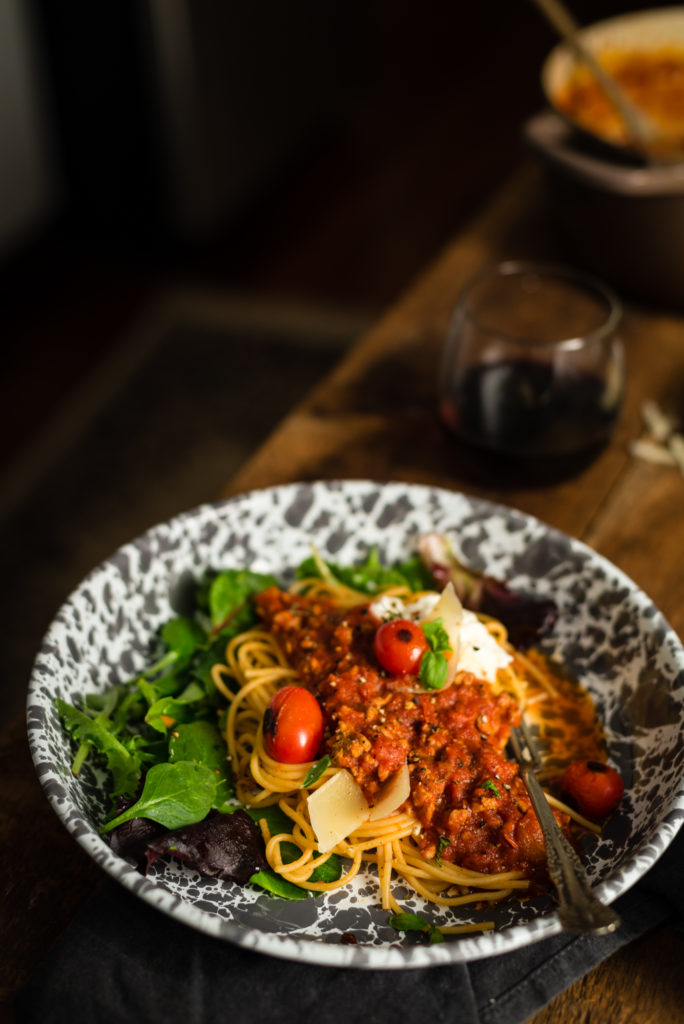 What you need for meat sauce
I love any recipe that involves some basic pantry staples that I stock up on during sales. This is one of those recipes. With just a couple cans of diced and crushed tomatoes, tomato paste and sauce ( all under a buck) and a frozen package of spinach, thawed.
After that it's just onion, garlic and spices and dinner is in the works.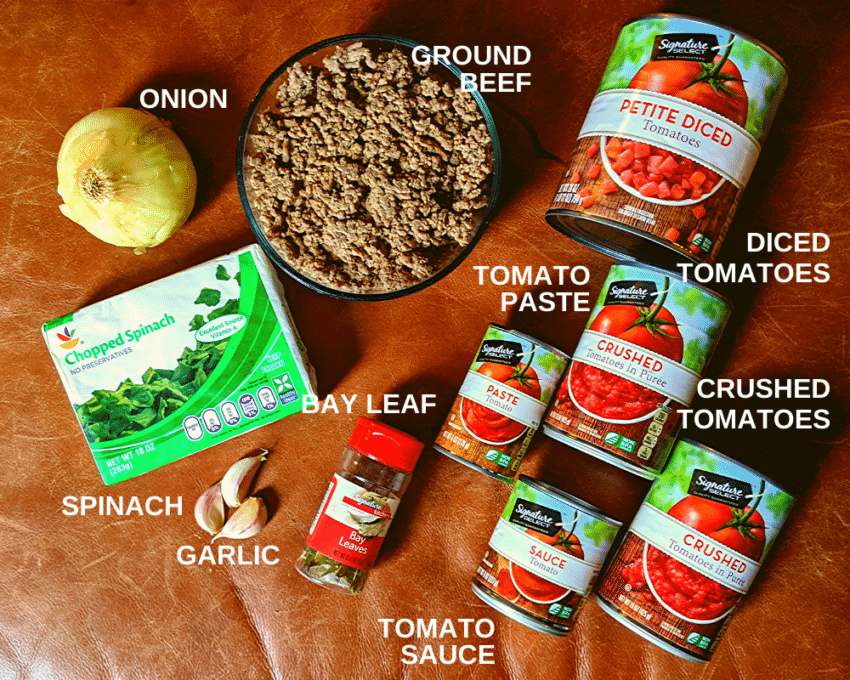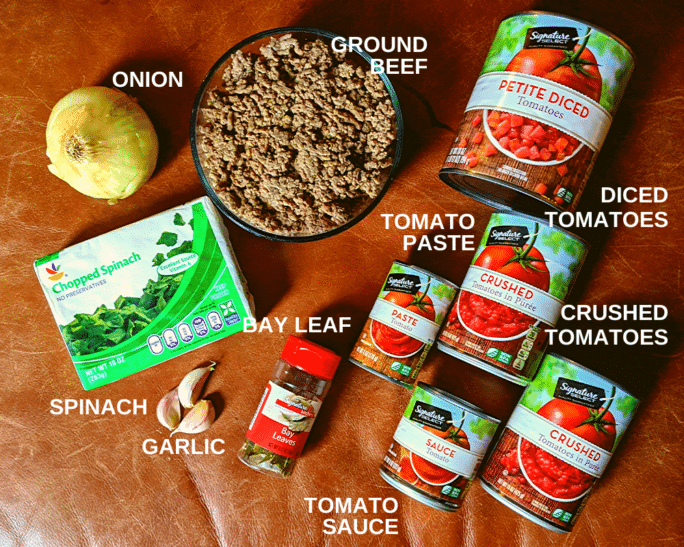 Saving money always has a ring to it, but did you know that it's often cheaper to buy big packages of ground beef? Check out the price per ounce when you buy these bigger packages, 4 or 5 pounds. You will see the difference.
Of course, I sometimes also grind my own, and then portion out the beef and seal it before freezing. This can save me a ton of money and means I always have ground beef whenever I need it in the freezer.
Using that method also allows me to control the fat content.
What is Bolognese?
Bolognese is just the Italian word for red sauce with meat. Unlike marinara which is simply a fruit and vegetable sauce made with tomatoes, Bolognese includes either ground beef or ground or even shredded pork.
Ground Pork or Ground Beef for Bolognese?
You can use ground beef or pork for this recipe. I tend to use beef cuz It's what I buy in bulk, but ground pork is great, and if you shop sales, also super inexpensive.
Either one works great and guess what? Even mixing both works too. Usually, pork is even cheaper than beef. So, if you want to cut costs even further, then that is the way to go.
How to make this recipe
Because I was batching out a large package of ground beef, I browned the meat a day ahead, but this could all be done in one Dutch oven from start to finish.
Don't store it in the Dutch oven though if it is cast iron. The acid in the tomatoes will start to interact with the iron in the pot. Eventually, it will impart a sharp flavor that is faintly metallic and not ideal.
But, otherwise, you just brown the beef and set it aside before sauteeing the onion and cooking the sauce in the pot.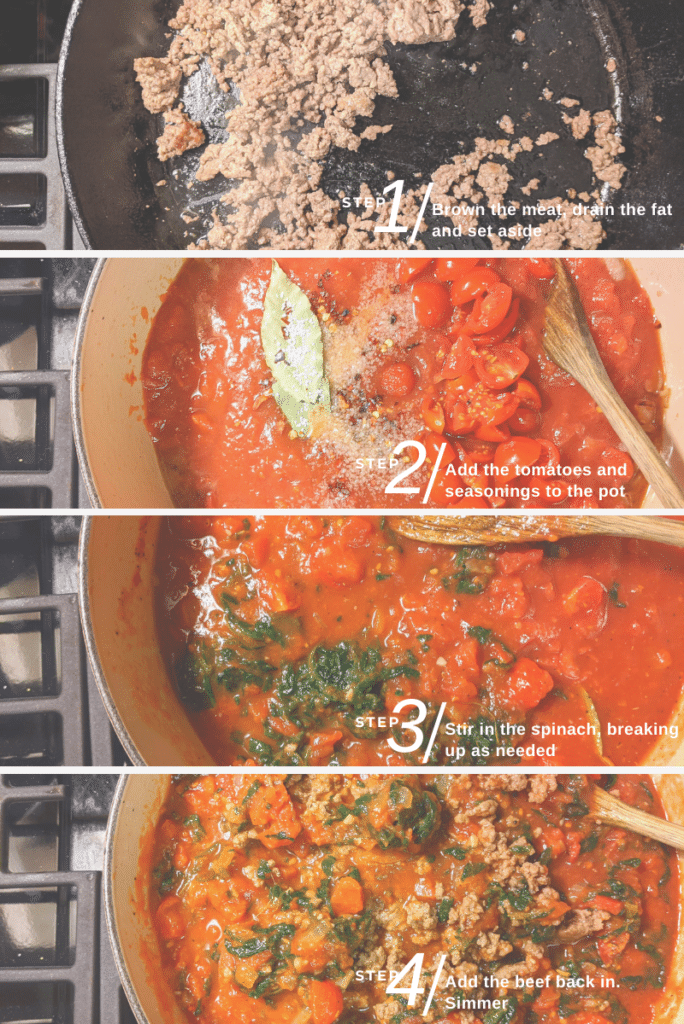 You don't want to drain any of the tomatoes, their juices are what add the liquid. Also, the spinach will add a little liquid too. If you think it is still too thick after that, you can add a quarter cup of water.
Serve this with a green salad over pasta and it's I promise, it's the most comforting thing you will make this week.
Tips to level up your homemade sauce and boost the flavor
Add a little bit of these basic ingredients if your sauce is feeling bland and watch it level up. I find that with basic recipes, a little goes a really long way so don't overdo it here. Just a pinch.
Red wine
Balsamic vinegar
Red Pepper Flakes
Use sausage instead of beef. Or Veal. Or Pork. Or a mix of any / all of the above.
Splash of cream – yep trust me on this one.
Anchovies – Don't sneer at the idea. You might not like anchovies on your pizza, or even in your Caesar salad, but you won't even notice them in your sauce. However, it makes all the flavors pop – yet doesn't add any fishiness at all, just more umami.
Tip: I also simmer my meat sauce a day before I want to serve it. It's like chili, it just gets better with a 24 hour mingle.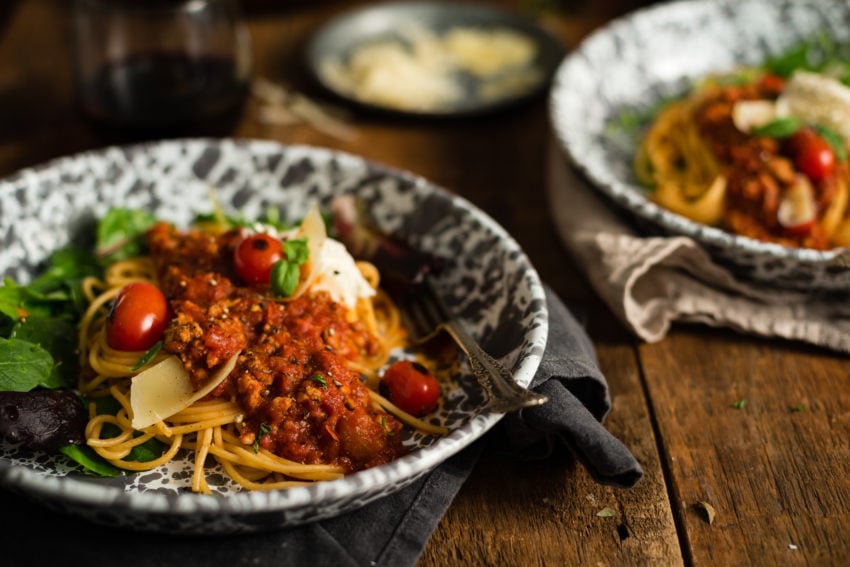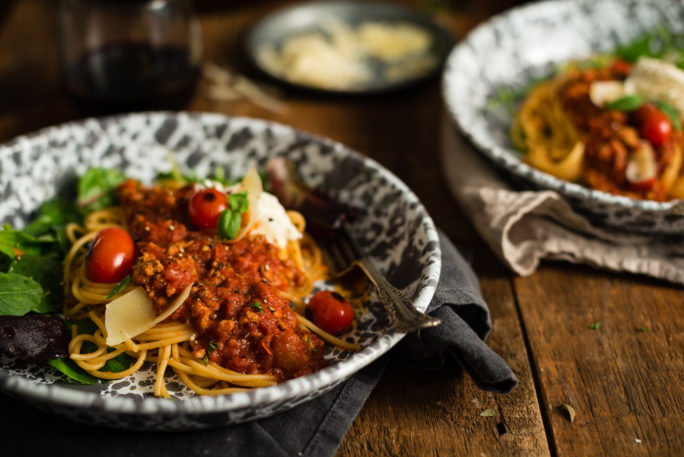 Want more easy dinner ideas? Try some of my favorite recipes
If you've tried my Cheap Meat Sauce or any other recipe on GirlCarnivore.com please don't forget to rate the recipe with some stars below (like 5 if you're feeling it) and let me know where you found it in the comments below.
I get inspired by your feedback and comments! You can also join in on the adventures on Instagram @girlcarnivore, Twitter & Facebook.
Easy Meat Sauce
This is one of those recipes that is so easy to make and made with things usually tucked away in the pantry. Bonus, I think this meat sauce is a must for anyone's little black book recipe collection and goes perfectly with pasta or even a roasted spaghetti squash if you're doing Whole30.
Ingredients
1

lb

ground beef

1

tablespoon

olive oil

1

onion

minced

2

cloves garlic

minced

6

oz

jar tomato paste

28

oz

jar petite diced tomatoes

28

oz

jar crushed tomatoes

8

oz

jar tomato sauce

½

cup

tomatoes

diced

1

tspn

salt

2

bay leaves

2

tbsp

Girl Carnivore AP Chicken Blend

½

tspn

red pepper flakes

10

oz

frozen chopped spinach

thawed
Instructions
In a large Dutch oven over medium heat, brown the ground beef; 7 to 10 minutes

Remove the beef from the pan and reserve. Drain the fat.

Add the onion to the sautee, 5 to 7 minutes.

Add the garlic and cook 30 seconds longer.

Next, add in the tomato paste, stirring to coat and cook 1 minute.

Add the petite diced tomatoes, crushed tomatoes, tomato sauce, diced fresh tomatoes, salt, bay leaves, and red pepper flakes.

Add the spinach to the tomatoes and break up with a spoon.

Finally, add the beef back in and allow the sauce to simmer for 30 minutes, covered.

When ready to serve, make sure the sauce is piping hot. Garnish with minced parsley and fresh parmesan cheese, if desired.
Notes
If at all possible, get reduced or no salt added versions of any canned goods. 
I prefer roma tomatoes for the diced tomatoes, but will use any I have on hand to add just a few fresh tomatoes to the sauce. 
This sauce can also be frozen for a month if you make a big batch and need to store some for a future dinner. Or it keeps in the fridge in an airtight container for up to 4 days. 
Reheat in a pan over medium low heat. 
Nutrition
Nutrition Facts
Easy Meat Sauce
Amount Per Serving (1 g)
Calories 213
Calories from Fat 99
% Daily Value*
Fat 11g17%
Cholesterol 32mg11%
Sodium 555mg24%
Potassium 967mg28%
Carbohydrates 19g6%
Protein 13g26%
Vitamin A 4100IU82%
Vitamin C 24mg29%
Calcium 111mg11%
Iron 4mg22%
* Percent Daily Values are based on a 2000 calorie diet. Nutrition information provided is an estimate. For specific health concerns, please put the recipe into your Dr recommended nutrition calculator.