These Easy Ground Pork Tacos are a 20-minute recipe made with pantry staples. This easy meal is made with juicy and flavorful ground pork, fried corn tortillas, and fresh and colorful toppings.
Tacos are always a hit, especially on busy weeknights… This recipe is one of those insanely quick and easy ones that comes together in under 30 minutes and uses up pantry staples and is one of our go to ground pork recipes!
Just thaw a pound of ground pork, pull out the tortillas, and raid the veggie drawer for a colorful, flavorful, incredible, but oh-so-simple meal. These are one of the best ways to get tacos on the table quickly and to satisfy everyone's cravings. If you want to amp up the heat, try this with spicy chorizo tacos too.
What are Mexican Pork Tacos
Otherwise known as carnitas tacos, these are a restaurant specialty filled with tender pork and finished with crisp shells. Pork carnitas are made in a variety of different ways, but ground meat is the key ingredient to this recipe. Pork tacos are a Mexican staple of crispy tortillas filled with ground pork (or any ground beef) and topped with cheese, vegetables, and your favorite sauces.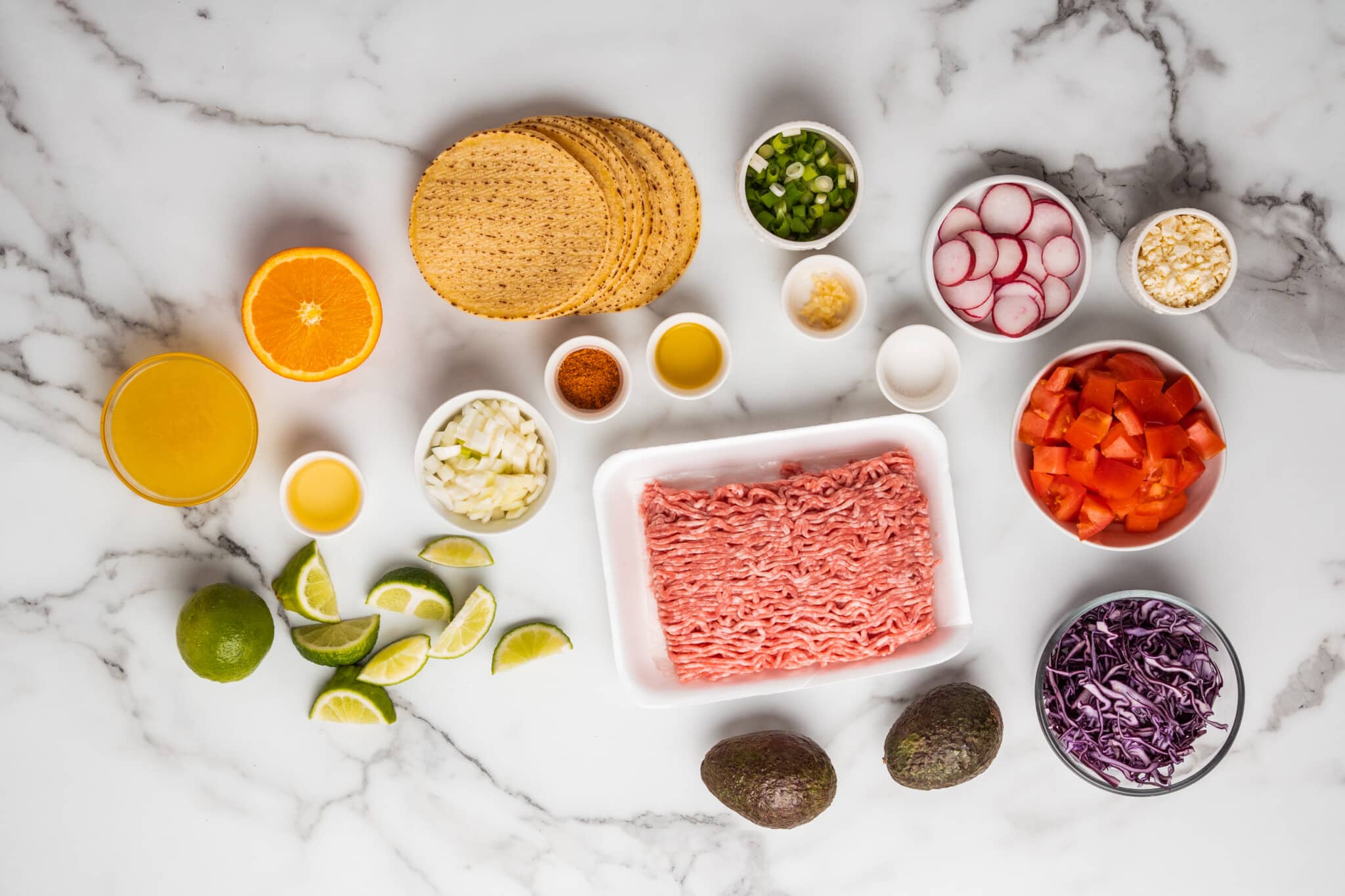 Ingredients for Tacos with Ground Pork
For the Ground Pork Recipe
Oil – used to sauté the onion and brown the pork.
Onion – creates a sweet flavor base for the meat before browning.
Ground Pork – you'll need 1 pound of pork for these tacos. Try leftover minced or ground pork tenderloin.
Taco Seasoning and Salt – you can use homemade taco seasoning or a premade seasoning.
Garlic – use freshly minced garlic.
Orange Juice – pineapple juice works great too.
For the Taco Shells
Oil – to fry the corn tortillas before serving.
Corn Tortillas – corn tortillas work best for frying into taco shells.
Salt – gives the tortillas a little extra flavor.
For the Tacos
Cabbage and Olive Oil – toss red or green shredded cabbage with a little oil before serving to give it a little moisture.
Taco Toppings – top your tacos off with scallions, radishes, avocado, and diced tomato.
Cheese – a sprinkle of cotija or queso fresco for a salty, cheesy finish.
Limes – a squeeze of lime juice is a great way to add a little extra tanginess.
How to Make this Pork Tacos Recipe
We'll start with the ground pork recipe. It's incredibly quick and easy for the whole family!
First, preheat a large skillet over medium-high heat, then add in oil and onion. Sauté for 5 minutes, then add in the ground pork. Cook, breaking up as needed until browned.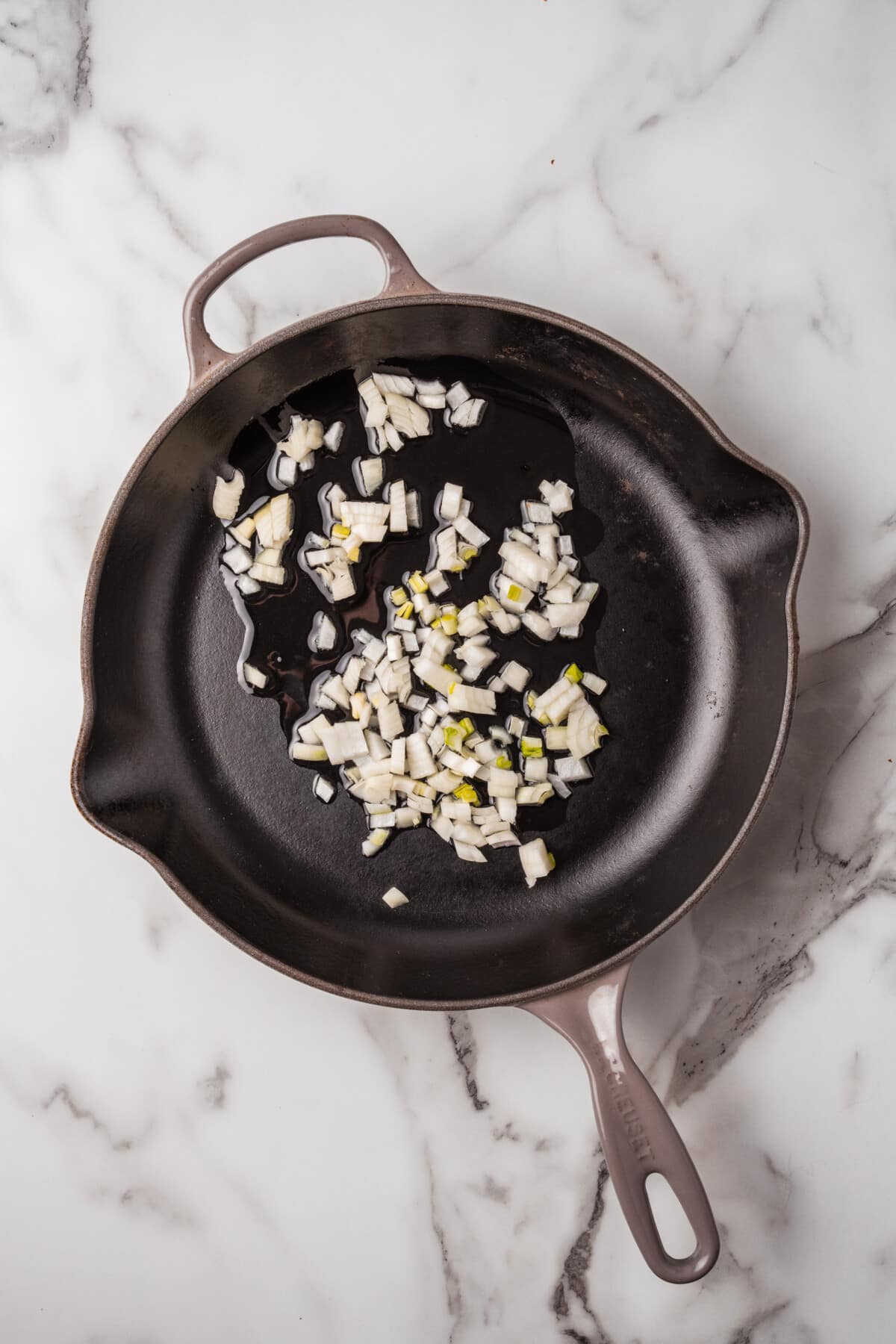 Add in the salt, taco seasoning, and garlic and stir to coat. Reduce the heat, then add the orange juice. Simmer the meat for 5 minutes or until thickened and cooked through.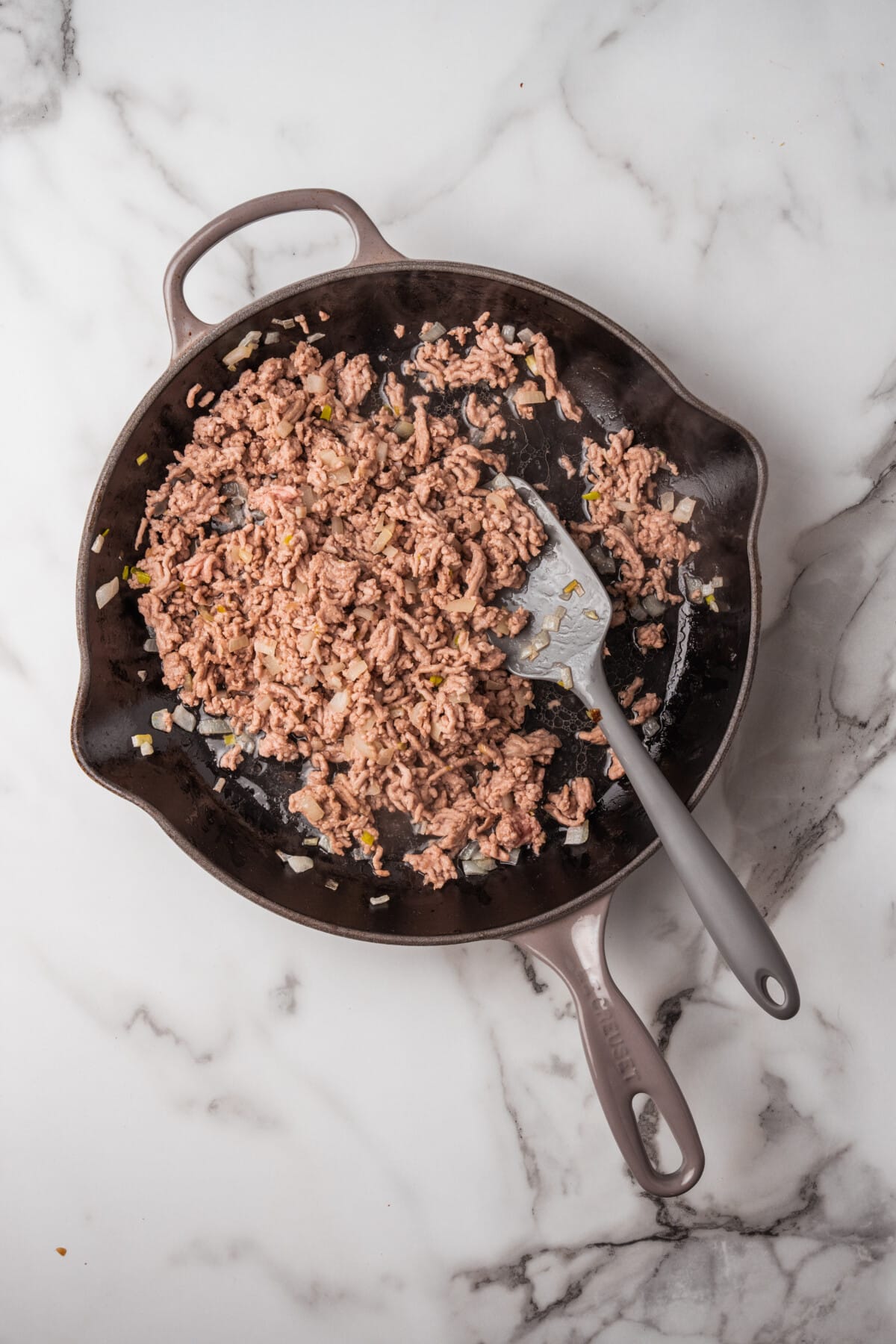 Next, heat plenty of oil in a skillet or Dutch oven. One at a time, fry the flour tortillas in the oil until a light golden brown. As the tortilla fries, fold it in half to create that taco shell shape. Transfer the tortillas to a paper towel-lined plate to drain and sprinkle with salt.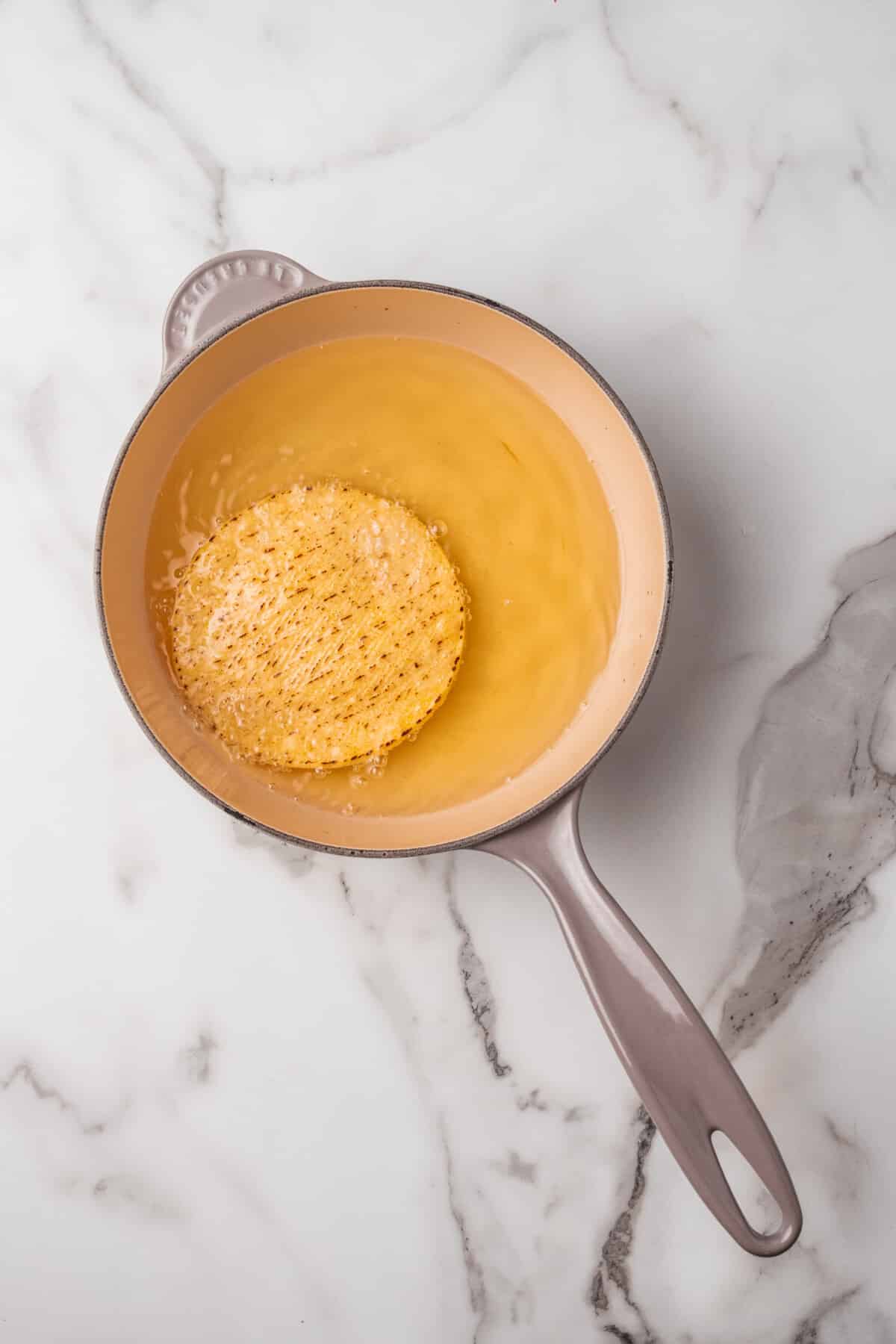 Toss the cabbage with oil, then assemble your tacos with the pork taco filling and toppings! Enjoy!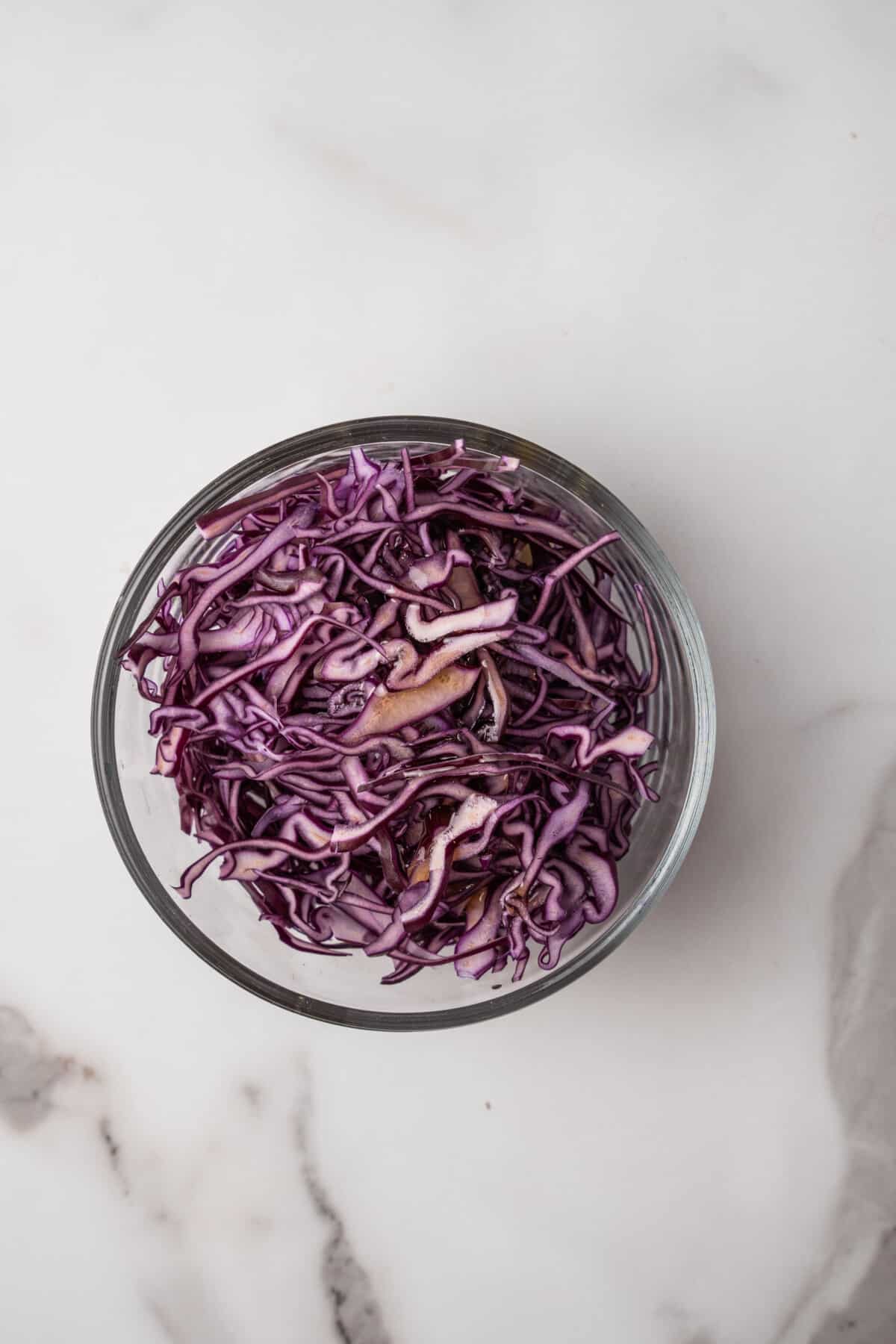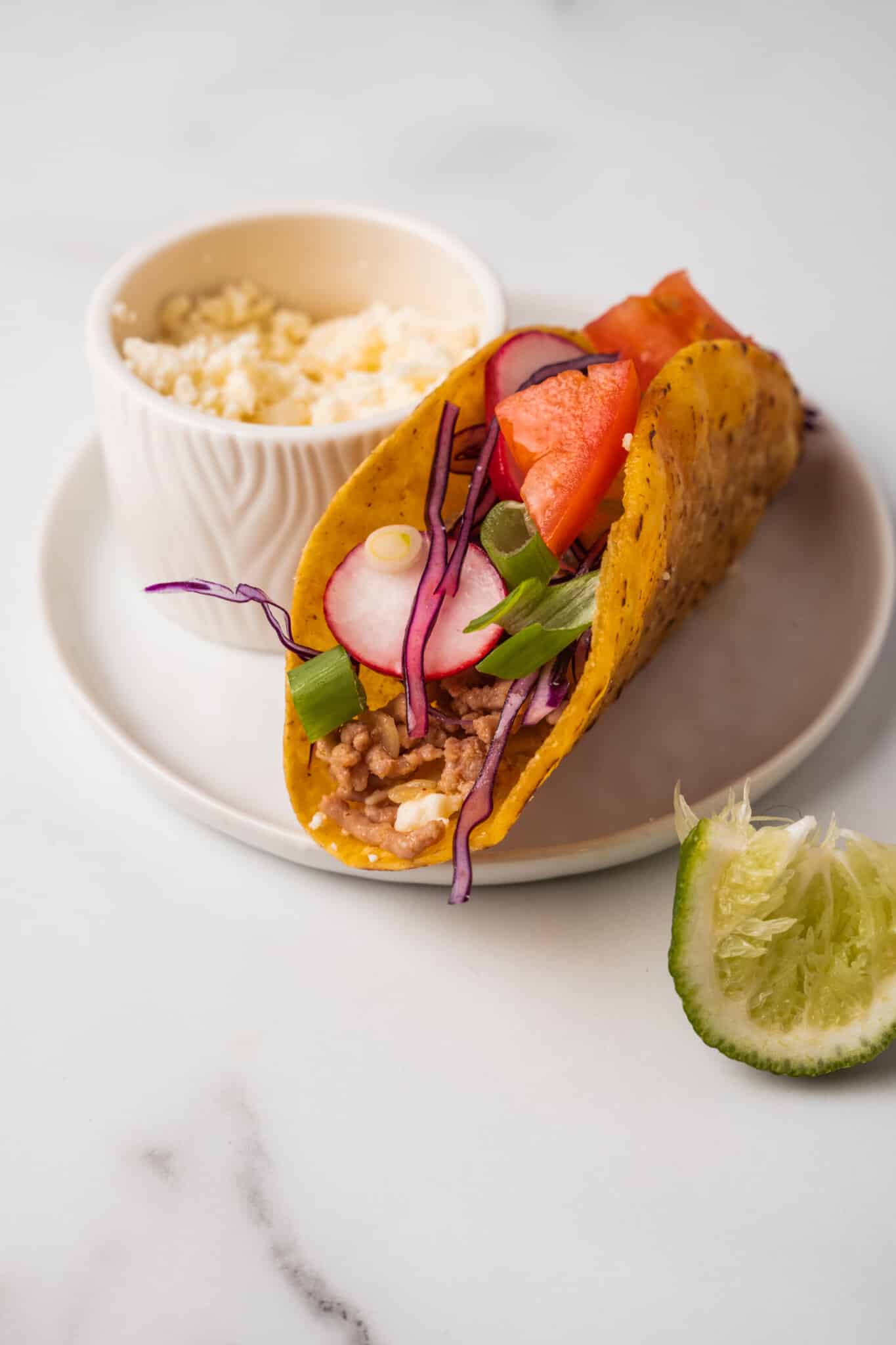 Girl Carnivore Expert Ground Pork Tacos Recipe Tips
Use the best tortillas
While in the grocery store, search for the crunchiest taco shells. If you prefer soft shells, that's fine too, but we prefer a crunch with our favorite toppings.
Add the recipe to taco night or Taco Tuesday
Make taco night fun by preparing all of the ingredients needed ahead of time. Include toppings like cotija cheese, chipotle peppers, black beans, salsa verde, green onions, lettuce, tomatoes, and anything else your family loves! These easy tacos have great flavor and tons of fresh ingredients.
Leftovers and Reheating
Leftover taco meat will last in an airtight container in the fridge for 3-4 days or in the freezer for 2-3 months.
To reheat, thaw overnight in the fridge if frozen, then warm on the stove with a splash of water, juice, or broth to moisten. You can also reheat it in the microwave before adding your topping to the tortillas.
What to Serve with Pork Tacos
We recommend serving these with rice and beans…because tacos are lonely without them. And no one wants lonely tacos.
We also recommend topping them off with red or green cabbage, scallions, radishes, cotija or queso fresco, avocado, and tomato.
Alternatively, use literally any of your favorite taco toppings. Try sour cream, lettuce, mango salsa, pico de gallo, guacamole, you name it. We love homemade chimichurri or rajas con crema as great option for side dish recipes too.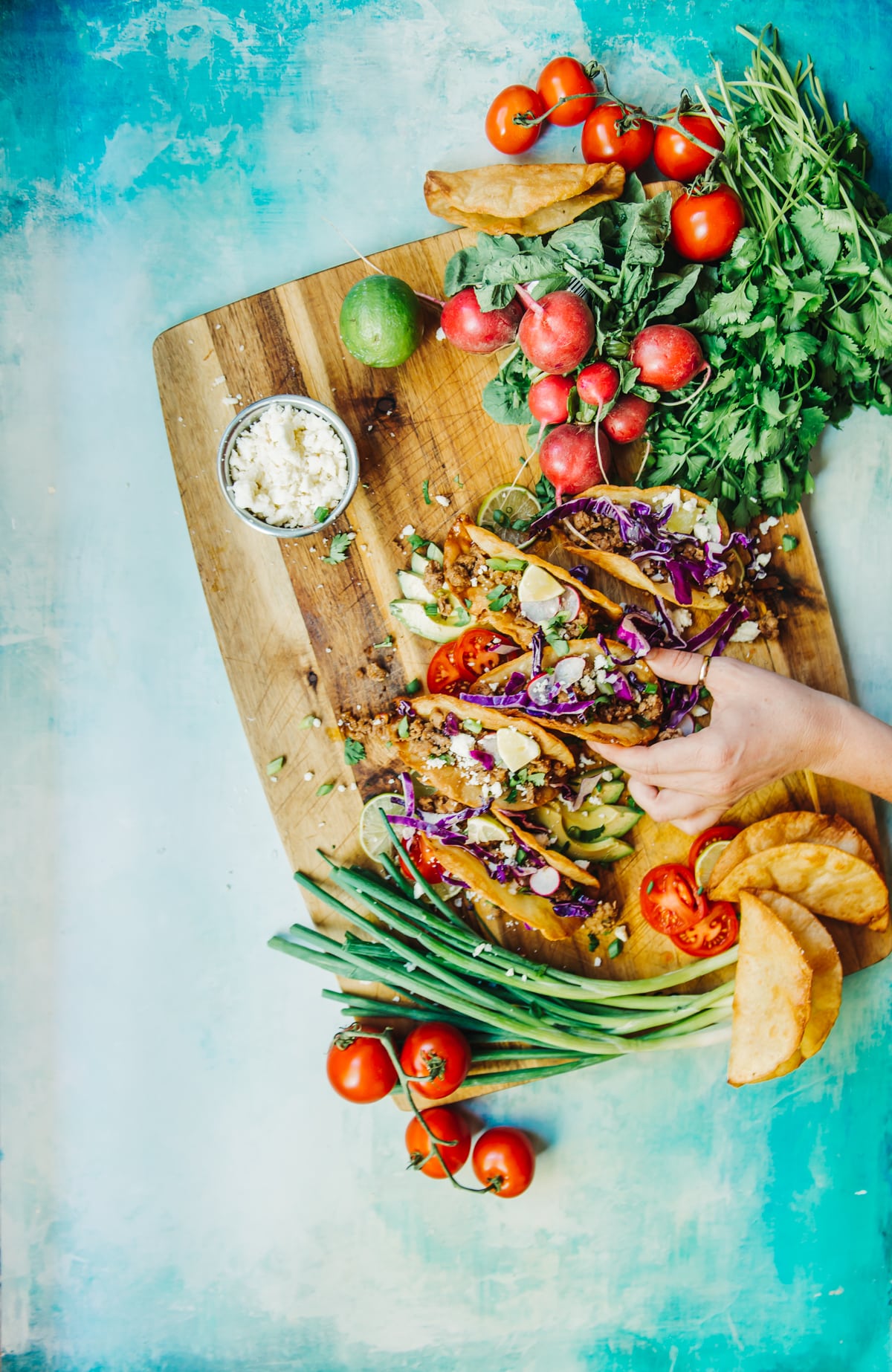 Recipe FAQs
How long do you cook pork tacos?
It takes about 15 minutes to cook ground pork fully. The best way to tell that it's done is to use a meat thermometer to check the internal temperature. It should be 160ºF to be safely served.
Can this recipe be frozen?
Pork taco meat freezes very well and keeps in the freezer for up to 4 months. To thaw, just leave it out on your counter or in the fridge before heating it up. You can heat from raw or already cooked.
Can I use ground turkey?
Ground turkey is a great alternative if you prefer a healthier, leaner option. Turkey is an option that's part of a healthy diet, so we respect that ground chicken, and other meats may be used for this recipe!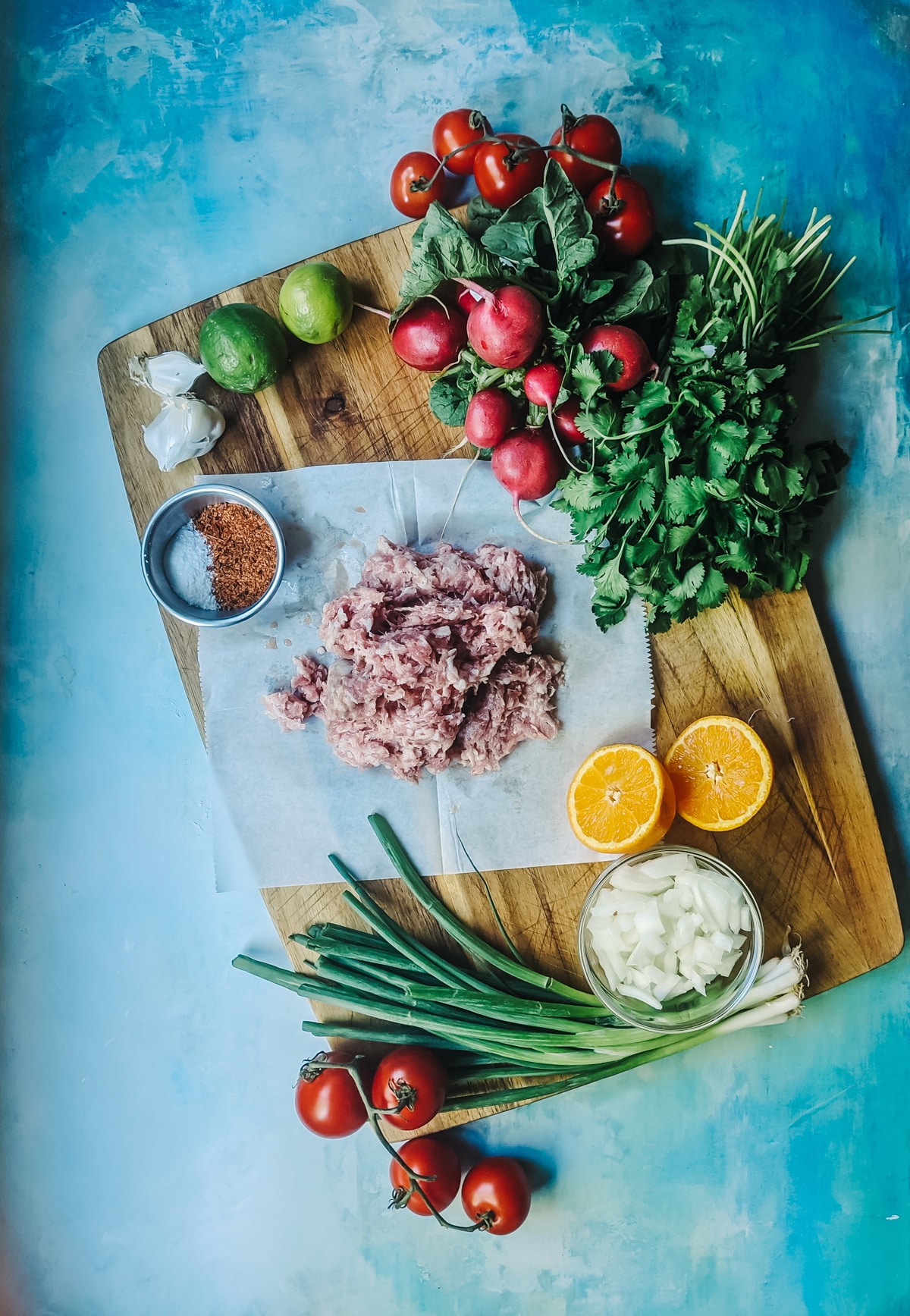 MORE EASY TACO RECIPES
Try these other amazing taco recipes and invite your family to a world of flavors.
Quick Ground Pork Tacos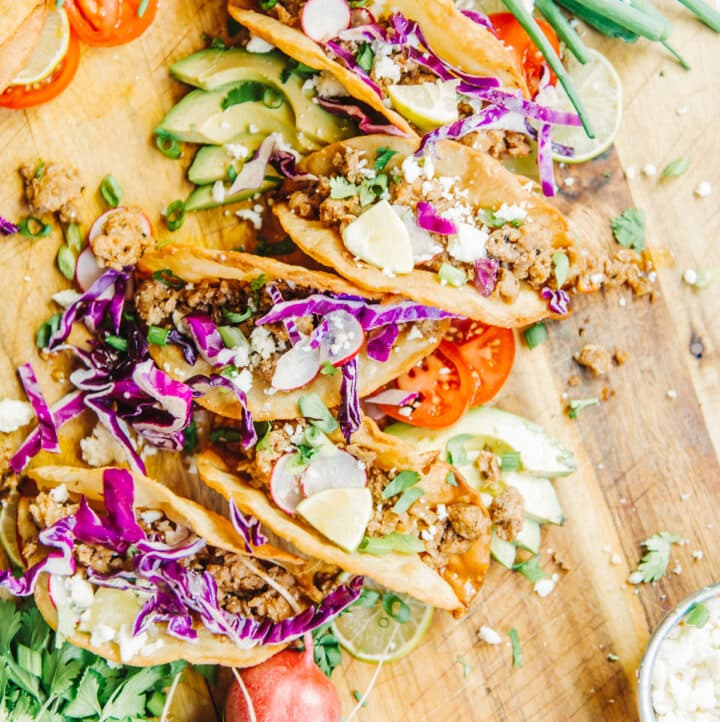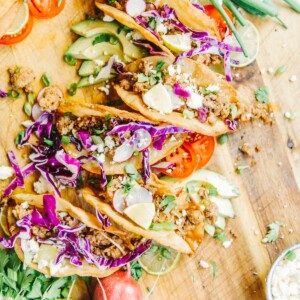 We love ground pork because, in under 30 minutes, you can have a homemade fiesta on the table with this ground pork taco recipe, complete with all the toppings you could desire!
Ingredients
For the ground pork:
1

tbsp

oil

¼

onion

chopped

1

lb

Ground Pork

1

tsp

taco seasoning

½

tsp

Salt

1

garlic clove

minced

⅓

cup

fresh-squeezed orange juice
For the tacos shells:
Oil for frying

12

corn tortillas

salt
For the tacos:
1

cup

red or green cabbage

shredded

1

tsp

olive oil

3

Scallions

chopped

3

radishes

sliced thin

2

limes

cut into wedges

¼

cup

cotija or queso fresco

crumbled

2

avocados

pitted and sliced

1 to

mato chopped
Instructions
Cook the ground pork:
Preheat a large skillet over medium-high heat.

Add the cooking oil and onion.

Sautee the onion, stirring occasionally, 5 minutes.

Add the ground pork and cook through, breaking up as needed to ensure even browning, about 10 minutes.

Add the salt, taco seasoning and minced garlic to the pork and stir to coat.

Reduce the heat to low and add the orange juice.

Let the meat simmer 5 minutes longer, stirring as needed while the juice thickens and to ensure the pork is cooked through.
Fry the tortillas:
Meanwhile, in a high sides heavy bottom skillet or Dutch oven, add 1" of oil, leaving at least 1 ½" clearance from the top of the oil to the skillet rim.

Let the oil heat, over medium heat until it's 350 degrees.

Carefully with long tongs, place one tortilla in at a time, quickly frying to a light golden brown. As the tortilla fries, fold in half and frying a little longer.

Pull the tortilla when it is lightly golden, as it will cook longer as it rests.

Place on a paper towel lined plate and sprinkle with a little salt.

Repeat for the remaining tortilla shells until all are fried.
Assemble the tacos:
Toss the cabbage in the teaspoon of olive oil.

Arrange all of the toppings out for assembly.

Start the tacos with a sprinkle of cotija in each shell, topped with the cooked ground pork, and pick and choose your favorite toppings, like the cabbage, scallions, sliced radishes, and chopped tomatoes.

Squeeze fresh lime juice over top, if desired, and enjoy.
Notes
Store leftover cooked ground pork in an airtight container for up to 3 days in the refrigerator.
If you don't have orange juice, pineapple juice is also a great option for this recipe.
Make sure the ground pork is cooked evenly and completely to USDA food safe standard of 160 °F.
Nutrition
Serving:
1
g
|
Calories:
249
kcal
|
Carbohydrates:
19
g
|
Protein:
10
g
|
Fat:
16
g
|
Saturated Fat:
4
g
|
Cholesterol:
30
mg
|
Sodium:
220
mg
|
Potassium:
439
mg
|
Fiber:
5
g
|
Sugar:
3
g
|
Vitamin A:
234
IU
|
Vitamin C:
19
mg
|
Calcium:
66
mg
|
Iron:
1
mg
Video: Watch how to make ground pork tacos