Quick and easy, this Chicken Pot Pie for two is just the recipe you need to warm yourself up on a cold night.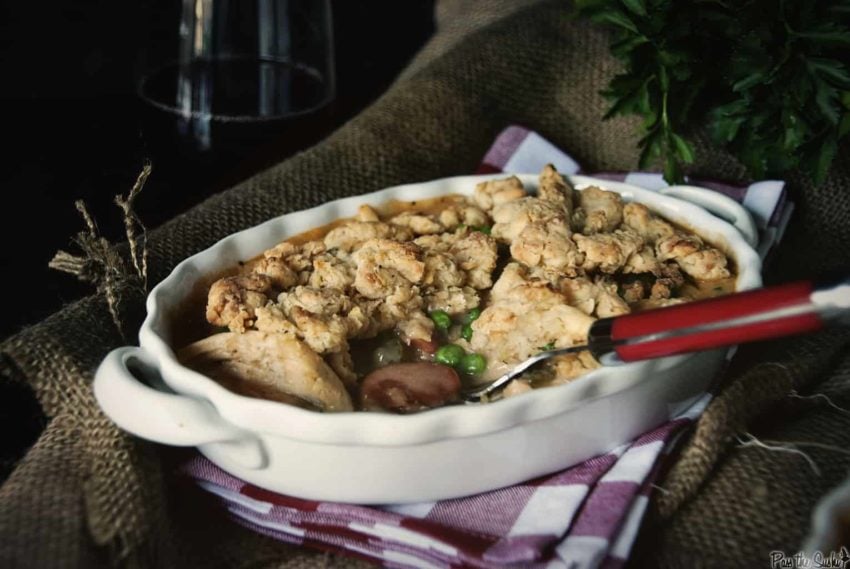 Working in a comic shop, you see a lot of things. And you come to realize those things are pretty freakin normal. Comic people aren't all physicists, and can hold normal conversations. Not that I'm saying a physicist can't hold a normal conversation. We get diverse families, men, women, and children. Fans of all ages coming to purchase entertainment. It's a fun sociable environment where almost everyone can fit in.
Even though from time to time a crazy walks in, or someone really stands out, in my almost 8 years in the comic book business, I have to say that the Bronies kind of freak me out. That's right, be bold and click on that link.
Men that get together and watch My Little Pony.
Now, I'm not going out there and saying every man that buys a My Little Pony book at my shop is a creepy. – not by a long shot – But the ones that make you feel like that kids book is adult content. That try to hid the cover. That slide it across the counter for fear of judgement. Those guys are creepers. These guys come in and strip our shelves of MLP (you know, code names) and all of it's variant covers. I have to hide copies to sell to kids.
I've sold adult comics with some seriously screwed up content to people that don't make it as weird as one grown man buying a single My Little Pony book for himself. Into the brown paper bag their sparkly rainbow filled Friendship is Magic comic goes and they wont be seen in my shop for another month, when the next issue comes out.
Chicken Pot Pie for Two
Like I said, not all adult male fans of My Little Pony's are weird – but for those who are skip this meal, that whole 'for two' thing is probably meaningless at this point for ya, or at least know you'll have nice leftovers.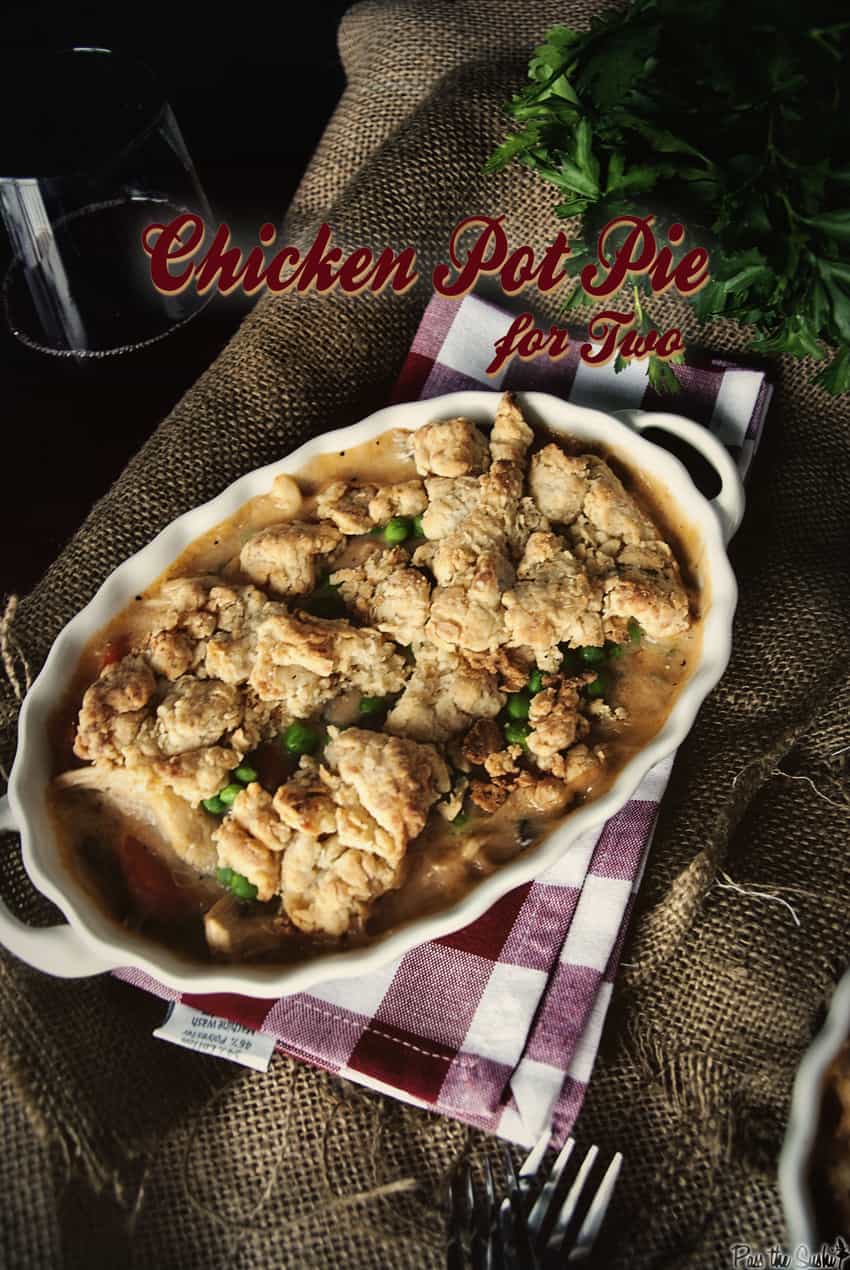 If you've tried my Chicken Pot Pie for Two recipe, or any other recipe on GirlCarnivore.com please don't forget to rate the recipe and let me know where you found it in the comments below. I get inspired by your feedback and comments! You can also FOLLOW ME  on Instagram @girlcarnivore. As well as on  Twitter and Facebook.
Chicken Pot Pie For Two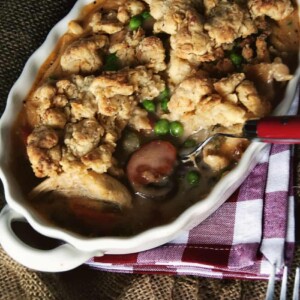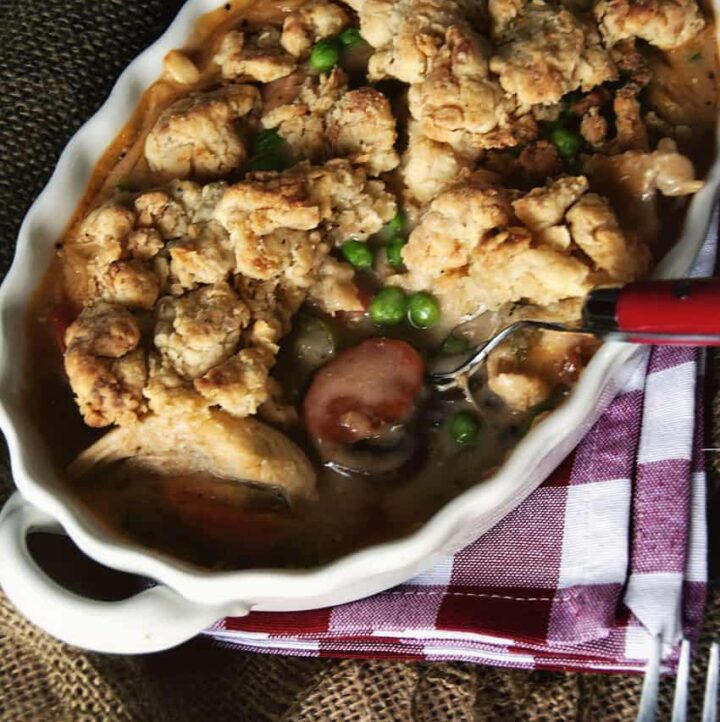 Quick and easy, this Chicken Pot Pie for two is just the recipe you need to warm your favorite person up on a cold night.
Ingredients
Crumb Topping:
2/3

cup

flour

1/2

teas baking powder

Salt and pepper

Pinch

of cayenne pepper

2

tbs

unsalted butter

chilled and cut into small pieces

1/4

cup

grated Parmesan cheese

1/4

cup

plus 1 tbs heavy cream
Filling:
1 8

oz

chicken breast

boneless skinless

1 1/4

cups

low sodium chicken broth

1 1/2

tbs

vegetable oil

4

oz

mushrooms

sliced thin

1

shallot

minced

1

small carrot

peeled and diced

1

rib celery

diced

salt and pepper

1/2

tsp

soy sauce

1/2

tsp

tomato paste

2

tbsp

unsalted butter

3

tbsp

flour

1/2

cup

whole milk

1

tsp

lemon juice

1

tbsp

fresh snipped parsley

1/4

cup

frozen peas
Instructions
For the topping:
Adjust the oven rack to the upper middle position and preheat the oven to 450 degrees F. Line a baking sheet with parchment paper.

Mix the flour, baking powder, salt, pepper, cayenne, in a bowl.

Using your fingers, rub the butter into the flour until only pea sized chunks remain.

Toss in the Parmesan. Fold in cream until just combined.

Crumble the dough onto the prepared baking sheet in an even layer and bake for 6 to 8 minutes, until just starting to brown.
For the Filling:
Line a baking sheet with aluminum foil and grease two individual gratin dishes or one 8 x 5 baking dish.

In a medium saucepan, bring the chicken and broth to a simmer. Cook for 8 to 10 minutes, until chicken is cooked through.

Remove chicken from pan and shred with a fork, place in a bowl, and set aside.

Strain one cup of the broth from the saucepan, set aside. Discard any additional broth.

In the empty saucepan (my saucepan was way to crowded for this step – I would recommend a skillet instead), heat vegetable oil over medium heat. Add the mushrooms, shallots, carrot, celery, and a dash of salt and pepper.

Cover and cook, stirring every now and then, until mushrooms are just tender, about 5 minutes.

When tender, stir in the soy sauce, and tomato paste.

Bump the heat to medium-high and cook, stirring frequently, about 5 to 7 minutes. Veggies will be well browned and all liquid evaporated.

Add the veggies to the chicken.

Melt the butter in the empty saucepan (skillet) over medium heat.

Add the flour and cook for 30 seconds. Slowly whisk in the chicken broth you saved, making sure to break up any clumps, and milk.

Bring to a gentle simmer, scraping up any browned bits of flavor, and cook until thickened – this all happens in about 1 minute.

Remove from heat and add the lemon juice, some fresh parsley, chicken mixture and frozen peas. Season with salt and pepper if needed.

Pour the chicken and vegetables into your prepared baking dish/es. Scatter the already made crumble topping evenly over the filling. Remember, we are making pot pie – not barbies – so don't worry about perfection.

Place baking dish onto our baking pan and bake for 12 to 15 minutes, until the filling is bubbling and the topping has become well browned.

Top with remaining parsley and serve – let cool for a few moments before you bite into that hot lava. Or at least, give your family a verbal warning.
Nutrition
Calories:
898
kcal
|
Carbohydrates:
56
g
|
Protein:
46
g
|
Fat:
54
g
|
Saturated Fat:
34
g
|
Cholesterol:
200
mg
|
Sodium:
548
mg
|
Potassium:
1135
mg
|
Fiber:
4
g
|
Sugar:
8
g
|
Vitamin A:
6785
IU
|
Vitamin C:
16.3
mg
|
Calcium:
266
mg
|
Iron:
4.3
mg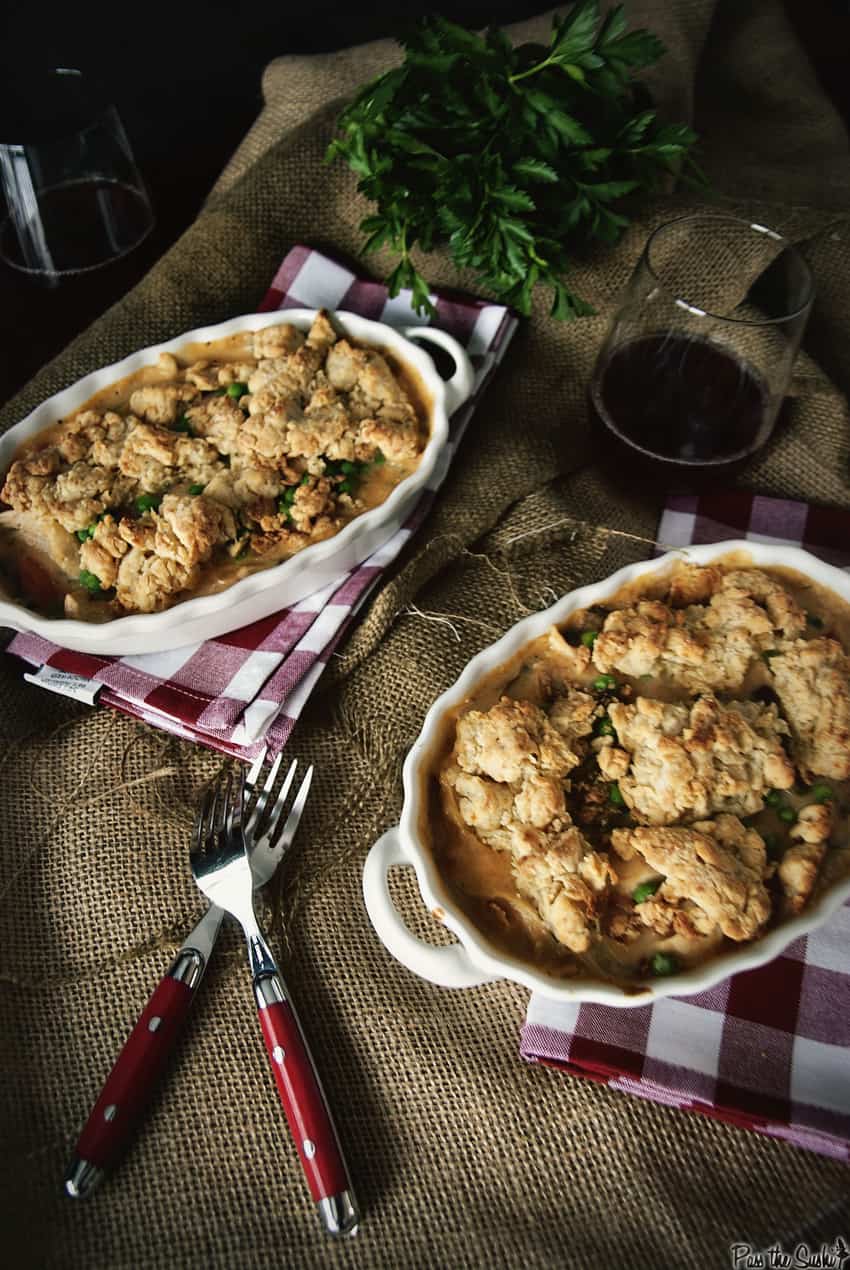 Love pot pie?  Try this Curried Turkey Pot Pie. It is one of my favorites.