Chipotle Baked Tilapia is a quick and easy weeknight meal. Tender flaky fish with a perfectly crispy breading is our favorite way to dive into this fish dinner.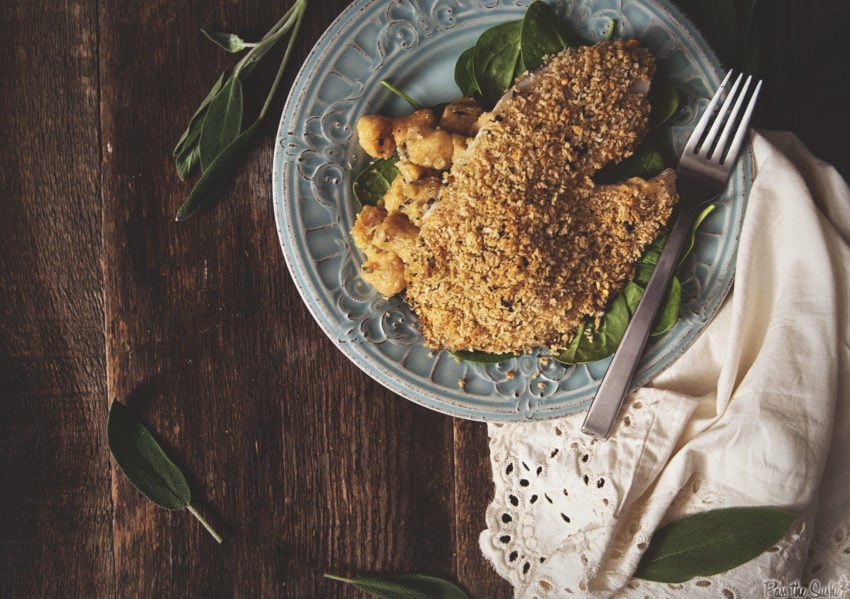 When it comes to easy ways to add more fish to your diet, it doesn't get any better than this tilapia baked in the oven for a delicious meal. It's a quick and easy fish recipe that's a whole lot less expensive than other fish. Plus this simple recipe pairs well with pretty much any side dish you whip up for weeknight meals. We call that a win.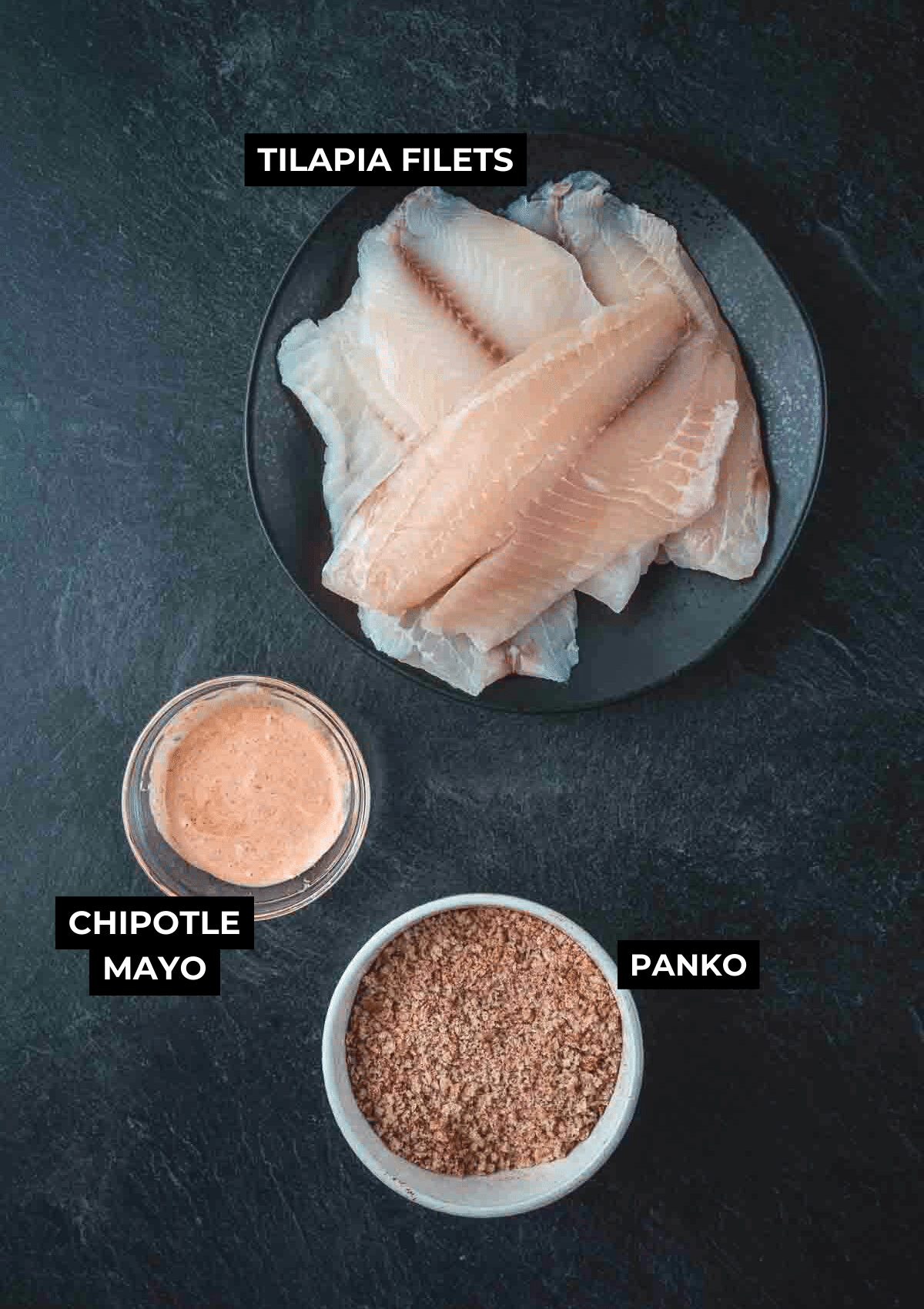 Ingredients:
This oven-baked tilapia recipe only needs three simple ingredients
Fresh Tilapia Filets, at least a 1/2 thick at the center. If previously frozen, make sure to thaw completely before cooking.
Chipotle mayo – if you don't have chipotle mayo, whisk 1 tbsp pureed chiptoles in adobo sauce into 1/2 a cup of mayo. Add more adobo sauce as desired to make it as spicy as you want.
Panko breadcrumbs, or pork panko if you're keeping it keto.
Add even more flavor by mixing Italian seasoning and grated parmesan cheese into the panko mixture!
How to make oven baked tilapia
Prep your oven by preheating it to 375 degrees F and spray an oven safe skillet or aluminum foil lined rimmed baking sheet with non-stick cooking spray or coat with oil.
Carefully rinse and pat the tilapia dry with a paper towel.
Then arrange the fish fillets in the skillet in a single layer and spread a thin layer of the chipotle mayo over top.
Next sprinkle the panko over the top of the fish, patting to press it in place.
Then, simply bake the tilapia in the preheated oven until it reaches 145 degrees F, with an instant-read thermometer, and flakes easily with a fork, about 15 to 20 minutes. Depending on how thick your fish is, the cooking time can swing drastically. If you have thin filets, check them at 10 – 12 minutes.
Season with salt and pepper to taste. Garnish with a lemon wedge and minced parsley if desired and feeling super fancy.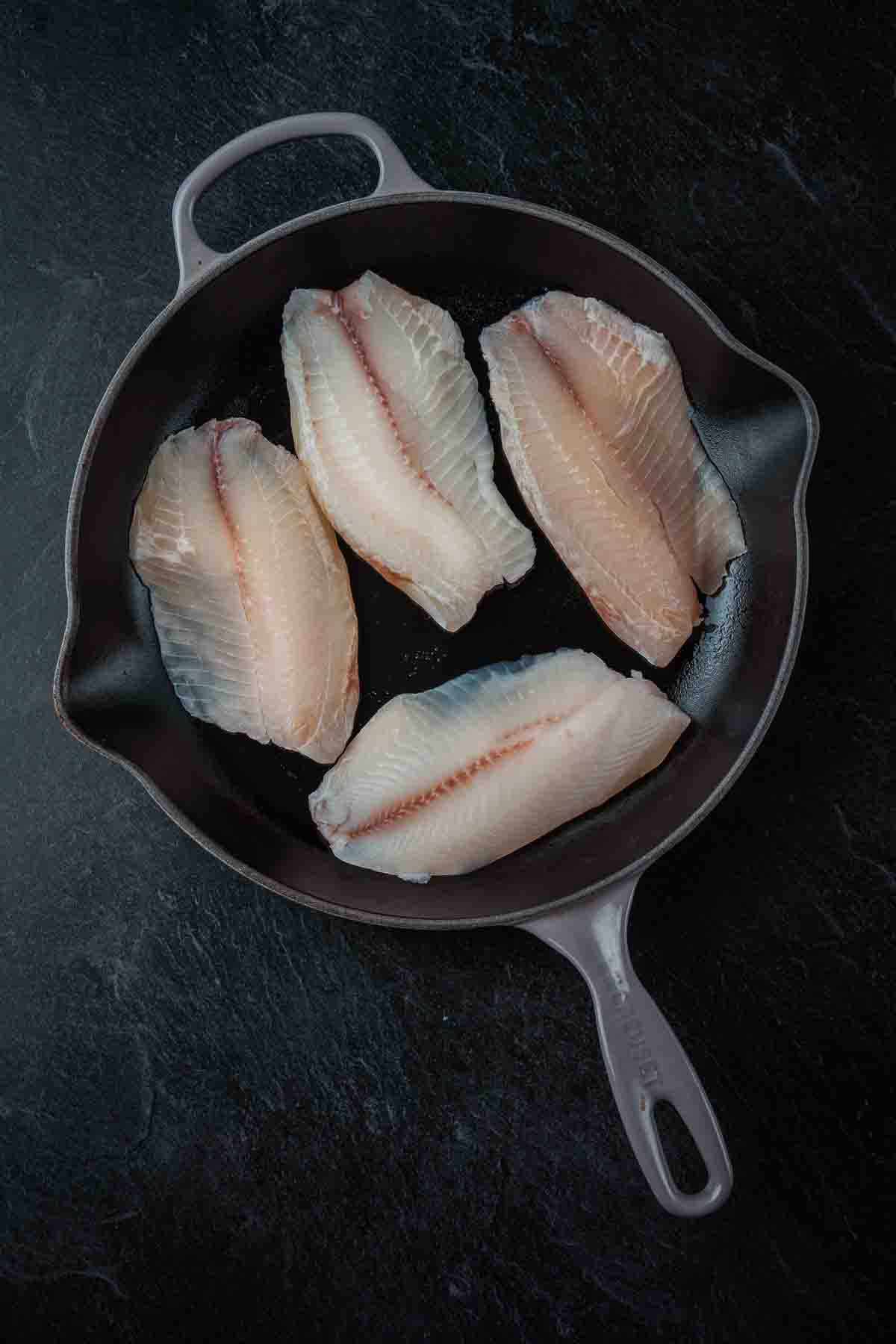 What to serve with baked tilapia
When it comes to healthy dinner side dishes, we love this easy baked tilapia served with a simple side salad, steakhouse creamed spinach, green beans, fried mac and cheese balls, rice pilaf, or cauliflower rice.
Leftovers & Storage
If you have leftovers, you can store them in an airtight container for 3 to 4 days. However, we feel that once the fish bakes, enjoying them immediately is the best way. This recipe so easy, if you're using fresh tilapia filets or frozen ones, only make what you need for the best results and just make more if you want it again in a day or two.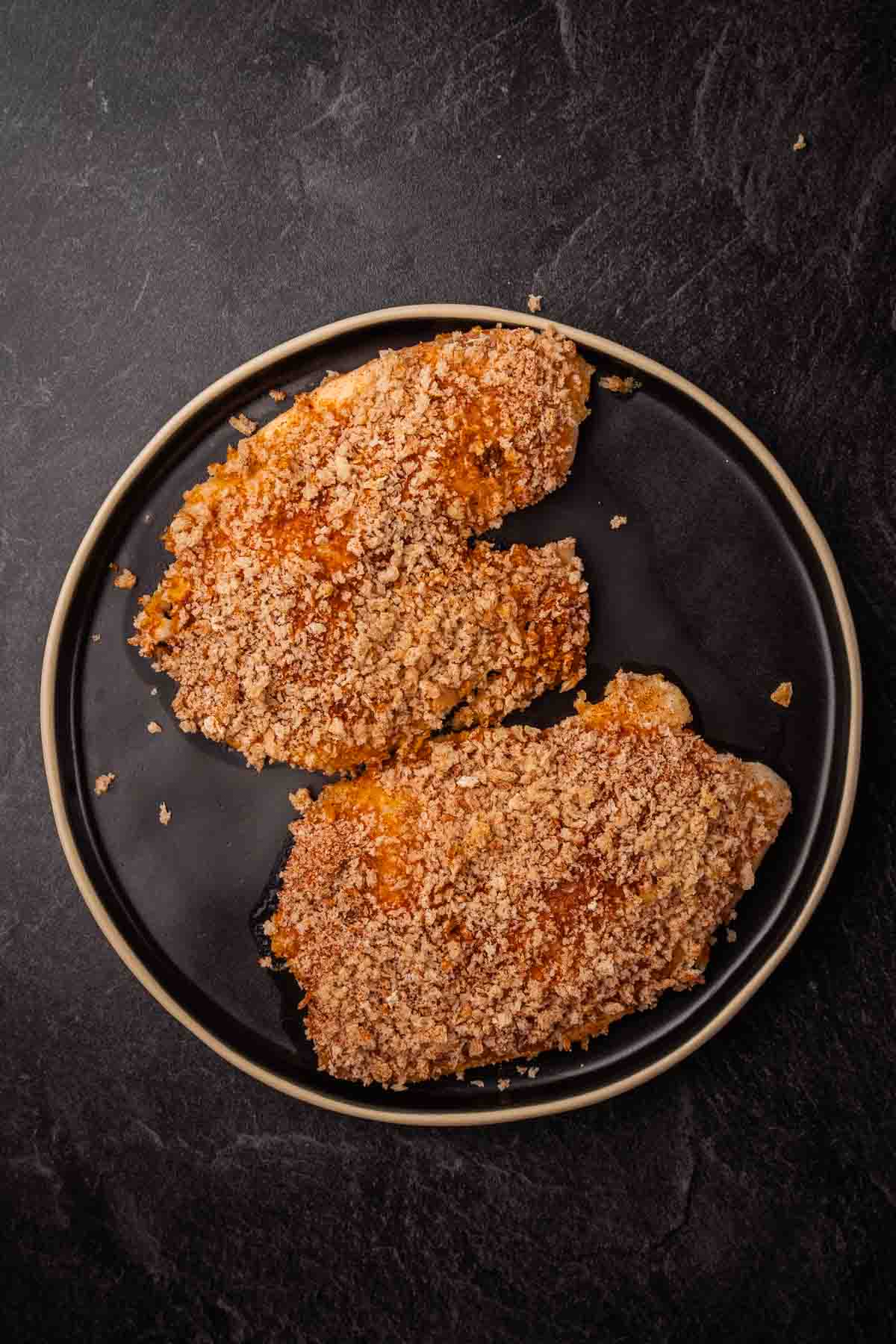 More tilapia recipes
The easy baked tilapia recipe sounds good, any more tilapia recipes?
One great thing about tilapia is it lends itself easily to creativity. It is like the white fish equivalent of a blank canvas. So, you can create a very wide ranging palette of flavors with it. Because it doesn't have that fishy taste, even people that claim not to not be big fans of fish will say tilapia is a-ok.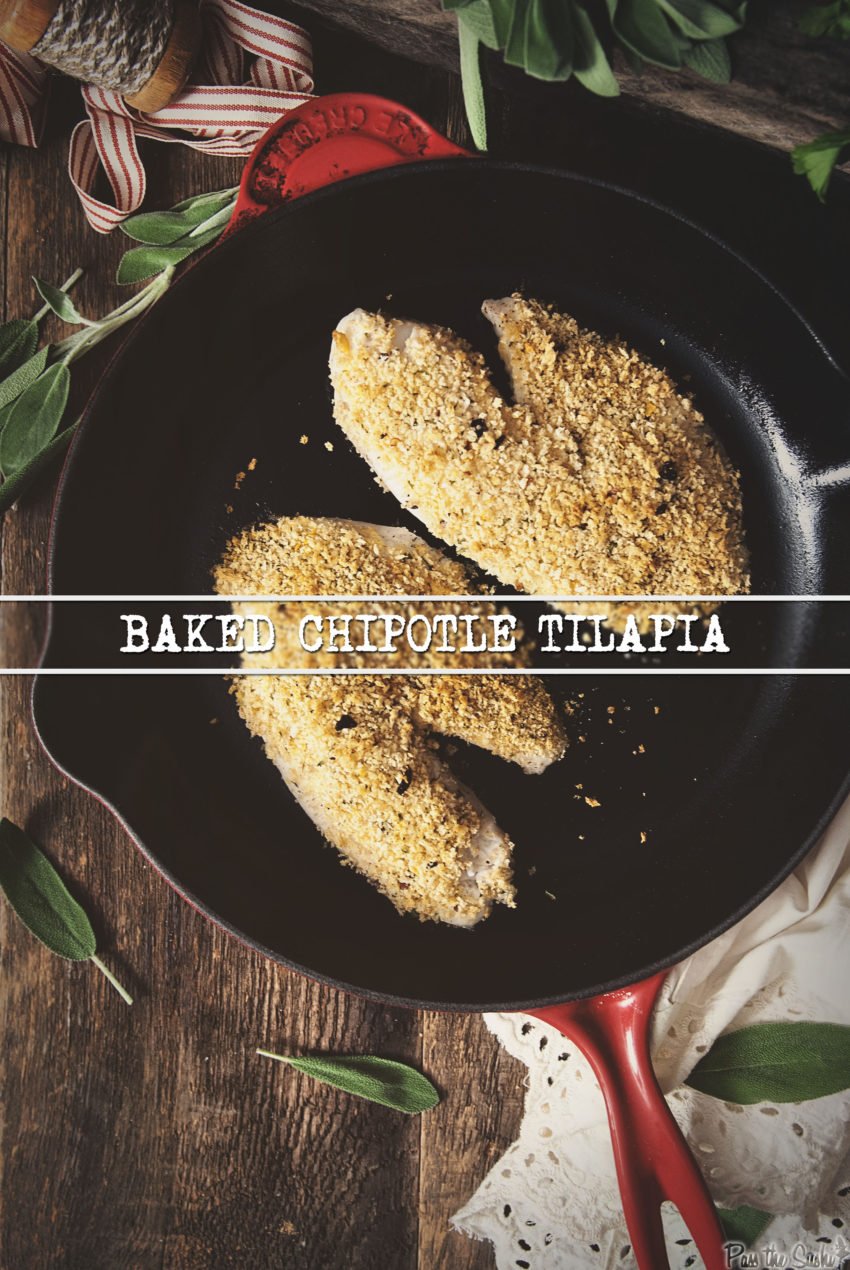 If you've tried my Baked Chipotle Tilapia recipe, or any other recipe on GirlCarnivore.com please don't forget to rate the recipe and let me know where you found it in the comments below. I get inspired by your feedback and comments! You can also FOLLOW ME on Instagram@girlcarnivore as well as on Twitter and Facebook.
Oven Baked Tilapia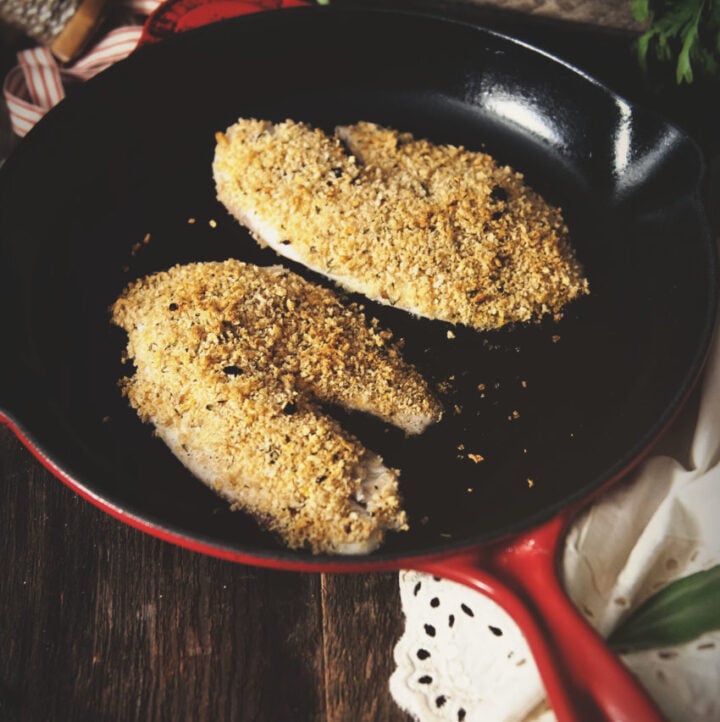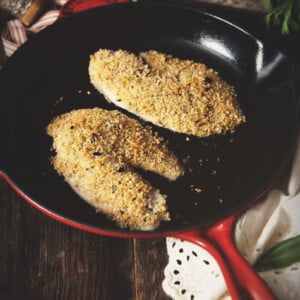 This crispy baked tilapia recipe has a hint of spice from the chipotle seasoning. Not too much, just enough to make it an amazing way to serve delicious flaky fish!
Ingredients
2 to 4

tilapia fillets

healthy cuts at least 1/2″ thick at the center (if you get thinner, reduce the cook time as needed)

1

tbsp

chipotle mayo

3/4 – 1

cup

chipotle panko breadcrumbs

sub regular if needed
Instructions
Preheat the oven to 375. Spray an oven safe skillet or baking dish with cooking spray.

Rinse the tilapia fillets and pat them dry.

Arrange fillets in the skillet and spread a thin layer of chipotle mayo over each.

Press the panko over each making sure it stays in a nice layer.

Place in oven and cook for 15-20 minutes, checking doneness with a fork.
Notes
Tilapia flakes very easily so use a nice flat and wide spatula to flip it. 
You can substitute any fish, white or pink even, like basa, salmon, halibut, and trout. 
Nutrition
Calories:
328
kcal
|
Carbohydrates:
21
g
|
Protein:
38
g
|
Fat:
9
g
|
Saturated Fat:
2
g
|
Cholesterol:
87
mg
|
Sodium:
351
mg
|
Potassium:
572
mg
|
Fiber:
1
g
|
Sugar:
1
g
|
Calcium:
72
mg
|
Iron:
2.4
mg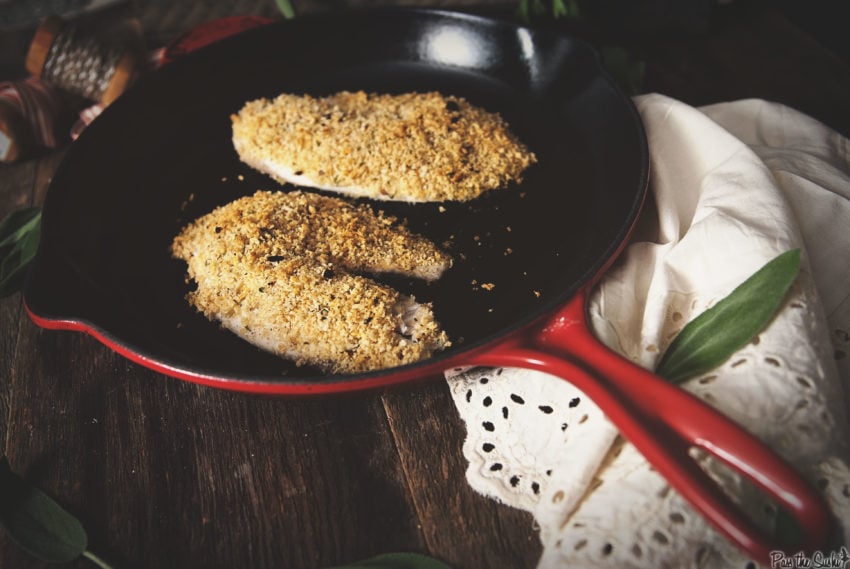 FAqs
WHAT KIND OF FISH IS TILAPIA?
Nowadays, you see tilapia everywhere, and for good reason. Tilapia is a sustainably farmed mostly fresh water fish. It's a white fish that's very delicately flavored. Sort of similar to sole, but it isn't a bottom feeder. In fact, tilapia eat algae so they do have a practical benefit in that regard.
What you have to watch out for is some international tilapia involves some unpleasant feeding practices. Domestic tilapia produced in the US does not allow this practice. So no need to freak out. Just check the country of origin when buying at your local grocery store.
DOES TILAPIA HAVE A LOT OF BONES?
If you buy whole tilapia, then yes, you are dealing with an incredibly bony fish. Luckily, the filleted version sits typically in the frozen seafood section. You might find a bone every now and then, but don't panic, because that is just one of a hundred you could be dealing with.
IS TILAPIA A REAL FISH?
Not a trick question. People actually wonder if tilapia is really a fish or not. Fact is, tilapia have been farmed since the time of the Pharaohs in Ancient Egypt. It is definitely a fish and people have eaten for several millennia.
So, it isn't like "fake crab" or something along those lines.
DOES TILAPIA HAVE HEALTHY FISH OILS?
While tilapia fish filets have no where near as high a ratio of Omega 3 fatty acids as, say, salmon, it does have some. However, it also has a higher ratio of Omega 6 fatty acids. There is some debate about whether those have any health benefits.
All things considered, the benefits of tilapia outweigh the detriments. It is a good low fat protein. If you want to get more fish in your diet then it is still one of the easiest ways on a budget.