Baked Chipotle Tilapia; a quick and easy weeknight meal.  Serve it with your favorite sides, or over salad for a healthy dinner.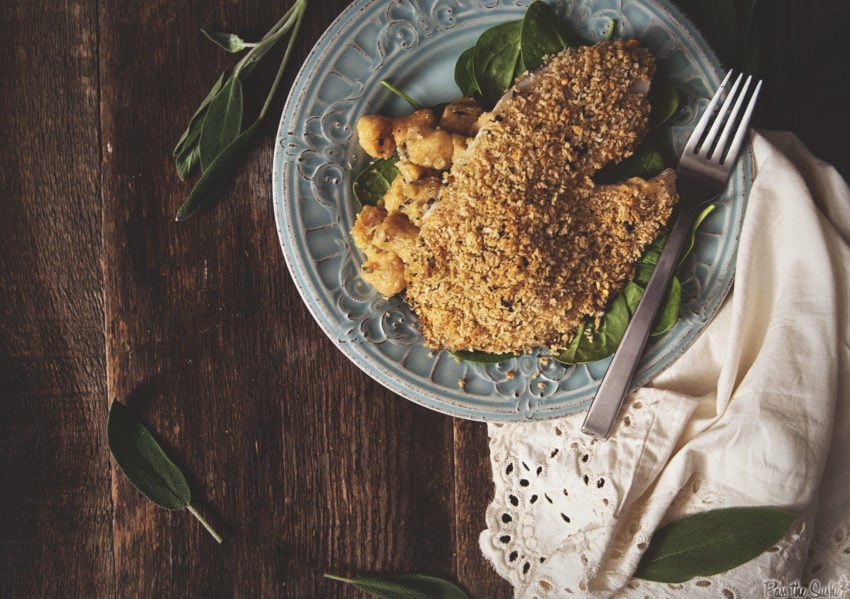 A great fish is for dinner, baked chipotle tilapia
Anyone else out there pining for the great thaw so that we can get back to our porches and a little slow and low over the smoker? Here's where die hard grill fanatics are rolling their eyes and proclaiming their supremacy. That's fine. I am all about the grill all winter long too. I'll even fire up the smoker in the snow.  It's just been damned cold. And last I checked, I had the technology to cook indoors, so I might as well make use of it before the icicles thaw from my smoker and the great out doors is calling my name.
Here's one for the weeknights. Baked chipotle tilapia.
What kind of fish is tilapia?
Nowadays, you see tilapia everywhere, and for good reason. Tilapia is a sustainably farmed mostly fresh water white fish. It is very delicately flavored. Sort of similar to sole, but it isn't a bottom feeder. In fact, tilapia eat algae so they do have a practical benefit in that regard.
What you have to watch out for is some tilapia involves some unpleasant feeding practices, like being fed a diet of animal feces. Domestic tilapia produced in the US does not allow this practice. So no need to freak out.
Does Tilapia Have A Lot Of Bones?
If you buy whole tilapia, then yes, you are dealing with an incredibly bony fish. Luckily, the filleted version sits typically in the frozen seafood section. You might find a bone every now and then, but don't panic, because that is just one of a hundred you could be dealing with.
Is Tilapia A Real Fish?
Not a trick question. People actually wonder if tilapia is really a fish or not. Fact is, tilapia have been farmed since the time of the Pharaohs in Ancient Egypt. It is definitely a fish and people have eaten for several millennia.
So, it isn't like "fake crab" or something along those lines.
Does tilapia have healthy fish oils?
While tilapia has no where near as high a ratio of Omega 3 fatty acids as, say, salmon, it does have some. However, it also has a higher ratio of Omega 6 fatty acids. There is some debate about whether those have any health benefits.
All things considered, the benefits of tilapia outweigh the detriments. It is a good low fat protein. If you want to get more fish in your diet then it is still a solid choice.
The chipotle tilapia sounds good, any more tilapia recipes?
One great thing about tilapia is it lends itself easily to creativity. It is like the white fish equivalent of a blank canvas. So, you can create a very wide ranging palette of flavors with it.
Because it isn't "fishy" even people that claim not to like fish will say tilapia is a-ok.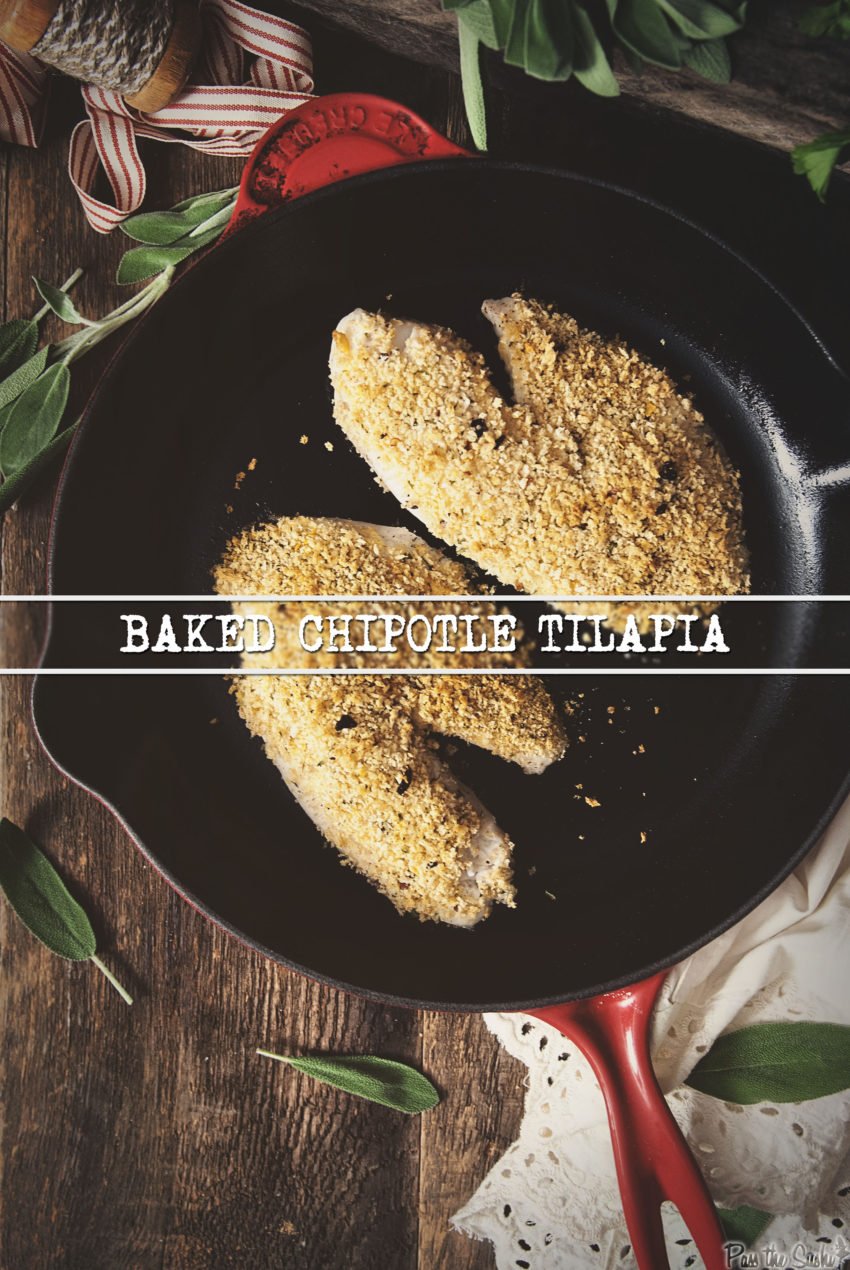 If you've tried my Baked Chipotle Tilapia recipe, or any other recipe on GirlCarnivore.com please don't forget to rate the recipe and let me know where you found it in the comments below. I get inspired by your feedback and comments! You can also FOLLOW ME  on Instagram@girlcarnivore as well as on  Twitter and Facebook.
Looking for more ways to tackle your fresh catch?  Check these recipes out.
Baked Chipotle Tilapia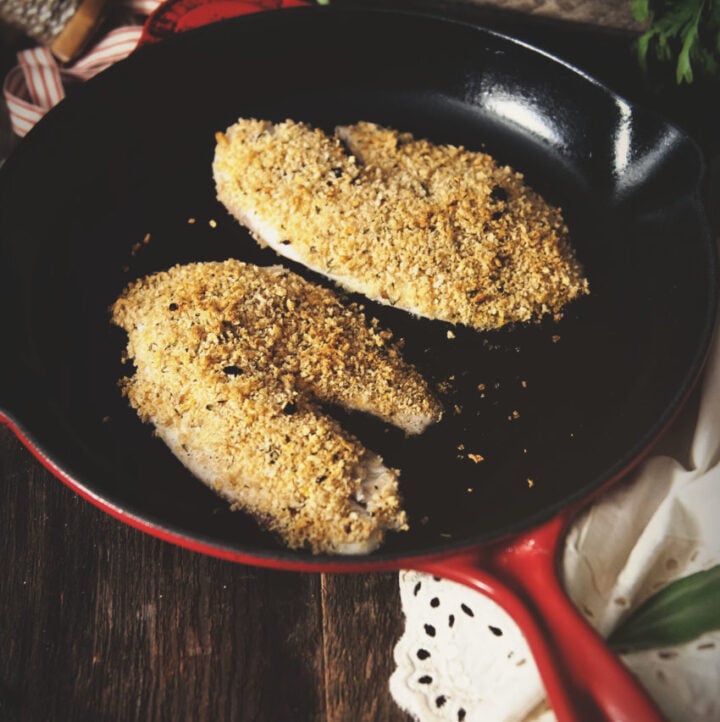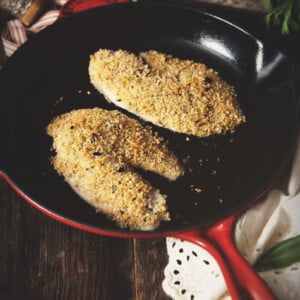 The spiciness of chipotle adds big flavor to the mild flavored fish of tilapia
Ingredients
2 to 4

tilapia fillets

healthy cuts at least 1/2" thick at the center (if you get thinner, reduce the cook time as needed)

1

tbsp

chipotle mayo

3/4 - 1

cup

chipotle panko breadcrumbs

sub regular if needed
Instructions
Preheat the oven to 375. Spray an oven safe skillet or baking dish with cooking spray.

Rinse the tilapia fillets and pat them dry.

Arrange fillets in the skillet and spread a thin layer of chipotle mayo over each.

Press the panko over each making sure it stays in a nice layer.

Place in oven and cook for 15-20 minutes, checking doneness with a fork.
Notes
Tilapia flakes very easily so use a nice flat and wide spatula to flip it. 
You can substitute any fish, white or pink even, like basa, salmon, halibut, and trout. 
Nutrition
Calories:
328
kcal
|
Carbohydrates:
21
g
|
Protein:
38
g
|
Fat:
9
g
|
Saturated Fat:
2
g
|
Cholesterol:
87
mg
|
Sodium:
351
mg
|
Potassium:
572
mg
|
Fiber:
1
g
|
Sugar:
1
g
|
Calcium:
72
mg
|
Iron:
2.4
mg