The New Charcuterie Cookbook: Exceptional Cured Meats to Make and Serve at Home
Every now and then you need to flex those meat loving k-9's, travel back to your roots and remind yourself that you are indeed the meat master of your domain, and really just bring it to the table in a primal way that can't help but make your partner growl. This is that moment. The New Charcuterie Cookbook demands you test the limits of your culinary skill and reignite some pasion between you and your undeserved umami craving tastebuds. A fantastic addition to a real chefs collection, The New Charcuterie is not a simple cookbook, will require making the trek to a specialty shop or two, and will most likely have you calling in a special order from your local butcher. And that's ok. Because food should be a challenge some times. It should be a rewarding labor of love that requires forethought and a day or two of prep. This Bone Marrow with Oxtail Marmalade took all of the above. And it was worth every single step.
Now bring on the meat butter.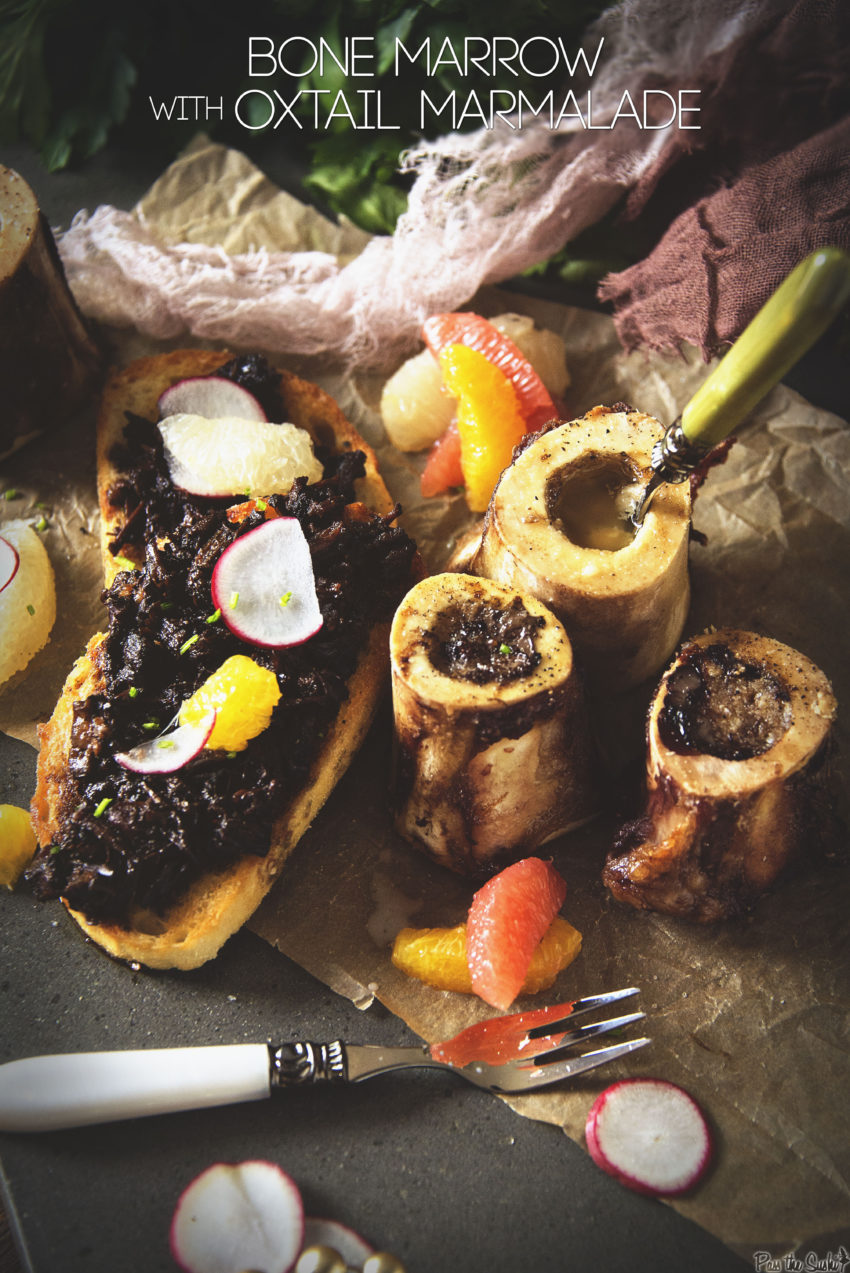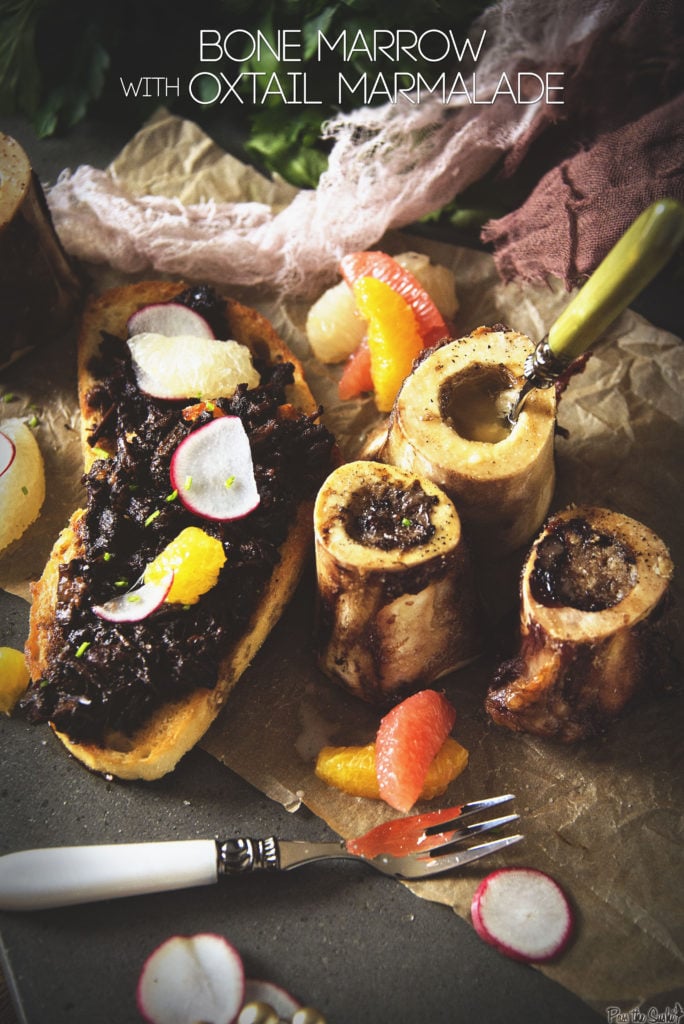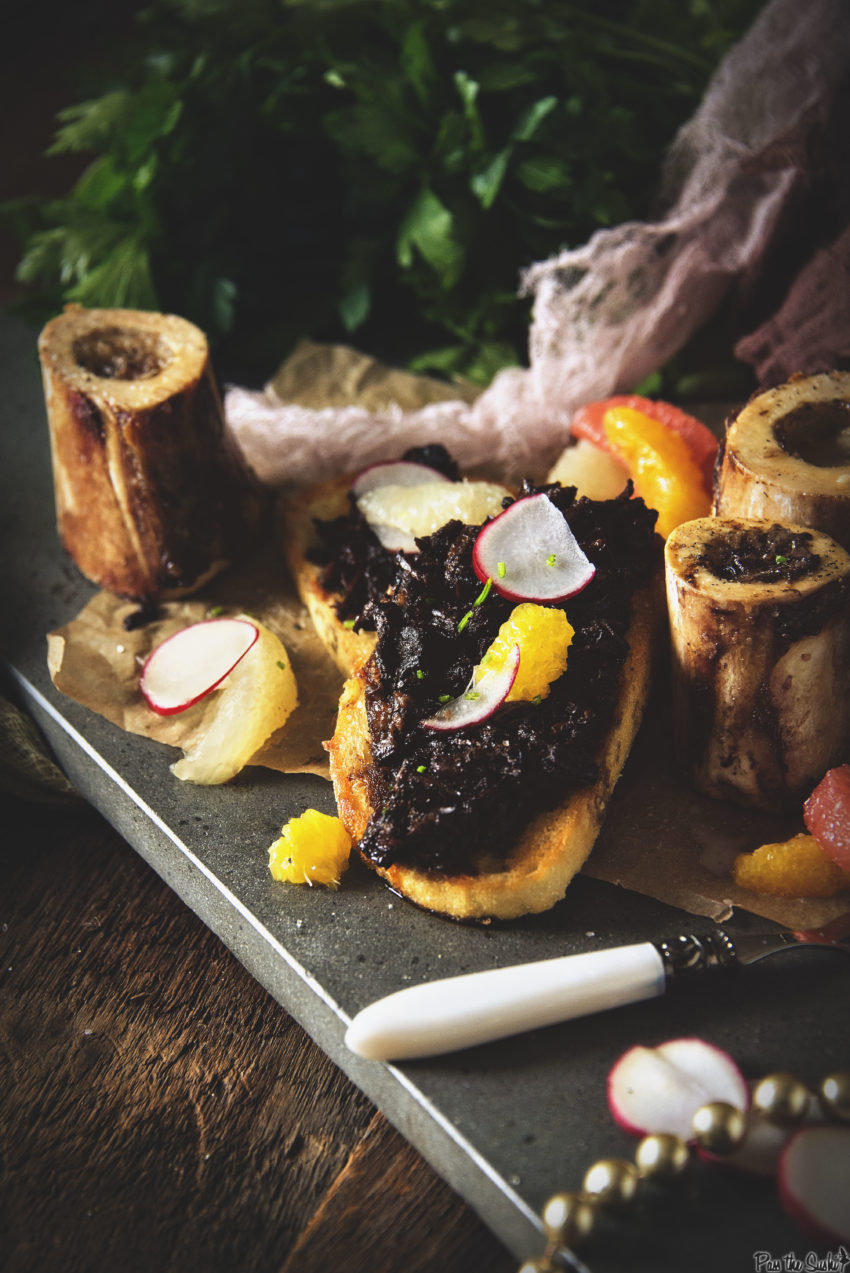 Ingredients
5

lb

oxtail

salt and pepper

1

lb

mirepoix

1

stick lemongrass

chopped 5 cloves garlic

Small sachet of 1 tsp each: star anise

cinnamon, fennel, coriander

2

cups

red wine

2

gal

Dashi

3

tbs

soy sauce

2

tbs

fish sauce

4

tbs

sugar

8

pieces

bone marrow

cut lengthwise, about 6" long if possible

Sliced hearty white bread

Espelette

chili flakes

Chives
Instructions
Salt and pepper the oxtail, then dry roast it in a 350°F (176°C) oven for 1 hour. Turn every 15 minutes.

Pour rendered fat into a pan and cook mirepoix, lemongrass and garlic until tender. Add sachet, oxtail and red wine.

Add dashi and bring to a boil. Once it boils, put a lid on it and place it in a 350°F (176°C) oven for 21⁄2 hours until tender. When it's done, let it cool to room temperature.

Pick the meat from the bones OR transfer it to a nonreactive (glass or plastic) pan and let it sit overnight in the refrigerator. The next day, gently warm the stock and pick the meat from the bones. Discard bones. Set aside the meat.

Reduce 4 cups (0.95 l) stock to 1 cup (237 ml). Shred the meat and add it to reduced stock. Add soy sauce, fish sauce and sugar. Stir and cook until mixture resembles marmalade.

Set aside or cool and warm later. Oxtail marmalade will last in refrigerator 1 week.

Soak the bone marrow in water with a pinch of salt until ready to use. Preheat the oven to 400°F (204°C). Season the bone marrow with salt and pepper, then place it cut side down on a roasting pan and bake 8 minutes. Remove bone marrow from the pan and place sliced bread into rendered fat. Place the bone marrow back on top of the bread (2 pieces of bread per piece of marrow). Cook 6 minutes or until the internal temperature of the bone marrow reaches 140°F (60°C).

When the bone marrow is done, put it on a tray. Season it with sea salt, black pepper, espelette chili flakes and chives. Flip bread onto a plate, toasted side up. Top the bread with oxtail marmalade. Pair it with fresh radishes and pickled citrus.