Bone marrow with Oxtail marmalade, that actually sounds like poetry. And like great poetry, its flavors dance on the palate. Some food should be a labor of love, a poetic endeavor, that requires forethought and a day or two of prep.
How to make bone marrow with oxtail marmalade
This Bone Marrow with Oxtail Marmalade is high art. It is a recipe for poetic justice… and inspiration. And it was worth every single step.

The New Charcuterie Cookbook: Exceptional Cured Meats to Make and Serve at Home
Every now and then you need to flex those meat-loving canines, travel back to your roots and remind yourself that you are indeed the meat master of your domain, and really just bring it to the table in a primal way that can't help but make your partner growl.
This is that moment. The New Charcuterie Cookbook demands you test the limits of your culinary skill and reignite some passion between you and your undeserved umami craving taste buds. A fantastic addition to a real chef's collection, The New Charcuterie is not a simple cookbook.
Indeed, expect making the trek to a specialty shop or two. Look forward to calling in a special order from your local butcher as if you are a French chef preparing for a banquet for dignitaries. And that's ok.
Because food, as in great cuisine, should be a challenge some times. It should be a rewarding labor of love that requires forethought and a day or two of prep. Bone Marrow with Oxtail Marmalade took all of the above. And it was worth every single step.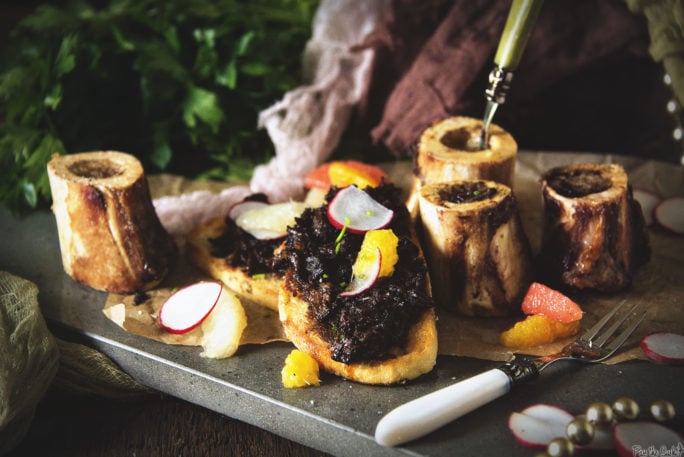 Using bone marrow in recipes
Now bring on the meat butter. Otherwise known and cherished as bone marrow.
Cause Bone Marrow, yeah, that's all you're going to want on your toast from here on out. Check this recipe out while you're at it.
Bone marrow is a soft fatty tissue and if you heat it up it melts like butter. It is even richer in flavor than beef fats, but for a long time recipes ignored it. I guess it fell out of diet fads, but made a comeback with diets like paleo. Not sure that is the case, but it makes sense on first glance.
Is Bone Marrow Good For You?
While it is very rich and you wouldn't necessarily eat it every day, bone marrow does have plenty of healthy components. So it is not all bad and don't let anyone tell you otherwise.
Bone marrow is high in collagen, glucosamine, linoleic acid, and glycine. And those are all things that promote healthy skin and are known to decrease inflammation.
All good things in moderation as they say. Of course, I also heard that too much of everything is just enough, but don't quote me on that.
Is Bone Marrow Just Fat?
While it is pretty fatty, you also get plenty of protein and the aforementioned nutritional aspects that are useful and necessary. Since bone marrow is pretty darn rich, you probably are not going to eat too much of it anyway.
Which is what makes it so ideal as a spread. All flavor, more vitamins and minerals than butter, that super deep beefy umami flavor? What is not to like?
What is "mirapoix"?
If you already read the recipe but found yourself wondering what the heck "mirapoix" is, then glad to help. Not all of us grew up watching Julia Child or any of the cooking shows that followed.
Mirapoix is the French cooking term for a group of lightly sauteed vegetables used to create a flavor base. Like all great cooking terms, of course it has to be French.
A classic mirapoix consists of two parts diced onions, one part chopped celery, and one part chopped carrots. However, there is a Cajun variation referred to as "the Holy Trinity" that flavors just about every creole dish imaginable, with onions, celery, and bell peppers in equal measure.
I have a couple cajun recipes in my collection if you want to check them out like this fried chicken sandwich.
More great beef recipes
This recipe is all about the beefy flavor of the marrow, so if that gets you wondering about where the rest of the beef is, then I have you covered.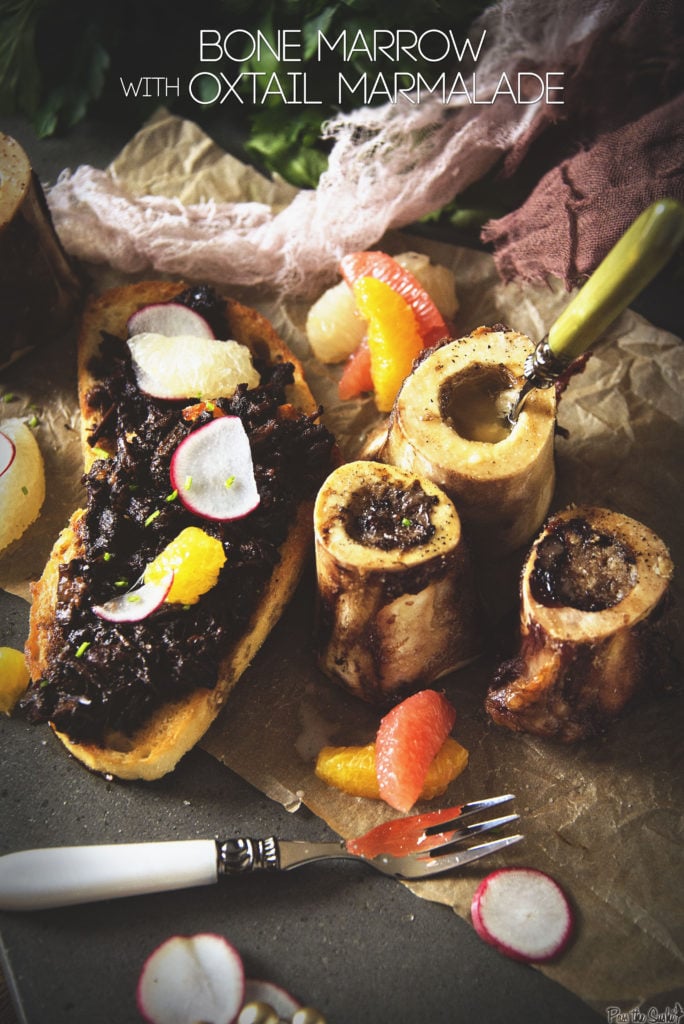 If you've tried my Bone Marrow with Oxtail Marmalade Recipe or any other recipe on GirlCarnivore.com please don't forget to rate the recipe and let me know where you found it in the comments below. I get inspired by your feedback and comments! You can also FOLLOW ME on Instagram @girlcarnivore as well as on Twitter and Facebook.
Bone Marrow with Oxtail Marmalade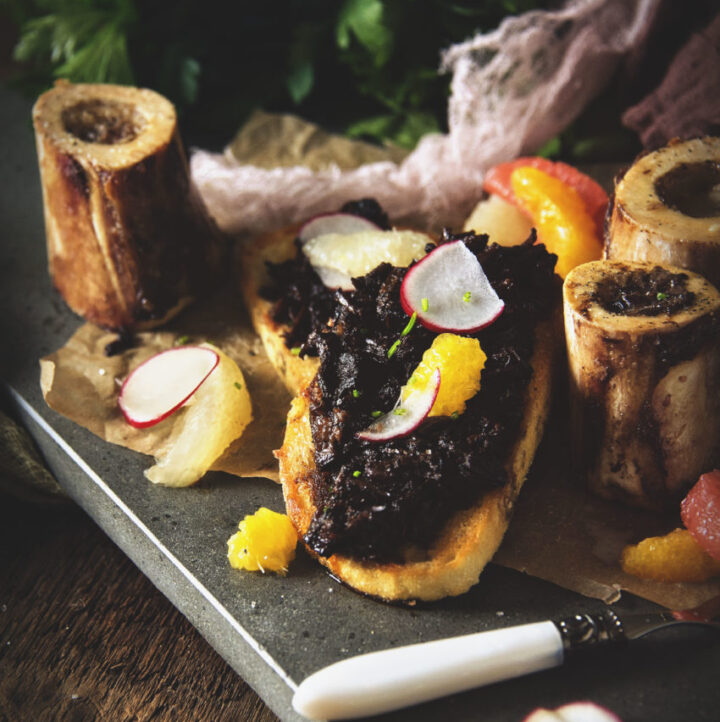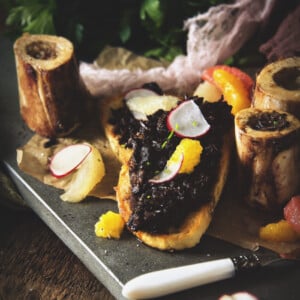 Bone marrow with oxtail marinade is a nice rustic recipe that requires a bit of prep, but is worth the effort
Ingredients
5

lb

oxtail

1

tsp

salt and pepper

1

lb

mirepoix

1

lemongrass

one stick, chopped

1

tsp

star anise

2

cups

red wine

2

gal

Dashi

3

tbs

soy sauce

2

tbs

fish sauce

4

tbs

sugar

8

pieces

bone marrow

in bones cut lengthwise, about 6" long if possible – your butcher can help

Sliced hearty white bread

Espelette

chili flakes

Chives

5

garlic

1

tsp

cinnamon

1

tsp

fennel

1

tsp

coriander
Instructions
Salt and pepper the oxtail, then dry roast it in a 350°F (176°C) oven for 1 hour. Turn every 15 minutes.

Pour rendered fat into a pan and cook mirepoix, lemongrass and garlic until tender.

Add sachet, oxtail and red wine.

Add dashi and bring to a boil. Once it boils, put a lid on it and place it in a 350°F (176°C) oven for 21⁄2 hours until tender. When it's done, let it cool to room temperature.

Pick the meat from the bones OR transfer it to a nonreactive (glass or plastic) pan and let it sit overnight in the refrigerator.

The next day, gently warm the stock and pick the meat from the bones. Discard bones. Set aside the meat.

Reduce 4 cups (0.95 l) stock to 1 cup (237 ml). Shred the meat and add it to reduced stock. Add soy sauce, fish sauce and sugar. Stir and cook until mixture resembles marmalade.

Set aside or cool and warm later. Oxtail marmalade will last in refrigerator 1 week.

Soak the bone marrow in water with a pinch of salt until ready to use. Preheat the oven to 400°F (204°C). Season the bone marrow with salt and pepper, then place it cut side down on a roasting pan and bake 8 minutes. Remove bone marrow from the pan and place sliced bread into rendered fat. Place the bone marrow back on top of the bread (2 pieces of bread per piece of marrow). Cook 6 minutes or until the internal temperature of the bone marrow reaches 140°F (60°C).

When the bone marrow is done, put it on a tray. Season it with sea salt, black pepper, espelette chili flakes and chives. Flip bread onto a plate, toasted side up. Top the bread with oxtail marmalade. Pair it with fresh radishes and pickled citrus.