When I think of skillet chicken parmesan, I think of those round aluminum containers, squishy overdone dry pasta and rubbery chicken smothered in cheese.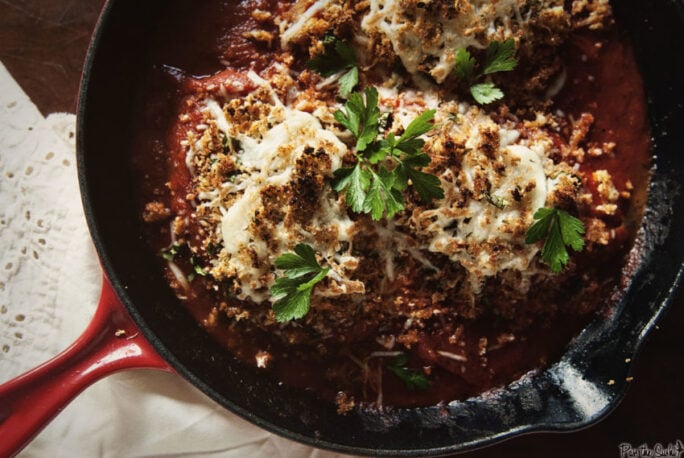 It's not terribly appetizing. So heavy. Carbs for days. And it's not exactly I'm ever itching to order out. That and I'm really too cheap to order pasta out. 
Eat in with skillet chicken parmesan
But sometimes red sauce and chicken is really what you need to fuel you through to the next day. And with this at home version, self control when divvying up the pasta portions, and a little wine, this dinner really hits the spot. I am loving the Skillet Chicken Parmesan.
If you're as classy as me, you're going to just end up stealing bites right from the skillet.
The origin of chicken parmesan
Chicken parm, as it is also known, came from Italians, but not necessarily directly from Italy. Italian immigrants substituted the chicken for eggplant, which is a classic Italian dish known as  melanzane alla Parmigiana. 
Nowadays, chicken parmesan is served around the world, but it is actually a fairly modern dish. It just traveled really well – collecting fans along the way. 
Nowadays, if you don't see it on an Italian-American restaurant menu, then you might wonder if you are in an Italian diner at all.
How to bread chicken for chicken parmigiana
Breading chicken for chicken parmigiana in this case takes the breading and adds it after the chicken has been browned and addedd to the tomato sauce. Pretty easy right? 
But if you do like to do the whole egg wash thing, you could do that too. Just going to have more stuff to clean at the end, but that is your call. Pat the chicken lightly with a light dusting of cornstarch. Then dip it in the lightly beaten egg to coat. Finally, dredge it through the breadcrumbs.
If you let it freeze then the crumb crust will stay on best before adding it to the pan.
More Italian inspired dishes
n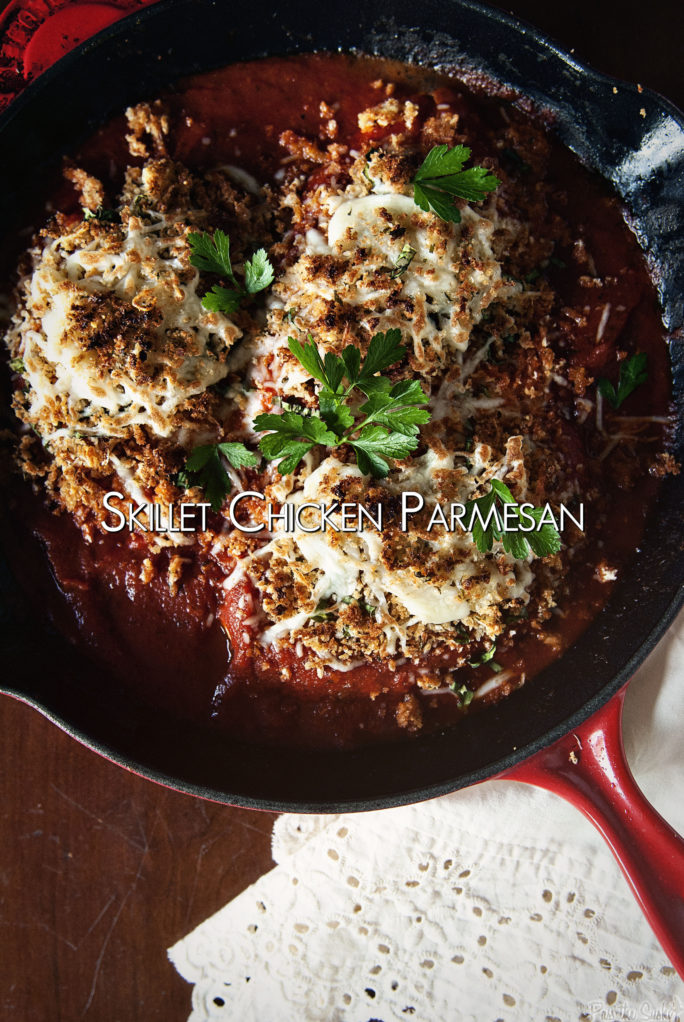 Weeknight Skillet Chicken Parmesan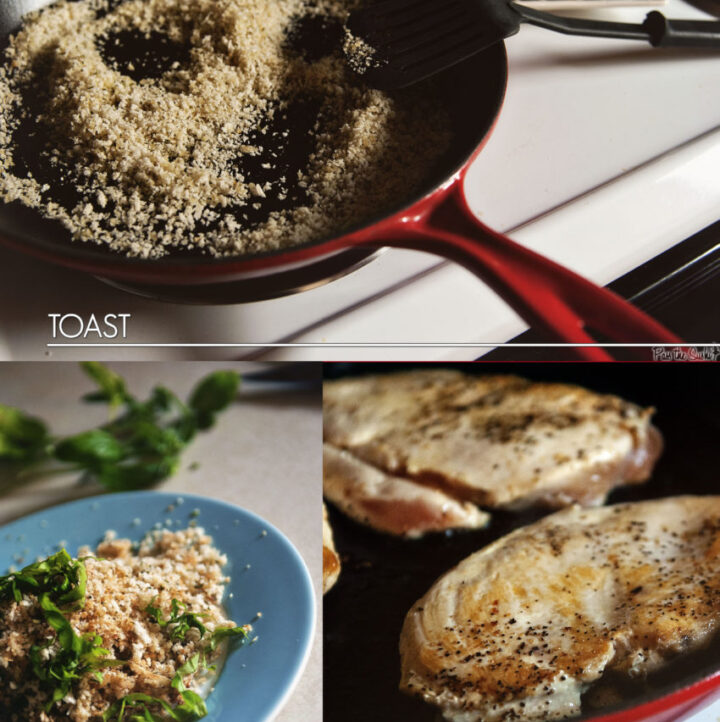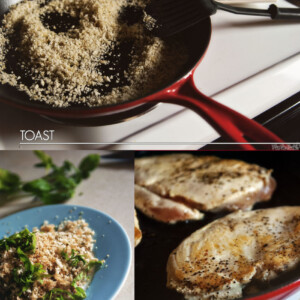 This meal is perfect for two heavy eaters, or two and some leftovers. If you wanted to make more, I'd suggest doubling the chicken and maybe finishing it off in a baking dish instead of trying to cram everyone in the same skillet.
Ingredients
2

skinless

boneless chicken breasts

1

day-old baguette

2

tbs

extra-virgin olive oil

1/4

cup

parmesan cheese

grated

1/4

cup

plus 2 tbs finely chopped fresh basil

Salt and pepper

1 15

oz

can tomato puree

1

clove

garlic

minced

1/4

teas red pepper flakes

1/2

cup

shredded mozzarella cheese
Instructions
Take out some workday frustration and pound the chicken between two sheets of plastic or in a heavy duty bag to 1/4″ – 1/2″ thick.

Dice the baguette into cubes, and place in a food processor a few at a time with the motor running to make coarse crumbs. You want about 1 1/4 cups total when all said and done.

In a large ovenproof nonstick skillet, heat 1 tbs olive oil over medium-high heat. Add the breadcrumbs and toast, about 3 minutes, stirring. Add 2 tbs parmesan cheese and cook 1 minute longer. Transfer to a plate or bowl and stir in the 2 tbs of the basil.

Preheat the broiler.

Return the skillet to the cook top and add the remaining olive oil. Season the chicken with 1/4 teas salt and pepper. Add the chicken to the skillet and cook until golden and cooked through, 2 to 3 minutes per side. Transfer to another plate.

Return the skillet to the cook top and add the tomato puree, fill the can with water and add it to the skillet as well. Add the garlic, red pepper flakes, and 1 tbs of parmesan. Stir to combine. Reduce the heat to medium / medium-low and simmer, stirring as needed until the sauce has thickened, 10 minutes. Stir in the remaining basil and season with salt and pepper as needed.

Add the chicken back to the skillet and turn to coat. Top with remaining parmesan cheese and some of the bread crumbs. Spread the mozzarella cheese on top and the rest of the bread crumbs. Place under the broiler until the cheese has melted, 1 to 2 minutes.
Notes
Food Network Magazine March 2013
Nutrition
Calories:
1638
kcal
|
Carbohydrates:
168
g
|
Protein:
94
g
|
Fat:
66
g
|
Saturated Fat:
19
g
|
Cholesterol:
275
mg
|
Sodium:
2613
mg
|
Potassium:
2862
mg
|
Fiber:
15
g
|
Sugar:
24
g
|
Vitamin A:
3260
IU
|
Vitamin C:
50.1
mg
|
Calcium:
886
mg
|
Iron:
17.9
mg