Imagine a Bloody Mary with a sweet kind of potion to always bring you back. The kind that starts smooth but comes back with a little bite. The Voodoo Bloody Mary is magic. The kind that gets you every time.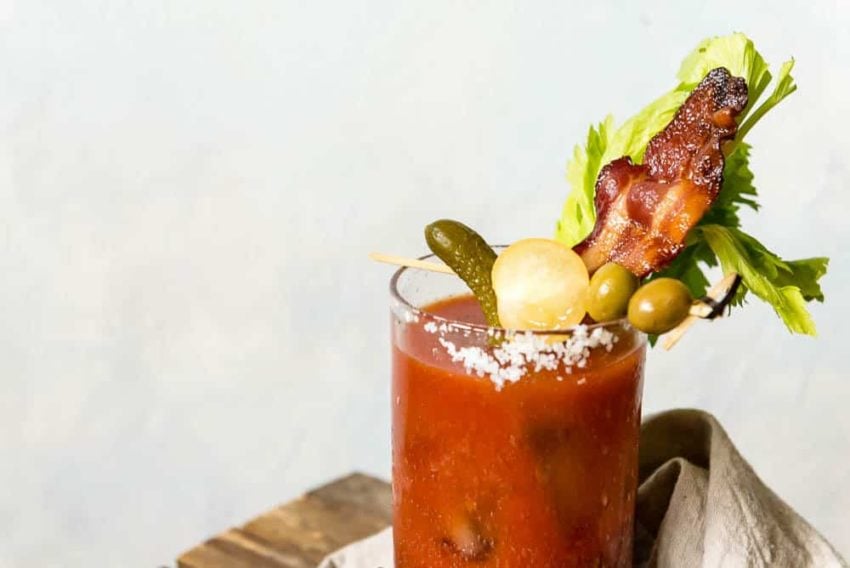 Confession: I hate Bloody Mary's.
Yep. Hate them.
(Sorry, if you were expecting it to be more tantalizing than that. I let ya down hardcore).
It's not that I don't love a good cocktail for breakfast. Cuz trust me, I do. It's that
The Bloody Mary tends to be an over the top cry for attention or Instagram face at most places these days. And, once again, I am not above tiny cheeseburgers. But, do I want it hovering precariously above my cocktail. No, No I don't.
Not only are the Sunday Brunch favorites so top heavy they give Dolly Parton a run for the money, but they are also often loaded with whatever the signature flavor is from whatever watering hole opened early to dish out eggs and pancakes. It seems that too much of a good thing is indeed a bad thing, at least when it comes to cocktails.
I don't want a mouthful of Old Bay when I am picking crabs, and I certainly don't want it while sipping a Bloody Mary beachside. Nor do I want it topped with giant crawfish, grilled cheese sandwiches, or fried chicken.
But, as I confessed, I hate Bloody Mary's. And I believe this overzealous one-upmanship is why.
Tomato juice is ok by itself; vodka is pretty neutral. Add a bit of sour and spice, and the underlying flavors should round themselves out. It seems like the type of cocktail I could rather fancy for brunch.
And yet, my quest to enjoy the Bloody Mary continues.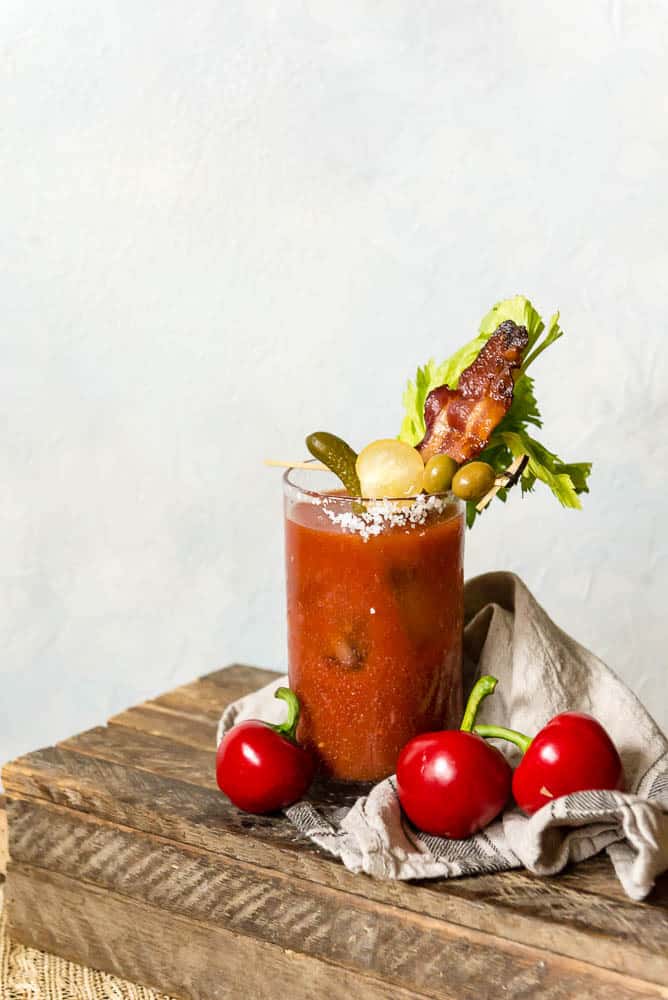 We have overcomplicated things, gone too far, and taken a good thing and lost control of it. The original Bloody Mary is said to have been nothing more than vodka and tomato juice from The New York Bar (in Paris) as early as 1921.
From there, the family tree branched into the Caesar, the Michelada, and of course the Virgin Mary. And let's be honest, there is probably a Bloody Mule out there somewhere right now with the way people seem to gravitate towards those copper mugs.
But, the trunk of this tree remains true. A simple cocktail with essential savory ingredients and a little punch.
The Voodoo Bloody Mary is my spin on this. A blend of the classic ingredients with a homemade voodoo sauce added for the heat. It's a subtle, sneaky kind of burn that get's you when you aren't expecting it, and makes you curious for more.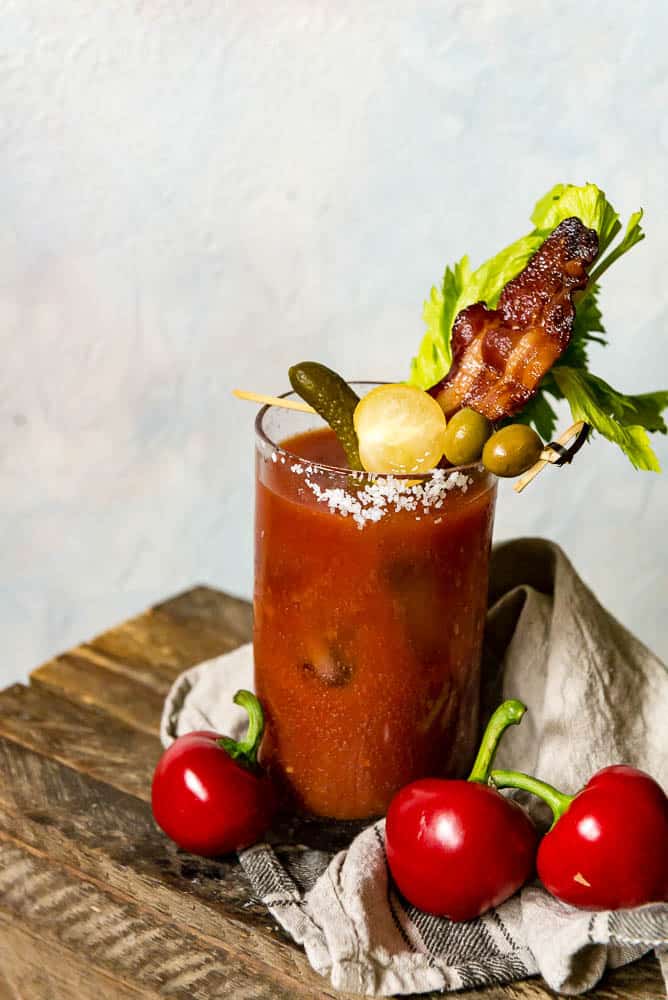 And just so it could hang out here, in the GirlCarnivore Meat Lab, I threw in a slice of perfectly cooked hardwood smoked bacon. But of course, that is optional.
Need some inspiration to go with that, check this breakfast burger.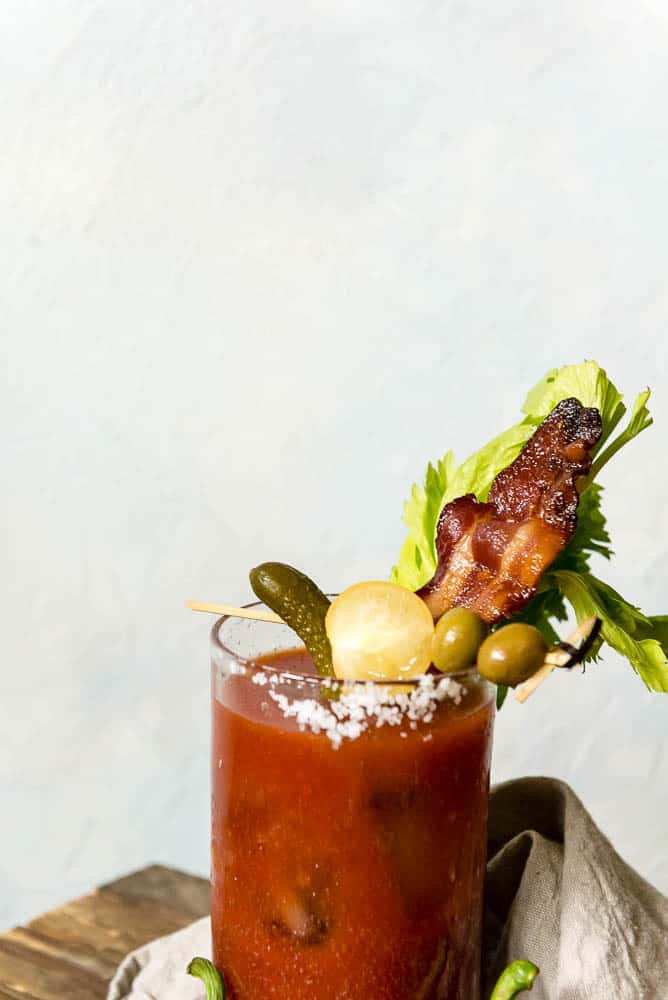 Voodoo Bloody Mary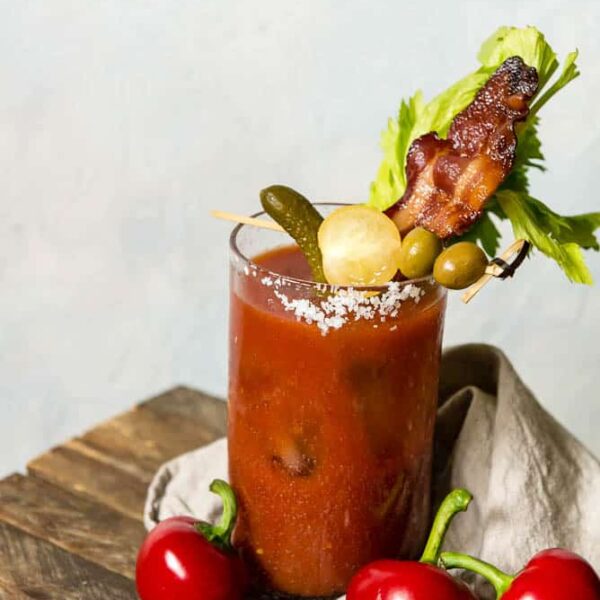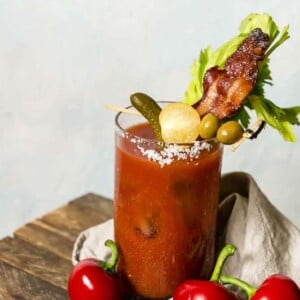 Imagin a Bloody Mary with a sweet kind of potion to always bring you back. The kind that starts smooth but comes back with a little bite. The Voodoo Bloody Mary is magic. The kind that gets you every time.
Ingredients
For the Voodoo BBQ Sauce
1

tbsp

butter

1

sweet onion

minced

2

garlic cloves

minced

1

teas freshly minced habanero

salt

2

tbs

tomato paste

1 28

oz

can chopped tomatoes

6

tbs

brown sugar

1

tbs

white wine vinegar

1

tbs

apple cider vinegar

2-4

teas horseradish

2

chipotle peppers in adobo sauce

minced

tabasco sauce

Worcestershire sauce

1/2

teas black pepper

freshly grated

1/4

teas celery salt

1/3

cup

ketchup

if needed
For the Bloody Mary
1/2

cup

tomato juice

3

oz

vodka

2

tbsp

VooDoo sauce

1

pinch

salt

1

dash freshly ground black pepper

Pickles

olives, cherry tomatoes, celery stalk and crispy bacon for garnish
Instructions
For the Voodoo BBQ Sauce
In a large skillet over medium-high heat, add the butter and swirl to coat the pan.

Add the onion and saute until softened, 5 to 7 minutes.

Add the garlic and habanero and cook 30 seconds, until fragrant.

Season with salt as needed.

Stir in the tomato paste to coat everything and cook 1 minute.

Mix in the tomatoes, brown sugar (one tablespoon at a time if you are like me and prefer less sweet), white wine vinegar, apple cider vinegar, horseradish, and chipotle peppers. Stir to combine.

Mix in the tabasco sauce and Worcestershire sauce.

Add the black pepper and celery salt.

Simmer over low heat, stirring often. As the sauce thickens, taste and adjust with more sugar, horseradish, or tabasco depending on your tastes. Allow the sauce to cook down, moderating the heat to not boil off, and thicken about 20 to 30 minutes.

Add the ketchup only if the sauce needs an extra bit of creaminess.

Once cooked, remove from heat to cool. Puree if desired.

Store in airtight containers in the fridge up to 2 weeks. Use on shrimp, chicken, or anywhere you would love that sneaky heat.
For the Bloody Mary
Combine the tomato juice, vodka, and voodoo sauce in a small pitcher.

Season with the salt and add the freshly ground pepper for bite.

Strain into a glass, over ice.

Garnish with an assortment of classic olives, cherry tomatoes, and pickles along with a celery stalk for stirring.

Toss a crispy piece of bacon in to make it girlcarnivore approved.

Add more or less Voodoo sauce to the cocktail to heat things up.
Nutrition
Calories:
1121
kcal
|
Carbohydrates:
181
g
|
Protein:
15
g
|
Fat:
21
g
|
Saturated Fat:
8
g
|
Cholesterol:
30
mg
|
Sodium:
8553
mg
|
Potassium:
2957
mg
|
Fiber:
17
g
|
Sugar:
138
g
|
Vitamin A:
2935
IU
|
Vitamin C:
143.2
mg
|
Calcium:
473
mg
|
Iron:
12.3
mg