Give me a pile of sweet and savory and you are talking my language. I need a balance of both. Too much sugar and I feel the coating on my teeth and just want to offset it with something with a little salt and bite. That's where this chicken and waffle creation comes into play. Recently, in Nashville, I was reminded just how amazing old fashioned fried chicken could be. I started out to rekindle that flame in my own kitchen, just in time for #WaffleWeek2015.
With a mix of sweet and a little heat, this brown sugar fried chicken recipe is perfect for breakfast or dinner when you are looking to fancy up a classic buttermilk waffle. Add a little more heat if your family can handle it, otherwise, know that this is a sweet, finger-licking creation that doesn't require too much syrup to round out the whole package.
Get in the kitchen and fry.

See more Savory Waffle Combos: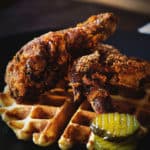 Brown Sugar Chicken and Waffles
Ingredients
1

recipe Buttermilk Waffles

1

chicken

broken down into 8 pieces, 2 wings, 2 drumsticks, 2 thighs, 2 breasts (breasts can be cut in half for portion size

1

cup

buttermilk

1

tbs

Tabasco sauce

1

tea white vinegar

salt and pepper

1-2

cups

flour

2

tbs

brown sugar

1

teas chili powder

1/2

teas cayenne pepper

Oil for frying
Instructions
Whisk the buttermilk, Tabasco, and vinegar together. Place chicken in a resealable bag and pour the buttermilk over top. Allow to marinate 4 to 8 hours in fridge.

When ready to cook, prep your waffles and keep them warm in an over set to 300 degrees F.

Heat the oil in a large Dutch Oven.

Arrange the flour in a shallow dish and whisk in a little salt and pepper. Arrange a baking sheet with a grate set in the middle for drying.

Whisk the brown sugar, chili powder, and cayenne in a small bowl and set aside.

When all set and ready to go, remove each piece of chicken from the buttermilk and allow the excess to drain off. Dredge in the flour and make sure to coat all sides. Carefully place a few pieces as a time in the fry for about 15 minutes, until cooked through and golden.

Carefully remove to the wire rack for a moment before using tongs to toss in the bowl with the brown sugar mix to coat. Place back on the rack to dry.

Repeat as needed for each piece. Serve over the buttermilk waffles with a little syrup on the side.
Appet-affles
Breakf-affles
Waffl-ides
Dessert Dish-affles