Celebrate the subtle summer flavors with this smooth and creamy sweet corn and lobster bisque. Easy to make but shockingly elegant.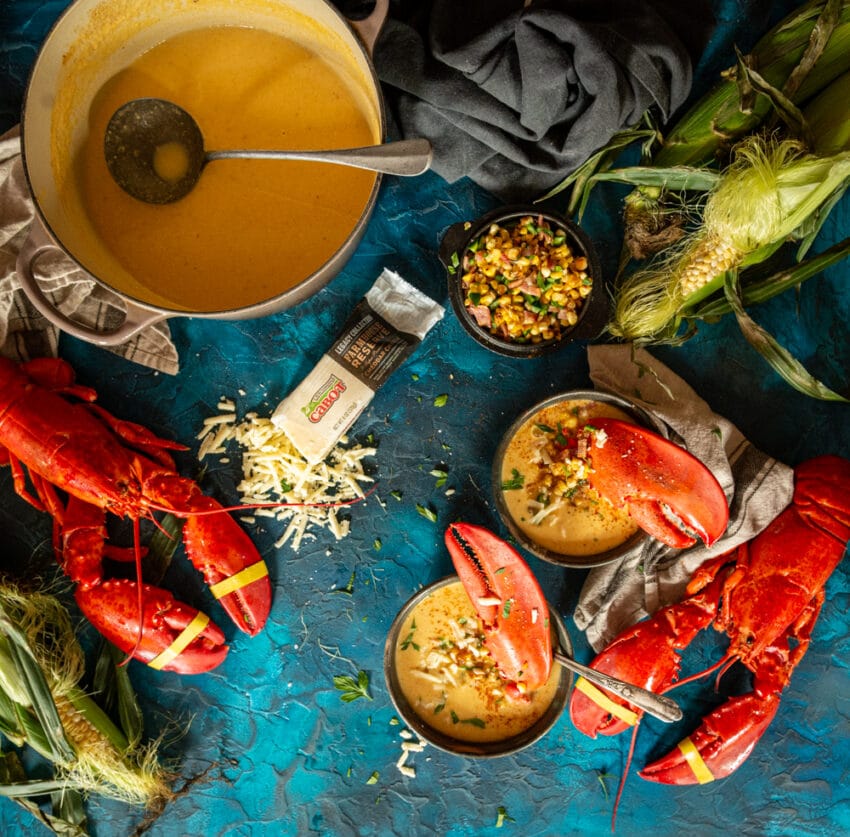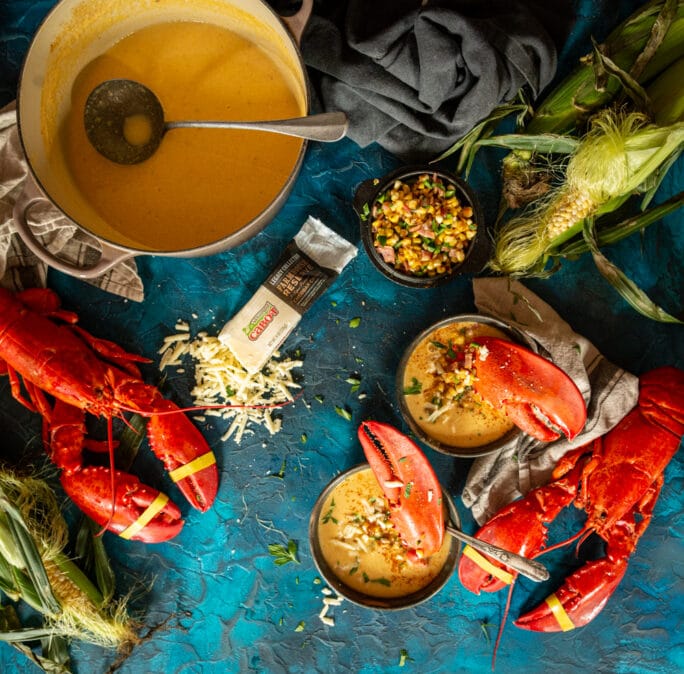 This post is in partnership with Cabot. Thoughts and opinions are my own. And yes, I really do love their cheese.
Did you know that right about the time that the lobsters get good off the coast of Maine is the exact same time that the local sweet corn is ready to be harvested? I can't help but think that is not at all a coincidence, but rather, summer's bounty coming around and shouting out to be celebrated.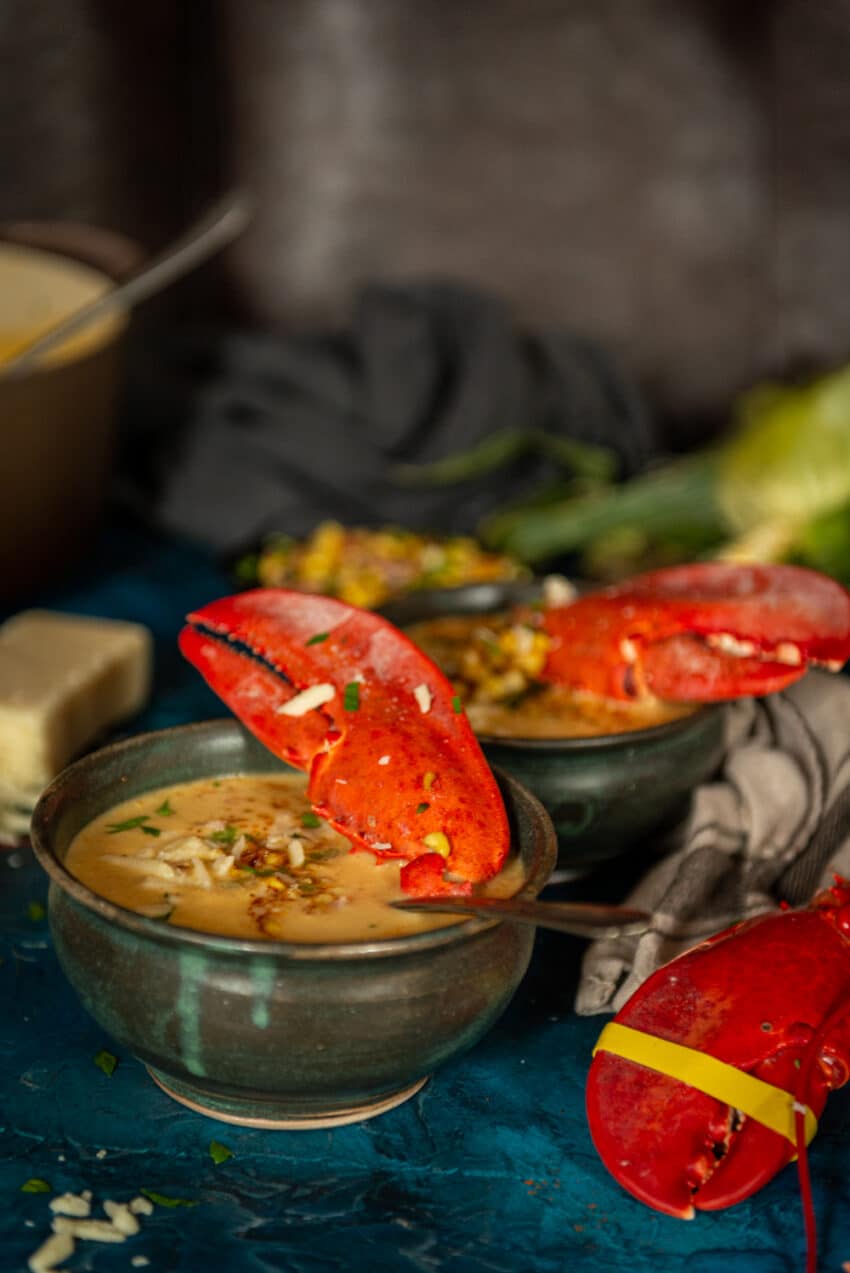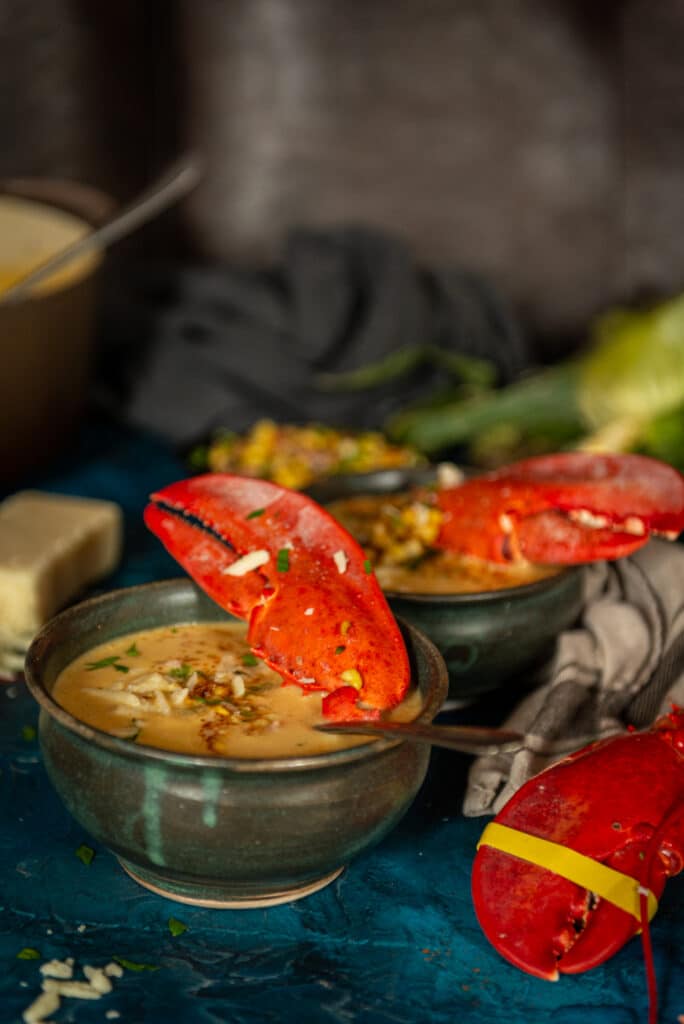 When is Maine Lobster in Season?
Lobster season is June through December, but after quizzing some locals when I was getting ready to char-grill lobster, they let me in on a secret. They love Maine lobster in August and September. That's when, they tell me, it's best. Bonus, when you are in Maine, that sweet meat is cheaper because it's not traveling as far.
Sweet corn is ready to be harvested once its leaves darken and the silks at the top brown, and with Maine's long winters, that also happens to be right at the end of July through early August. And you can also pick that up locally while traveling through the state.
So while exploring the Flood Brother's Farm and bringing home some of their famous corn myself, I couldn't help but dream up this recipe. An ode to the soft flavors of both summer sweet corn and Maine's fresh lobster bounty. (True story, it's diary season all year long, so yay for cheese when corn and lobster are hard to find).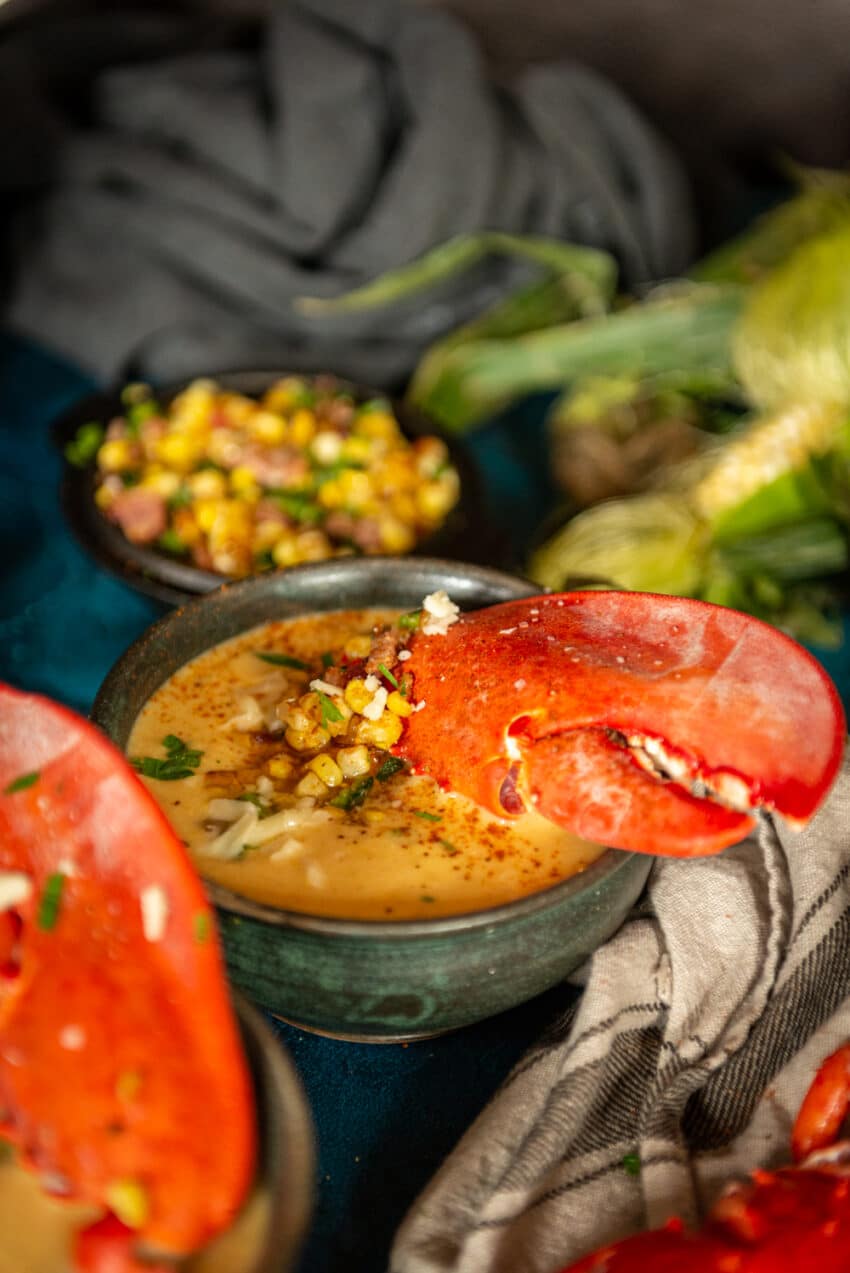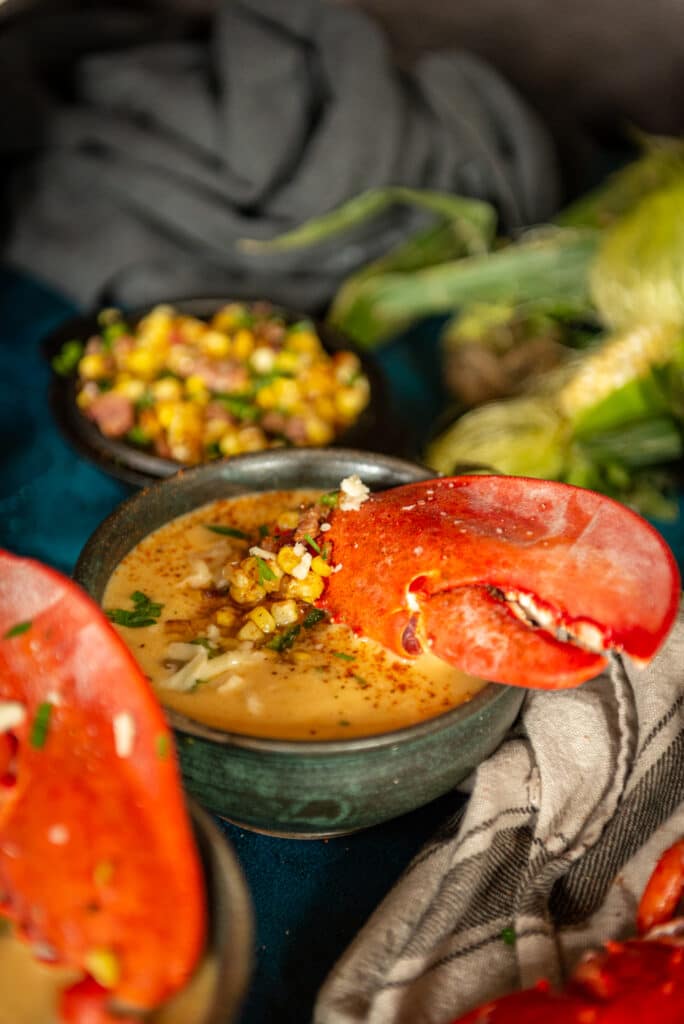 What is Bisque?
When I think of bisque, I think of creamy soups that coat the spoon and have a rich but smooth flavor that runs like butter over your tongue.
Turns out, that's pretty much the definition of bisque with a few bonus culinary terms thrown in.
I wanted to create a creamy smooth full bodied bisque that stayed true to the core of the soup. This isn't to be a chowder filled with bites, but a smooth celebration of subtle seasonal flavors. With the lobster having a rich but delicate flavor that needed to blend with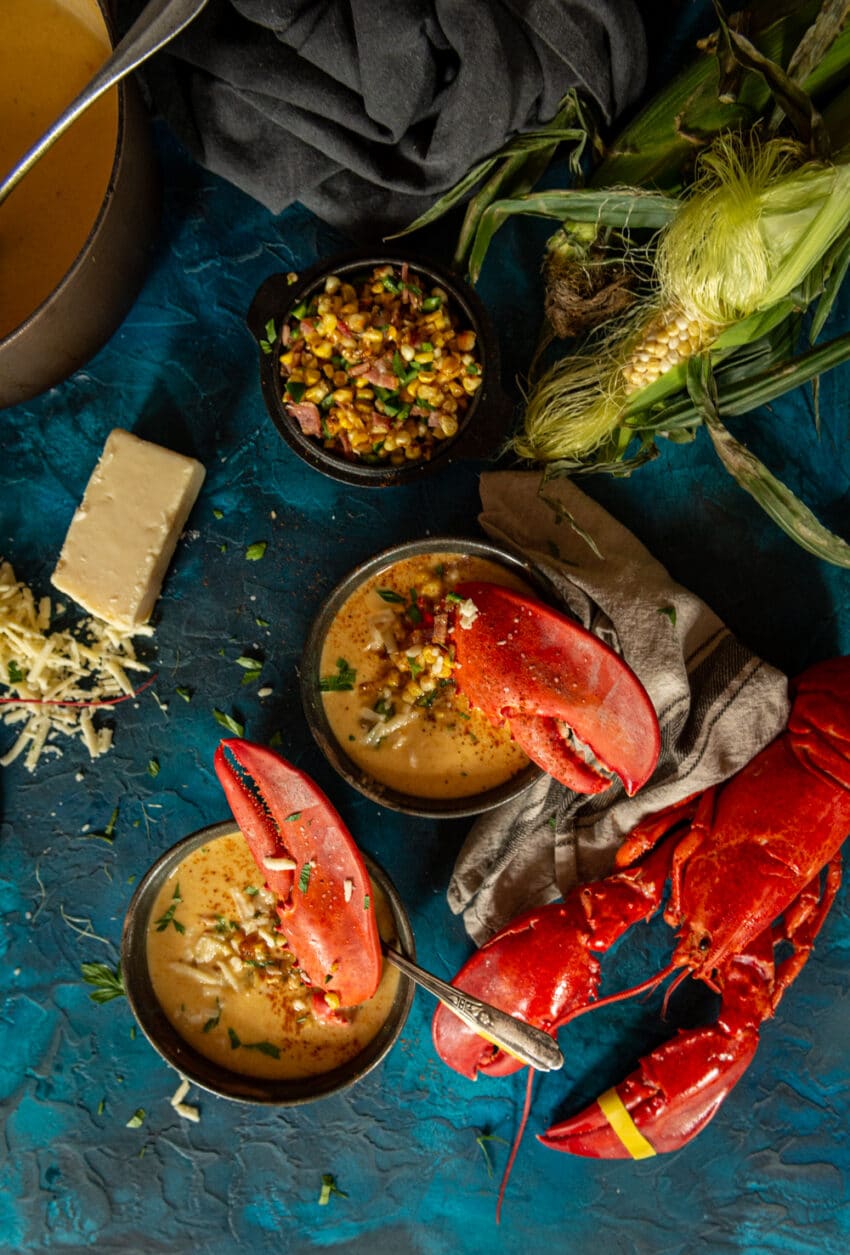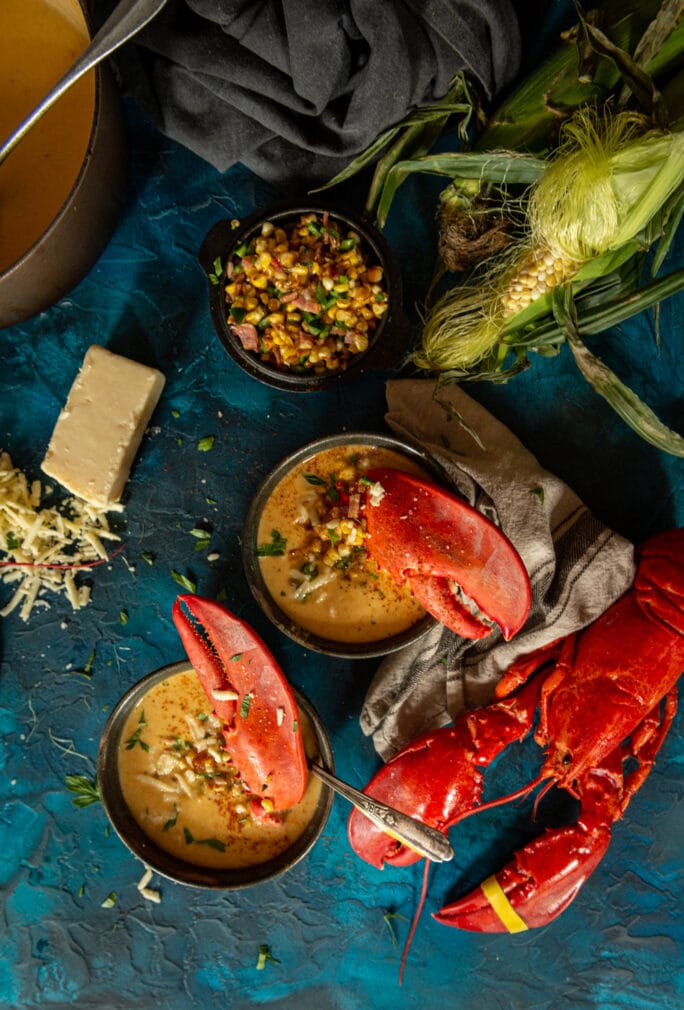 How to make bisque:
Bisque is made by simmering the shells of seafood in stock and then the meat is folded into the soup when ready to serve. For this bisque, everything comes together quickly, simmering the shells and corn cobs for only 30 minutes, but the bisque can be made a day ahead.
Instead of making a roux, I used heavy cream and pureed sweet corn for this version and added heat and a little more summer sweet corn texture back in at the end with the garnish and a sprinkling of sharp cheddar cheese.
Overall, this is a dish that looks fancy, but can be whipped up in under an hour if you have all the ingredients on hand.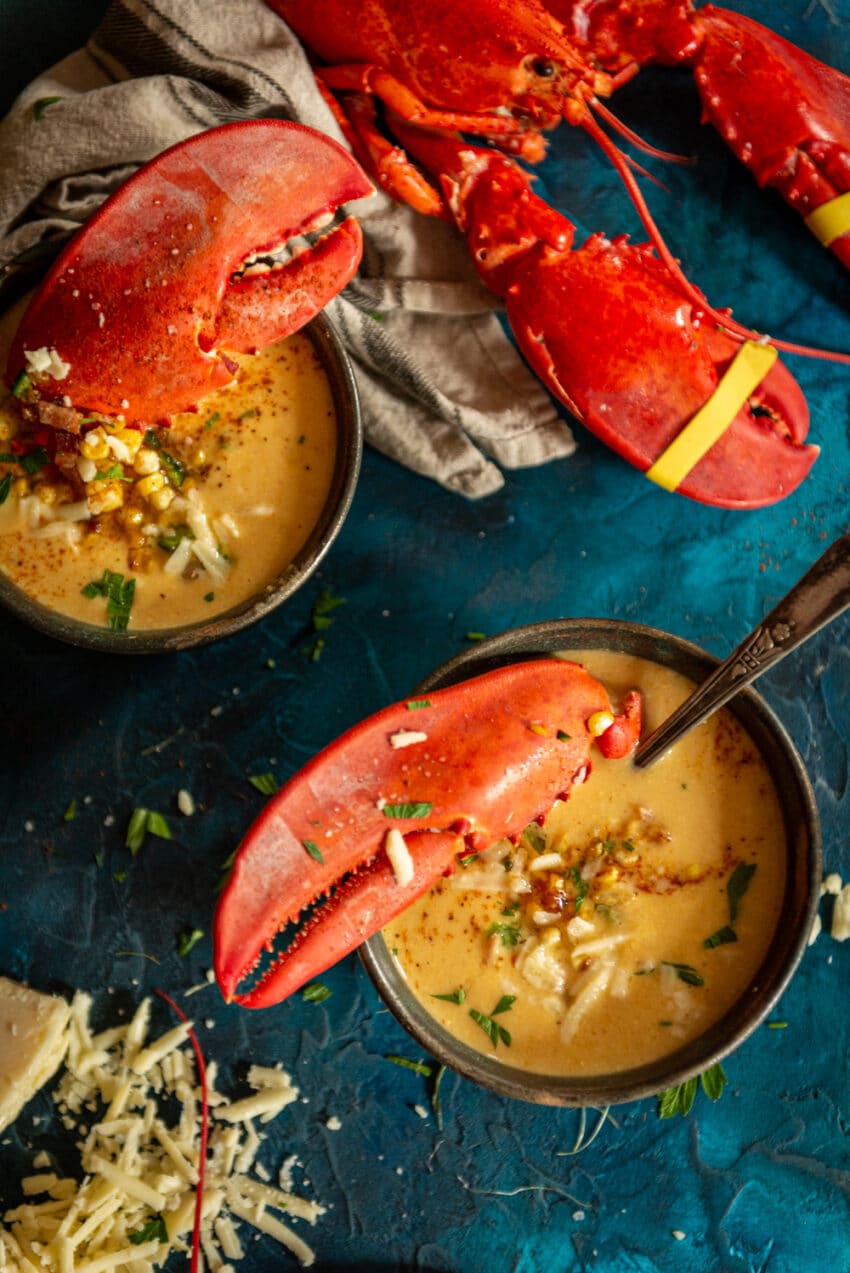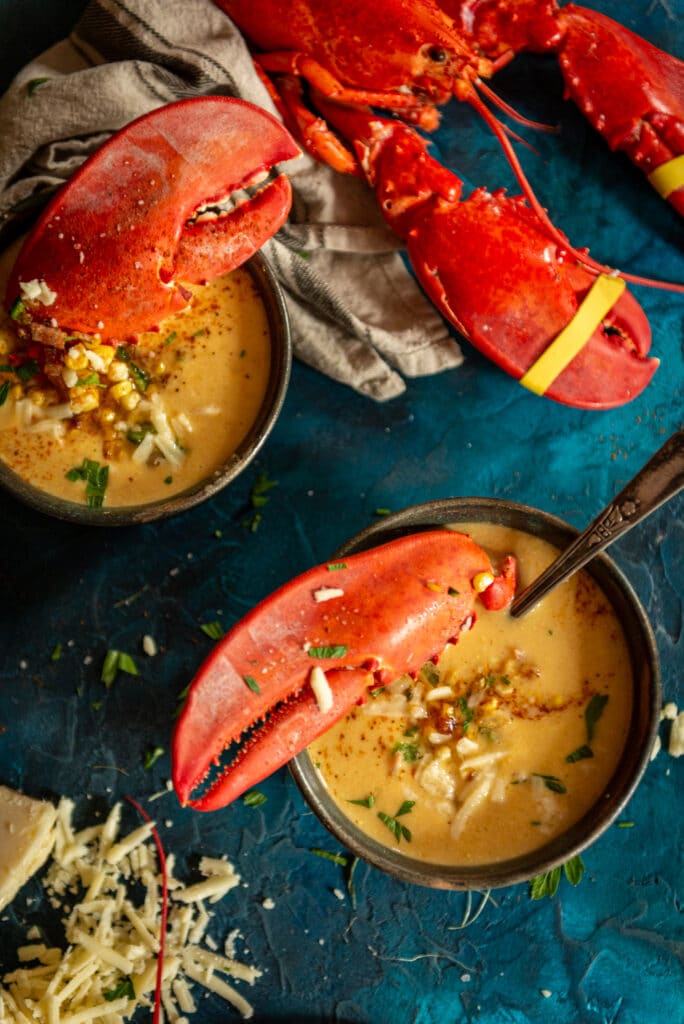 Want more seasonal sweet corn recipes? Try some of my favorite recipes
If you've tried my Summer Sweet Corn and Lobster Bisque Recipe or any other recipe on GirlCarnivore.com please don't forget to rate the recipe and let me know where you found it in the comments below. I get inspired by your feedback and comments! You can also FOLLOW ME on Instagram @girlcarnivore as well as on Twitter and Facebook.
Yield: 8 servings
Sweet Corn Lobster Bisque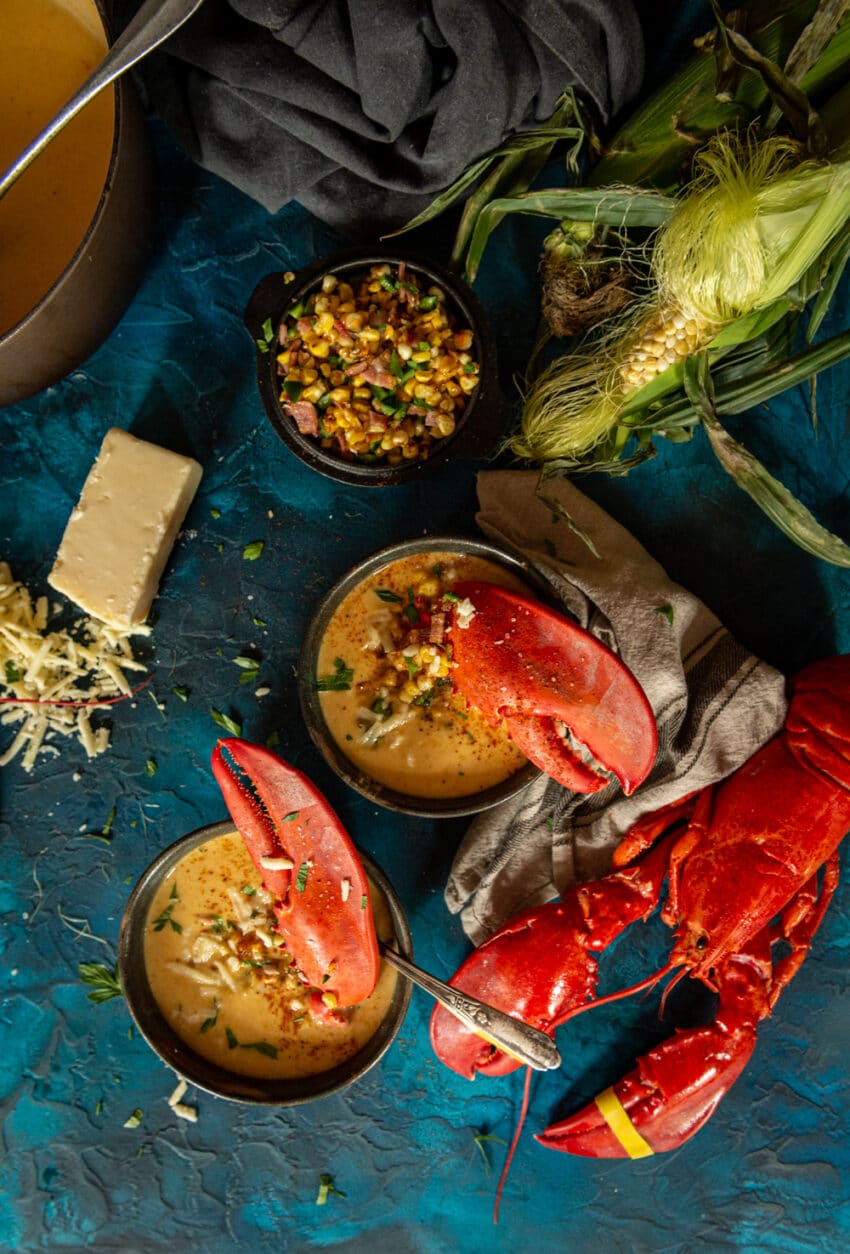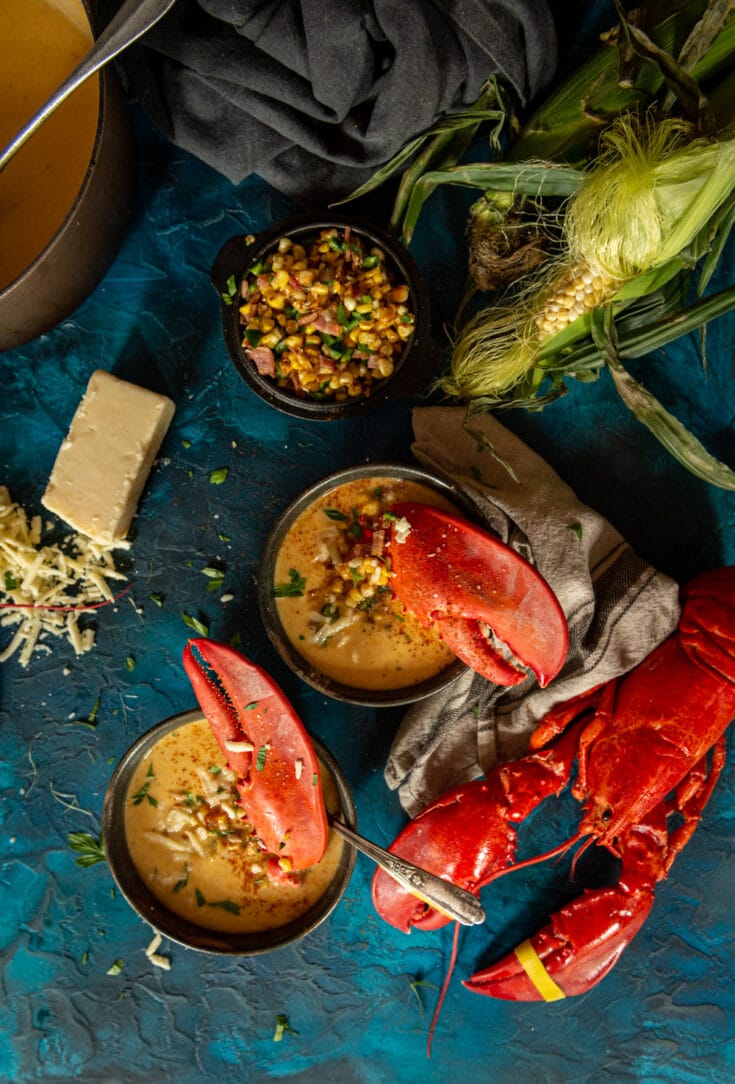 Celebrate the subtle summer flavors with this smooth and creamy sweet corn and lobster bisque. Who knew fresh bisque was this easy to make?
Additional Time
15 minutes
Total Time
1 hour
45 minutes
Ingredients
For the Bisque
6 ears sweet corn, kernels removed and reserved
8 tbsp butter
1 shallot, minced
1 onion, diced
1 carrot, diced
1 Russet potato, peeled and diced into ½ cubes
4 cups seafood stock
2 cup White wine
4 lobsters, steamed, tail meat removed and reserved
¼ cup heavy cream
1 tbsp Old Bay
1 teas salt
1 teas Smoked Paprika
½ teas black pepper
For the Sweet Corn Topping
2 strips bacon
1 poblano
Reserved corn from kernels
¼ teas Old Bay
½ cup Cabot Sharp Cheddar Cheese, shredded
Instructions
Heat a large Dutch oven over medium heat.
Melt the butter.
Saute the minced shallot onion and carrot until tender, 5 to 7 minutes.
Add the potato, and 1 cup of the reserved corn kernels.
Pour in the seafood stock and wine. Stir to combine.
Gently add in the corn cobs and lobster shells.
Bring to a boil.
Reduce heat to a simmer and allow to cook for 30 minutes.
Remove from heat and allow to cool.
When safe to handle, remove corn cobs and lobster shells.
With an immersion blender, blend the soup until completely smooth.
Return to low heat and stir in the heavy cream, Old Bay, salt, paprika and black pepper.
Allow to simmer for 20 minutes.
Meanwhile, cook the bacon in a medium skillet until crispy. Transfer to a paper towel lined plate to cool.
In the same skillet, blister the poblano, until skin is bubbling and brown on all sides, 7 to 10 minutes. Remove from heat and allow to cool.
Stir in the remaining reserved corn kernels and cook, stirring frequently. Stir in the Old Bay seasoning.
When cool, remove the skin and seeds from poblano and dice.
Chop the cooked bacon.
Transfer the diced poblano and bacon bacon back to the skillet with the corn and combine.
To Serve:
Warm the bisque over medium-low heat.
Ladle the bisque into bowls and top with chunks of reserved lobster meat, the corn mixture, and a sprinkle of Cabot Sharp Cheddar Cheese.
ˇSeason with salt and garnish with freshly minced chives or parsley
Notes
The base of the soup can be made a day ahead and allowed to cool. Simply reheat to serve.
Recommended Products
As an Amazon Associate and member of other affiliate programs, I earn from qualifying purchases.