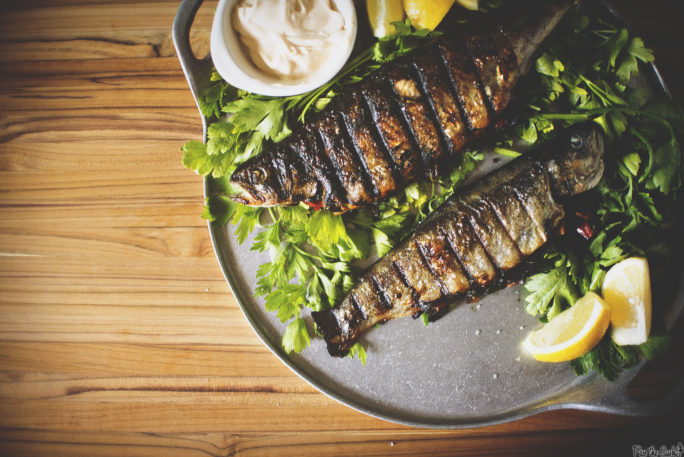 There was a restaurant I was able to enjoy once where everything on the menu was very hand on. It was an upscale version of my grandfather's hunts in the woods to feed his family. From rabbit ravioli to lamb lasagna. I ordered the stuffed rainbow trout. It came out slit down the middle and absolutely loaded with a delicious rice filling. I enjoyed every bite, leaving little behind on my platter.
Later that night, a friend confessed his shock and awe at my choice, and then willingness to devour my meal. I was in shock. My meal was delicious. A fish has been caught and prepared just so I could savor it. Why would I waste such a gift? But he couldn't handle that. One of the many who has never seen their food before it was in nugget for before them. And that to me is the sad part.
The fish still had a head. He was unwilling to see it. But, last time I checked, my food usually does have a head before it is butchered and sent off to the factory for packaging. Knowing your food and respecting it, nose to tail, is part of being a responsible carnivore. So, as I stuffed these two beautiful trout, I thought of my friend (and how he would really be horrified seeing the whole process from net to table), and created something that celebrated the gift that was in front of me.
And, then I ate every bit of it.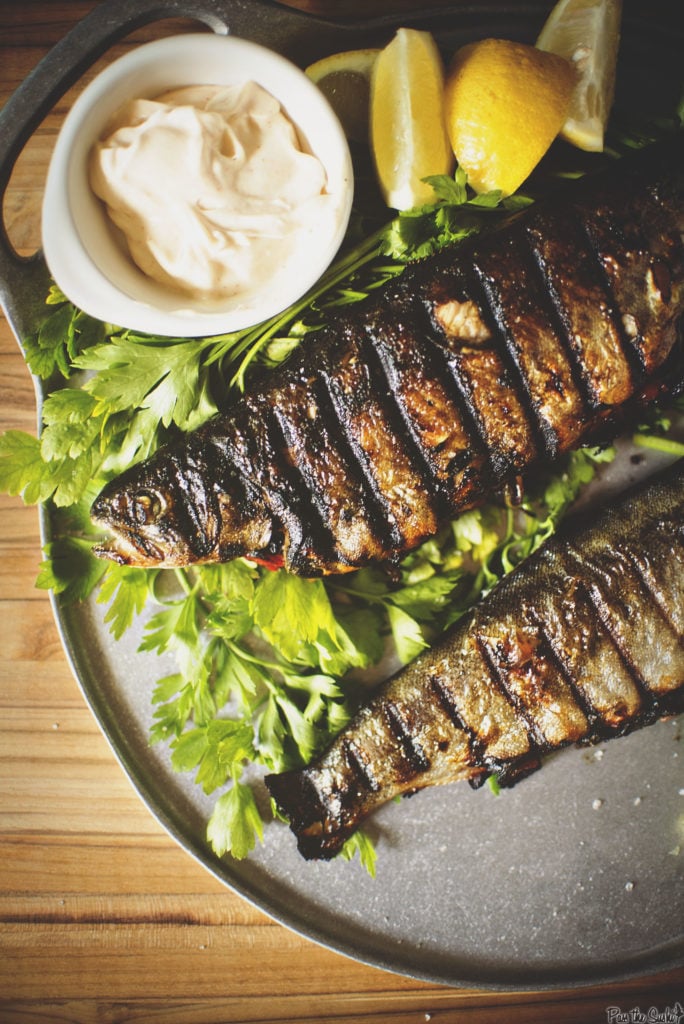 Stuffed and Grilled Rainbow Trout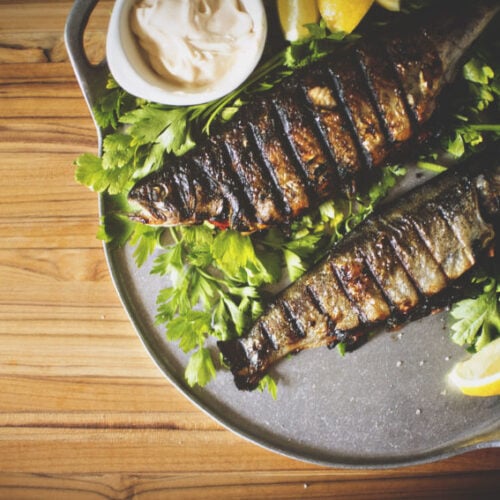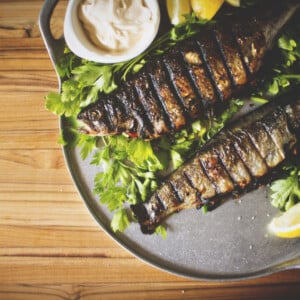 If you are concerned about presentation for your guests, you can remove the head of the trout by placing your knife directly under the gills and slicing through.
Ingredients
4

slices

of bacon

chopped into small pieces

1

onion

diced

1

red pepper

stemmed, seeded, and diced

8

oz

organic baby spinach

salt and pepper

2

tsp

apple cider vinegar

4

whole rainbow trout

gutted and cleaned for cooking

1

tbs

oil

1

lemon

sliced into wedges

tartar sauce of choosing

I mixed lemon juice and some cayanne with mayo for a bit of a zing
Instructions
Prep your charcoal grill for a single layer fire and clean and grease the grate well.

In a large skillet, cook the bacon until crispy, over medium heat. Remove from pan and place on paper towel-lined plate to drain.

Add the onions and pepper to the skillet and season with salt. Cook for about 5 to 7 minutes.

Stir in the spinach and wilt, about 5 minutes longer.

Remove from heat and allow to drain in a colander or over a mesh sieve.

Toss in the bacon, apple cider vinegar, and season with pepper if desired.

Rub the inside of the fish with oil and season inside and out with salt and pepper. Stuff generously with the filling.

Make sure your grate is well oiled. Arrange the trout over the grate and cook for 10 to 15 minutes, flipping once halfway through, until flesh easily flakes with a fork.

Remove the trout from the grill and allow to rest in foil for 5 minutes before serving.
Nutrition
Calories:
328
kcal
|
Carbohydrates:
18
g
|
Protein:
11
g
|
Fat:
25
g
|
Saturated Fat:
7
g
|
Polyunsaturated Fat:
5
g
|
Monounsaturated Fat:
12
g
|
Trans Fat:
0.1
g
|
Cholesterol:
30
mg
|
Sodium:
387
mg
|
Potassium:
1014
mg
|
Fiber:
6
g
|
Sugar:
7
g
|
Vitamin A:
12527
IU
|
Vitamin C:
141
mg
|
Calcium:
147
mg
|
Iron:
4
mg