Mississippi Pot Roast is a classic dinner, and now it can be made quick and easy in the insta-pot so you aren't spending all day in the kitchen!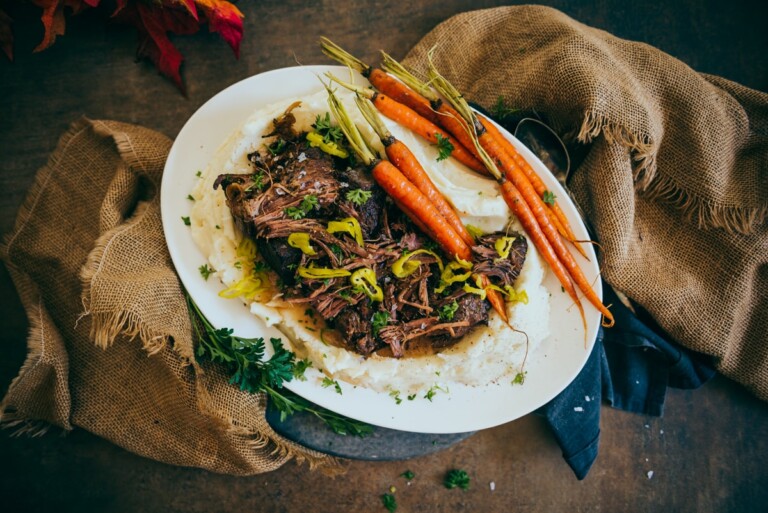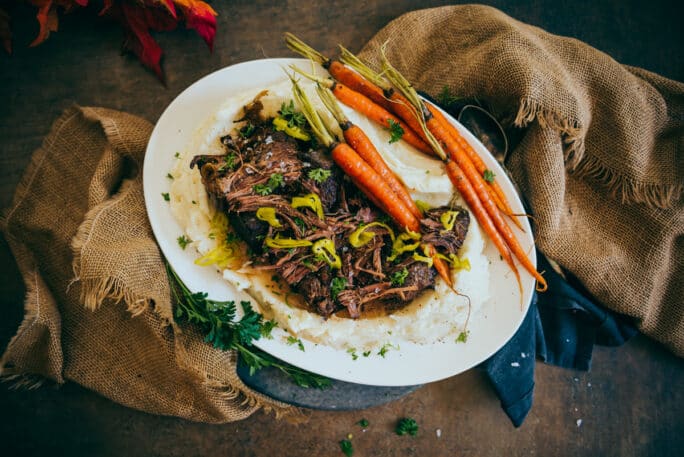 This post was sponsored by Head Country Bar-B-Q Sauce. All thoughts and opinions are my own. And yes, I do love tacos.
The Sunday roast has come a long way since its days of a bland boring chunk of meat simmered in a powdered au jus all day. This updated Mississippi Pot Roast is fork-tender and ready in an hour, putting use to the Instant Pot so you have more quality time at the table.
See the Web Story for Mississippi Pot Roast here.
But first, jarred peppers and beef?
Pepperoncinis and beef… I was first introduced to this by a friend who was obsessed with the little jarred peppers. True story, I am not sure I had ever had them before and he loved popping whole pepperoncinis in his mouth and snacking on them. So, when he made us a roast with them, it was fitting. But still, I wasn't sold on this pickled pepper beef combo…
Could the sourness work with the heartiness of beef? The answer proved to be yes.
First of all, I'd only seen these little yellow peppers when I ordered Papa Johns and was really just hoping they threw in an extra garlic butter sauce (oh, to be a teenager again), so I had no idea what pepperoncinis were.
Turns out, pepperoncinis, yellow whole or thinly sliced jarred peppers, are just little mild capsicums in pickling liquid. You find them right next to their cousin the banana pepper with the rest of the pickles at the market.
They aren't the same as banana peppers, but pretty darned close if you need a substitute for one or other in a pinch.
Now, onto the beef.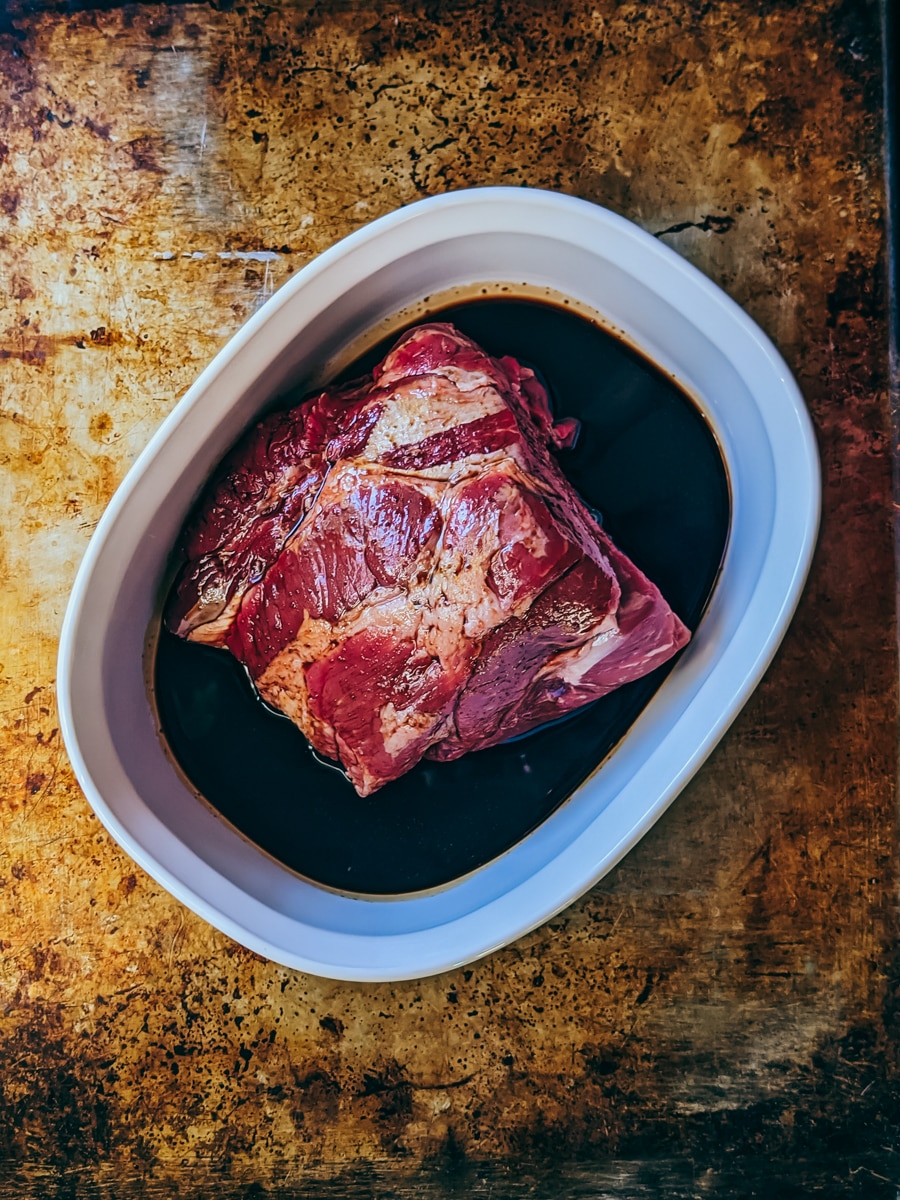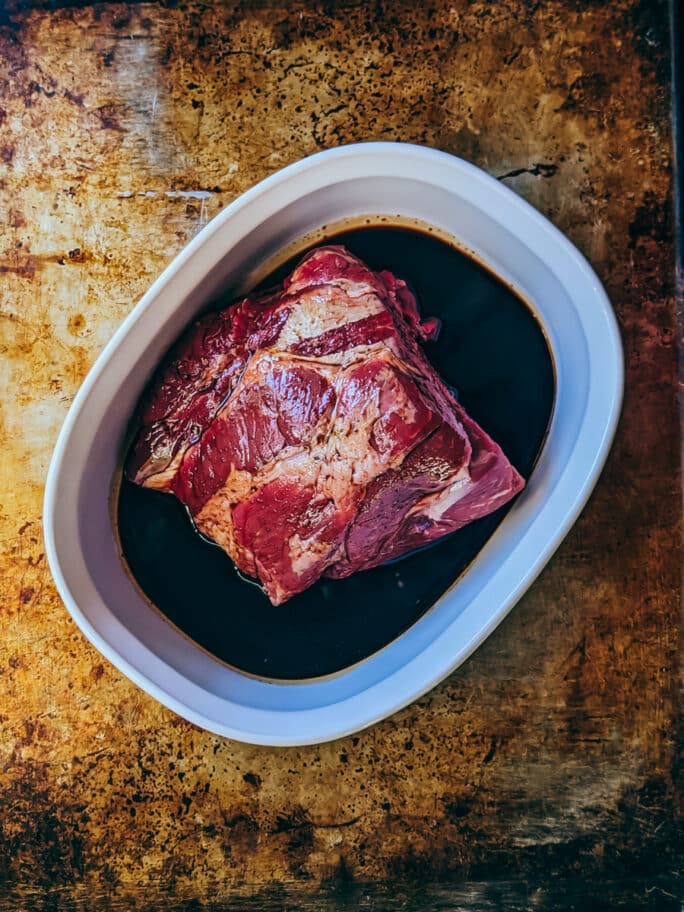 What cut of beef is best for a pot roast?
For any slow cooker, or pressure cooker roast beef where you are looking to shred the meat, you want a hearty cut.
The chuck is a go-to for me, with a deep flavor and it has a decent amount of fat marbled into the beef that will render as it cooks, and becomes easily shreddable and tender when cooked in the instant pot.
The chuck roast is from the shoulder and often comes in 2 to 4-pound cuts.
If you can't find a chuck, you can substitute it with a sirloin roast, top blade, or rump roast for this recipe.
Girl Carnivore Pro Tip: Any of the tough meats, from the well-worked muscle groups, are your best choice for braising and roasting. Really looking for something with huge beef flavor, try the neck or beef cheeks!
What you need for this recipe: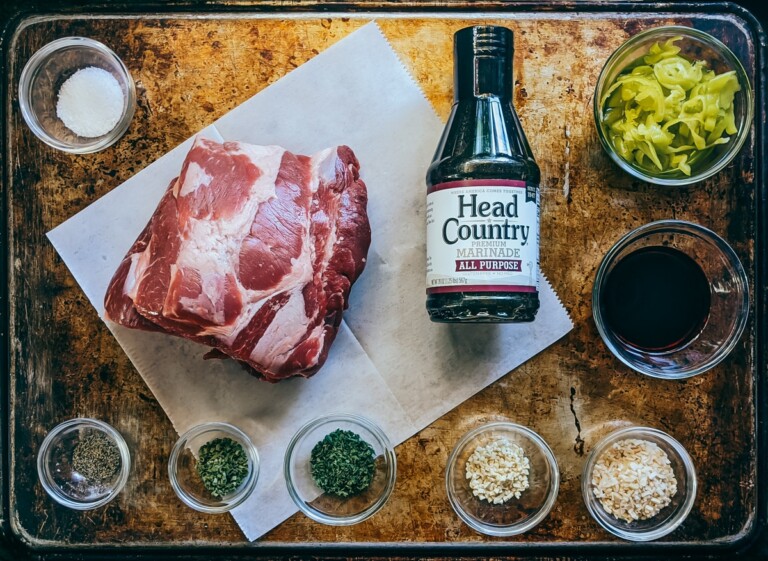 This is one of those recipes that uses some basic spices you have on hand and a few other ingredients. You'll need Head Country All-Purpose marinade, a 3-pound chuck roast, salt, pepper, dried parsley, chives, garlic, beef broth, red wine, and of course pepperoncinis!
The key to success for making Mississippi pot roast is to marinate the beef for 8 hours and then evenly brown the roast on all sides. From there, it's as easy as tossing everything into the insta-pot and letting it works its magic.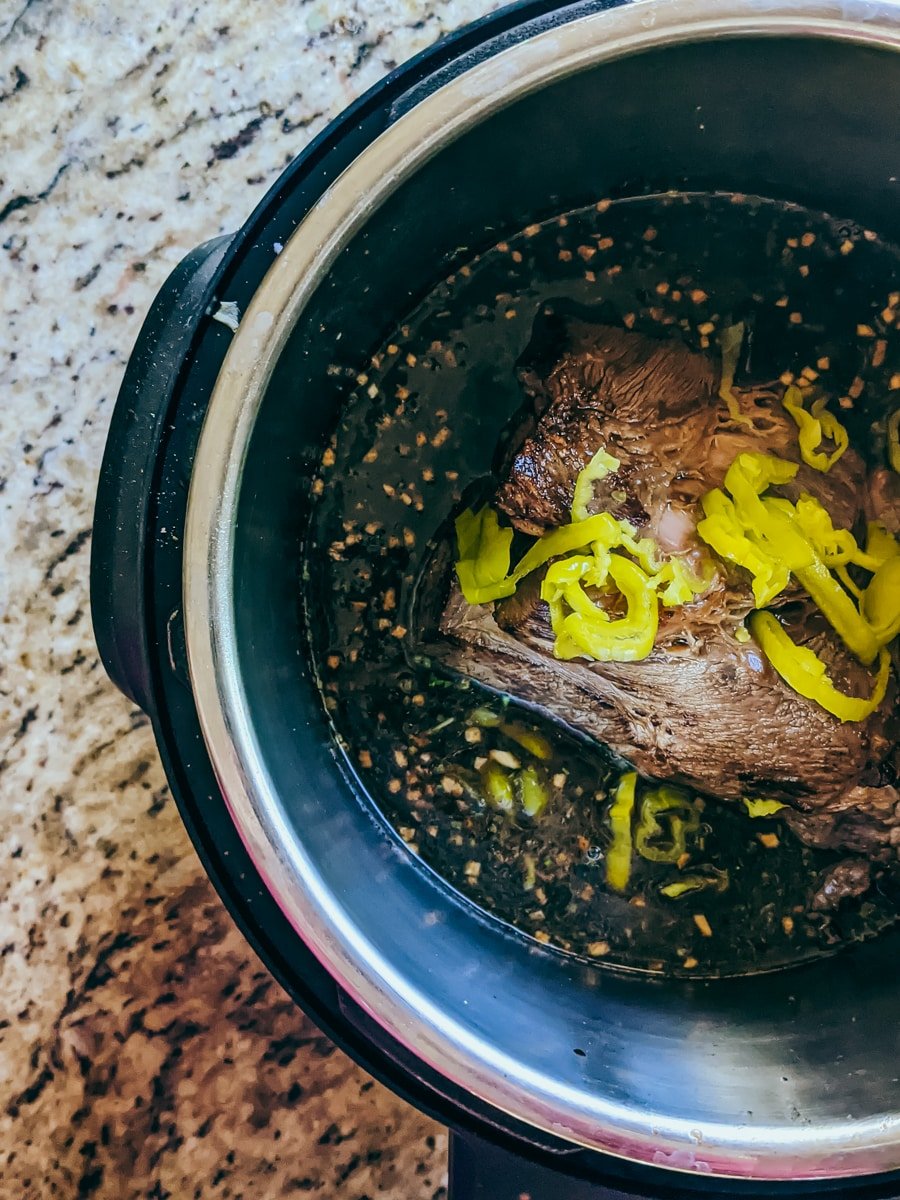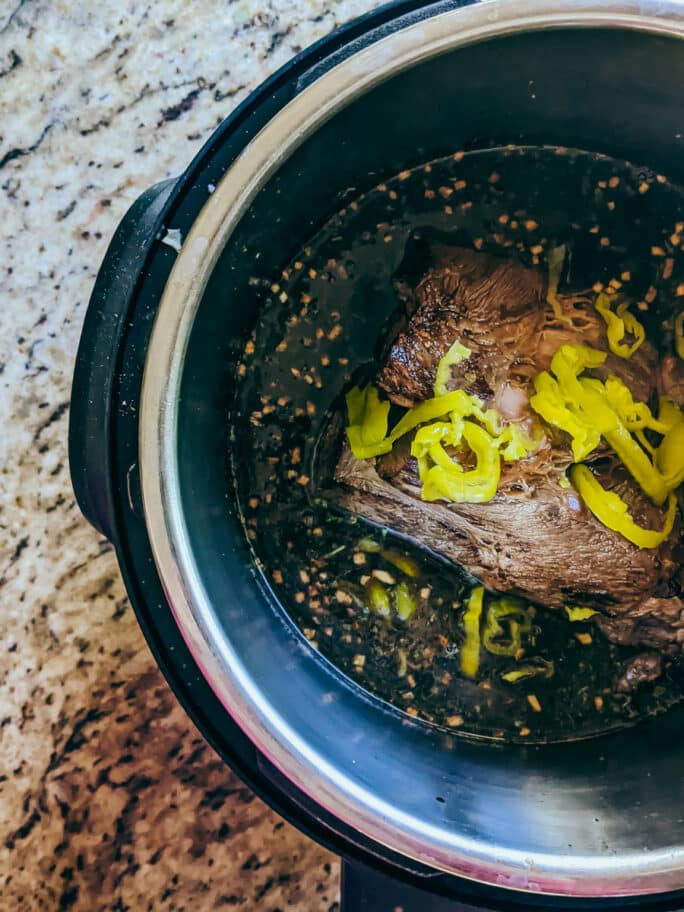 Tough meat? Cook it longer.
Chances are if you're meat is tough, it hasn't cooked long enough. If you pull with two forks and aren't shredding easily, you can totally rescue that tough roast by cooking it a little longer.
Save your tough meat and don't be afraid to pop the lid back onto the pressure cooker, and let the roast cook for another 7 to 10 minutes. Just make sure you have enough liquid in the pot so that things don't burn or dry out.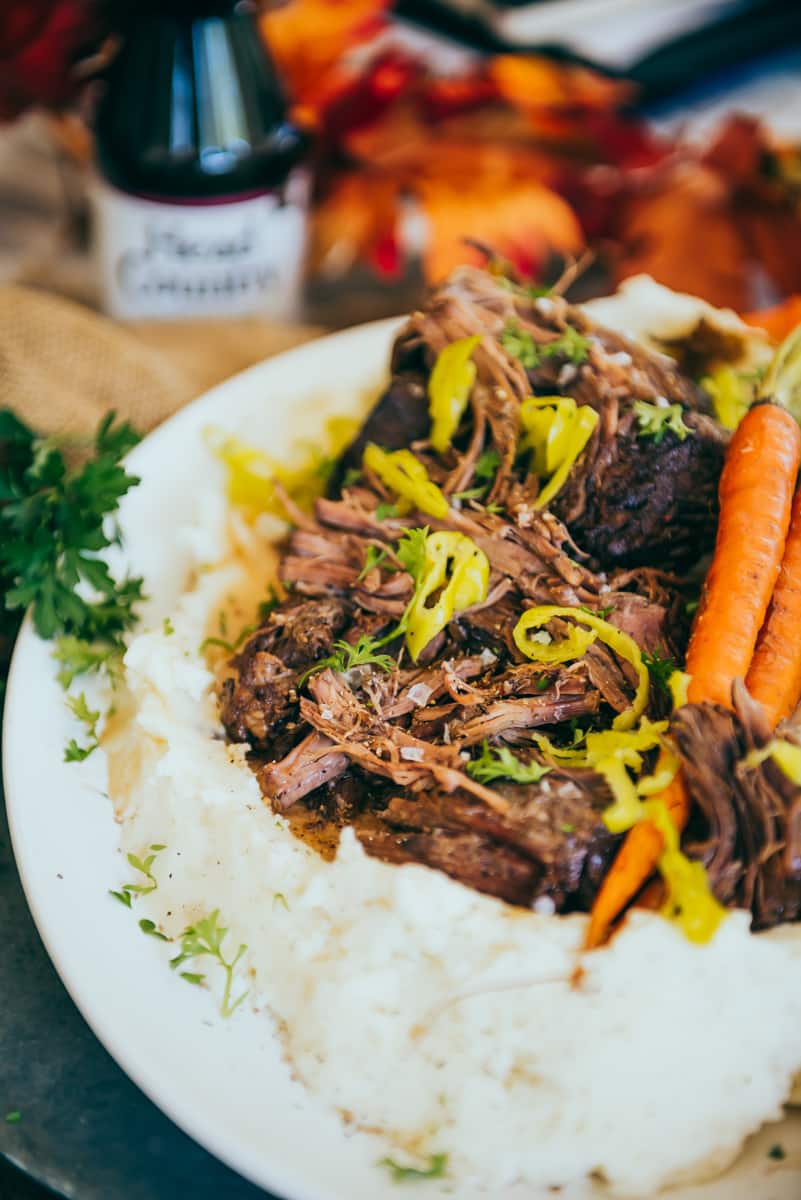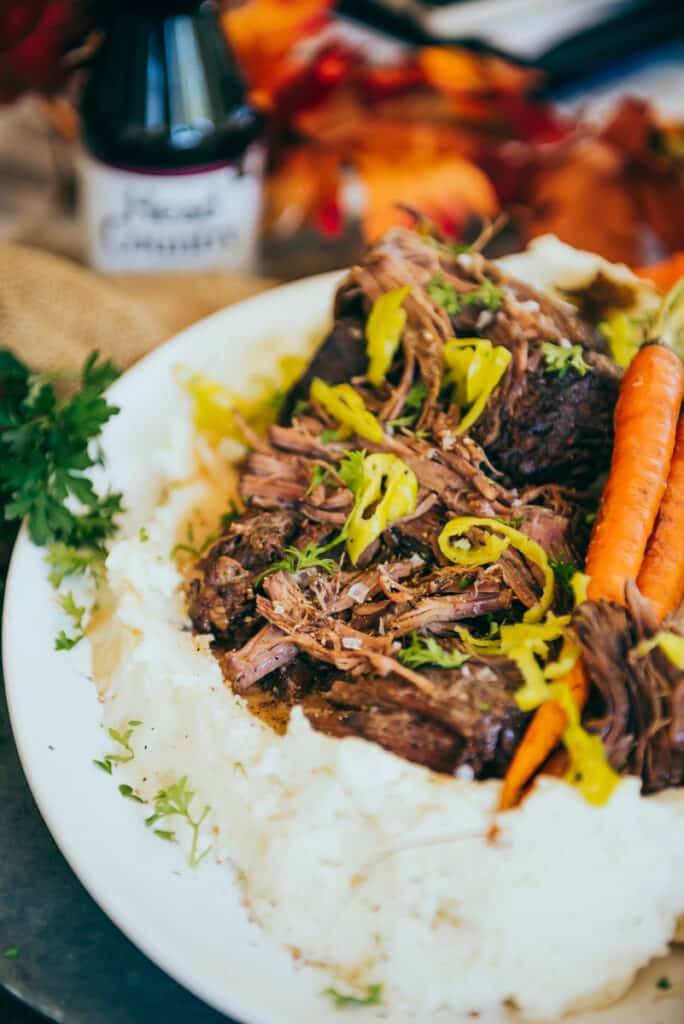 Beef in a Dutch Oven
No pressure cooker? No problem.
Slow this recipe down, but follow the exact steps; marinate, brown, add all of the ingredients, and then slowly braise in a Dutch Oven in a preheated oven set to 325 degrees for about 4 to 5 hours, until the meat shreds easily with two forks.
Just like the pressure cooker, a chuck roast is ideal for an easily shredded incredibly succulent roast beef in a Dutch oven.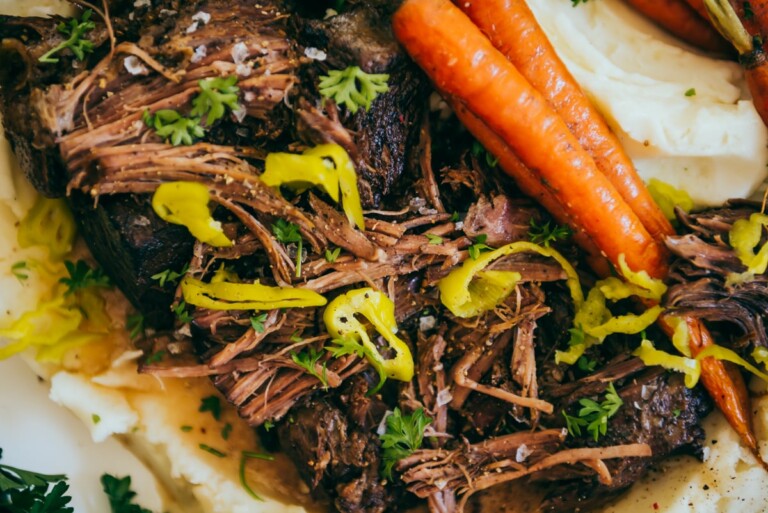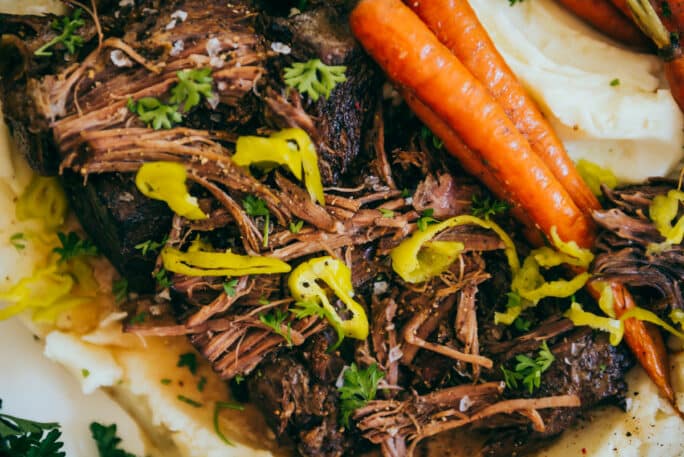 Want more delicious recipe inspiration? Try some of my favorite recipes
If you've tried my Mississippi Pot Roast or any other recipe on GirlCarnivore.com please don't forget to rate the recipe and let me know where you found it in the comments below. I get inspired by your feedback and comments!
You can also FOLLOW ALONG on Instagram @girlcarnivore as well as on Twitter and Facebook.
Show off your food – tag it with #GirlCarnivore
Instant Pot Mississipi Pot Roast
The classic Mississippi pot roast gets a major time-saving update by putting the pressure cooker to work!
Equipment
Pressure Cooker / Insta Pot
Ingredients
1

cup

Head Country All Purpose Marinade

plus ½ cup

3

lbs

chuck roast beef

1

tablespoon

Salt

2

tablespoon

cooking oil

¼

cup

Red Wine

2

tablespoon

Onion flake

2

cloves

Garlic

minced

½

teaspoon

Black pepper

1

teaspoon

Parsley

½

teaspoon

Chives

3

cups

Beef Broth

¾

cup

Pepperoncinis

sliced
Instructions
Marinate the Beef
In a gallon-size resealable bag, pour the Head Country All Purpose Marinade over the beef.

Mix it around to coat well.

Seal the bag and marinate 8 hours, or overnight.
Sear the Beef
When ready to cook, remove the beef from the marinde and pat dry.

Season the beef liberally with salt on all sides.

Set your Insta-pot to the Sear setting and add the oil.

Add the beef and brown on all sides, about 3 to 5 minutes per side.
Deglaze the Pan
Add the wine and using a wooden spoon, scrape up any browned bits on the bottom.
Add Ingredients
Add the onion flakes, garlic, black pepper, parsley chives, and beef broth.

Top with the pepperoncinis.
Pressure Cook
Set the instant pot to pressure cook for 45 minutes.
Vent Steam
Vent the steam naturally for 15 minutes, manually releasing any steam after that.
Shred Beef
Let the beef rest for 5 minutes.

Using 2 forks, shred the beef in the juices, discarding any large portions of fat, if needed.
Serve
Serve the shredded beef hot over mashed potatoes with fresh pepperonis on top.
Notes
Tip:
If the beef is not easily shredding after 45 minutes, reseal the pressure cooker and cook for another 10 minutes, until easily shredded with two forks. 
Serve with:
Roasted Carrots
Green Beans
Leftovers? 
Store leftovers in an airtight container in the fridge with the juices for up to 4 days. 
Reheat by spooning out the desired portion and heating in a skillet over low heat or in a microwave in 30-second bursts.
Bonus, leftovers make great shredded beef sandwiches on hearty hoagie rolls.
Nutrition
Nutrition Facts
Instant Pot Mississipi Pot Roast
Amount Per Serving (1 g)
Calories 457
Calories from Fat 252
% Daily Value*
Fat 28g43%
Cholesterol 128mg43%
Sodium 2091mg91%
Potassium 689mg20%
Carbohydrates 11g4%
Protein 38g76%
Vitamin A 22IU0%
Vitamin C 1mg1%
Calcium 41mg4%
Iron 4mg22%
* Percent Daily Values are based on a 2000 calorie diet. Nutrition information provided is an estimate. For specific health concerns, please put the recipe into your Dr recommended nutrition calculator.