These not quite authentic Cabbage Rolls aren't pretty, but they taste amazing. With no rice filler to be seen, it's an all meat explosion.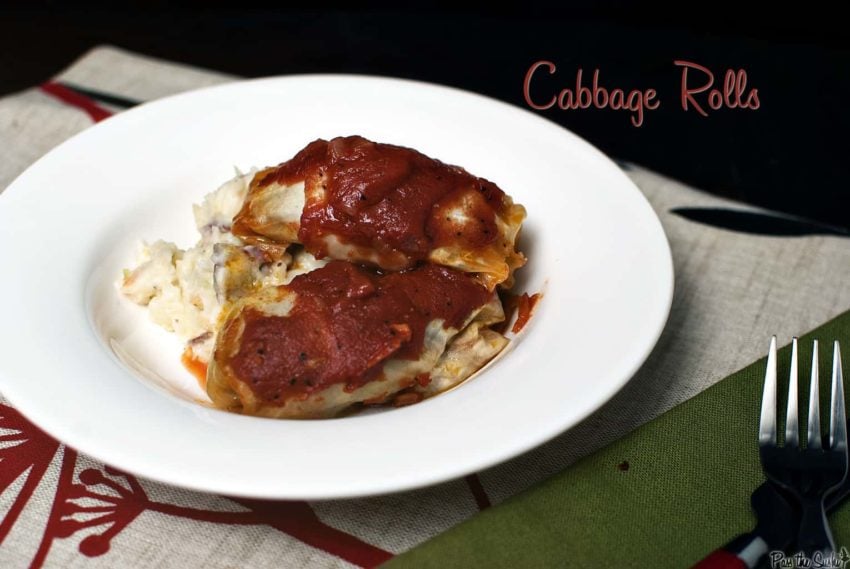 While throwing out some not so pretty noshings, I figured I would just top it off with the queen of not-so-good-looking, but damned delicious meals. Cabbage rolls. I mean seriously, it doesn't even sound pretty. Cabbage. Roll. The things I think of when you combine those two words aren't even right.
But cabbage rolls are actually delicious
Don't knock it until your try it. Cabbage rolls are actually delicious.
Now, I'm not claiming these to be authentic or anything like that. I have never had a cabbage roll before and wouldn't know an authentic one if it hit me in the face.
There is no rice in the stuffing, it's an all meat explosion. The seasonings play off of it very well. And the small dab of cinnamon and nutmeg goes a long way (Flavors I wasn't used to in a red sauce).
Storing your cabbage rolls for later
Honestly, based on the looks, I'm not sure how cool it is to leave cabbage rolls in your fridge for someone else to find later. But I swear on day two these were even better. Make these, and get your nosh on.
If you have to store some of the leftovers, put in a sealable container. Their going to last in the fridge 3 or 4 days. In the freeze you can squeeze out a month no problem.
Getting nice cabbage leaves for stuffed cabbage
Ok, this is perhaps the closest this simple dish comes to any sort of challenge. The more complete and intact cabbage leave you have to work with, the better.
So, first things first, make sure you find the biggest heads of cabbage possible. The smaller heads of cabbage might taste better. Use those for making slaw then.
You need the big leaved cabbage to get nice sized "wrappers" for your stuffing.
Methods for removing cabbage leaves for stuffed cabbage
Don't judge me or call me a cheater just because I use a microwave to pull off my cabbage leaves. It is a quick and easy technique.
But if you don't have a microwave, or want to go with the old fashioned method, then parboil the cabbage. As the outer leaves just start to get translucent, then pull the cabbage out.
Let it cool just enough to handle and pull the outer leaves off gently. You may have to repeat this a few times to get enough leaves handy.
Tips for better looking cabbage rolls
Ok, cabbage rolls don't necessarily look all that pretty, but they sure taste amazing. However, there are things you can do to avoid looking like you made some sort of mistake just because things look a bit… well… messy.
It is hard to help that. Let's face it, you can always cover it up with plenty of sauce and it will look fine.
But if you want those nicely rolled up cabbage rolls that look like someone's grand dame from the old country put them together, then here a few tips to keep in mind:
Get the cabbage leaves pliable. Don't over cook them to pull them off the head of cabbage. They will get too fragile if you overcook them.
Line them up so they don't roll around. Keep the end on the bottom so gravity can hold them together.
You can always get away with an extra leave of cabbage if you need to tidy it up a bit.
More great cabbage dishes
Cabbage doesn't get much respect, but it sure does work its way into some great recipes…
slow cooker stuffed cabbage
If you've tried my Cabbage Rolls recipe, or any other recipe on GirlCarnivore.com please don't forget to rate the recipe and let me know where you found it in the comments below. I get inspired by your feedback and comments! You can also FOLLOW ME on Instagram@girlcarnivore as well as on Twitter and Facebook.
Cabbage Rolls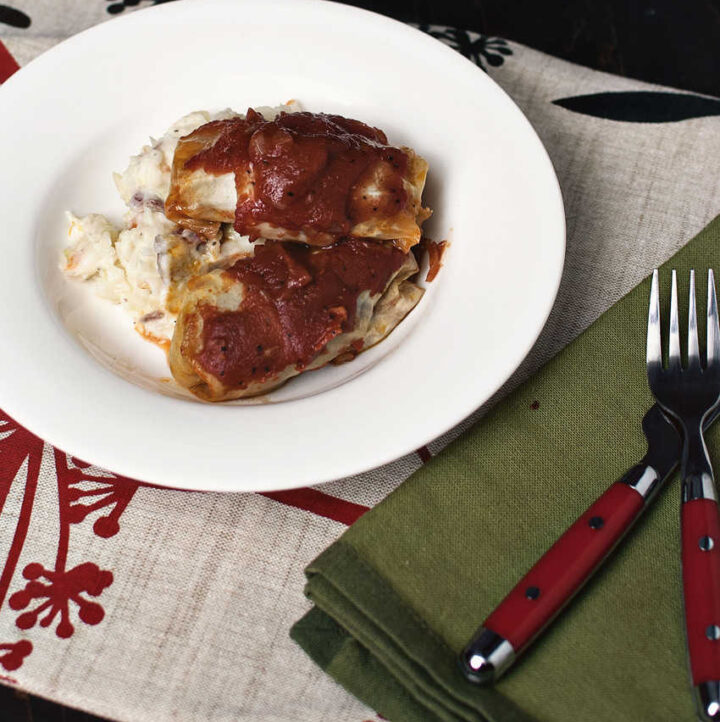 These not quite authentic Cabbage Rolls aren't pretty, but they taste amazing. With no rice filler to be seen, it's an all meat explosion.

Recommended Equipment
dutch oven

small mixing bowl

food processor

13"x 9" baking dish
Ingredients
1

medium head green cabbage

cored

1

tbs

vegetable oil

1

onion

minced

3

garlic cloves

minced

1

tsp

ground ginger

1/2

tsp

ground cinnamon

1/4

tsp

nutmeg

28

oz

tomato sauce

1/4

cup

light brown sugar

3

tbsp

red wine vinegar

salt and pepper

2

slices

hearty white bread

torn into small piece (do not use Wonderbread)

1/2

cup

milk

3/4

lbs

lean ground beef

3/4

lbs

uncooked bratwurst

casing removed
Instructions
For the Sauce:
Heat oil in a Dutch oven over medium-high heat until shimmering.

Cook onion until golden, about 5 minutes.

Add garlic, ginger, cinnamon, and nutmeg, cooking until fragrant, about 30 seconds.

Transfer half of the onion mixture to a small bowl and reserve.

Remove the Dutch oven from heat, and into the remaining half of the onion mixture, stir the tomato sauce, sugar, vinegar, 1/2 tea salt, and 1/4 teas pepper.
For the Meat Filling:
In a food processor, pulse bread and milk to a smooth paste.

Add the reserved onion mixture, beef, bratwurst, 1/2 teas salt, 1/4 teas pepper.

Pulse until well combined (about ten 1 second pulses).
Make the Cabbage Rolls:
Preheat the oven to 375 degrees.

Place cabbage in a large bowl, cover tightly with plastic wrap and microwave on high until outer leaves of cabbage are pliable and translucent, 3 to 6 minutes.

Using tongs (because this will be a steam bomb of hate), carefully remove the outer leaves; set aside.

Cover with plastic wrap again and repeat steps as needed to get 15 to 17 large un-torn leaves.

Trim the tough ribs from the cabbage leaves, overlap cut ends from the middle, and add 2 heaping tablespoons of meat mixture to each leaf before rolling tightly and placing seam side down in a 13 x 9″ baking dish.

Pour the sauce over the cabbage rolls and cover with foil.

Bake until the sauce is bubbling and rolls are heated through, 45 to 50 minutes.

Carefully remove foil, and bake, uncovered until sauce has slightly thickened and cabbage is tender, another 15 minutes.
Notes
Inspired by Cook's Illustrated Make Ahead Meals. You can also serve with a white béchamel style sauce if you like.  
Nutrition
Calories:
438
kcal
|
Carbohydrates:
34
g
|
Protein:
25
g
|
Fat:
23
g
|
Saturated Fat:
9
g
|
Cholesterol:
79
mg
|
Sodium:
1291
mg
|
Potassium:
1170
mg
|
Fiber:
6
g
|
Sugar:
21
g
|
Vitamin A:
755
IU
|
Vitamin C:
66.5
mg
|
Calcium:
162
mg
|
Iron:
4.2
mg