I'm not often inclined to think, 'hey, let's pop open the Tyrolean hat and suspenders and get all German up in here' when it comes to supper (though, when I put it that way, it does sound kind of fun). Probably something to do with not growing up with German food in the house. I'd seen containers of mayo loaded potato salad with a dash of vinegar claiming to be German style, but didn't pay them any mind. Really, I didn't know what German food was. I still don't. But a well traveled and wildly educated friend of mine introduced me to currywurst, a typical German street food, and it was love at first bite. Essentially, it was hot dogs in a curry zested ketchup sauce.
Yeah, my inner 5 year old could totally love some German food.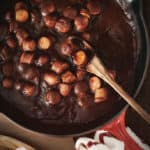 Currywurst
German street food - a simple sausage in a kicking curry ketchup sauce.
Ingredients
10

oz

balsamic ketchup

sub regular ketchup and some balsamic vinegar if you can't find this fancy version

15

oz

can tomato sauce

1

teas sugar

1

teas onion powder

2

tbs

curry powder

1

tbs

smoked paprika

1

teas red wine vinegar

salt and pepper

1 14

oz

package bratwursts

red onions
Instructions
In a large skillet, heat the balsamic ketchup, tomato sauce, sugar, onion powder, curry powder, smoked paprika, and red wine vinegar over medium heat until it simmers. Reduce heat and let cook for 20 to 30 minutes, until reduced a bit. Season with salt and pepper to taste.

If using uncooked brats, boil in a large pot until cooked through. (If pre-cooked brats, skip the boil step). Slice the brats into 1/2" slices and add to curry ketchup sauce in a single layer. Simmer until heated through and sausage begins to crisp around the edges.

Serve currywurst over french fries (or in this case pierogies) and sprinkle with red onions, if your loved ones aren't onion hating commies like my own.