If you are ready to step up the family feast this year, get ready to be soaked up to your elbows in salty brine. This Smoked Ham is where it is at.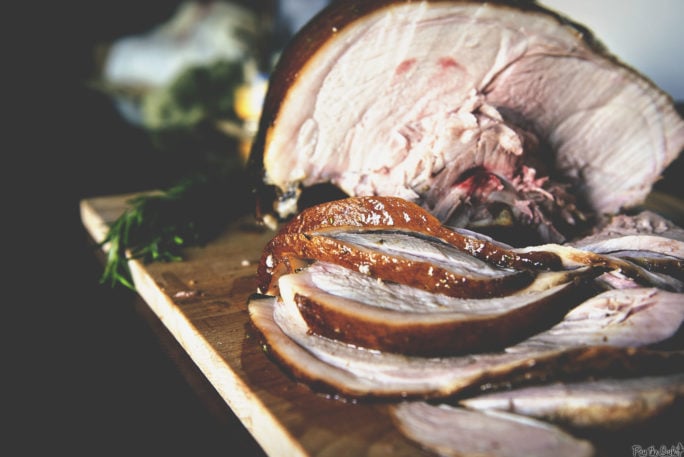 Taking on a whole ham is a feat. A victory that won't be achieved by many. Committing to hunting out a fresh skin on ham, which will most likely have to be specially ordered from your local butcher, a week long brine and following through while a smoked ham recipe is one for the culinary bucket list.
This time of year markets has freezer cases spilling over with spiral sliced delights that make the Easter feast easy. And there is absolutely nothing wrong with grabbing one of those babies and nibbling to your hearts content.
But if you are ready to step up the family feast this year, if you are willing to get soaked up to your elbows in salty brine, if you are man enough to heavy this 20 pound beast from smoker to the table, then get excited.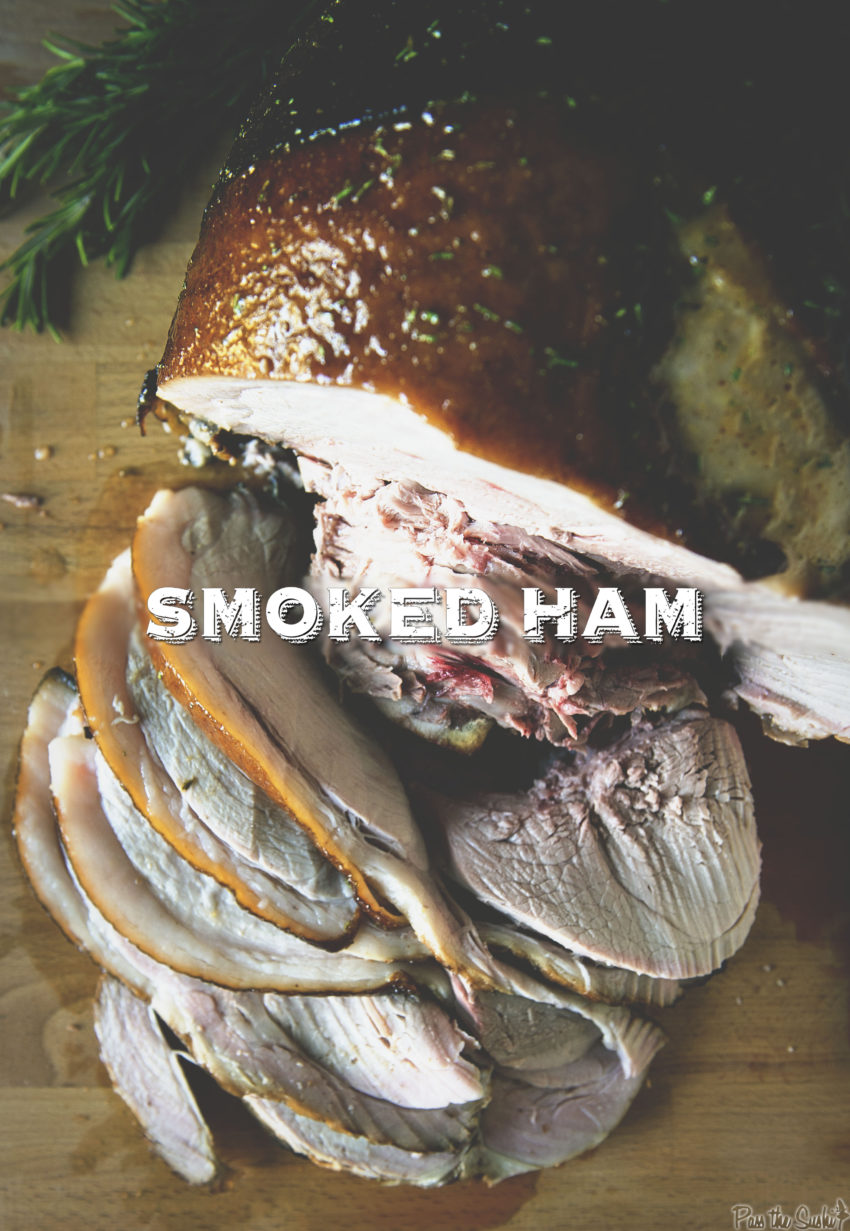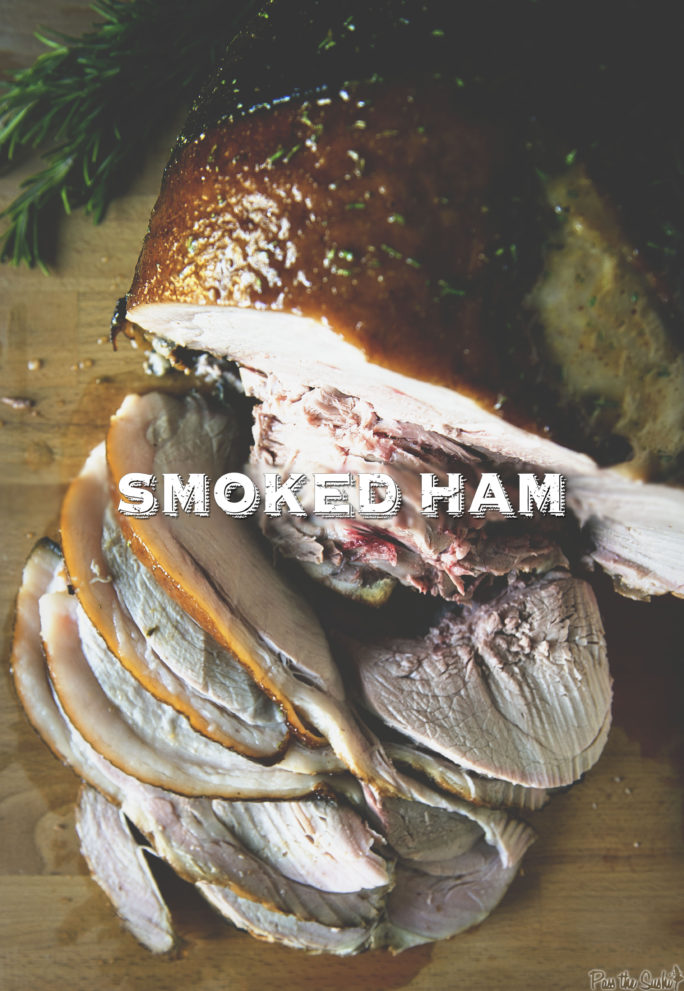 Why Smoke Ham?
Traditionally, meats were smoked as a means to preserve them. Modern home refrigeration has only been around since 1913. Before that, people needed a way to keep food from spoiling before it could be eaten.
Smoking meat may have started as early as the Stone Age with the discovery of fire. Throughout the centuries, smoking and salting meat for future use has been refined, and today we keep up the practice largely due to the incomparable flavors it produces.
I'm about to take this feast up a notch.
Make The Cut
We are talking making your own ham. This isn't some out of a can, full of nitrites, soaked in an approximation of maple syrup flavoring ham. This is old school, back country, real deal homemade cured meat. 
To do it right… You have to make the cut count. 
And that is why I mentioned the butcher and wait time to order a suitable cut. Because typically you won't see a big old leg of uncured ham in the selections on the meat and fish aisle in your local grocery. 
Just to be clear, the back top leg of a pig is called the "ham". Uncured it is the type of cut. Cured and it becomes the stuff of great sandwiches the world over. 
Smoked, it becomes a national treasure.
Why don't you see the uncured ham cuts? Generally speaking, they are going to take up way too much space. Space that might otherwise be used for higher price per pound steaks and such. 
That, and oftentimes the ham portions go toward making hams for companies that will make their own hams full of preservatives and flavorings.
So be patient. Be firm. Stand tall and tell the butcher you are going to brine and smoke your own homemade ham. The nod of approval and smile of appreciation from the butcher will have you walking about two feet taller when you leave the store. 
Depending on your week, this feeling should last just long enough to steel you up with enough pride and patience to get through the week of brining the ham no problem. 
Variations On The Brining Liquid
If you want real maple-flavored ham then substitute real maple syrup for the brown sugar in the brine. The difference between a ham cured in a brine with quality ingredients and those the typical grocery hams you see around the holidays is pretty stunning. 
Prepare for your mind to be blown and taste buds to dance a jig.
Also, feel free to play with different seasoning in your brine. The coriander, mustard seeds, and bay leaves are classic, but go ahead and add some peppercorns, or even juniper berries or a piece of cinnamon stick as well. 
The pork draws in the flavors wonderfully during the brine period. Smoking the meat just makes it that much better. 
Type of Wood For Smoking Ham
I recommend apple wood chips or chunks for the smoker in this recipe but if you can't easily find apple, then a few others work well. 
Hickory smoked ham is the stuff of country legend. I am pretty sure that the Hatfields and McCoys feud started over which family made a better smoked ham, but don't quote me on that.
Besides apple and hickory, you can't go wrong with cherry or maple either. 
The Difference Between A City Ham And A Country Ham
In terms of cured ham, this recipe technically speaking is closer to a "city ham". A city ham is one brined in liquid then smoked. In stores, city hams are typically sold with the fancy spiral cuts. Usually, they are already completely cooked.
Whereas, a country ham is dry salted and cured by hanging to dry a few weeks, then sometimes smoked or sometimes not. These are uncooked but they are fully cured.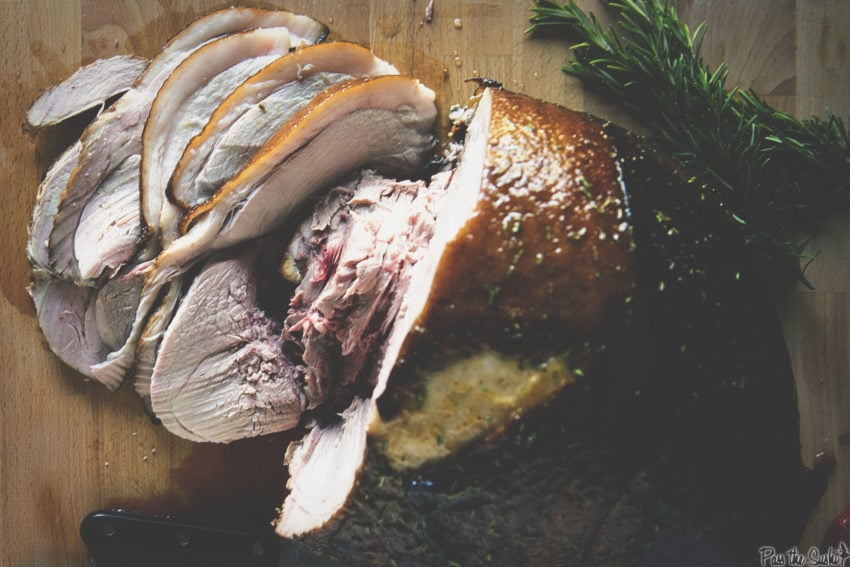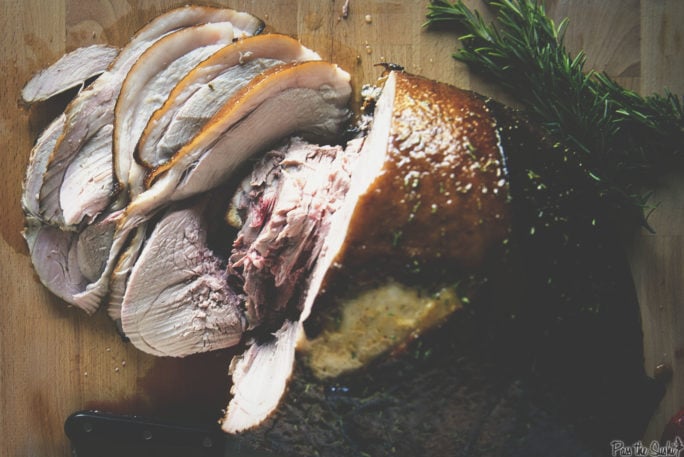 Don't be afraid to use that smoker. Here are some more things to try once you've finished gnawing on that ham bone!
If you've tried my Smoked Ham Recipe or any other recipe on GirlCarnivore.com please don't forget to rate the recipe and let me know where you found it in the comments below. I get inspired by your feedback and comments! You can also FOLLOW ME on Instagram @girlcarnivore as well as on Twitter and Facebook.
Smoked Ham
This is a full on cured and smoked ham from start to finish. Be sure to read my notes for tips on what you can do to prep for success!
Ingredients
2

gallons

water

2

cups

kosher salt

1

cup

packed light brown sugar

1

head garlic

cut in half

2

tbs

mustard seeds

2

tbs

coriander seeds

2

bay leaves

1

bone-in skin on fresh ham

about 20 pounds

Apple-wood chips

for smoking

1

cup

honey

1

cup

Dijon mustard

2

tbs

fresh rosemary

chopped
Instructions
In a large pot, bring the water, salt, brown sugar, garlic, mustard seeds, coriander seeds, and bay leaves to a simmer. Whisk until the salt and sugar are completely dissolved. Remove from heat and let cool completely.

When the brining liquid has cooled, find a large container, big enough to hold your ham. Submerge the ham in the brining liquid and weigh down the ham to keep submerged, if needed. Brine in the refrigerator for 7 days, turning once in a while.

Remove the ham from the liquid and discard the brine. Place the ham on a wire rack set inside a large roasting pan and place in the refrigerator, uncovered, overnight to air dry.

Prep your wood for your smoker.

Prep your smoker for a temp of 200 degrees.

Place the ham in the smoker and smoke for 4 hours. Add new wood chips after 2 hours.

Meanwhile, whisk the honey, Dijon, and rosemary together in a bowl. Brush over the ham. Close the smoker and smoke for another 3 to 4 hours. Check the temp on the ham. You are looking for 165 degrees F.

Remove the ham from the smoker and allow to cool. Brush with the remaining glaze.

Slice and serve.
Notes
Going into this recipe you need to make sure you have everything lined up. Time, space, and patience – and lots of it – for at least 8 days.
A large cooler that you can keep cold works great. I used a spare fridge, removed the shelves and placed a cleaned cooler in it to brine the ham.
A huge roasting pan.
The ham requires an over night air dry. Make sure you have a pan big enough to hold it.
A smoker. Make sure your smoker can handle the size of a 20 pound am. If not, scale the recipe as needed.
From Carnivore by Michael Symon
Nutrition
Nutrition Facts
Smoked Ham
Amount Per Serving
Calories 626
Calories from Fat 360
% Daily Value*
Fat 40g62%
Cholesterol 190mg63%
Sodium 6177mg269%
Potassium 667mg19%
Carbohydrates 12g4%
Protein 49g98%
Vitamin A 5IU0%
Vitamin C 0.2mg0%
Calcium 56mg6%
Iron 3.1mg17%
* Percent Daily Values are based on a 2000 calorie diet. Nutrition information provided is an estimate. For specific health concerns, please put the recipe into your Dr recommended nutrition calculator.