Step up the family feast this year with this Smoked Ham recipe. It's made with fresh ham that's soaked in a salty, sweet, and flavorful brine, smoked to perfection, then smothered in a honey dijon glaze.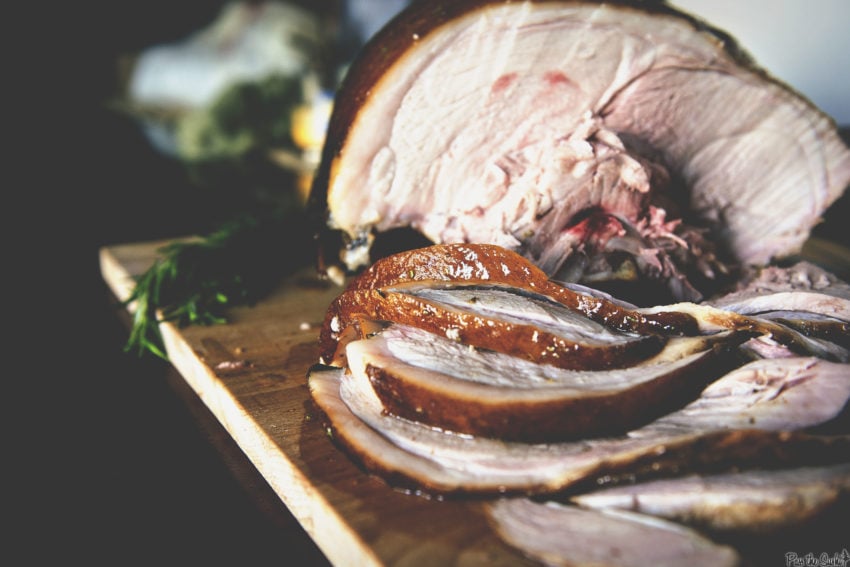 Taking on a whole ham is a feat. Hunting down a fresh, skin-on ham, a week-long brine, and a 7-8 hour smoke is a commitment. But it's worth it. Trust me.
Traditionally, meats were smoked as a means to preserve them. Now, smoking and salting meat are practiced largely due to the incomparable flavors it produces.
I'm about to take your roast ham feast up a notch. Yep, we're talking about making your own smoked ham from start to finish. This isn't some out-of-a-can, full-of-nitrates, soaked in an approximation of maple syrup ham. This is old school, backcountry, real deal homemade cured meat.
This smoked ham recipe will change your life! Or at least make for one heck of a feast. But, if you want to start with a smaller more affordable cut, try this smoked spiral ham recipe out!
Ingredients needed:
Brine – we're making homemade brine with water, kosher salt, brown sugar, garlic, mustard seeds, coriander seeds, and bay leaves. This delicious brine adds so much moisture and flavor to the ham.
Bone in Ham – whole bone in skin on uncured ham leg. The ham should say "cook thoroughly" as opped to "pre-cooked ham," "ready to eat," or "fully cooked." Make sure you aren't buying a pre-cured ham or spiral cut ham.
Wood Chunks or Chips – I like to use apple-wood chips for this recipe.
Glaze – this recipe utilizes honey, dijon mustard, and fresh rosemary to glaze the ham.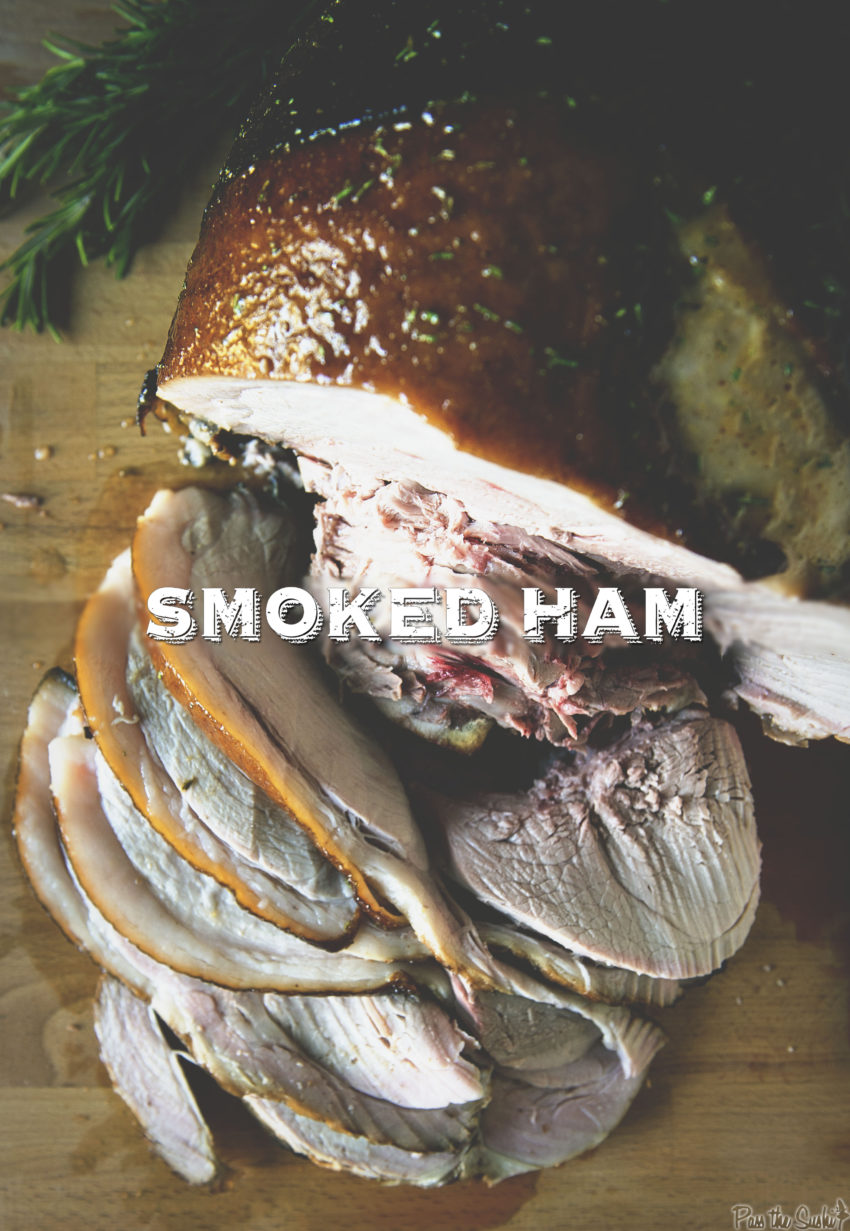 How to smoke a ham
This smoked ham recipe requires patience. But it is so worth the wait!
In a large pot, make the brine by bringing water, salt, brown sugar, garlic, mustard seeds, coriander seeds, and bay leaves to a simmer. Whisk until the salt and sugar are dissolved. Cool completely.
Once the liquid is cooled, pour it into a large container. Submerge the ham and brine for 7 days. Once brined, remove the ham from the liquid, discard the brine, and place it on a wire rack inside a large roasting pan. Refrigerate overnight to air dry.
Prep your smoker for 200ºF to 250ºF, then place the ham in the smoker. Smoke for 4 hours, with wood chunks or make sure to add new wood chips after 2 hours.
Make the glaze by whisking together honey, Dijon, and rosemary in a small saucepan. Brush over the ham, then continue smoking for another 3-4 hours or until the ham has reached 165ºF. Make sure to use an instant-read thermometer to guarantee the ham reaches 165.
Remove from the smoker, brush with remaining glaze, slice, and serve.
What temperature do you smoke a ham?
You'll smoke your ham at 200ºF. Since the ham smokes for 7-8 hours, high heat isn't necessary. We want low and slow for a delicious tender texture.
How long to smoke a ham
For the 20 pound ham used in this recipe, you'll need to smoke it for anywhere from 7-8 hours.
The best way to tell that the ham is done cooking is to use a meat thermometer. The internal temperature should be 165ºF!
What is the best wood for smoking ham?
I recommend apple wood chips or chunks for the smoker. I love the apple flavor paired with the sweetness of the glaze.
If you can't find apple, you could also use hickory, cherry wood, or maple. Avoid mesquite as it is too harsh a flavor for this recipe.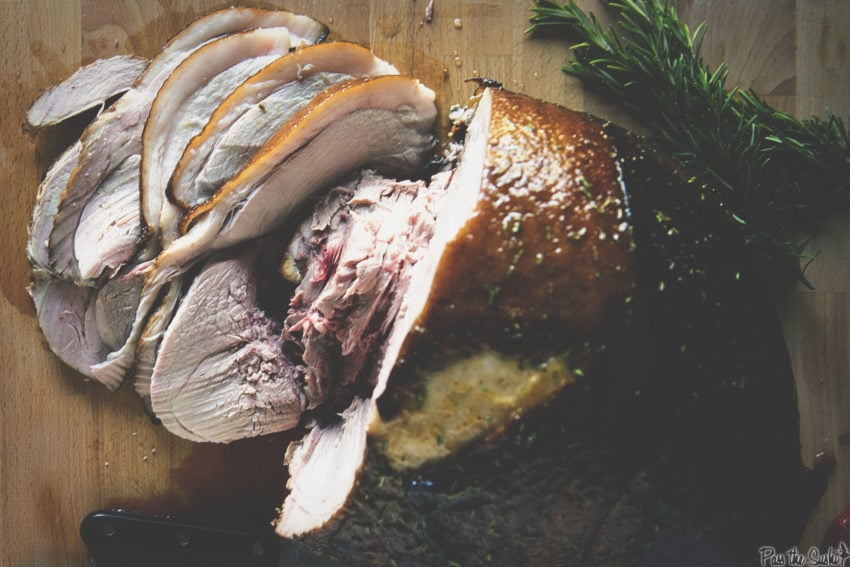 Recipe Tips
Order ahead of time. Uncured ham isn't typical in markets. Give yourself ample time to talk to your butcher, order ahead of time to get in, and work through the bringing process.
Dry the ham. After the ham is brined, you'll want to let it dry completely overnight. The dryer the ham, the crispier the exterior.
Check the temp. The internal temperature of the ham should be 165ºF. Once it's reached that, it's good to go.
Play with seasonings. The coriander, mustard seeds, and bay leaves in the brine are classic, but go ahead and add peppercorns, juniper berries, or even a piece of a cinnamon stick.
Use maple syrup. If you want a real maple-flavored ham, swap the brown sugar in the brine out for real maple syrup.
This recipe works on a pellet grill, classic offset smoker, or an electric smoker. The biggest key is making sure your grill space is big enough for the pork.
Serving suggestions
I love to serve this smoked ham up with a couple of classic side dishes. Try mashed potatoes, roasted veggies, smoked pulled pork mac and cheese,
Leftover ham is the best! Slice it thin and nibble on it as is. Or use it in omelets, strata, soups, fried rice, or more! Anywhere you could use deli ham or ham steaks, you can use s leftover smoked ham.
How to store
To store the smoked ham, carve it into smaller pieces and keep it in an airtight container in the fridge for 3-5 days or in the freezer for 1-2 months. To reheat, thaw in the fridge if frozen then microwave or warm in the oven at 275ºF until the internal temperature is 140ºF.
More pork recipes to try
If you've tried my Smoked Ham Recipe or any other recipe on GirlCarnivore.com please don't forget to rate the recipe and let me know where you found it in the comments below. I get inspired by your feedback and comments! You can also FOLLOW ME on Instagram @girlcarnivore as well as on Twitter and Facebook.
Smoked Ham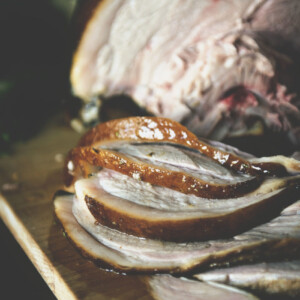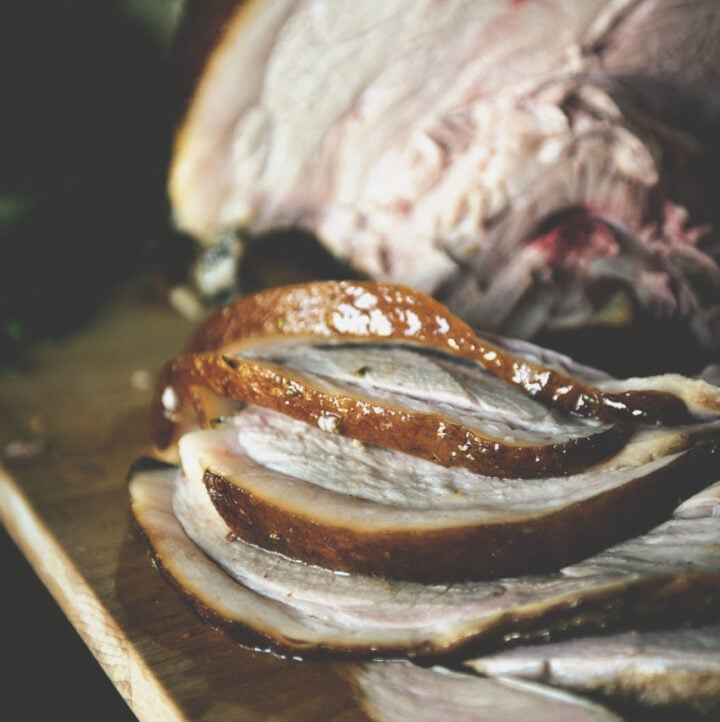 This is a full on cured and smoked ham from start to finish. Be sure to read my notes for tips on what you can do to prep for success!
Ingredients
2

gallons

water

2

cups

kosher salt

1

cup

packed light brown sugar

1

head garlic

cut in half

2

tbs

mustard seeds

2

tbs

coriander seeds

2

bay leaves

1

bone-in skin on fresh ham

about 20 pounds

Apple-wood chips

for smoking

1

cup

honey

1

cup

Dijon mustard

2

tbs

fresh rosemary

chopped
Instructions
In a large pot, bring the water, salt, brown sugar, garlic, mustard seeds, coriander seeds, and bay leaves to a simmer. Whisk until the salt and sugar are completely dissolved. Remove from heat and let cool completely.

When the brining liquid has cooled, find a large container, big enough to hold your ham. Submerge the ham in the brining liquid and weigh down the ham to keep submerged, if needed. Brine in the refrigerator for 7 days, turning once in a while.

Remove the ham from the liquid and discard the brine. Place the ham on a wire rack set inside a large roasting pan and place in the refrigerator, uncovered, overnight to air dry.

Prep your wood for your smoker.

Prep your smoker for a temp of 200 degrees.

Place the ham in the smoker and smoke for 4 hours. Add new wood chips after 2 hours.

Meanwhile, whisk the honey, Dijon, and rosemary together in a bowl. Brush over the ham. Close the smoker and smoke for another 3 to 4 hours. Check the temp on the ham. You are looking for 165 degrees F.

Remove the ham from the smoker and allow to cool. Brush with the remaining glaze.

Slice and serve.
Notes
Going into this recipe you need to make sure you have everything lined up. Time, space, and patience – and lots of it – for at least 8 days.
Most importantly, make sure your ham is NOT pre-cooked or cured. Order a fresh ham from your butcher.
A large cooler that you can keep cold works great. I used a spare fridge, removed the shelves and placed a cleaned cooler in it to brine the ham.
A huge roasting pan.
The ham requires an overnight air dry. Make sure you have a pan big enough to hold it.
A smoker. Make sure your smoker can handle the size of a 20 pound am. If not, scale the recipe as needed.
From Carnivore by Michael Symon
Nutrition
Calories:
626
kcal
|
Carbohydrates:
12
g
|
Protein:
49
g
|
Fat:
40
g
|
Saturated Fat:
14
g
|
Cholesterol:
190
mg
|
Sodium:
6177
mg
|
Potassium:
667
mg
|
Sugar:
12
g
|
Vitamin A:
5
IU
|
Vitamin C:
0.2
mg
|
Calcium:
56
mg
|
Iron:
3.1
mg