In case you haven't figured it out, I'm kind of a soulless carb freak. I want my meat and potatoes and I don't want to have to count calories or chew on celery all day long to repent. I play hard, and I will eat like a fat kid. Pastisio is one of those ultimate indulgence sort of meals that need their own food group, like lasagna and all forms of mac and cheese. Any time dinner consists 97% pasta and 3% the stuff slathered all over it, it probably has some political official spending some ungodly amount of dollars building a campaign saying it slaughters innocent giraffes.  (I know it most definitely upsets Mister Oliver, and really, he's kind of awesome, so don't eat this every day, mkay?). You could add a nice spinach salad to the side, you know, round things out. But lets face it, nothing is undoing this…
Grab that glass of wine and can handle the repercussions.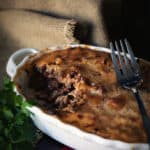 Pastitsio
This is an all afternoon sort of meal with home made meat and creamy sauce. Pure guilt, pure indulgence, and 100% rocking because you flexed those culinary skills and made it all from scratch.
Ingredients
3

tbs

good olive oil

1

large yellow onion

diced

1

lbs

lean ground beef

1

lbs

lean ground lamb

1/2

cup

dry red wine

1

tbs

minced garlic

3 large cloves

1

tbs

ground cinnamon

1

teas dried oregano

1

teas fresh thyme leaves

Pinch

of cayenne pepper

1 28

oz

can crushed tomatoes in puree

Salt and pepper

1 1/2

cups

whole milk

1

cup

heavy cream

4

tbs

unsalted butter

1/4

cup

flour

1/4

teas freshly grated nutmeg

1 1/2

cups

freshly grated Parmesan

2

extra-large eggs

beaten

2/3

cup

plain Greek yogurt

3/4

lbs

small shells
Instructions
Start with the meat sauce: Heat the olive oil in a large pot over medium-high heat. Saute the onion for 5 minutes, until soft. Add the ground beef and lamb and cook for 8 to 10 minutes, breaking up with a spoon. Drain off any fat if needed. Add the wine and cook for 2 minutes. Add the garlic, cinnamon, oregano, thyme, and cayenne pepper. Stir to combine and cook for 5 minutes longer. Add the tomatoes and season with 2 teas salt and 1 teas pepper, if desired. Simmer for 40 - 45 minutes.

Meanwhile, make the bachemel sauce. Heat the milk and cream in a small saucepan over medium-low heat until just starting to simmer, there will be bubbles around the edges and steam coming off the top. In another larger saucepan, melt the butter over medium-low heat. Add the flour, stir, and cook for 2 minutes. Whisk away. Slowly pour in the heated milk and whisk vigorously. Cook for 5 to 7 minutes longer, stirring often, until thick. Add the nutmeg, 1 teaspoon of salt and pepper if desired. Add 3/4 cup of the shredded Parmesan cheese and 1/2 cup of the tomato meat sauce. Allow to cool for 10 minutes. Lastly, stir in the eggs and yogurt.

Preheat the oven to 350 degrees F. Grease a 9 x 13" baking dish. Cool the pasta in a large pot of salted water until just al dente. You're going to continue to bake it, so don't over cook it. Drain.

Toss the pasta in with the meat sauce to combine. Pour into the prepared baking dish and spread evenly. Pour the bachamel sauce over the top and shake the pan about to spread evenly. Top with the remaining 3/4 cup Parmesan cheese.

Bake, uncovered, for 1 hour, until golden brown and bubbly. Let cool 10 minutes before serving.