Feel fancy with this date night halibut recipe baked in parchment and slathered in a fresh pistachio mint pesto. It's 20 minutes of meal prep for a 5-star quality supper, plus I am pretty sure with an effort like this, you are going to earn some brownie points. Quickly adapted for Whole30, this one is healthy but doesn't lack any flavor and the presentation is worthy of an insta-snap no matter how cool you really are.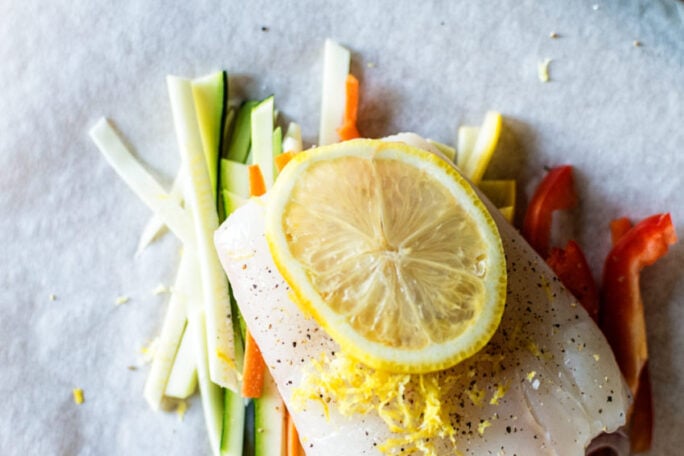 It's hard not to crush hard on Andie Mitchell. She's hot, funny, and into books. Plus, girl can cook. Truth though? I didn't know who she was until a year ago when my foodie BFF said we should have her on the podcast. Sure, why not? I didn't buy her book, I didn't google her, listen to her TED talk, I didn't even read her blog. I did, however, join my homeslice in a panel where Andie was talking at a food thing in Seattle and realized she was kind of cool. Quirky honest fun, the kind of person I can relate to. We stood against a wall in a crowded hallway where I was radiating uncomfortable vibes feeling out of my element and chatted for a minute.
So, I picked up her recently published memoir, It was Me All Along, and read. It was a little fuu-fuu and totally not my thing and I ate it up. From one page to the next I related, understood, and empathized with every single word on the page. I tasted the amazing fresh ricotta swirled into the hand rolled pasta in Italy and felt the heartbreak that comes from being the child of a parent struggling, and finally losing, the never ending battle with addiction. And the guilt and issues that layers on too. It was one of those moments where I wanted to call this pretty much stranger to me while I was 30000 feet in the air and be like, "Holy crap, I totally get it. Let's get a beer and a biscuit!" because you are convinced you could really be besties too. Pajama parties and everything.
So, either Andie's writing is that good, or we are destined to be actual friends some day. But, I was lucky enough to be on her radar (ok, at least her publishers radar) to taste test her new cookbook before it arrived on shelves 3/29/16, at a perfect time for myself, as I am going through a personal struggle with food right now. Eating int he Middle, A Mostly Wholesome Cookbook, is just what I needed to flip through and find inspiration it.
It reads like a well-written novella with chapters and snippets of Andie's signature layered journaling luring you back into the kitchen with intros and anecdotes that deliver aromas and flavors right to your senses making it impossible to not want to cook from this book. As for me, I flipped through and dog-eared the recipes I could try right away, this halibut recipe jumping out at me while on the Whole 30, but am excited to circle back and taste test a few more like the Meatloaf Burgers with Frizzled Onions, Beef Puttanesca, or even this kick ass breakfast egg salad.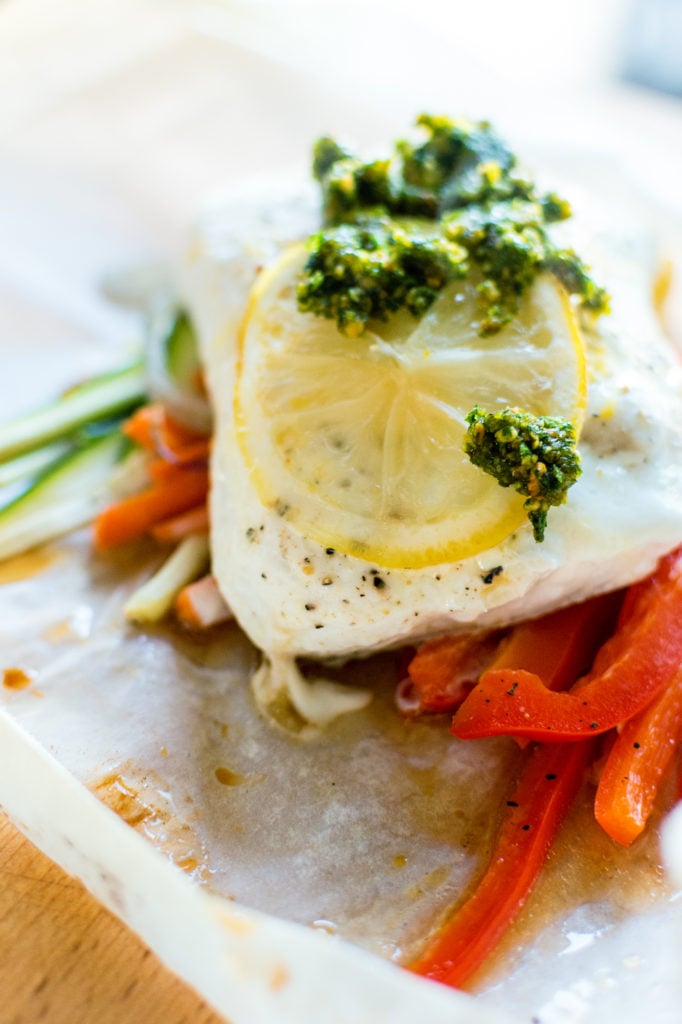 Halibut Baked in Parchment with Pistachio Mint Pesto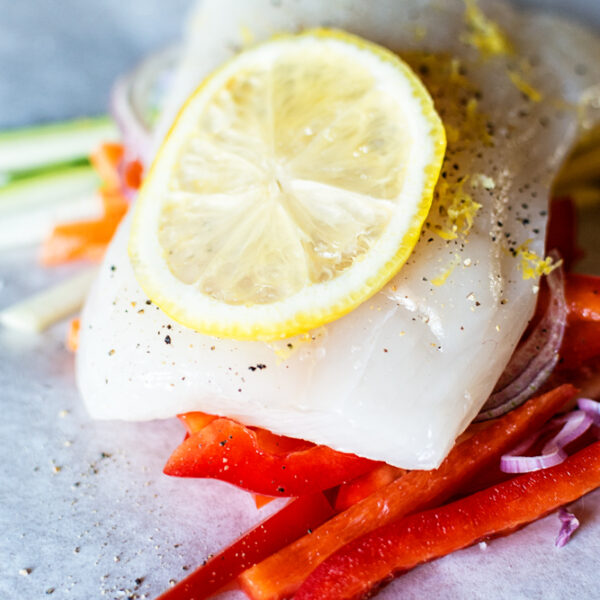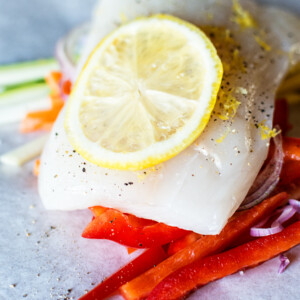 Feel fancy with this date night halibut recipe baked in parchment and slathered in a fresh pistachio mint pesto. It's 20 minutes of meal prep for a 5-star quality supper!

Ingredients
for the Pistachio Mint Pest
1/4

cup

fresh flat leaf parsley

1/4

cup

fresh mint leaves

2

tbs

olive oil

3

tbsp

shelled unsalted pistachios

2

garlic cloves

1/4

tspn

salt

2

tbsp

grated Parmesan cheese*
for the baked Halibut
1

medium shallot

sliced

1

large zucchini

cut into matchsticks

1

summer squash

cut into matchsticks

2

carrots

peeled and cut into matchsticks

1

red pepper

stemmed, seeded and cut into matchsticks

1/4

cup

dry white wine or chicken broth

1.5

lbs

halibut fillets

salt and pepper

4

tspn

unsalted butter

3

tbsp

lemon zest

1

lemon

sliced
Instructions
Prep the pesto:
Pulse the parsley, mint, olive oil, pistachios, garlic, and salt until smooth in the bowl of your food processor. Scrape down the sides and pulse once or twice more to be sure no large chunks remain (I added a little more olive oil). Spoon into a bowl and mix with the cheese if using. Cover and set aside.
Cook the fish
Heat the oven to 450 degrees F.

Arrange 4 12" sheets of parchment paper on a clean work surface.

Arrange the squash, carrots, and peppers in the center of each sheet.

Top with some scallions. Add 1 tbs of wine/broth to each mound of veggies.

Nestle the halibut in the center of each and season with salt and pepper.

Divide the lemon zest and butter evenly between the halibut portions and lastly, top with a few slices of lemon.

Arrange another single sheet over each of the portions. Fold up the edges, crimping tightly, to create a nice sealed little packet, about 7 or 8 inches long.

Place on a baking sheet and cook for 15 minutes, until the fish is cooked through and fakes easily with a fork.

Serve the fish on plates in the packet. Allow a moment before unwrapping, as the steam can be really hot! After opening the packets, spoon the mint pesto over top of each filet if desired.
Notes
This is one of those meals that flys together if you do the prep work ahead of time. Once the chopping is done – this halibut baked in parchment with pistachio mint pesto comes together quick and is the perfect date night diner! To adapt this halibut recipe for #Whole30, omit the cheese in the pesto and use ghee instead of butter for the fish. Be sure to use approved chicken broth in place of the wine. This was great paired up with roasted Brussels sprouts or a fresh spinach salad.
Eating in the Middle
Nutrition
Serving:
1
g
|
Calories:
282
kcal
|
Carbohydrates:
12
g
|
Protein:
34
g
|
Fat:
11
g
|
Saturated Fat:
2
g
|
Polyunsaturated Fat:
1
g
|
Monounsaturated Fat:
6
g
|
Trans Fat:
0.03
g
|
Cholesterol:
88
mg
|
Sodium:
212
mg
|
Potassium:
1142
mg
|
Fiber:
4
g
|
Sugar:
5
g
|
Vitamin A:
6729
IU
|
Vitamin C:
75
mg
|
Calcium:
84
mg
|
Iron:
1
mg