A fun twist on a classic pub favorite. Fish and Chips, using potato flakes to coat fresh halibut and Idaho® Potatoes russet potatoes sliced into crunchy baked chips. Updated and now, healthier.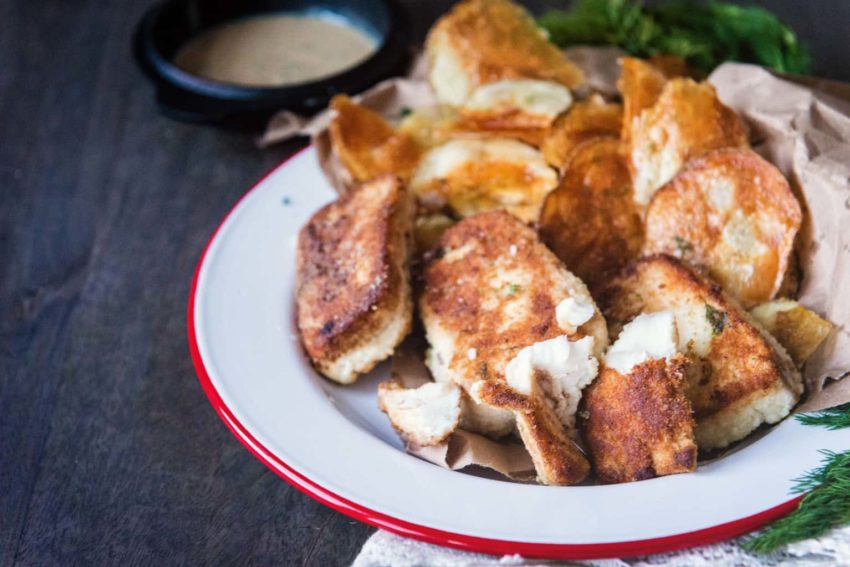 This post was sponsored by  Idaho Potato Commission because it sounded too tasty not to share with them. As always the thoughts and opinions expressed in this post are mine, all mine. 
Fish and chips, the ideal to-go meal for a greasy hot mess of crispy battered white fish atop a pile of chips a.k.a. fries. From street fare staring in the 1860's somewhere in the fine region of England to a global staple of any worthwhile pub, fish and chips is a classic comfort dish, with cod and haddock being the defining 'fish' for the region. Fish and Chips quickly became a working-class staple with its battered and fried paper wrapped bites. Chips were romanticised in Dickens and the popular dish was maintained through WWI to keep morale high and belly's full by the English.
Fast forward almost 200 years from that first incarnation of the dish and let's put a modern spin on it. With a major push being on regulating our health with better options, whether it be Keto, Paleo, or Whole30, the idea of stepping back from heavy fried foods and working in a healthy balanced option comes to play.
This fish and chips is my modern twist on this classic dish. A baked, lightened- up version, loaded with defined flavors and light seasonings. There is a global influence at play with the tahini sauce and a splash of lemon and fresh dill. The halibut was fished fresh in Alaska and given to me as a gift, with a fresh clean flavor and a meaty bite, it holds up to the pan sear and bakes without becoming mushy. The Russet potatoes sliced thin, bake up perfect with just enough oil to coast as they get golden and crunchy in the oven. And the final touch of salt and squeeze of lemon across it all when served brings it all back to that original dish.
See the recipe notes for a Whole30 Approved version of this recipe.
We can take the fish and chips out of Old England and still have a meal worth sharing atop a bar stool.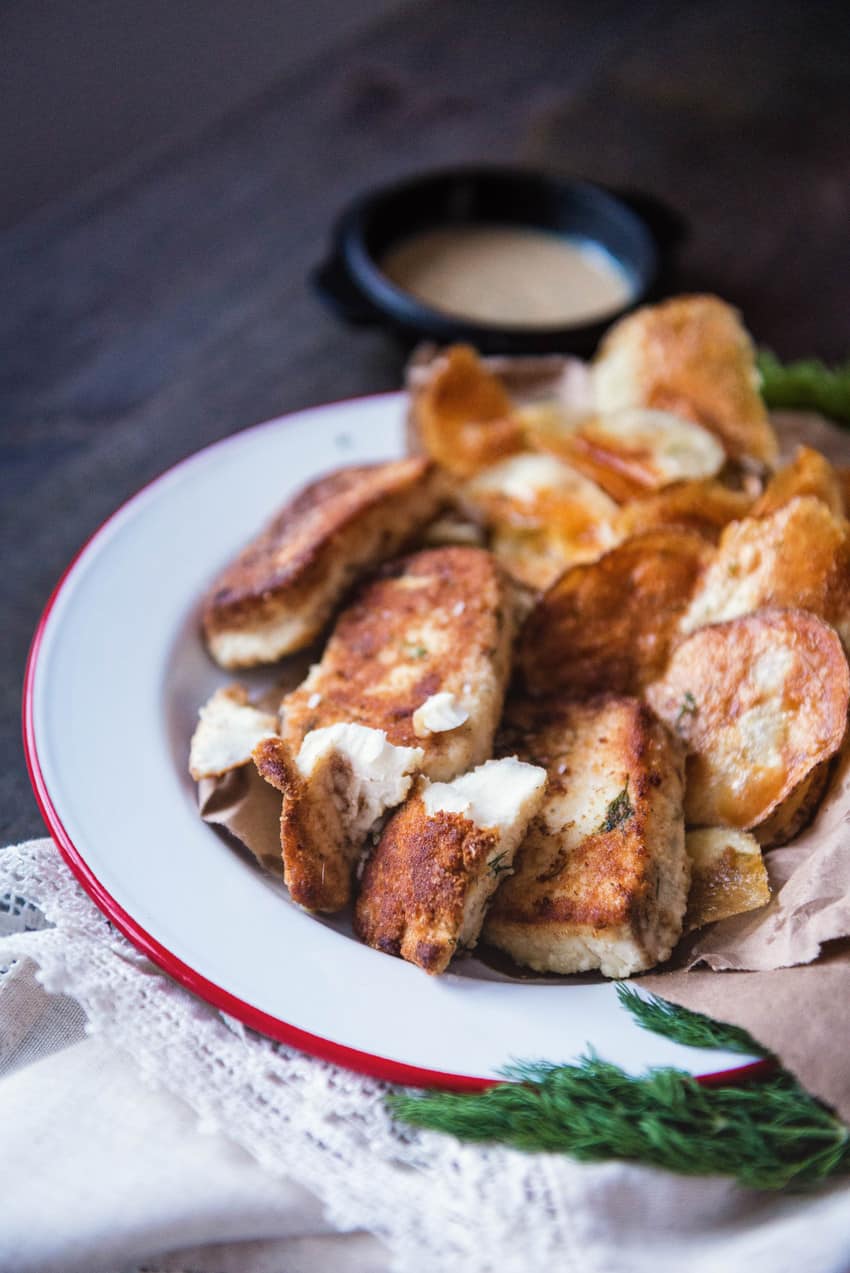 Tools Used in This Recipe
Tahini Sauce (seriously, try it on a Lamb Grilled Cheese!)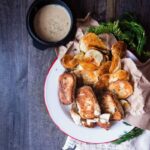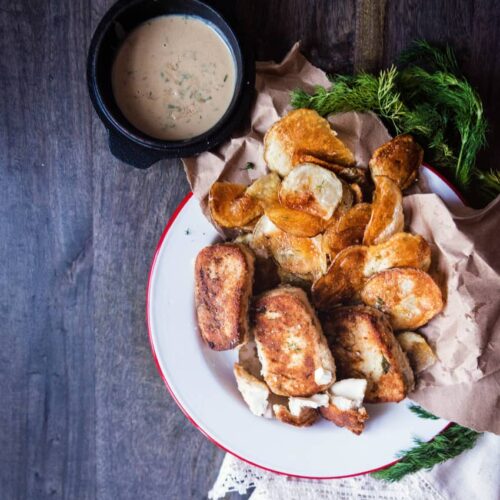 Dill & Potato Crusted Baked Fish and Chips
Ingredients
For the Potato Crusted Baked Fish and Chips
1

lbs

halibut filet

skin removed

1 ½

cup

Potato Flakes

Like Idahoan Mashed in the dried foods section

1

teas salt

1 - 2

teas fresh chopped dill

¼

teas garlic powder

2

teas butter or Extra Virgin Olive Oil
For the Tahini Dipping Sauce
½

cup

tahini paste

1

tbsp

lemon juice

1

teas water or mayo

if needed

Salt and pepper

½

teas fresh chopped dill
For the Chips
2

Idaho® Potatoes russet potatoes

washed

2

tbsp

olive oil

Salt and pepper

2

cloves

garlic

finely minced
Instructions
For the Potato Crusted Baked Fish and Chips
Preheat oven to 400 degrees F.

Pat the fish dry with a paper towel and slice into ½" strips.

Combine the potato flakes, salt, dill, and garlic powder in a shallow bowl.

Heat an oven-safe skillet over medium-high heat. Add the butter or other cooking fat and swirl to coat the pan.

Place the halibut in the pan when hot and sear 2 minutes. Flip and slide the pan into the oven to finish cooking, another 8 to 10 minutes, depending on the thickness of your fish. This can be done at the same time as the potato chips are baking.
For the Tahini Dipping Sauce
In a small bowl, whisk the tahini sauce with the lemon juice, water or mayo (if it is on the thick paste like side).

Season with a sprinkle of salt and pepper.

Stir in the chopped dill.

Set aside for serving.
For the Baked Chips
Slice the russet potatoes into thin disks, the thinner the better, ⅛' thick.

Place the potatoes in a large bowl and toss with salt and pepper, and the minced garlic.

Arrange the potatoes onto baking sheets in single layers (use two baking sheets if needed) and bake for 10 minutes.

Carefully remove from oven, flip the potatoes (Rotate the pans if using multiples) and bake for another 8 to 10 minutes.
For Serving:
Toss the chips on to a paper lined plate and set the potato crusted fish atop. Sprinkle everyone with a bit of salt and more dill. Serve with the tahini dipping sauce and a lemon wedge if desired.
Recipe Notes
To make this recipe Whole 30 Approves
Substiture almond meal for the potato flakes
Substiture ghee for butter