The other day I showed you in a few simple pictures how easy grinding your own beef could be. I won't drag out my pulpit and start preaching about why to grind your own meat quite yet, instead I'm just going to lure you in with these delicious burgers I made with those perfect patties.
I wanted to create a spin on cheese slathered Welsh Rarebit to satisfy a major cheese craving but I also wanted a way to sneak some veg in. Knowing everyone loves broccoli slathered in cheese, I decided that making a slaw to top the burgers out of broccoli was a great start. Drenching everything in cheese sauce was the ultimate finish (so much for the vegetables). It was still a wee bit cold, and I am wanting to learn the art of skillet cooking a burger so I opted for that instead of good old fashioned charcoal. Smashing it all in between a toasted bun, this burger was a complete meal in itself.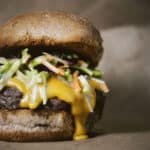 Broccoli Spiked Rarebit Burgers
Not your traditional béchamel based rarebit and not your old fashioned burger either.
Ingredients
2

cups

broccoli slaw

1

– 2 tbs thousand island dressing

1

lbs

ground beef

1/2

teas salt

1/4

teas pepper

1

teas fresh thyme

1

tbs

olive oil

2

tbs

butter

2

tbs

flour

1

tbs

Worcestershire

1

cup

stout beer

1

cup

sharp cheddar cheese

dash of tabasco sauce

Toasted buns
Instructions
Mix broccoli slaw with as little dressing as possible to just moisten the entire two cups. It's getting a fair share of moisture later from the cheese so don't over do it here.

Mix the ground beef, salt, pepper and thyme in a bowl. Form into patties.

Heat a large skillet over medium-high heat. Add the olive oil and swirl about the pan. Place patties in pan and cook 5 – 7 minutes, flipping once for medium- rare.

Meanwhile, melt the butter in a saucepan over medium heat. Whisk in the flour. Slowly whisk in the beer. Add the tabasco and Worcestershire sauce. Whisk the cheese in and mix until melted through.

Place patties on toasted bun bottoms and top with a heaping portion of slaw and cheese sauce. Top with reaming bun halves.