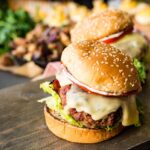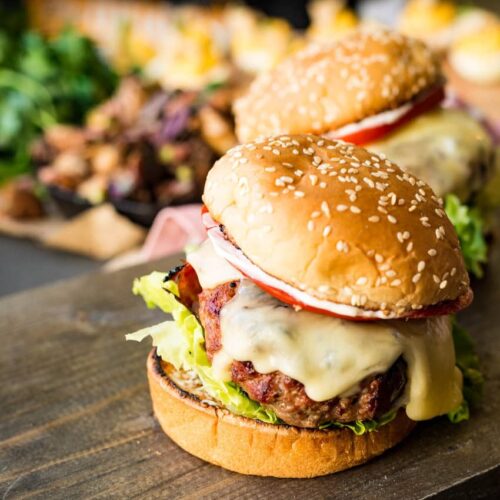 Print
Veal Saltimbocca Burger with Sage Aioli
An old-school Italian dish turned into a burger. Taste test the Veal Saltimbocca Burger with Sage Aioli for proof that the classics are still really good.
For the Sage Aioli
1

tbsp

butter

2 - 3

fresh sage leaves

1/4

cup

mayo

1

teas

lemon zest

1/4

teas

lemon juice

salt and pepper
For the Veal Saltimbocca Burgers
1

lbs

ground veal

salt and pepper

1/4

lbs

prosciutto

4

slices Havarti

4

buns

lettuce, tomato, onion

for garnish
Prep your charcoal or gas grill for indirect heat. Clean and oil the grate. Close the lid and allow the grill to come to temp.

In a small skillet over medium heat, melt the butter and swirl to coat the pan. Add the sage leaves and cook until crisp.

Remove the sage from the pan, and crumble.

Stir the crumbled sage into the mayo. Add the lemon zest and juice. Season with salt and pepper and stir to combine. Set aside.

Meanwhile, season the ground veal with salt and form into patties.

Wrap the prosciutto around the veal and press. Its tacky nature will allow it to stick to the veal without falling off.

Place the patties over the cooler side of the grill to minimize risk of flare-ups. Allow the patties to cook to 160 °F, flipping as needed to ensure even cooking.

In the last few minutes of grilling the burgers, toast the buns and place the havarti atop the burgers to melt.

When ready to serve, spread the aioli onto the buns, layer on lettuce tomato and onion, if desired. Place the cooked veal burger and remaining bun half atop and serve.
Calories:
579
kcal
|
Carbohydrates:
33
g
|
Protein:
31
g
|
Fat:
34
g
|
Saturated Fat:
10
g
|
Cholesterol:
126
mg
|
Sodium:
695
mg
|
Potassium:
413
mg
|
Fiber:
1
g
|
Sugar:
4
g
|
Vitamin A:
1.8
%
|
Vitamin C:
0.8
%
|
Calcium:
2.9
%
|
Iron:
65
%