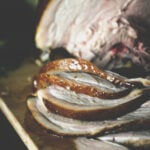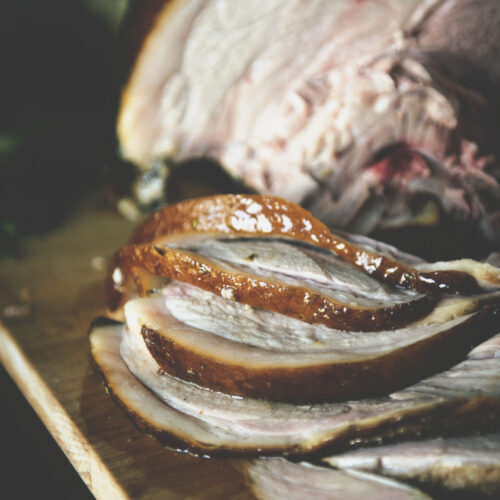 Print
Smoked Ham
Going into this recipe you need to make sure you have everything lined up. Time, space, and patience - and lots of it - for at least 8 days. A large cooler that you can keep cold works great. I used a spare fridge, removed the shelves and placed a cleaned cooler in it to brine the ham. A huge roasting pan. The ham requires an over night air dry. Make sure you have a pan big enough to hold it. A smoker. Make sure your smoker can handle the size of a 20 pound am. If not, scale the recipe as needed.
Cook Time
6
hours
40
minutes
Brine
6
days
22
hours
40
minutes
In a large pot, bring the water, salt, brown sugar, garlic, mustard seeds, coriander seeds, and bay leaves to a simmer. Whisk until the salt and sugar are completely dissolved. Remove from heat and let cool completely.

When the brining liquid has cooled, find a large container, big enough to hold your ham. Submerge the ham in the brining liquid and weigh down the ham to keep submerged, if needed. Brine in the refrigerator for 7 days, turning once in a while.

Remove the ham from the liquid and discard the brine. Place the ham on a wire rack set inside a large roasting pan and place in the refrigerator, uncovered, overnight to air dry.

Soak your wood chips.

Prep your smoker for a temp of 200 degrees.

Place the ham in the smoker and smoke for 4 hours. Add new wood chips after 2 hours.

Meanwhile, whisk the honey, Dijon, and rosemary together in a bowl. Brush over the ham. Close the smoker and smoke for another 3 to 4 hours. Check the temp on the ham. You are looking for 165 degrees F.

Remove the ham from the smoker and allow to cool. Brush with the remaining glaze.

Slice and serve.
Calories:
626
kcal
|
Carbohydrates:
12
g
|
Protein:
49
g
|
Fat:
40
g
|
Saturated Fat:
14
g
|
Cholesterol:
190
mg
|
Sodium:
6177
mg
|
Potassium:
667
mg
|
Sugar:
12
g
|
Vitamin A:
0.1
%
|
Vitamin C:
0.3
%
|
Calcium:
5.6
%
|
Iron:
17.3
%