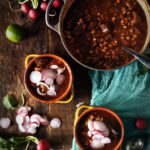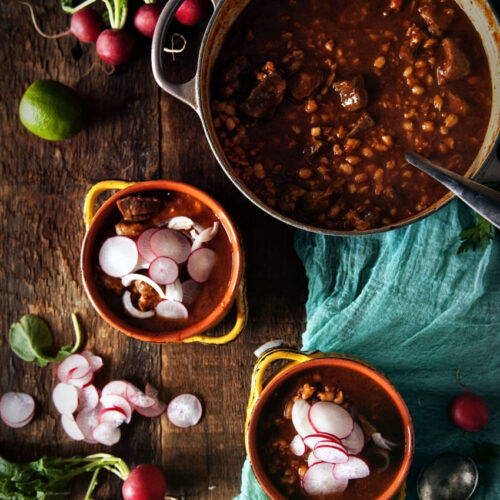 Print
Red Chile Posole
With a little strategic planning, posole is worth all the effort.
Total Time
3
hours
30
minutes
6

oz

dried New Mexico chiles

18

cups

water

divided

1

large onion

chopped, plus two whole

10

cloves

of garlic

whole, plus 8 cloves of garlic, minced

salt

2

lbs

pork shoulder

chop into 1 1/2" cubes

2

lbs

fresh ham hocks

2

tsp

chili powder

2

tsp

cumin seeds

toasted

1 1/2

lbs

dried large-kernel white hominy

soaked overnight

2

cloves

2

bay leaves
Make the Red Chile Puree:
Preheat the oven to 400 degrees F. On a large baking sheet, roast the peppers 5 to 6 minutes, flipping once, until dark. Set aside to cool.

When cool enough to handle, wearing gloves, stem the peppers and cut lengthwise. Scrape out the seeds and discard.

Place the peppers in a large pot and fill with 6 cups water, one chopped onion and 10 whole garlic cloves. Sprinkle salt in to season and bring to a simmer.

Allow to simmer 25 to 20 minutes. Remove from heat and let cool.

Strain the mixture over a large bowl, reserving the liquid.

Place the peppers, onion, and garlic in a blender, cover and carefully puree until smooth. Adding 1 - 2 cups cooking liquid to loosen and smooth out the mixture.

Store in an air tight container in the fridge until ready to use.
Prep the pork:
Make a paste by mixing 3 tbs salt and remaining 8 minced garlic cloves in a mortar and pestle with the chile powder and cumin. Use a small bowl and mash as best you can with the back of a spoon or fork if needed.

Rub evenly all over the pork. Place in a container, cover and let marinate for up to 24 hours in fridge.
When ready to make the posole:
Drain the hominy you soaked over night.

In a large pot, add the hominy and 12 cups water. Poke the two remaining whole onions with the cloves and place them in the pot along with the bat leaves and 2 tbs salt. Cover, and bring to a boil.

Reduce heat and let simmer for 1 hour, stirring often.

Add the pork to the pot carefully. If needed, add more water to cover the pork. Cook for another 2 - 2 1/2 hours, uncovered, until pork is fork tender.

Remove and discard onions, bay leaves and ham hocks.

Stir in 1 cup on the prepared red chile puree. Season with additional salt and pepper if needed. (Stir in as much more of the red chile puree as needed or serve as an additional accoutrement on the side)

Serve with cilantro, white onion, radish, limes, avocado and jalapenos.
Calories:
267
kcal
|
Carbohydrates:
15
g
|
Protein:
20
g
|
Fat:
13
g
|
Saturated Fat:
4
g
|
Cholesterol:
70
mg
|
Sodium:
311
mg
|
Potassium:
310
mg
|
Fiber:
4
g
|
Sugar:
5
g
|
Vitamin A:
2.1
%
|
Vitamin C:
1.7
%
|
Calcium:
3.5
%
|
Iron:
9.3
%