Join Us : #BurgerMonth TweetUp 8PM EST Aug 31st

More details below
The Challenge:
To create a #GirlCarnivore worthy burger. The only rule, the burger had to have a meat for the patty. Other than that, the talented participants were able to let their imaginations run wild – and frankly, we're encouraged to. This is GirlCarnivore's #BurgerMonth after all. Not you're average recipe roundup. 
The Burgers:
Be sure to check back daily for the newest burger!
Join us for #BurgerMonth TweetUps August 20th 8PM EST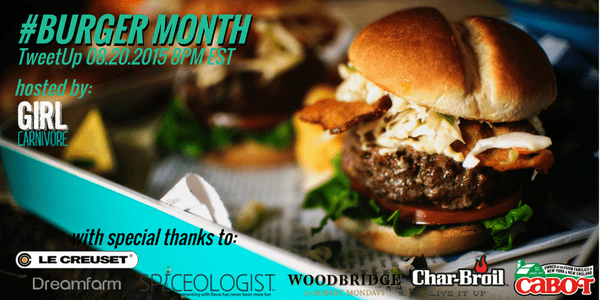 Question: What is #BurgerMonth TweetUp? 
Answer: The #BurgerMonth TweetUp is a chance for the community to gather around and embrace the passion of the patty over a live twitter chat. Round one is live on August 20th at 8PM EST. If you were ever curious about what makes the perfect burgers, tips for grilling, what special condiments the pro's can't live without, or ANYTHING burger related – here's your chance to chime in and ask questions, show of your own burger skills, and just sit back and enjoy. 
 The Sponsors: because the giveaways are pretty freakin epic!