Thinking of investing in a good set of pots and pans? Check out this Wolf Gourmet 10-Piece Cookware Set review for a classic set that will last a lifetime.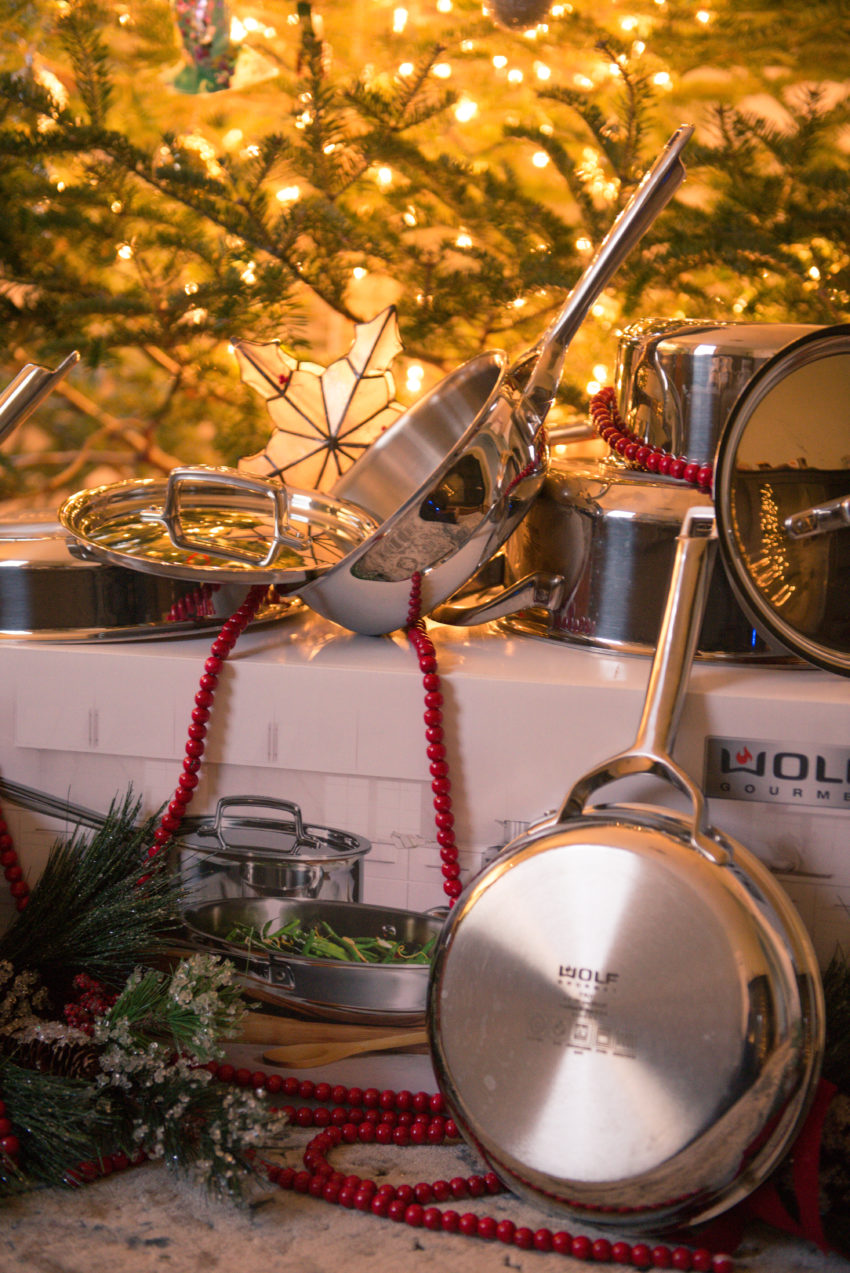 This post is sponsored by Wolf Gourmet and I received products in exchange for this review. All opinions are my own.
Ok, So I recently received a
10 piece cookware set from Wolf Gourmet
in the mail to test out.  No lie, my first thought when I opened the box was "dear God are these shiny" They are gorgeous, 7 ply stainless steel with an aluminum core.  Wow, they lit up the room.  I pulled everything out of the box, stared into my open refrigerator for a while, back at the wolf set, back at the fridge, and grabbed a rib-eye that I had defrosting.
I wanted to really give this set a workout, right off the bat.  This wasn't about a just seared steak, though I did that first, heating up the 6-quart dutch oven until the oil smoked.  But once the flavors were locked in, this was an all afternoon braise, setting up a chili the likes of which you will never find in a restaurant. Yeah, it was on.
How does the Wolf Gourmet 10-Piece Cookware Set Perform?
Did it perform well? Yeah, you can say that.  The Wolf Gourmet Dutch oven accomplished what I have only been able to do well in cast iron before.  Maybe even better.  The cook was even, with no burn spots.  After hours filled with beef, tomato and beans, heating over a gas burner the pot showed no discoloration and cleaned out easily to that incredible brand new shine.  That dutch oven is my go to boiling, braising, pasta and soup pot now, and I couldn't be happier with it and was excited to try out the rest of the set.
What comes in the Wolf Gourmet 10-Piece Cookware Set?
8.5-inch skillet
11.5-inch skillet
6 quart round Dutch oven with lid
2-quart saucier with lid
3-quart saucepan with lid
3.5 quart sauté pan with lid
Breaking down what's in the box:
There is an 8 ½″ skillet.  It's a small pan, not what I normally grab when I am about to create an epic meal, but perfect for just me.  Honestly, this is what I'm grabbing to make eggs to go with my breakfast salad.  It is perfectly sized to fry up a couple over easy, and light enough to flip with without dirtying a spatula.
The 11.5″ Skillet is the big brother to the 8.5″.  Sure it could fry up some eggs in a pinch, but I don't grab it unless I'm making at least a 6 egg omelet.  This is the pan I go for when I've got a load of vegetables that I want to sauté (I know, there's a sauté pan too, I'll get to that), think asparagus, or green beans, with onion and garlic, all tossed in olive oil and salt. This pan is the perfect size to give them room to sizzle.
I'm going to skip right to the 3.5 quart sauté pan (with lid) now since I have you thinking about it.  This is how I do chicken (and other meats, but chicken on the bone, that's what I'm talking about).  I can get this pan smoking hot on the stovetop, and sear breasts or thighs (skin side down) flip them, then transfer the whole thing to the oven.  The helper handle opposite the long handle helps out with this, and I love that even with the cover on, I have nothing to worry about when I put these in the oven.  Every part of the set is oven safe, so I can transfer from the gas range to the oven and back without concern.
The 3-quart saucepan (with lid).  This is a real workhorse.  So I might make a soup or stew in the 6-quart dutch oven (with lid).  Seriously though, I am not going to finish it unless I have 8 people.  How do I reheat the leftovers?  This pan.  Pasta for two? This pan.  Oatmeal?  You guessed it.  This is the unsung hero of the group.  Sure, I can use it for sauces, I even do sometimes.  But the reality is, when I need a small pan to heat something up for one or two people, this is the pan I grab.  The dutch oven might end up in photographs and recipes more, but this pan probable gets triple the use.  If I had to choose one from the whole group and send the rest back, it would be this one.
2-quart saucier.  If you have looked at my site at all, you may have noticed, I like mac and cheese.  A lot.  A lot a lot. And I don't buy a box.  I start with a rue and melt in piles of gooey shredded cheese until I think it's just perfect.  And then add a little bit more.  Yeah, this pan is perfect for that.  I am sure that it is perfect for a wide variety of sauces, I just haven't gotten to all of them yet.  But gooey gooey cheesy deliciousness, this pan does that well.